It's the end of the year, so you know what that means: It's time for our 2021 camping highlights! Sure, there were limitations. Our camping trips were limited somewhat by our kids busy sport's schedules and by ongoing issues because of COVID-19.
New Jersey, where we live, has been more restrictive than some states. Still yet, we have managed to travel to some spectacular places, both near and far. Let's take a look back. First, we have Jeremy's list of his favorite memories. Then, we have Stephanie's. Enjoy!
Jeremy's List of 2021 Camping Highlights
1. Mucking it up with friends at a couple of local campgrounds was a lifesaver for me. With the busy sports schedules of our sons, it can be hard to take long trips into the wilderness. That's why I'm glad we can get our camping fix at local campgrounds. One is only 10 minutes away, and the other one is 20 minutes away. Basically, the intensity of the travel sports years snuck up on me, but I can go camping whenever I want because of a local state park campground, and a local county park campground.
2. Playing pickleball with Wes and the boys at Carolina Pines was a blast. I see a lot of pickleball in my future, and I see a lot of time on camping trips down south in the winter. In short, I'm hoping Stephanie will snowbird with me in our retirement years. It doesn't have to be full time in a Class B. I want to keep a house and be able to go south when it gets cold.
3. Swimming in the heated pool at Moose Hillock in 48-degree weather with Max, Theo, Wes, and the Fagan boys was definitely a highlight. We had crappy weather on Memorial Day weekend, but we had a blast anyway. The point is that I can have fun on an RV trip even with bad weather as long as it is not a complete rain out.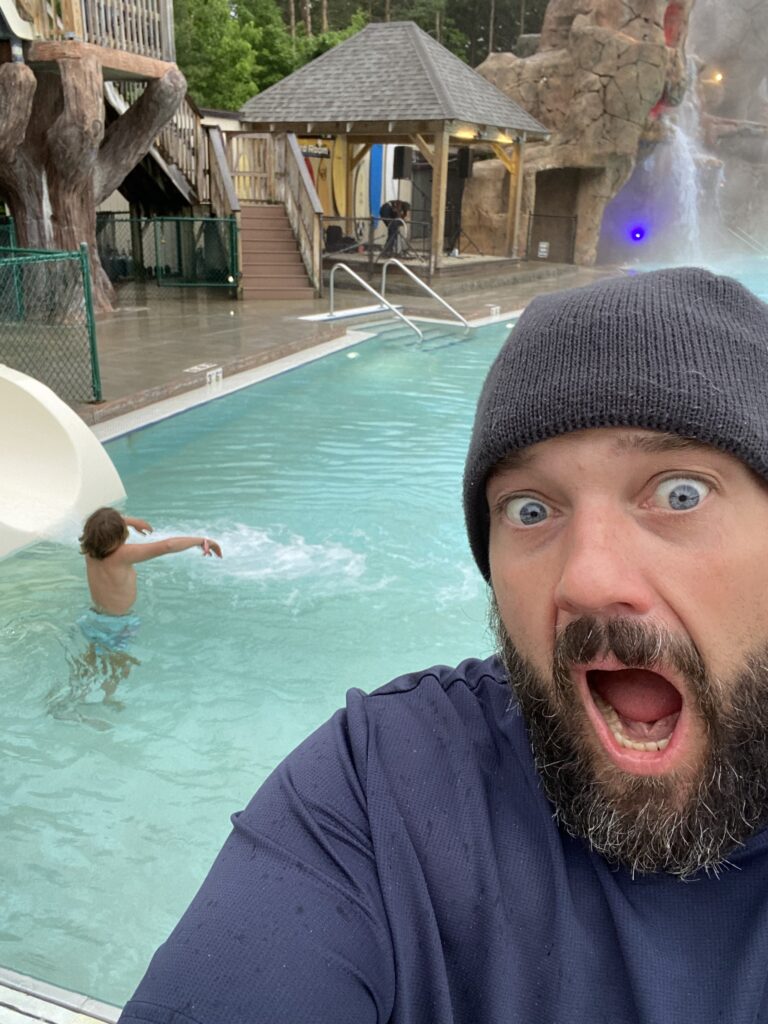 4. The Lake Placid KOA has become a perfect campground for our family, a special place for all of us. Going back this summer and cliff jumping into the river behind the campground with the boys is one of my great camping memories of all time–not just last year.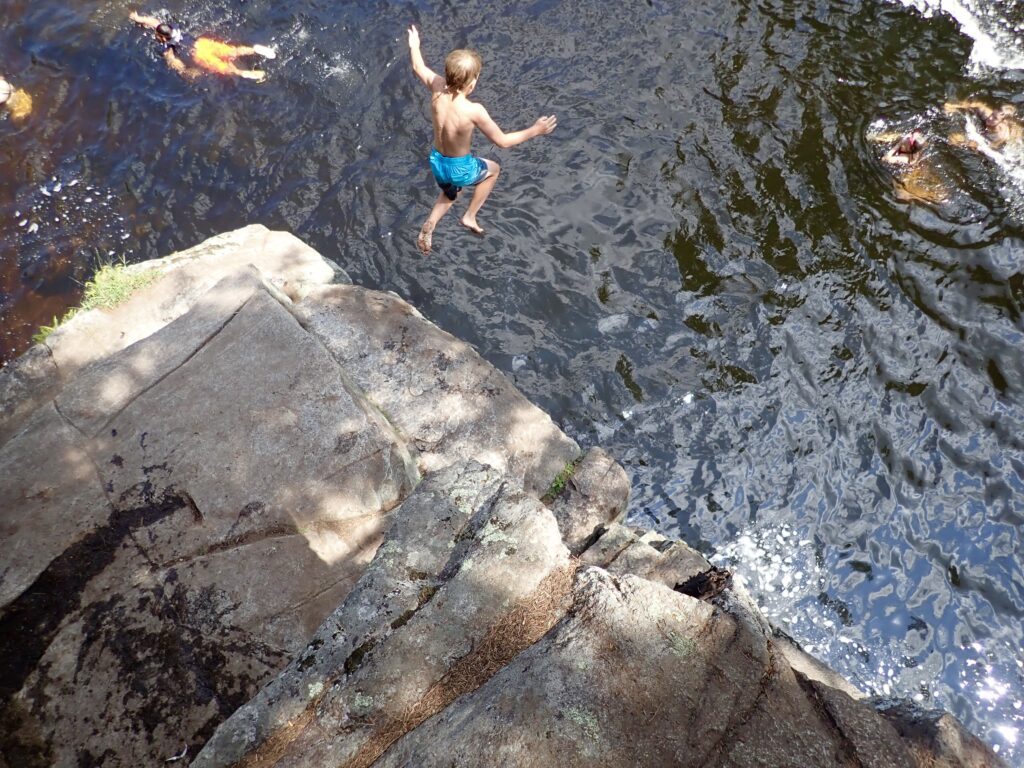 5. Camping was a rebound and relief this summer. The boys and I had a super tough travel baseball tournament at Cal RIpken Aberdeen. At the end of the weekend, we left the team permanently. We met up with Stephanie at Jellystone Delaware and had a little rebound trip. It was awesome to come together as a family and hit the beach and have some good dinners and feel better. 
6. Bison watching in Lamar Valley was the kind of thing that we all love. Family travel can be a pure joy sometimes. I live for moments like these….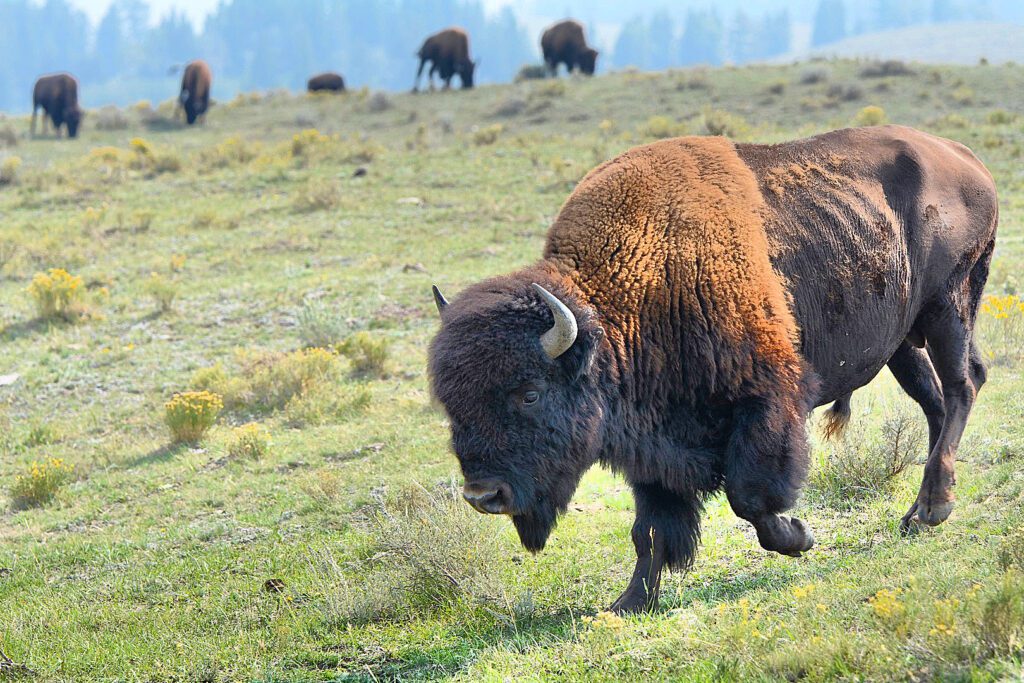 7. Morning Coffee in Cody, Wyoming at Rawhide Coffee was nice. We all need moments alone. Taking in the local scene over a great cup of coffee in Cody was just what I needed.
8. The boat ride across Jenny Lake and the hike to Hidden Falls and Inspiration Point were beautiful.  The Grand Tetons are breathtaking. As we established in a recent podcast, this is one of my top 6 favorite hikes. 
Stephanie's List of 2021 Camping Highlights
1. We took the kids snowboarding. We kept pushing this off, but last winter, we finally just did it. Jeremy's cousin is a ski instructor, and the kids were flying down the hills in just one day. Our kids are not afraid to try new things. Camping, hiking, and being outside has made our boys physically confident.
2. Visiting Destin, Florida, and going to the state parks. Because of COVID-19 restrictions, we didn't get to take our camper, but we saw some of the great campgrounds in Florida, like Topsail Hill Preserve State Park.
3. I got a kick out of our kids looking down their noses at the cheesy t-shirt shops and souvenir shops in downtown Lake George. We had fun, but it was funny to see them developing a prerogative as travelers, and they definitely prefer Lake Placid to Lake George.
4. The gondola ride at White Face Mountain was a favorite for me and the boys. However, I think Jeremy has blocked it out of his memory. He was curled up in a corner due to his fear of heights. This ride up the mountain definitely brings the wow factor.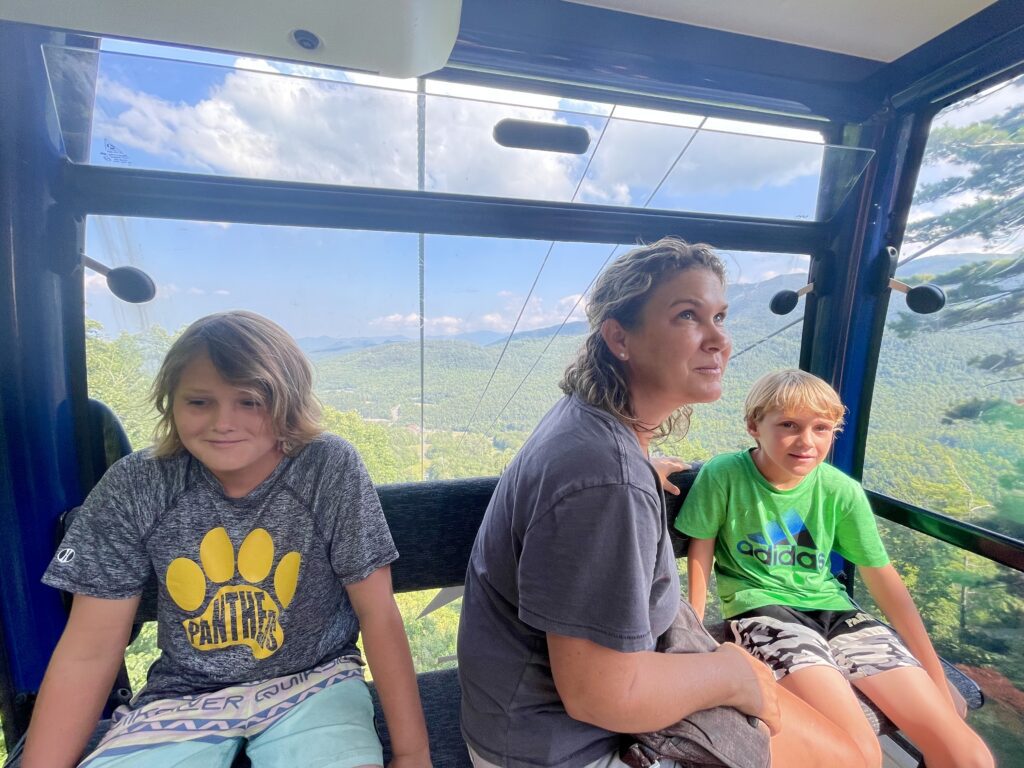 5. Stargazing at Under Canvas at Yellowstone was magical. The boys (especially Max) just wanted to sit outside and look at the stars. They were amazed by those surroundings!
6. The Naked Dog hotdog stand in Savanah, Georgia had great road food. It was a spontaneous stop, and it was well worth it. We spent a few hours in Savanah when we were on our way to Destin. The gift shops here were quirky and interesting!
Though 2021 was not a perfect year, we found the highlights together as a family. Despite the restrictions, busy schedules, and even bad weather, we overcame the obstacles and got outside. It just goes to show that no matter what comes your way, great family memories are there to be had!
See you at the campground,
Jeremy + Stephanie
Podcast: Play in new window | Download