Is it possible to see Yellowstone in just three days with three kids along for the journey? We found out! Though it might take a lifetime to see all of this truly massive national park, you can see a lot of it in three days. We were able to experience the highlights from out basecamp in West Yellowstone. However, we are sure we'll want to return to Yellowstone someday to see even more.
This episode is one in a series about about our journeys in the Yellowstone region of Wyoming. In the upcoming episodes, we will cover our stays in Cody, Wyoming, and Grand Teton National Park.
Our Journey to Yellowstone
Our whole vacation was meant to be fourteen days, but it had to be reduced to just seven. It was still amazing. We flew into Jackson Hole Airport where we rented a car and drove up to West Yellowstone. This was a pleasant two and a half hour drive.
We chose West Yellowstone as a basecamp and stayed at Under Canvas Yellowstone (listen to our podcast episode about that). While we didn't bring our RV on this trip, we have covered other campground recommendations for the Yellowstone area. Check out these episodes: Yellowstone Grizzly RV Park and Buffalo Campground.
To hear all about touring Yellowstone National Park with kids, click play on the media player above or look for this episode of The RV Atlas wherever you find your favorite podcasts.
The Park and the Plan
Yellowstone is arranged around two very large loops: upper and lower. To drive both loops is well over 150 miles. The sheer scale of this park can be overwhelming when planning a trip and it's easy to overestimate what can be seen in a day. (Check out this episode for more tips for touring Yellowstone).
Going in we knew we had limited time and may not be able to see everything. We wanted to enjoy what we did see and not go crazy trying to "fit everything in."
Another attitude check: We were expecting crowds and were determined not to spend the entire time in Yellowstone complaining about the crowds. If you go at a busy time, you just have to resign yourself to large groups of people at the major attractions. However, the park is big enough to find respite from the crowds in out of the way places. Also, as we found out, there are times of the year when fewer people are in the park.
Day One in Yellowstone National Park With Kids
Our general plan was to spend day one in the most popular area of the park. We entered through the West Yellowstone gate, near the top of the lower loop, and headed south through the famous geyser and basin area where those iconic Yellowstone photographs are taken. At the end of the drive, we wound up at Old Faithful.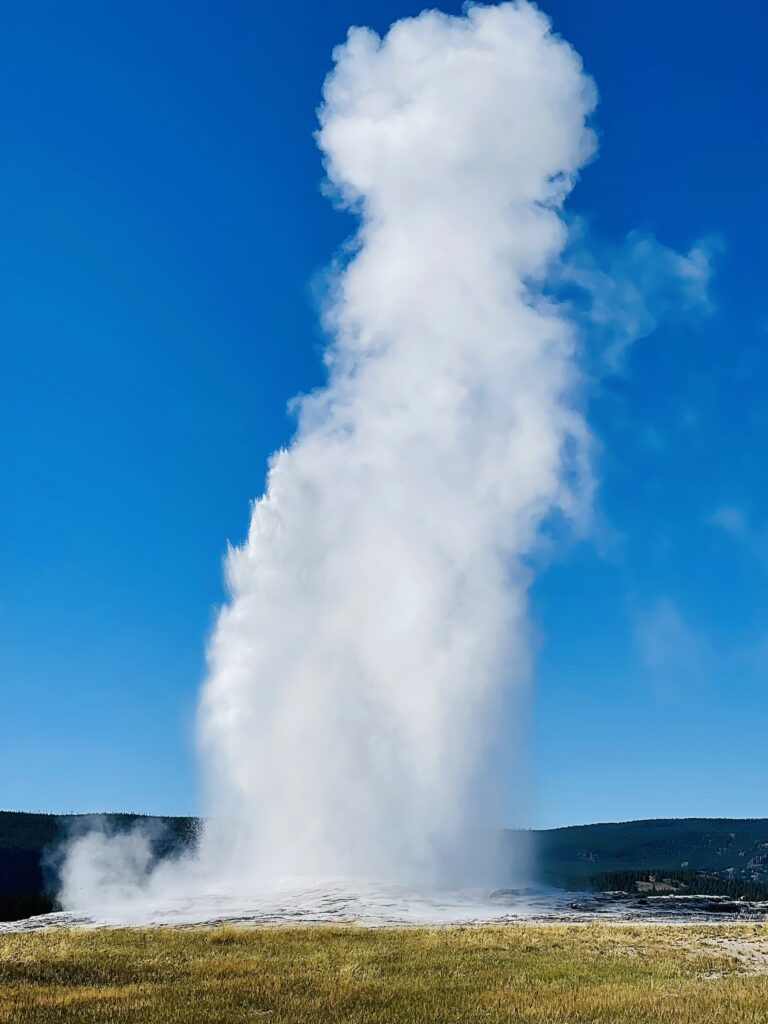 As usual we arrived at the park early, which meant we were ahead of the crowds at every parking lot as we headed south. 
One thing we might have done wrong was skipping some of the sites because we were in a hurry to get to the famous spots. In the end, we had more time than we realized.
Fountain Paint Pots Trail is a boardwalk trail that introduced our boys to the environment of Yellowstone. These are extremely hot springs, and if you step off the boardwalk into one, you will melt. Be careful in Yellowstone!
Grand Prismatic Spring was more beautiful than any pictures of it. The colors were amazing. Jeremy took over four hundred photos of it.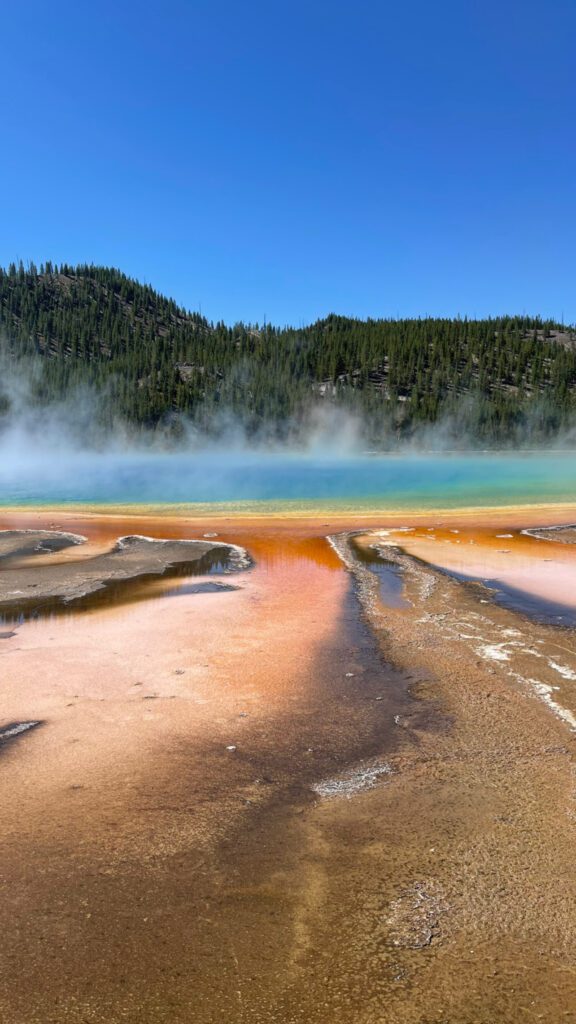 Biscuit Basin is another set of geysers and springs. The kids noticed the stinky sulfur smell at this one. We took the trail from here that goes to the Mystic Falls. The waterfall at the end is not the most spectacular waterfall we have seen, but the hike back along the river was very relaxing. There are places along the trail where it is safe to get in the river and dip your toes in the chilly water.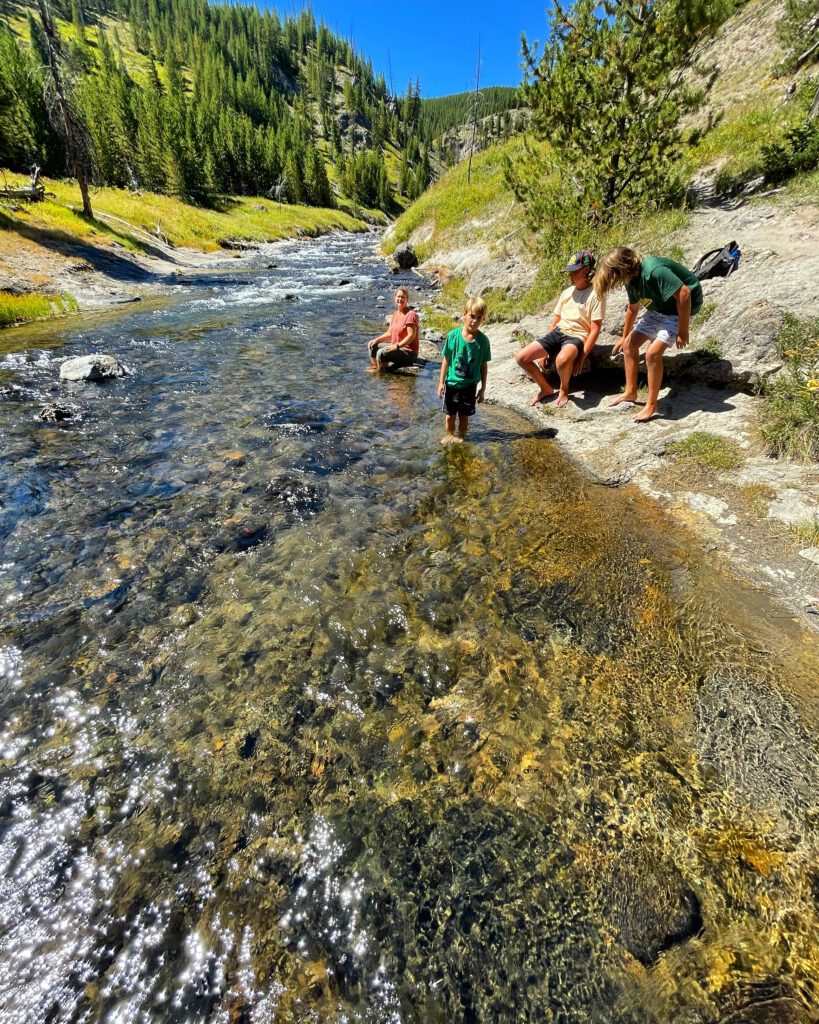 Old Faithful Geyser did not disappoint. We arrived early enough to get snacks from the cafeteria while we waited and had front row seats. You can see why so many tourists visit this spot. When Old Faithful explodes into the sky it is pure fun to watch. The only disappointment here was that the visitor education center was closed. 
We had thought about staying at the Old Faithful Lodge but could not get a room with a bathroom. Staying at the lodge would put us in the center of the park and all of the action. However, the lodge itself was not as impressive as we imagined it would be. It was in the middle of a parking lot.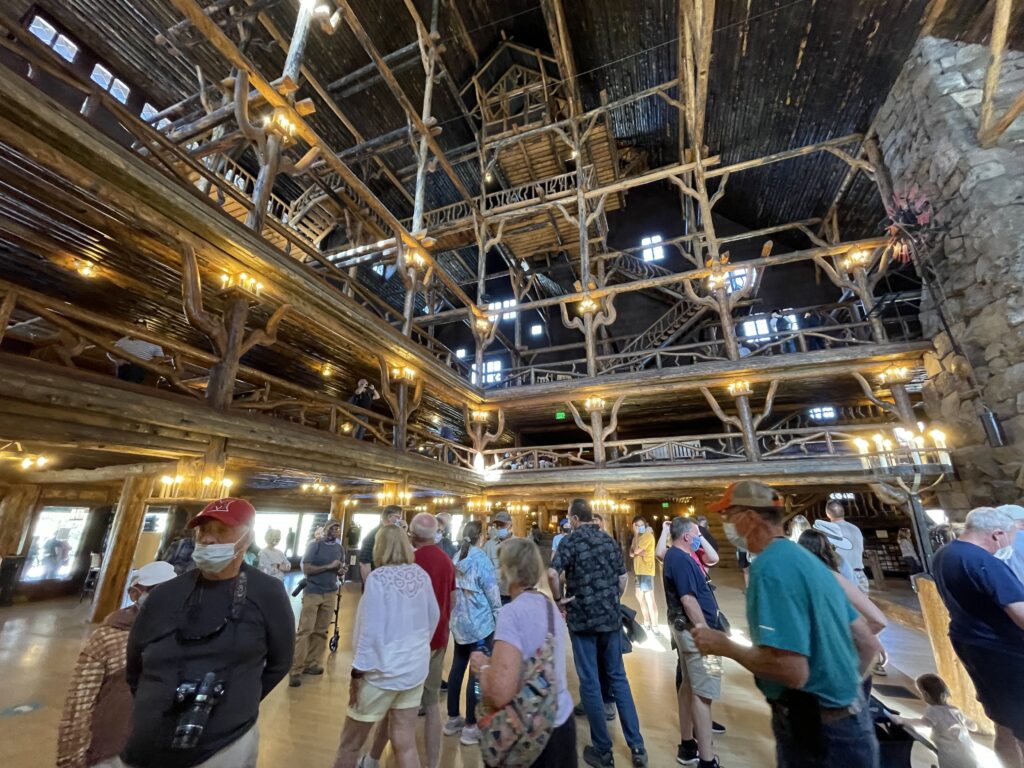 We went along Firehole Canyon Drive on the way out. Jeremy wanted to stop at a swimming hole he had read about, but it was closed. We really think the National Park Service needs to give people more places to swim in the parks.
At the end of a great first day, we had a delicious dinner back at Under Canvas.
Day Two in Yellowstone National Park With Kids
On our second day, we entered the park again at the West Yellowstone Gate and went north to cross over to the east side of the park and explore the Grand Canyon of Yellowstone.
Gibbons Falls forms this canyon and is a great waterfall. We didn't get very close to it and felt like we had seen more impressive falls in Glacier and Olympic National Parks.
Canyon Village is in this same area and is a recently renovated lodge that would be great for those looking for accommodations inside the park.
Along the North Rim Drive and South Rim Drive of the canyon, there are several overlooks. I think we stressed too much about which views of the falls to take in. We thought it would take too long to hike each one. We later realized these are short hikes, so we could have done all of them.
Along the North Rim are Brink of the Lower Falls, Lookout Point, Grand View, and Inspiration Point. It's a mile down and back up to see Inspiration Point, but it is the most awesome view of the falls from the North Rim.
On the South Rim are the Upper Falls View, Uncle Tom's Trail, and Artist Point. Every view of the falls is very different than the rest. Artist Point is the one you don't want to miss. Artist Point was named in 1883 by Frank Haynes who mistakenly identified it as the place at which the painter, Thomas Moran, sketched his depictions of the falls.
Next, we drove south through Hayden Valley–a big wildlife viewing spot–in mid afternoon. Unfortunately, we had no great sightings. We only saw one bison. The best times of day to spot wildlife are early mornings and through the evening hours.
Yellowstone Lake is magnificent. Here, we toured the Lake Yellowstone Hotel and Cabins. We hung out for a bit along the beach, but it was too windy and choppy for a boat ride.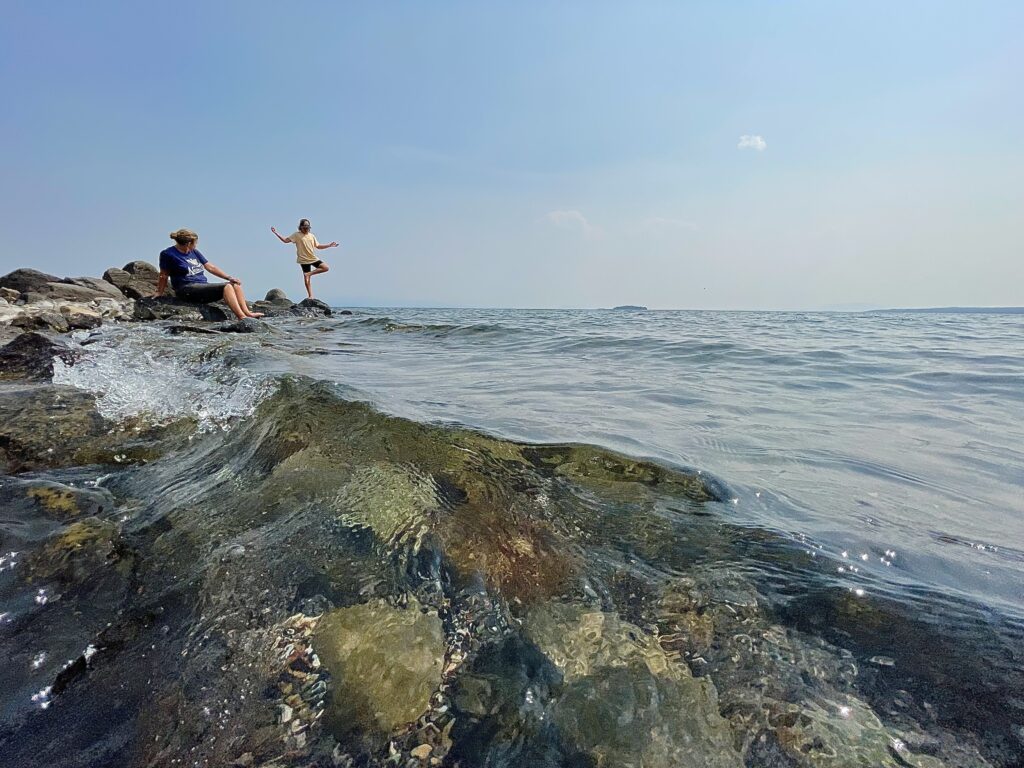 West Thumb Geyser Basin is really amazing! There are geysers right at the lake's edge and the water runs down into the lake.
Then, we actually stopped in for our second showing of Old Faithful before heading back out of the park.
That night, we had dinner at Firehole BBQ which is probably the best darn BBQ in the Yellowstone area. Finally, we listened to live music and relaxed before hitting the hay.
Day Three in Yellowstone National Park With Kids
On our third day, we headed over to Cody on the east side of the park, but we spent the whole day getting there. We decided to go through the upper loop and see Mammoth Hot Springs, Upper Terrace Drive, Mammoth Hot Springs Hotel, and Historic Fort Yellowstone. Here we found the only open visitor center in the park. The Wild West feeling of the Mammoth Hot Springs area makes it feel like a small town.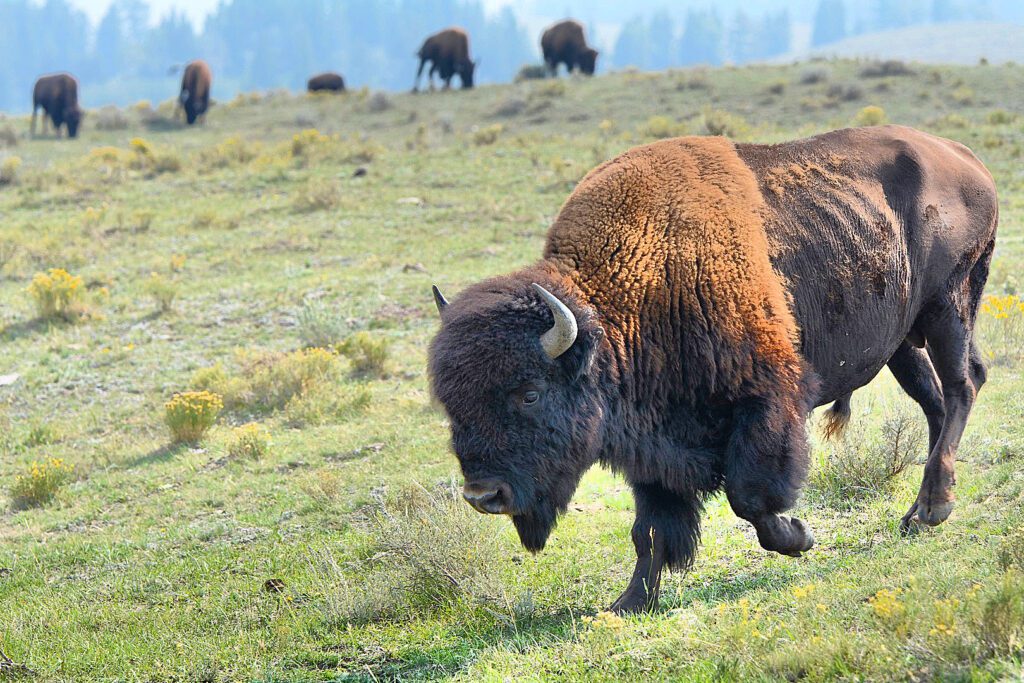 Then, we went through Lamar Valley, where we saw a lot of bison. This is the place to go if you want to see wildlife up close, get away from the crowds, and enjoy nature by yourself.Finally, we exited through the Northeast Entrance.
The bottom line is that Yellowstone is breathtaking, and it's okay not to explore every nook and cranny but instead to take in the highlights.
See you at the campground,
Stephanie + Jeremy
Podcast: Play in new window | Download