Grand Teton National Park is defined by its breathtaking mountains, pristine lakes, and scenic trails. Just a few miles south of Yellowstone, the Grand Tetons rival their famous sister park when it comes to awe-inspiring views. It's also a great place for a family adventure. If you want to explore Grand Teton National Park with kids, we have some great tips for you.
This is episode four of our four-part series about our big trip out to Wyoming. The first episode was all about our stay at the incredibly charming Under Canvas Yellowstone. Episode two delves into the three days we spent exploring Yellowstone National Park with our three boys. In the third episode, we relived our super fun stay in Cody, Wyoming. Last but not least, episode four is about Grand Teton National Park.
To hear more about exploring Grand Teton National Park with kids, click play on the media player above, or search for The RV Atlas wherever you find your favorite podcasts.
The John D. Rockefeller Parkway
To reach Grand Teton National Park from Yellowstone, we drove south along the John D. Rockefeller Parkway. The two parks are very close together, and they are joined by the JDR Parkway. This is a beautiful section of the greater Yellowstone area that is often overlooked as people drive by. However, it has hiking, camping, boating, and fishing. It was established in 1972 and is actually a National Park Service unit in the NPS system.
In the 1920's, John D. Rockefeller visited Jackson Hole and was dismayed to see so much development marring the landscape. He decided to buy up 32,000 acres and donate it to the federal government.  His goal was to protect the area from further development. If it were not for Rockefeller, Jackson Hole would have probably been developed right up to the gates of the national park—but thankfully, it was not!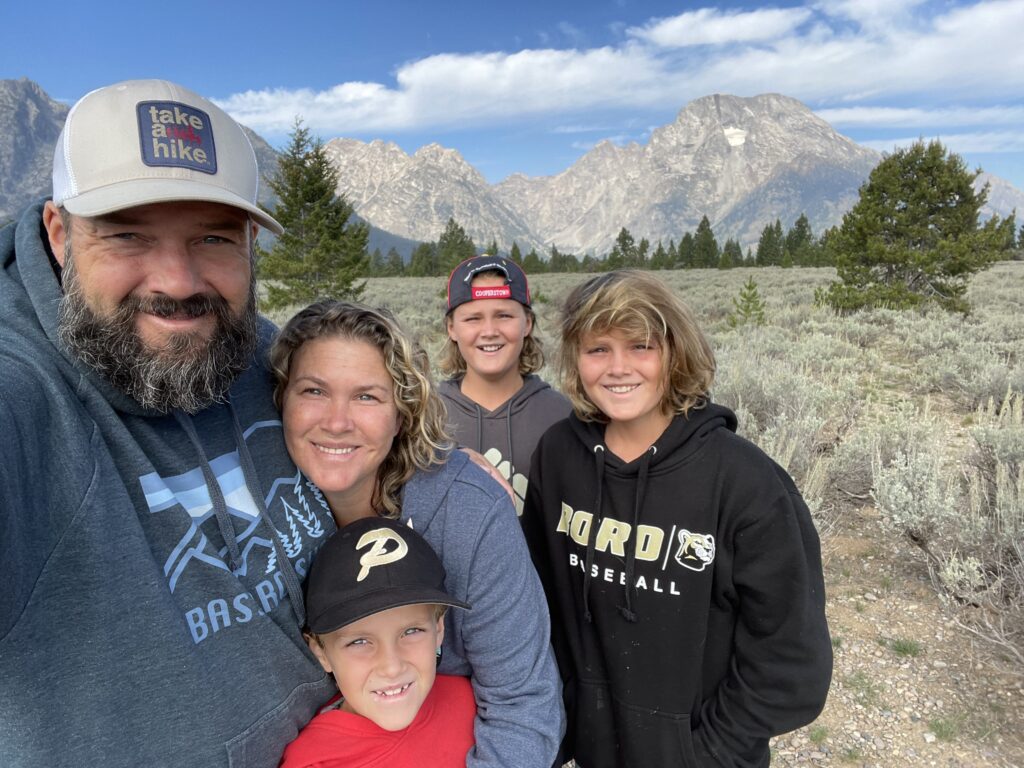 RV Camping in and Near the Grand Tetons National Park
Colter Bay Campground and Colter Bay RV Park are two separate locations despite the similarity of their names. It's easy to get confused and think they are the same place. However, Colter Bay Campground offers tent camping and dry camping for RVs and does not provide full hook ups. If you want full hook ups for your RV, you will need to go to Colter Bay RV Park instead. Both are NPS campgrounds. We previously shared a full campground review of RVing at Colter Bay Campground here.
There are other campgrounds in and around the park with various options for RVs. This includes the Gros Ventre, Jenny Lake (tents only), Signal Mountain, Lizard Creek, and Headwaters campgrounds. Still, the largest and most popular are the Colter Bay Campground and Colter Bay RV Park.
If you want to stay in the area, you will need to reserve a spot as soon as you can. Reservations open up on a 6 month rolling basis. 2022 dates are May 5th to October 8th at Colter Bay RV Park.
2022 dates at Colter Bay Campground are May 19th through September 24th. It has a shorter season. Also, it is not unusual for it to start snowing in September around the mountains.
Lodging Options at Grand Teton National Park
If you stay at Colter Bay Village, it has laundry facilities, restaurants, a grocery store, gift stores, Starbucks, a marina, and horse corrals. This is probably the hub of the park and has the most amenities and accommodations.
The food at the John Colter Ranch House and the John Colter Cafe Court is just fine and quick. The Starbucks doesn't open until 8:00 am, however, and that isn't early enough for our morning coffee. The grocery store is rough around the edges but has great pastries in the morning!
The lovely cabin we stayed in at Colter Bay was clean, comfortable, and affordable. The cabins are set among lodgepole pines and was a very close to the Colter Bay Village amenities. The customer service was also great.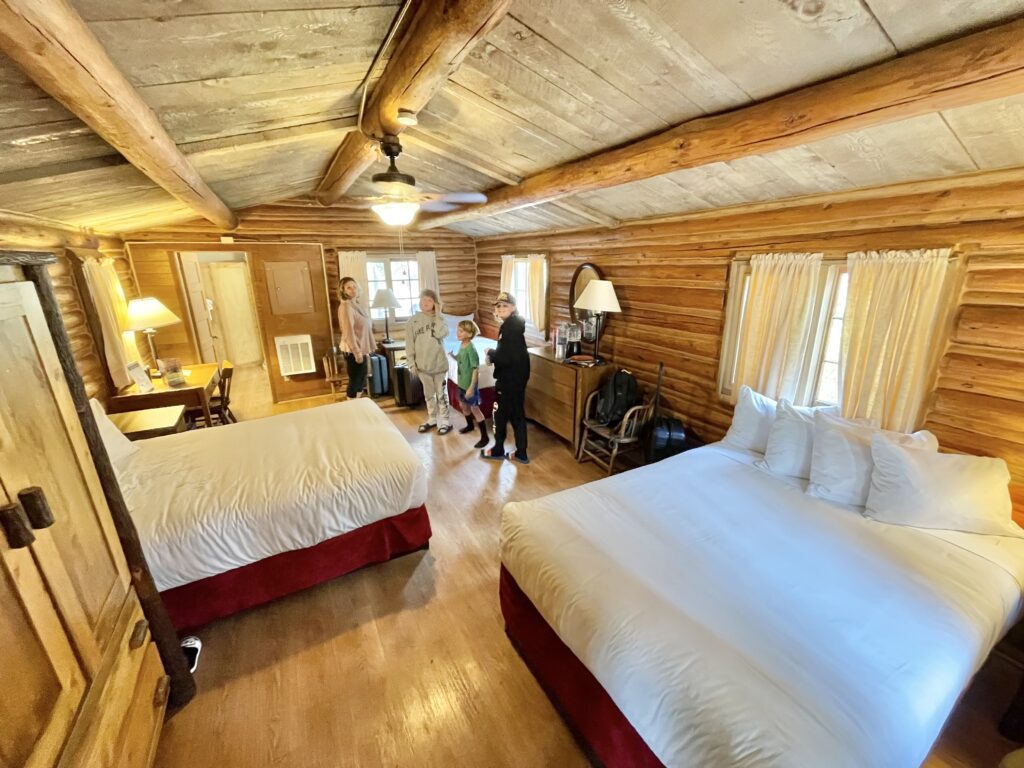 Hiking at Colter Bay
A new hike has entered our top five family-friendly hikes of all time. The Cascade Canyon Trail deserves a spot among my favorites. I guess this means I now have a top six family friendly hikes.
To get to this trail, it is easiest to take the shuttle boat across Jenny Lake. You can walk around the lake, but it is 2.4 miles each way. That makes a much longer hike.  We wanted more of a half-day hike and a boat ride experience.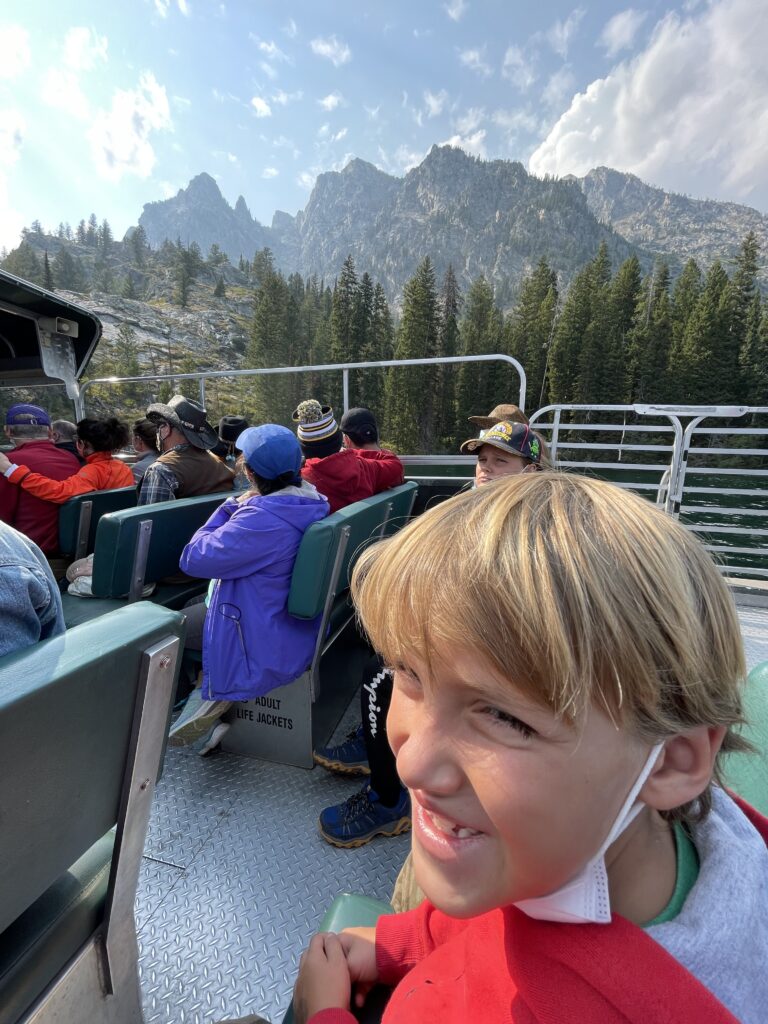 Once over the lake, it's only a half mile to Hidden Falls, another half mile to Inspiration Point, and then you can keep going on the Cascade Canyon Trail. This part is truly a backcountry hike. Most people stop at Inspiration Point. The hike is stunning and otherworldly. You feel surrounded by beauty.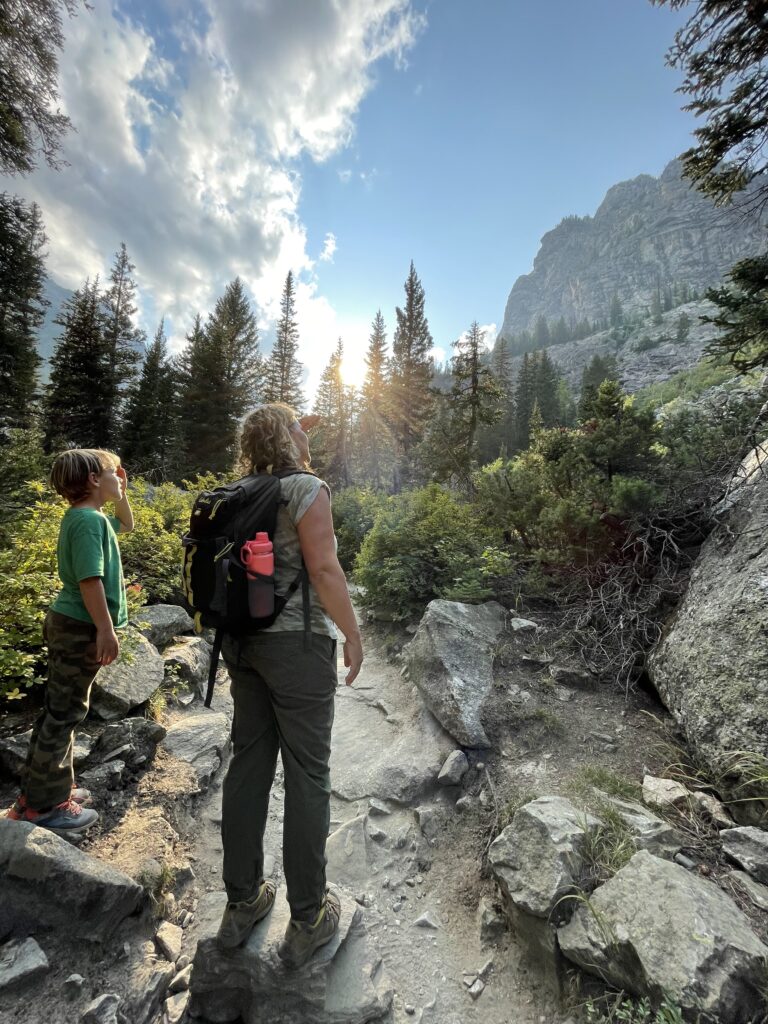 Our Top Six Favorite Family Hikes
Here are a few more of our all-time favorite family hikes:
Grinnell Glacier at Glacier National Park

Hurricane Ridge at Olympic National Park

Gorham Mountain at Acadia National Park

Kephart Prong Trail at Great Smoky Mountains National Park

Cascade Canyon Trail at Glacier National Park

Hiouchi Trail in Jedediah Smith State Park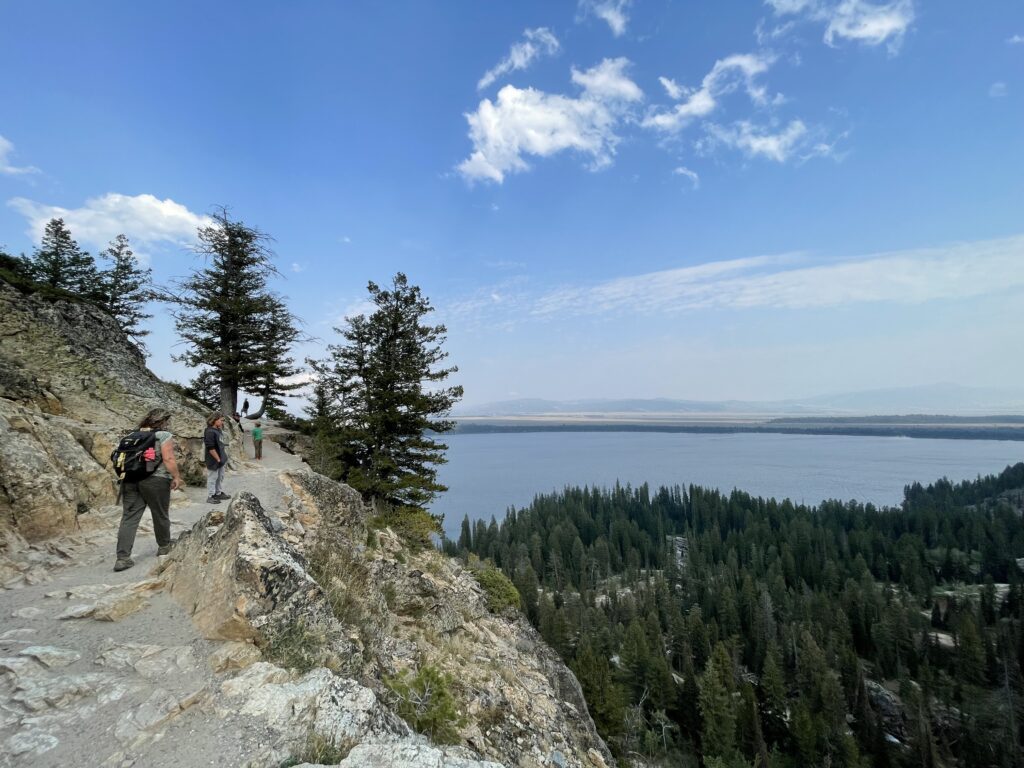 To hear more about exploring Grand Teton National Park with kids, click play on the media player above, or search for The RV Atlas wherever you find your favorite podcasts.
Jackson Hole, Wyoming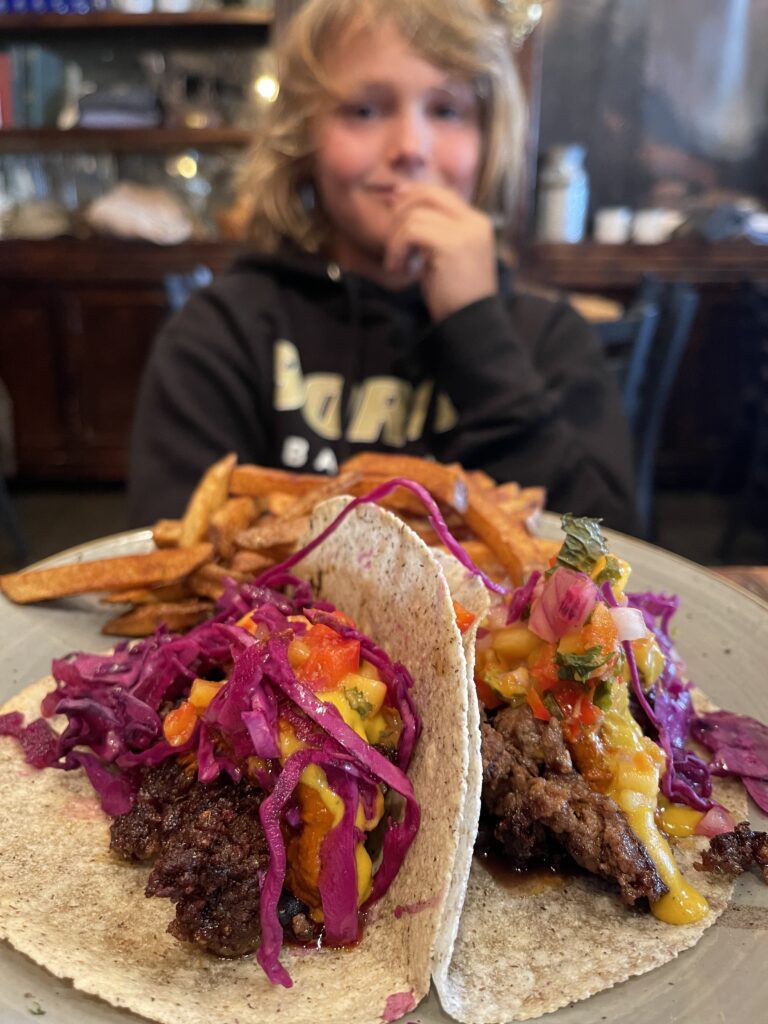 If you visit the Grand Tetons, it makes sense to head into Jackson Hole. The town of Jackson is very luxe and is surrounded by million-dollar homes and over-the-top cabins. While you may not be able to live in Jackson Hole, it's a great spot to grab a bit to eat.
We ate at two great restaurants. Merry Piglets is famous for its Tex-Mex. Cultivate Cafe is a hip restaurant with delicious food.
You'll also find a lot of shops to check out. Jeremy loved JD High Country Outfitters and could have spent hours shopping for outdoor gear.
We made a lot of great memories on this fly-and-camp trip!
See you at the campground,
Stephanie + Jeremy
Podcast: Play in new window | Download