Ice fishing AND camping? Count us in! Hannah and Dave are here to tell us all about their outdoor adventures in Minnesota. Growing up, they both went camping with their families. Now, they continue that tradition with their two little boys. During the winter months, they add a twist that might be unusual to those of us who aren't from the North: camping in a portable "ice house."
Ice houses are similar to camping trailers, but they are made to be towed onto frozen lakes. The anglers sit inside the comfortable little "house" and fish through a hole in the floor.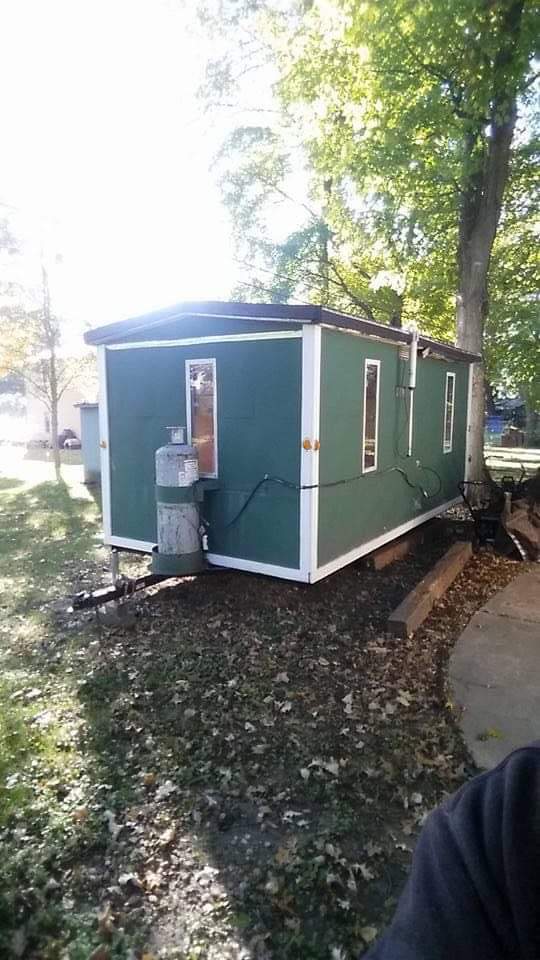 I (Jeremy) am fascinated by this whole concept, so I was excited to interview Hannah and Dave and get answers to all the questions I have about the fascinating world of ice fishing!
When Is Ice Fishing Season?
The season starts for ice fishing in the beginning of December in Minnesota, and many other far northern states. That's when people can usually walk out on the ice. By the end of December, people can drive a pickup truck across the ice. This all varies by how far north the lake is. Ice fishing usually ends sometime in March.
Safety is important so the season depends on the thickness of ice. Ice is safe to walk on when there is 4 inches of clear ice. To drive a truck on the ice, it's better to wait until the ice is 12 to 15 inches thick. It's important to note that ice will not be consistent all the way across a lake, so use an auger to check the depth of the ice before driving on it.
To hear more about ice fishing in Minnesota, click play on the media player above or look for The RV Atlas wherever you find your favorite podcasts!
What are the Different Types of Ice Houses?
Ice houses come in many sizes and at many price points. You can find small portable ice houses that have canvas walls and are similar to tents. There are also large ice houses that sleep nearly a dozen people and have all the amenities of an RV.
One of the more famous ice house builders is Ice Castle Fish Houses. Many of the big ice houses have slide outs, kitchens, and bathrooms. Also, ice houses are built to be warmer and better insulated than typical camper trailers.
Small tent-style fish houses can be purchased for just over $100. Large RV-style ice houses cost anywhere from $20,000 to well above $50,000. Just like everything else, you get what you pay for.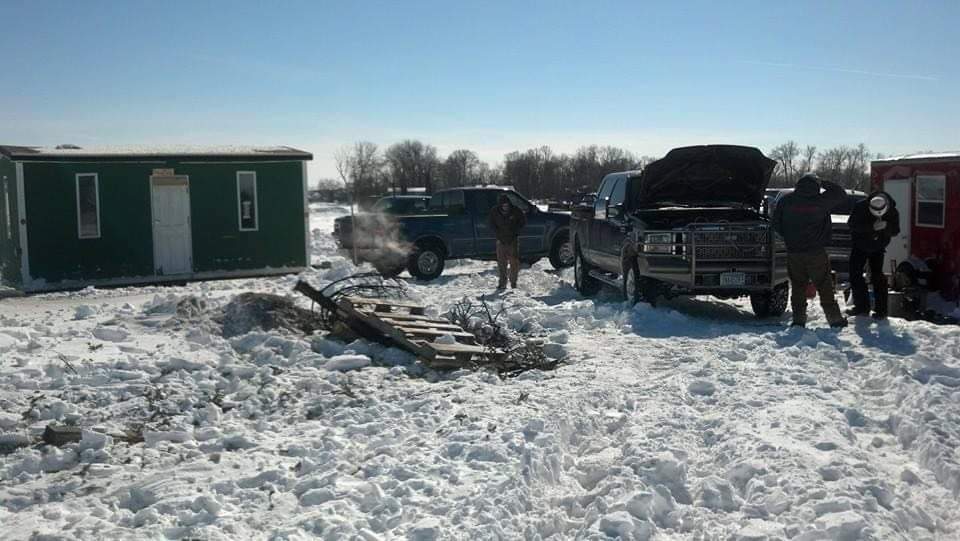 How Do You Set up Your Ice House for Fishing?
The fish house is pulled onto the ice by a truck. It might roll on wheels or slide on a skid. Holes have to be drilled into the ice to fish through, and the slush and snow has to be clear from the water in the hole. The fish house is placed over the holes.
If the house has wheels for being pulled on highways, the fish house frame is shifted down onto the ice. People don't want wind whipping under their shelter when the temperature is well below zero. Also, that extra 15 inches of space would be an opportunity for the fish to break off when it is lifted from the water.
Also, you need to warm up the inside of the house. It's nice that most include a propane stove. Then, it's time to stock your warm fish house with food and beverages so you can enjoy fishing in comfort through the holes in the floor of the shelter.
What Kind of Fish Do You Catch While Ice Fishing?
In the southern part of Minnesota, they catch a lot of panfish, crappie, and northern. Further north, walleye is the big draw. Anglers like the taste of walleye, and a lot of people want to catch a huge walleye to hang on the wall.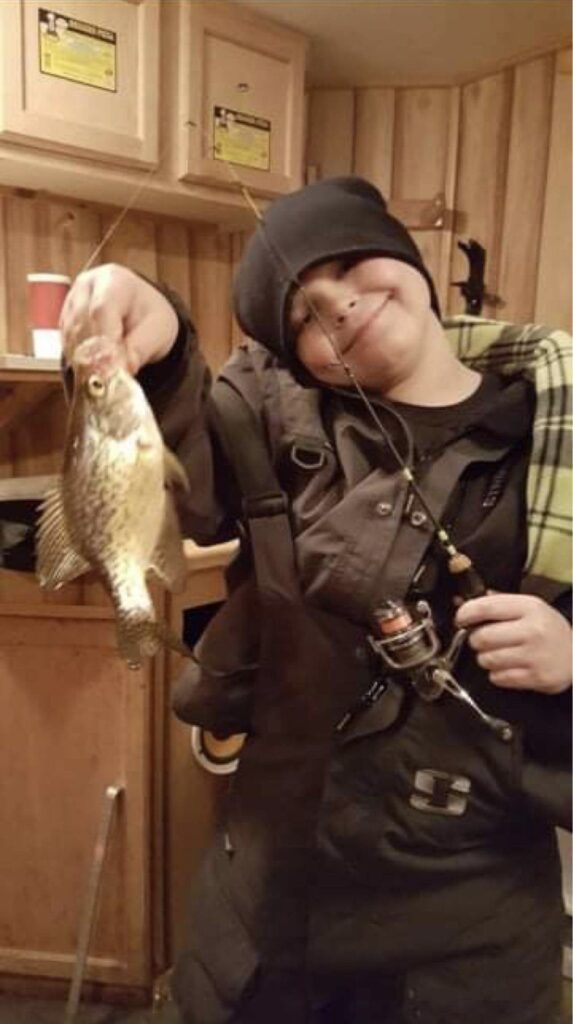 Is Ice Fishing a Community Activity?I
Yes, in Minnesota, Wisconsin, and other states up north, there is a huge community of ice fishers. People get together in their ice houses and spend the weekends out on the lake. Also, villages form on the ice where several fish houses are grouped together to help block the wind and enjoy the winter together.
In many communities near the lakes, snow plows create ice roads by removing snow. These roads connect ice fishing villages with the entrances and exits to the lake and make it safer to travel in vehicles on the ice. They can even have pizza delivered to their ice houses!
We hope you enjoyed learning about ice fishing as much as I did! It's neat to hear how Hannah and Dave can take many of the fun parts of camping and RVing and enjoy them through the winter with these trips. If you have the winterization blues, maybe it's time to try some ice fishing!
See you at the campground,
Jeremy + Stephanie
Podcast: Play in new window | Download