Under Canvas Yellowstone provides a full-on glamping experience right outside of Yellowstone National Park, but how does it compare to the RV camping our family loves? Though we originally weren't sure about "glamping" as a trend, this ended up being one of the most magical camping experiences we have ever had. We have lots of great details to share after our three-day stay in August.
Should We RV or Tent Camp?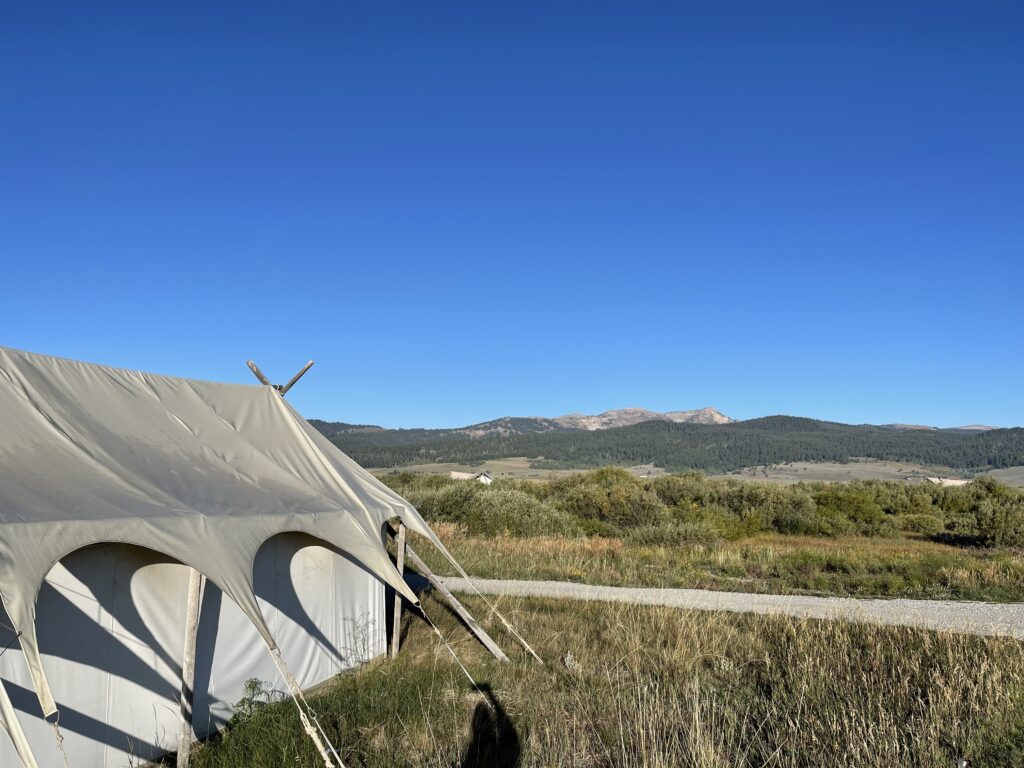 Now, we are aware there are some purists listening that NEVER do any kind of travel without their RV and many who stay in only ONE kind of campground, whether it's resorts or state and national parks. But, we know that the majority of our listeners actually do other types of trips in addition to RVing.
For our family, the rule has loosely become that if we have to drive more than 14 hours, we are flying. With three school-aged kids, sports, and jobs, we want to minimize time spent in travel mode. In chapter three of See You at the Campground, we go into more detail about when we use our own RV, when we rent an RV, and when we reserve cabins or alternate accommodations. Check it out if you are interested in other forms of camping! 
Let's dive in to our experience at Under Canvas Yellowstone.
To hear more about Under Canvas Yellowstone, click play on the media player above or download this episode of The RV Atlas wherever you find your favorite podcasts.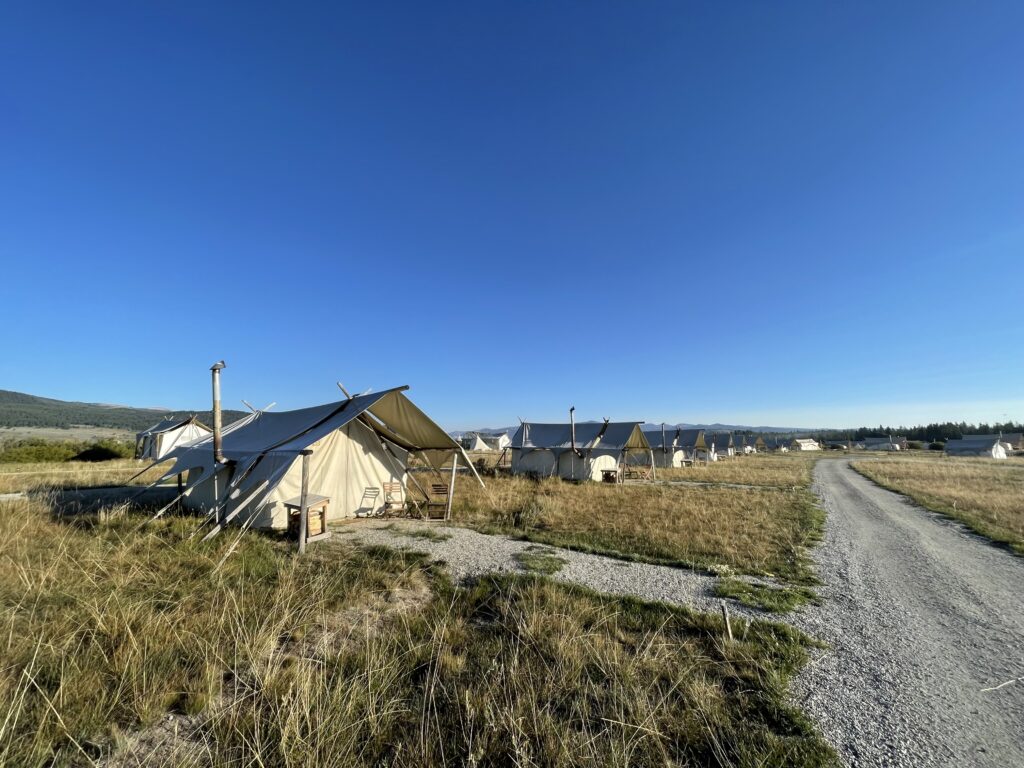 What's Under Canvas? 
Under Canvas is a chain of twelve (at this time) luxury glamping locations that were founded in 2021 with the one in West Yellowstone, Montana. Since then, they have expanded to locations that include Glacier in Montana; Moab, Zion and Lake Powell-Grand Staircase in Utah; Mount Rushmore in South Dakota; Great Smoky Mountains in Tennessee; Grand Canyon in Arizona; and Acadia in Maine.
There are several other campgrounds with a similar glamping setup. Collective Retreats and Autocamps are two of the most popular. However, Under Canvas has built a reputation for building a special type of place that balances the promise of luxury with the rustic vibe of camping, so we were excited to try it.
Is Glamping for Us?
Jeremy was 100% committed to spending time (and money) at an Under Canvas. Stephanie had a bit of sticker shock. The price tag was around $550 a night, and while we've spent that much for Airbnb locations on the beach, it was hard to imagine spending that and then wishing we were in an RV or a hotel the whole time. We worried it would be one of those experiences that people liked to take pictures of more than they actually enjoyed. Jeremy won. We booked three nights–and paid around $1600. 
What's Included in the Under Canvas Experience?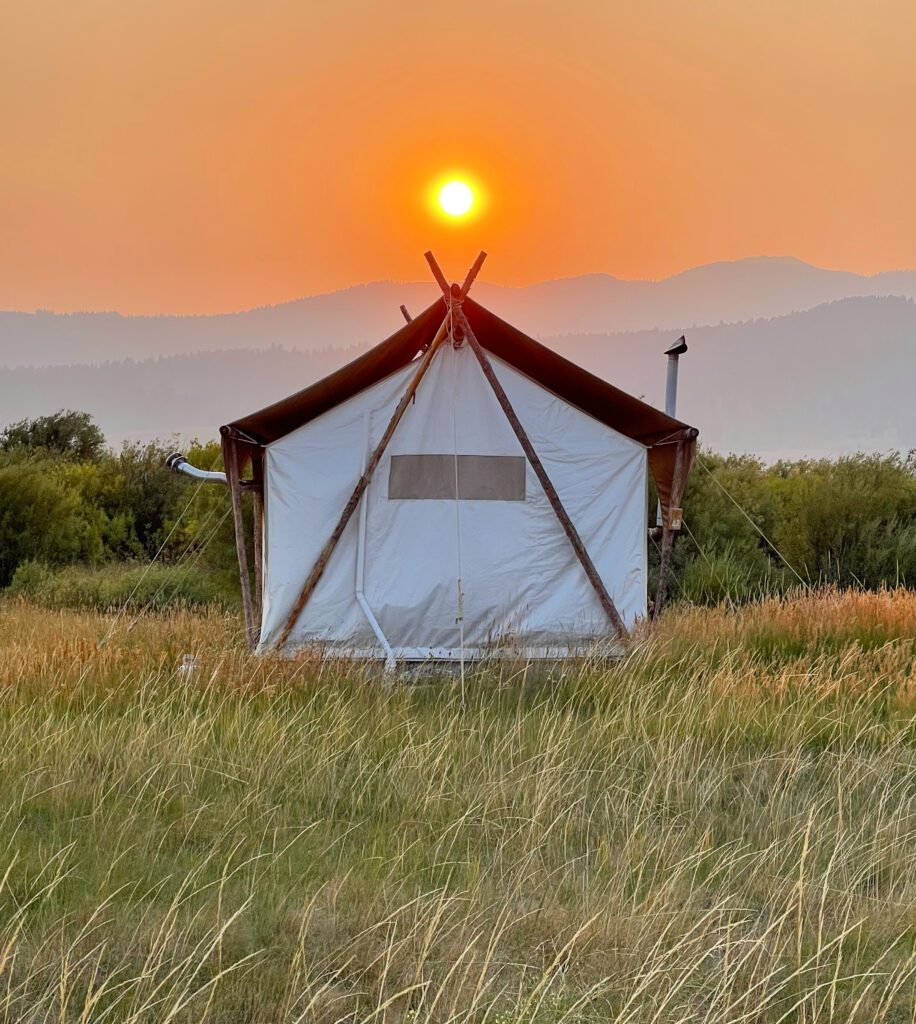 Under Canvas Yellowstone Glamping Tents
The safari-style canvas tents at Under Canvas Yellowstone accommodate any group size ranging from couples to large families. All Under Canvas locations offer the standard luxury canvas tents which include the Suite, Deluxe, Stargazer, and Safari. There is also the option to include the Kids Tent for up to two children.  
The Suite, Stargazer, and Deluxe have private bathrooms, while the Safari has a shared bathhouse. In our experience, the bathhouse was amazingly clean all the time. We didn't have to use it much since our cabin had a regular flushing toilet and hot water shower (you have to hold the chain for the water, so we were roughing it a wee bit).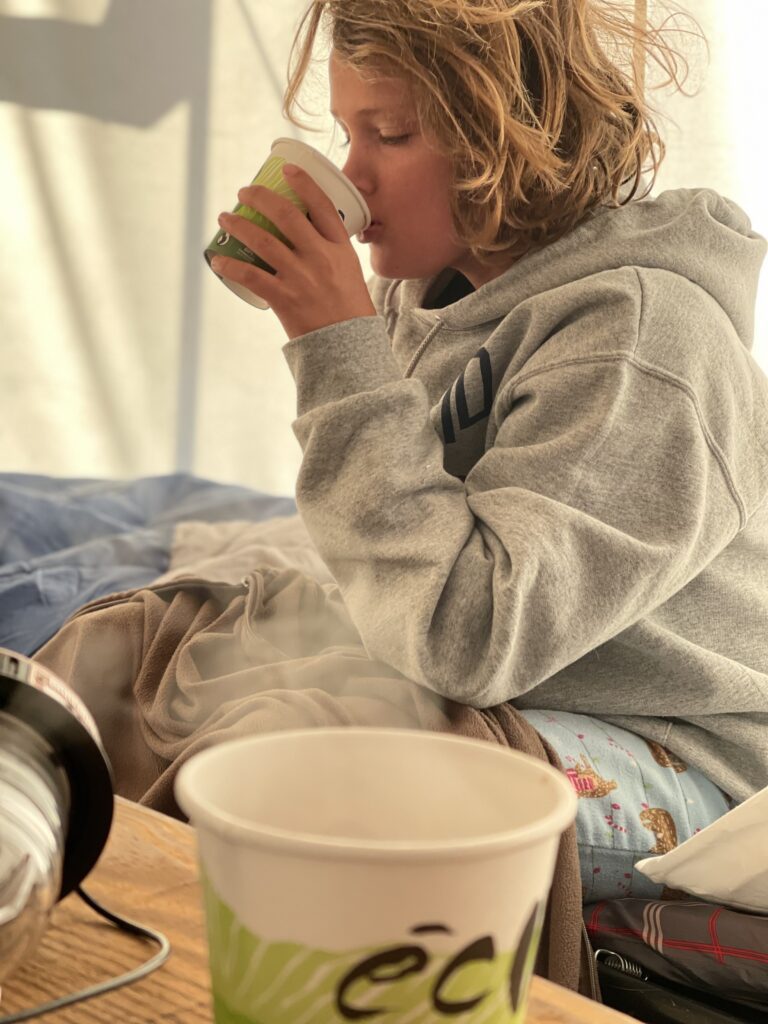 We stayed in a Deluxe that is only supposed to accommodate two people, but it was paired with the Kids Tent, which also sleeps two. The plan was to have a cot in the main tent for Wes. Max and Theo would sleep in their own digs. It ended up being really chilly with temperatures below freezing, so we all piled in one tent. Our king bed was amazingly comfortable, and they brought in cots for the boys.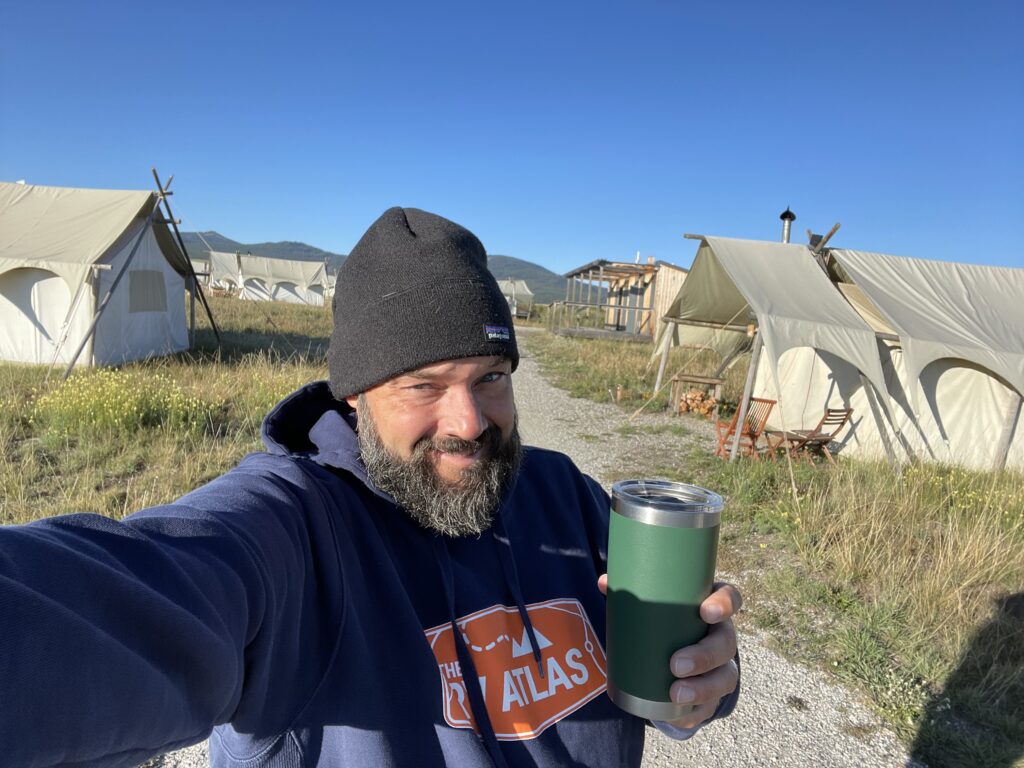 Our Deluxe Under Canvas tent also had a wood stove that Jeremy loved building fires in. They give you a tutorial on how to light this when you check in. Plus, they restock your wood everyday. The temperature went down to 27 degrees when we were there, so Jeremy was frequently up in the middle of the night relighting the stove. 
Now, one important thing to know is that the tents don't have electricity. Under Canvas gives you battery packs, and you can swap them out for fresh ones and rechargeable lanterns. It really ended up not being a big problem.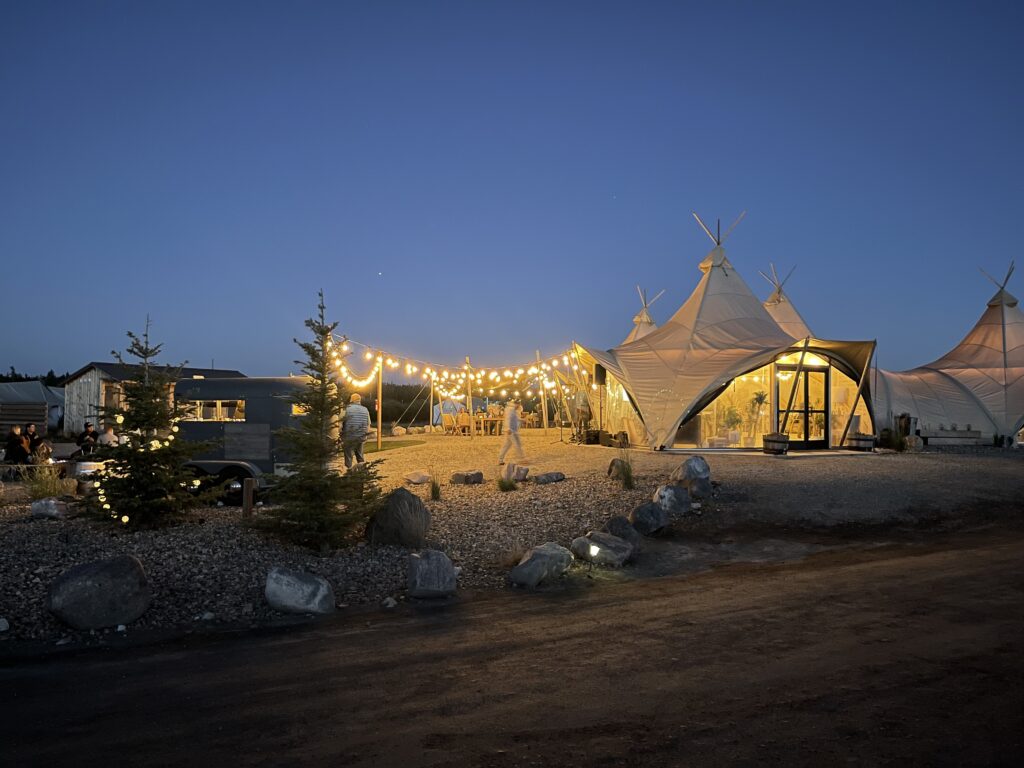 Finally, no food can be kept or cooked in tents due to fire safety and wildlife safety. After all, this is a wilderness area that shares a habitat with bears, raccoons, and a lot of other wildlife.
Under Canvas Yellowstone Communal Areas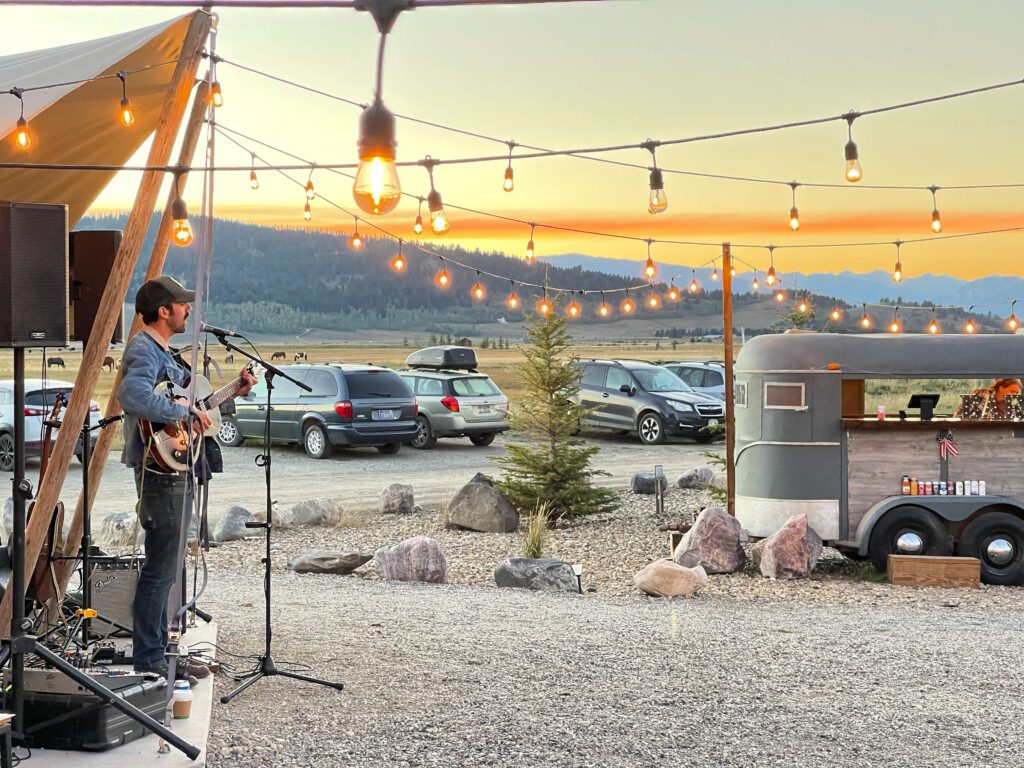 The indoor gathering areas at Under Canvas Yellowstone provide a nice place to play boardgames, meet other travelers, and grab some food to go. A nice big communal tent offers complimentary coffee, tea, hot chocolate, hot cider, and s'mores. An onsite restaurant serves breakfast, lunch, and dinner. Everything we had was delicious!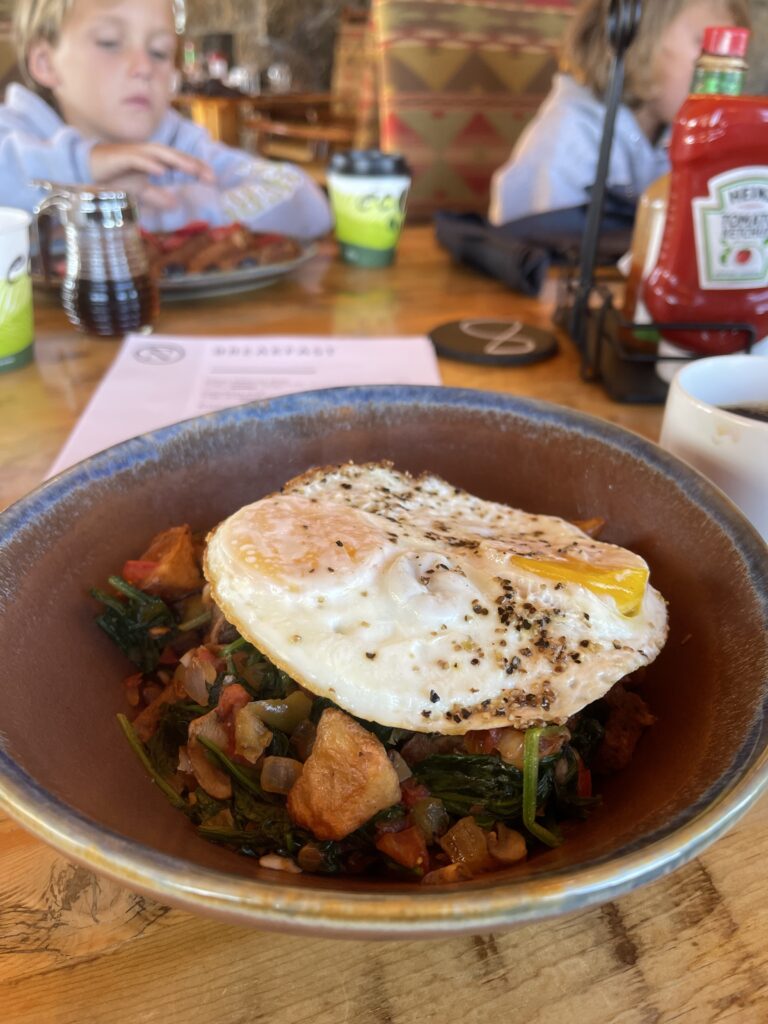 Outdoor communal areas include propane powered fire pits, as well as places to enjoy a round of corn hole or badminton. There's also a beer truck and live music at certain times.
Other Highlights of Under Canvas Yellowstone
We were very impressed with the customer service at Under Canvas Yellowstone. The staff was really lovely. They were prompt, friendly, and helpful. They were glad to bring us the little things we needed.
Even with all the amenities and good food, the most special part for us and our boys was the stargazing at night. The sky in this part of the West has very little light pollution. We were able to see the Milky Way and meteor showers all night.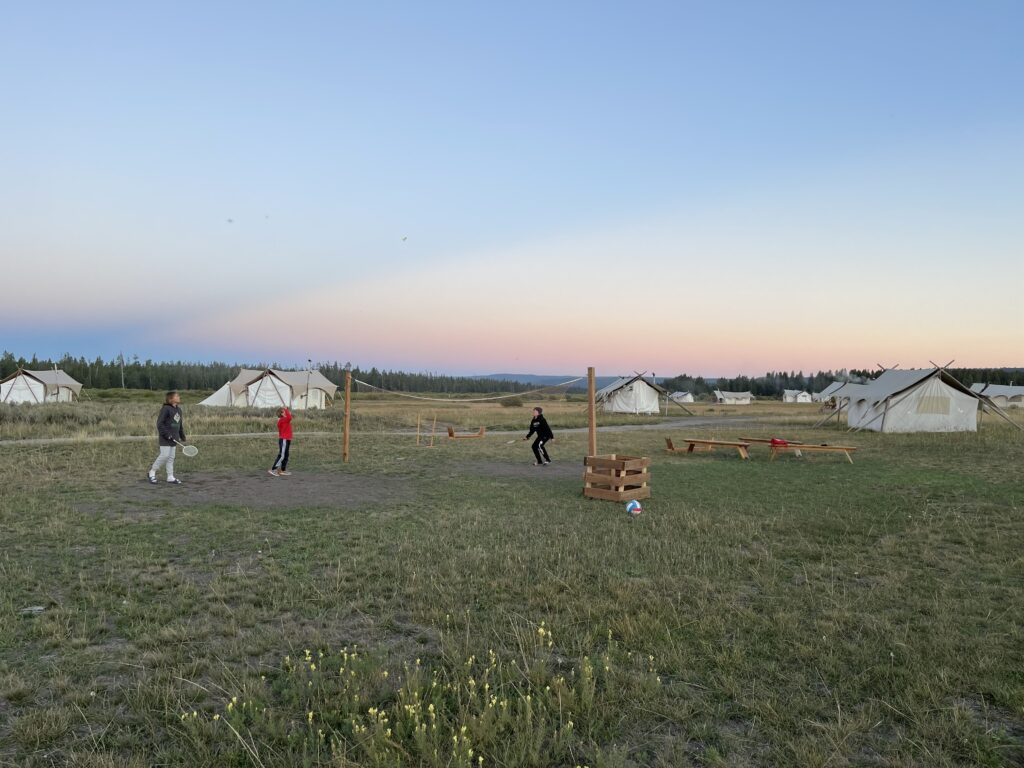 The location of Under Canvas Yellowstone is also wonderful. It is just 15 minutes to downtown West Yellowstone and the park entrance.
What's our bottom line on Under Canvas Yellowstone? We could stay exclusively in Under Canvas locations around the country for the next 10 years of vacations and probably be happy! Truly, this was a uniquely exceptional experience. We made memories we will forever cherish.
See you at the campground,
Jeremy + Stephanie
Podcast: Play in new window | Download