Hey Boo Boo! Stephanie is back on The RV Atlas podcast this week for our review of Yogi Bear's Jellystone Park Delaware Beaches! On today's episode of the podcast we give an overview of Jellystone Park Delaware Beaches, and talk about some fun things to do in this gorgeous section of coastal Delaware.
This was a bit of a quick trip for us that we tacked on to a major baseball tournament for Max and Theo at the Cal Ripken experience in Aberdeen, Maryland. It was a tough tournament for the boys and we all really needed a break after the hot weekend of baseball. So the pools and waterslides at the Jellystone (and the nearby beaches) were a welcome respite for our boys–who were exhausted at the end of the tournament.
This past spring a company named Blue Water bought this particular Jellystone and began to quickly make some new additions and improvements to the park. Stephanie and I have loved the Blue Water properties that we have visited over the years and we were both excited to take a look and see what they were up to here. We have visited Blue Water properties in the past (including Massey's Landing and the Chesapeake Bay KOA) and loved them!
When we first pulled into the Jellystone and checked into our cabin the boys were thrilled to hear the happy sounds of an ice cream truck driving around the campground and selling its wares!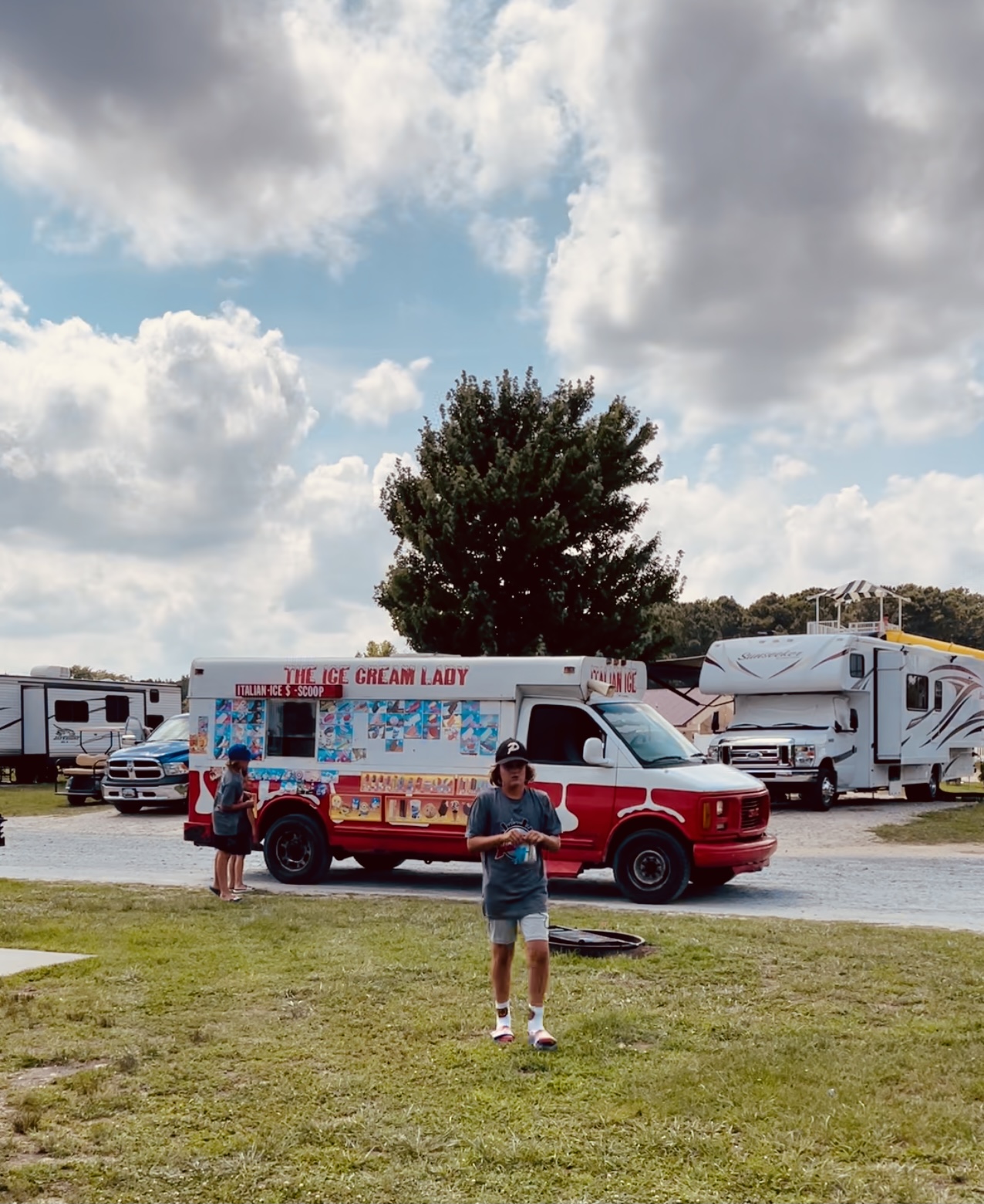 The boys were pumped because it was sooooo hot out and it had been all weekend long at the baseball tournament in Aberdeen. Stephanie could not come to the baseball tournament that weekend because of work, but she showed up at the Jellystone a few minutes after we arrived and we were all thrilled to see her and catch her up on the happenings at the tournament.
After we all got unpacked and set up in the cabin we immediately took off for the pool and the brand new waterslides that Blue Water recently installed. I am pleased to report that the waterslides were both FAST and both young Wesley and Max and Theo approved of their velocity!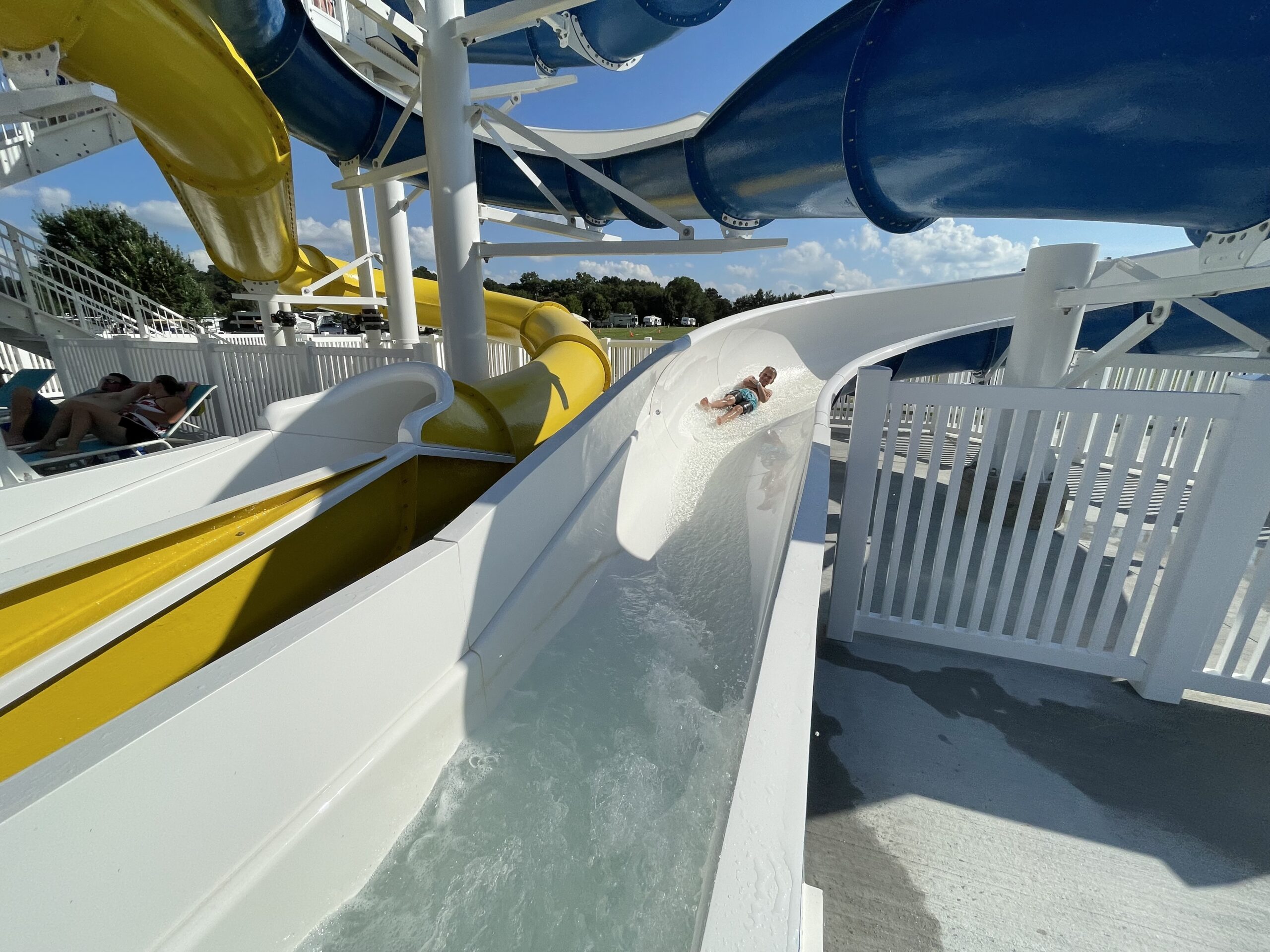 After cooling off and hitting the water slides about 30 times each everyone was hungry and ready for dinner. Stephanie had actually been in the region near Jellystone Delaware Beaches a few weeks earlier for a conference and she really wanted to take us up to the beach for dinner! So she drove us all to the Big Chill Beach Club which is located inside Delaware Seashore State Park. This place had stunning views of the bay bridge and of the ocean. It is located right smack on the beach and the food was really, really good. It was Sunday night and we got right in without waiting. It felt good to be back together as a family after the long weekend of baseball craziness.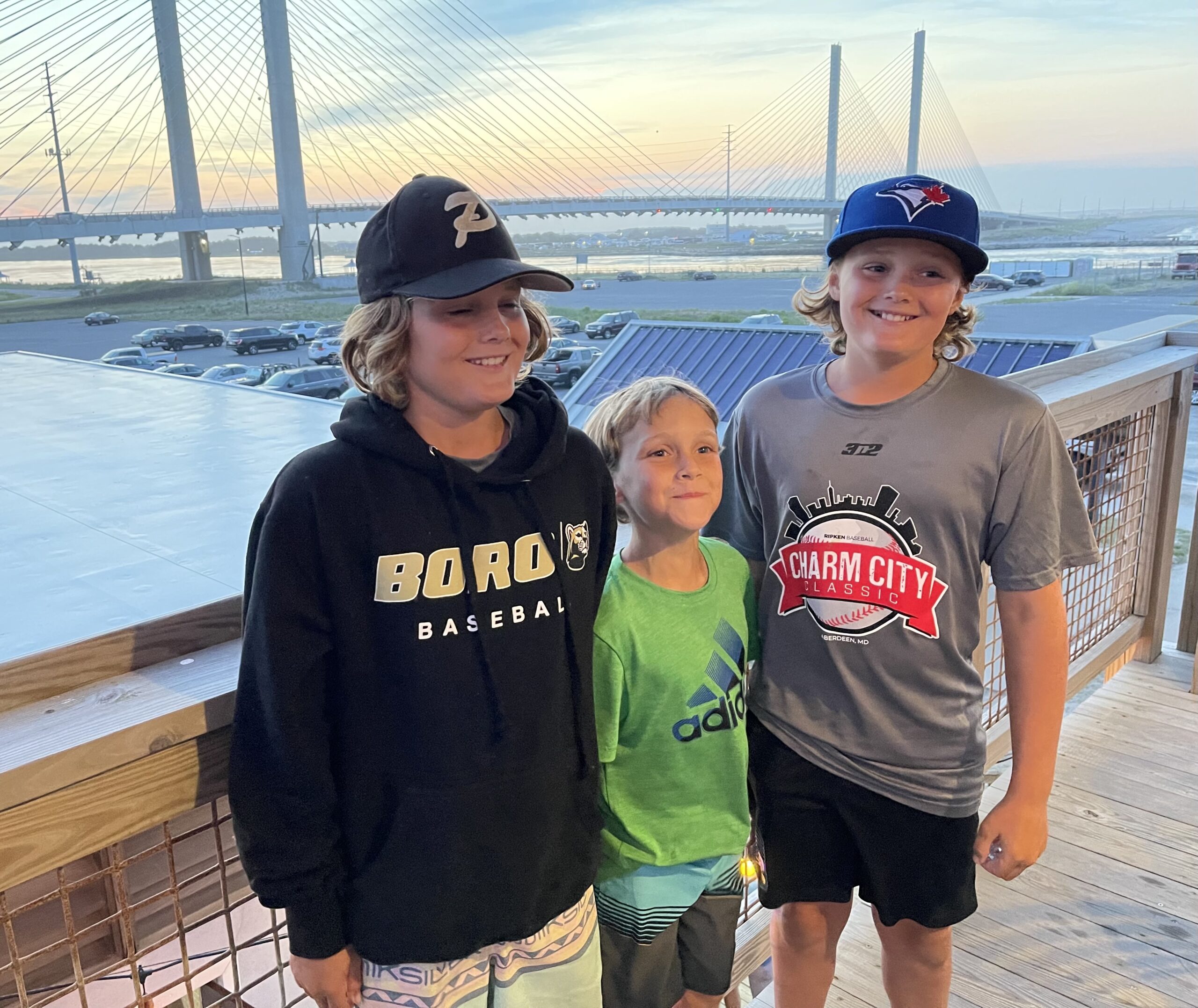 After a relaxing meal by the water we headed back to the cabin and crashed pretty early so we could be refreshed and ready to go for a day of swimming at the pool and the beach! The rest of our stay went by quick–but we enjoyed every second of our time at the campground and in coastal Delaware
Location of Jellystone Park Delaware Beaches

Jellystone Park Delaware Beaches serves as a great basecamp for exploring Coastal Delaware. It is about 20 minutes to Lewes, which is a fantastic beach town with lots of charm, great food, and shopping. If you go to Lewes make sure to grab breakfast at Eggcellent, because it is excellent! The Jellystone is also about 40 minutes from Rehobeth Beach–which has a much more boisterous and partly-like atmosphere–especially in the summer. 
So this campground is not right by the beach–but it serves as pretty good jumping off point for a day trip to the beach.
The entire Delaware coast is gorgeous. So why have we never camped here before? Partly because we felt like it was too much like our home at the Jersey Shore. Turns out it is very different, and very much worth a visit even for Jersey beach folks like us!
Cabin Sites and RV Sites at Jellystone Park Delaware Beaches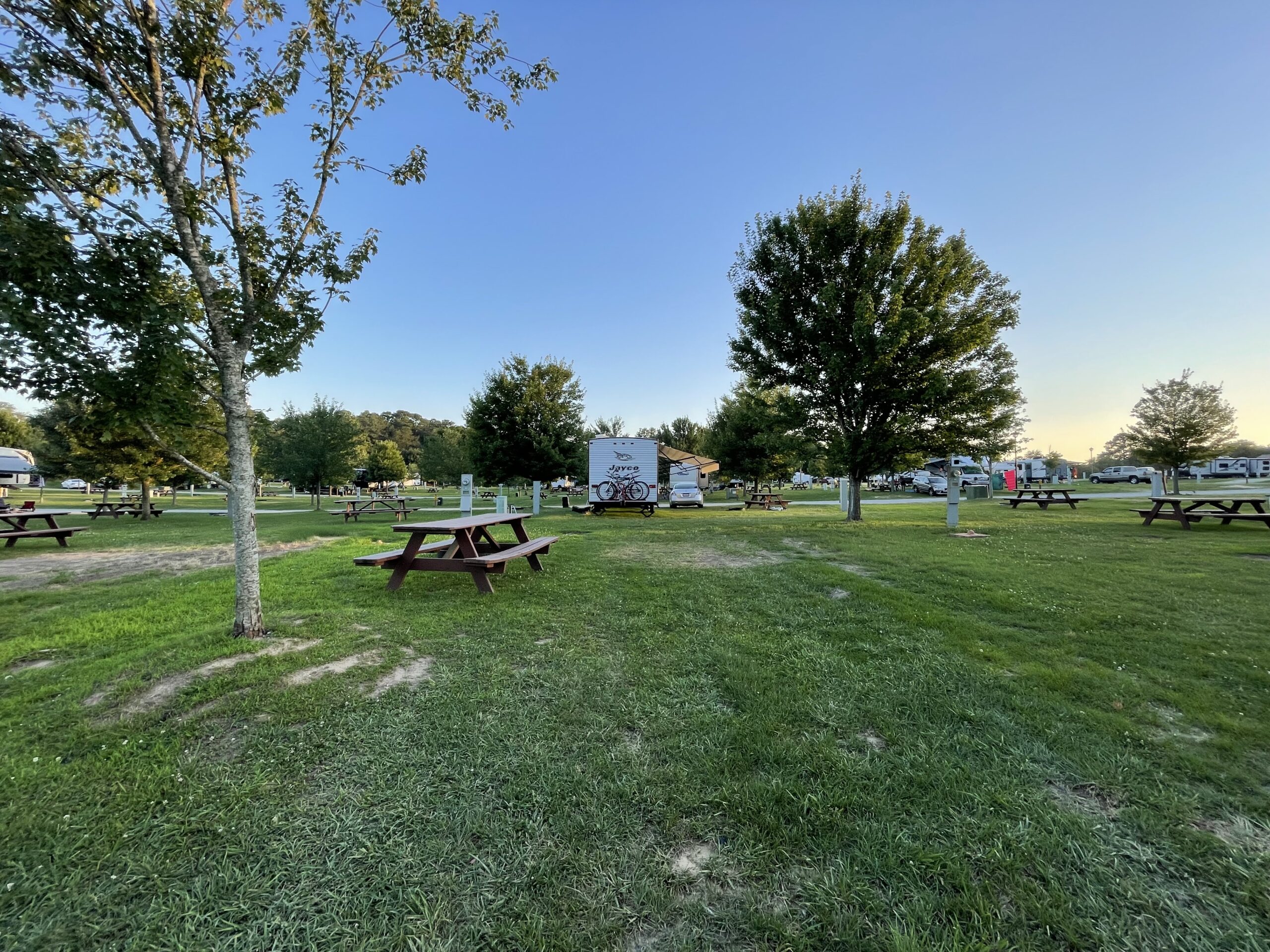 This is a big campground with a long row of cabins and 8 long rows of RV sites. The cabins were good for families with bunks and had private bedrooms for mom and dad. We had a cabin with bathroom and kitchen, front porch, side fire pit and picnic table. It was close to the pool and short walk to the amenities. The manager, Bryan (who does a great job!) said they are adding new deluxe cabins next year. We think they will be a great new addition to the campground for those that don't own RV's.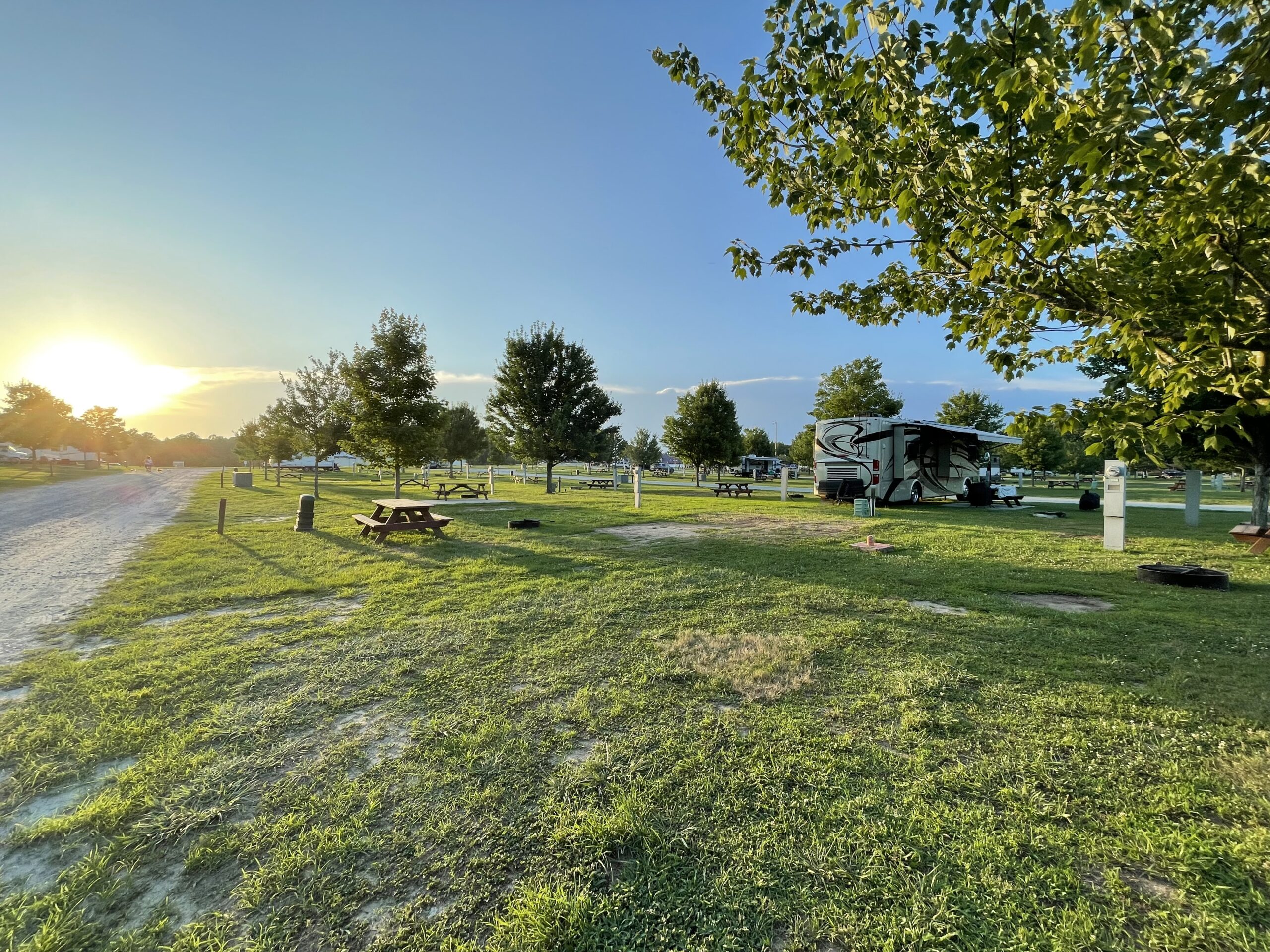 RV Sites were really nice here. They were fairly spacious with some shade and landscaping mixed in—they were all pretty even steven as well in terms of sizing. I liked the sites that backed up to the woods on the far side of the campground for some shade and more privacy. We enjoyed riding our golf cart up and down the rows and checking the RVs out.
Some seasonal sites were mixed in and they looked nice and very well kept.
Activities and Amenities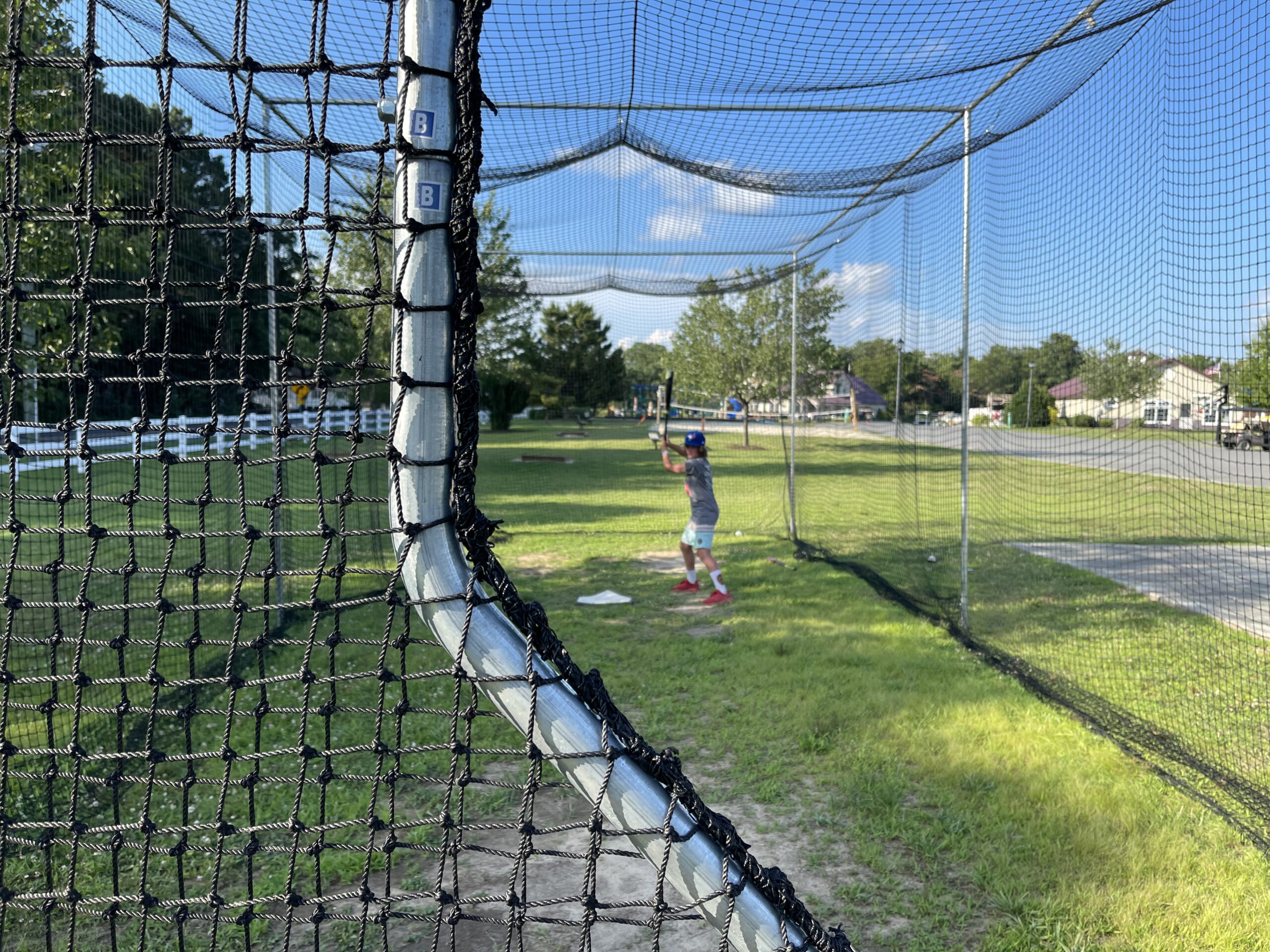 There are a bunch of fun amenities at the front of the campground  and a huge activity field for football or whiffle ball–or a game of catch. This is a very nice section of the campground with something for just about everyone. There is also a nice playground area with shaded seating nearby to hang out while the kids play.
There are also basketball and volleyball courts that older kids will enjoy.
The thing that Max and Theo loved the most was something I have never seen at a campground in over a decade of serious camping! The had a full size batting cage!!! MAX AND THEO LOVED IT!!!! We would all love to see this at more campgrounds in the future. We were lucky because we had all of our equipment with us from the weekend tournament. I am not sure if they provide equipment for those that come without. If they don't, they should.
There were lots of other activities and amenities here as well…..
JELLYSTONE THEATRE FOR MOVIE NIGHTS

HAY RIDES

AN ACTIVITY CENTER GREAT FOR RAINY DAYS
HORSHOES
A NICE CAMPSTORE WITH REALLY FRIENDLY CUSTOMER SERVICE
GOLF CART RENTALS
Our time at Jellystone Park Delaware Beaches was short, but we would love to come back with our own RV and stay in one of the many nice sites at this pretty campground. And we will make sure to bring our baseball bats, our bathing suits, and a bucket of baseballs. That's about all we would need for another epic summer adventure!
Podcast: Play in new window | Download