The Myrtle Beach region is a hopping location with so many great RV park options…and now, there's another over-the-top campground to choose from. The Carolina Pines RV Resort takes the "resort" part of its name seriously.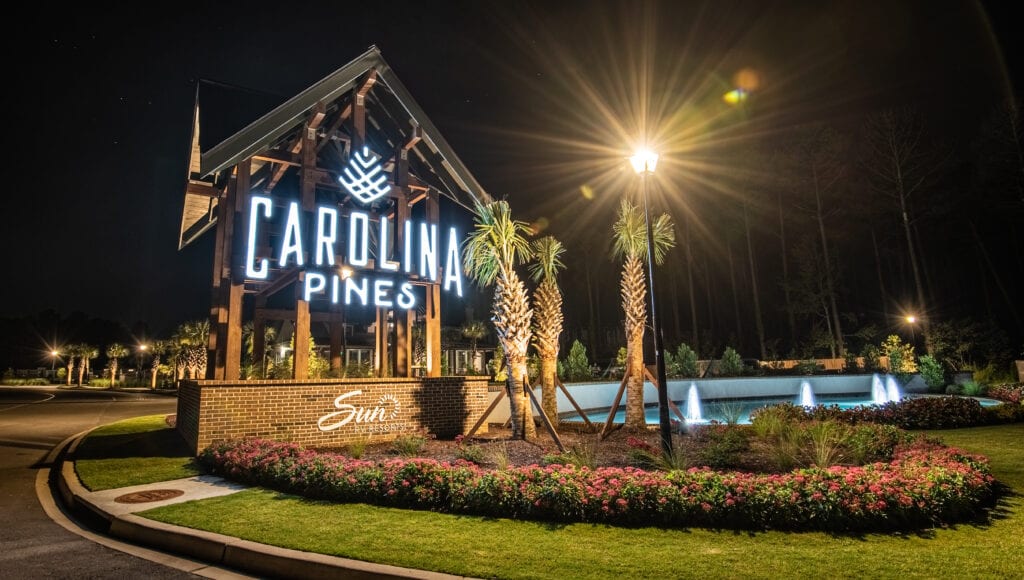 This review of the Carolina Pines RV Resort is going to tell you all about the sites and amenities at this hot property, thanks to our friend Bill Sferrazza. Bill is an amazing photographer, and he's taking us on a visual tour of this campground, as well as a verbal one. When he's not taking photos of RV parks, Bill is primarily known as a photographer of all things Disney.
To listen to our interview with Bill on the The RV Atlas click on the media player above. And Huge thanks to Bill for all of the great photos of Carolina Pines that appear in this post!
A Camper and a Camera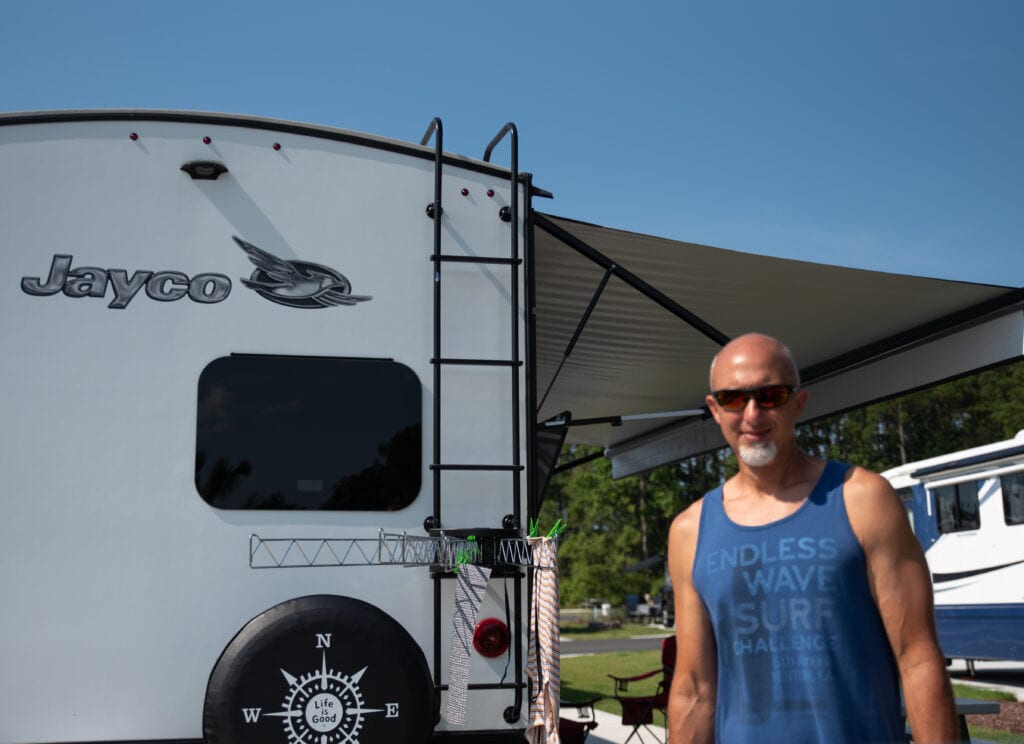 As a member of the Disney Vacation Club (which we told you about here), Bill was going to the parks once or twice a year. As a photo fanatic, he was, of course, snapping tons of pictures along the way. He began to share those online with a group, which grew and grew.
Bill ultimately began doing some freelance Disney photography and even started a YouTube channel called Disney Image Makers, where he and his friend Eric Weber help others learn how to up their photography game. You can see their Disney photos on Instagram (where he has 75,0000 followers!), too, as well as Bill's RVing photos, which he shares under the account A Camper and a Camera.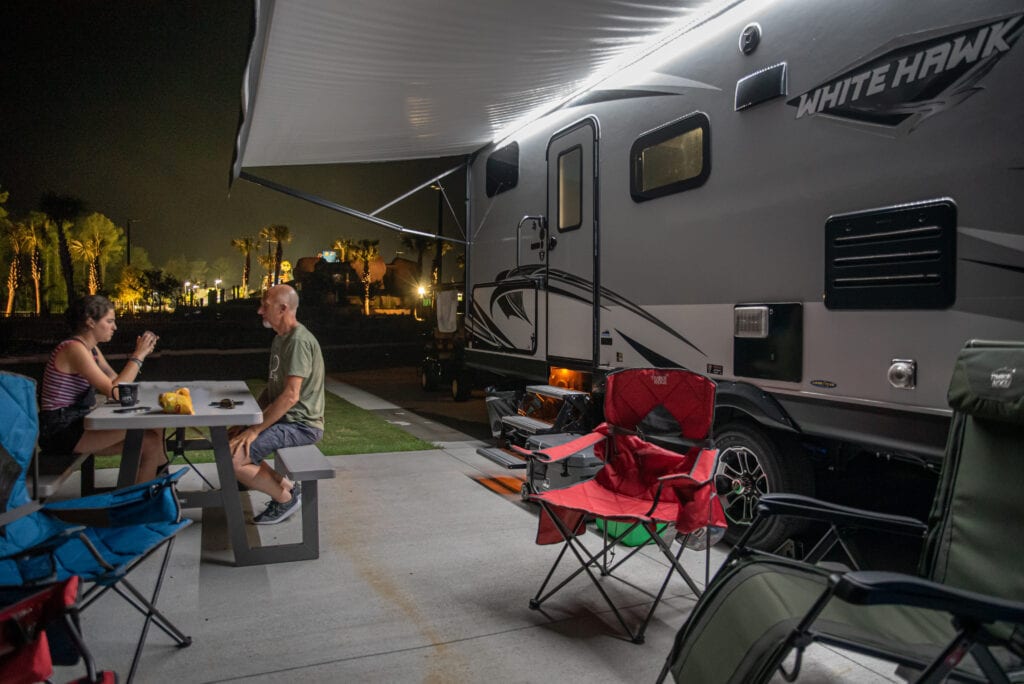 While Bill loves photographing Disney, he has also enjoyed turning his camera to his RV and the parks he visits with his family. This hobby has led to more opportunities. You might see his professional work out there for Jayco, Jellystone, and more. We are excited to have Bill here to share his review of Carolina Pines RV Resort.
Carolina Pines RV Resort Location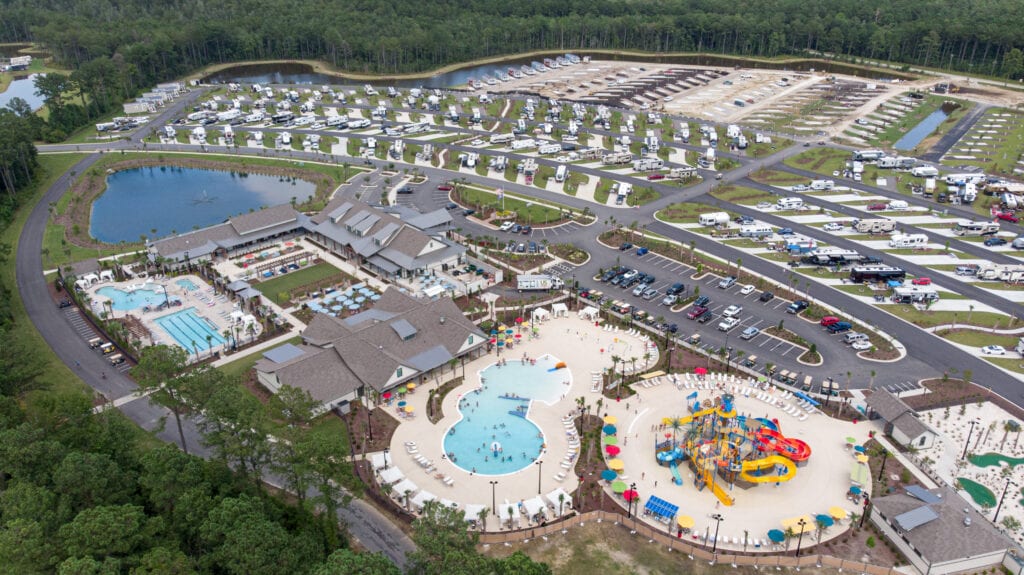 Carolina Pines is located in Conway, SC, around 25 minutes from the heart of Myrtle Beach. For his trip, Bill and his family mostly enjoyed the resort itself and the beach. If you want to be closer to the main attractions of Myrtle Beach, you might want to check out one of these campgrounds. But, if you are like Bill and you plan to take advantage of all of the amenities and hit the Atlantic, then Carolina Pines just might be for you.
Bill describes Carolina Pines as being on par with Disney Resorts in the quality and ambiance of the park. So, come ready to play onsite, and you may find yourself deciding not to leave.
Campground Ambiance at Carolina Pines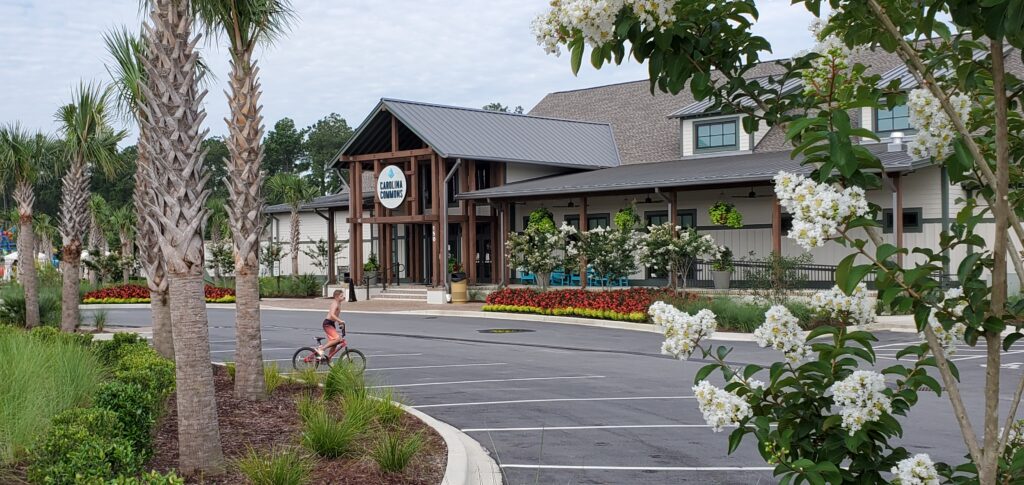 This brand-new resort feels very grand right from the entrance, and Bill has been to many of the best parks in the Eastern U.S., including Fort Wilderness, Normandy Farms, Anchor Down, Ocean Lakes, and so many more. He describes Carolina Pines as being on the "next level" like these amazing parks.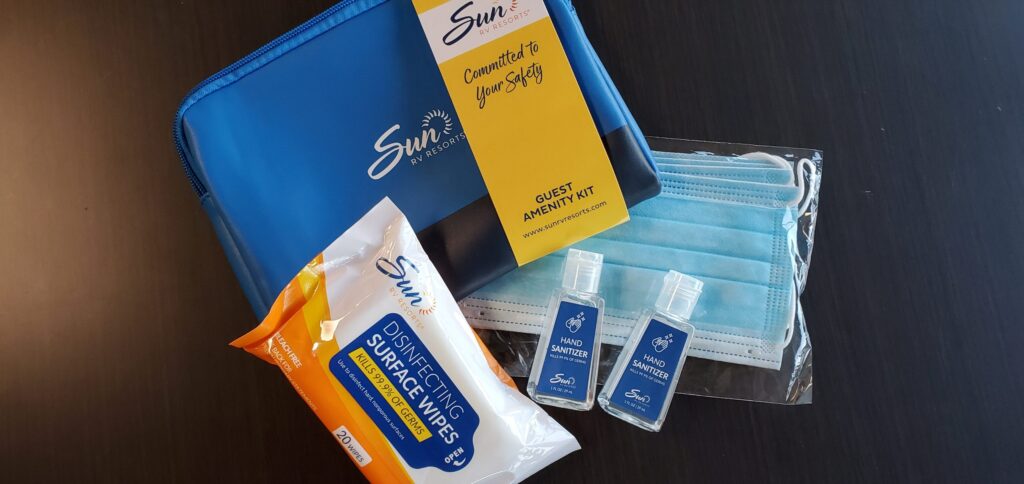 Even in the middle of a pandemic, Carolina Pines set the bar higher. They gave Bill's family a gift pack upon arrival, complete with masks, surface wipes, and hand sanitizer. The resort required mask use inside, while they were optional outdoors in less crowded spaces. We really appreciate knowing this, as we know everyone is deciding whether or not they'll feel safe while traveling during COVID-19 (check out our list of 12 tips here).
Campsites at Carolina Pines RV Resort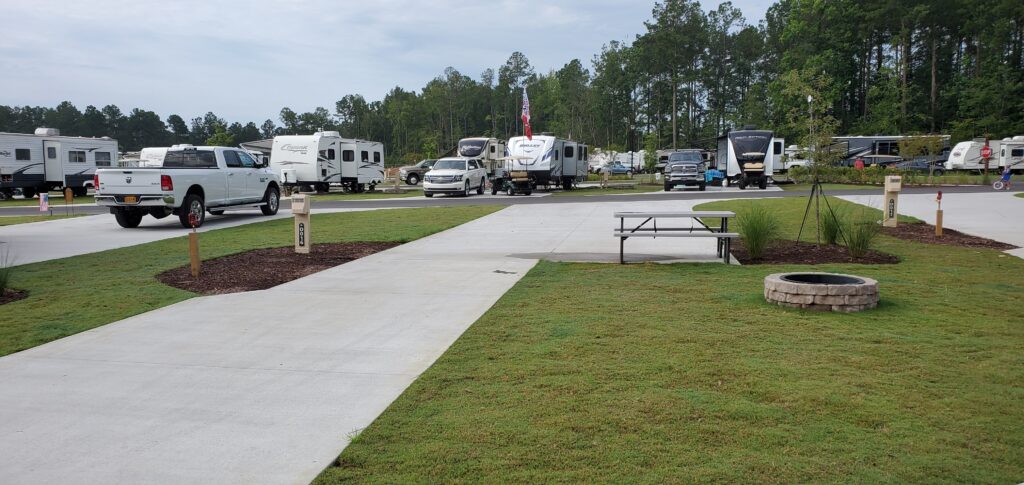 Carolina Pines RV Resort offers two types of campsites. You'll find both pull-thru and back-in sites. Bill described the pull-thru as being large enough to fit his truck, 35-foot trailer, another truck, and even a golf cart.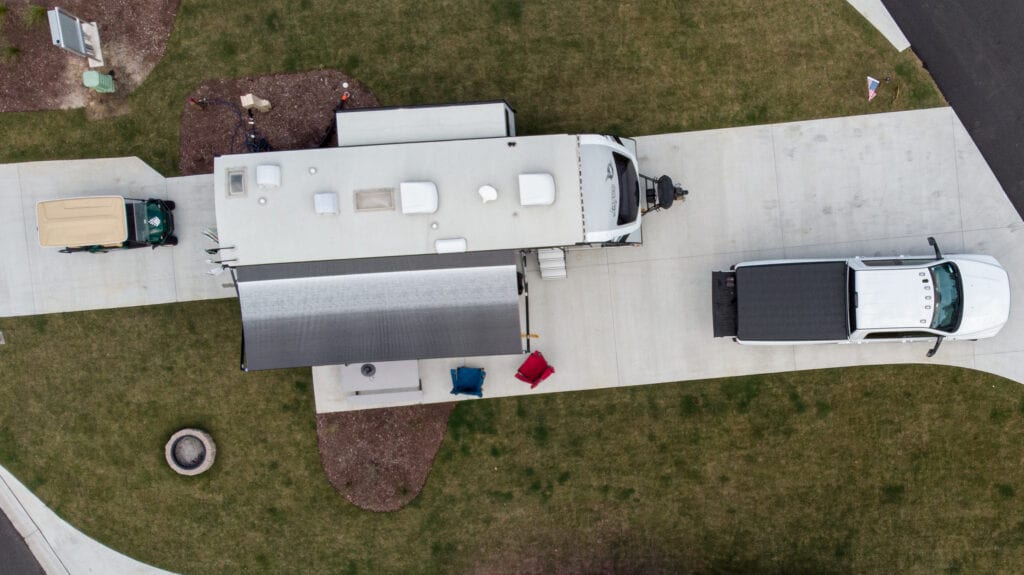 You could park practically any rig on these gigantic concrete sites. However, even the back-in sites are plenty generous in length.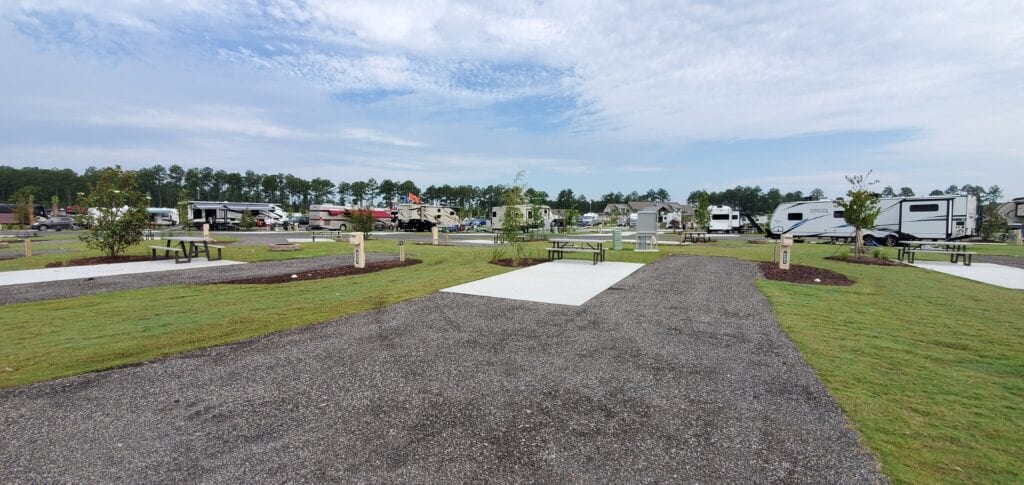 While they don't have concrete pads for the rig, the back-in sites do have a concrete patio and the gravel looks well-maintained. There is only a $10 difference in price, so if you can get a pull-thru, you might as well.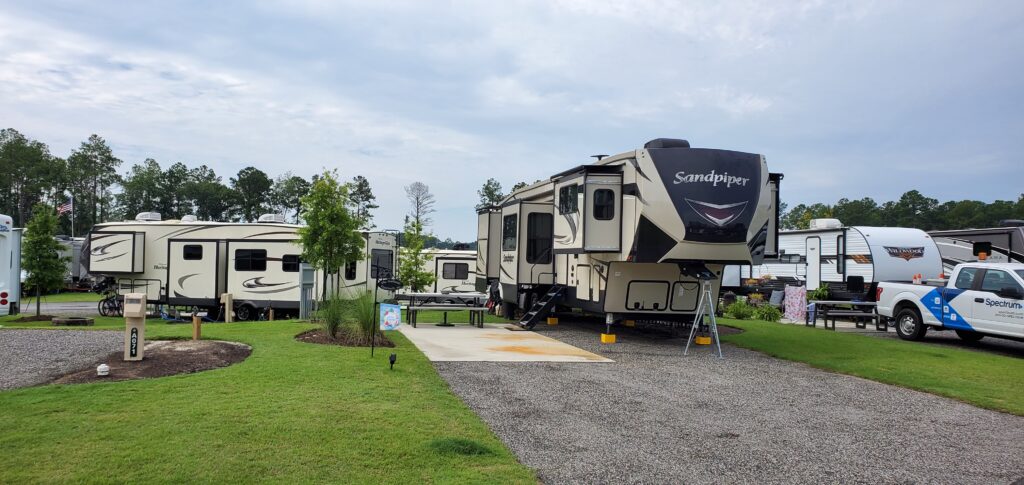 One thing to note is that this is a new campground, so the landscaping is still growing in, which means you won't have a ton of privacy between sites. While they are nicely spaced apart, you will see your neighbor.
Campground Sections at Carolina Pines RV Resort
Bill gave us the lay of the land at Carolina Pines. This resort currently has three sections open, with more under development.
Section A was the first phase of the park. It has 31 premium sites and 103 back-ins, and the annual sites are located here. You are closer to the road here and may pick up some road noise, but the landscaping is more developed, which is nice. This area has an indoor pool and spa, dog park, horseshoes, and bath/laundry facilities.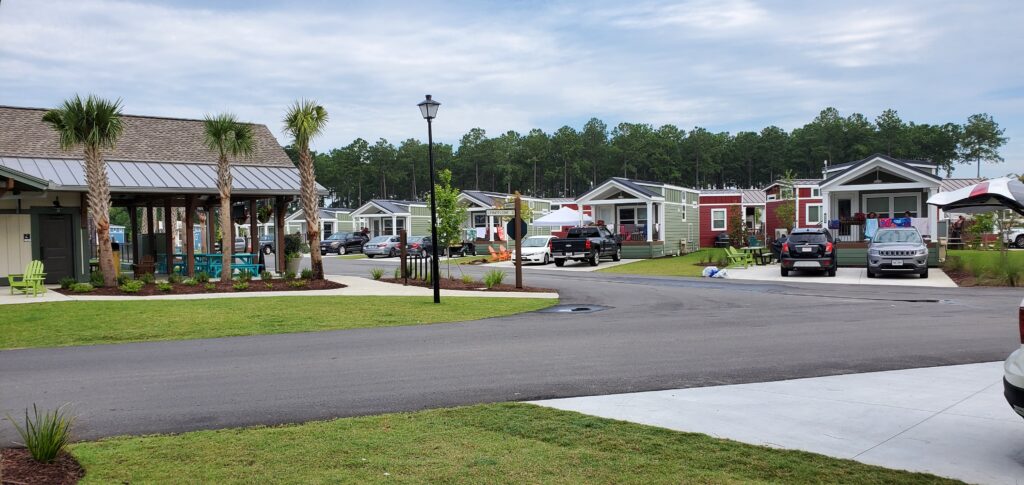 Section B has 35 back-in sites and 112 cabins. You'll find a great selection of cabin styles, including some that are handicapped/wheelchair accessible. This is a great area for traveling with a group of friends or family that includes non-RVers. This area is close to the sports courts and has a fenced playground. A walking bridge connects it to the main recreational building, restaurant, store, and pool areas. It also has its own laundry/bath facilities and dog park with a dog-washing station.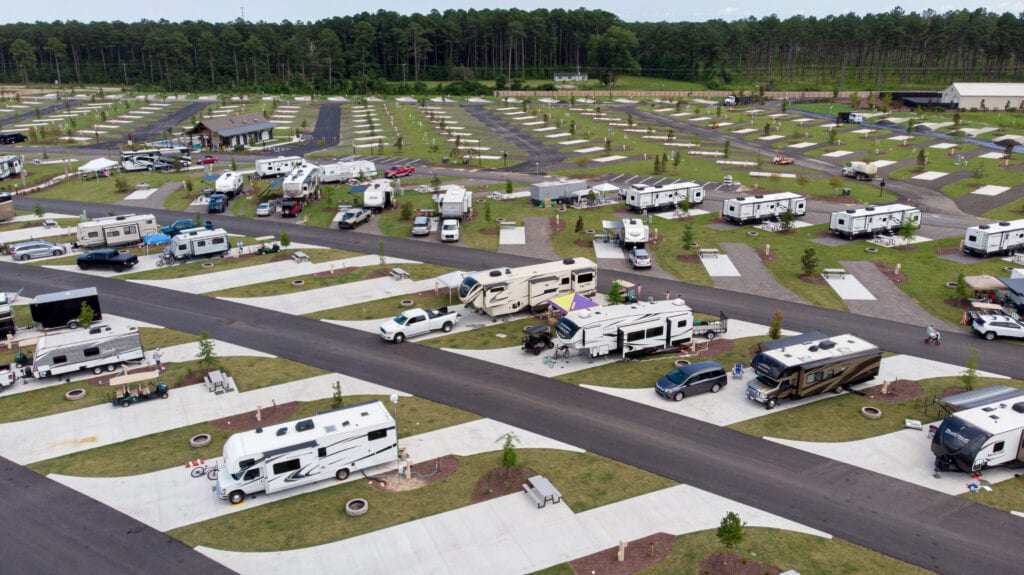 Sections C & D has 118 premium pull-thru sites, 100 back-in sites, and 5 cottages for sale. These areas have close proximity to the main hub of the resort. The wide roads are perfect for easy maneuvering.
Bill says if you are going to rent a golf cart, this is the place to do it! This place is HUGE!
Facilities at Carolina Pines RV Resort
Of course, as you might expect, the facilities at Carolina Pines RV Resort are top notch. From when you first pull up, you get a sense of grandness. Bill really liked how you could find seating areas with fire pits in many locations across the campground.
Near these seating areas, you even find some games to play, like corn hole. All of these public spaces really add to that resort feeling.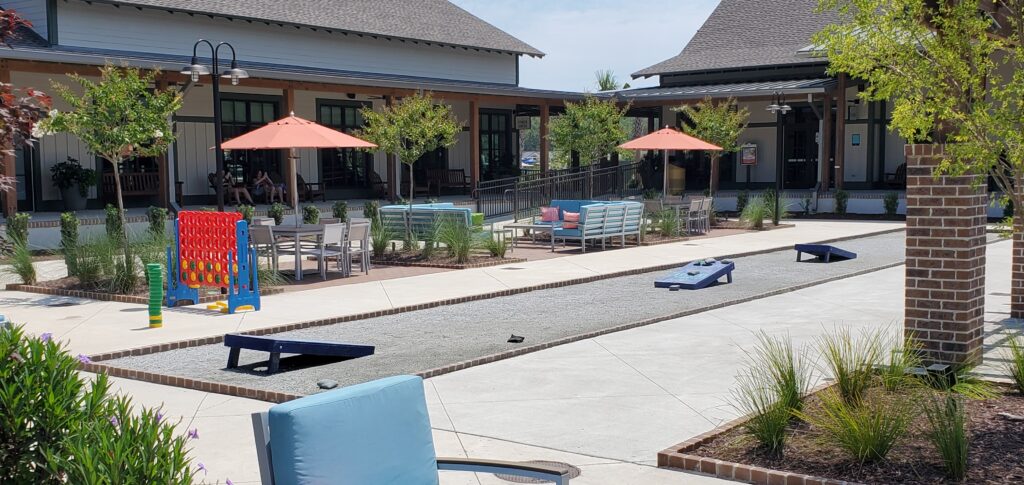 Bill points out that the laundry rooms and bath houses are exceptionally clean and well designed. They are located in each section.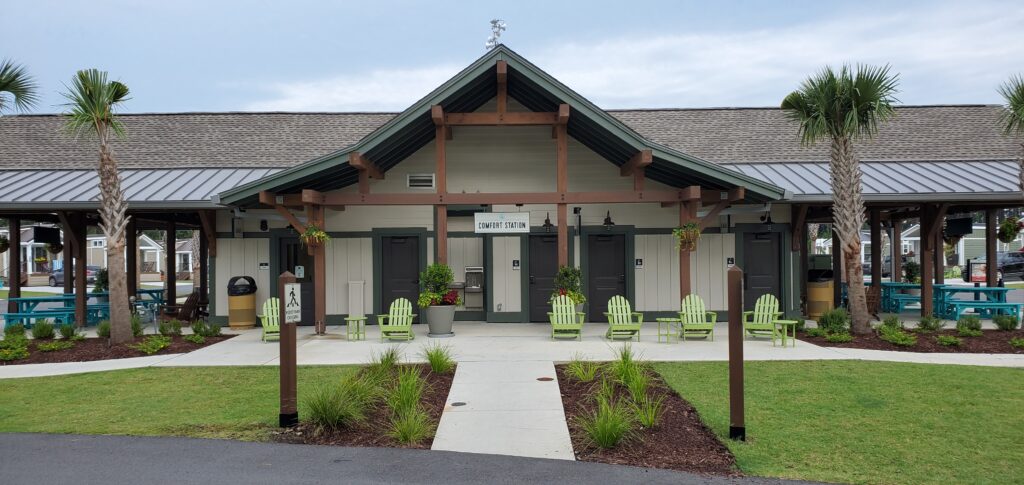 As far as WiFi and cell signal goes, you'll find access to both at Carolina Pines. Bill said the campground WiFi wasn't quite as fast as their cell data, so they preferred to use their own hotspots.
Amenities at Carolina Pines RV Resort
Our review of Carolina Pines RV Resort would not be complete without running through this awesome list of onsite amenities.
Let's start with the waterpark. Carolina Pines has multiple pools and hot tubs. Plus, they have a gigantic waterpark. These waterslides are not just for kids, they are the real deal.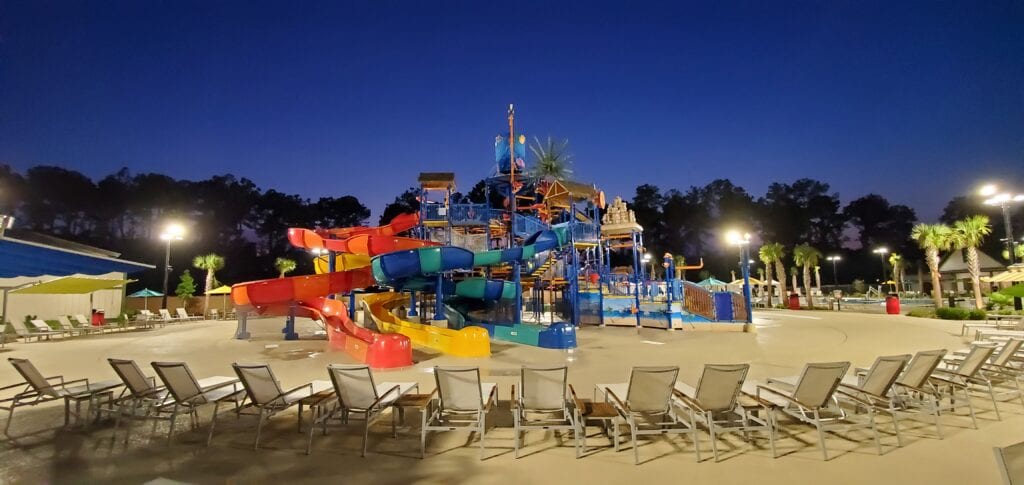 You'll also find a spray ground, cabanas, waterfalls, a zero-entry pool, and so much more to make your time at the pools a whole adventure. A lazy river is even in the works!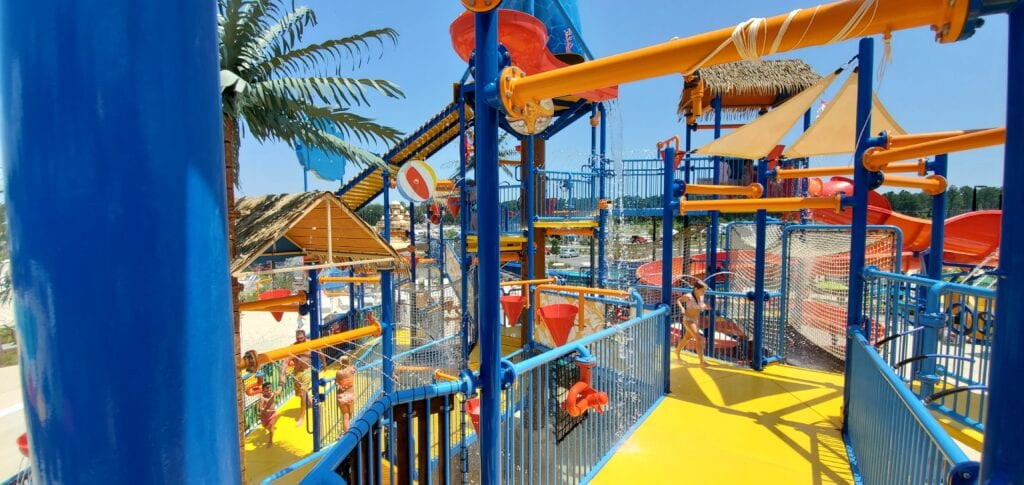 Two of the pools are part of a "serenity area" aimed at adults, including a nice indoor pool. This is a quieter area, where you'll find a spa and a wait staff that can bring you poolside food and drinks. We know where Stephanie would like to hang out…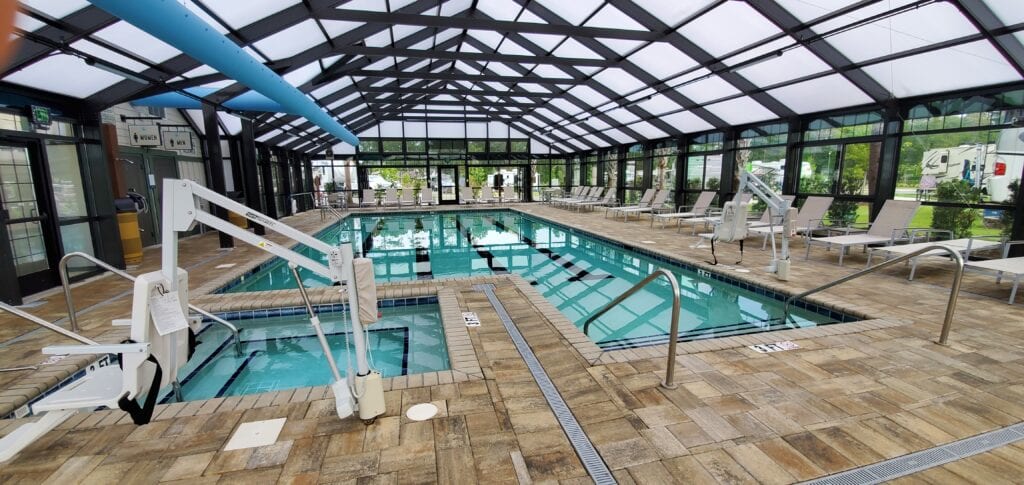 But, wait, there's more! The recreation center has facilities for basketball, pickle ball, volleyball, and horse shoes. There's an onsite gym that is not just a work-out room, it's a massive full-service gym. Even the mini-golf course is amazing:
We STILL aren't done with those amenities. There's an indoor bowling alley: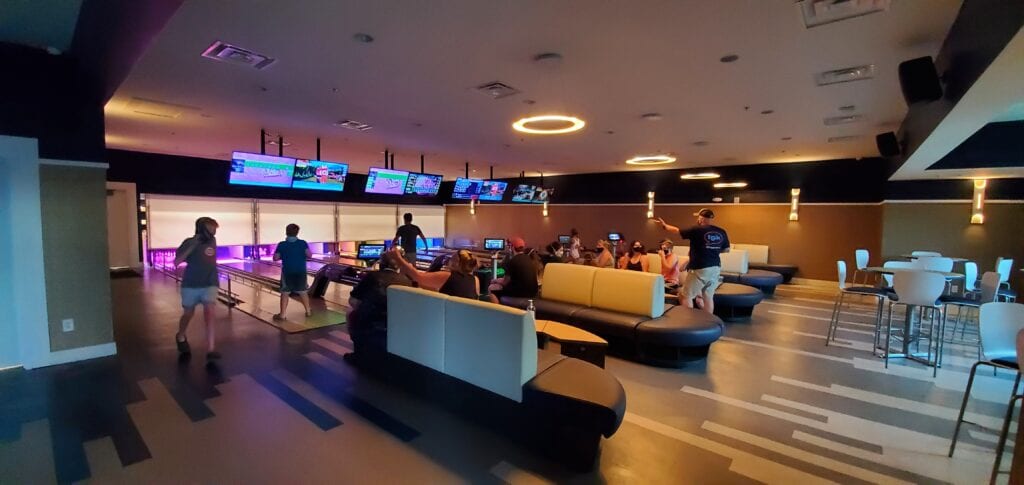 You'll also find a snack bar, a full-service restaurant, a bar, and food delivery options.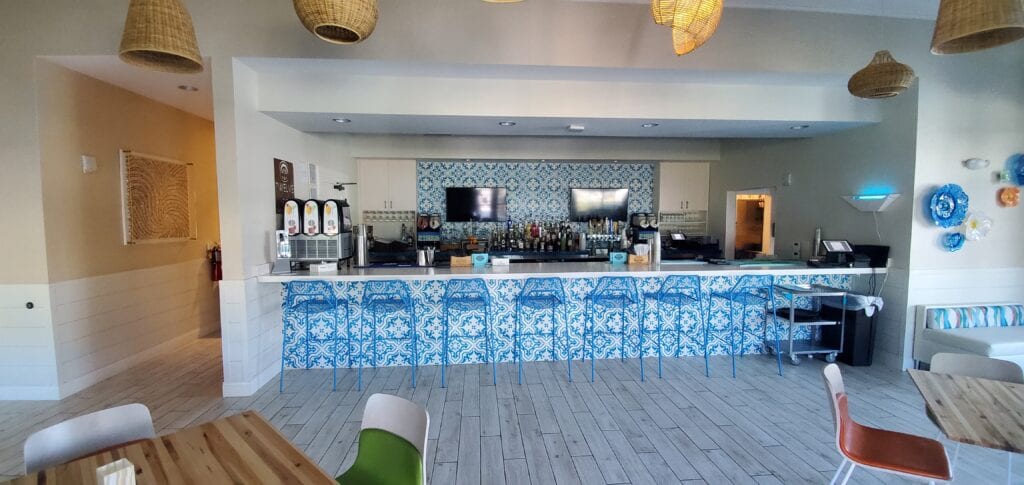 Like we said, you could arrive at Carolina Pines and not want for anything during your stay.
The Carolina Pines RV Resort Beach Club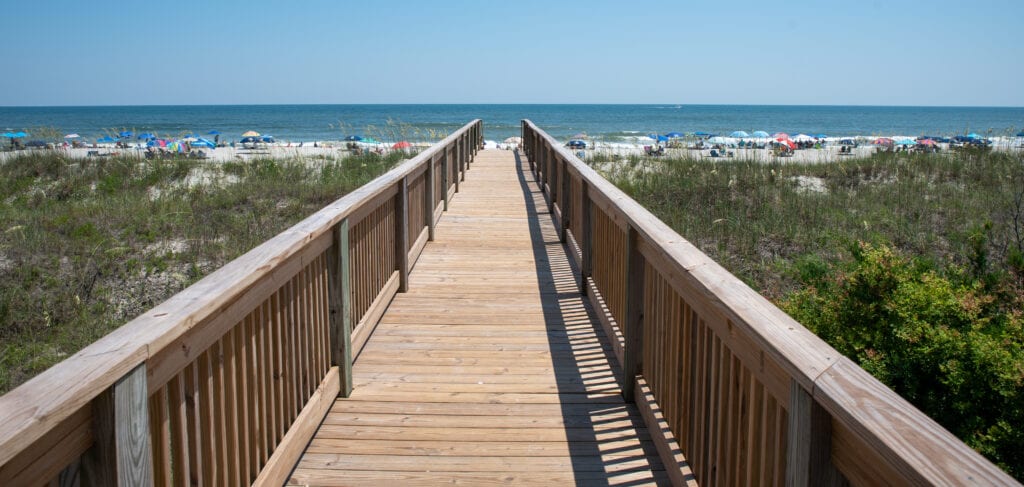 Now, even though Carolina Pines is not directly on the beach, they have some fantastic beach access around 20 minutes away. A complimentary shuttle will even take you there. The shuttle runs every half hour from 9:30-5:30. Or, you can drive yourself and pay a minimal parking fee.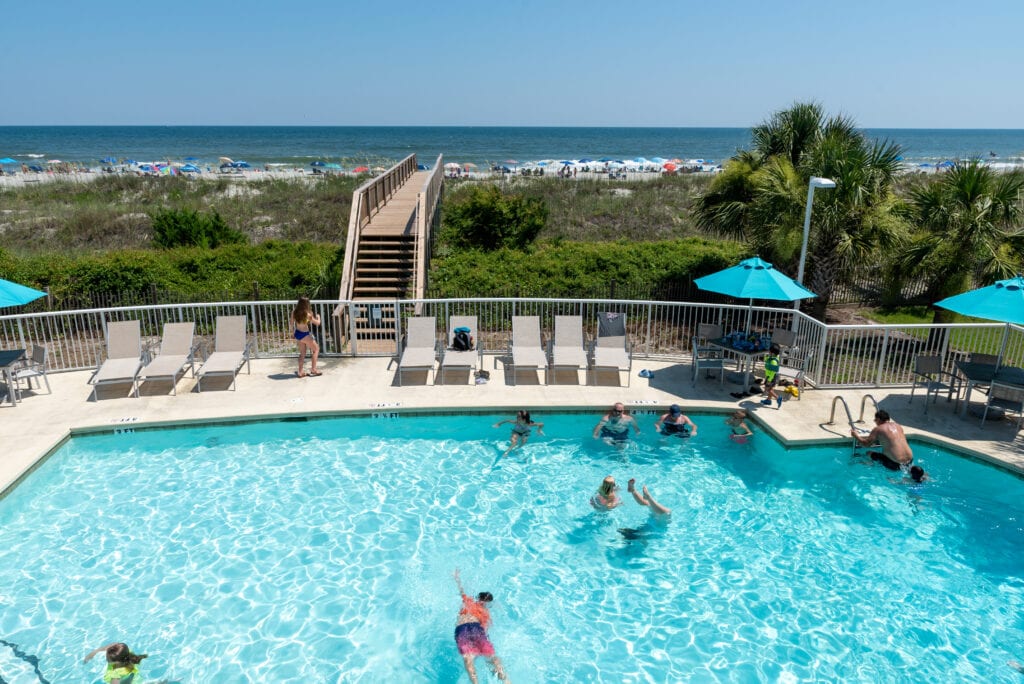 The nice thing is that you find much more than a beach access. Carolina Pines actually has a facility with some bathrooms, some social areas, and a pool! This makes it so much easier to enjoy your day at the beach.
Bill has stayed at other resorts directly on the beach, and while that is nice, he doesn't think the location of Carolina Pines is a problem since the newness and amenities really make up for that. Plus, you'll still have great access.
Reservations at Carolina Pines RV Resort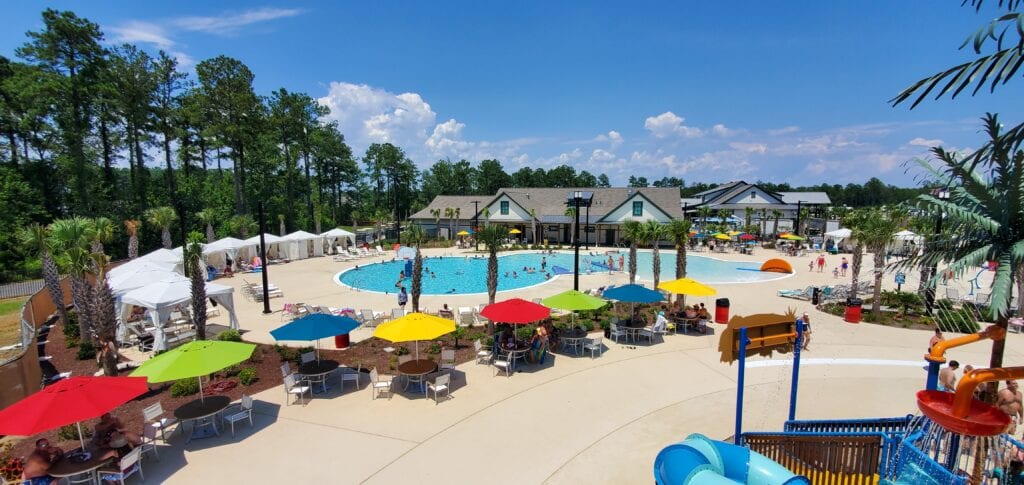 This review of Carolina Pines RV Resort may have you salivating about going there. So, how much are you going to have to pay? And, will you have trouble getting a site??
Bill says that Carolina Pines RV Resort uses dynamic prices, which means the rates vary depending on the season, day of the week, and other factors. During his 6-night stay, he may have paid a different price each night.
In general, you can expect to pay around $100-$110 during summer for a pull-thru site, with back-ins being around $10 less. Of course, you may pay less during the shoulder seasons.
We know that price is eye-popping to some, but again, if you look at the total entertainment value beyond just the campsite, it can be worth it.
What Can Be Improved?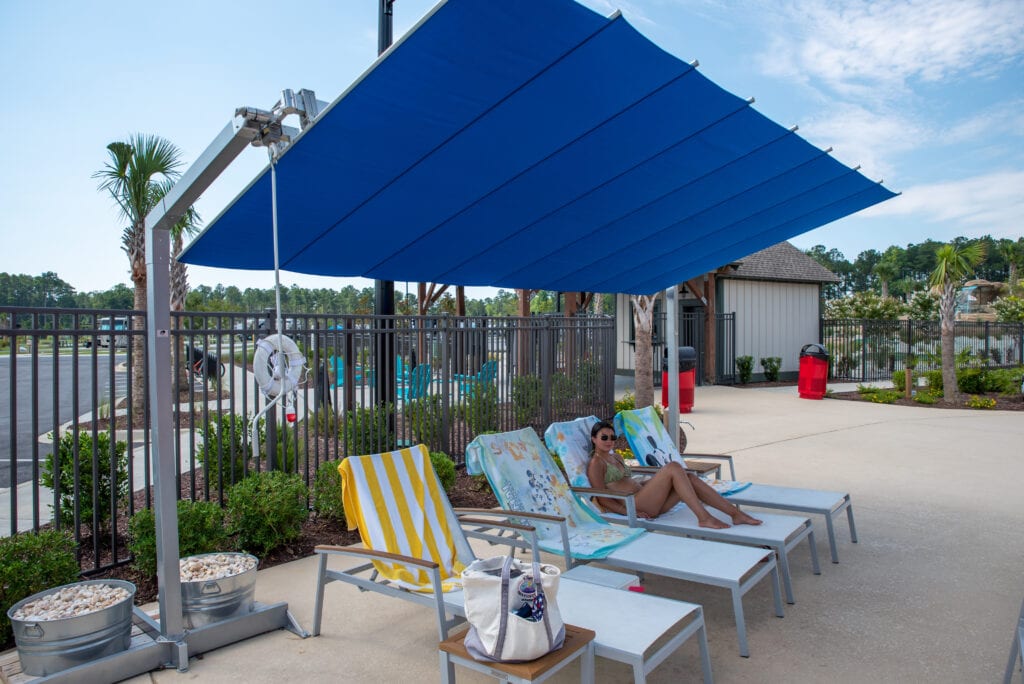 While Bill knows there isn't much the resort can do about this, there is virtually no shade. Since the park is brand new, it will take years for the small trees to grow in. So, for now, the sun is a little unrelenting. With temperatures in the 90s in the summer, you can expect your AC to run continuously.
There are some tables with sun umbrellas, and the pools have some cool shaded lounge areas (shown above); however, the poolside spots get snagged quickly. You can rent a cabana for $80 to get your own dedicated shade. So, while this sun might be enjoyable in early spring, if you are going in the middle of summer, be prepared.
Wow! We definitely enjoyed hearing Bill's review of Carolina Pines RV Resort and seeing all of his tremendous photos. Be sure to check out Bill's YouTube channel Disney Image Makers, his Disney Instagram, and his RV Instagram account A Camper and a Camera. A huge thank you to Bill! We are putting this one on our list.
See You at the Campground,
Jeremy + Stephanie
Podcast: Play in new window | Download