The spring of 2020 was a crazy difficult time for all of us, right?  We had to cancel several of our early and mid-spring RV trips because of Covid restrictions–and because we really did not have a grip on what was happening in the world. Cancelling those trips was sad and difficult to do. But we were also profoundly aware that, in the grand scheme of things, so many people were suffering at that time. Having to cancel an RV trip or two was a very small thing.  Something not worth complaining about.
But by Memorial Day of 2020 we were ready to go camping again–and restrictions in New Jersey and the surrounding states were in the process of being lifted. So we decided to keep our reservations at Moose Hillock NY and hitch up and head out for our first RV trip of the pandemic. I am thankful to the owners of Moose Hillock NY for how they handled the situation at that time. Before we decided to go we vacillated quite a bit about going.
During that window of hesitation I called Moose Hillock and spoke to Ed (one of the owners) about what their cancellation policy was at that time. He basically told me to do whatever I felt was best for my family and we could cancel and get a refund at any time. I am really grateful that he did that because it gave us some time to think through things before we decided that we HAD TO GET OUT OF THE HOUSE AND GO CAMPING!
To listen to last year's RV Atlas podcast about our trip to Moose Hillock NY and the Lower ADK's please click here.
Pandemic Camping in the Lower ADK's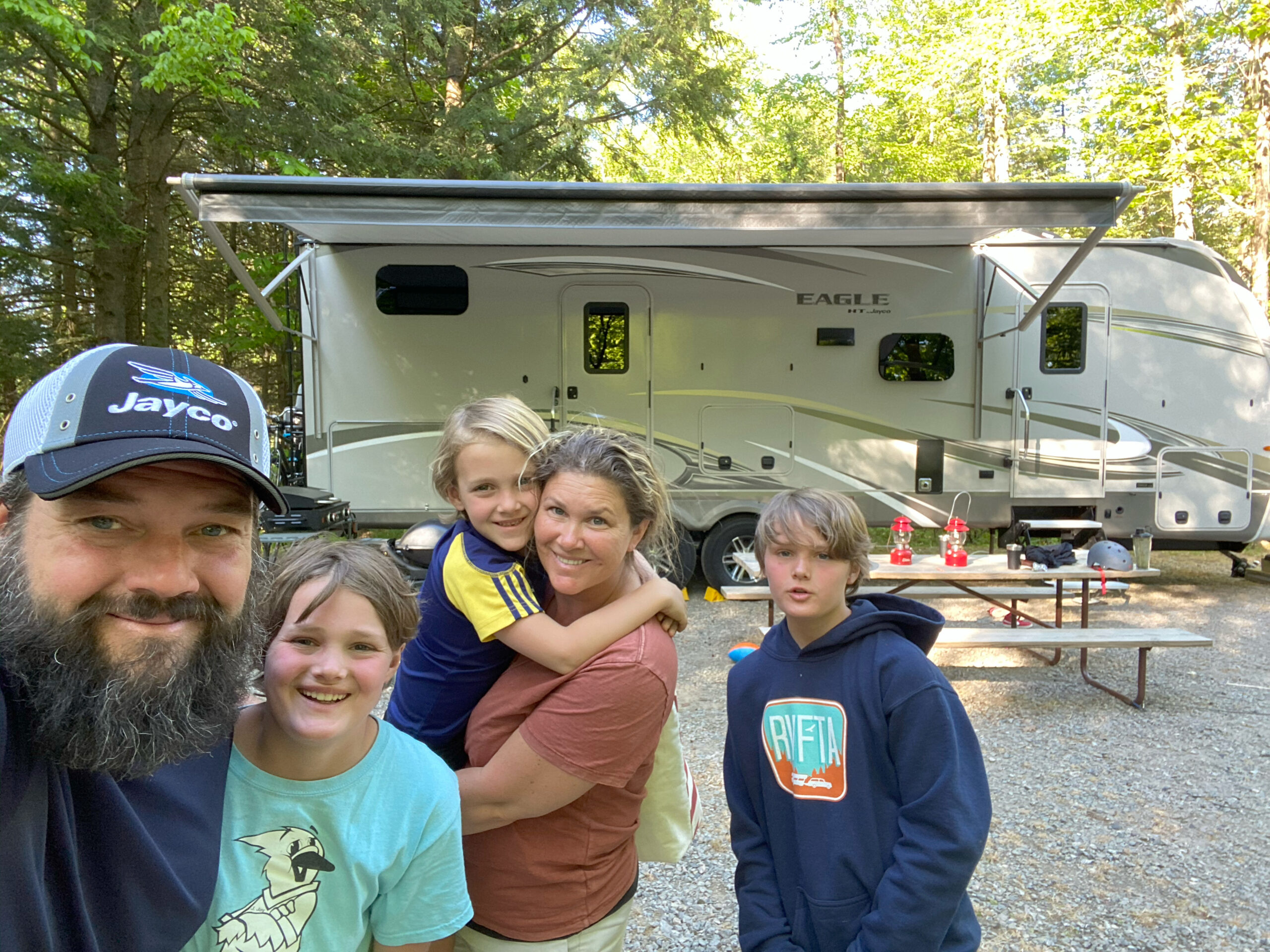 It was a very different kind of camping trip to say the least. The rest stops on the way up to Moose Hillock NY were like ghost towns and there was no traffic going from NJ to NY. When we arrived at the campground the pool and playground were closed and there was yellow caution tape wrapped around the slides and swings. That tape was eventually pulled off by an ambitious youngster who wasn't having it–and I have to say–I didn't report him because I understood his primal urge to PLAY.
Even though we did not allow our kids in our friend's RV and vice versa we managed to have a great time in the great outdoors. We swam in Lake George, hiked, and enjoyed the natural beauty of the lower ADK's. Side note–looking back at my pandemic beard in the picture above I am not sure whether it was a source of pride or shame!
Returning to Moose Hillock NY for Memorial Day 2021
Fast forward a year later and we were back at Moose Hillock again for another Memorial Day campout! Thank the good lord the pandemic appeared to be ending, and the world seemed to be healing and returning to normal. AND THE AMAZING POOL AT MOOSE HILLOCK WAS OPEN!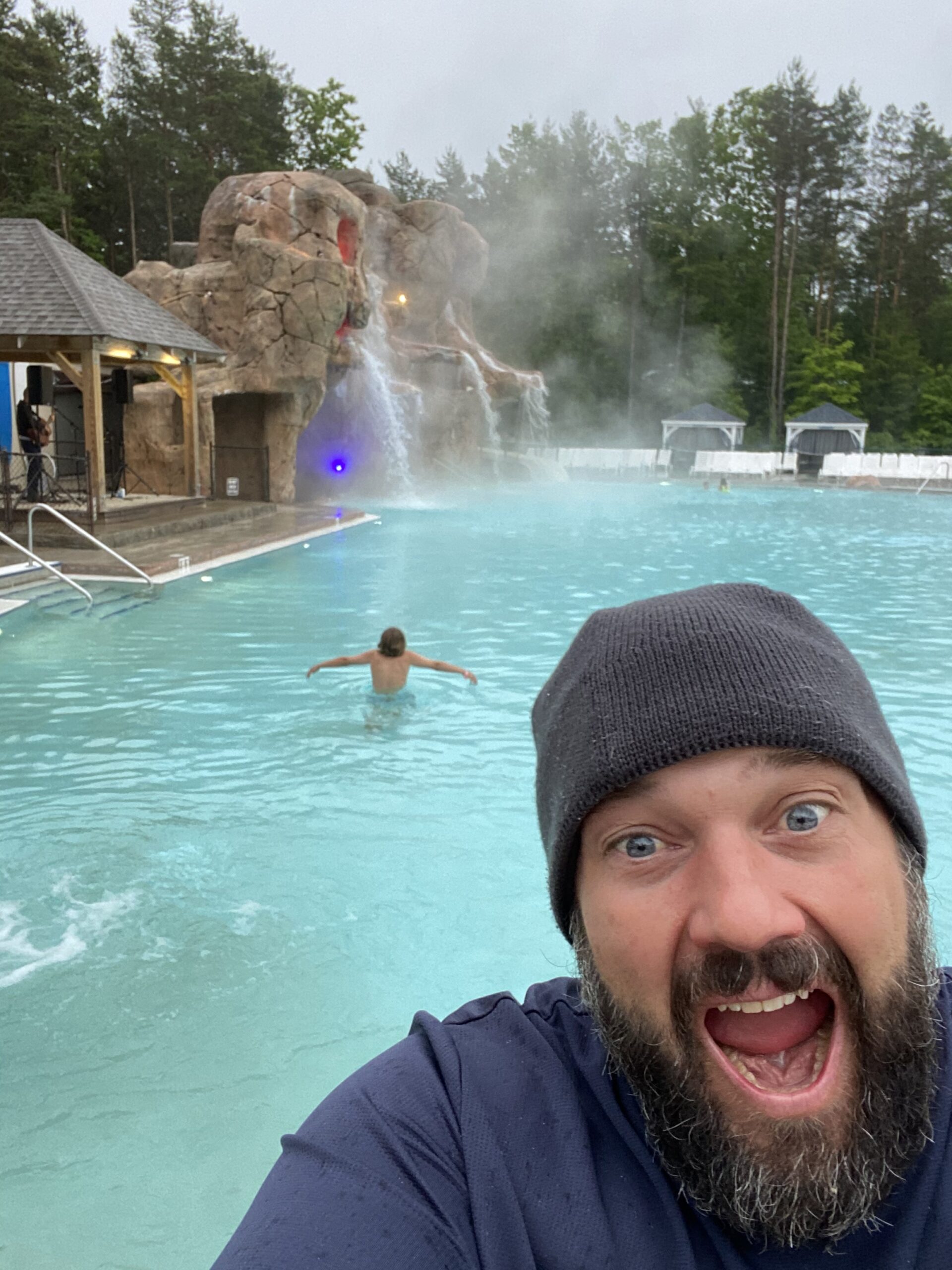 Day time temperatures may have been in the 50's, but that did not stop us (the boys) from swimming every single day. Thank God our good friend Andee brought a little space heater for the cabana we rented so we could warm up (carefully!) after every swim. I also made sure that my Brutrek French Press was full of coffee for a post swim Cup of Joe. I love cold weather swimming and warming up with hot coffee afterwards.
Just to be clear, I'm no Wim Hoff–the pool was heated to 81 degrees after all!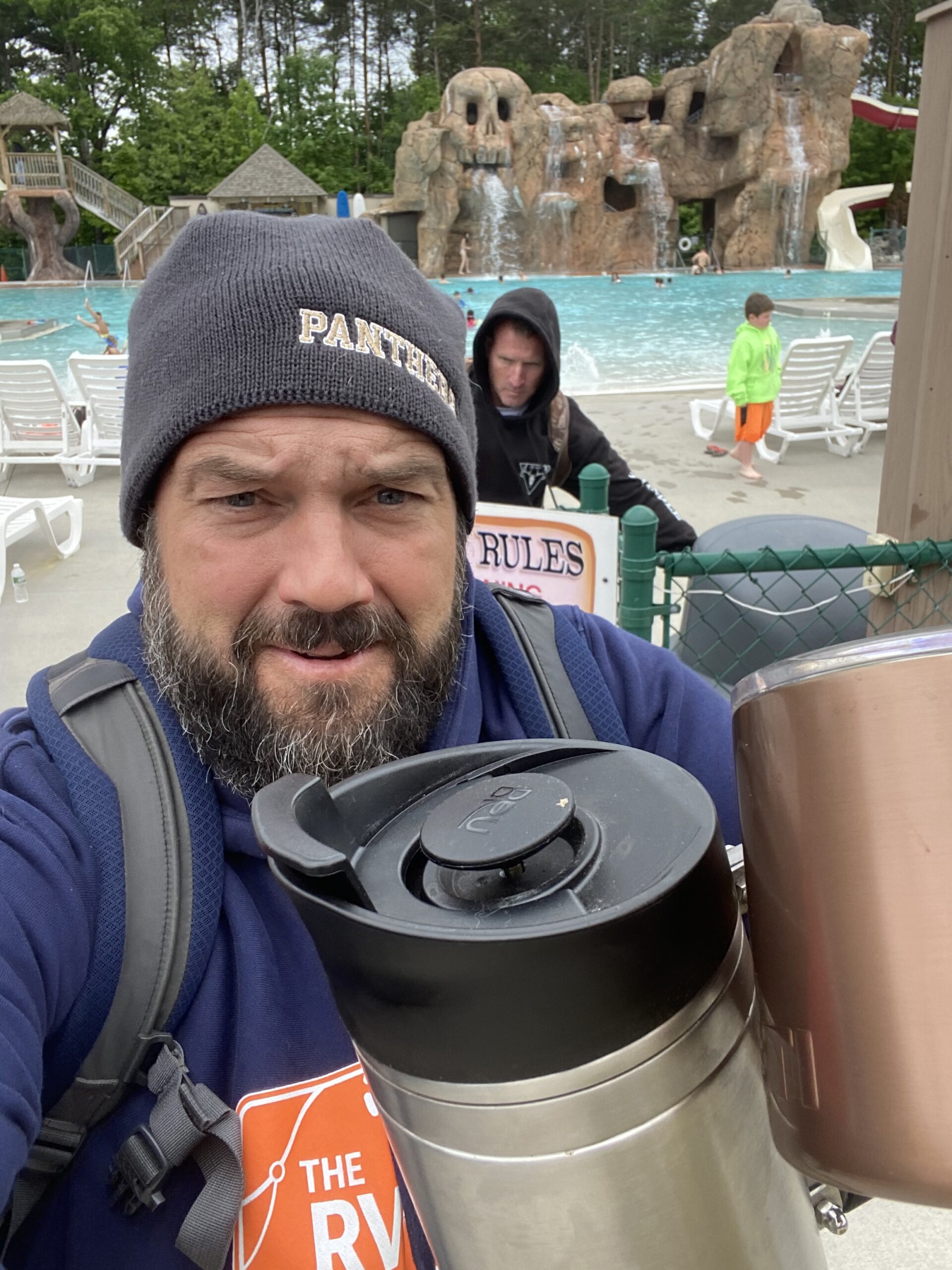 Thank God the sun also decided to BURST OUT Monday night–and we were staying until Tuesday afternoon. So we had a glorious 3 hour window where we (the boys:) swam while the pool was almost empty. One of the water slides was not attended for a period of time so the boys went up and down five thousand times each at a very rapid clip!
Downtown Lake George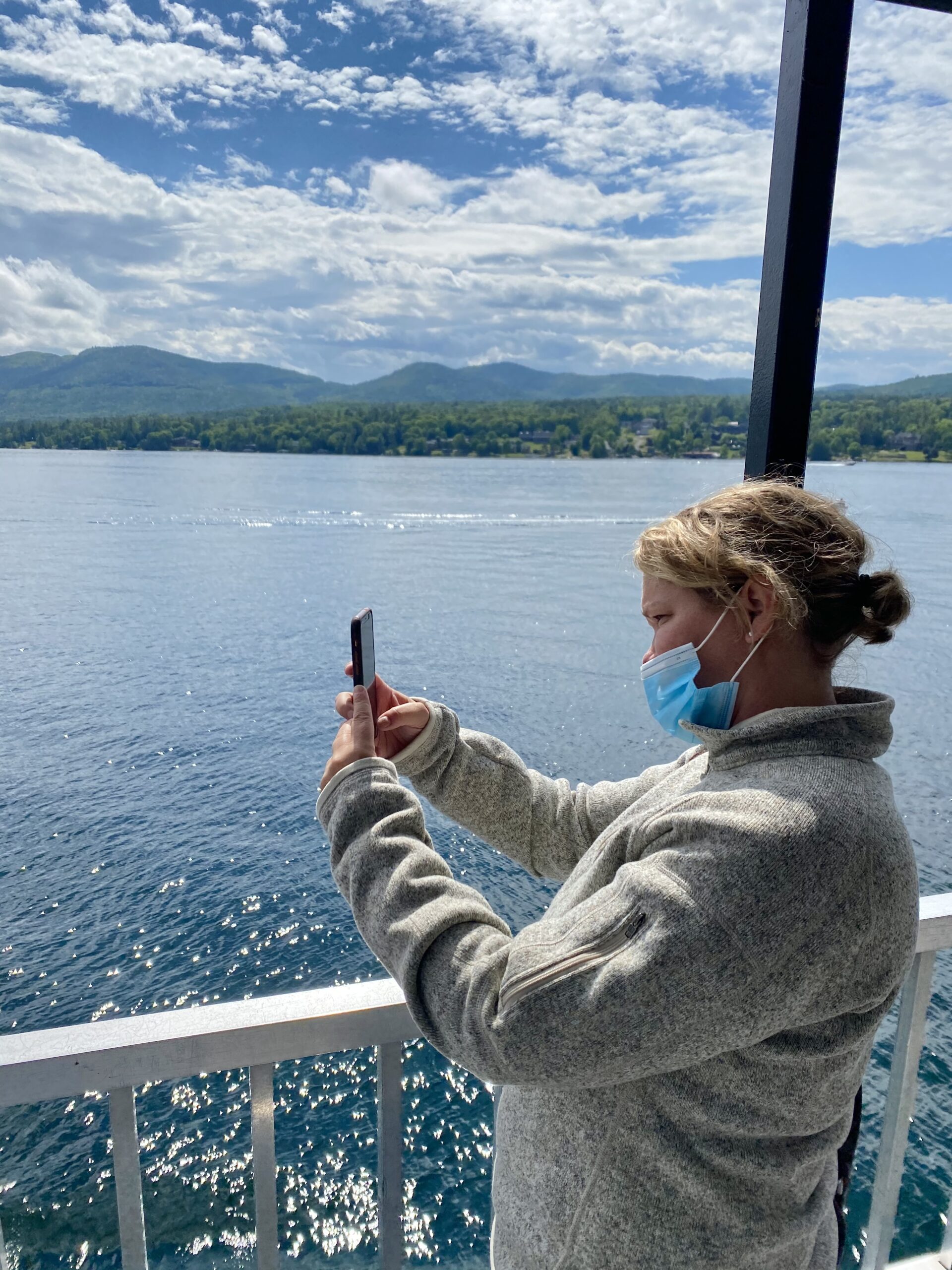 This year we were also pretty excited to visit downtown Lake George. Just about everything was closed when we visited last year! We spent a really fun day shopping and we had a great lunch at "The Lagoon" right downtown. The boys found Funko Pops at Heroe's Hideout and Stephanie bought a nice bottle of Gin at Lake George Spirits. Somehow or another, I didn't end up buying anything, which is pretty unusual for me. Downtown Lake George was more of a tourist trap than I thought it would be, and many of the shops were pretty cheesy. But there was plenty of cool stuff there too. We also did a one hour boat tour that was amazing–partly because the sun was out and it warmed up a bit. Sitting on the top deck and taking our sweatshirts off in the sun felt, really, really good.
Pilot Knob Ridge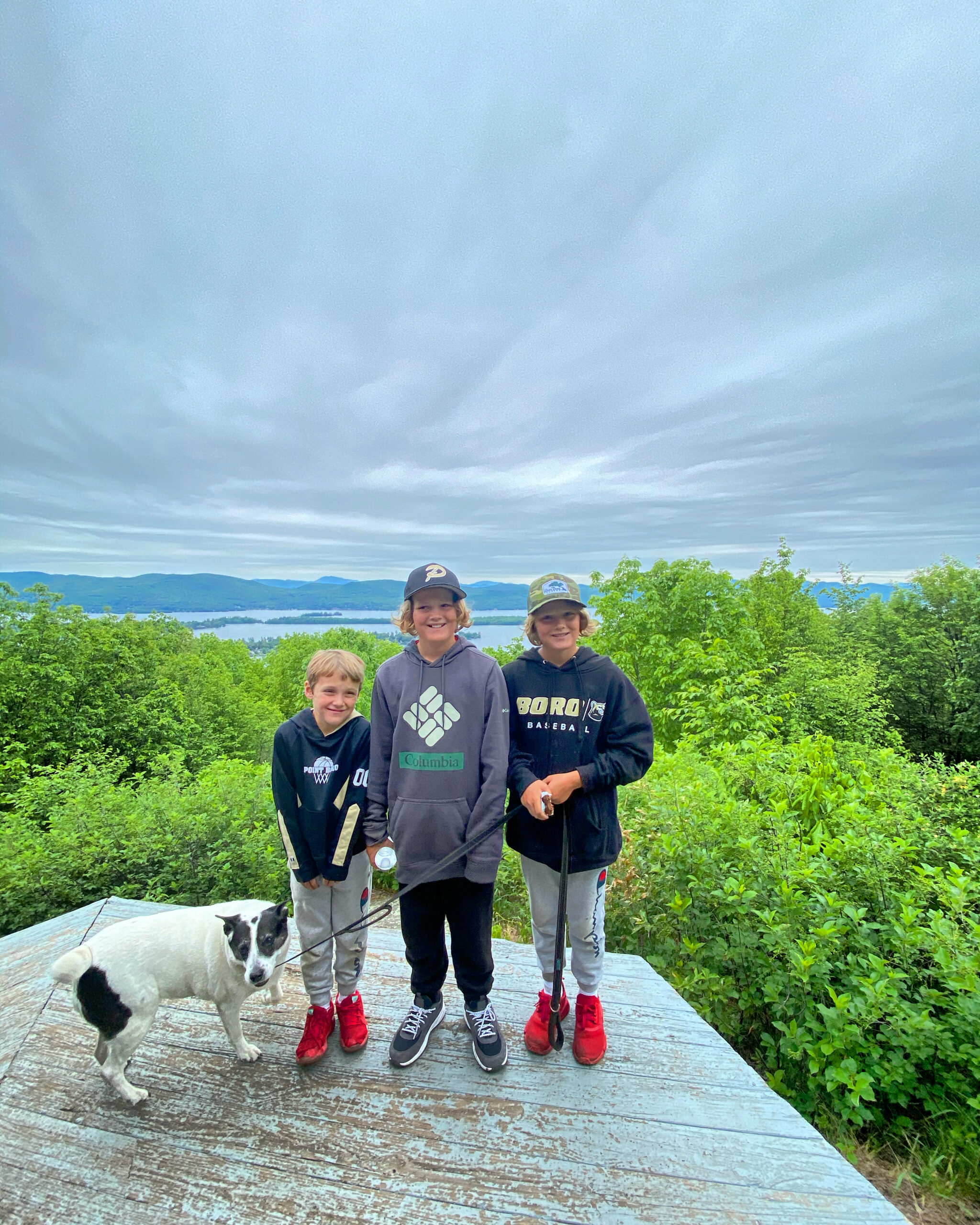 We also knocked out an amazing hike right near downtown called Pilot Knob Ridge. This is a super fun family hike that is 3.8 Miles Roundtrip. It boasts two major features and lots of shade and decent variation. The first major stop for a break is a large gazebo with views of Lake George that makes for a great snack and photo stop.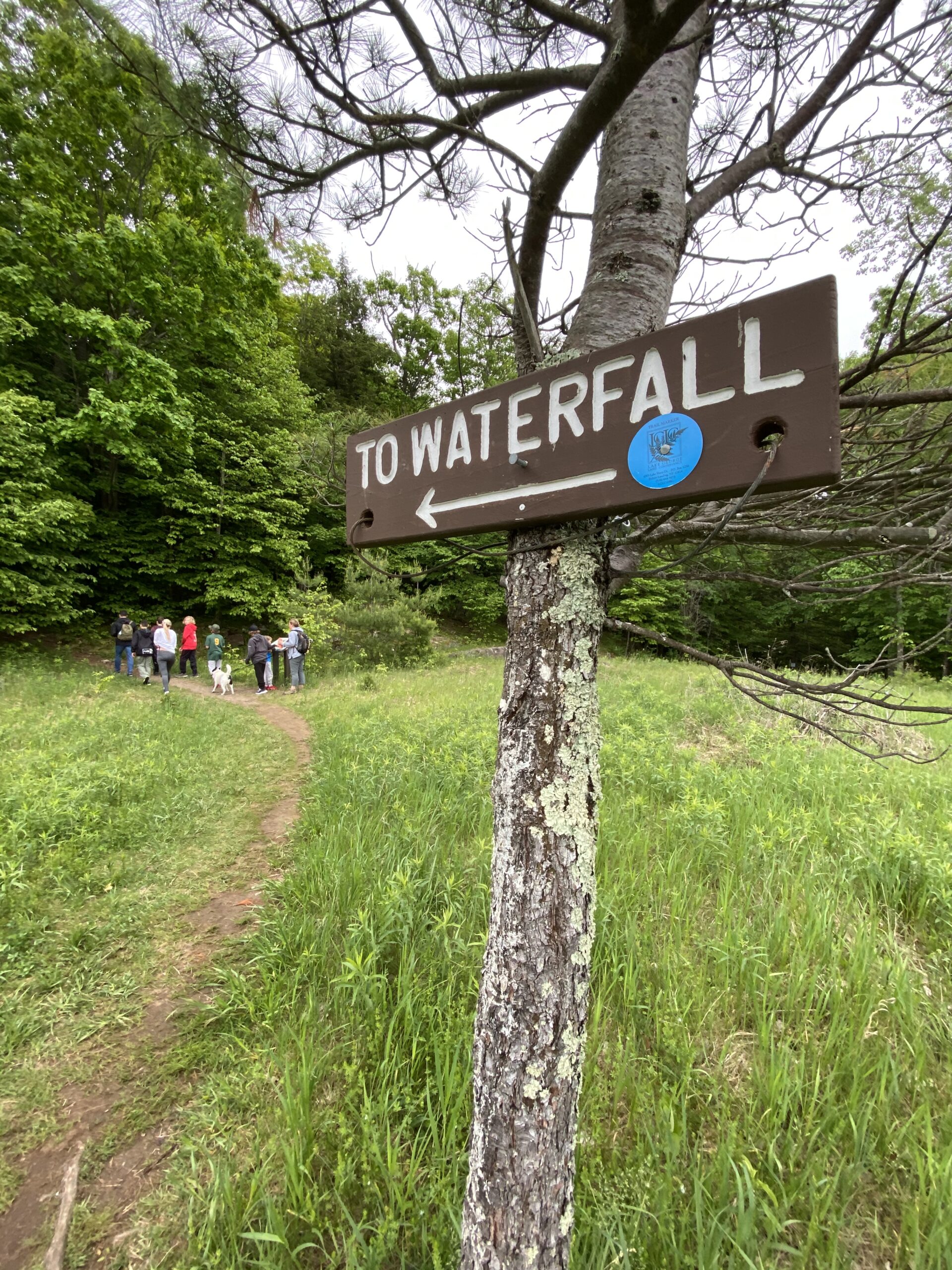 Heartier hikers will definitely want to keep going and hike to the waterfall. We got to the trailhead early (I think we left Moose Hillock at 7:30)–and we were able to park both pickups in the tight little trailhead parking lot. We were worried about being to get back out later–but we took a chance and parked and hit the trail. When we finished the hike a few hours later the parking lot was jammed and it was really tight getting out of our spots–but we did it without incident or accident.
GREATEST RV ATLAS LESSON EVER—-GET TO POPULAR TRAILHEADS EARLY FOR PARKING!
The Lake George Outlets
We did have one rainy afternoon that was a bit too wet for outdoor adventure. So we went to the Lake George outlets that are just a short drive away from Moose Hillock. First stop was L.L. Bean and then the bookstore. I did not like the bookstore because they did not have any of our books in stock! #jokingnotjoking
We also visited the New Balance store so mom and dad could both get some new kicks–and sadly we missed the Merrell Store. I'm putting that one on the list for next time!
I was disappointed to learn that the Coleman Outlet had recently closed because I LOVE all things Coleman. But I did see a store called Artie's Camping and More–so of course I had to check it out. When I walked in I immediately realized that it looked like the Coleman outlet in Lancaster County that I visited with my buddy Phil and his family a while back. It was also filled with Coleman gear. Not much of the stuff I like. But Coleman stuff from top to bottom. Clearly Artie bought all of the Coleman stuff from the outlet and took over the store in the same exact spot. So why was all of the good stuff (like lanterns and camp stoves) gone? The collector's clearly got there before I did.
Bean's Country Store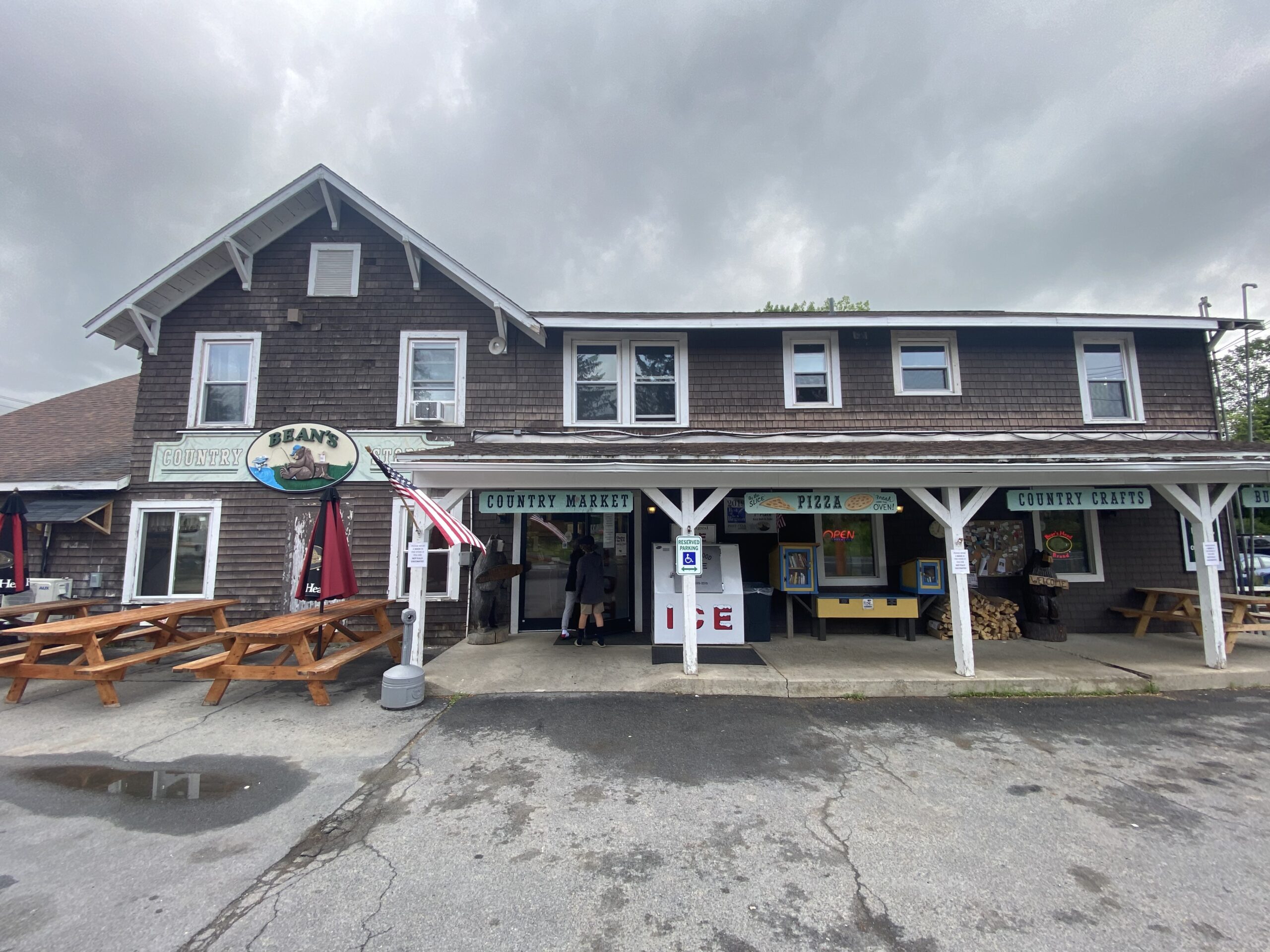 The other trip highlight worth mentioning was Bean's Country Store. This place has amazing Rueben, pizzas, cheeses, bacon, local gifts, local newspapers–and more! It was that kinda place. Max said he had the best pork roll, egg, and cheese sandwich he has ever had in his life. They call it Taylor Ham there–but we forgive them…
The weather was not great during our Memorial Day trip to Lake George. But we still managed to work around it and have so much fun. We have never had a bad camping trip anywhere. After almost 12 years its hard to believe that I can say that with absolute honesty and authenticity.
But it's completely true.
See you at the campground!!
–Jeremy
Podcast: Play in new window | Download