We are excited to share our campground review of the Lake Placid / Whiteface Mountain KOA. This campground has an amazing location right on the Ausable River, just outside the charming town of Lake Placid. There is a ton to explore both inside and outside of the campground. Let's get started!
We previously visited five years ago (you can find our original review here). It was the height of the fall season. While that was a great time to go and appreciate the scenery, we didn't get to take advantage of all that this KOA offers. We were excited to return and get the full summer experience to share with you.
To hear our full review of the Lake Placid / Whiteface Mountain KOA, click "play" on the media player above or search for The RV Atlas wherever you find your favorite podcasts.
Location of the Lake Placid / Whiteface Mountain KOA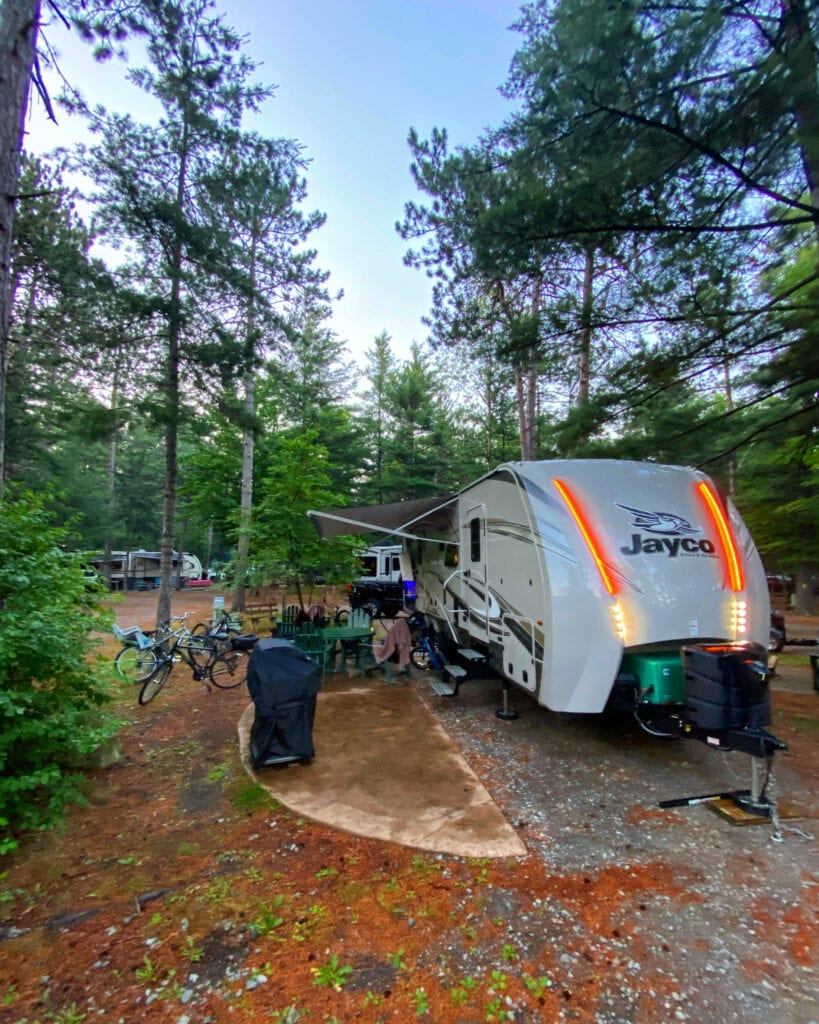 The Lake Placid / Whiteface Mountain KOA is about 15 minutes from downtown Lake Placid in Wilmington, New York. You can see Whiteface Mountain from certain angles at the campground. The rear of the campground is lined by the Ausable River and the Flume Waterfalls. So, as you can imagine, this is a scenic location.
This location is also very convenient for visiting Olympic sites from when Lake Placid hosted them in 1932 and in 1980. You'll find a lot of hikes and outdoor adventures in the region. Plus, downtown Lake Placid is one of our favorite small towns. Our whole family just loves hanging out in the great mix of shops and local restaurants. You can find really unique gift items and foods. Even the local library is super cool. We'll tell you more about our favorites in a bit.
Type of Campground
The Lake Placid / Whiteface Mountain KOA is designated as a KOA Holiday, which means it is meant to be a basecamp for exploring a region, offering more than a basic KOA while not as much as some of the full-on resorts. Though this campground does have onsite dining and some great amenities, it is not meant to be the kind of campground where you spend all of your time. Instead, get out and explore the region!
Size of the Campground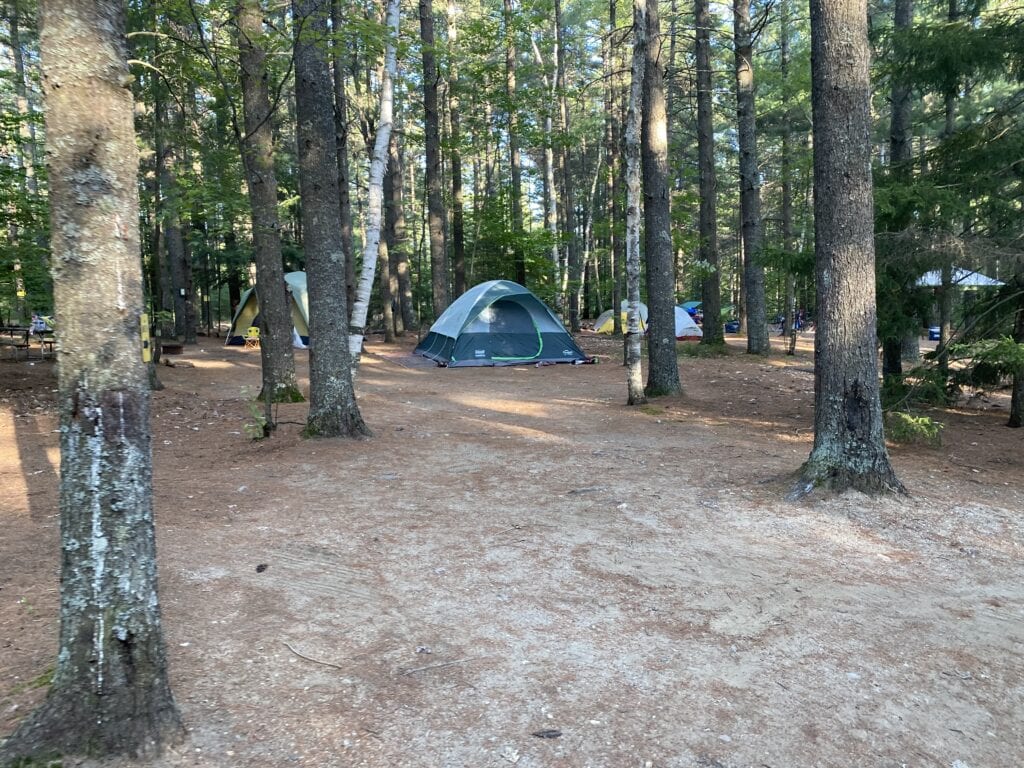 This is a pretty darn big campground. There is a huge number of RV sites. Most are pull-thru sites that are nicely sized. Trees fill the campground, which gives it a state-park feeling. While it has amenities, they don't get in the way of the scenery.
The main amenities are located at the front of the campground. If you want that state-park feeling, stay at least 5-7 rows back. However, the front sites are also nice. The pull throughs are fairly spacious and there are trees in and around all of the sites.
You'll find a wide variety of accommodations at the Lake Placid / Whiteface Mountain KOA. There are a lot of great tent camping sites here, plus glamping tents and cabins, ranging from rustic to deluxe. This wide variety of accommodations creates a real cross section of the current American camping scene. If you want a complete picture of what American camping looks like, here is good place to see it. You'll also see a real interesting blend of RV types: pop ups, teardrops, Nests. We are in RV heaven in a place like this!
Physical Appearance of the Campground and Surroundings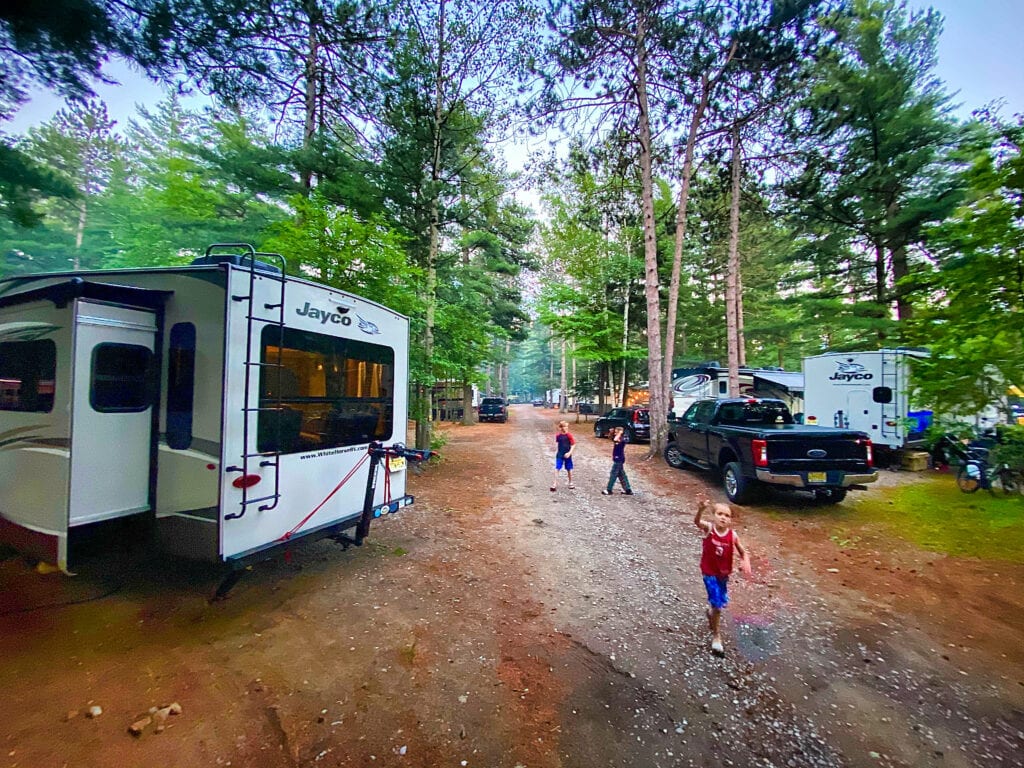 The Lake Placid / Whiteface Mountain KOA has a lovely Adirondack setting filled with trees and shade. It has a rustic country vibe, but it is also very neat and tidy. It is absolutely stunning in the fall when the leaves change color. Like we already said, it looks more like a pretty state park than like most private campgrounds. Of course, it has lots of amenities and costs more than a state park.
Price Range and Ease of Booking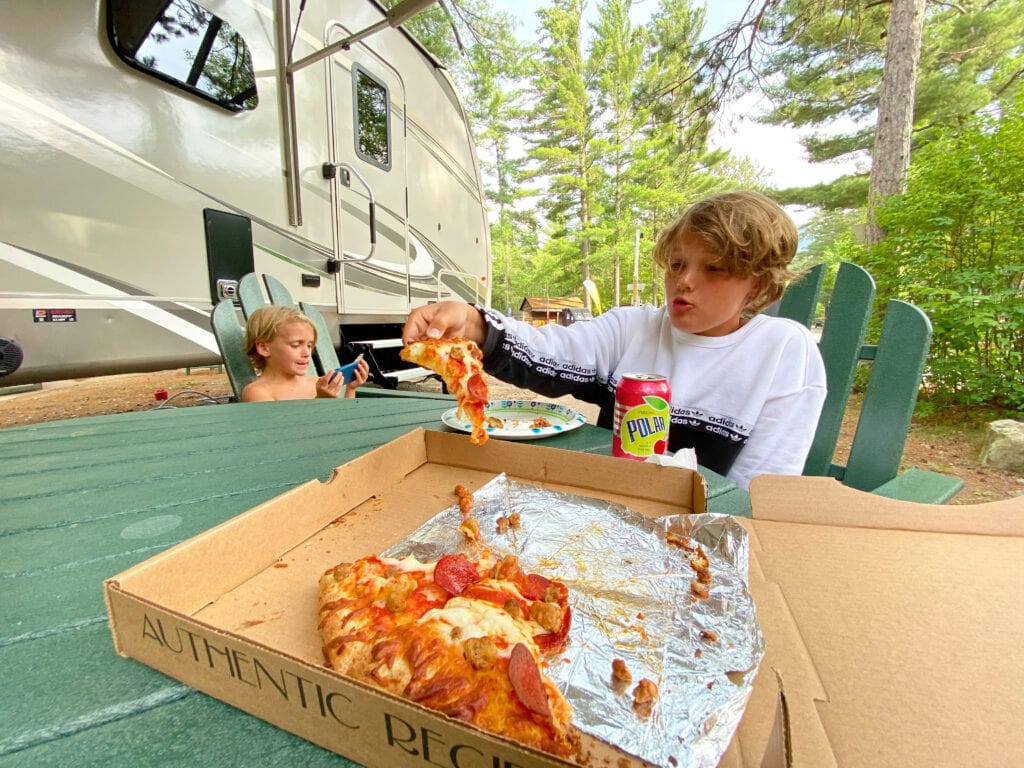 We think the Lake Placid / Whiteface Mountain KOA has very reasonable pricing for what the campground offers. RV sites are in the $60-$75 dollar range for a full hookup site (possibly more on holiday weekends). We booked a glamping tent for fall by the river, and it was around $150 plus taxes a night. We are so excited to return and check this out!
Site Details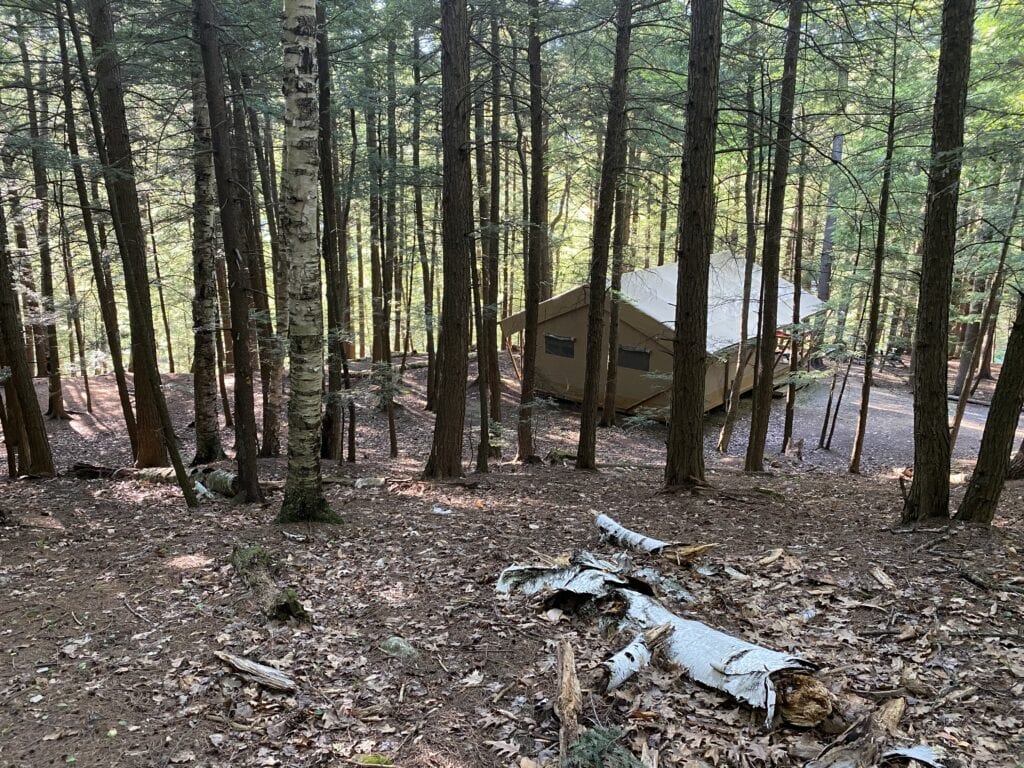 The Lake Placid / Whiteface Mountain KOA has some really nice pull-thru sites for RVs. The roads are also easy to navigate. There are also some nice back-ins. There are really no bad sites at all! You'll have to decide if you want to be up near the store and pool or if you want a quieter site further back–or something in the middle.
We were especially intrigued by the tent sites along the river. For a reasonable price, it would be totally tempting to add one on to your RV reservation, whether or not you stayed in a tent all night. We could just envision campfires along the river at night and hanging out at the tent site during the day.
Amenities at the Lake Placid / Whiteface Mountain KOA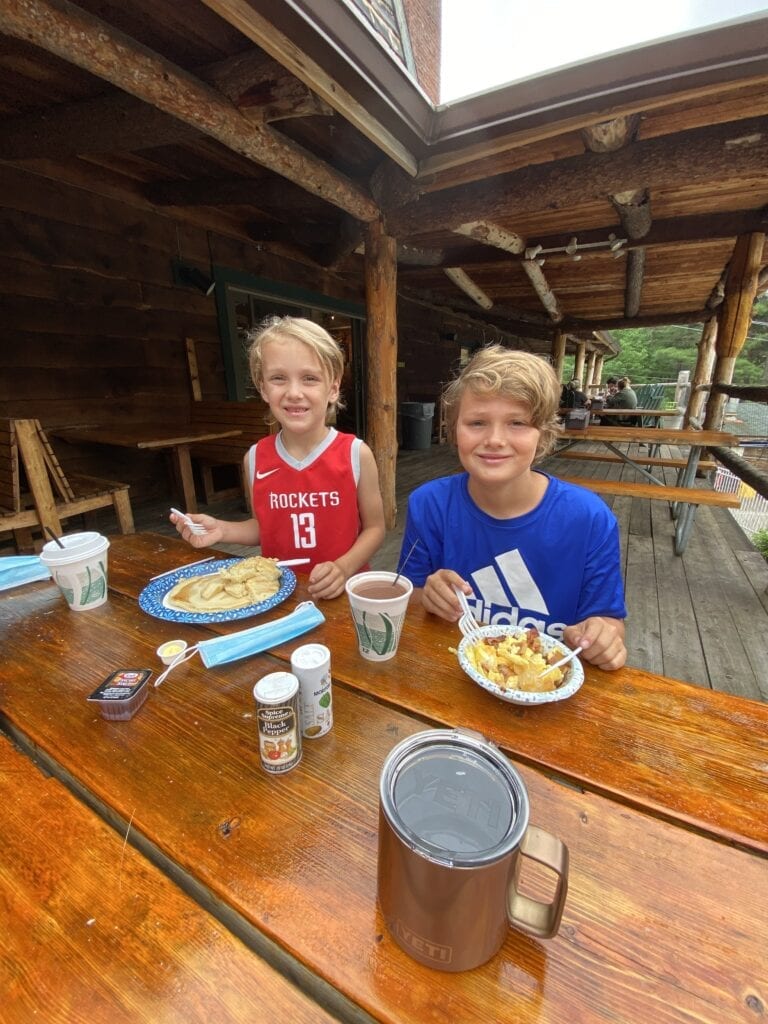 The Lake Placid / Whiteface Mountain KOA has tons of amenities that our boys enjoyed. You'll find a pool and playgrounds. They also have this really fun open-air rec room with foosball, air hockey, ping pong and pool. We loved that the boys were engaged in these instead of video games. They have a mini golf course, but it was closed due to COVID-19.
One thing that really sets the stage at the Lake Placid / Whiteface Mountain KOA is the well-stocked camp store and lodge (masks are currently required). It has a nice ambiance. You can eat there, and we especially appreciated that it offered outdoor seating with plenty of space.
Wifi/Cell Service
We found strong WiFi at the camp store and had decent WiFi at our site. Our Verizon signal worked fine, but it was a little sketchy here and there. 
Customer Service
The managers Chip and Julie truly set the tone for an awesome camping experience! They treat campers like family, and the entire staff joins in! In our 10 years of RVing, the Lake Placid / Whiteface Mountain KOA offered the best customer service we've ever received.
We needed some extra customer service when we had a clog in our trailer. They brought us an auger in five minutes and we quickly got it fixed. That's truly above and beyond!!
Insider Details 
This would be a great place to camp with friends or family who do not have an RV. There are so many options for cabins, tents, glamping. It's nice to see that variety since there's something for everyone!
Nobody's Perfect
The Lake Placid / Whiteface Mountain KOA is close to the perfect campground for us. Especially now that we have visited in the summer as well as the fall. We got to swim in the river and in Mirror Lake in town and both truly added to the experience. Our only recommendation for improving this park would be to add a new pool.  The pool is a bit small for how big the campground is, and KOA should invest in an awesome pool like they have at Cape Hatteras.
A Bonus Amenity Near the Lake Placid / Whiteface Mountain KOA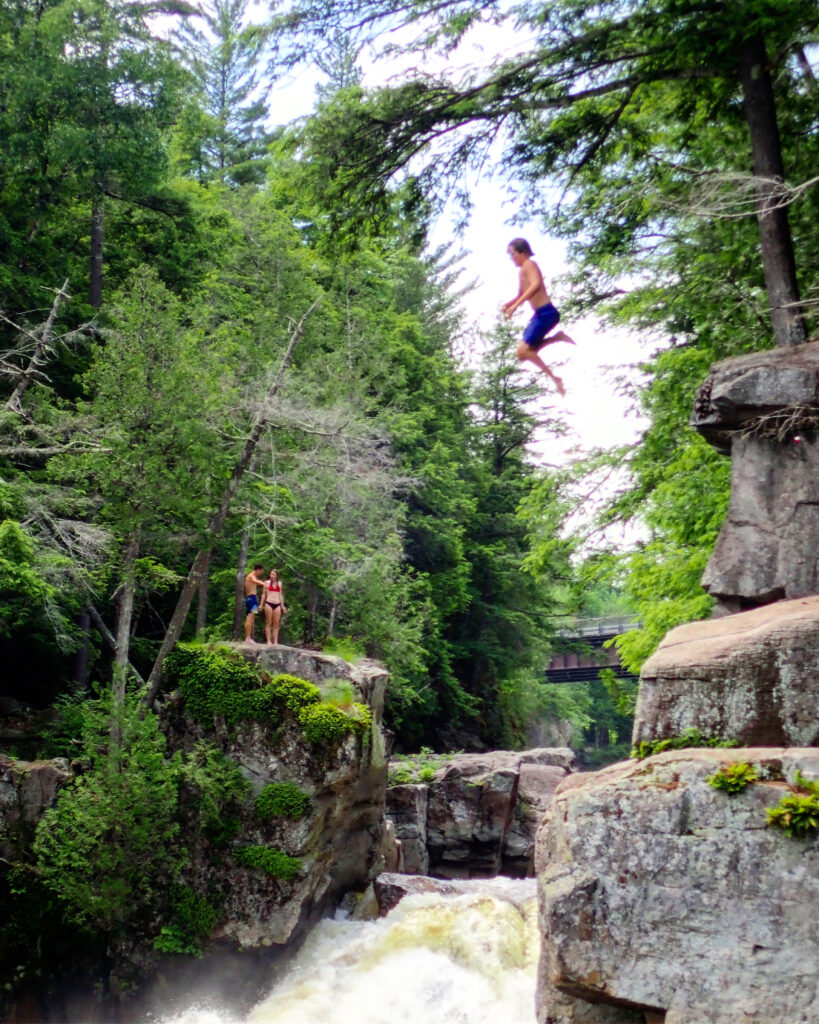 Our review of the Lake Placid / Whiteface Mountain KOA would not be complete without telling you about the amazing bonus amenity! The Ausable River and the waterfalls behind the park are an awesome natural place for outdoor adventure! There is awesome cliff jumping there for the brave of heart. This area is not on the campground property and is instead on state property. The previous owner gave the land to the state to avoid liability.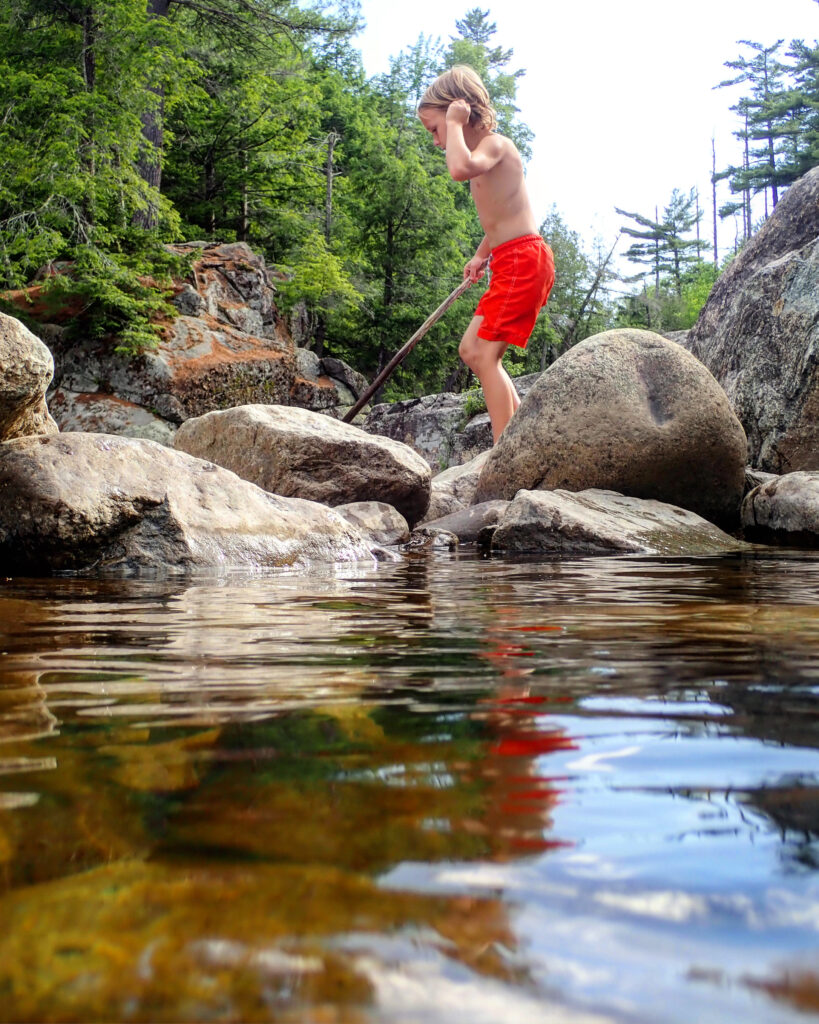 There are three levels for jumping. Honestly, the hardest part was probably crossing the river. There is risk here, so know yourself and your family. You can also drive around and park to avoid crossing the river. Our kids could have played here all day long. Whether they were jumping in or just moving the rocks around, they had a ton of fun.
Also, if you want something a little more relaxing and safe, you can just walk down and find a little swimming hole to play in. The river conditions certainly change, so again, you have to be aware. But, it is just an amazing spot!
Regional Highlights Near the Lake Placid / Whiteface Mountain KOA
We visited the town of Lake Placid at a unique time, during the COVID-19 pandemic (as it was on the downslide in our region). There were signs everywhere outlining the temporary restrictions. Masks were required in stores. Outdoor seating was preferred for restaurants, while some had limited indoor seating at around 25 percent capacity.
There was limited capacity at the main beach at foot of town, as people were spaced out and taking social distancing seriously. Many wore masks walking around outside. It was nice to see that the whole community was on the same team. We appreciated the consistency. It made us feel more comfortable that we could visit pretty safely.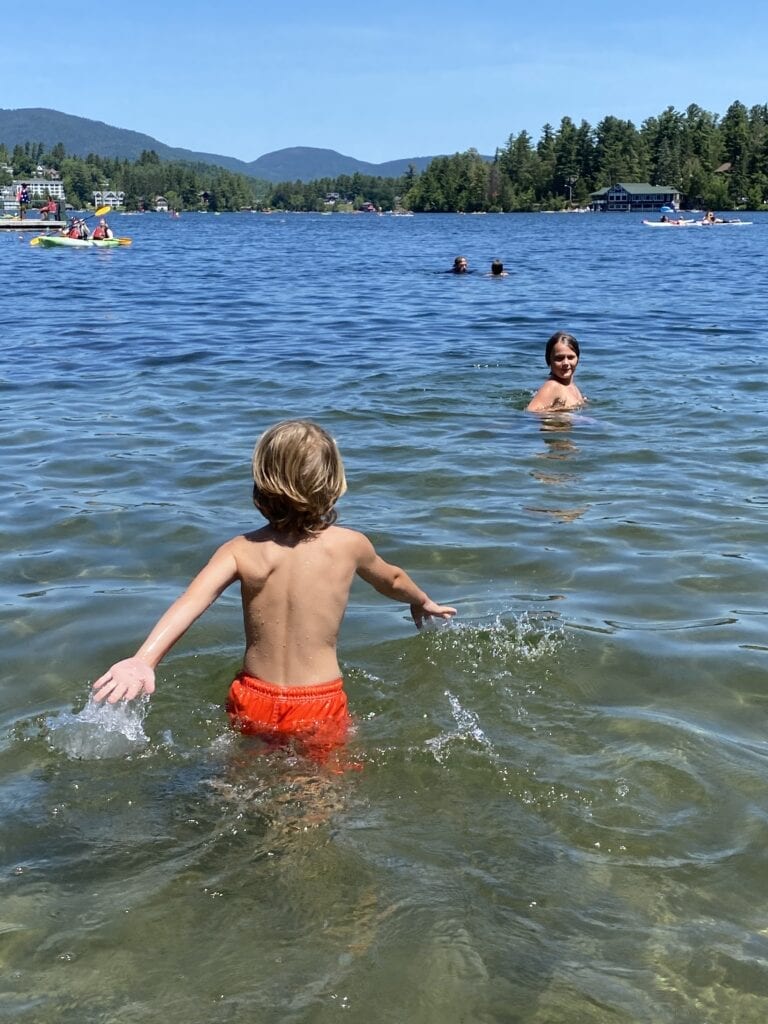 So, onto the fun stuff! We swam in Mirror Lake and had an awesome time. The water was warm enough and it was crystal clear. There was even lots of space on the Fourth of July! They also offer SUP rentals, but they were booked solid. Whether you rent or bring your own, you'll find easy spots to launch.
We have some great restaurant recommendations. The Great Adirondack Brewing Company had good food and beer. Ere's Pizza had AMAZING old-school Italian food.
Stephanie's favorite store was Adirondack Decorative Arts and Crafts.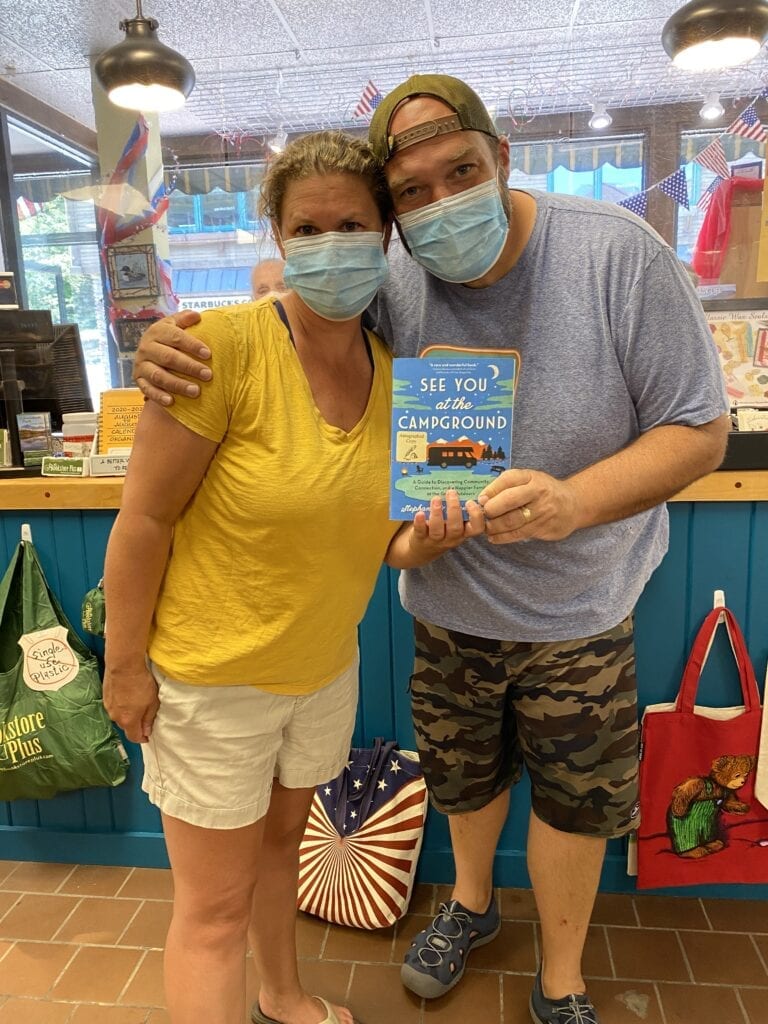 Finally, Lake Placid has a fabulous local bookstore called The Bookstore Plus. They had copies of our book See You at the Campground sitting out on a display with other camping books, which was a big thrill! We signed a copy!! They put a little note on the front to show that it was a signed. If you live nearby, maybe you could snag it, if it is still there.
We just LOVED our stay at the Lake Placid / Whiteface Mountain KOA! This is tied with the West Glacier KOA for our favorite KOA ever. It is the type of campground and destination we will return to again and again. There was so much we didn't get to see and do this time. But, we still had so much fun doing what we did get to do! We hope our review of the Lake Placid / Whiteface Mountain KOA will inspire you to put it on your bucket list.
See You at the Campground,
Jeremy + Stephanie
Podcast: Play in new window | Download