Should you go to Cody, Wyoming, if you are short on time and debating how to spend it in the greater Yellowstone area? YES!  Cody is a great place to take a break from hiking and exploring Yellowstone. Natural beauty is great, but sometimes we need a change of pace, especially our three boys.  Cody did not disappoint. It's full of entertainment opportunities for the whole family.
This episode is part of a series about our adventures in Wyoming. Be sure to check out the episodes about our stay at Under Canvas Yellowstone and our three days in Yellowstone National Park with kids.
To hear about our stay at the Cody KOA, click play on the media player above or look for The RV Atlas wherever you find your favorite podcasts.
Lamar Valley and the Chief Joseph Scenic Highway
The drive through Lamar Valley and out of the park past Silver Gate, and Cook City, and onto Chief Joseph Scenic Byway was astounding for a few reasons.
Chief Joseph Scenic Byway is astonishingly beautiful and an easy drive. I think it is just as beautiful as anything in the park. Taking that drive into Cody is a pretty impressive part of the trip!
The drive was amazing for another reason entirely–and this gets into a core recommendation that we have been making on The RV Atlas for years. We both really believe that reading books about places, before or during a trip–and maybe less so after a trip—is an amazing way to enrich the journey.
Jeremy bought American Wolf by Nate Blakeslee at a gift shop in Yellowstone and started reading it during the trip. The book is largely set in Lamar Valley, Silver Gate, Cook City, Crandall, and a bit in Cody.
American Wolf is about the reintroduction of wolves into Yellowstone National Park in 1995. It documents the decades-long controversy that followed. Some of the people are pro wolf because the wolves balance the ecosystem. Others are against wolves and want carte blanch to hunt them because they can kill cattle and for a variety of other reasons. It's a controversial topic in the region.
As we drove through Lamar Valley and out of the park on Chief Joseph Scenic Byway, the entire region leaped to life as we drove past places that are in the book.
The Cody KOA Holiday Campground
We stayed in a deluxe cabin at the Cody KOA Holiday. It wasn't the kind of cabin you might have at a resort, but it was fine. The fridge was noisy and the linens were shrink wrapped and not on the beds. That doesn't seem right at the price that is charged. Showing up after a long drive and having to unwrap your linens is a bit disappointing. However, we were comfortable and close to everything we wanted to do.
The pool and hot tub were awesome. We needed those after all the hiking at Yellowstone. Max really liked the hot tub and we made some great memories relaxing in the warm water before bed each night.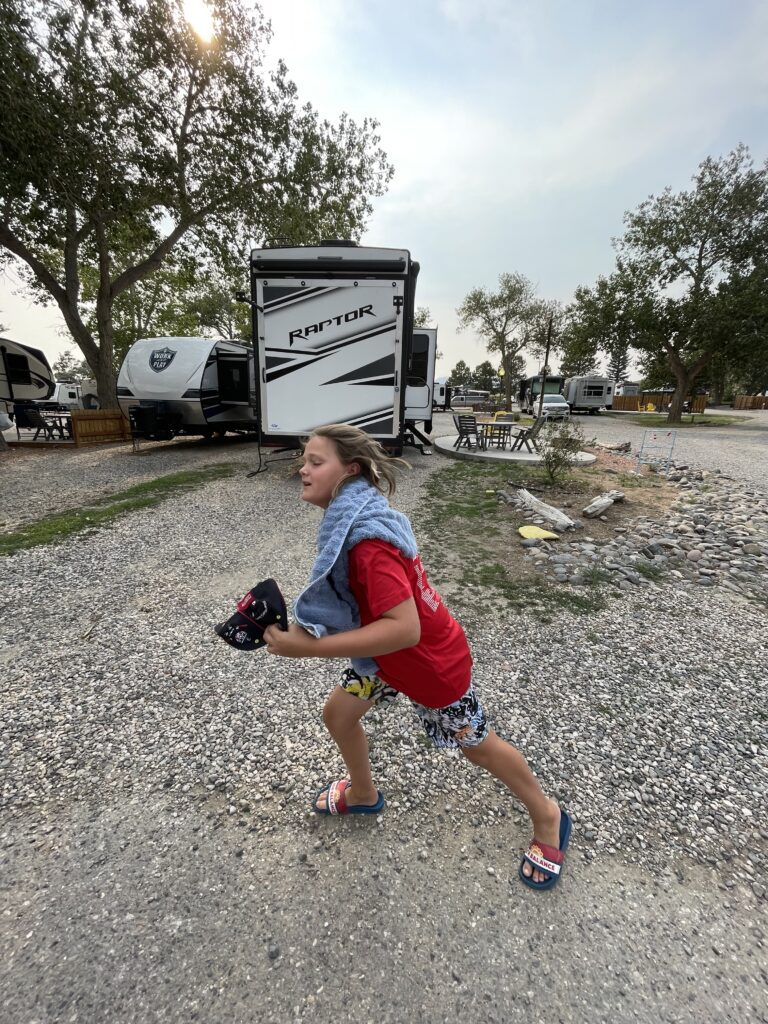 We took a look at the RV sites. There were some good ones and some that were pretty tight. Maybe that doesn't matter too much if this is just a base camp and a place to stay–which it was for us!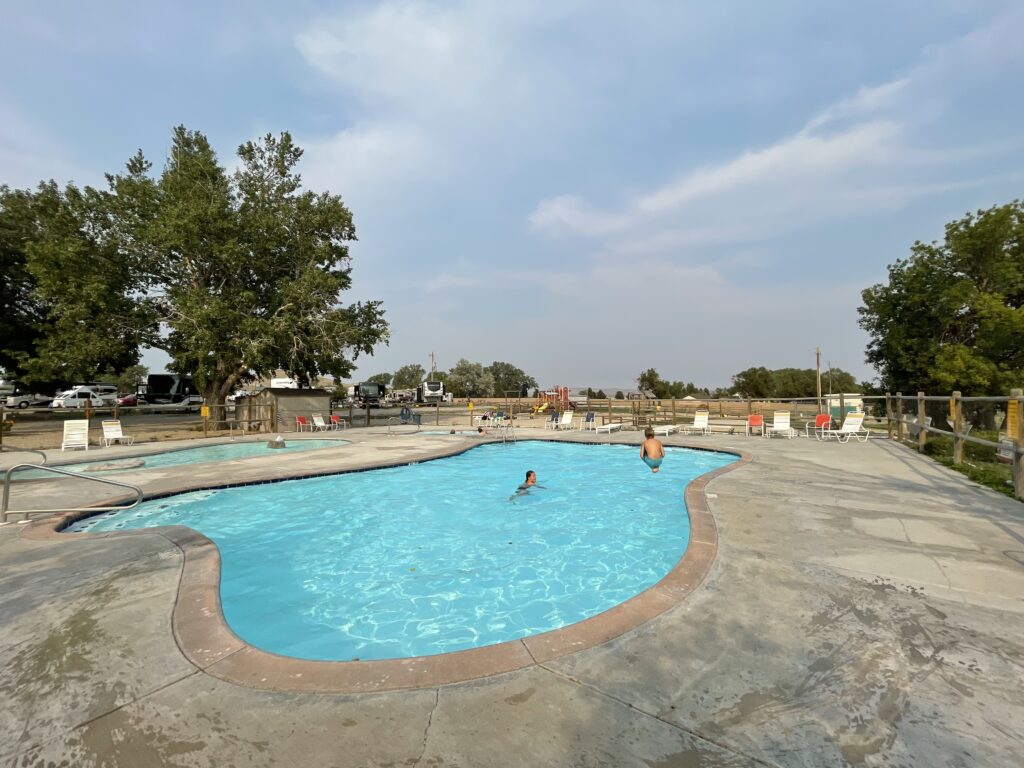 The camp store was well stocked. There was a free pancake breakfast. It was good and you only paid for the extras like juice and coffee. If you want full hook ups in a convenient location, we think this is a very good choice.
If you want to stay somewhere drop-dead gorgeous and have a more natural experience without full hook-ups then try Buffalo Bill State Park. There's also Lake Shore Campground which has 37 RV and tent sites and North Fork Campground which has 60 RV and tent sites.
The KOA is near the airport but there is not a problem with noise. There is actually a very cool independent coffee shop called Cody Coffee Roasters at the airport, and you do not need to go inside the airport building to get coffee. They also have a coffee shop in an old gas station in town.
Cody, Wyoming, Attractions
We had a great couple of days to explore Cody. Stephanie reserved a chuck wagon dinner at the Buffalo Bill Center of the West. The food was excellent at Cowboy Rich's Chuckwagon Dinner! We had steak, biscuits, beans, salad, and dutch oven cobbler with ice cream. You don't go on a wagon ride, but you do get close interaction with the cook. We learned about cast iron cooking. It was social and fun.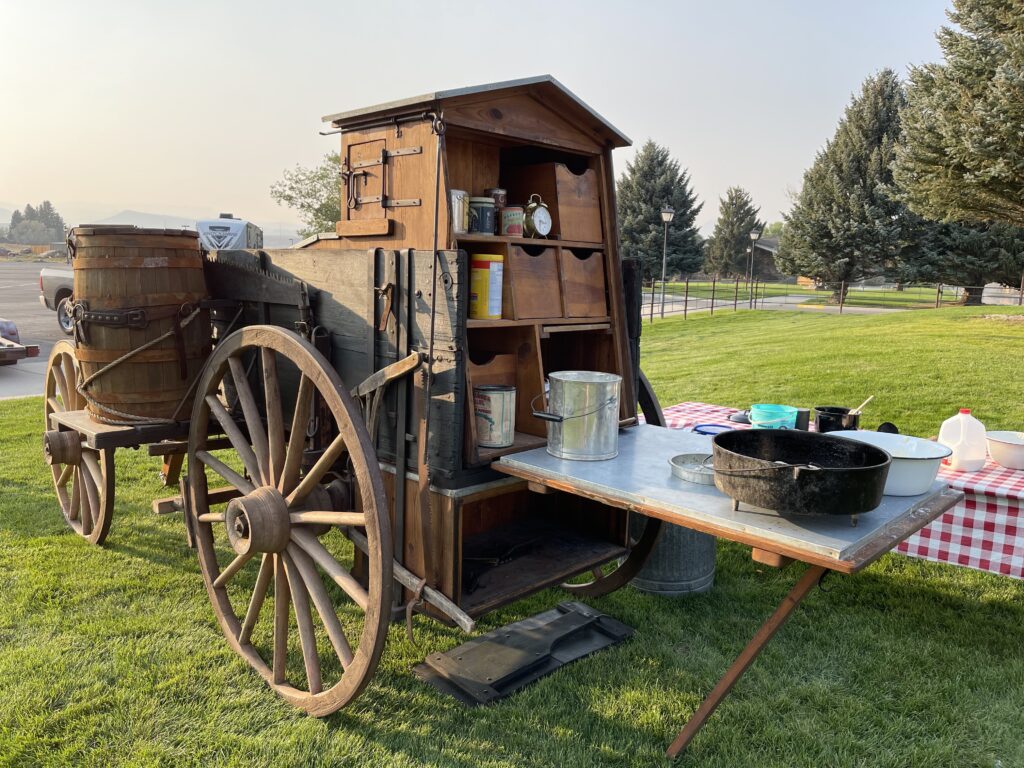 The next day we went in Buffalo Bill Center of the West. It is gigantic and amazing. You could spend the whole day here or do two half days here. We only covered about half of the museum at most and we could return. The Buffalo Bill Center of the West is actually five museums in one.
The Buffalo Bill Museum is the part of the center that showcases the extraordinary life of Buffalo Bill. It's amazing. Basically, we knew nothing about Buffalo BIll's life as an entertainer and trailblazer in the West, but we learned a great deal about this larger-than-life American legend. There were exhibits about the Wild West Show, Annie Oakley, and the Buffalo Bill's time period.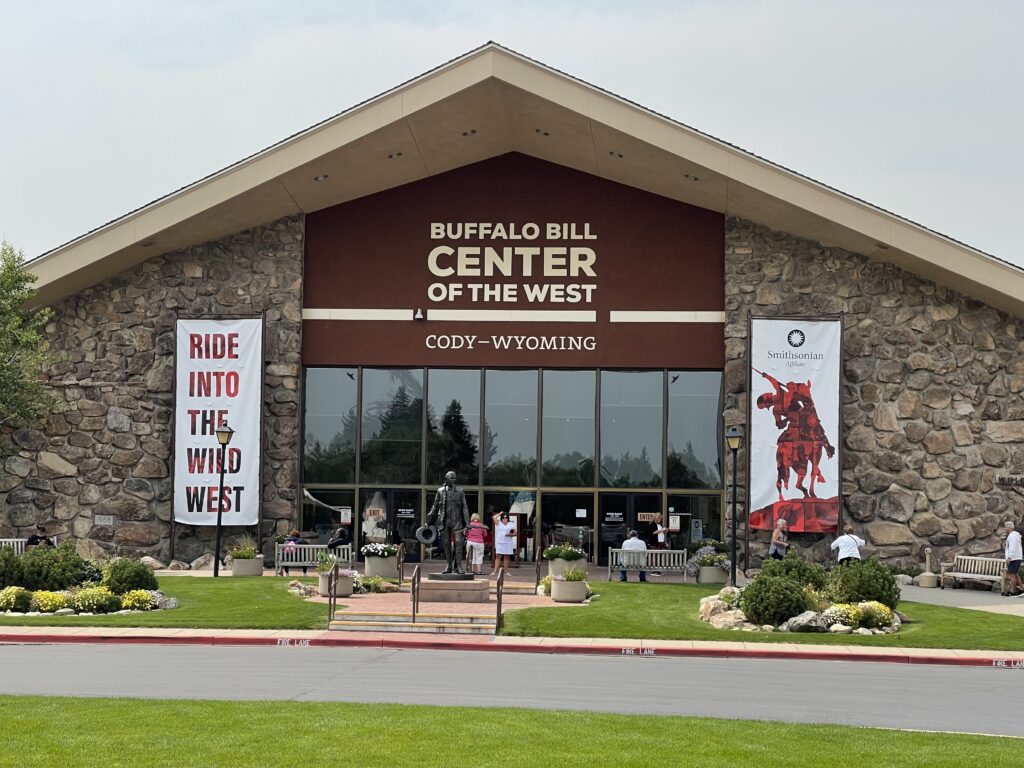 Then, we explored the Cody Firearms Museum, and the boys loved it. There are hands-on shooting games. If you are into guns and the history of guns, this place is packed with stuff you will enjoy.
There's also the Draper Natural History Museum and the Whitney Western Art Museum. The art museum has is a small-to-medium sized museum with and impressive collection of art from the American West.
Food, Coffee, and Books Near the Cody KOA
While in Cody, we had a good lunch at Fat Racks BBQ. Jeremy found another great spot to drink coffee and read a book. It's called Rawhide.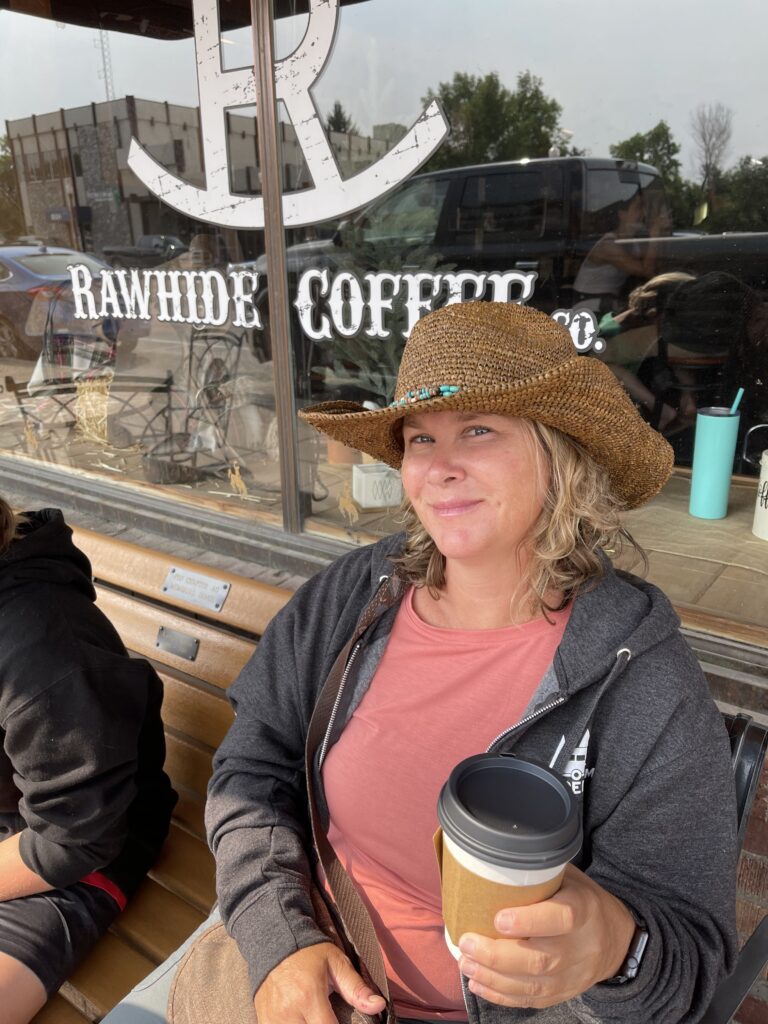 Right next to the coffee shop is an independent sporting goods store called Sunlight Sports. It was like a family-owned REI. They had outdoor gear and outdoor magazines I had never seen before.
Downtown Cody also has an independent book seller called Legends Bookstore. There were also a lot of shops that sold local arts.
Cody Rodeo
This was our first rodeo, and Cody is famous for its big rodeo. It was a bit of culture shock for our East Coast family. We didn't realize how dangerous a rodeo is for the cowboys. One participant was thrown to the ground and carried out of the arena. He spent at least 20 minutes moaning while he recovered on the ground. We were a bit overwhelmed by the violence of the whole thing–but to the participants, it seemed pretty normal and unremarkable. It was truly a traveling experience! We felt like we had entered a different world.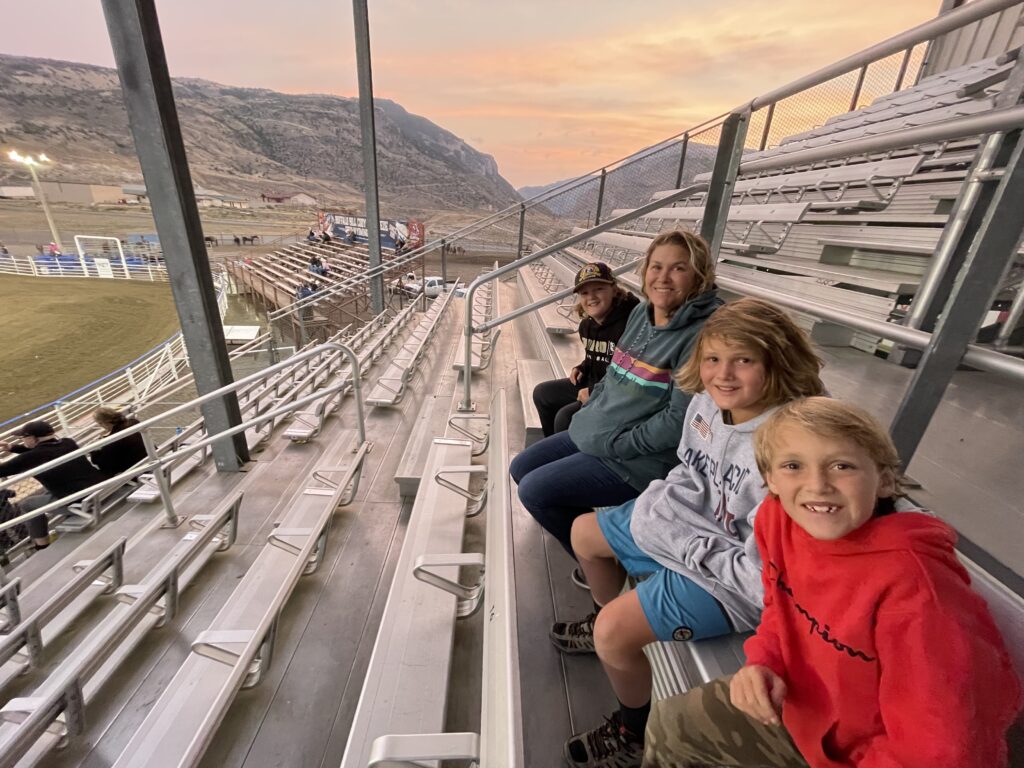 At the end of the night, we went back to the Cody KOA to relax in the hot tub before heading off to Grand Teton National Park the next day.
All in all, we had a great stay in Cody. We got to enjoy this slice of the American West, and we know it's something our boys will always remember.
See you at the campground,
Jeremy + Stephanie
Podcast: Play in new window | Download