Are you RVing with kids? Chances are, you've picked a campground or two with your kids in mind. Today, we are sharing an insider view of favorite campgrounds for kids…by asking a kid. Our special guest, Max Puglisi, has easily been to over 100 campgrounds since he was born, and he's going to share his top picks with you.
If you don't know, Max is one of our fifth-grade sons. We've talked a lot about him on the show, but we have not taken many chances to talk to him. His agenda was pretty open thanks to the current quarantine that is keeping us all at home, so he graciously agreed to don the headset and join us in our RV Atlas podcast studio. He is definitely one of the cutest correspondents we've ever interviewed!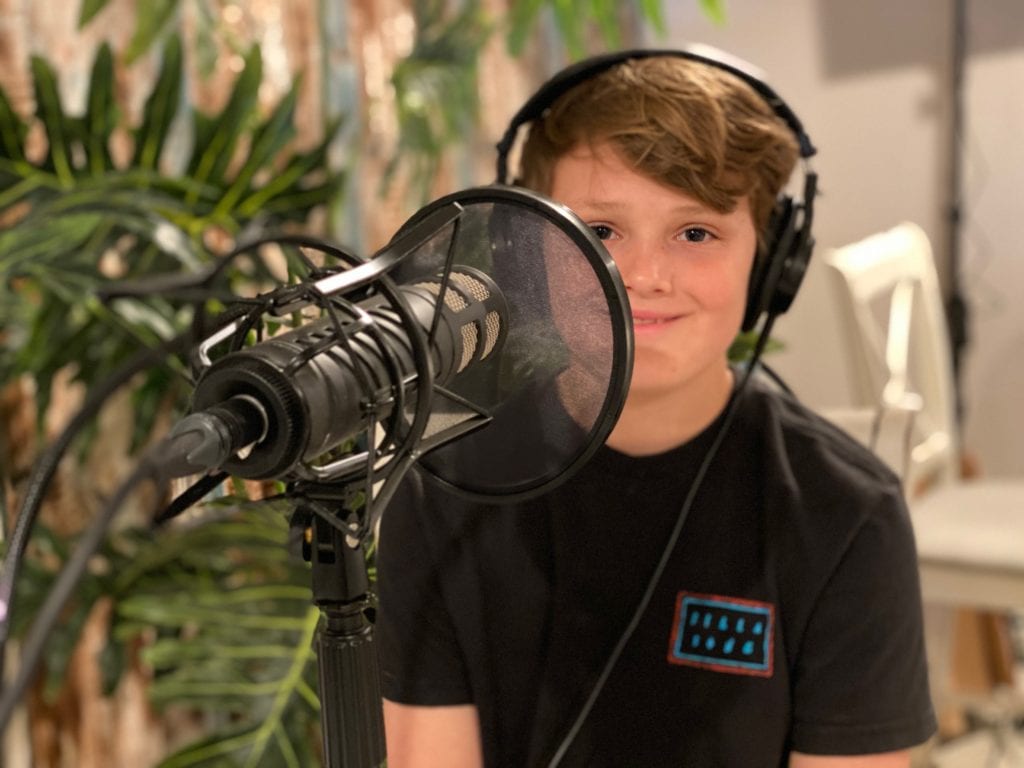 To hear more about these favorite campgrounds for kids, click play on the media player above or look for The RV Atlas wherever you find your favorite podcasts.
Fort Wilderness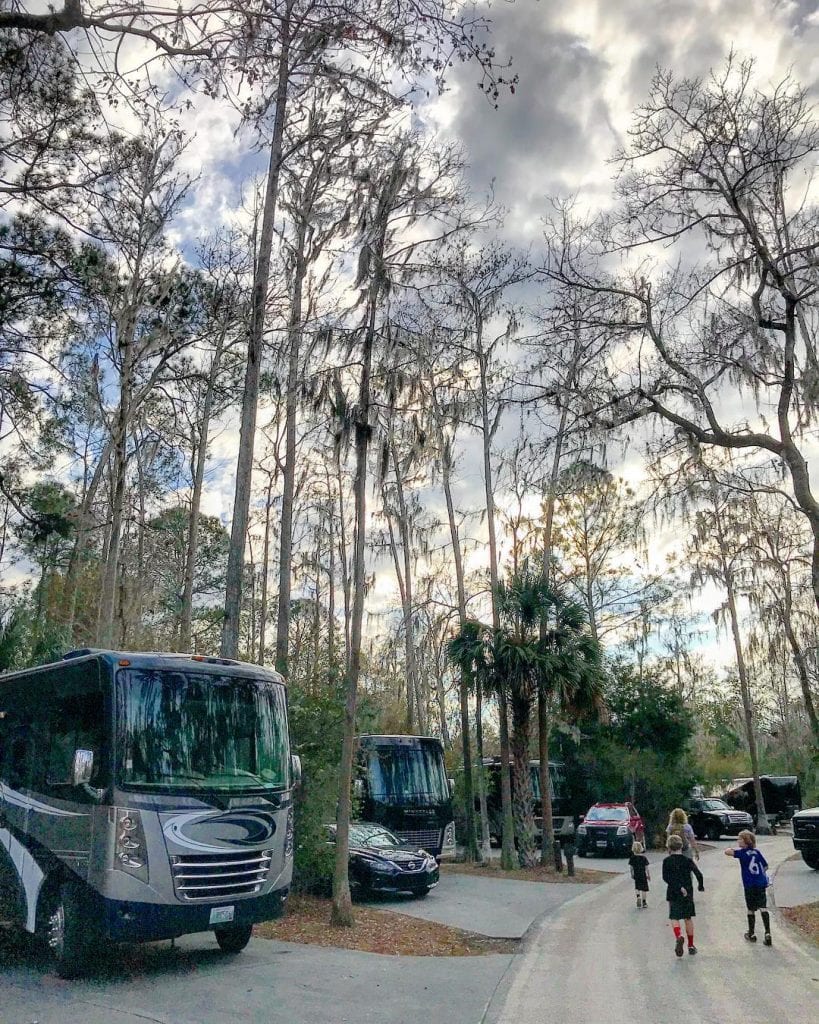 Of course, Disney's Fort Wilderness tops many lists of favorite campgrounds for kids. Max loved this one, too, because it combines two of his favorite things: Disney and an awesome campground.
What makes Fort Wilderness such an awesome campground? Start with an amazing pool, slide, and hot hot. Plus, the Hoop Dee Doo Musical Revue and the Chip 'n' Dale's Campfire Sing-A-Long are both right there, and both are really fun. Max also loves the food at Trail's End Restaurant.
We have to say that we wholeheartedly agree with this review. Fort Wilderness is one of our all-time favorites! You can find our reviews here and here.
Cape Charles/Chesapeake Bay KOA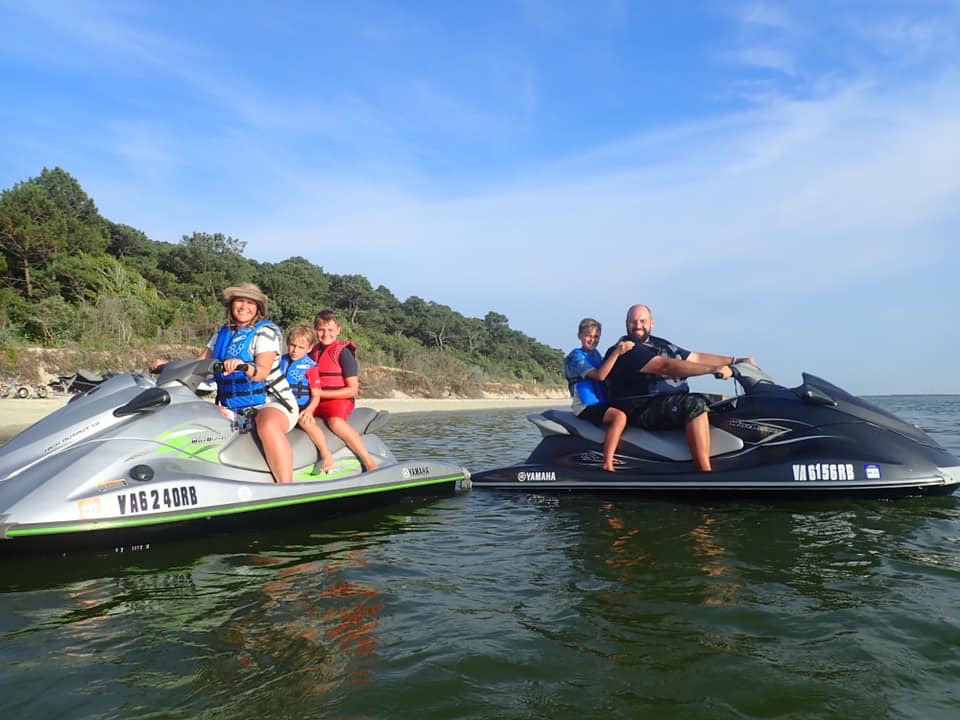 Max says you can't judge the Cape Charles/Chesapeake Bay KOA in Virginia by the entrance. Keep on going until you see the bay. That's where the magic is. The campsites are basically pretty average, but the campground is located right on the bay.
Max loved the sandy beach. Plus, it's really easy to hop on jet skis and SUPs with the water right there. Max got to ride a jet ski for the first time here. We really got to explore a lot of the bay on these, and it was so fun! You've got to try it out if you go. Nearby, there's a great hammock area where Max enjoyed hanging out with his friends. Another thing he loved was the fresh seafood. You can even get it delivered on the beach!
Yet, again, we agree with Max that the Cape Charles/Chesapeake Bay KOA is a great campground. Check out our full review here.
 Assateague State Park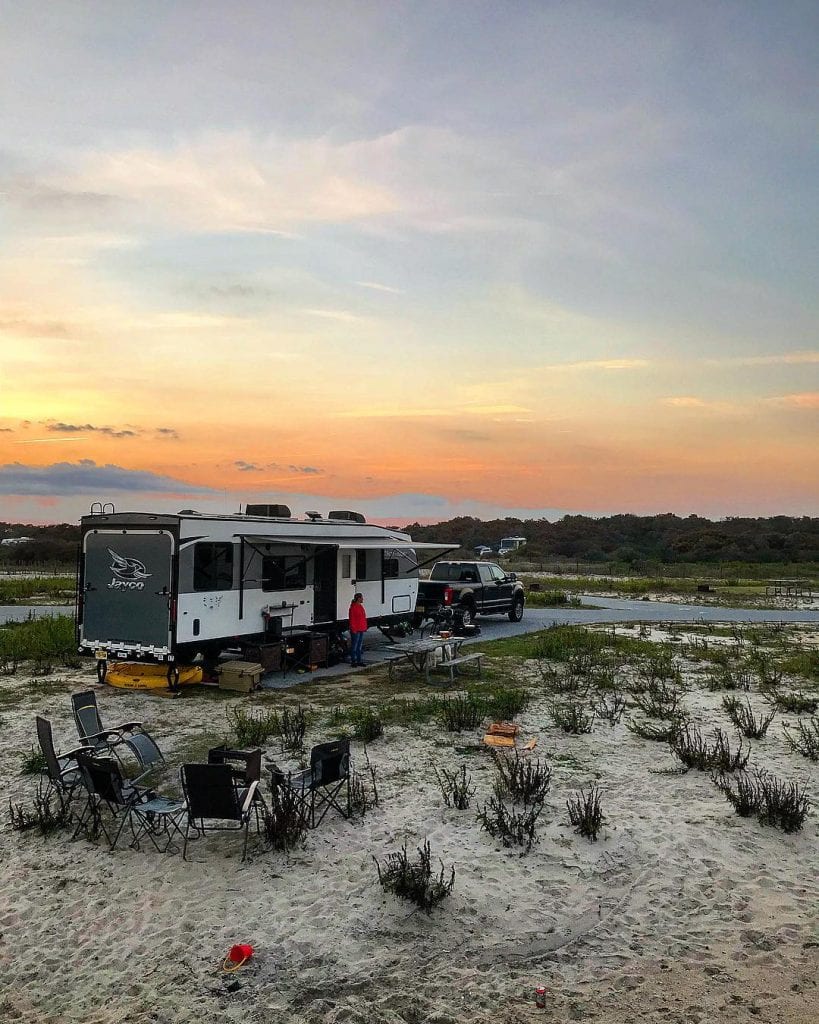 We love hearing that Assateague State Park makes Max's list of all-time favorites since it's a place near and dear to Stephanie's heart. He thinks the wild horses are really neat. Plus, the campsites are right on the beach and surrounded by dunes. One of his favorite memories was climbing up on the roof of the RV to look out on the ocean (with a parent nearby).
Max also loved the swim beach right on the ocean. We have to confess that the waters there are not always super gentle, which made the grown-ups a little nervous while swimming with the kids, but they loved it. Another activity Max enjoyed was bike riding because you can ride on nice, spacious roads along the beach. Just watch out for prickly things that can flatten your tires!
Check out our full review to hear more about Assateague State Park.
Jellystone Mill Run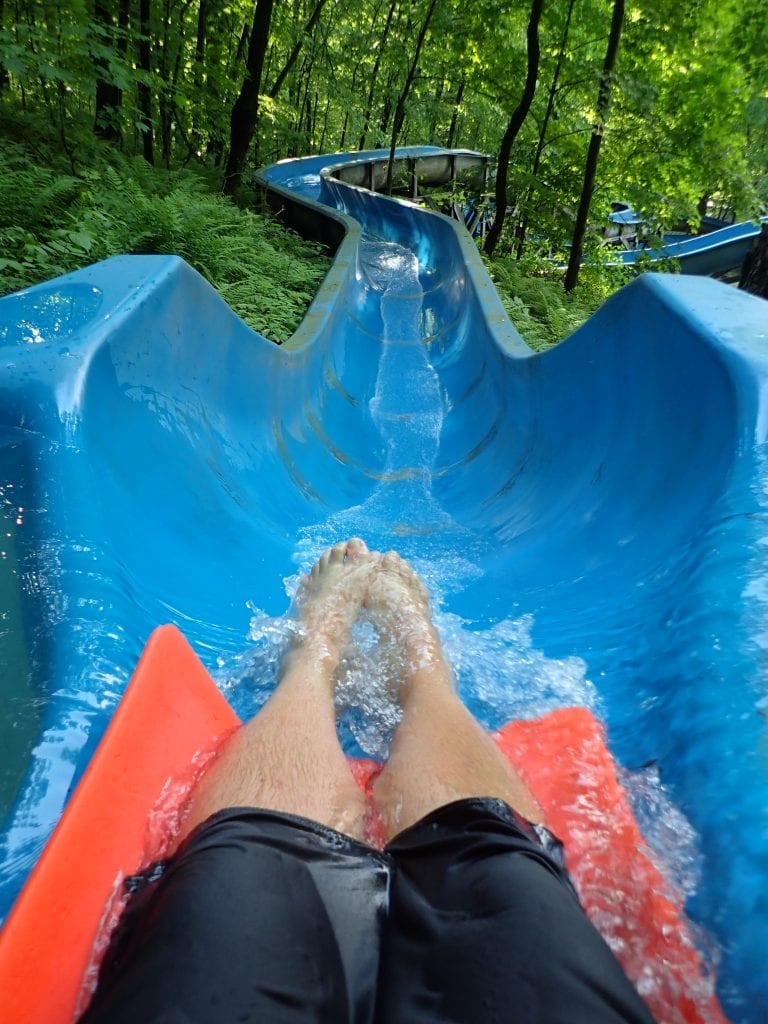 Jellystones are designed with kids in mind, so it is no surprise that a Jellystone made this list of favorite campgrounds for kids. Max especially loves the Jellystone Mill Run in PA. The waterslides are the best! While the Mill Run has a huge complex of new waterslides, our favorites are actually the old ones from the 1970s. You have to head away from the main park to get to these, but they are so worth it if you want a really adventurous ride! (Literally, we don't think campgrounds are even allowed to build slides like this these days)
While Max especially loved the slides, he said the whole waterpark is fun. Our family had fun competing in the water wars with water balloons.  Another fun thing to do at the Mill Run Jellystone is snow tubing on the hill. They've lined a big hill with slippery plastic, and you can slide down it.
Max really loved our stay at the Jellystone Mill Run because we got to stay in this huge cabin that slept 12 people. It was really cool. He also recommends eating at the restaurant. He gave props to the food and the customer service! You can read our review of this campground here.
St. Mary Glacier East KOA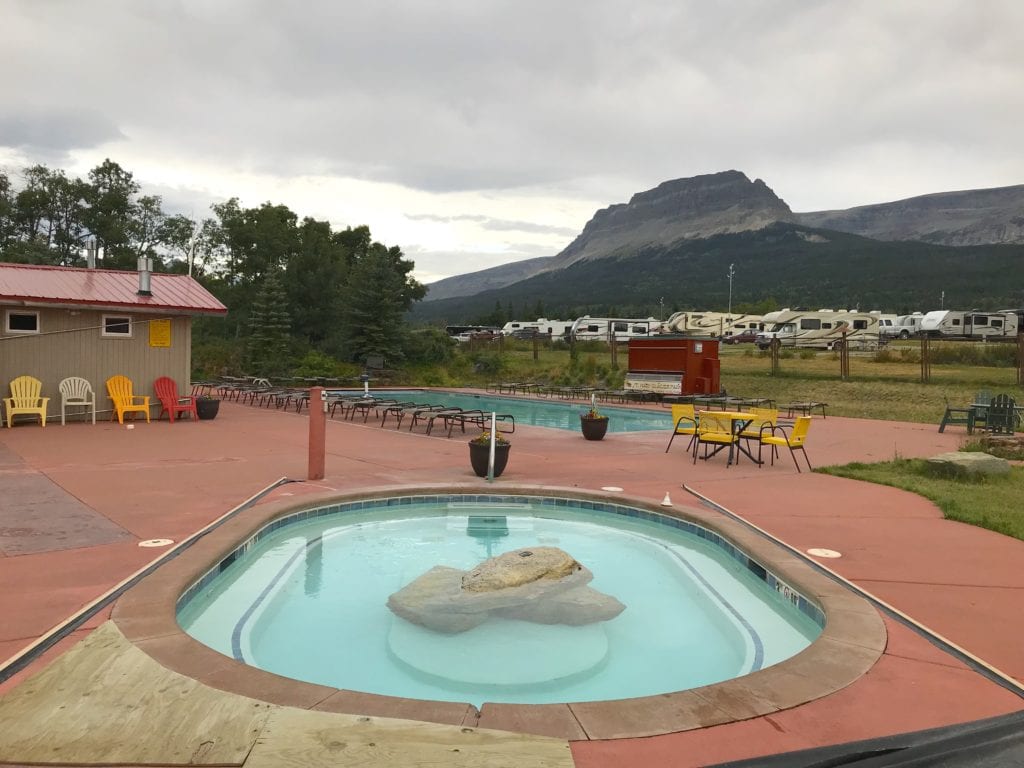 While we loved both of the KOAs we stayed at during our time in Glacier National Park, for Max, the St. Mary Glacier East KOA was his favorite. We were a little surprised since the West Glacier KOA often walks away as the top pick in a face-to-face matchup of the two. (Check out our reviews of both here and here.)
What made the St. Mary Glacier East KOA one of Max's all-time favorites. To start with, he really loved the activities on the east side of the park. The Red Bus picked us up right at the park, and we had a super fun tour. Max describes the west side as "wimpy" and the east side as "tougher." The east side seems a little more wilder and free, which appealed to his adventurous spirit.
Max really loved the views and amenities at the St. Mary Glacier East KOA. It's surrounded by mountains, which seem extra close there. Plus, the huge hot tub is super fun–especially after a big hike. Kids aren't allowed in the hot tub at the West Glacier KOA, so that's a strong tipping point. Finally, we had an awesome cabin at the KOA.
We really had fun hearing Max's top picks! It was a fun trip down memory lane. We hope you enjoyed it, too, especially if you are dreaming about favorite campgrounds for kids right now, like many of us are!
See You at the Campground,
Stephanie + Jeremy
Podcast: Play in new window | Download