The St. Mary / East Glacier KOA served as a near perfect basecamp for our adventures on the East side of Glacier National Park. We loved it and so did our kids. But it should be noted that a handful of folks online complain about the scruffiness of the landscaping at this campground. And we do see their point. Somebody should spend a little bit more time with the weed wacker. Particularly considering the price point of this campground and the simple fact that almost every other aspect of this place–including its excellent location–was pretty awesome.
To listen to Jeremy and Stephanie discuss the St. Mary / East Glacier KOA in detail on The RV Atlas podcast please click on the media player above. This is the third episode in a six part series about Glacier National Park.
To read about our tips for planning a trip to Glacier National Park, click here!
And to read our tips about packing for Glacier National Park, click here!
The St. Mary/East Glacier KOA campground is often compared to West Glacier KOA which we will be reviewing on a forthcoming episode. The West Glacier KOA is one of the most stunningly beautiful campgrounds in the country. But this is not necessarily a fair comparison because the location of each is soooo different. Bottom line? West Glacier is prettier but it doesn't really matter that much because they are both great campgrounds and we really think you should utilize each and spend time exploring each side of the park.
Things We Love About the St. Mary / East Glacier KOA Holiday
Location and Mountain Views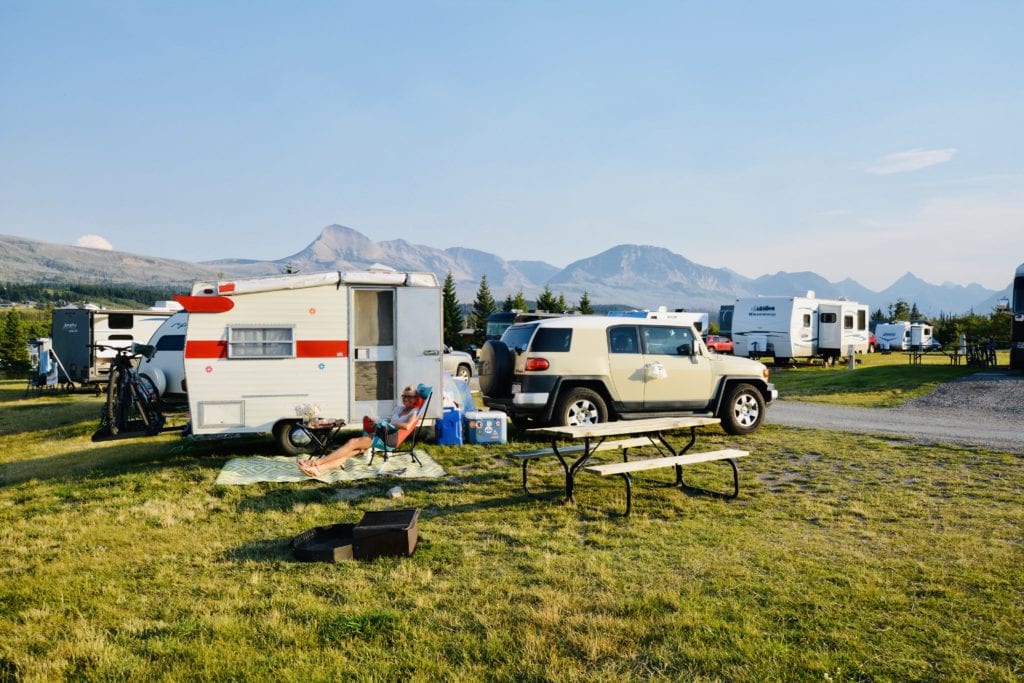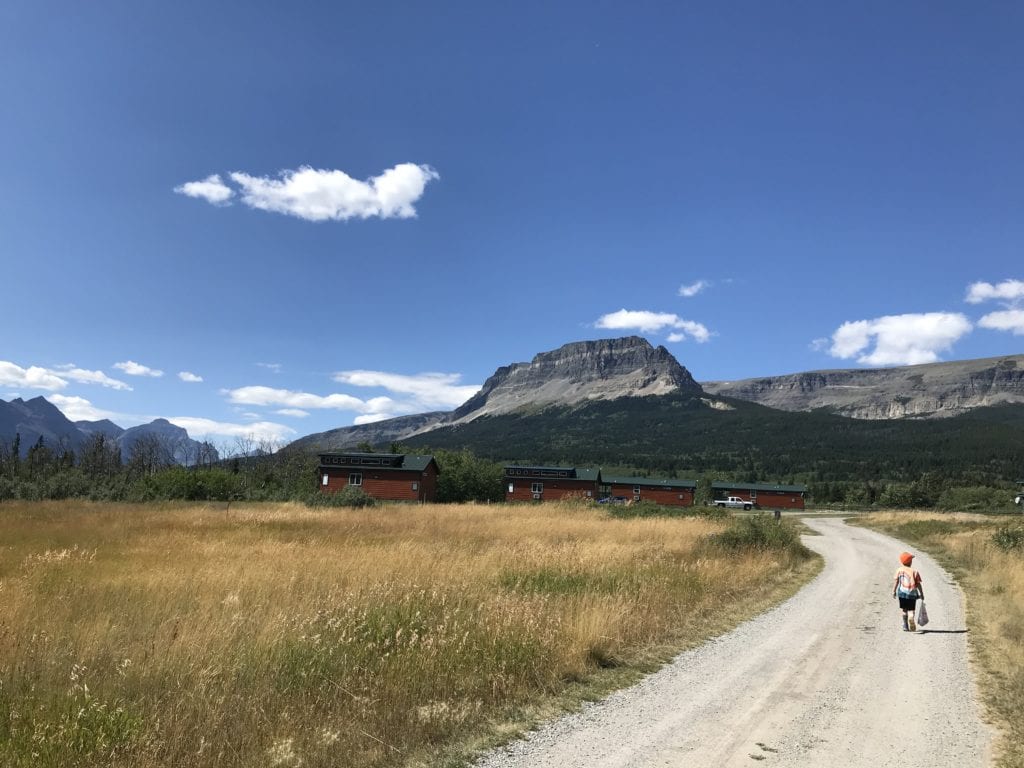 1. Location, location, location. We loved the east side of Glacier and actually missed it terribly once we moved over to the West side. The St. Mary / East Glacier KOA campground is just outside of the East side entrance, minutes away from the St. Mary Lodge with gas and food options, visitor center, shuttle service, and easy access to some of the park's most famous hikes. We were also minutes from the St. Mary campground with evening ranger programs. We were also about 15 minutes from one of the best wildlife viewing meadows in the park. 
2. The View. Yes, the landscaping is rocky and scrubby but you are looking at the magnificent mountains and huge sky the entire you are in the campground. If the landscaping bothers you just look up!
3. Full Hook Ups and Pull Thrus. This campground is just a few miles away from the St Mary National Park Campground. Both have great locations, great views, and are reservable. However, the KOA has hookups and the NPS campground doesn't. If you want a great east side location with water, electric, and sewer, this is the place.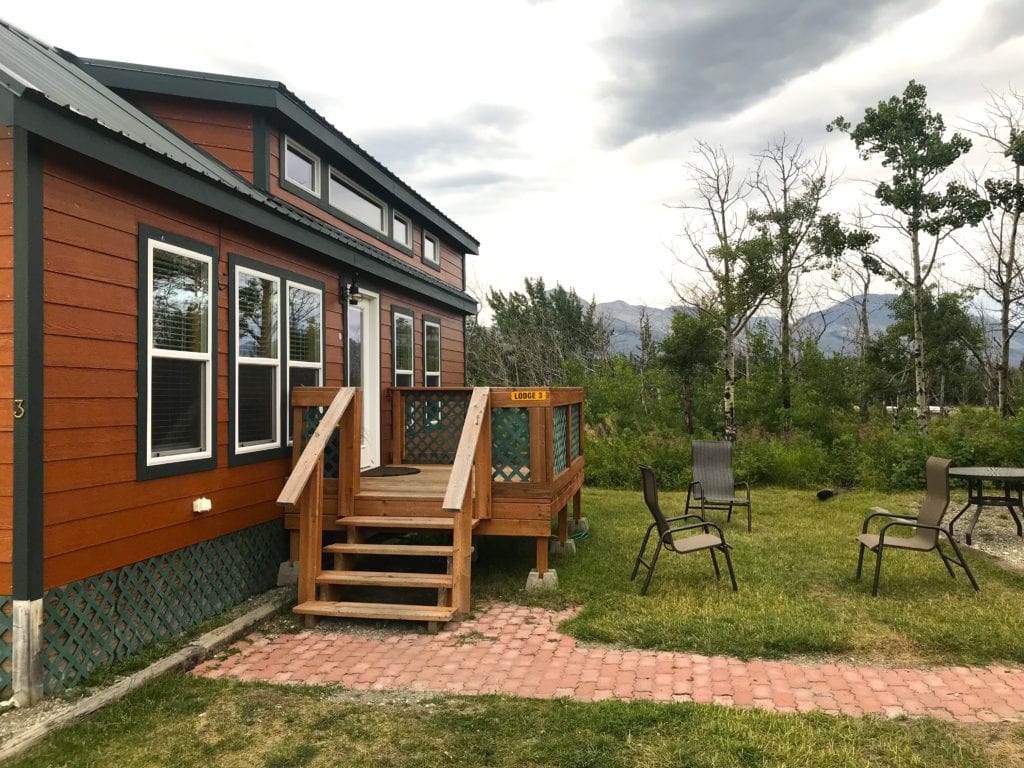 4. Cozy Cabins. We flew into Glacier and rented a car and stayed in KOA cabins. This worked perfectly for us. The cabins at the St. Mary / East Glacier KOA were comfortable and spacious–the also weren't cheap–but nothing in the area is.
Concierge Service and Onsite Food Options at The St. Mary / East Glacier KOA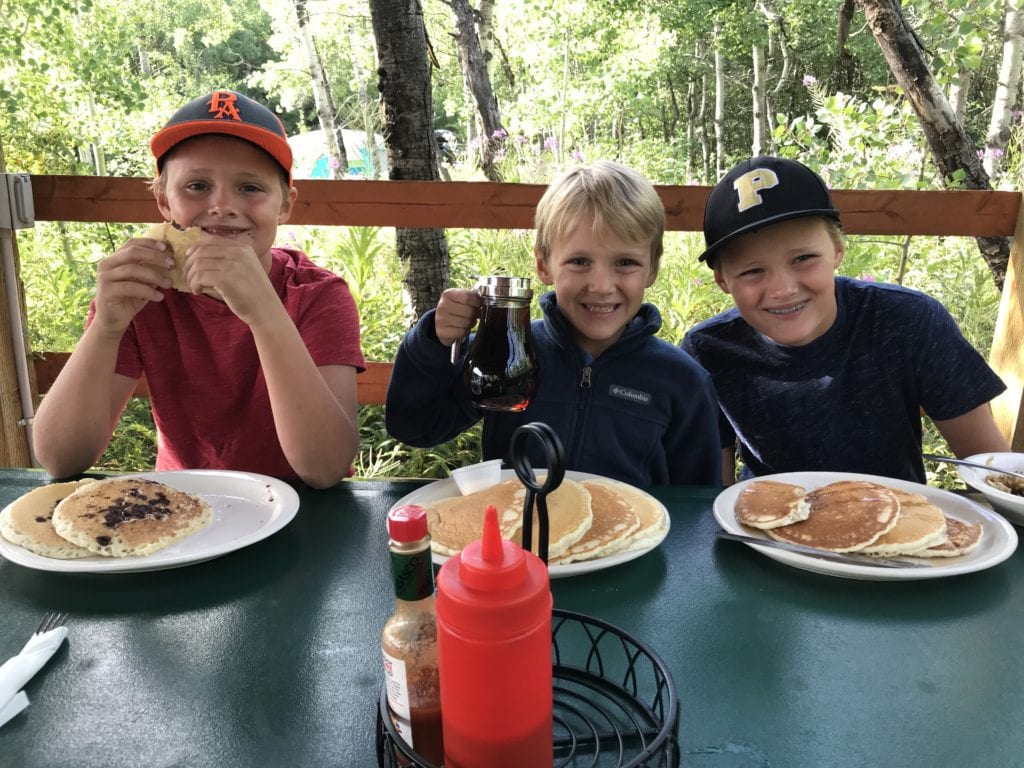 5. Customer Service. We had nothing but positive experiences with the customer service here. It was concierge level from check in to check out. They give recommendations and explain all the campground amenities at check in. Food service, ice cream scoopers, everyone was always friendly and helpful. They even recommended hikes and outdoor activities in the area.
6. Onsite Food options. The east side of Glacier is a bit of a food desert. The onsite cafe is a great option for a breakfast or dinner. You can order pizza ahead of time and have it delivered to your cabin at a set time. Breakfast was very good. Dinner was okay. And the pizza made these New Jersey pizza snobs perfectly happy.
7. Well stocked camp store. Again, there's no Walmart around the corner here. This camp store was not only stocked with beautiful gifts, it laso had all the necessities like milk and bread. Gear for hiking was also available including bear spray, bear bells, and anything else you might need.
Should I Get In the Hot Tub?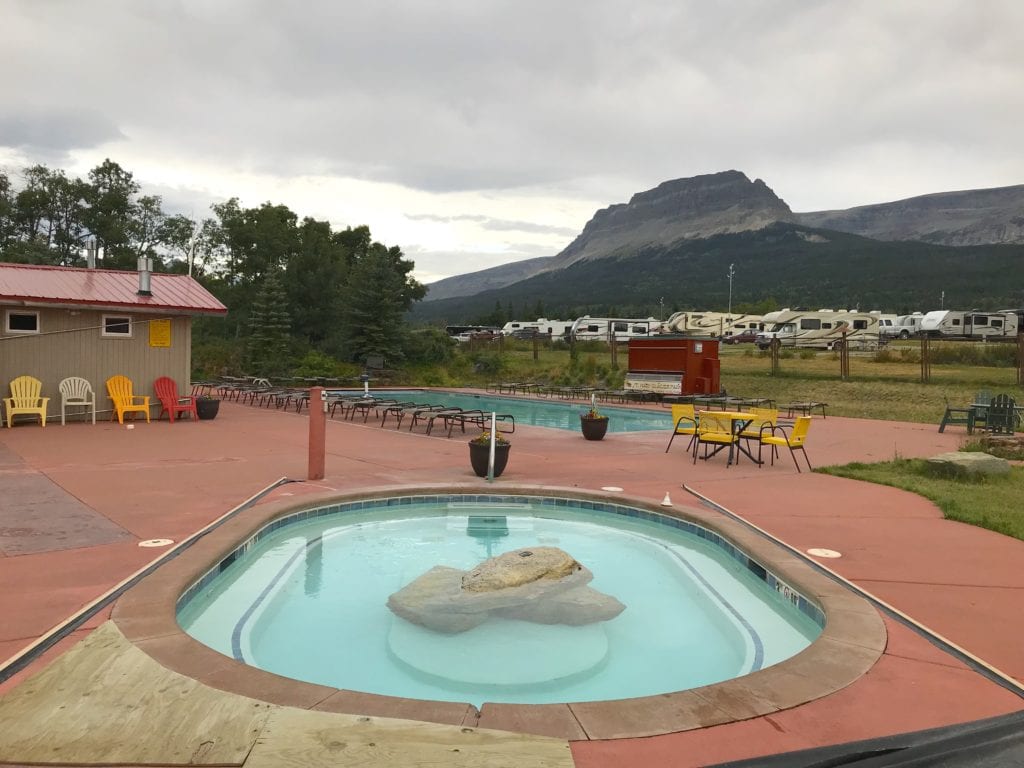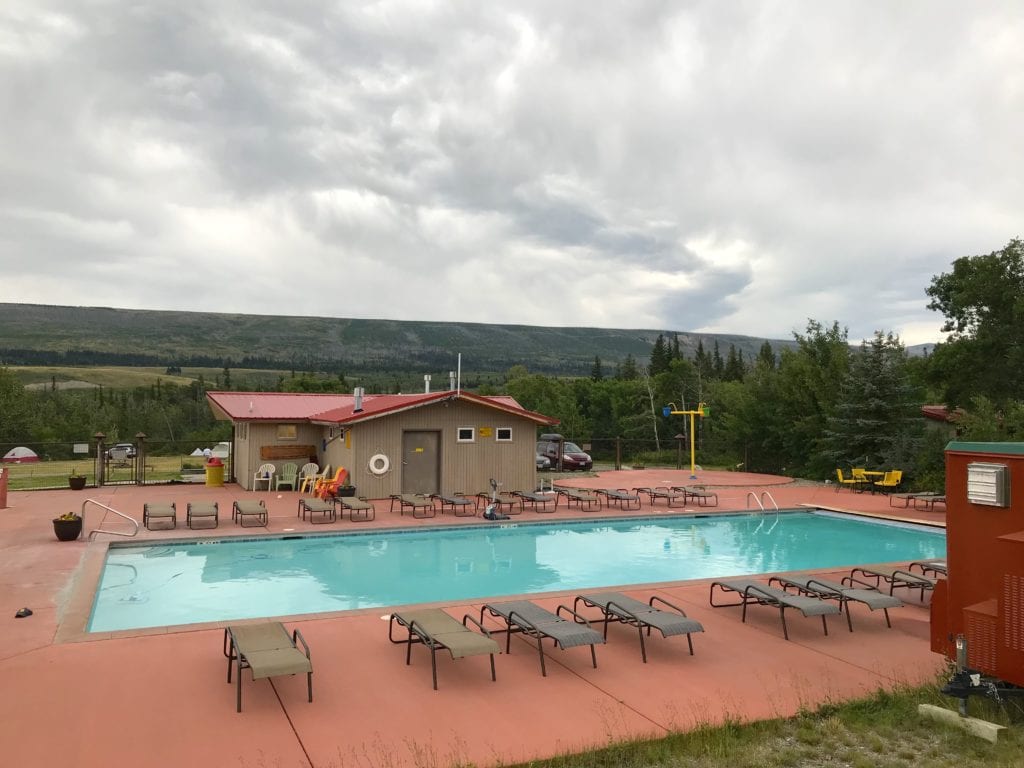 8. Pool and Hot Tub. This was by no means the most beautiful pool area we have seen but our boys LOVED it after our very long days of hiking. The big family hot tub was a gathering place for conversation the whole time we were there. Relaxing in the hot tub after a long day of hiking was one of the highlights of our trip.
9. River access. There are kayaks and sups available for rent right at the camp store. It's a short walk down to the river.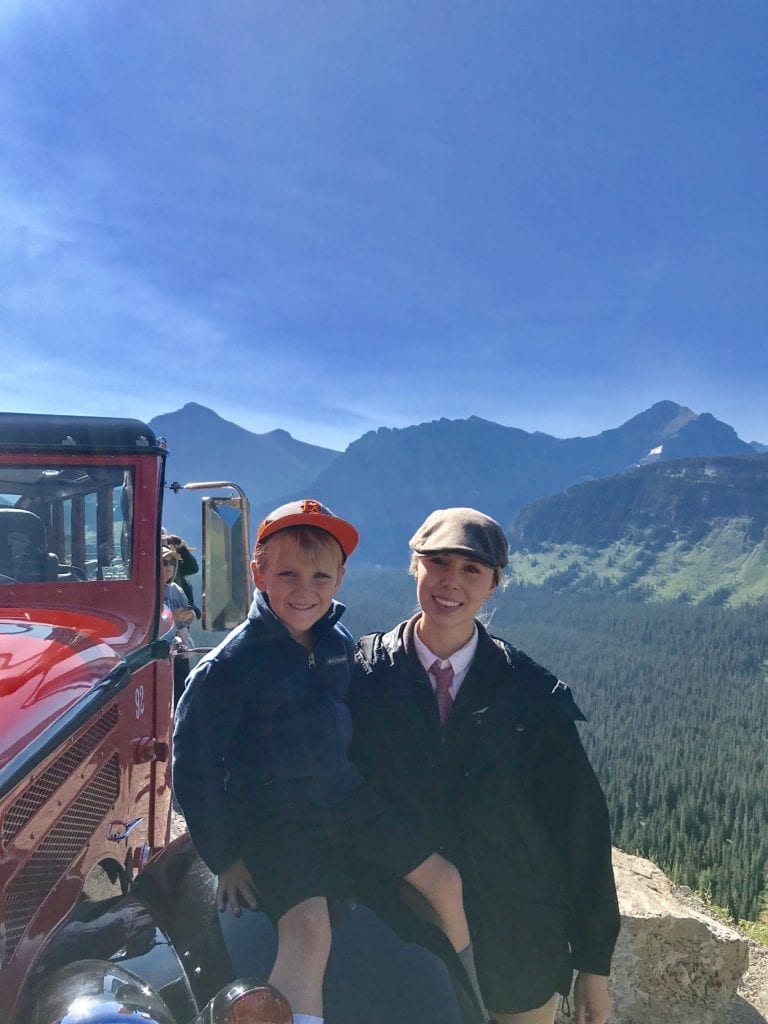 10. Red Bus Tours pick up right from the campground. I loved the convenience of the Red Bus tour picking us up at 9 am at the camp store and dropping us off after. It was the perfect thing to do on our first morning in Glacier.
Family Fun at the St. Mary / East Glacier KOA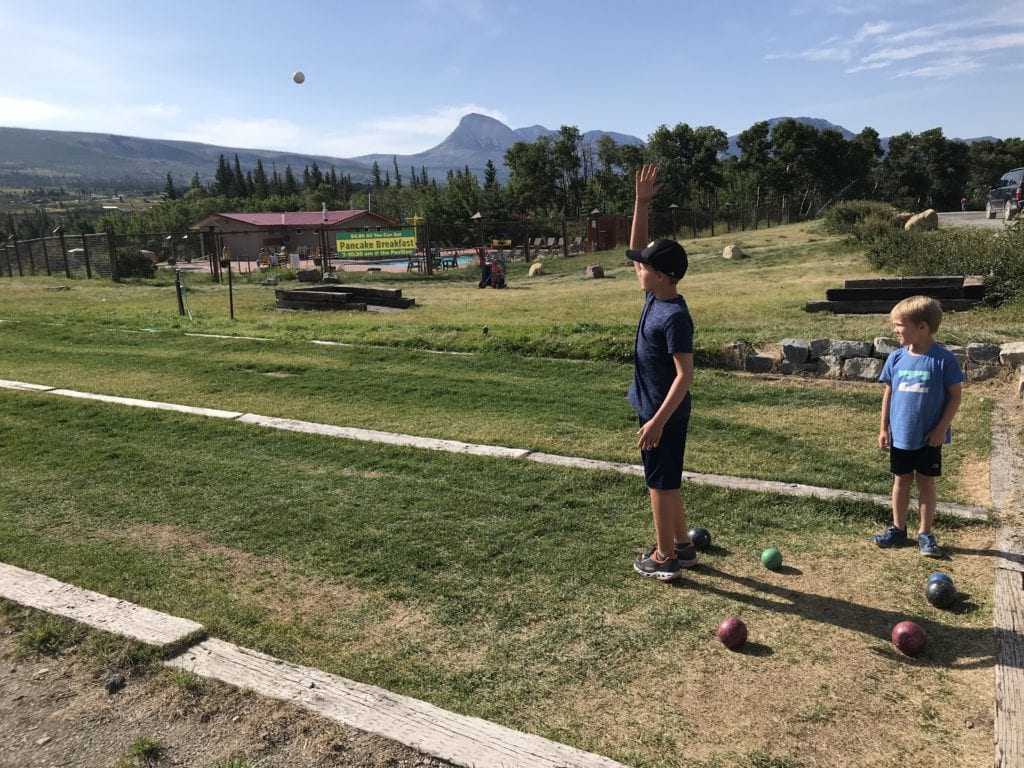 11. Bocche ball, corn hole, and mini golf. Downtime activities are very important for our boys when we are doing an intense hiking/NPS trip. They loved playing bocche ball and corn hole in the evenings. And the putting green holes in the pool area were completely bizarre but totally fun for the kids, allowing the parents to actually relax a little.
This St. Mary / East Glacier KOA is not perfect, but our stay sure was. We can't wait to return to Glacier and we will certainly camp here again when we stay on the East side. Interested in a NPS campground option on the east side of Glacier National Park? Check out St. Mary Campground, a dry camping option with reservable sites and beautiful views.
See you at the campground,
Stephanie + Jeremy
Podcast: Play in new window | Download