Memorial Day weekend is the unofficial start to the summer season, and we definitely kicked it off right this year at the Jellystone Mill Run in Western Pennsylvania. We've been to some of the best Jellystone campgrounds in the country, and Mill Run zoomed to the top of the list for our family.
In fact, our boys loved this campground so much that they asked to make their first ever podcast appearance to review the fun-filled Jellystone. You can listen to their thoughts by clicking the play arrow at the top of this article, or by listening to The RV Atlas episode in your favorite podcast app.
What's a Jellystone Camp-Resort?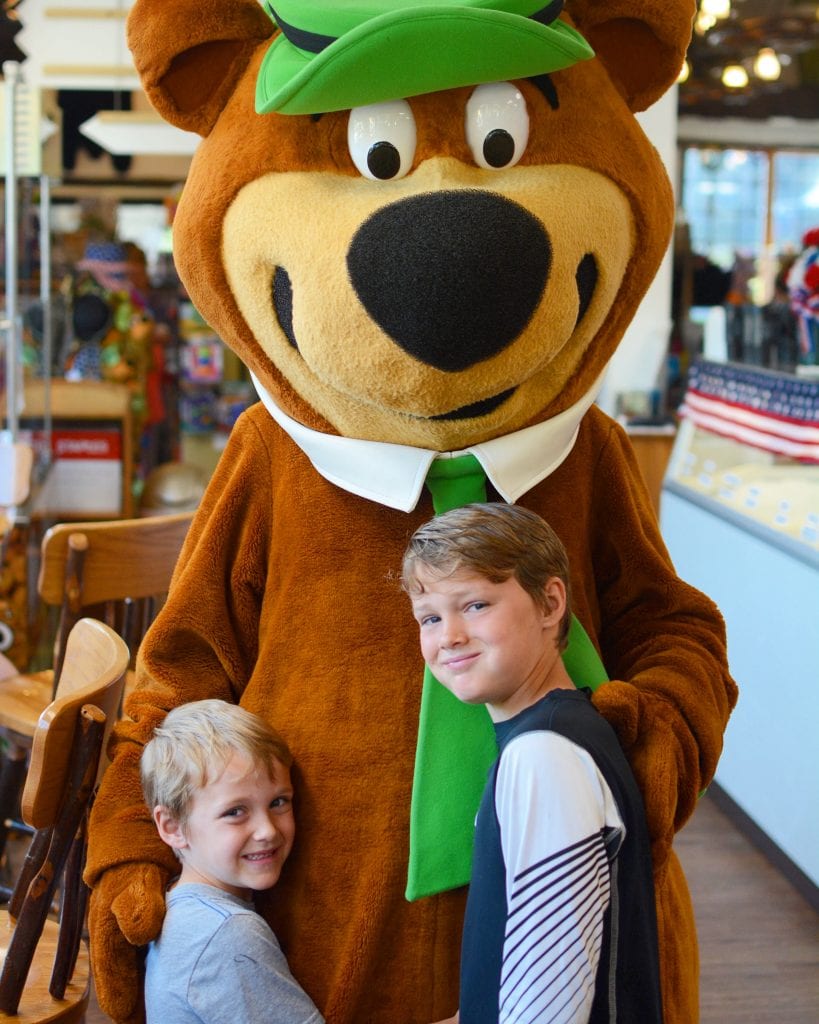 We visited our first Jellystone Camp-Resort about six years ago with three kids under five years old. We didn't know what to expect, but we were blown away by how much fun we had as a family. Jellystones focus on three main things: character experiences, family-friendly amenities, and a full schedule of activities. While the individual campgrounds vary in the specific amenities and activities they offer, you can count on kids of all ages having fun from dawn to dusk…and beyond. You can find reviews of our other favorite Jellystone Camp Resorts here.
Bottom line? For our family, It's not a complete camping season if it doesn't include at least one visit with Yogi.
Jellystone Mill Run: Location
Jellystone Mill Run is located in Western Pennsylvania, just about 60 miles southeast of Pittsburgh. It's surrounded by the beautiful Laurel Highlands scenery. Although you can easily spend days without leaving the campground property (ask us how we know) the area is full of opportunities for outdoor adventure. Visitors rave about nearby Ohiopyle State Park with whitewater rafting, tubing, hiking, and zip lining. The Great Alleghany Passage bike trail passes right through the area as well. And of course, you can't miss a visit to iconic Fallingwater, which you can learn more about from our review here.
Jellystone Mill Run is nestled in the hills of this lovely region, and we were surprised at how lovely the campground itself is. To be honest, many large resort campgrounds offer an abundance of campsites and amenities at the expense of the scenery. Mill Run has abundant trees and landscaping offering shade and privacy between sites. Plus, many of the amenities offer gorgeous views of the surrounding hills.
Jellystone Mill Run: History
We also love the history behind the Jellystone Mill Run. It's been a family owned campground for decades, and has been at the forefront of the rise in resort camping. It was the first Jellystone to offer firetruck and train rides. Plus, it was the first campground in the US to install a snowless snow tubing run. We had the feeling during our visit that the folks at this campground are always thinking about how they can take family fun to the next level.
Jellystone Mill Run: Campsites
There are two main sections to the campground and visitors will want to carefully choose the best location for their family. The older section of the campground (campsite numbers 1-333) has full hook up, mostly back in sites. The area is heavily wooded with what we would consider tight turns. There were many large travel trailers in this section, but we felt it was best for smaller campers under 30 feet and pop ups. In this area, you'll be close to the classic waterslide, train ride, fishing pond, and smaller pool.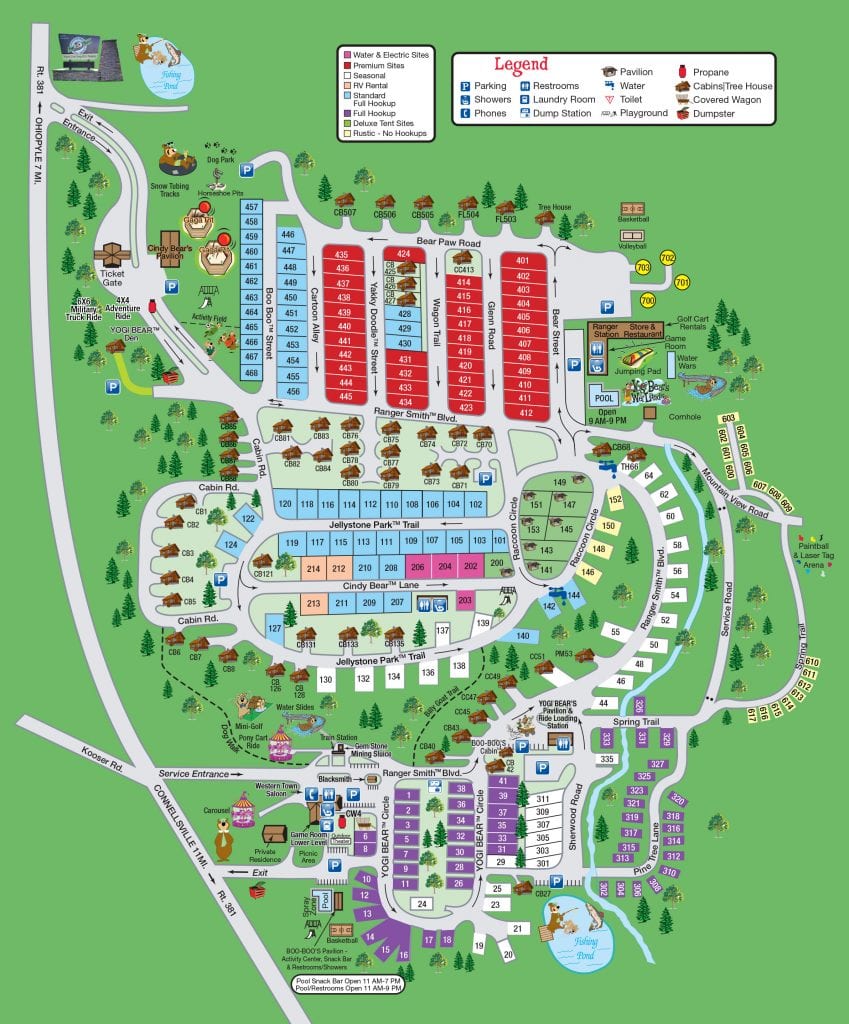 The newer section of the campground (the 400s) has dozens of spacious, full hook up, pull thru sites. Folks with larger RVs will definitely want to consider these sites. This section is bordered by the Wetlands water area and Ranger Station on one side and the Activity Field on the other side. We stayed in this area and loved being right in the middle of all the action.
Jellystone Mill Run: Cabins and Rentals
A variety of cabins and creative lodging (TREEHOUSES!!!) are situated throughout the campground. We stayed in FL503, which was perfect for a larger group or multi-family trip. Our cabin slept 24 people and had four full bathrooms. Plus there was a common screened porch, grill, and campfire pit. These would be amazing for your next family reunion or birthday celebration.
There are also RV rentals available (peach colored squares on the above map). If you are thinking about buying an RV, this is such a great option. You get to test out an RV and a resort campground to see if it's your jam. We think it probably will be.
Note that the campground is really, really large and we loved having a rented golf cart to easily move around. We would highly recommend budgeting that into your stay!
Jellystone Mill Run: Amenities
If we were to list all the activities and amenities offered at Jellystone Mill Run, this review would read more like a phone book (if you remember what those are). Instead, we'll point you to their website for the complete listing and just focus on some amenities that really stood out during our visit.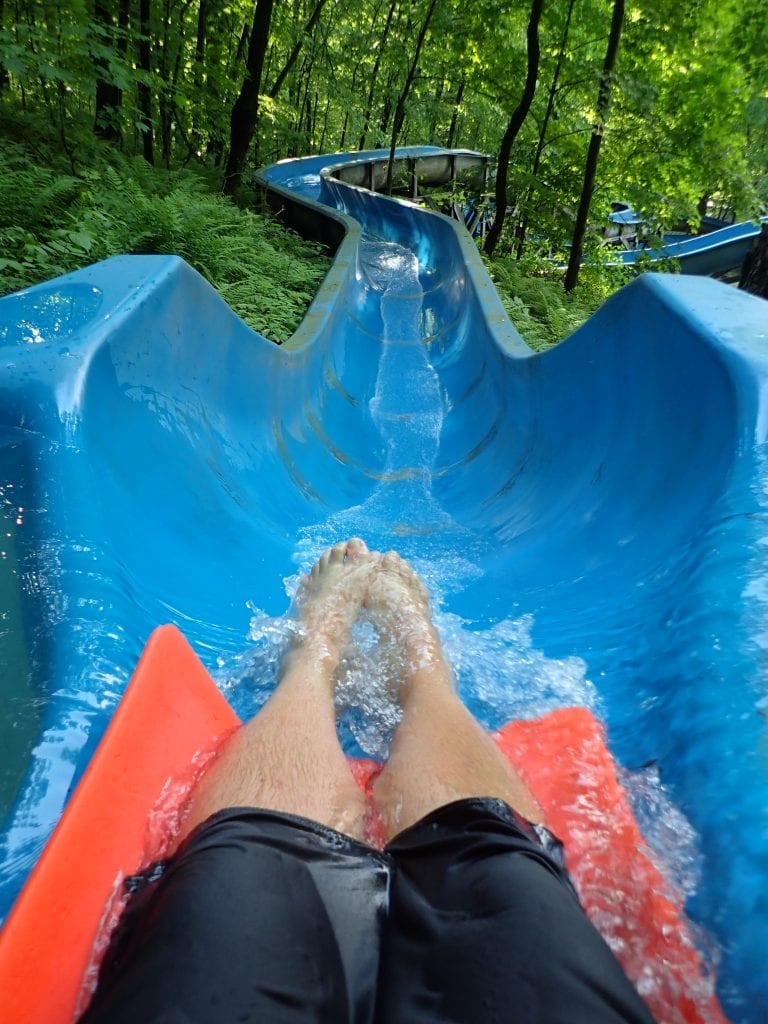 One of the highlights were the waterslides from the 1970's that are apparently the longest waterslides currently in Pennsylvania. Let's just say they don't make them like they used to. Our whole family raced down these two slides probably over a hundred times during our long weekend stay. Based on this video evidence, the adults might have had even more fun than the kids…
The Wetlands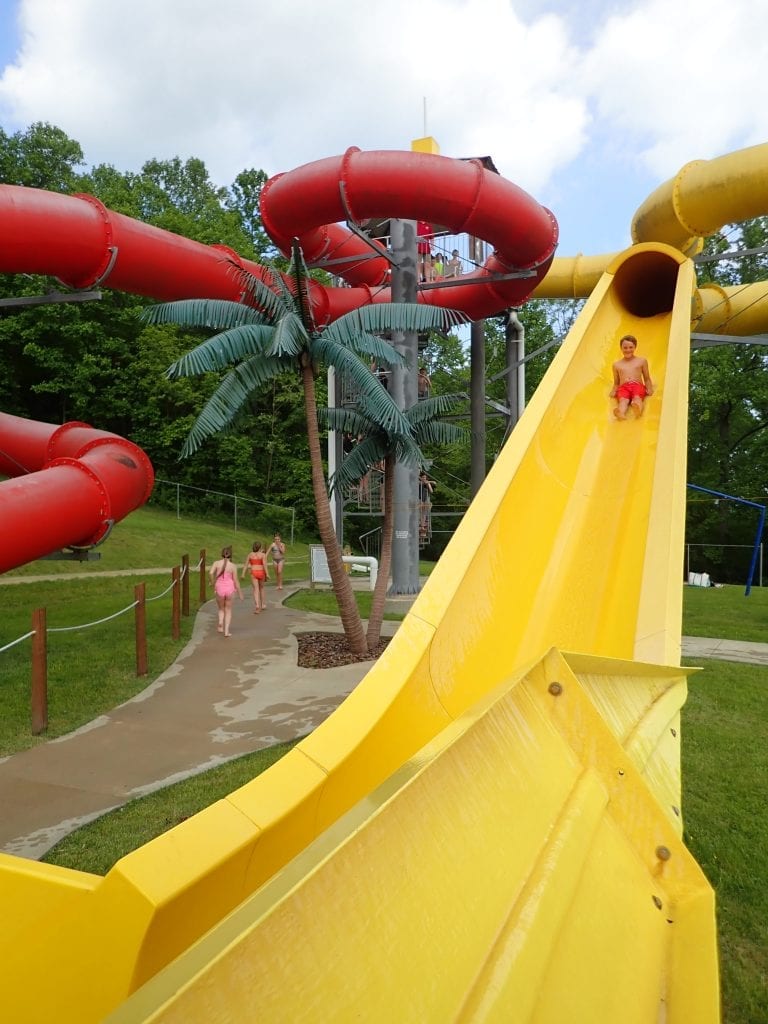 In the fancy new area of the park, you'll find the Wetlands, where we spend the majority of our time. There is a heated pool, splash pad, waterslides, jump pad, and water wars. We loved that you could enjoy all these amenities in one location, which is very rare for a campground setup. For example, I could sit in a lounge chair reading while our six-year old went wild on the jump pillow and our 10-year olds went down the slides. We also managed to squeeze in a few family Water Wars during our stay, which was a favorite for the boys.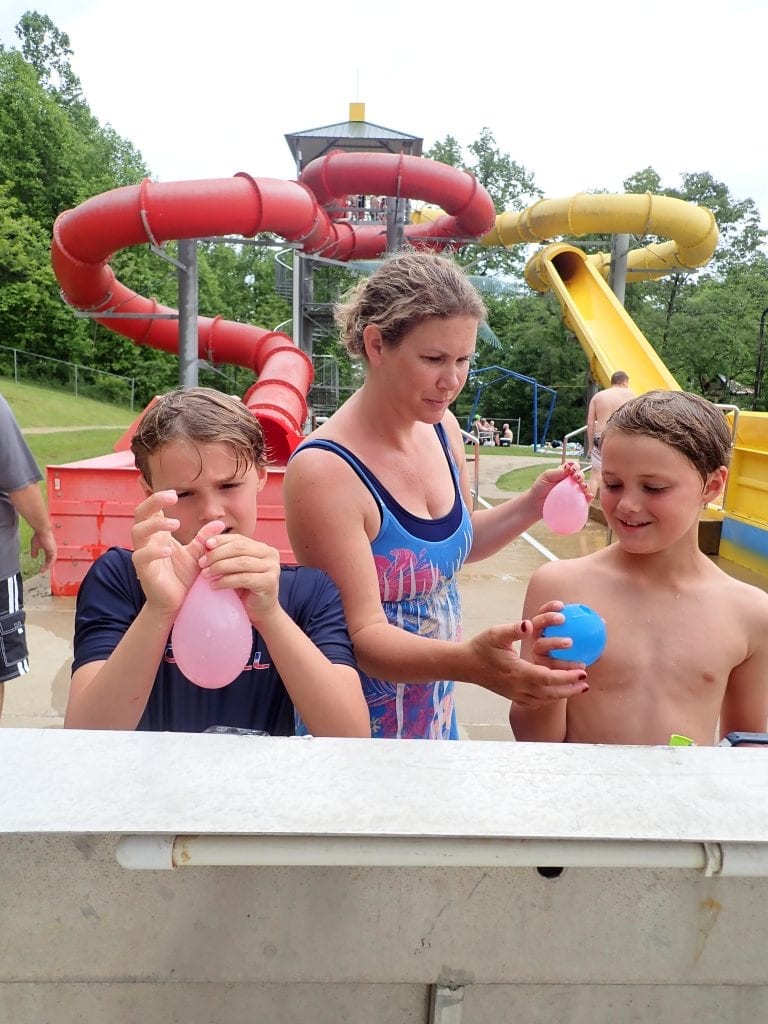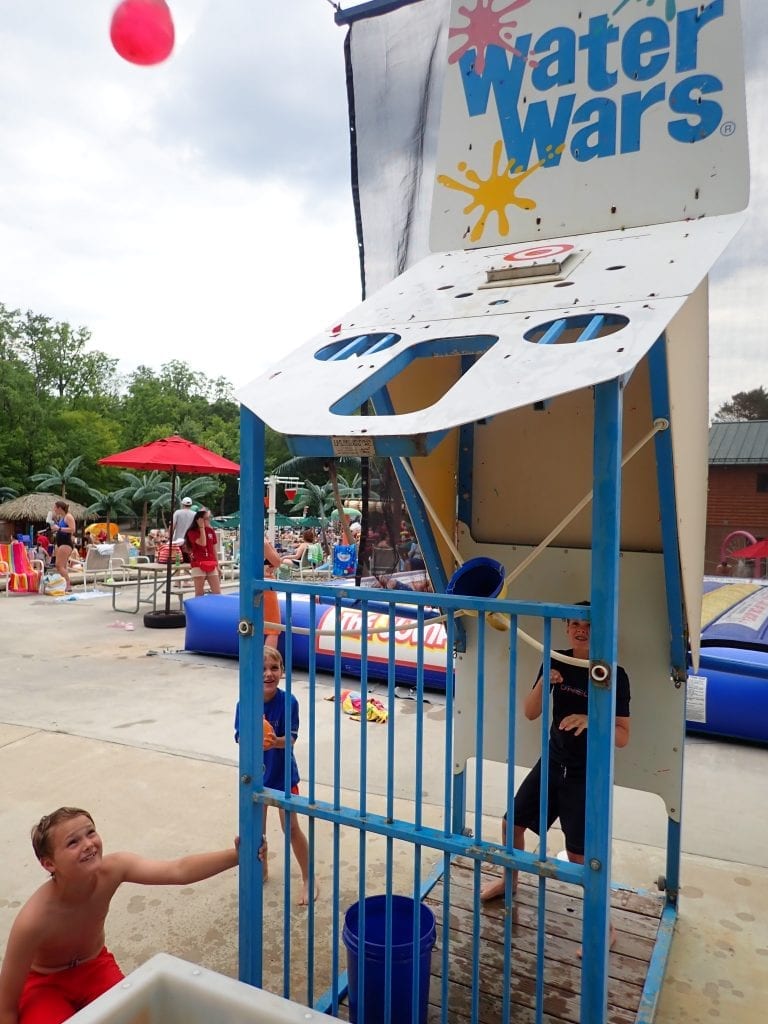 The Ranger Station and Restaurant

Right next to the Wetlands is one of the best Ranger Stations we've seen in our travels. The camp store was well-stocked and well-staffed.There was a full-service restaurant offering breakfast, lunch, and dinner. Plus, guests could get snacks, slushies, and ice cream from the counter to go.
The Activity Field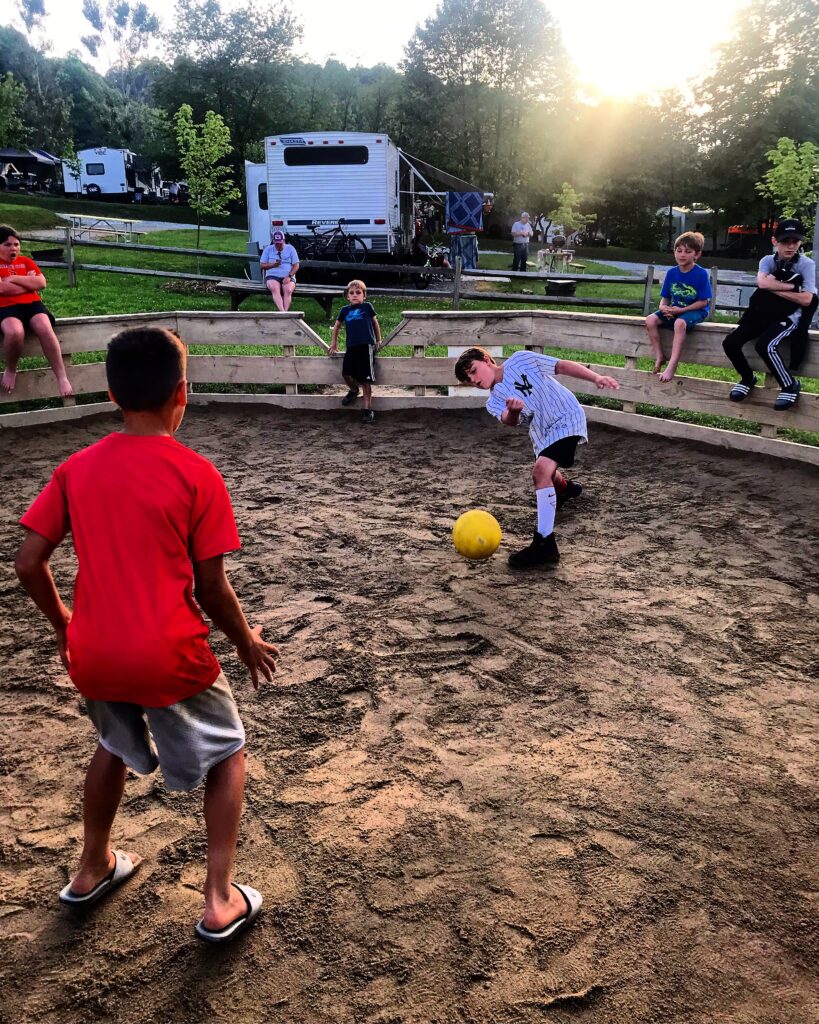 We also spent quite a bit of time at the activity field, where we fell in love with snowless snow tubing (who knew this existed???). That same area holds a dog park, gaga ball pits, and a playground so it was pretty much heaven on earth for our kids.
Jellystone Mill Run: Activities
Again, it's almost overwhelming to try and describe all the activities that are available on a typical summer weekend at Jellystone Mill Run. Upon check in we were offered a two-page schedule of hourly activities taking place on Friday, Saturday, and Sunday. The schedule included everything from Breakfast with Yogi (count us in!) to firetruck rides, dance parties, and candy bingo.
We felt again and again throughout our stay that Jellystone Mill Run tries to provide families with activities they won't find anywhere else. A good example of this is the 4×4 off-roading tour of the hills behind the campground. We went on this tour after an afternoon rain shower, and the driver deliberately found ALL the mud puddles on the route. We got filthy and laughed harder than we had in a long time. The driver also got out during the tour and gave us a bit of local history. Then he snapped pictures for all the families on the tour. It was such a fun and unique campground experience.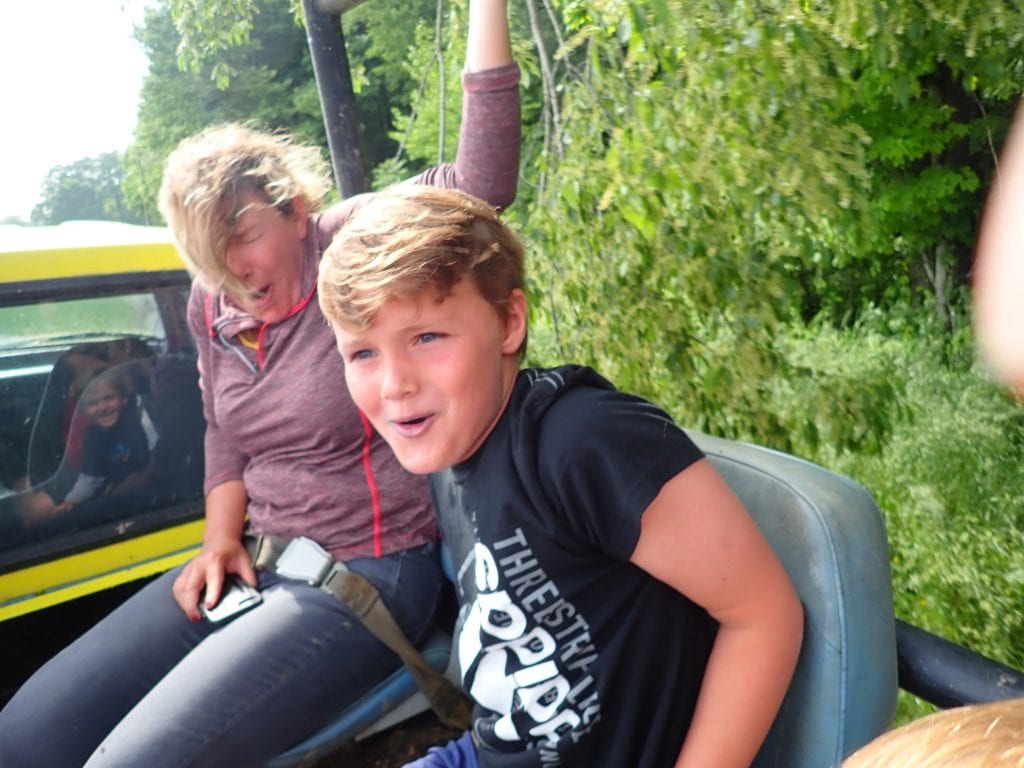 Chainsaw carving demonstrations, laser tag, mini golf, and paintball are just some of the other activities that will keep you busy while staying at Jellystone Mill Run. The hardest part about your visit will probably be deciding between too many fun opportunities on the schedule. At least that was the case for our crew.
Jellystone Mill Run: Customer Service
We have to take the time to give a shout out to the camp workers at Jellystone Mill Run. We visited on the Memorial Day Weekend, one of the busiest times of the year for a campground. Every single employee that we interacted with was friendly and helpful. They interacted kindly with the kids and enforced rules without being overbearing. That's a hard line to tow at a busy campground resort. We've been to our fair share and appreciate when it's done right!
Our greatest disappointment with Jellystone Mill Run is that it is way too far away from our sticks and bricks home. If this campground were closer to our home, it's the kind of place that would tempt us to become seasonal campers again. But even though it is a good six hour drive for us, we know we'll find our way back soon. We love a good Jellystone, and this is the best of the best.
See you at the Campground,
Stephanie + Jeremy
Podcast: Play in new window | Download