We haven't been to every campground, but we've been to a heck of a lot of them. And we can say with absolute confidence that the West Glacier KOA is in the running for the prettiest campground in America. In fact, guests will find themselves rubbing their eyes and wondering if they are on a movie set.
Like, if the Truman Show had a campground, this is what it would look like.
We stayed at the West Glacier KOA for four nights while exploring the west side of Glacier National Park. If you are just getting started planning your trip to Glacier make sure you check out the rest of this series of articles and podcasts:
Things to do on the West Side of Glacier National Park
You can read all these articles on our blog, or listen to us talk more in depth about the topics on The RV Atlas podcast, available wherever you listen to your podcasts!
9 Things We Loved about the West Glacier KOA
1. The natural and landscaped beauty was a feast for the eyes.
Look up and you find amazing mountain views towering above the campsites. Look around and you find immaculate landscaping, beautiful seating areas, and tastefully designed amenities. The pictures in this blog post are worth a thousand words on this topic.
2. The location.
The West Glacier KOA puts you within a 10-minute drive to the west entrance of Glacier National Park. We were 10-15 minutes from Apgar Visitor Center, which is the main visitor center on the west side with ranger programs running throughout the day and shuttles to the park. The Red Bus tours leave from the Apgar Visitor Center, and you can also catch a city bus to Kalispell or Whitefish. The campground is also only 45 minutes from the Kalispell airport. There are many of the big outfitters for rafting and tubing just minutes from the campground. Basically, this campground puts you close to all the west side action. 
3. Beautiful campsites.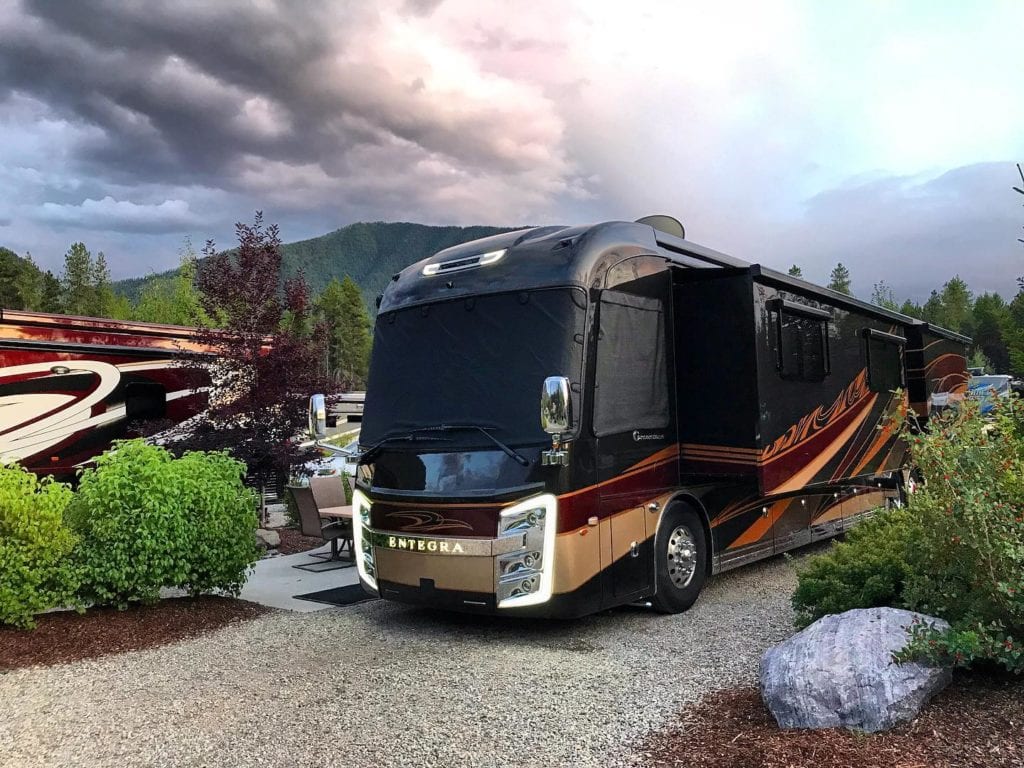 The campground had meticulous campsites for everyone: back ins, pull thrus for big rigs, and tent sites. There's really not a bad site in the campground, although we certainly had preferences for our favorites. Pull thrus #172-#213 have that amazing view featured in Jeremy's IG photo. The sites in the 50s, 60s, and 70s are more wooded. There were some power lines over on the opposite side of the park, and that would have bothered me a bit if we had been placed there.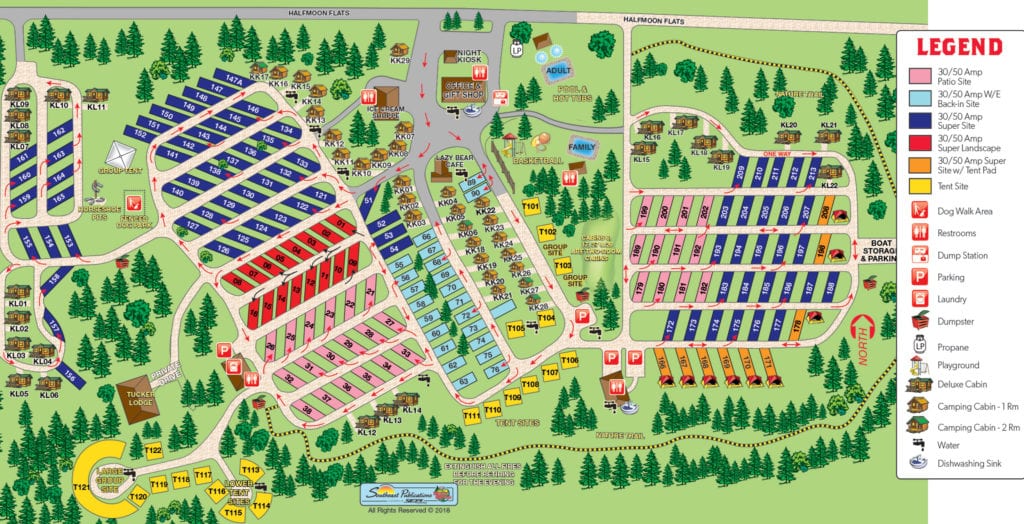 4. Magical Cabins.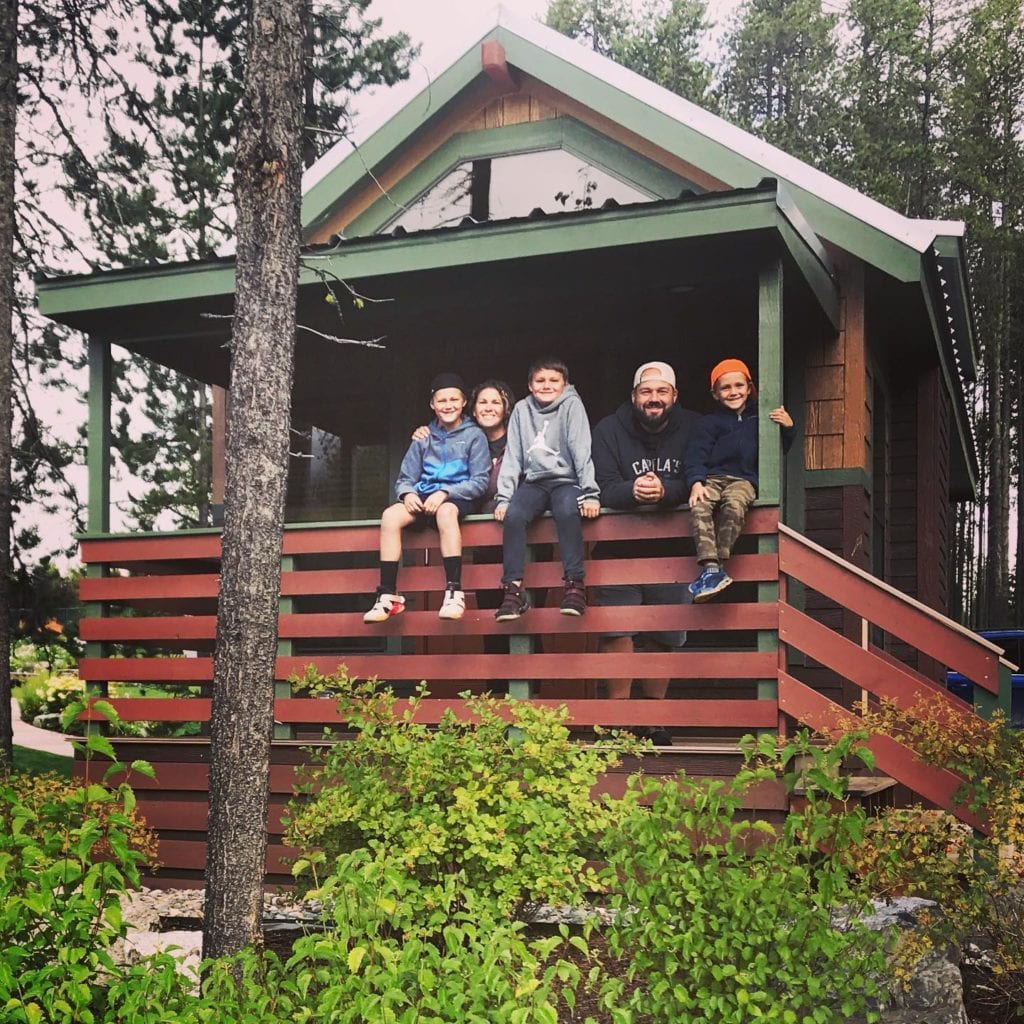 The deluxe cabins are both beautiful and well stocked. We loved the unique quilted bedding, comfortable furniture, spacious patios, and fire pits with firewood. There was a gas grill for outdoor meal prep. Ample towels and complimentary toiletries were provided. These are all things we look for when splurging on a deluxe cabin. Now, with all of these amenities, they are certainly not cheap. However, at about $375 a night they were competitively priced with the national park lodges and RV rental prices we researched in advance. 
You might also consider the more affordable Camping Cabins. One room cabins average $100 per night. Two room cabins average $120 per night. There's no bathroom or kitchen in these models, but the campground bathhouses were clean, so these might be a great budget option.
5. Lazy Bear Cafe.
Breakfast at the Lazy Bear Cafe was a family favorite and we started most days with breakfast burritos, French toast, and hot chocolates. There's an espresso bar with a variety of coffees, teas, and pastries if you are looking for something quick to go. The dining area was lodge themed and just another example of impeccable design at this campground. There was also a much more limited dinner menu which offered a few grilled options along with simple sides like corn on the cob and baked potatoes. 
6. Ice Cream Shop.
How can you end an adventurous national park day without getting ice cream? Don't ask us. Campgrounds that have on-site, hand dipped ice cream win serious points with our family. The flavors rotated daily, but the huckleberry is of course a local favorite that you should probably try.
7. Pools and Hot Tubs.
The West Glacier KOA has a large family pool and a smaller adult pool and with two hot tubs. The family pool was well heated and the kids loved the colored lights that were on at night. The hot tubs were a nice treat for the adults, but sheer torture for the kids, who referred with fondness to the St. Mary / East Glacier KOA where they were allowed to soak.
8. Playground, basketball court, and gaga ball pit.
This was a kid hub in the campground and just perfect for our boys. During our entire stay, there was always a pick up game of basketball of gaga ball going on. The hardest part about this for us was dragging them away to go for a hike. The honest truth is they would choose gaga ball over hiking in Glacier National Park any day of the week.
9. On-site rental cars.
Traveling in a rental RV? Don't have a dingy? We were so amazed to see that rental cars were offered as an on-site amenity at the West Glacier KOA. Since the campground was about 10 minutes from the Apgar Visitor Center and shuttle service, this option took care of any transportation issues visitors might have. 
One thing we didn't love (but completely understand) is the very spotty cell service and virtually unusable WiFi at the West Glacier KOA. We were given a WiFi password when checking in but were unable to connect even once throughout our stay. This is just something that folks should be prepared for when visiting Glacier National Park. It definitely goes with the territory. 
See you at the campground,
Stephanie + Jeremy
Podcast: Play in new window | Download