Assateague State Park is Maryland's only oceanfront State Park, located south of Ocean City and north of Chincoteague Island.
It's also one of our very favorite campgrounds in the country.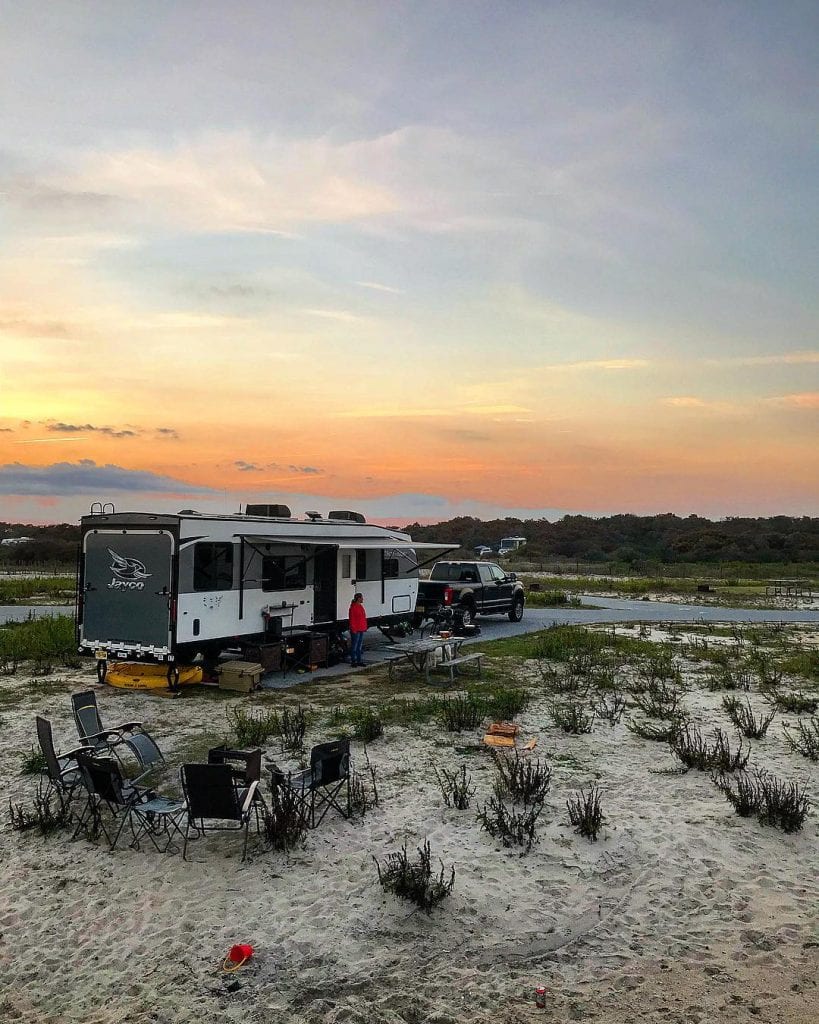 Our attachment to Assateague State Park is rooted in sentimentality. We've been camping there for decades independently and together as a couple.
But we finally returned with our kids just this past September, and confirmed that it is just as magical as ever. In fact, we can't believe it took us so long to bring the boys to one of best campgrounds on the east coast that's just a few hours from our home.
Campground Details: Assateague State Park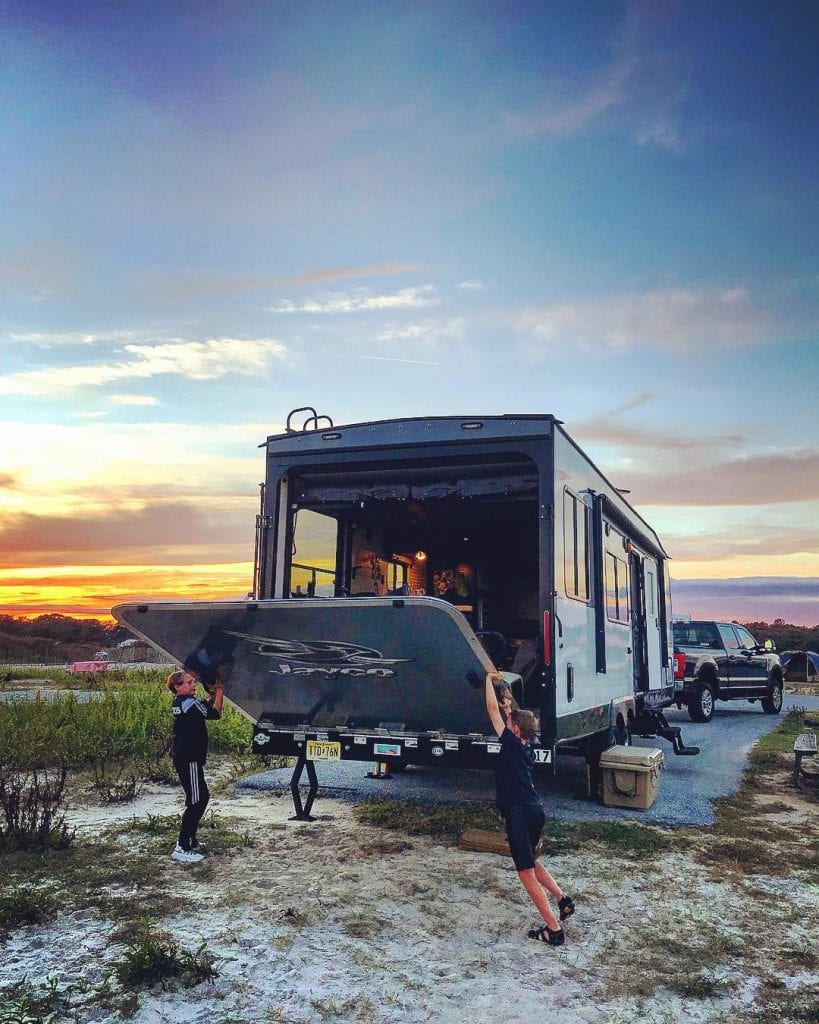 Assateague State Park is on an island that's basically a spit of sand running north to south just below Ocean City, Maryland. It's north of Assateague Island National Seashore and Chincoteague. The state park offers beach-front camping with no water or sewer hook ups. Electric hookups are available in one loop only.
This campground is really very large. It's organized in a number of horseshoe shaped lettered loops that run north to south along the island. I and J are not horseshoe shaped. They are more of an oval. All of the loops have both interior and exterior sites. This is the sort of campground where you will want to pay a lot of attention to your site selection. Check out the campground map to reference all the sites we talk about on this podcast episode, and also to make sense of all those campsite selection tips we give…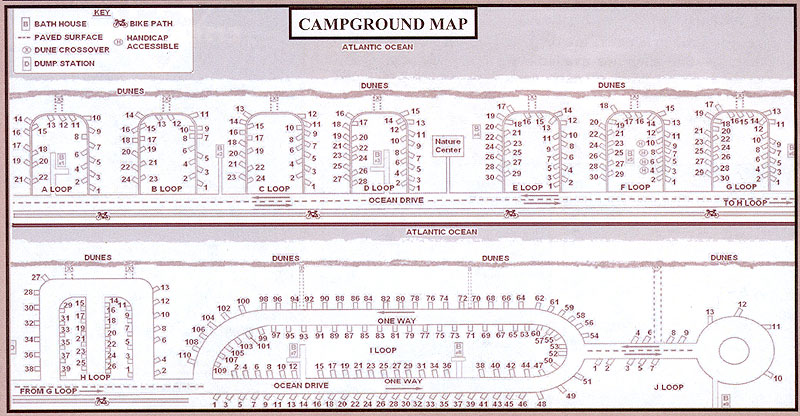 This is simply beach camping at its best. Many of the campsites are nestled right up against the dunes. You can walk 30 feet over the dune and watch sunrise over the Atlantic Ocean. It's rugged and wild looking, with lots of shrubbery, brush, and bushes. 
Plus, wild horses.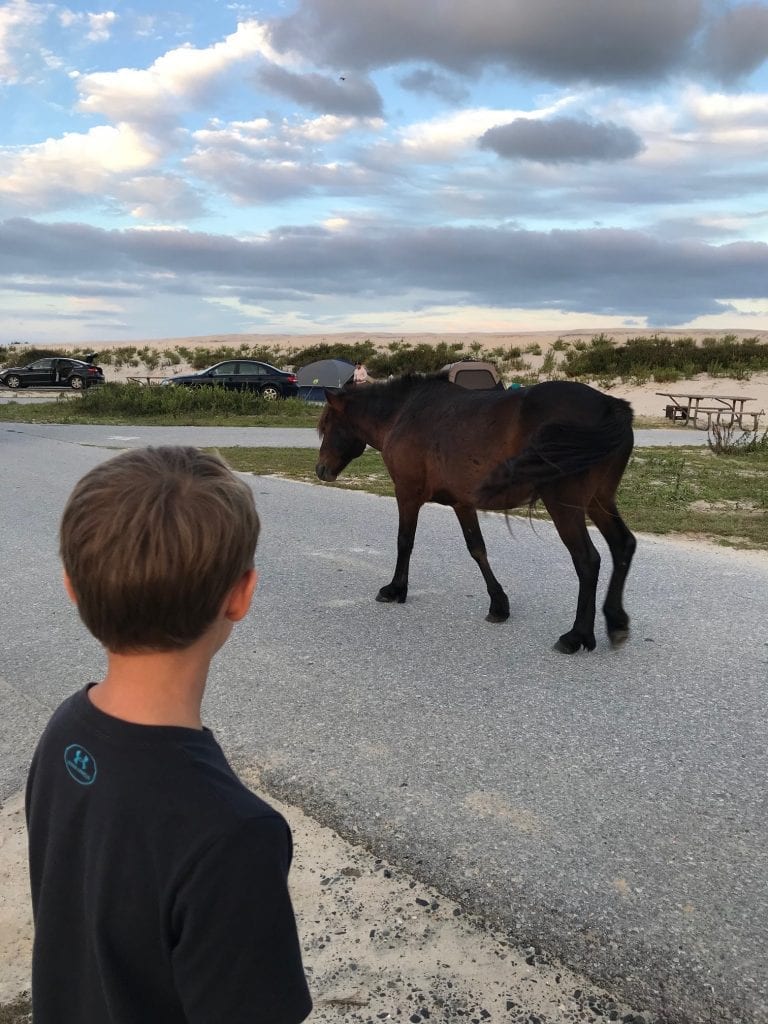 Yes, wild horses roam freely within Assateague State Park and it is one of life's great pleasures to wake up in the morning and see them grazing on your campsite. Just make sure you pack away ALL the food and keep it locked up tight. These horses live for lazy campers' cheese doodles. 
Campsite Details: Assateague State Park
Campsites are around $28 dollars for non electric spots and $39 for electric spots. You also have to purchase a $20 7-day state park pass during your stay, so make sure you budget of that expense.
If you want 30-amp electric hookups at Assateague State Park, you will have to take your chances 12 months in advance the very second the online booking window opens. It's fierce competition, and honestly this is what kept us from visiting for so long. Now that we have solar power, we were happy to nab a beachfront non-electric site. All the campsites have a concrete pad with a picnic table and a fire pit. The sites are all different sizes, but many are huge, especially the beachfront ones that we prefer. 
Campground Amenities: Assateague State Park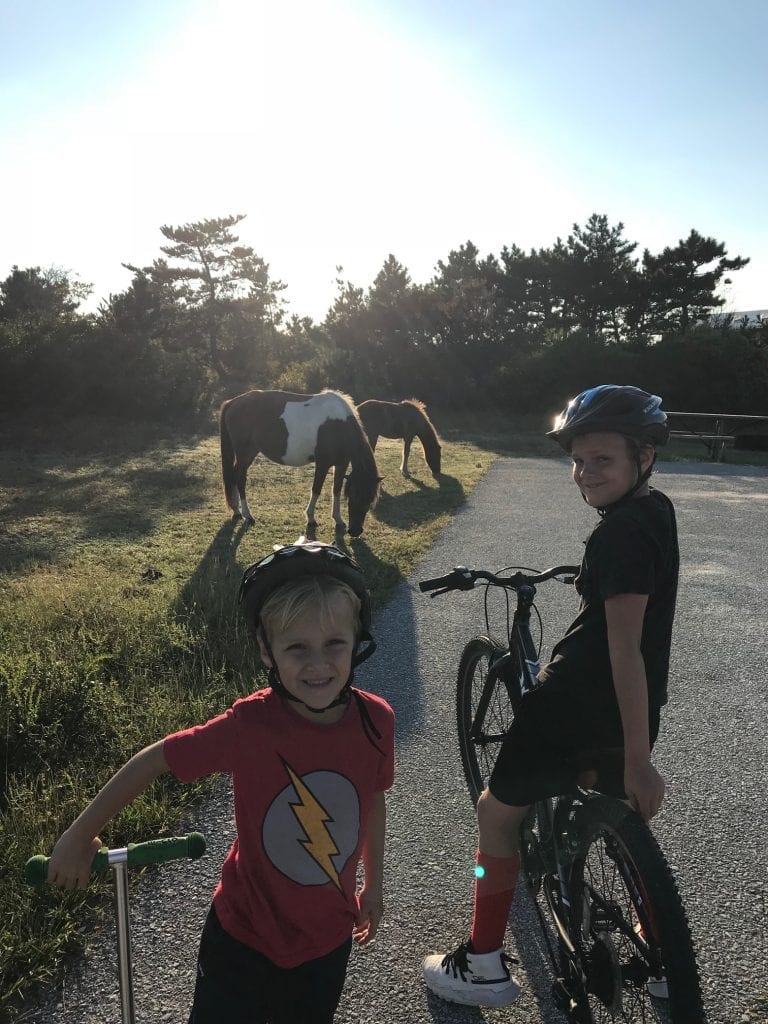 We consider the horses an amenities because they are so much fun to watch. But in addition, the park also offers very clean, updated bathhouses with never ending hot water. Since there isn't any water or sewer at the campsites, this is a very important amenity for our family. There's also swimming beaches that run along the entire stretch of the campground. A paved bike path runs parallel to the main road which is a great feature for kids. You'll also find a playground and somewhat dated basketball court located near the nature center. The ranger station sells fire wood and ice and absolutely nothing else.
Our Verizon cell service worked fine all weekend on the island, but note that there is no WiFi available. 
A quick point that shouldn't be left unsaid. Mosquitos are notoriously bad in this location, and seem to be the worst in late spring and early summer. Be prepared. Or just go in September like we do when they are just a minor and occasional inconvenience. 
Things to See and Do near Assateague State Park
You know we love our activities when visiting a great destination, but mostly we love to sit around on the beach every day on Assateague Island. It's that kind of place. We ride bikes, fish, and crab if we get bored.
But if you get antsy for something to do, the Assateague Island National Seashore is right next door. The visitor's center has educational programs and exhibits. There's hiking trails and a ton of bird watching. We actually spotted two bald eagles during our visit.
And nearby you will find Ocean City, which has a boardwalk full of rides, games, and food. Since we live in a town with a beach boardwalk, we don't really visit ourselves. But plenty of people do…and love it!
Assateague State Park holds a very special place in our hearts, and we hope you enjoy it just as much if you decide to visit.
Looking for some great beach camping tips? We grew up with sand between our toes and have our beach camping game down to a science. You can find our best tips and gear here.
See you at the campground!
Stephanie + Jeremy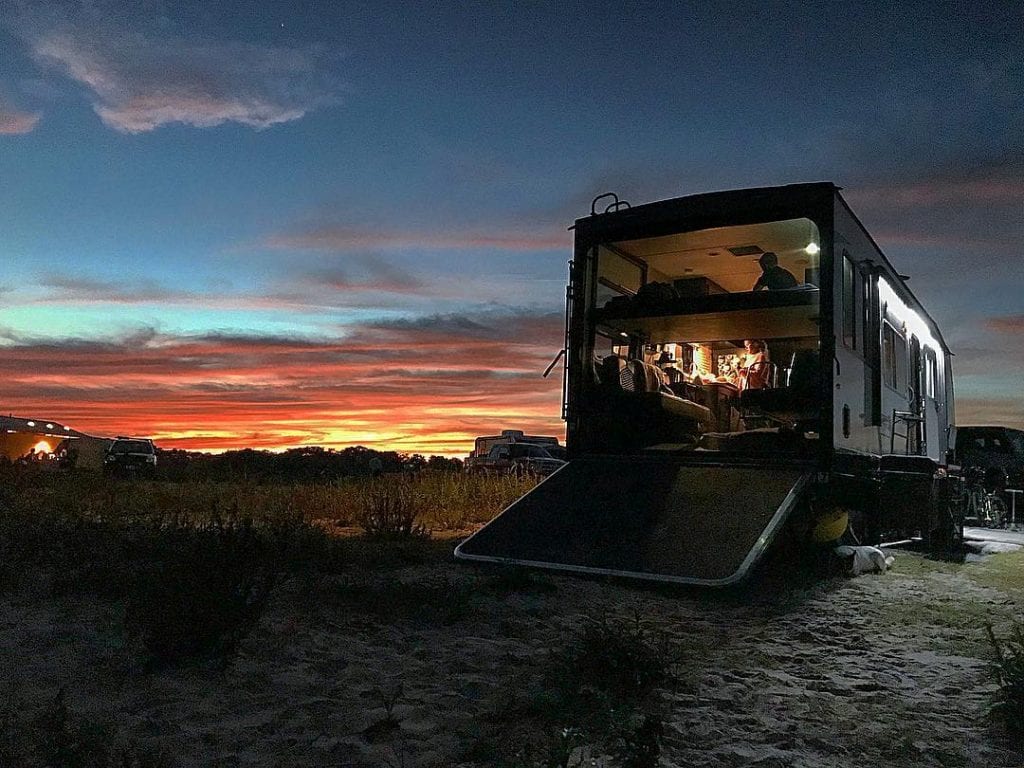 Podcast: Play in new window | Download