Located on the eastern shore of Virginia, Cape Charles/Chesapeake Bay KOA is a fantastic addition to camping in this beautiful region. It's the perfect spot to spend tons of time relaxing on the beach and exploring the surrounding area.
When we first visited the Cape Charles/Chesapeake Bay KOA a couple of years ago, the campground had been recently purchased and was in the midst of some major updates. We had an amazing stay and couldn't wait to go back for another relaxing and fun family vacation. After our recent return visit, the verdict is in: this is simply one of our favorite campgrounds.
Note: This campground was called the Sunset Beach RV Resort when we first visited. By our second visit, it had become the Cape Charles/Chesapeake Bay KOA. It is an official branded KOA Resort property. This post has been completely updated to include current campground information.
To listen to our most recent podcast on this campground and our favorite things to do near Cape Charles, click here. 
Campsite Details: Cape Charles/Chesapeake Bay KOA
Cape Charles/Chesapeake Bay KOA is a very large campground with several hundred sites mostly for short-term RVers. However there are a few rows of seasonal sites all the way to the south of the property. Most sites are full hook up back ins, however pull thru and deluxe pull thru patio sites are now available.
During our first stay, we had a site in the white "Skiipjack" area, and I felt those spots were a bit more spacious than our campsite this summer which was #814 on Cyprus Lane. The flip side of that equation was that our site this year was so conveniently located just steps from the pool, restaurant, and bay beach entrance.
If you are camping with friends (like we were) here is a pretty important tip: try to book campsites that are back to back instead of right next to each other. The way these campsites are laid out, if you back the RVs up to each other, you have a huge communal space that works as well as any planned buddy sites we have seen.
Other Camping Accommodations at the Cape Charles/Chesapeake Bay KOA
One of the main improvements at this campground over the last two years has been the increase in alternative camping accommodations. We particularly love these options since they allow groups of friends to camp together more comfortably. And this is definitely the type of place where more is merrier!
They offer rental RVs that you can see on the map above. We actually stayed in a rental RV at the Chincoteague  KOA, which is own by the same company. Check out that campground review to hear more about our experience in the rental travel trailers. They have also added more cabins and cottages, along with clamping tents. You'll also find a hotel on the property, if anyone is looking for more traditional accommodations.
Prices for RV sites and other accommodations are competitive for beachfront camping in this region. Please check here for more information about pricing. This campground uses dynamic pricing, which means costs will vary greatly depending on what days you are staying and what time of year you are visiting.
Resort Camping at the Cape Charles/Chesapeake KOA
Any campground can use the word resort in it's name, but this one really delivers on the resort experience.
The Beach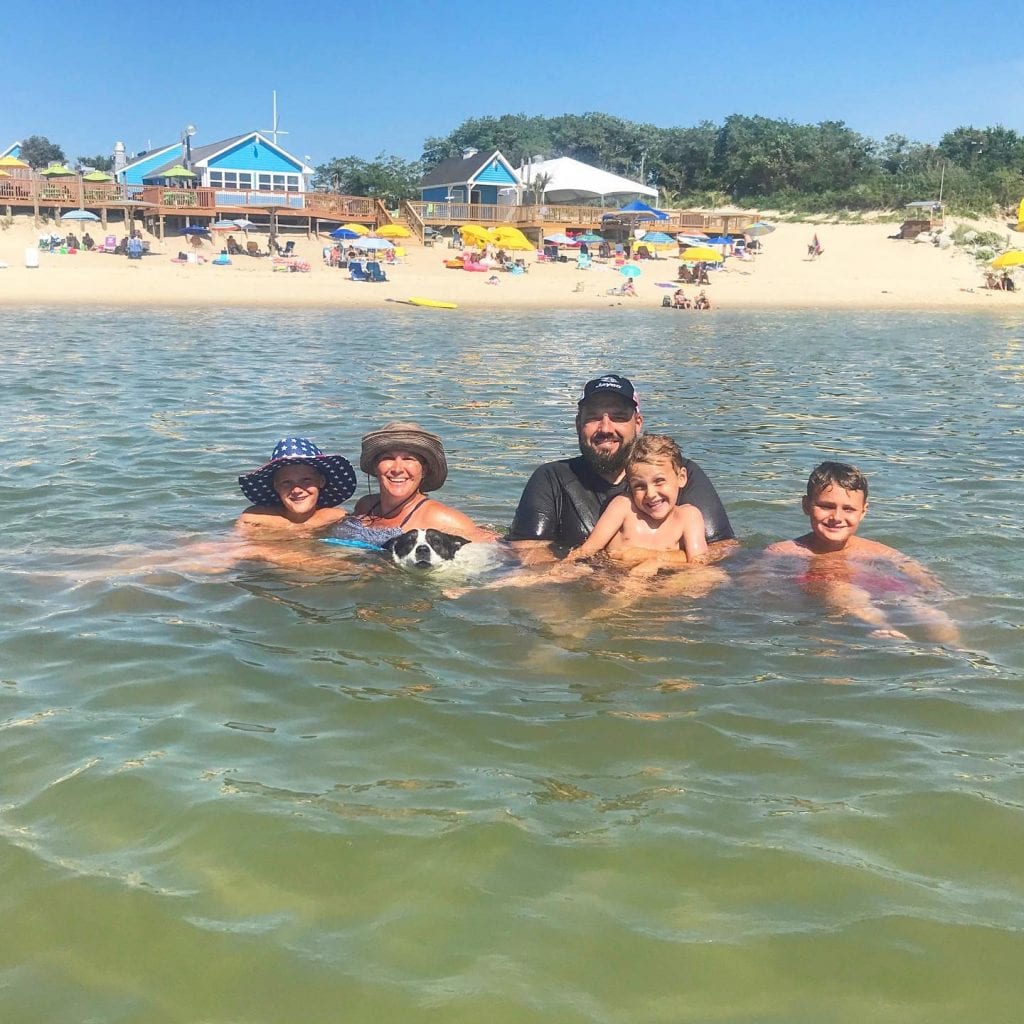 The bay beach is our very favorite amenity, and we basically hang out there from nine in the morning until sunset every day. The campground has been blessed with a nice, clean sandy-bottomed bay beach, which sets it apart from other campgrounds in the area which have a more mucky bottom. The tides here are extreme, and during low tide large sand bars are exposed far from shore, creating islands perfect for playing catch and touch football.
Rentals are available right on the beach, and it's easy to hop on a paddle board or step into a kayak for a quick paddle. They also have floats available to rent, and the adults in our group spent an embarrassing amount of time laying in the water while our kids ran around playing and building sand castles.
The Pool
The pool is large, with a lot of seating and cabanas for rent. Although our kid preferred to spend time at the beach, this was a nice option for a quick dip in the late afternoon or evening. We are looking forward to seeing what they do with the pool area in the future as tables with umbrellas and other creature comforts would be nice!
Jackspot Restaurant
As RVers, we usually cook most of our meals when traveling. It feels downright indulgent to enjoy delicious meals from the waterfront Jackspot at the Cape Charles/Chesapeake KOA. Our family has voted this as our very favorite campground restaurant ever (excepting Trail's End at Fort Wilderness…but it's not really fair to compare anything to Disney). For a special treat, sit on the deck and order cocktails while the sun sets over the Chesapeake Bay.
Other amenities include:
24-hour campground store and gift shop (seriously!)
playground
Clean bathhouses and laundry facilities
golf cart rentals
daily activities and themed weekends
Regional Dining and Attractions: Chesapeake Bay KOA
We truly enjoyed our time exploring the surrounding Cape Charles region as well. You can read about 12 things to do near Cape Charles here.
You can also check out our Facebook Live video from our stay here…
See you at the campground,
Stephanie + Jeremy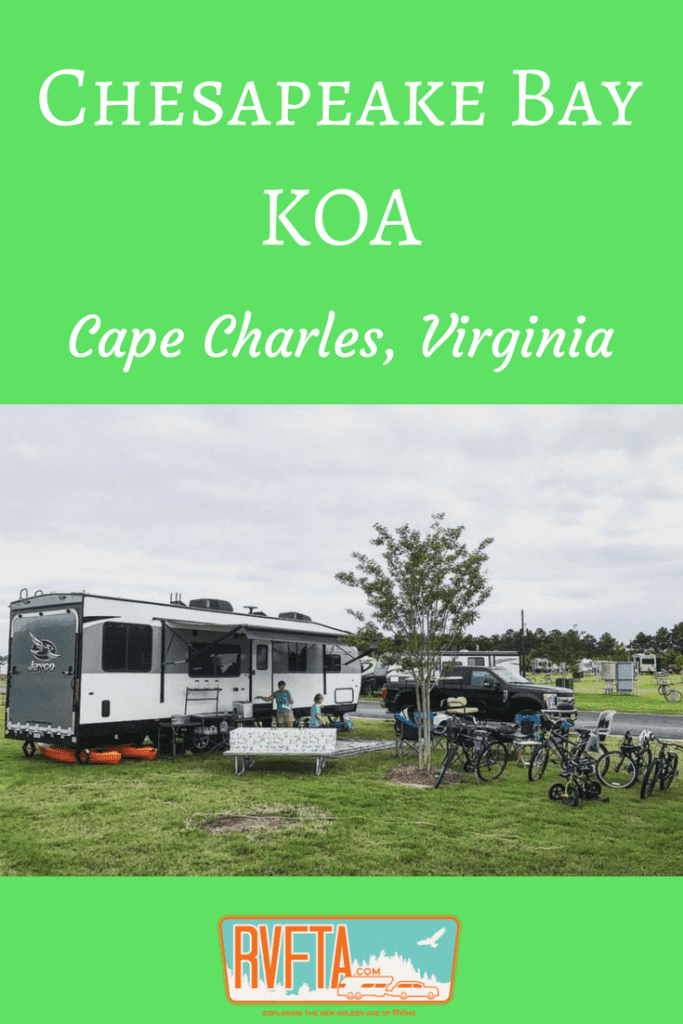 Podcast: Play in new window | Download