Covering Western Canada from the Rockies to the Pacific, Karma Campervans lets travelers explore phenomenal landscapes in comfort, with a fleet of nimble, stylish rental campervans. Working his way up from a lot boy at an RV dealership to a managing partner in Karma Campervans, Dave Wald has had a fascinating ride. He's here to tell us more about this awesome rental company and about what he is doing to help out during the global health pandemic.
Meet Dave Wald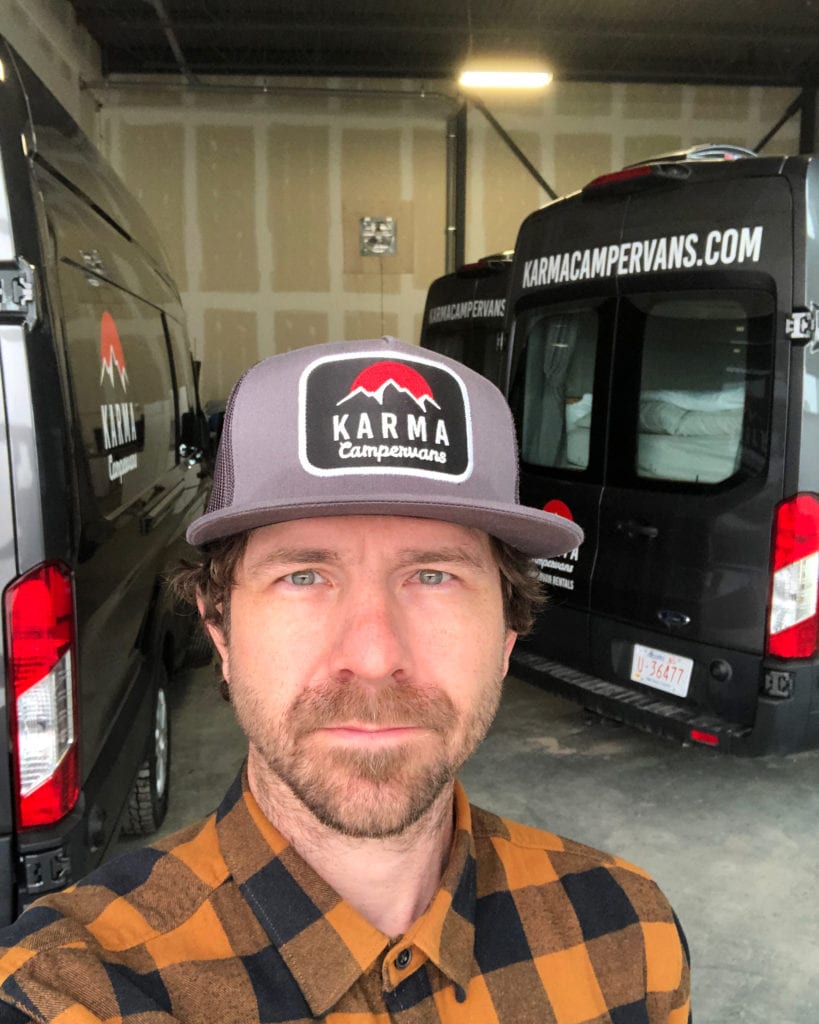 Dave got his start in the camping world traveling with his parents. They hauled an old tent trailer behind their big old station wagon, and his dad actually worked for Thetford. After working as a lot boy at a dealership during the summers while he was in college, he worked his way up in the industry for 20 years. He grew through the ranks as a service writer, parts associate, and ultimately, became a marketing manager. 
After graduating with a degree with English with a minor in business, Dave took a job for an advertising agency. He talked the RV dealership where he had worked for years into letting him work on marketing for them, especially in the ever-growing online realm.
Later, he started his own marketing agency, specifically focusing on social media marketing. His RVing roots stayed with him, as he worked with several camping-related brands, including Go RVing Canada. All of these interests and skills eventually pushed him to start his own business, Karma Campervans.
To hear more about Karma and their rental campervans, be sure to click play on the media player above or look for The RV Atlas wherever you find your favorite podcasts.
The Roots of Karma Campervans
On a trip to Iceland, Dave and his wife noticed the popularity of rental campervans. They seemed to be everywhere, which got him thinking, Could he bring something like that to Western Canada? He knew the region had a strong tourist base. Plus, he knew a lot about the RV industry and how to market it. Thus, Karma Campervans was born in 2018.
Dave joined with his long-term mentors from the dealership where he had worked for so many years, with them becoming business partners in Karma Campervans. They provide their years of industry wisdom, as well as access to parts and servicing, while Dave focuses on the marketing and management. Karma Campervans started with five rental campervans and has grown to fleet of 30 in just two years.
The main location of Karma Campervans is in Calgary, Canada, a popular jumping-off point for those exploring the beauty of Western Canada. This location is 1.5 hours from Banff National Park and 1 hour from the Canadian Rockies. Their newest location is in Vancouver, British Columbia, which provides easy access to the Pacific Coastal region.
Renting a Campervan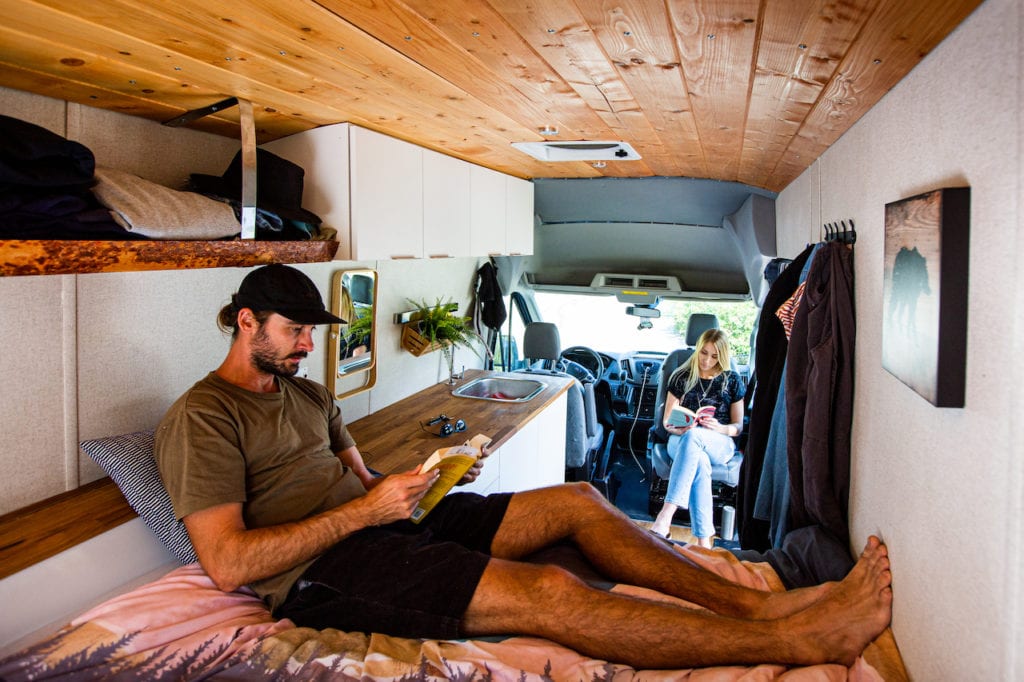 Karma Campervans offers a fleet of Ford Transit high roof cargo vans (with 6'5″ ceilings) decked out like stylish IKEA bedrooms. Inside, you'll find clean white cabinetry, warm wood ceilings, bright LED lights, a comfy queen-sized bed, and lots of room.
Of course, these interiors are designed to be Instagram ready for all of those #vanlife posts (check out Karma's posts here). But, the Karma Campervans don't just look pretty, they are ready for action. They are decked out to be ready for life off of the grid. You'll find Eberspacher heaters and 280 watt solar kits. 
In addition to providing sleeping and seating for two, these vans have a basic galley kitchen with a sink, a cooler, and a propane stove. You'll also get camp chairs, water storage containers, and basic kitchenware. You can pay extra to rent a portable toilet and a fridge.
Karma Campervans offer seasonal pricing. Currently, summer rates are $279 CAD/night, mid season is $259, and low season (winter) is $129/night. Those rates include a 200kms/night allowance and basic insurance. Watch for promo codes that offer discounts to these prices.
Visiting Western Canada with Rental Campervans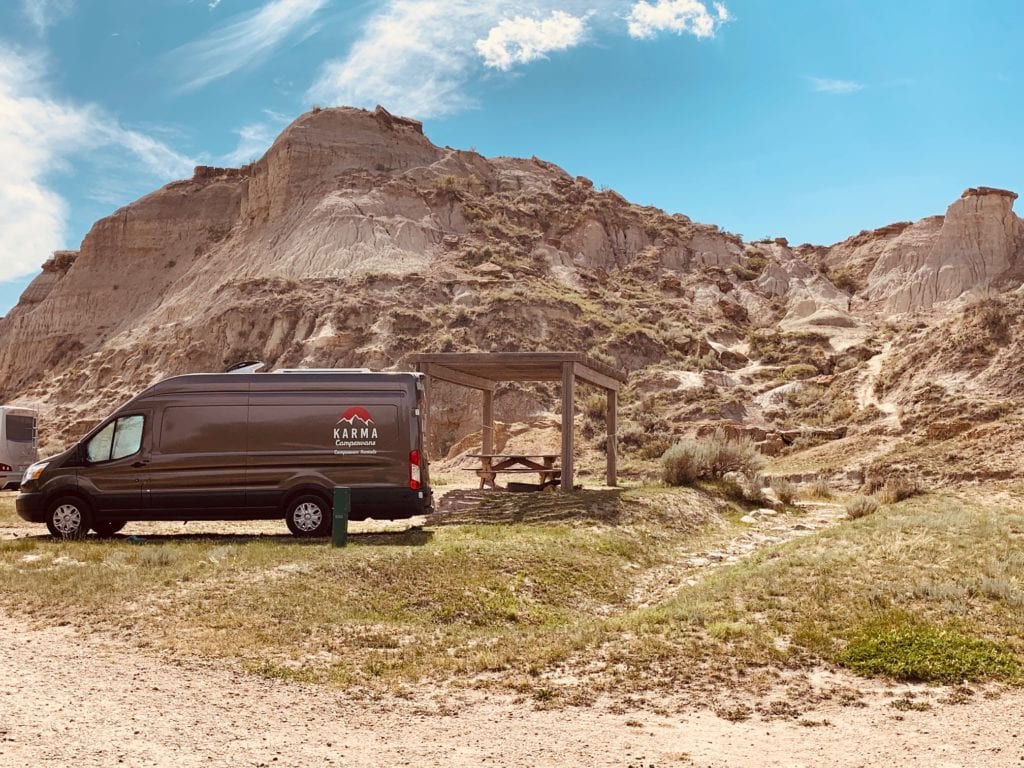 We asked Dave to give us an overview of the kinds of places we could visit in one of his awesome rentals from Karma Campervans. Here are a few of his favorites:
Dinosaur Provincial Park: Dave describes this park as a mini Grand Canyon, with Badlands, hoodoos, and dinosaur bones to explore. Plus, the campground is really great and offers full facilities. You can actually dig for bones and speak with paleontologists and archeologists. This sounds like a truly unique adventure!
The Kootenays: Located in southeast British Columbia, the Kootenays region is an area of the Canadian Rockies known for their scenic beauty and their charming small towns. Dave describes it as a place full of secluded hideaways and history. Here, you'll also find the warmest lake in Western Canada, as well as other gorgeous lakes, all surrounded by amazing mountain peaks.
Calgary to Vancouver Trek: Traveling from Calgary from Vancouver (or vice-versa) is an amazing rite of passage. You can even do it as a one-way trip (Karma Campervans offers great one-way rates). Dave recommends stopping at the halfway point  in Okanagan. This wine country region is known for its beautiful orchards, lakes, and wineries. Other funs stops include Whistler (home of the 2010 Winter Olympics) and Vancouver Island (known for its rain forests).
Banff, Jasper, and Lake Louise: Of course, you can't talk about traveling in Western Canada without talking about the Golden Triangle. The trifecta of Banff National Park, Jasper National Park, and Lake Louise is a great 6-night trip. You'll find amazing vistas, tons of wildlife, and prime hiking opportunities.
Dave also recommends Waterton National Park, Yoho National Park, and the municipal campgrounds in big cities, which allow you to do some urban camping. He is a wealth of information when it comes to finding the coolest locations in Western Canada.
Helping Out During the COVID-19 Pandemic
Of course, the global health pandemic is affecting Dave and Karma Campervans, with much of the tourism industry shut down. They have lost every single booking for the month of April. Instead of letting this just get him down, he looked for ways to serve. He has 30 campervans sitting on his hands, and he's found a way to put them to good use.
Dave heard that healthcare workers were having to self-isolate away from their families, in order to keep them from potentially exposing them to the virus. Some are even sleeping in their cars. Some are even traveling to far-off hospitals, with no place to stay, in order to provide healthcare services.
He popped up a post on his website offering vans to frontline workers complementary for 30 days. You can see all of the details here. He is currently in the process of getting those campervans into the hands (and driveways!) of those who can use them.
We truly hope that karma shines on Dave and Karma Campervans once travel gets back into full swing. Please considering taking a trip to Western Canada and renting from Karma Campervans!
We know we are ready to hop on over to Canada to rent a van from Karma Campervans. We just can't decide where we will put all of the kids! In the meantime, we (and you) can get a fix by following Karma Campervans on Instagram, Facebook and Twitter. Just look for @KarmaCampervans. You can allow find Dave, himself, at @DJwald.
See You at the Campground,
Stephanie + Jeremy
Podcast: Play in new window | Download