You can camp at Walt Disney World??? Seriously? We have gotten this question quite often when sharing our Fort Wilderness adventures. The answer is yes, there is actually a camping resort in Disney World. And Fort Wilderness is as amazing as you would expect a Disney campground to be.
Fort Wilderness is located on the Walt Disney World property in Orlando, Florida. The campground borders Lake Buena Vista, which means you can take boat transportation to the Magic Kingdom. You also can easily access the other resorts near the Magic Kingdom, including the Grand Floridian, the Polynesian, the Wilderness Lodge, and the Contemporary.
Is Fort Wilderness a Resort Property?
The Fort (as it is affectionately known by regulars) is officially a resort property. So you get all the benefits of staying onsite at Disney World. These include:
Dining Reservations 180 days in advance of your check in date
Fast Pass Reservations 60 days in advance of your check in date
Extra Magic Hours
Complimentary MagicBands
Complimentary parking
All other resort amenities including the Magical Express transportation and bus transportation to all Disney properties
Fort Wilderness Campground Details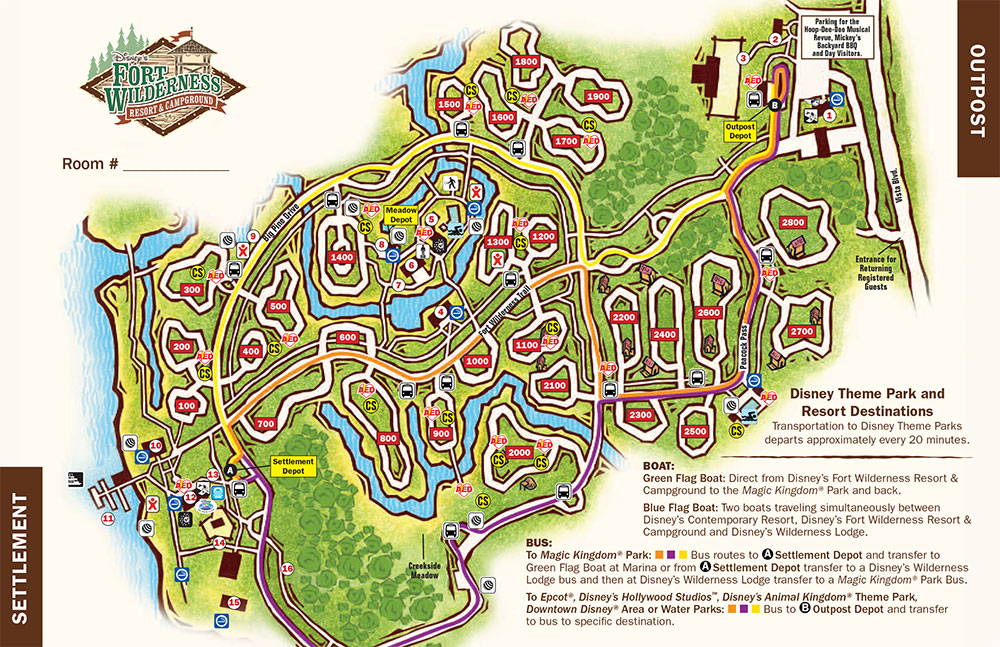 Fort Wilderness has 799 campsites and 409 cabins on over 700 acres of property. It's organized in loops from 100-2,000 and each loop has different campsite characteristics or amenities. There are partial, full, preferred, or premium campsites. There are also designated pet-friendly loops.
The campground's organized around three main locations. The Outpost Depot is the entrance of the resort and also the transportation hub for accessing other Walt Disney World locations. The Meadows Depot is in the middle of the property and hosts a pool and recreation area as well as a trading post. The Settlement Depot is at the other end of the resort and has dining options, entertainment, a trading post, and the boat docks.
An internal bus system that will take you to all of these locations. You can also rent a golf cart for what we consider a reasonable cost.
Fort Wilderness has an incredibly natural feel considering this is Disney World. The wildlife is legendary. Wild turkeys wander through your site, and folks regularly report seeing deep, armadillos, peacocks, and rabbits. There are towering cypress and pine trees on pristinely clean and manicured grounds. Seriously–people scrub the trashcans every day.
Price Range and Booking at Fort Wilderness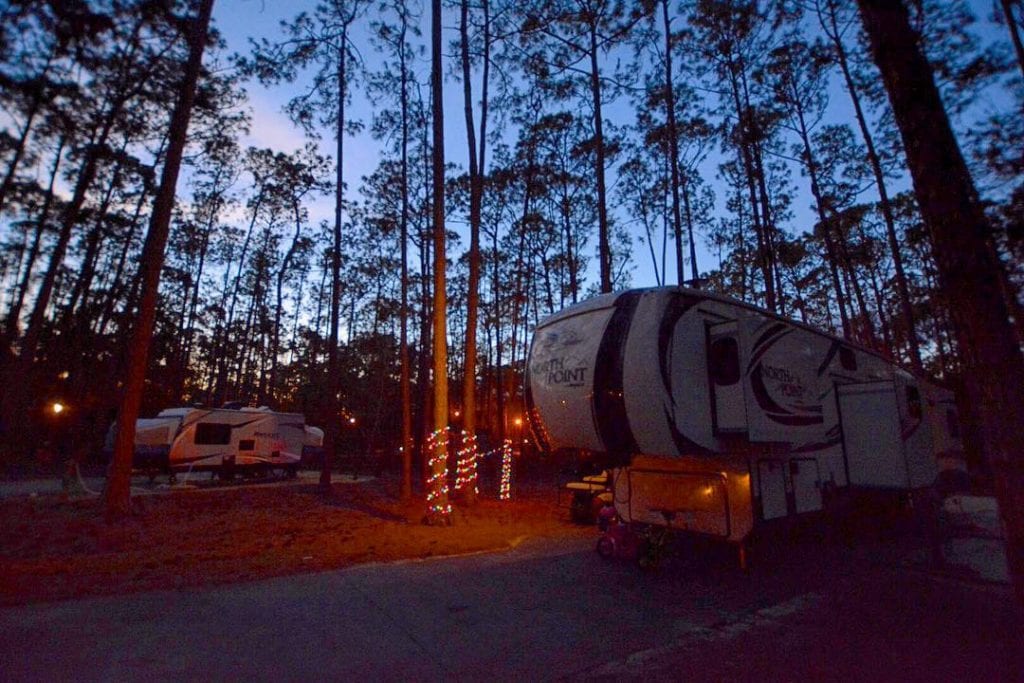 You can book Fort Wilderness up to 499 days in advance. And guess what? You really do need to book that far in advance if you want to visit during any peak times. These include Halloween, Thanksgiving, Christmas, and Spring Break. If you are going during other times of the year, many people get reservations one year in advance.
Want to go sooner than that? Don't fret. Cancellations happen all the time, so keep checking back.
Site Details and Locations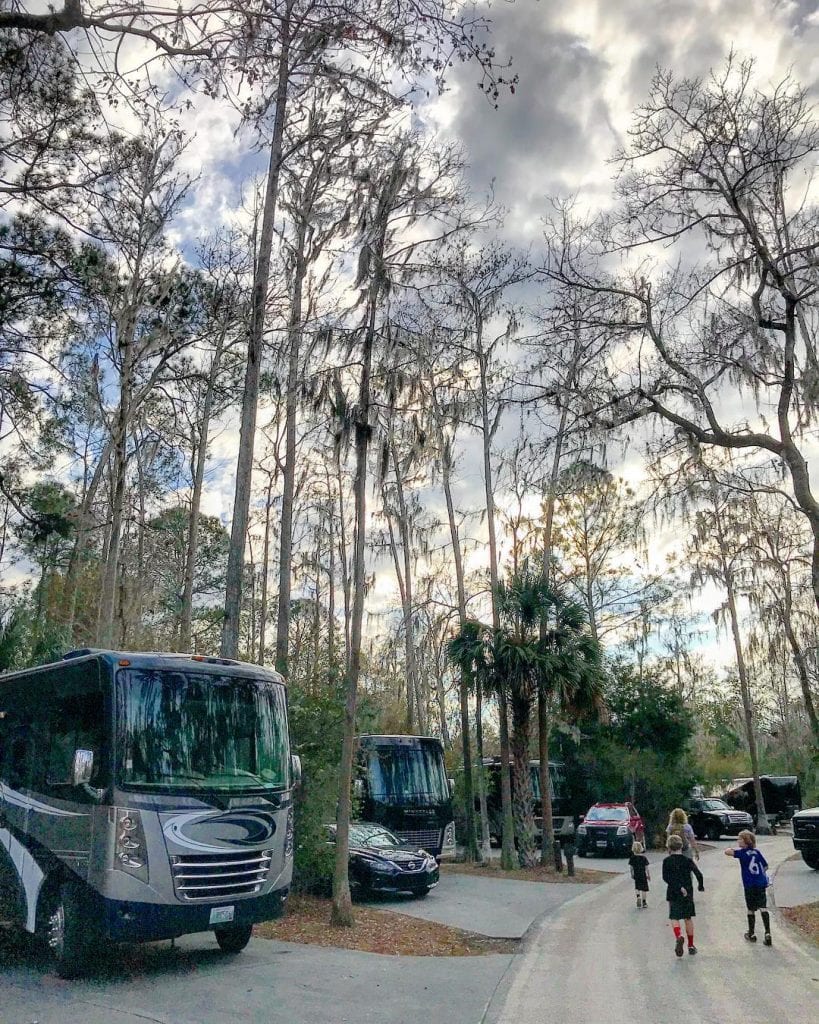 All the campsites at Fort Wilderness are back in, and have a concrete pad, picnic table, and charcoal grill. All of the sites also have electric and water. Full hook up sites will offer sewer as well.
Fort Wilderness doesn't allow you to book specific sites. You reserve a particular 'type' of site: partial, full, preferred, or premium. Then you are welcome to request a desired loop. They don't guarantee it, but we have had success getting our requests.
Does it matter where your campsite is? Are there good loops and bad loops?
Depends on who you ask.
Some people claim that there are no bad sites at the Fort and it doesn't matter where you end up. We actually disagree after our two stays. For us, being close to the Meadows area is so much more preferable to any other location. We use the pool everyday, and attend the Chip and Dale Campfire Sing-a-long most nights. We also don't like to rent a golf cart for our whole stay, since many days we are mostly in the parks. So the 900 loop is awesome for our family.
We talk a lot more on the podcast about why you might prefer other areas of Fort Wilderness. Make sure you take a listen if you are thinking of requesting a particular loop!
Fort Wilderness Amenities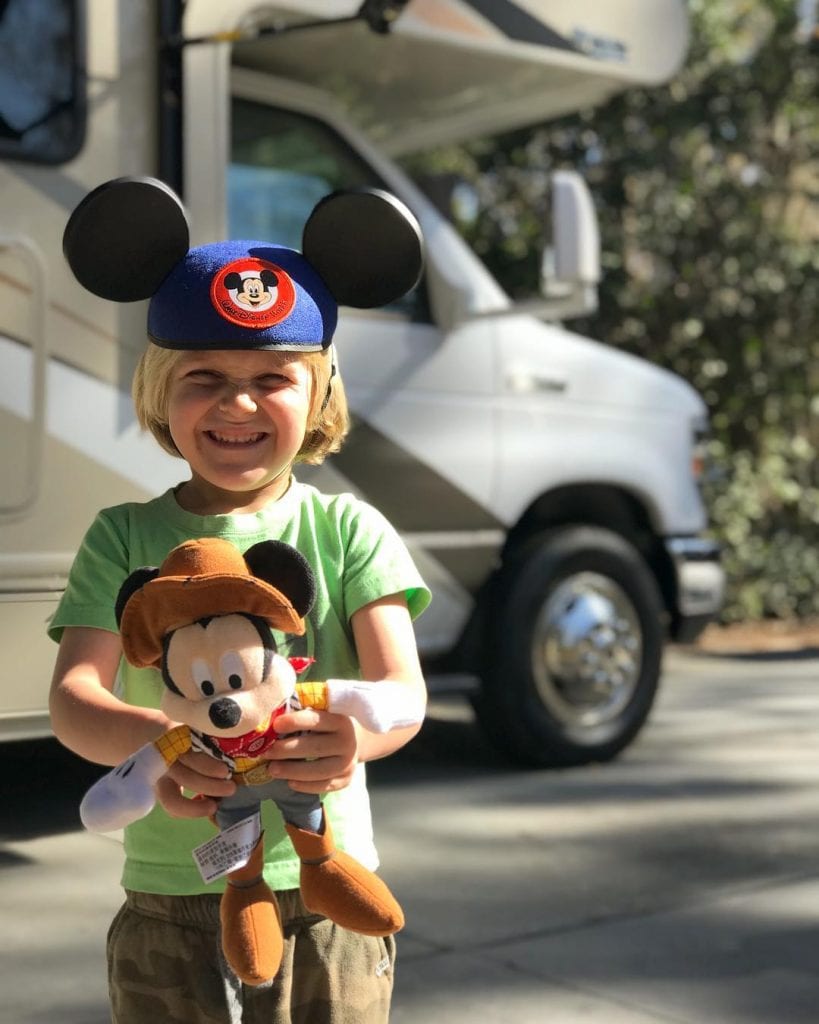 The best thing about staying at the Fort is that you can enjoy so much of the Disney magic without leaving the resort. Some of the most popular amenities and features include:
Mickey's Backyard BBQ
The Hoop-Dee-Doo Musical Revue
Magic Kingdom fireworks can be viewed from the beach
Electric Water Parade can be viewed from the beach
Guests also get all the typical Disney Resort amenities including:
Pools
hot tub
playgrounds
arcades
scheduled recreation
And then there are the amenities that really set the Fort apart from any other Disney resort:
Pony rides and horseback riding
boat rentals
archery lessons
bike, canoe, kayak, and fishing rentals
carriage rides
hiking trails
Segway tours
And of course, one of the most legendary Fort experiences of all is the nightly Chip and Dale Campfire Sing-a-long. This includes live music, Chip and Dale character appearances, campfires for marshmallow roasting, and an outdoor movie. So. Much. Magic.
More Disney World Info
You can hear more about our Fort Wilderness and Disney World experiences by checking out the RV Family Travel Atlas podcast that is paired with this campground review. We talk about the parks we visited and our Class C motorhome rental from Lazydays.
You can also check out our previous Disney episodes. Learn more about Fort Wilderness here. And you can hear all about our very first family trip to Disney here.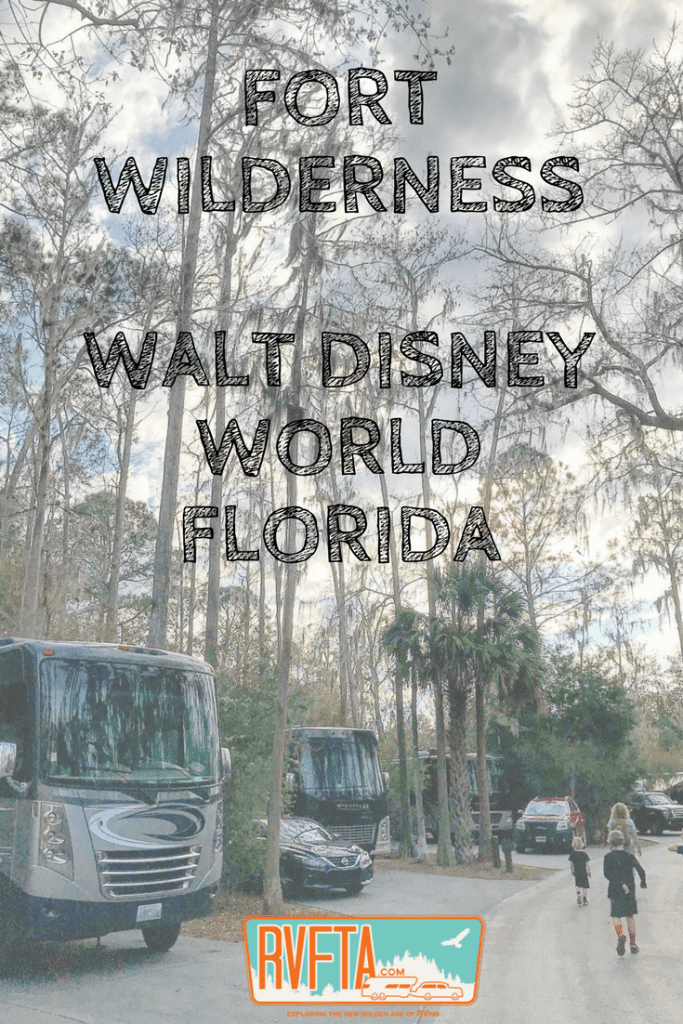 Podcast: Play in new window | Download