Anchor Down RV Resort, located in Dandridge, TN, is one of the hottest campgrounds in the nation. It seems everyone we know has either gone there or is wanting to go there. With meticulous campsites located on Douglas Lake and views of the Great Smoky Mountains in the distance, Anchor Down is an exceptional campground in an exceptional location.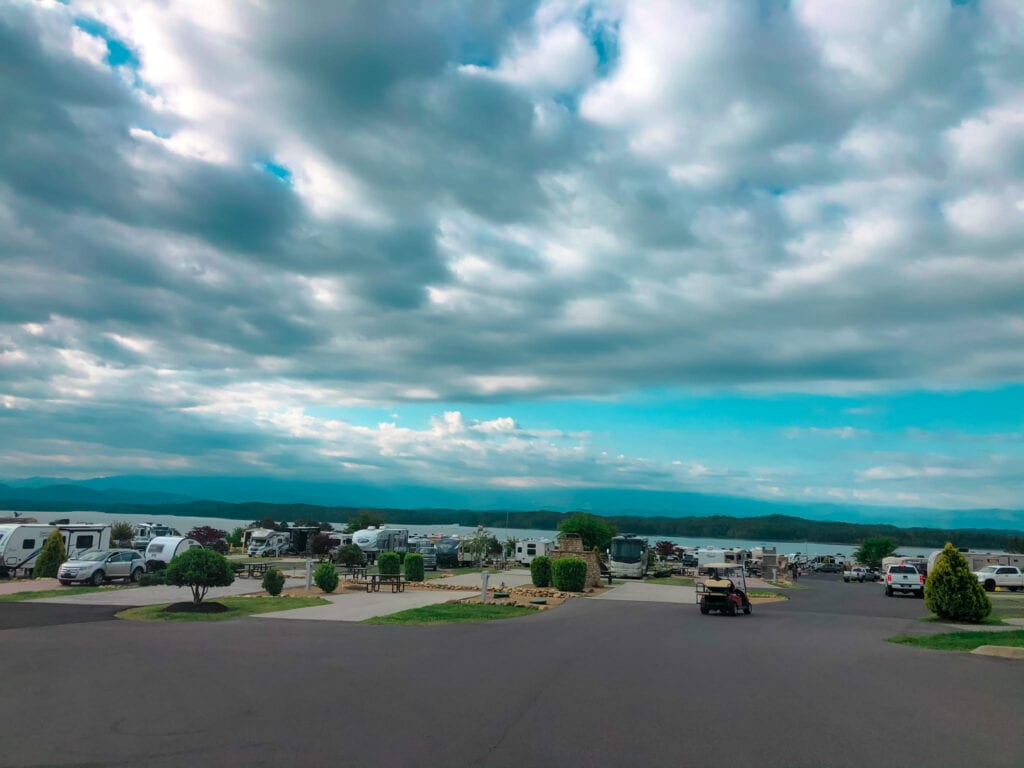 We are especially pleased to be bringing you this great review from Will and Britta Brown from Browns Dope Little Adventures. We have followed their blog for years and when we saw they were recently at Anchor Down, we knew they were the perfect people to bring us a review.
To hear this full review of Anchor Down RV Resort, click play on the media play above, or search for The RV Atlas wherever you find your favorite podcasts.
Meet the Browns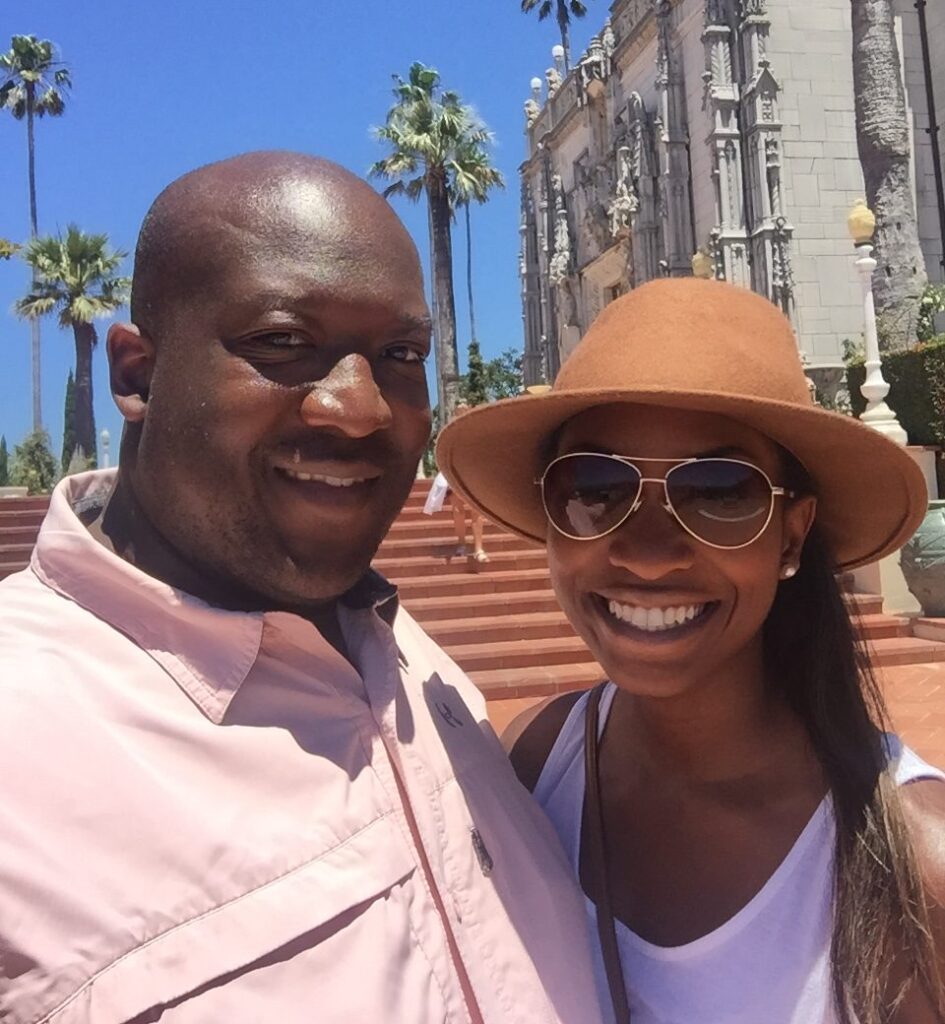 Britta and Will started sharing their adventures before they even had an RV. Their Instagram account followed the couple as they played with their Jeep Wranglers, modifying them and taking them overlanding in California. Will's plan was to go tent camping on these trips, but Britta was not into camping without a bathroom.
Next, the couple considered purchasing a teardrop. But, the $20,000 price tag STILL did not include a bathroom. Britta was not into that, either, nor did it seem like they would both fit in such a small rig. So, they ended up purchasing an 18-foot Winnebago Minnie Drop that made them both happy.
Later, Britta and Will upgraded to a bigger Keystone Outback and even lived in it full time for a couple of years, as their jobs took them from one state to the next. Now, with a more permanent home, the RV is used for more traditional travel.
It seems like Britta and Will would not have a lot of time to travel. Will is the Assistant Director of Video Operations for the Detroit Lions, and Britta is the Assistant Athletic Director for Development for Eastern Michigan University. Despite their busy careers, they make time to hit the road, taking weekend trips and one big trip per year.
With all of this experience under their belts, we are excited to hear their review of Anchor Down.
Introducing Anchor Down RV Resort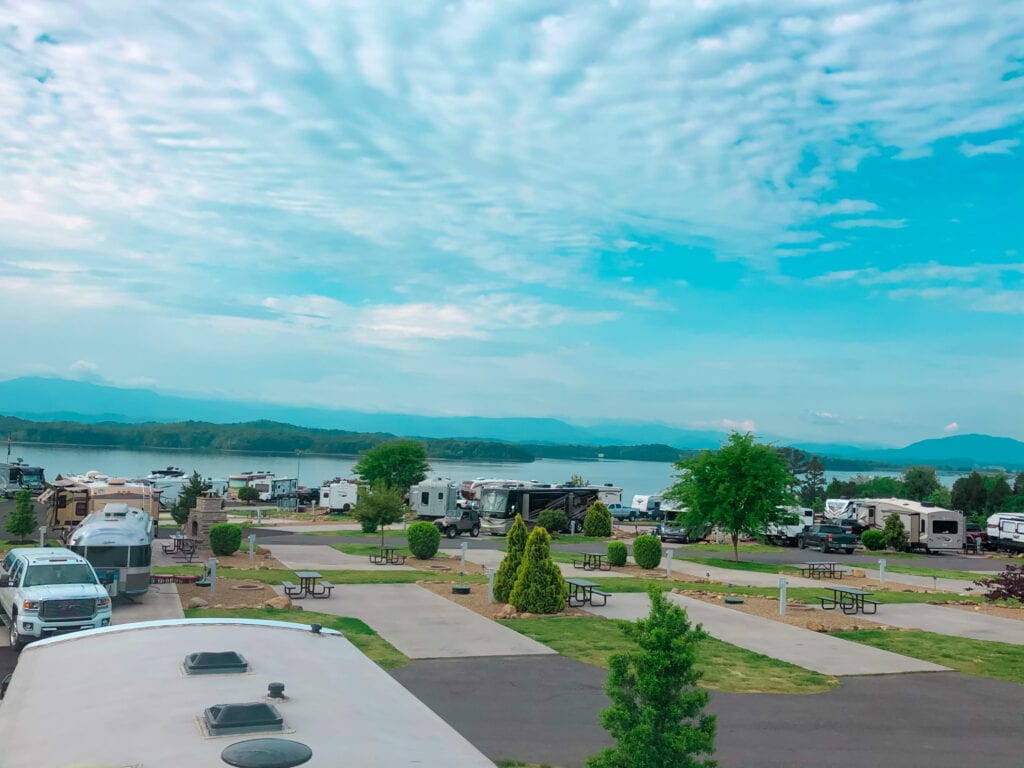 Anchor Down RV Resort is located in Dandridge, TN, just 20 minutes south of Knoxville. The campground was built into a ridge above Douglas Lake, and the Smoky Mountains can be seen off in the distance. Almost every site has gorgeous, expansive views. Will thinks sites 28-29 might be the cream of the crop with their location at the top of the hill, but good luck booking those!
This large campground has over 170 paved campsites spread across three levels. Some back-in sites overlook the lake almost directly. Some pull-thru sites are located in the middle, and then the top of the hill has some of the best views. You can check out the campground map and rates here.
Campsites at Anchor Down RV Resort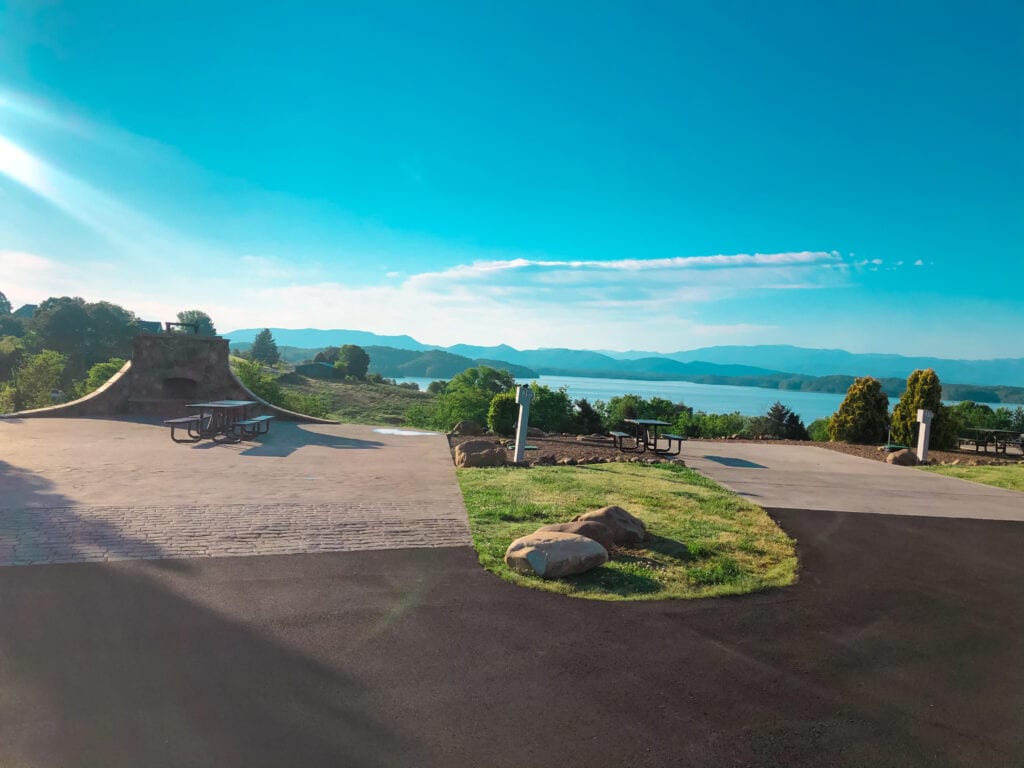 The campsites at Anchor Down RV Resort are almost famous for their quality. First, they are almost all situated to take advantage of the views of the lake and mountains. They really just seem to go on and on as far as the eye can see.
Next, many of the sites have these beautiful brick fireplaces (shown above). This is more like high-end hotel quality, instead of what you'd expect at a campground.
Finally, as you can see, the sites are nice and wide and paved. At the campsite and throughout the campground, attention is paid to keeping the landscape tidy.
Amenities at Anchor Down RV Resort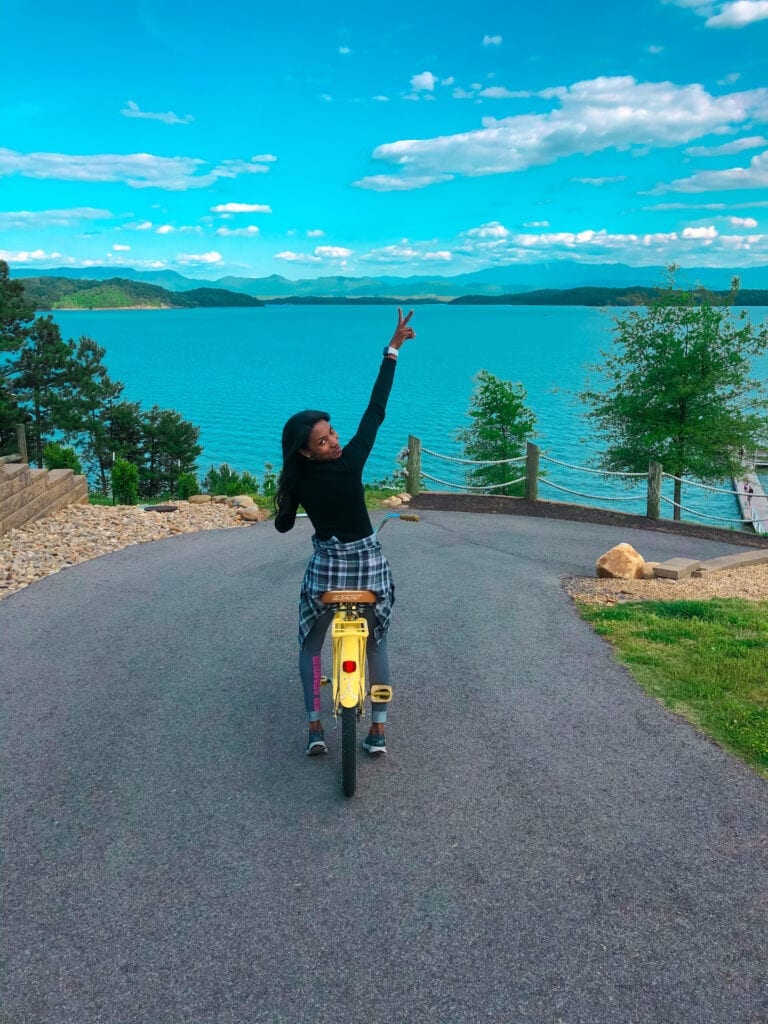 Anchor Down is also known for its amenities. This campground has a pool with a waterslide. Plus, there's a swim beach at the lake, with two levels of lounge areas overlooking the water. Out in the water, there are inflatables, with a giant waterslide going down the hillside.
It's easy to stay active. The paved streets are great for biking (you just may not make it back up the hill on wheels). There are facilities for volleyball, gaga ball, pickleball, basketball, and more. Boaters will appreciate the onsite marina. If you don't have your own boat, you can rent kayaks or paddleboards to take out on the waters. You can also rent golf carts, which is great for exploring this large, hilly campground.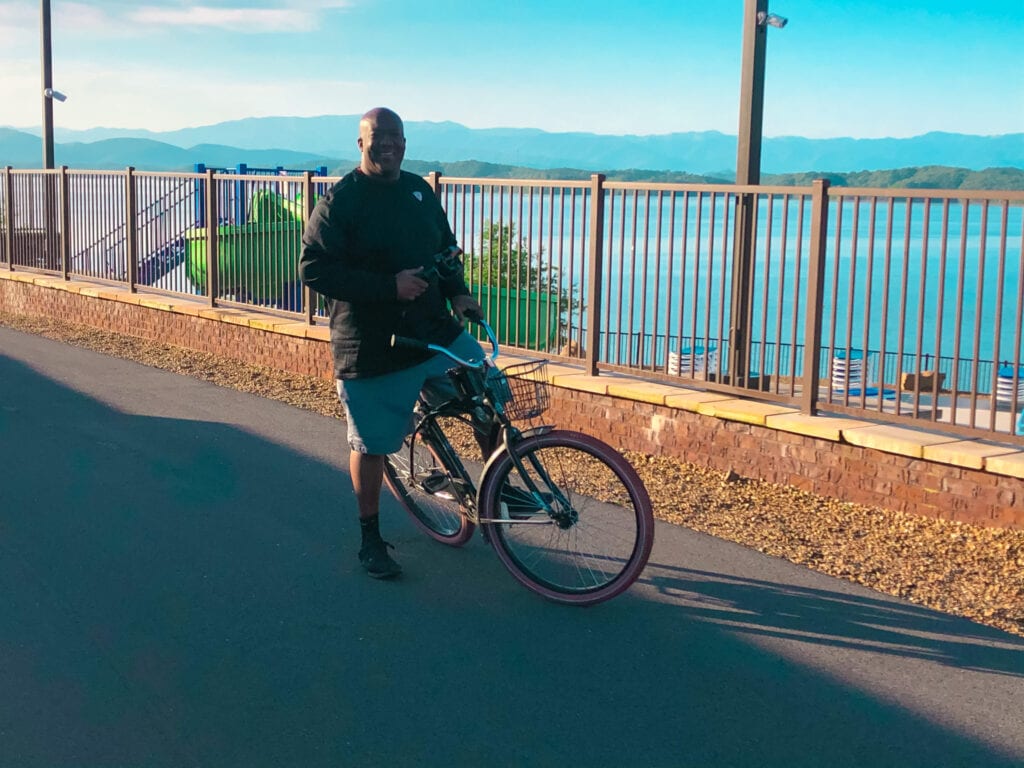 Other amenities include a very nice bathhouse, laundry facilities, camp store, and onsite cafe. You can expect to get cell signal reception (at least for AT&T, from the Browns' experience). They didn't try out the campground WiFi. One nice plus was daily trash pickup at the campsite. Finally, there is a large dog park and several pet stations around the park.
Not everything was open during the Browns' stay, due to COVID-19. They did have the pools shut down. Check-in was super easy, with no need to even leave the car. Plus, social distancing seemed to be encouraged and abided by.
Insider Tips for Visiting Anchor Down RV Resort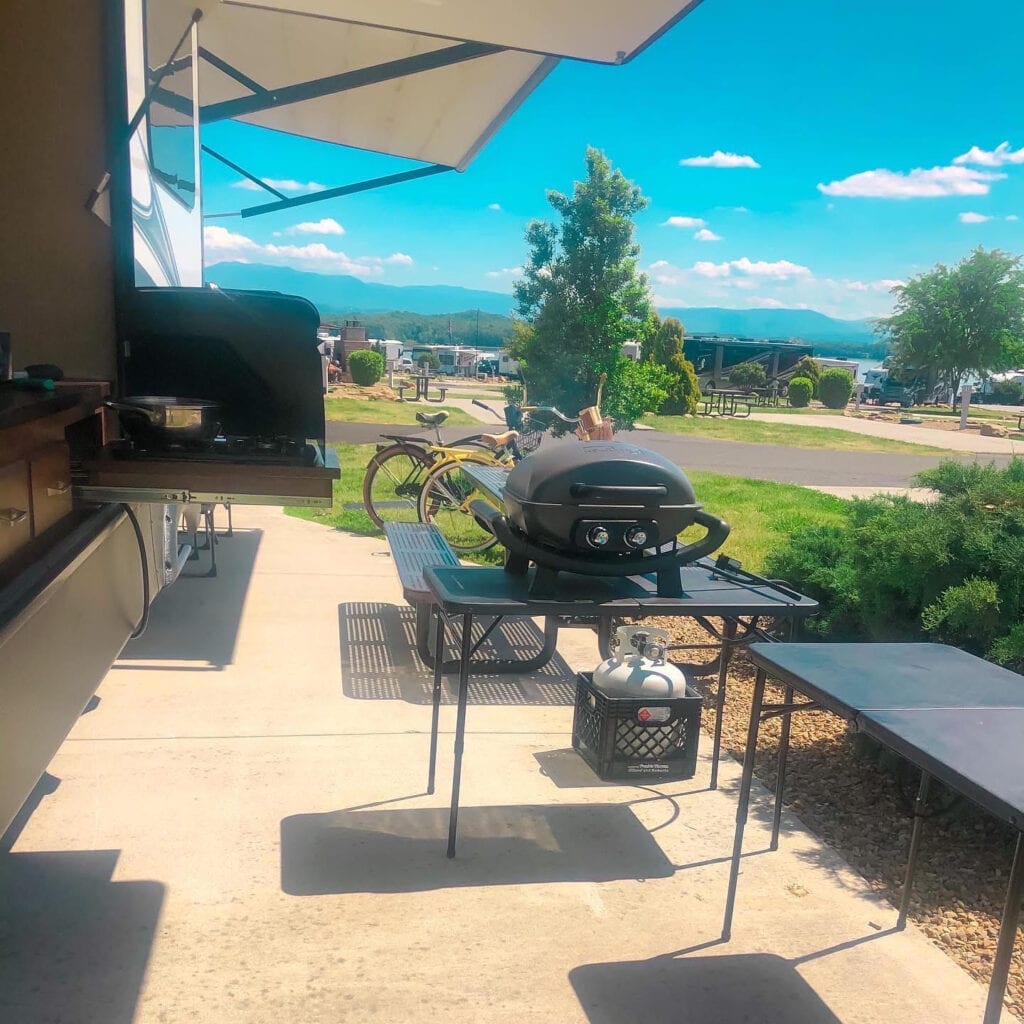 The most important tip shared by Will and Britta is: BOOK EARLY! It can be hard to get a site, especially on weekends. Word on the streets is that summer 2021 is already filling up.
Another important thing to note is that some roads are tight if you have a long rig, especially depending on where your neighbor has parked his/her car. It can be hard to navigate with a long, long rig, though much of the campground is big rig friendly.
While Will and Britta didn't get to explore much since they visited while things were shut down due to the COVID-19 crisis, they do know it is a very cool area. Though Anchor Down RV Resort is not located right in the main tourist area surrounding the Great Smoky Mountain National Park, the park and the neighboring towns are a short drive away (maybe 30 minutes or so). There is a lot to see and do in Pigeon Forge, Gatlinburg, and GSMNP. Check out some of our posts on the region here.
The next time we make it to the region, we will definitely be booking a stay at Anchor Down! We want to thank Will and Britta for sharing this great review with us! Remember to look for them as Browns Dope Little Adventures on their website and on Instagram.
See you at the campground,
Jeremy + Stephanie
Podcast: Play in new window | Download