There's so much to love about Moose Hillock Camping Resort in Lake George, NY. You'll find huge private campsites, super fun amenities, and a great location. We are excited to share our review of this gorgeous family-owned campground with you.
Though Moose Hillock isn't too far from our home in NJ, it's taken us years to get there! Though it should only take a four-hour drive, navigating NYC traffic can add hours to the trip. Thankfully, we finally had our chance to hit Moose Hillock earlier this summer. And, we're so glad we did!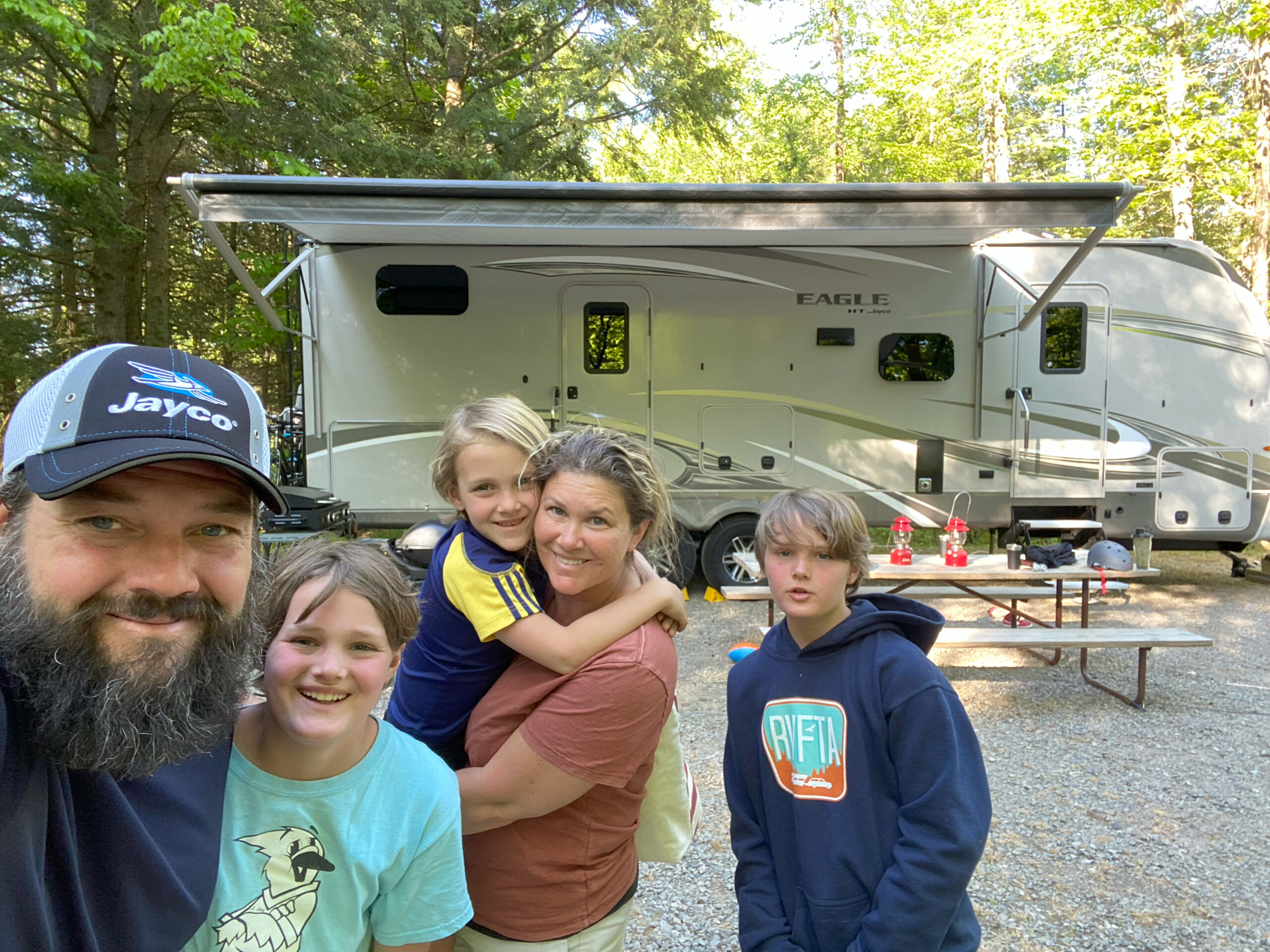 To hear more of our review of Moose Hillock campground, click play on the media player above or search for The RV Atlas wherever you find your favorite podcasts.
Location of Moose Hillock Camping Resort
Moose Hillock Camping Resort is located just ten minutes away from the southern end of Lake George in the Adirondacks. It has great proximity to the lake and to the town of Lake George.While there may be other RV parks closer to Lake George, Moose Hillock is definitely worth a few extra minutes of driving.
The Lake George area has two very popular campgrounds. The Lake George RV Park is a long-term favorite, while Moose Hillock is a little more new to the scene, but quickly gaining in popularity. While we haven't stayed at Lake George RV Park, we've driven by and have heard many, many great reviews.
In a head-to-head comparison, we would say that Moose Hillock gets the edge if you want a huge private campsite, while Lake George RV Park has more manicured, resort-style campsites. Both are seriously great, depending on what you prefer.
Review of Moose Hillock Camping Resort Campsites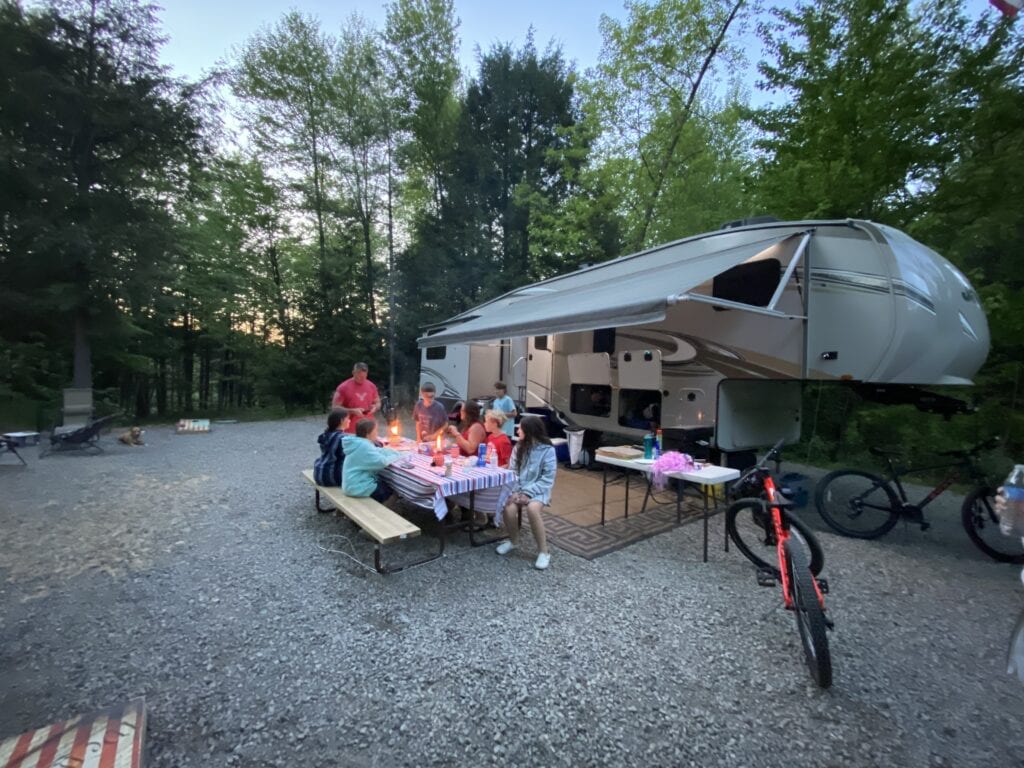 You know we have stayed in a LOT of campgrounds, and the campsites at Moose Hillock are probably the largest, most spacious, and most private campsites we have ever seen at a private campground. They even rival the best public campgrounds. We've heard that the owner wanted his worst site to be better than the best sites at other campgrounds. We think he's fulfilled in that mission.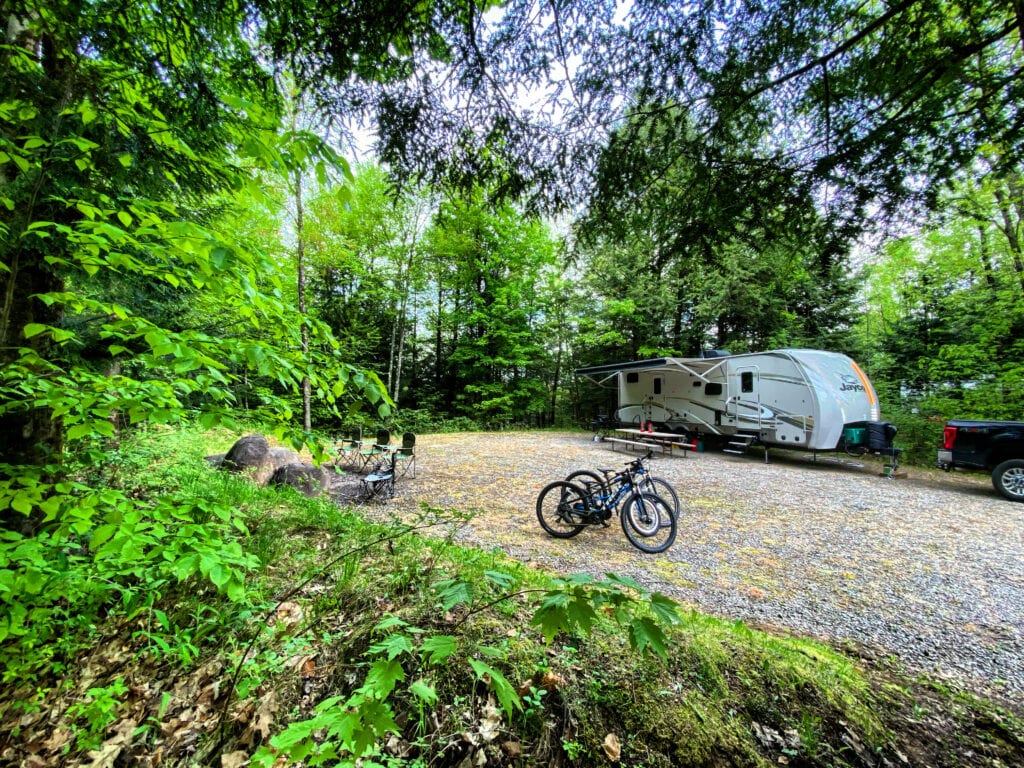 You will pay premium resort pricing for these sites. At over $100 a night, Moose Hillock is pricier than many campgrounds. However, your campsite is double the space you'd get elsewhere, and you do have to remember you are in a popular travel destination in New York. We think the price is absolutely worth it.
The closest comparisons we can think of are Rafter J Bar Ranch in the Black Hills of South Dakota and Sandy Pines in Kennebunkport, Maine. Both have that natural, state park feeling with many private campground amenities.
Amenities at Moose Hillock Camping Resort
Speaking of amenities, Moose Hillock has them! Unfortunately, we didn't get to experience a lot of them since we visited while it was still early in the season and while the coronavirus pandemic was a concern. Not everything was open while we were there.
Boy, do we wish we could have checked out the pool! This pool is so epic it has its own name! The Aloha Beach Tropical Swimming Pool is a huge, heated zero-entry pool. It has two waterslides, rentable cabanas, live entertainment, and big screen movie nights. This is definitely a wow feature.
Families also love the fact that the pool stays open late. That means, you can get out and explore the Lake George area all you want and still return to Moose Hillock for some swim time.
Since the campsites are so large, you can imagine this park is pretty spread out. If you do get the sites at the back of the park, you are further from the amenities. Moose Hillock offers golf cart rentals to make it easy to navigate the campground. This is a great park to make a rental worthwhile.
What's Not So Perfect?
Our review of Moose Hillock campground would not be complete without answering our usual question: What's not so perfect about this campground? Our only complaint was that the golf cart parade included many political flags. We understand that everyone has different political opinions. However, we think private campground owners needs to watch out for this. We would love to see campgrounds provide a respite from the political noise coming at us from all other directions.
We know it is not easy for campground owners to make that declaration, but it is possible. We've stayed at parks that explicitly asked people not to include political materials in campground parades, and we stay vigilant about keeping politics out of our Facebook group.
We don't like seeing the political flags at campsites, but we wouldn't complain about that. In this case, it was the Memorial Day parade at the campground, which seemed like a place to promote our nation. Instead it felt like a political rally.
Lake George Regional Highlights Near Moose Hillock 
While you're at Moose Hillock, you'll have the whole Lake George region at your fingertips. It's worth exploring. Here are eight interesting facts about Lake George (that we Googled from the internet, just to be honest):
Lake George has a maximum depth of 200′ and a maximum width of four miles. If you take a boat tour of Lake George, you can learn more facts like this.
Lake George has 186 islands. New York owns 154 of them, and tent camping is offered on 50 of them (if you have a boat to reach them).
Lake George is known as the "queen of American lakes." Don't ask us which lake is the king. It is a beautiful lake!
The Lake George region has more beds for tourists than any place in New York state, other than NYC. We can see why. That iconic vision of summer campground we all know was partially born in the Adirondacks.
Some people claim there is a real lake monster named Georgie.
Thomas Jefferson called it the most beautiful water he ever saw.
Rachael Ray grew up here and owns a home nearby. You just might spot her in town!
Taking a bath in the lake is prohibited. Just don't. You can let the pristine waters clean you, but no soap or shampoo allowed.
We hope our review of Moose Hillock campground convinces you to put this great park on your list! It's certainly staying on ours. This week inadvertently ended up being "moose week" at The RV Atlas. Check out our previous episode about Silver Moose Restorations for more moose-related content that has little to do with actual moose.
See You at the Campground,
Stephanie + Jeremy
Podcast: Play in new window | Download