The Ford Bronco is back! Who doesn't feel nostalgic looking at old-school SUVs? Now, Ford is reintroducing this classic model in the beautifully updated, impressively packed new 2021 Ford Bronco. Fans of this popular vehicle have been clamoring for this for years, and the day is finally here.
Do you remember the original Ford Broncos? Who wouldn't want a restored one of these? While you may not find many vintage models around, the new 20201 Ford Bronco has a retro vibe that connects to its history, while having a look all its own.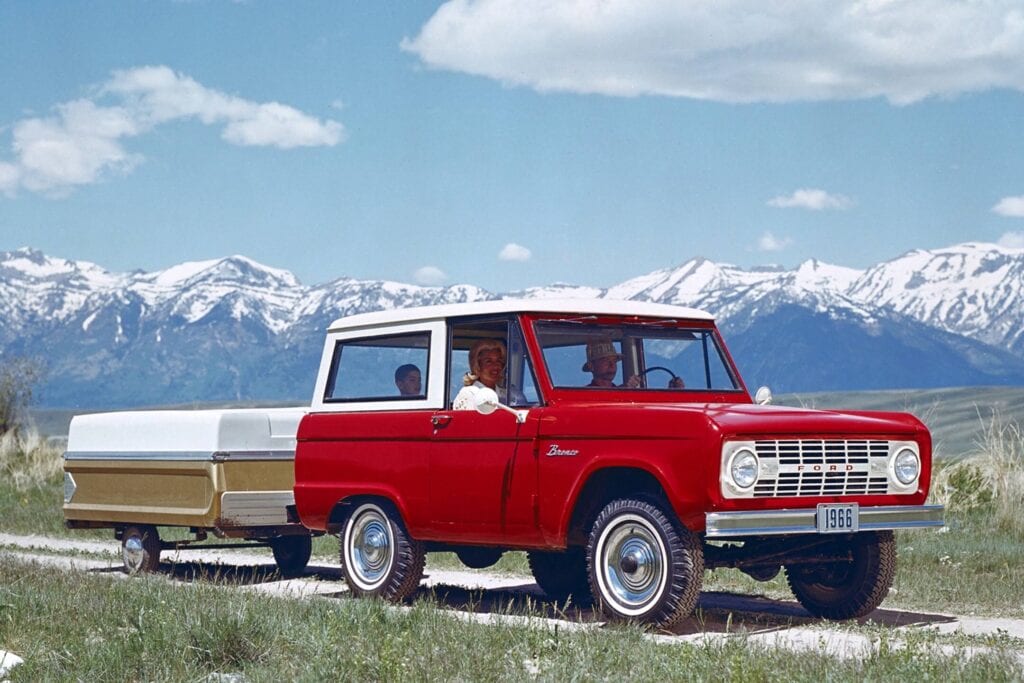 Johann Schnell, our resident SUV expert, is here to tell us all about the new Bronco. He's been scouring the internet for details ever since the rumors of a reboot looked to be true. And, now that he's seen more, he is more excited.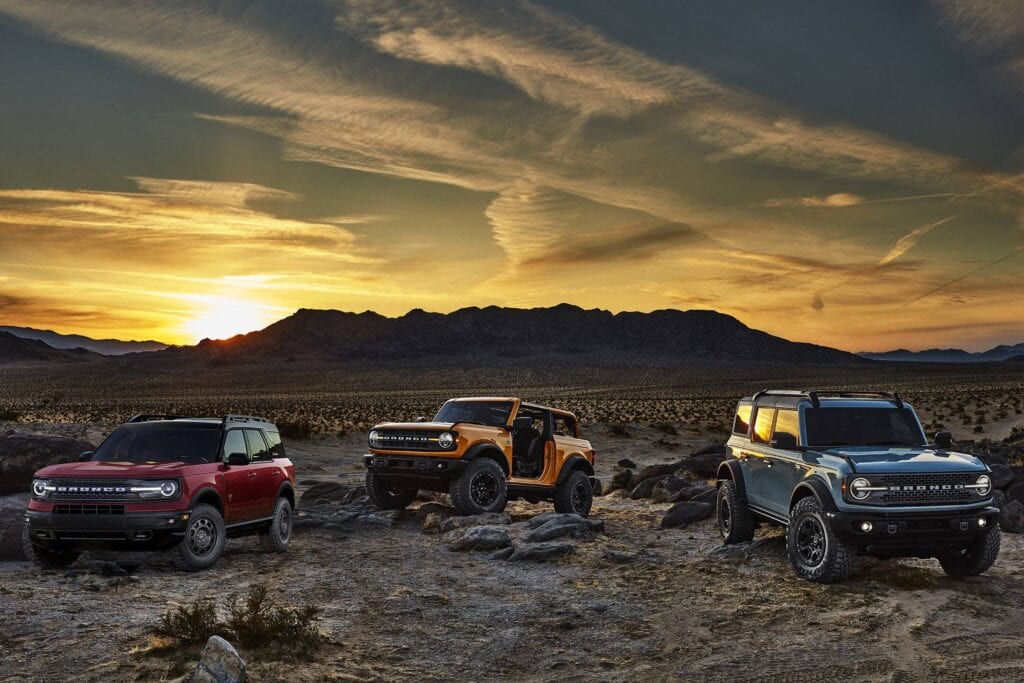 For RVers, you need to know that this is more of a mid-size truck/SUV, as opposed to a bigger truck. You'll have to adjust your towing expectations. This is meant as a competitor to the Jeep Wrangler.
To hear more about the 2021 Ford Bronco, please press play on the media player above or look for The RV Atlas wherever you find your favorite podcasts.
The 2021 Ford Bronco Specs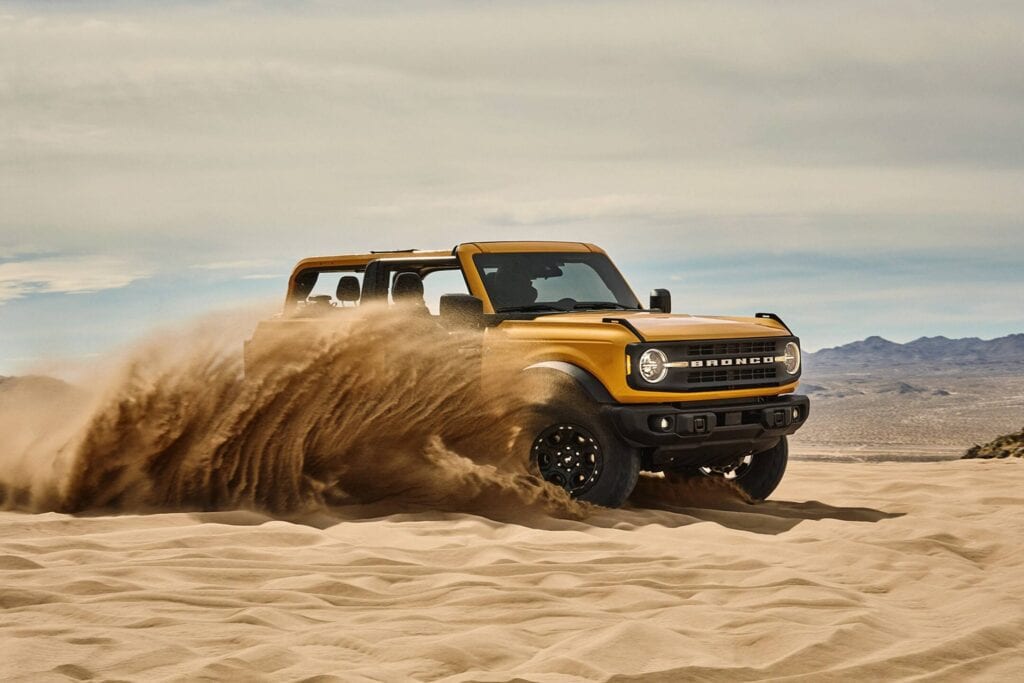 The Ford Bronco line-up will include two turbocharged engine options:
2.3L I4 – 270/310 (Though it is 4-cylinder, it does have some power.)

2.7L V6- 310/400 (This should be a fun ride! It will not be available on all trims, though.)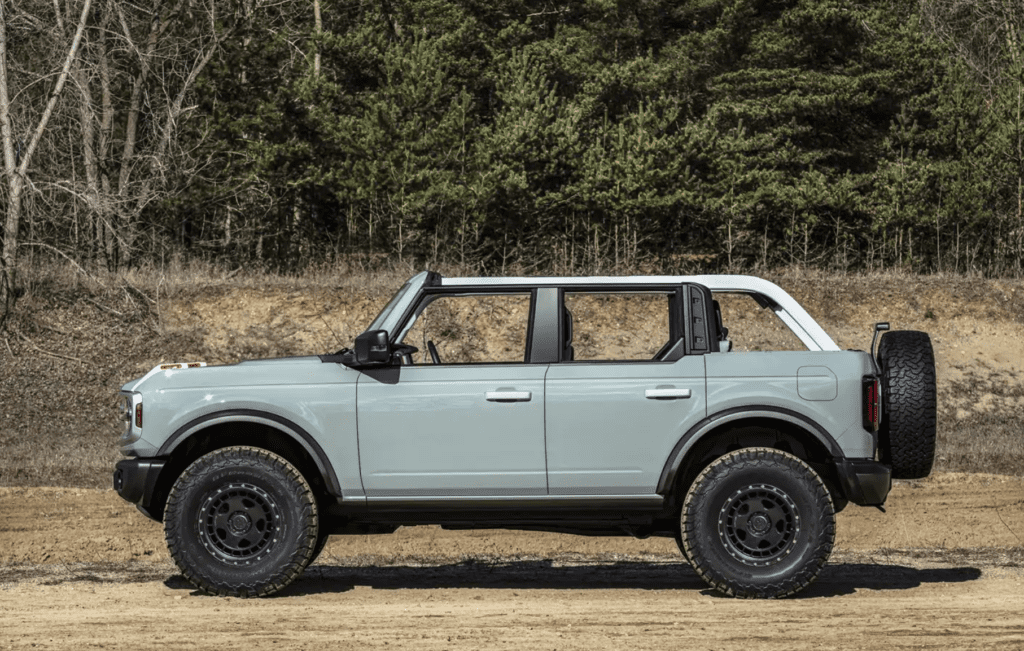 What other standards and options will we see?
Manual transmission (6 +1) will be an option on the 2.3L models. 

10-speed automatic transmission will be available on both.

It has an independent front suspension (vs solid axle).

There are six regular trim levels + a First Edition model (which has already sold out).

There are two-door and four-door versions.
Pricing and Twin Levels for the 2021 Ford Bronco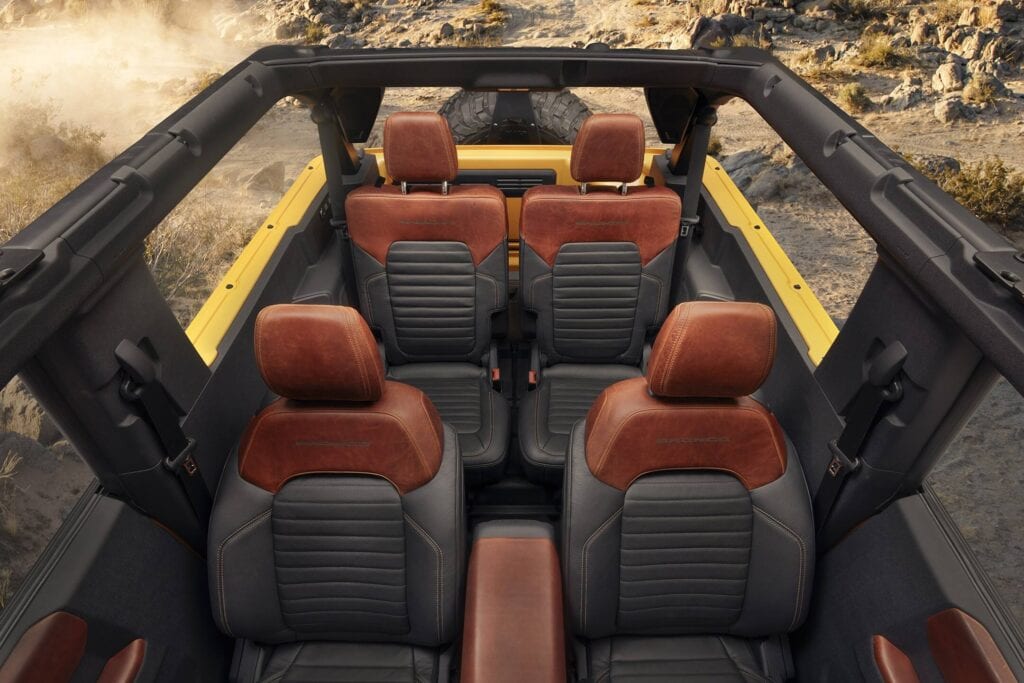 You will find six different trim levels for the 2021 Ford Bronco. Johann explains that there really are seven, but the First Edition are already sold out. The lineup starts with the Base model and goes up to the the Wildtrack edition. You can read more about each trim level here.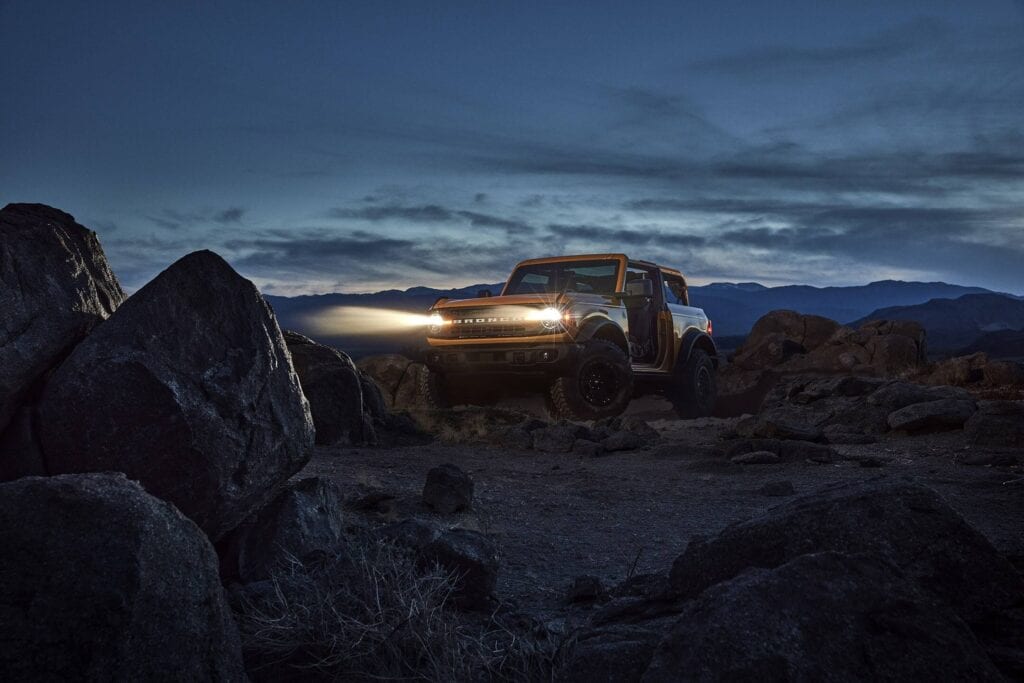 The Base 2021 Ford Bronco will retail somewhere between $28,500 to $33,200. The Wildtrack will be between $48,875 to $51,370. There are several models in between, with a lot of options for customization through Ford. Johann recommends figuring out which options are important to you that can't be added easily later and make sure to get those upfront when you buy. Other things can be changed over time with aftermarket parts.
What Cool Features are available on the 2021 Ford Bronco?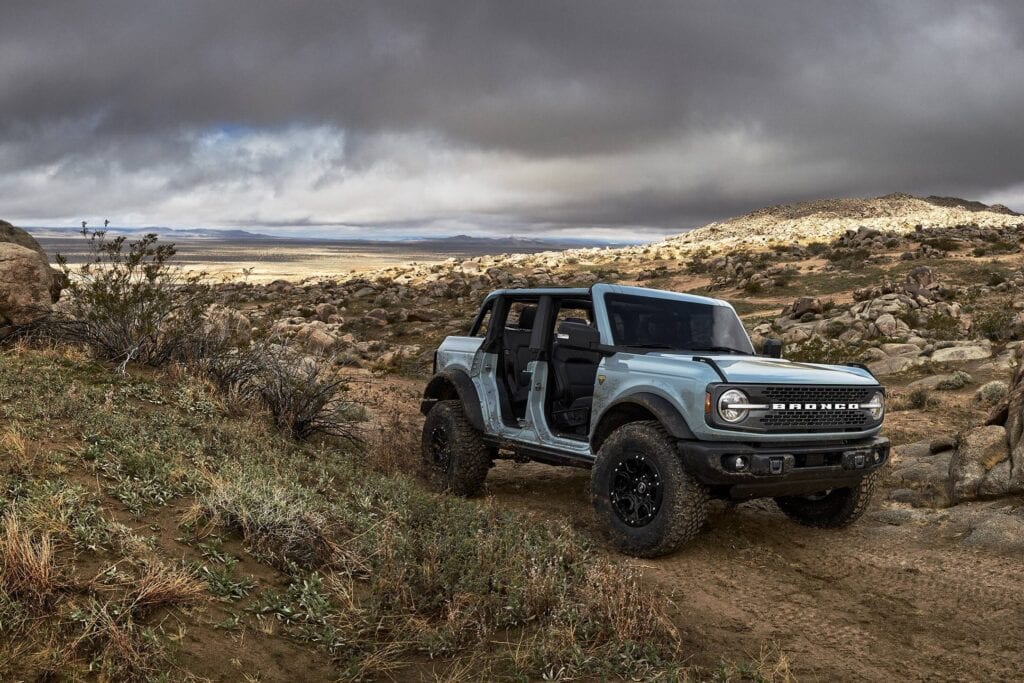 Johann pointed out some great features that Ford added to the Bronco. First, when you remove the doors on the four-door models, you can easily store them inside the vehicle. This is a huge difference from the Wrangler, which has nowhere to store the doors while you drive. Also, the side mirrors actually stay on the body, unlike the Jeep's.
Crunching the Towing/Payload Numbers for the 2021 Ford Bronco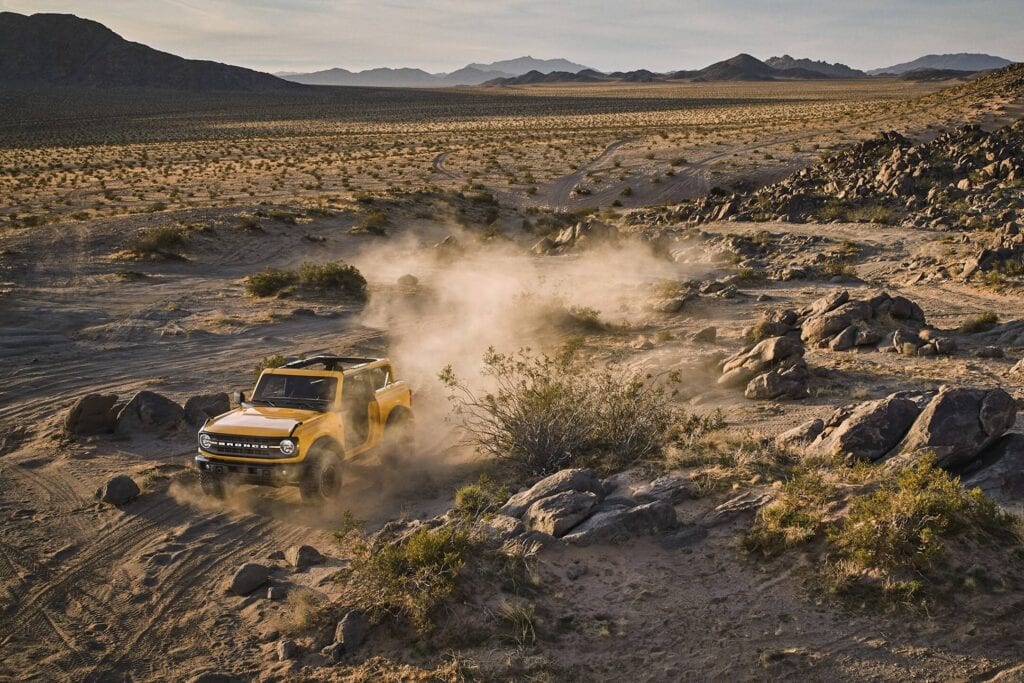 When you look at the towing capacity and payload numbers for the Ford Bronco, you have to remember where this vehicle will sit within the market. This is not meant to be competitive to larger trucks. Think Jeep Wrangler instead of the Ford F-150. Plus, it is designed more as an off-road vehicle. That's the first priority.
So, where does the towing capacity sit? It can pull 3,500 pounds, which isn't terrible. You can get smaller popups or teardrops with GVWRs below 3,000 pounds. Think about the overland-type campers or manufacturers like Taxa or Patriot Campers.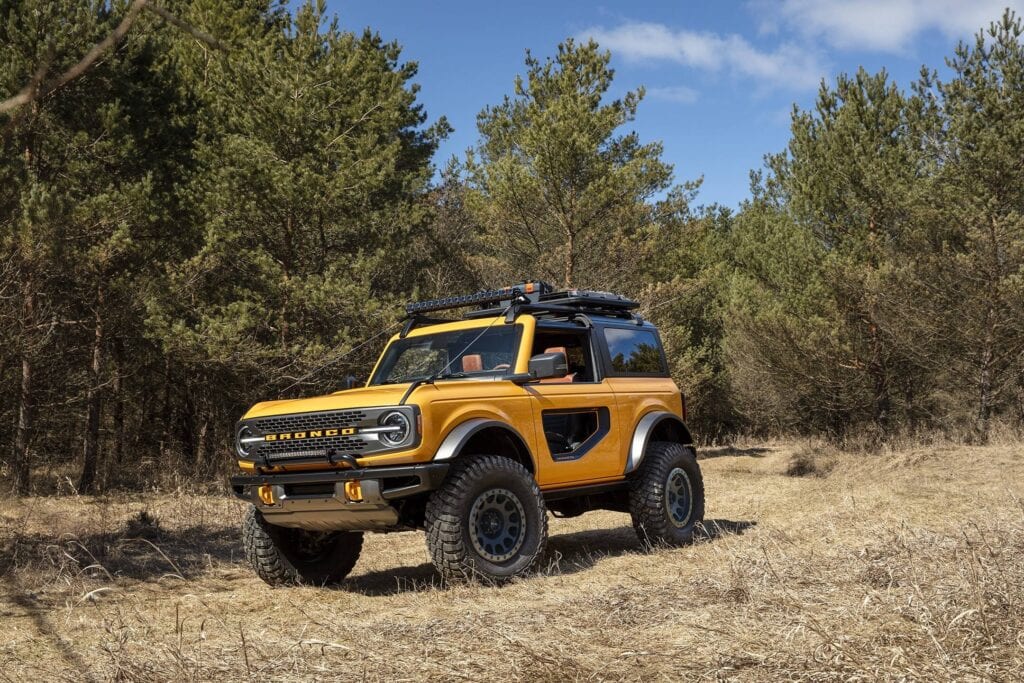 So far, the payload looks to be 1,170 pounds for the two- door and 1,370 pounds for the four-door. Those seem right in the range of comparative vehicles.
If you are a motorhome owner, you will be able to flat tow this behind your vehicle. Johann read a discussion where this was verified by a chief engineer from Ford, and this is in the official literature. Johann points out that this makes sense because it has a selectable 4×4 drivetrain. Put the transfer case in neutral for towing. So, while it cannot tow a ton, it would definitely be a fun tow-behind vehicle for a motorhome. 
Some Drool-Worthy Photos of the 2021 Ford Bronco
Click on any of these images to see a larger version:
Vintage Bronco Photos
Just for fun, here is a peek back at a few Bronco models Ford put out over the years.
Some Fun Thoughts on the Ford Bronco
If you are a fan of the Ford Bronco, you must listen to the podcast. We hit Johann with some fun trivia questions. You need to see if you know the Bronco as well as Johann!!
If Johann were building his dream Bronco, he'd pick a four-door (for the kids and for the door storage). He'd like the Badlands package and a mid-to-high package of options. He'd aim for a nice combo of luxury and off-road features. Of course, he would want a manual transmission. The all-important question of color would be left to his wife. Johann previously reviewed the Jeep Gladiator for us and went so far as to buy one of his own. Are we to blame?! since he picked the color for it, he would graciously let his wife decide the color for his dream Bronco.
A HUGE thank you to Johann for taking us on this fun trip with the 2021 Ford Bronco!! While none of us have driven one yet, we just can't wait to give it a whirl. Until then, it's been fun to take a look at this classic new model.
See You at the Campground,
Jeremy + Stephanie
Podcast: Play in new window | Download