This week's episode of the RV Family Travel Atlas podcast, Great SUVs for Towing RVs, has been a long time in the making. We have been discussing doing more SUV and Truck content for years. Now that time has come!
For towable owners, driving the SUV or Truck is such a critical part of the overall RV experience. Many hours are spent in the vehicle and the quality and comfort of the ride can make or break a trip. Matching those tow vehicles to our RV's correctly is also of the utmost importance. A tow vehicle that is poorly matched with an RV can be incredibly dangerous on the road.
This week's episode focuses on SUVs for Towing RVs. If you are looking to match a truck to a towable RV, make sure you listen to our recent episode with Mark Polk talking specifically about that.
Our special guest correspondent is all-around car/truck/and RV afficionado, Johann Schnell.  Johann has been contributing a wealth of information and advice on our private Facebook group (RVFTA: The Group) for years. When we asked Johann to join us on the show he jumped all over it and developed a show that will give listeners an education about towing capability and great SUVs for towing RVs.
Why might an RV owner want to consider an SUV for towing instead of a truck?
Pickup trucks are the most common tow vehicles for travel trailers. But most manufacturers make lightweight trailers that can be safely towed by a properly equipped SUV or mini van. And those SUVs and mini vans can make excellent options for a family that needs one vehicle to serve as a tow vehicle and a daily driver. These vehicles are also more fuel efficient. Plus, many of them offer third row seating, which can be a make or break for families with more than two kids. The SUV shopper also has more stylistic options at a wider variety of price points.
But there are some cost and safety issues to consider before buying an SUV to tow. And people, these are important. Just because the tow police might be obnoxious on Facebook, doesn't mean you should ignore the facts.
Most importantly, you need to consider the vehicle's tow capacity and its payload.
Many new RV owners simply look at tow capacity and do not pay attention to the RV's hitch weight, and the capacity of the SUV to handle that hitch weight (payload). So while an SUV may be rated to handle the overall weight of a trailer, that SUV may not be able to handle the weight of the RV's hitch pressing down onto it. This, coupled with softer suspensions to begin with, can lead to squat and sway. An SUV that has too much weight pressing down on the rear axle can actually lift the front tires up just enough to create a very dangerous driving situation. The shorter wheelbase (as opposed to a pickup truck) can also be problematic if you get a trailer that is too long. In this case the tail can start wagging the dog
And this is incredibly dangerous.
Another important point to consider is that some lighter duty SUVs may not come equipped for towing. You'll need to spend additional dollars to get it ready. You will need a hitch receiver, aftermarket brake controller and 7 pin harness installed.
So which of these great SUVs for towing RVs might be right for you? Let's break them down by category and take a look at your best options.
Great SUVs for Towing RVs: Light Duty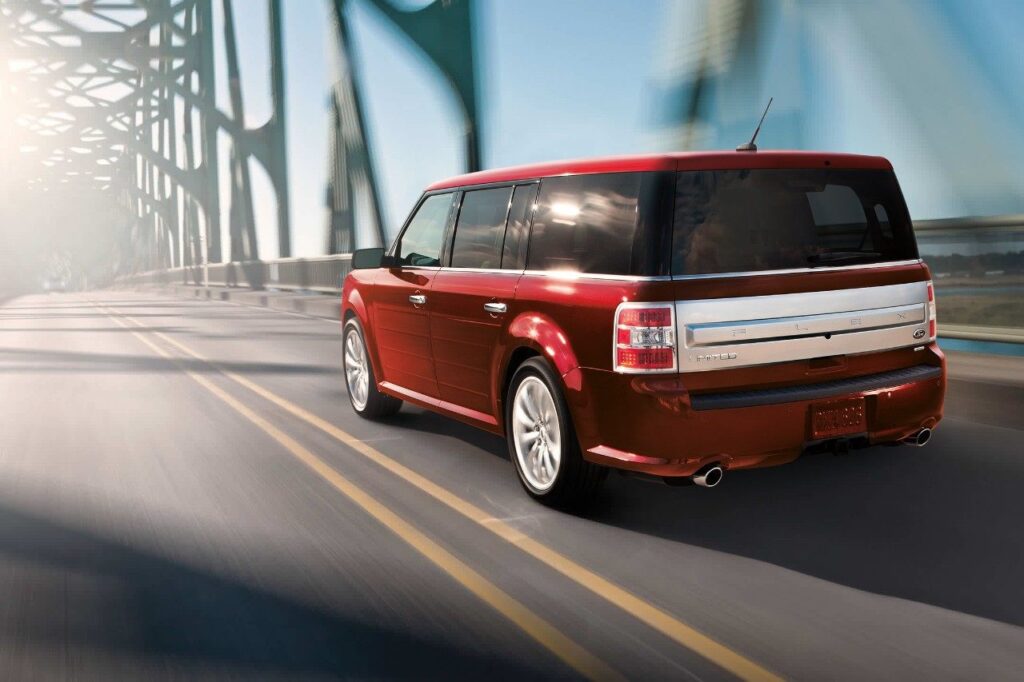 For those of you who are considering purchasing the lightest of lightweight campers such as popups, A-Frames, and teardrops, you might consider a light weight option SUV or Minivan to match it. If the camper is light enough, a Toyota Sienna might be a good option for a minivan. A Subaru Outback might be a good option in what was once know as the station wagon segment.
If you want to move up a bit in tow capacity–and in rugged good looks–a Jeep Wrangler Unlimited or a GMC Terrain are great choices. These types of vehicles do not allow you to tow a much larger RV, but instead allow you to tow something small with greater capability. The Ford Flex with tow package serves as a great outside-the-box option.
Great SUVs for Towing RVs: Medium Duty Options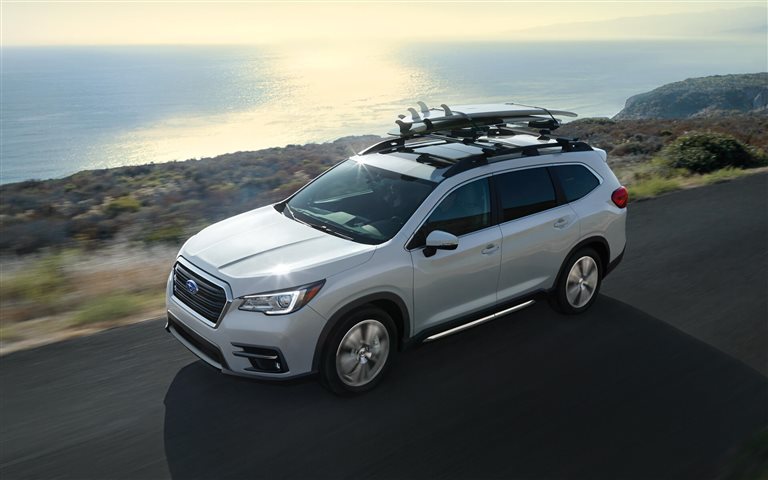 Medium duty options have tow capacities of 5-6,000 pounds. These allow the RV owner to add some sizzle to their search, and maybe even get that third row seat for a growing family. The best part about this category is that all of the options are good, and you can pick something that suits your style. Why not take a look at the Honda Pilot, the Toyota Highlander, the Nissan Pathfinder, and the Ford Explorer? These choices will tow everything we mentioned in the last section with greater capability, and allow you to start looking at hybrid campers and some small travel trailers. These vehicles also make excellent daily drivers and fuel efficiency is surprisingly good. Or good enough.
Newcomers such as the Volkswagen Atlas and the Subaru Ascent are also certainly worth a test drive. And maybe a more heated relationship.
Johann's favorites in this category will not surprise other aficionados. He loves the Volvo XC90 as a more luxurious charge, and the Toyota 4Runner as one of the last body on frame SUV options that is truly built for truck-like performance and capability.
Great SUVs for Towing RVs:Heavy Duty Options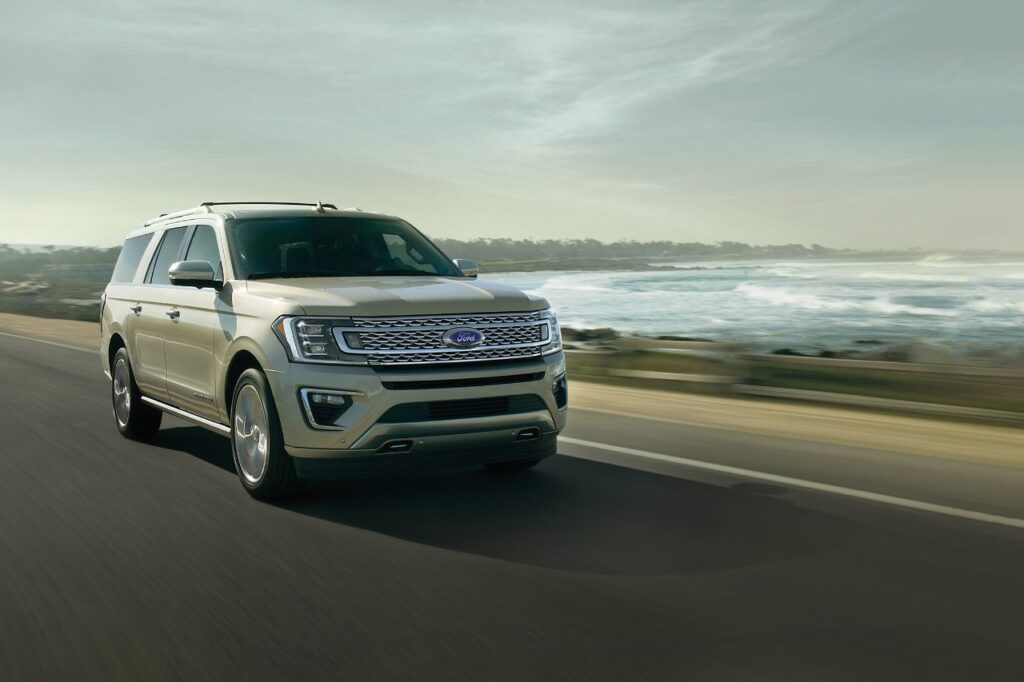 Full size SUV options have tow capacities from 6-9,000 pounds. The SUVs in this category come with both shorter and longer wheelbases–and its important to remember that longer wheelbases are simply better for towing.
There's lots of great eye candy in the short wheelbase category. GM makes the Tahoe, Yukon, Escalade, and Ford makes the Expedition and the Navigator. These are all attractive and well made SUVs, with price tags to prove it.
Toyota's Sequoia, Nissan's Armada are also attractive options in this category. If you want more luxury you might want to check out the Infiniti QX80. And if you want more rugged looks and power check out the Dodge Durango or the Jeep Grand Cherokee. If bling is your thing check out the Mercedes GLS, or the legendary Toyota Land Cruiser. Just make sure you have money leftover in the budget for an RV!
Remember, your long wheelbase options are going to be your best SUV option for towing.
If you're looking to tow with an SUV, you can look at tiny trailers, hybrids, and many travel trailers. The most important thing to remember is that tow capacity is not the only number you need to pay attention to. Payload is just as important for a safe and comfortable towing experience.
So many people max out their tow capacity with an SUV, and then have harrowing tow experiences on their first few camping trips. You don't want this to happen to you. Know you tow capacity and your payload numbers and make sure to buy an RV that falls well below those numbers.
You can absolutely find a great SUV to tow an RV. Be smart with your numbers, and we'll see you at the campground!
Stephanie + Jeremy
Podcast: Play in new window | Download