How does the Jeep Gladiator handle? How does it tow? Welcome to our two-part series focused on the 2020 Jeep Gladiator. We put it to the test to see how it handles. Check out what we loved and didn't loved.
There's a new player in the midsize-truck game. Take the ever-popular Jeep Wrangler and attached a pickup bed, and you get the brand spanking new Jeep Gladiator. This thing looks awesome! But, how does it handle when it hits the road? Our car correspondent took it out for a test drive, so we could tell you all about it.
In part one of this series (Meet the Jeep Gladiator), Johann told us all about the specs, features, trim packages, and tow capacities of the Jeep Gladiator line up. Johann has been a Toyota Tundra owner and fan, so what convinced him to part ways with his rock-solid Tundra to embrace this new kid on the block? He's here to tell us all about it.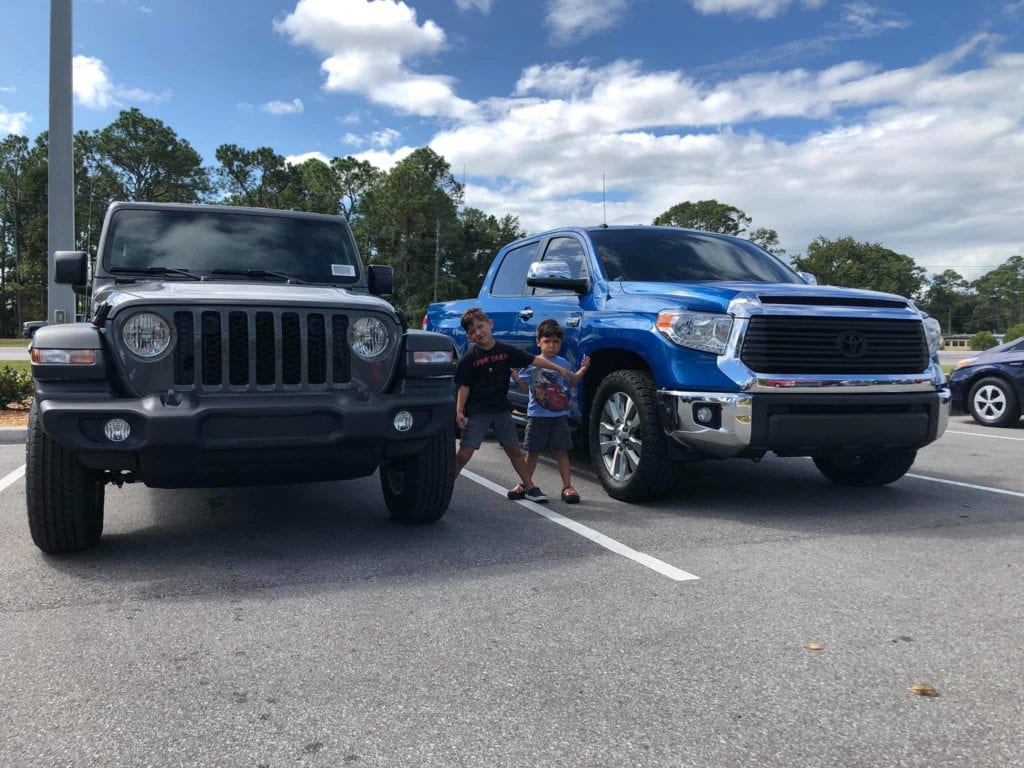 Test Driving the Jeep Gladiator
While Johann is still in the honeymoon period with his Jeep Gladiator, he has been driving it for a couple of months now. He's even put it to the test towing his Rockwood Roo hybrid. What's the verdict? It's amazing!
Driving a Jeep Wrangler is a lot like driving a box. So, Johann was curious to see how the Gladiator would compare. He says it is a totally different experience. The Gladiator is tight, smooth, and compliant. He does point out that it is more susceptible to wind movement, and the steering is a little more vague (due to the off-road nature of suspension system). However, overall, it feels like a solid system, even while towing.
On today's episode of the RV Atlas podcast, we are back with Johann Schnell talking about the Jeep Gladiator. To listen to today's podcast press play on the media player above or search for the RV Atlas wherever you listen to your favorite podcasts.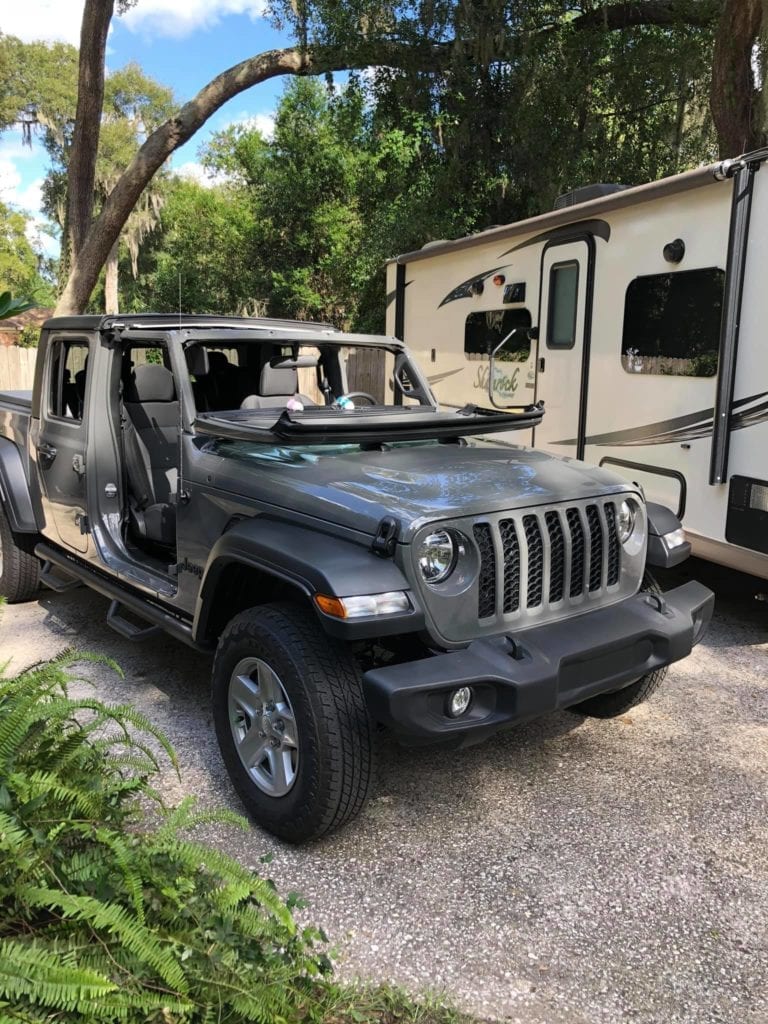 Things to Love about Driving the Jeep Gladiator
What is Johann's favorite thing about his Gladiator? It's a convertible truck. The windshield comes off, the doors come off, the roof comes off! What could be more fun than that? It just makes everyone smile. It makes him smile when he's driving down the road, and he gets smiles from the people he passes. The fun factor is incomparable. Johann says strangers regularly come up to him to ask about the Gladiator.
The Jeep Gladiator offers such a unique experience. It's fun to take the pieces off and hit the beach or take a Sunday drive. Plus, the Jeep is super easy to convert. It only takes a few minutes to pop things off or to put them back on.
Johann also loves how smooth the Gladiator is and how easy it is to maneuver. It drives more like a vehicle than like a truck, which is something to be appreciated.
How does the Gladiator handle towing? Johann feels like it tows as well as his Tundra in many ways (with the proper weight distribution hitch). Since it's a box towing a box, you will feel the wind a little more. Other than that, the power and smoothness were there. He never felt like the V6 was underpowered for his rig (a 5,000-lb. hybrid). He was honestly pretty skeptical going in, but he didn't have any white-knuckle experiences, even when he hauled the Gladiator to Fort Wilderness (we are doubly jealous of that!).
The off-road capability is another starring point for the Jeep. Johann has not had the opportunity to really put the Gladiator to the test off road, yet. However, he did a little four-wheeling just to check it out, and he is pumped to do some more.
Other great features? Johann liked all of the tech elements, even in the Sport S trim. Plus, the fuel mileage was better than he expected.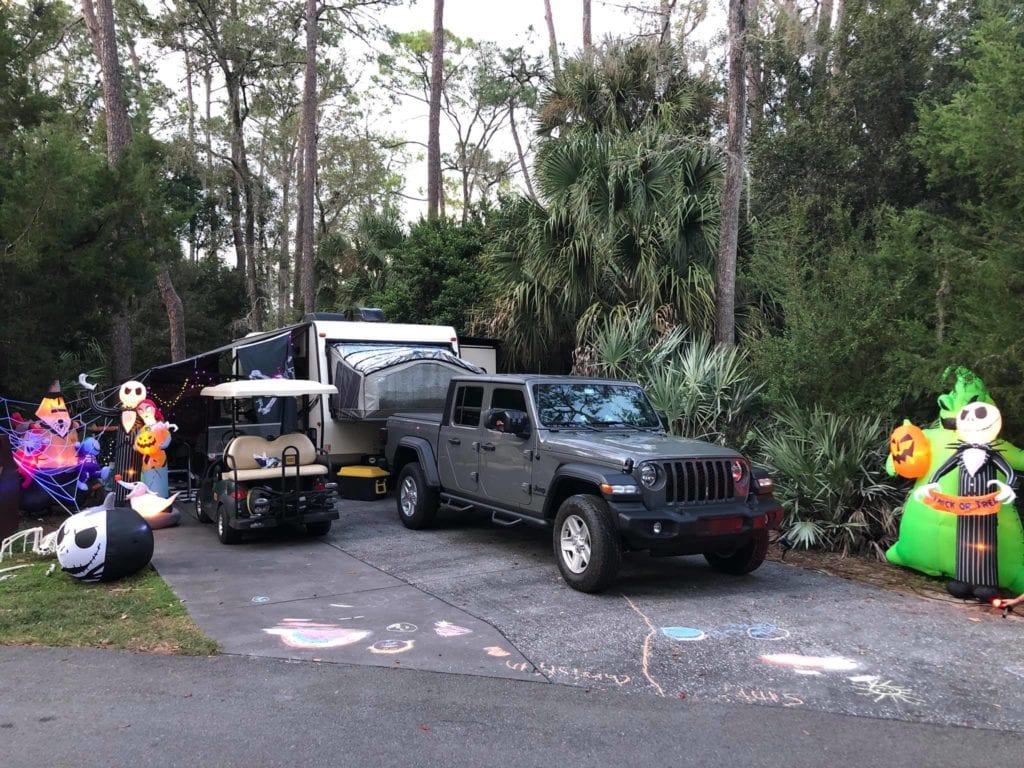 Cons of the Jeep Gladiator
Even though Johann loves his new Gladiator, it's only fair to point out some of the things that he doesn't love. This is a fair and objective review, after all.
Johann points out that you hear the wind while driving the Gladiator (with all of the removable components, this only makes sense). It's not like driving anything else, really. Compared to other trucks and SUVs, the cabin of the Gladiator isn't as roomy. You sit really close to the windshield.
While Johann finds his to be plenty comfortable, the front seat doesn't have many adjustments. Some drivers might wish they had more options. Again, this is a Jeep, and it feels like a Jeep inside. They've added lots of tech elsewhere, but this is one place they could have added more.
For families, you have to consider the fact that the Gladiator doesn't have rear airbags. The Gladiator is designed to not have the roof on, so that provides some extra crash protection. This wasn't a deal breaker for Johann, but it might be for others. The rear seats do not recline and the headrests are not supposed to be removed, so the kids' seats sit more upright than in other vehicle. They are not as comfortable as something with more of a recline.
Johann also points out that the Gladiator has a smallish gas tank, which means you'll have a limited towing range (about 200 miles). When you are getting down under a quarter of a tank, especially while towing, you really need to make sure to get gas. That empty can sneak up on you! It almost snuck up on Johann's wife.
Hear all about Johann's experience with the Jeep Gladiator by pressing play on the media player above.
We are so glad to hear that Johann's test drive turned into a full love affair with the Gladiator! We don't expect this level of thoroughness for all test drives, but if Johann's happy, we're happy.
See you at the campground (or the car dealership),
Stephanie + Jeremy
Podcast: Play in new window | Download