Last month we drove our beloved Jayco Octane 272 toy hauler to the RV dealership to get a trade in quote. Why did we do this? Did we hate Buck the Toy Hauler? Had our camping plans for the future changed dramatically?
Nope. We were actually very happy with the toy hauler, and hadn't been RV shopping at all.
However, in the course of attending a bunch of RV events over the last year, we kept running into an RV that seemed really, really perfect for our family.
So we decided to crunch the numbers and see if trading in the Octane 272 for the Eagle HT 264BHOK would work with our family budget.
Turns out it did. And just last week we officially said goodbye to Buck the Toy Hauler. It wasn't an easy goodbye. Our kids were really attached and not convinced that we were making a good choice. After our first camping trip in the new travel trailer, they are firmly on #teameagle. But that's a story for another podcast.
Two years ago, we spent a whole podcast episode talking about why we were buying a toy hauler. So we thought it would be helpful for us to explain how all those ideas panned out and why we were switching back to a travel trailer. You can listen to this RV Atlas episode in your favorite podcast app. You can also just click on the play arrow above. Or you can keep reading to get the whole scoop…
Cliffnotes: Our RV History
For anyone that hasn't been hanging out with The RV Atlas for the last 10 years, here's a quick and dirty run down of our RV ownership history…
1st RV: Flagstaff Pop Up Camper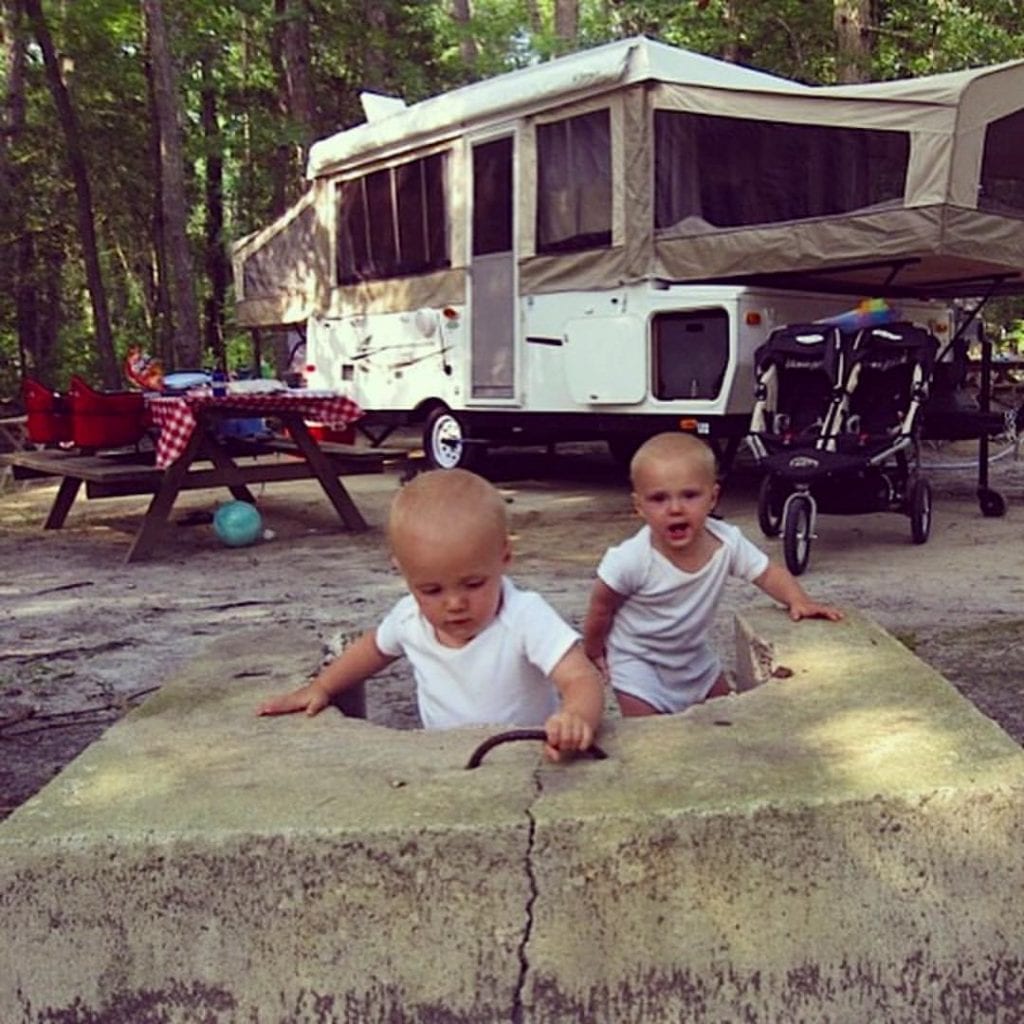 We owned our pop up for two years, and we always say it was the best and worst purchase we have ever made. It helped us fall in love with the RV lifestyle. But we quickly learned it was not the right RV for our road tripping habits. We liked to plan trips with multiple stops and all that set up and break down drove us crazy. You can read more about our pop up camper lessons here.
2nd RV: Jayco White Hawk 29SQB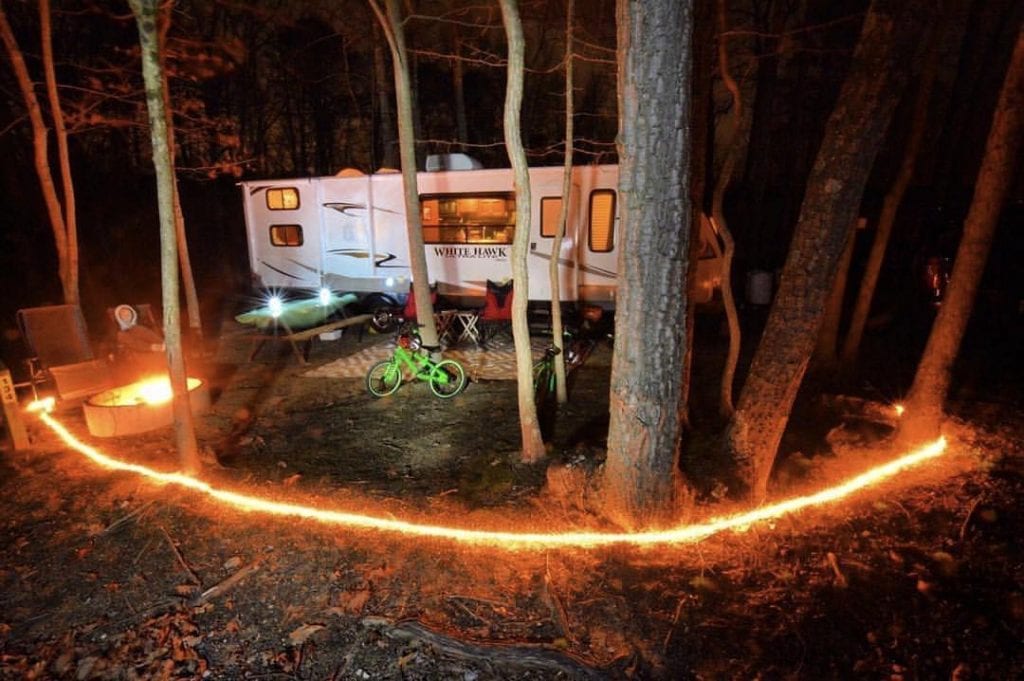 This lightweight quad bunk house was a match made in heaven for our family of four, and we owned it for six years. It was the perfect length and weight to tow with our half ton truck. Plus, the quad bunks came in handy when a third baby was born and a rescue dog was adopted. However, after hundreds of nights of camping, we had a wishlist of features we would like in our next RV. A door on the master bedroom instead of curtains was becoming more of a necessity as our boys grew up. We also wanted more space in the living area than our shallow slide allowed for. You can listen to all the things we were looking for on the podcast episode Saying Goodbye to the White Hawk.
3rd RV: Jayco Octane 272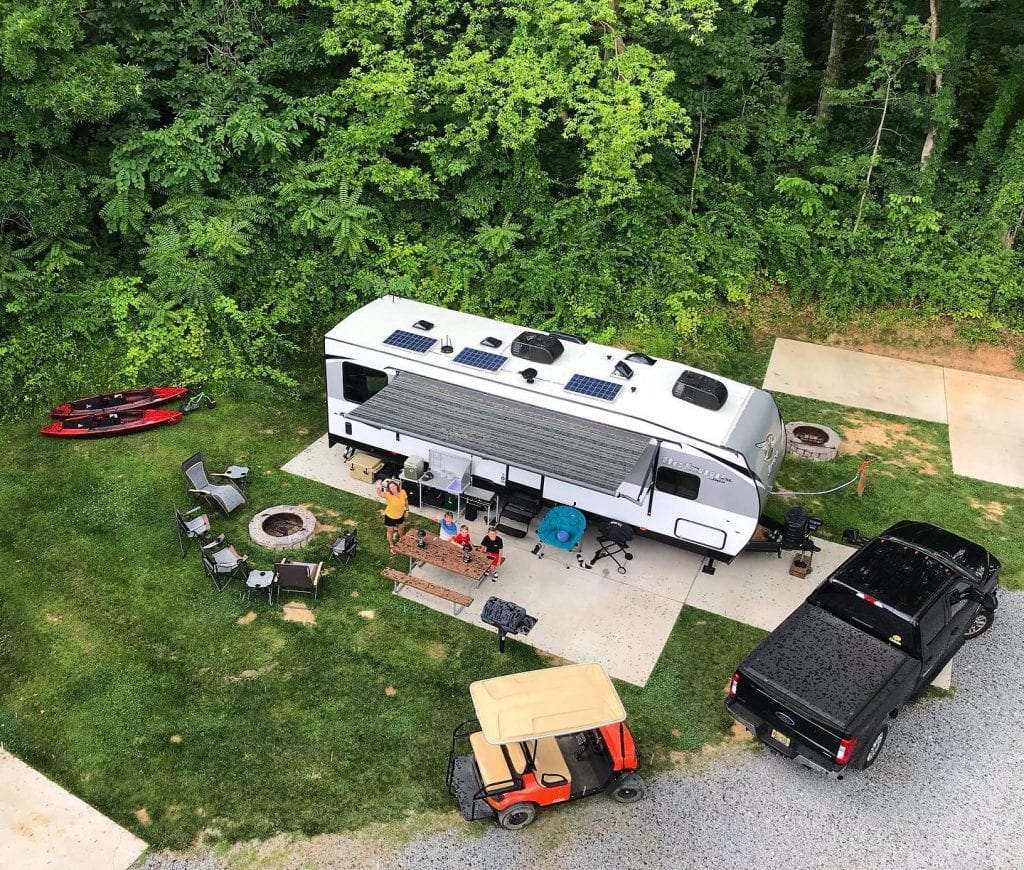 We were officially out of the baby stage, and our growing boys were pushing us to be more adventurous. It turned out we enjoyed dry camping. But we wanted an RV that would support that with large tanks and off-grid power features. We also wanted an RV that would allow us to bring along our bikes, kayaks, and paddleboards. Even though we didn't have traditional 'toys' (golf cart, motorcycle, etc.) a toy hauler checked those boxes for us. The Jayco Octane 272 also check a lot of other boxes including designated beds for everyone, a private master bedroom, and a bigger bathroom.
4th RV: Jayco Eage HT 264BHOK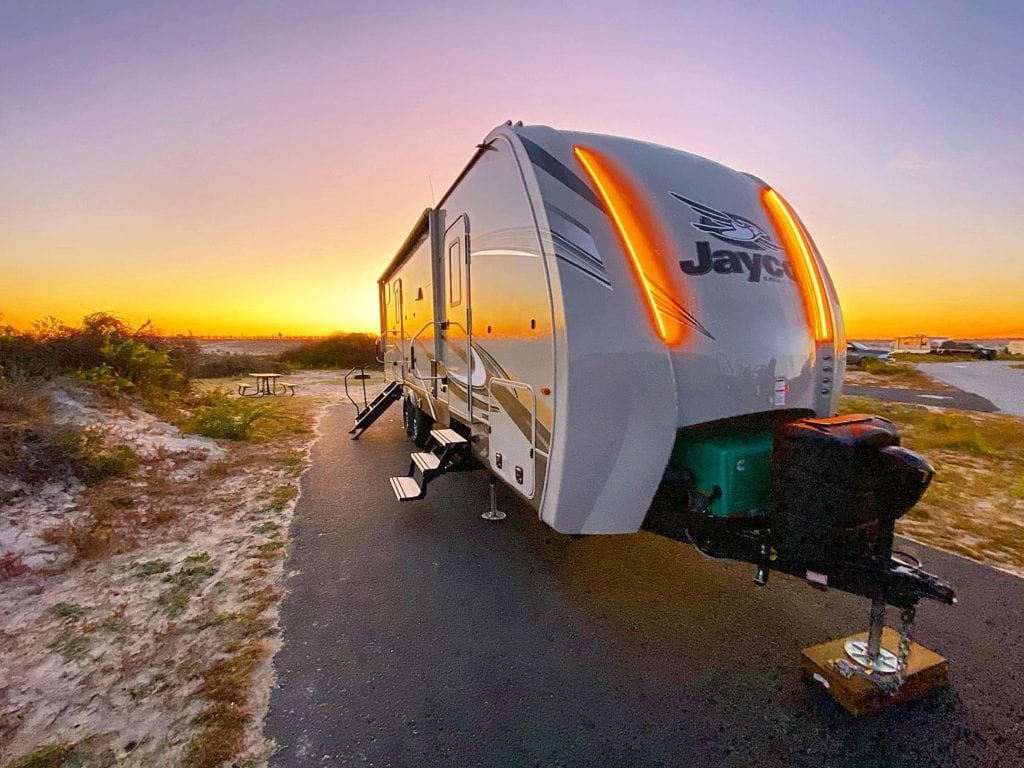 Okay, this is the travel trailer we just purchased. You'll have to click here to learn more about why we chose this model and how our first camping trip went. And here's a link to all the specs.
What We Loved about the Jayco Octane 272
We loved our off-grid capabilities.

The huge tanks allowed us to dry camp in comfort and actually use the sink, shower, and toilet. We added a solar power system (learn more about that here) that let us boondocks in a Cabela's parking lot and still make coffee in the morning. Other amazing modifications included our AcuvaTech water filtration system and our AquaGo instant hot water heater. The Jayco Octane 272 empowered us to be a little more brave in our camping adventures and we enjoyed that experience so much.
We loved bringing all the toys.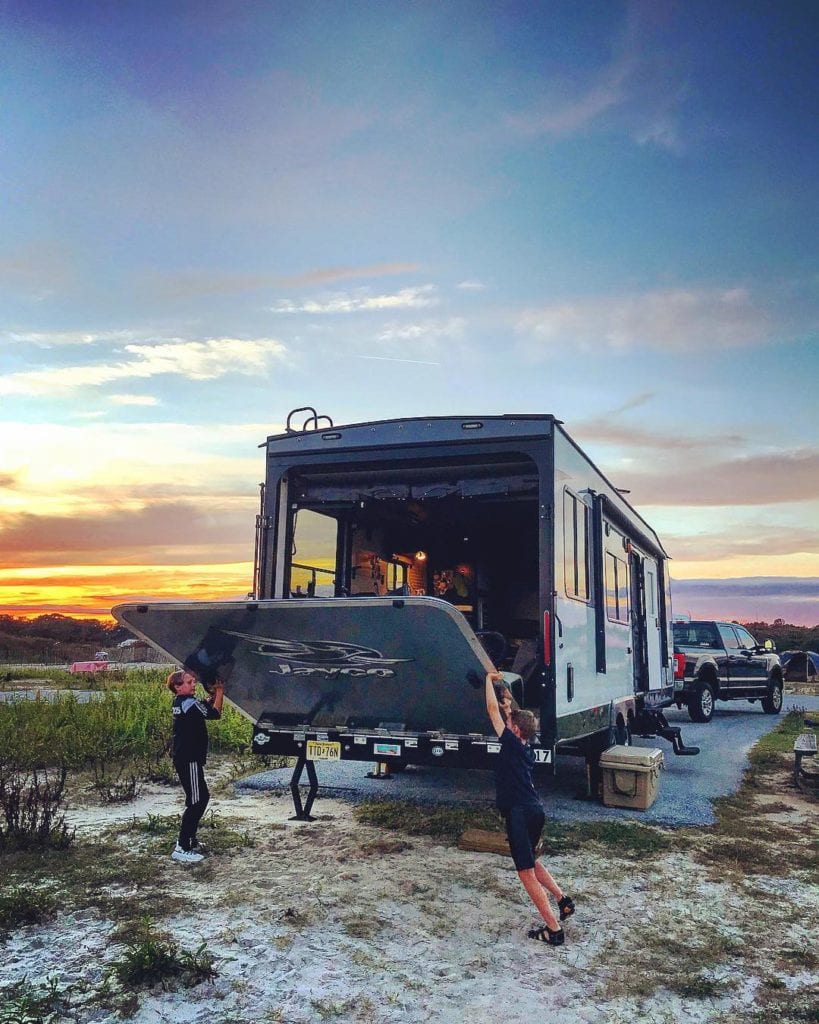 It was pretty amazing to be able to load up our five bikes, kayaks, and stand-up paddle boards with no issues at all. We simply brought down the garage door and threw it all in. Our friends loved it too since there was always extra toys to go around when camping on a lake or bay.
We loved the sleeping arrangements.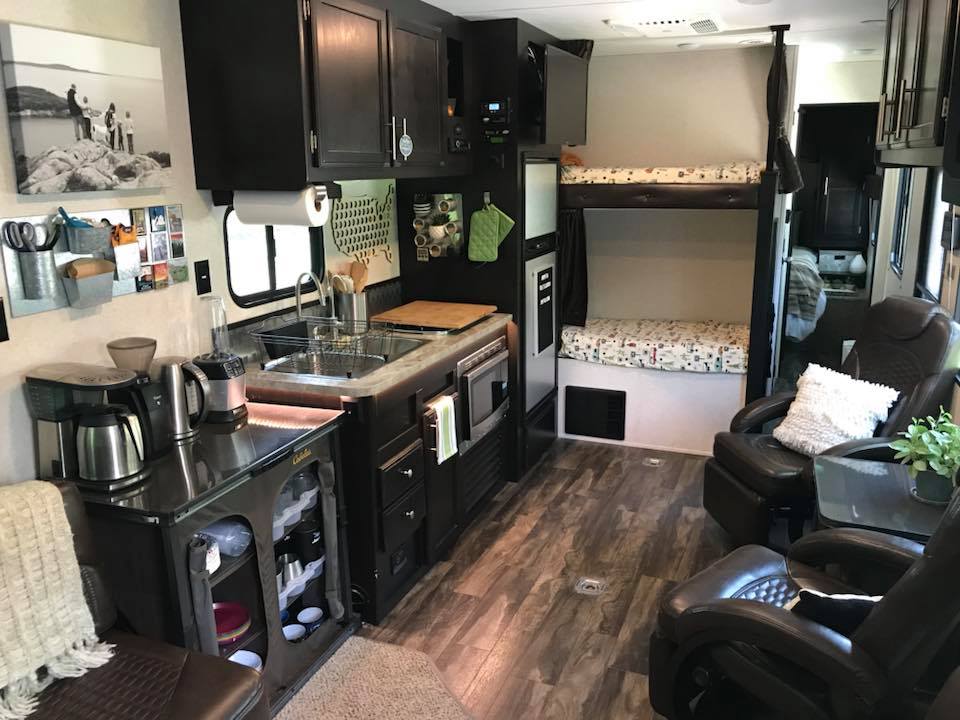 We got our private master bedroom. Two of our boys had bunks. The other one had a huge HappiJac bed that lowered down from the ceiling in the back of the rig. The bed situation worked seamlessly for our family from day one.
We loved our flexible living space.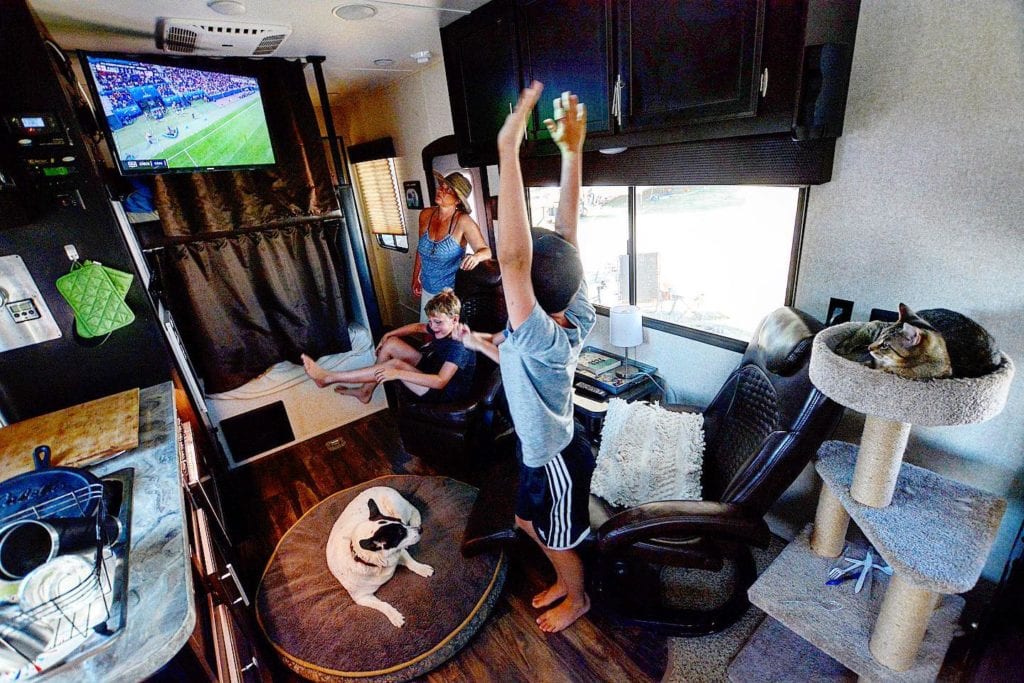 We ditched the table and just had the captain's chairs and couches in the living area. And we added a side table in between the recliners. As a family, we prefer to eat outside anyway and were convinced we wouldn't miss a dedicated dinette. That was 100% correct.
We loved the light.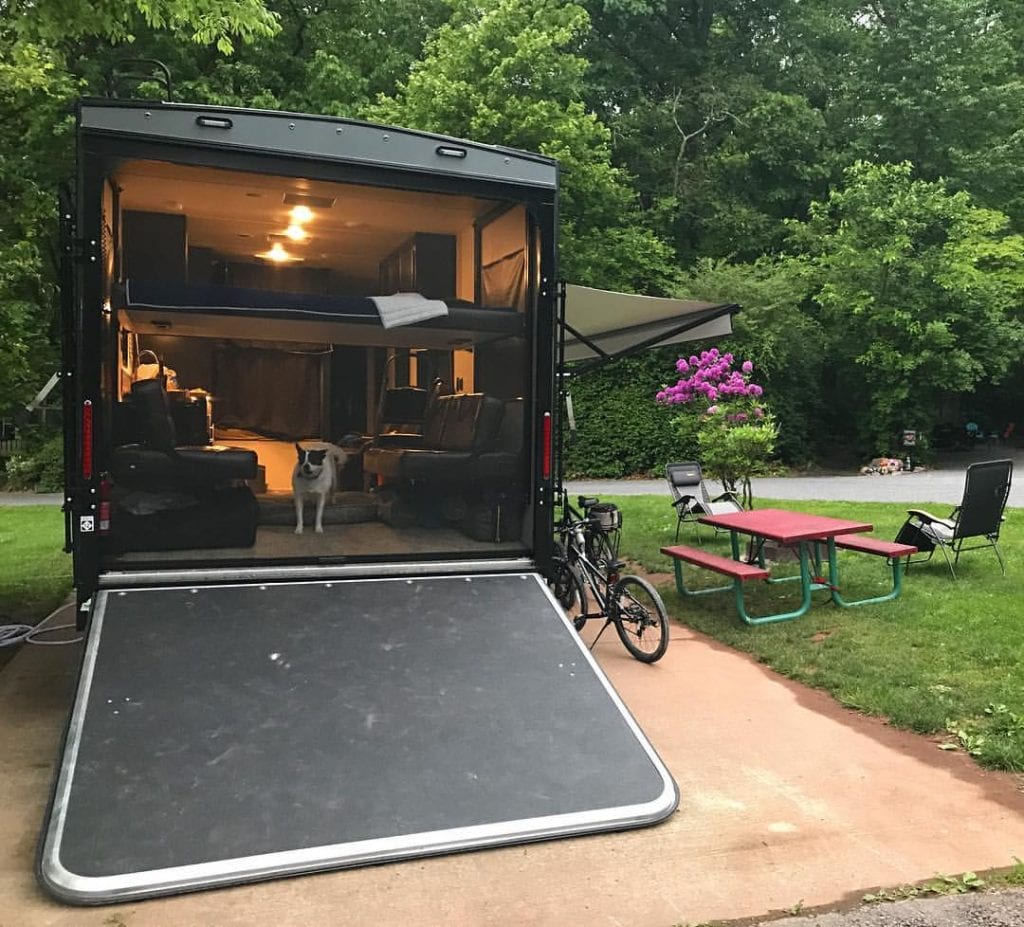 The windows in the Jayco Octane 272 were huge. And when the garage door was open, the RV was flooded with light. That was such an improvement from the White Hawk, which felt like a cave to us especially after owning a pop up camper.
What We Didn't Love about the Jayco Octane 272
We didn't love the size.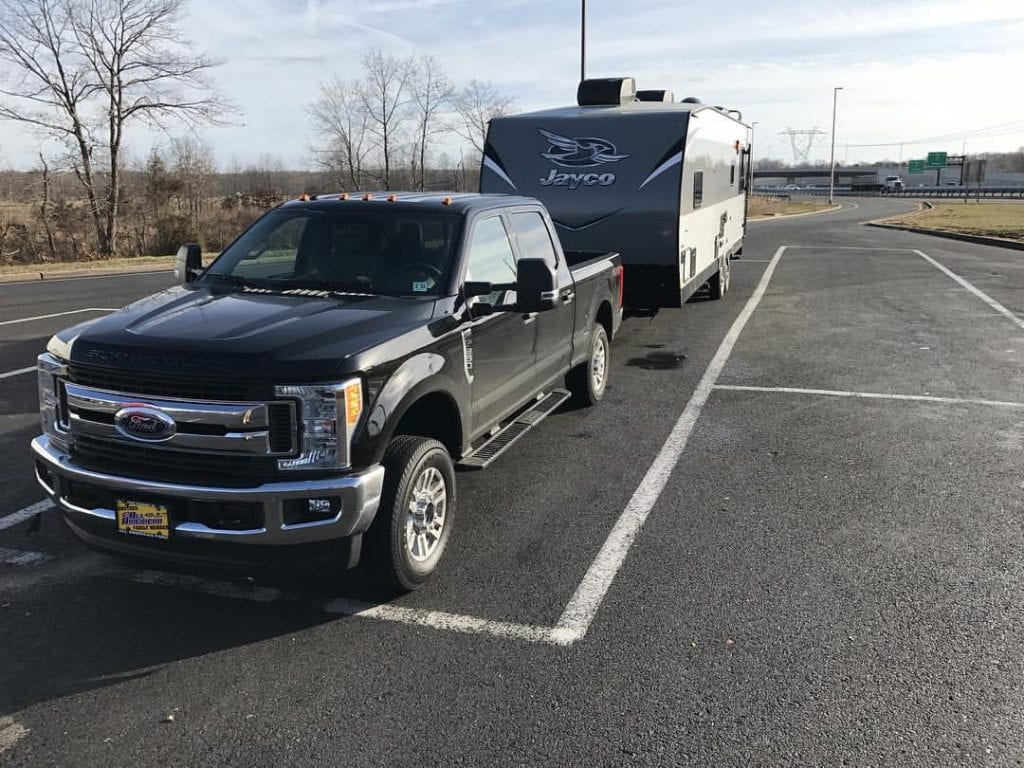 Every single RVer has a different zone of perfection when it comes to the size of their RV. We found out quickly that the extra length and width of the toy hauler was a bigger deal than we had thought it would be. This was actually a very useful experience for us, because we now know that those bigger bunkhouses would not suit our style of camping. The White Hawk 29SQB was never too big for us, so we are excited to return to that size travel trailer. We found out that we are not big RV people, and that's a really good thing to know.
We didn't love the extra tongue weight.
Toy haulers are engineered to account for extra weight in the garage when loaded with gear like gold carts and four-wheelers. This means the tongue weight is generally much higher on a toy hauler. We felt that this impacted our towing experience more than we expected.
Jeremy missed the outdoor kitchen.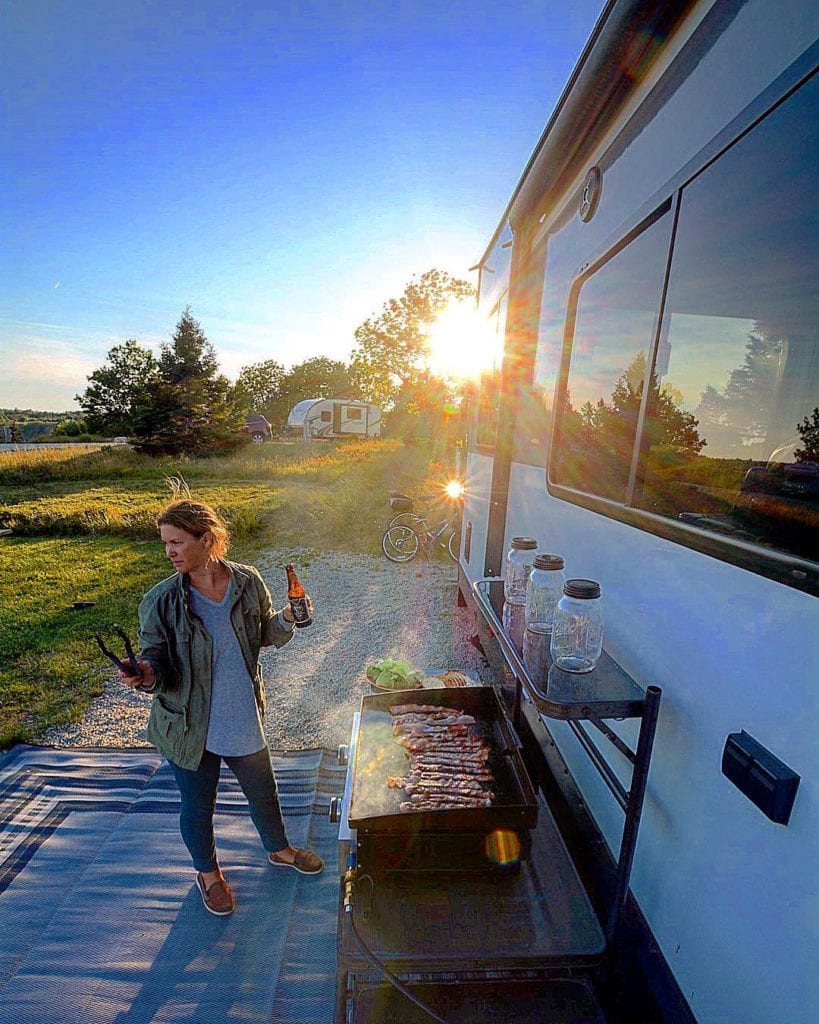 Ironically, in the two years that we owned the toy hauler, Jeremy started cooking for the first time in his life. He embraced the art of griddling and grilling, and felt really jealous of our friends' outdoor kitchens. All of the sudden something he never cared about with the White Hawk seemed more attractive. We had a great camp kitchen that we loved, but he's been jonesing for an RV one for a bit of time now.
So, we really weren't in the market for a new RV at all. While we had a learning curve with the size of Buck the Toy Hauler, we had grown comfortable managing the campsite reservations and gas stops. However, a new kid on the block (aka the Eagle HT 264BHOK) kept showing up at all of these RV events and tempting us with this really unique combination of travel trailer and toy hauler features. After three amazing camping seasons with our Jayco Octane 272, we decided we were ready to try something else.
Goodbye Buck. We created some amazing memories with you.
Hello Benny. We are always up for a new adventure in this family.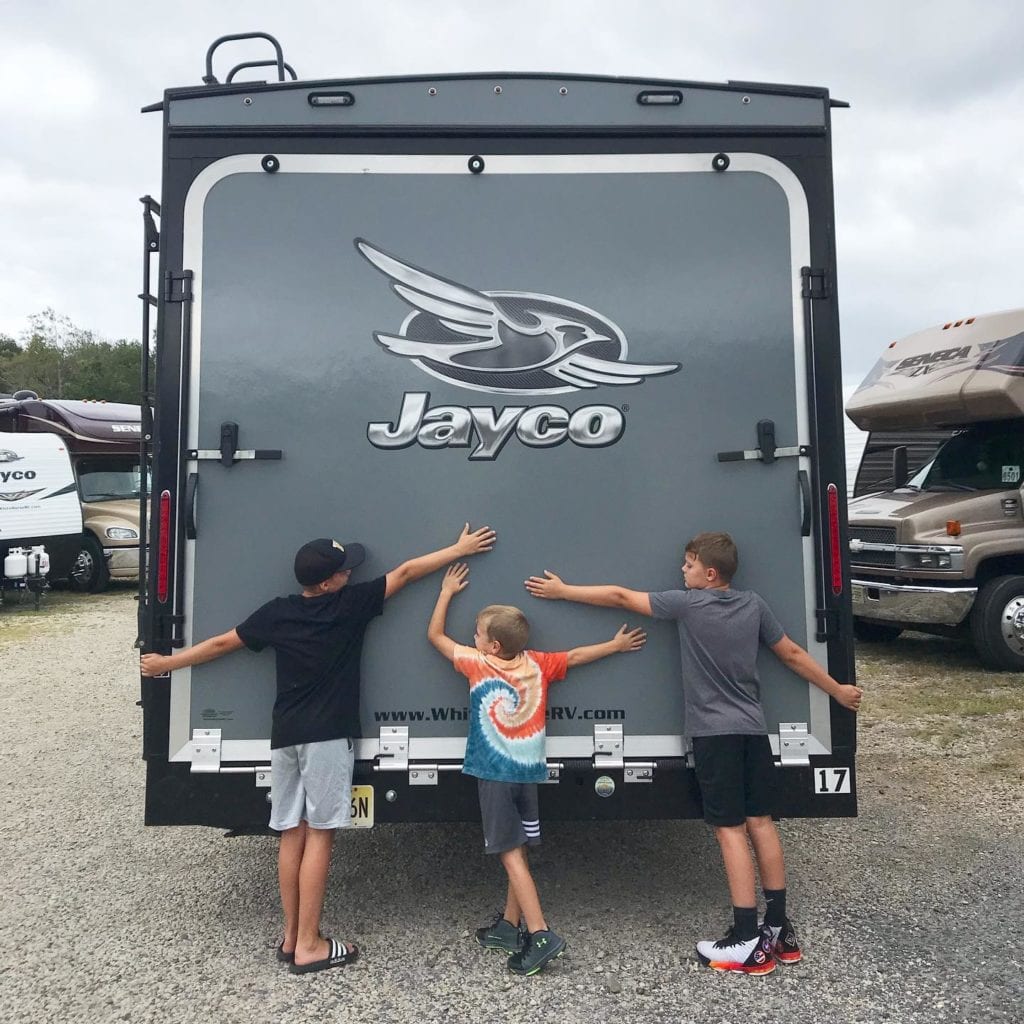 See you at the Campground,
Stephanie + Jeremy
Podcast: Play in new window | Download