Okay, okay, so we ended up with a brand new Jayco Eagle HT 264BHOK even though we weren't shopping for a new RV.
And now everyone wants to know WHY???!!!! So here's the whole scoop.
First of all, we really loved a lot of things about our Octane 272 toy hauler. We knew it wasn't our 'forever' RV simply because we had learned it was a bit too big for our style of camping. The plan was to eventually look for something smaller. Like maybe a few years down the road.
But then the Jayco Eagle HT 264BHOK kept showing up in our lives.
It's a hazard of our job that we are around new RVs all the time. We give seminars at RV shows, cover RV industry events, and test new RVs for Trailer Life Magazine. We are used to appreciating the bells and whistles on new RVs and then happily returning to our well-used family rig.
However, the Eagle HT 264BHOK was a different story. In short, it combined the features we loved in our toy hauler with the features we missed in our previous travel trailer. Plus, it added roughly a million little perfect design features that apparently we couldn't live without. After touring this model at Open House 2018, RVX 2019, and Jayco Homecoming 2019, we were certain it was perfect for the next chapter of our RV adventures.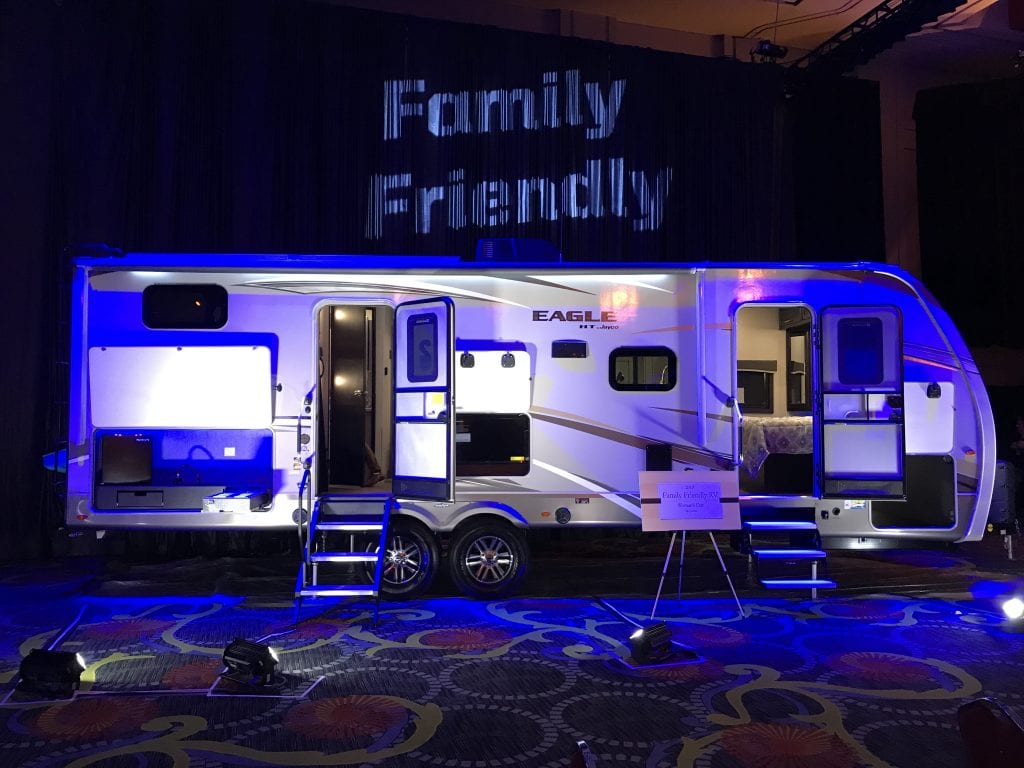 You can listen to us chat about all the features that caught our eyes and stole our hearts by finding this episode of The RV Atlas in your favorite podcast app. Or you can just click on the play button at the top of this article. You might want to listen to this episode first, which explains why we decided to trade in our Octane toy hauler. 
Why We Fell in Love with the Jayco Eagle HT 264BHOK
The Length and Width
The Eagle HT 264BHOK is 32′ 10″ long and 96″ wide. We previously had a travel trailer that was 32′ 11″ and know that is a great length for our family. It gives us the interior space we need as a family of five while still fitting into most state and national park campgrounds. The Octane was longer and wider (102″) and we quickly learned that wasn't a good fit for our camping and traveling style.
The Weight
Coming in under 8,000 pounds, this trailer could easily be towed with our current F250 gas truck. It also has a great amount of cargo carrying capacity which is important for a family with bikes, kayaks, and SUPs. In addition, we feel that the lighter tongue weight will lend to a smoother towing experience than the toy hauler.
Solar Package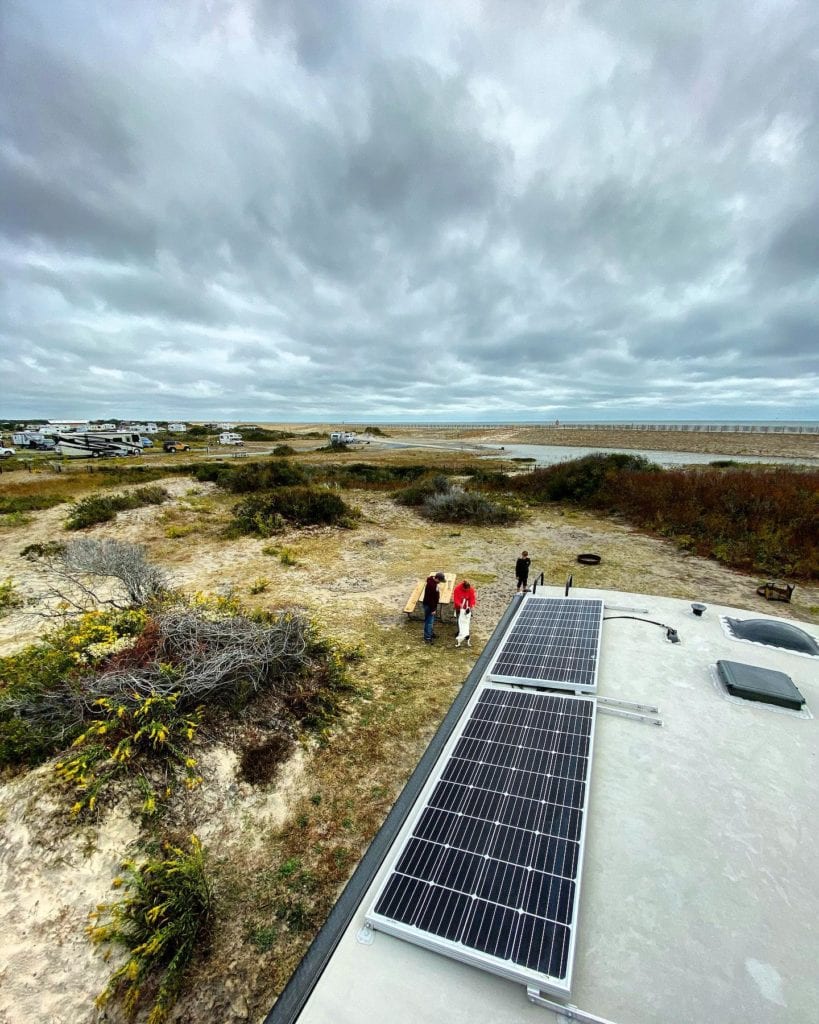 One of our very favorite modifications on the Octane was a generous solar power system and we would never want to give that up. The Eagle HT 264BHOK comes with rooftop solar prep and solar on the side prep. We have two 190 watt rooftop solar panels, four batteries, and an inverter. It's not as powerful a system as we had on the Octane, but it's enough to keep us comfortable while dry camping.
Generator Prep
This was quite an attractive feature for us. We've never owned or used a generator before, but we were open to the benefits combined with a nice solar package. The Eagle HT 264BHOK actually has a spot designed for an onboard generator. We are rocking the Onan LP generator, and are pretty stinking excited about it.
Tank Size
Many travel trailers do no have large tanks. We loved the huge tanks in our Octane and how they made dry camping such a comfortable experience. There's no way we could have gone back to a smaller tank size. The Eagle HT 264BHOK comes through with a 43 gallon fresh water tank, 32.5 gallon black water tank, and two grey water tanks with a combined capacity of 73.5 gallons. This was a really big deal for us when deciding to purchase this rig.
Tires
We had upgraded to the Goodyear Endurance tires on the Octane, and were happy that the Eagle came standard with these.
Mini Toy Hauler Door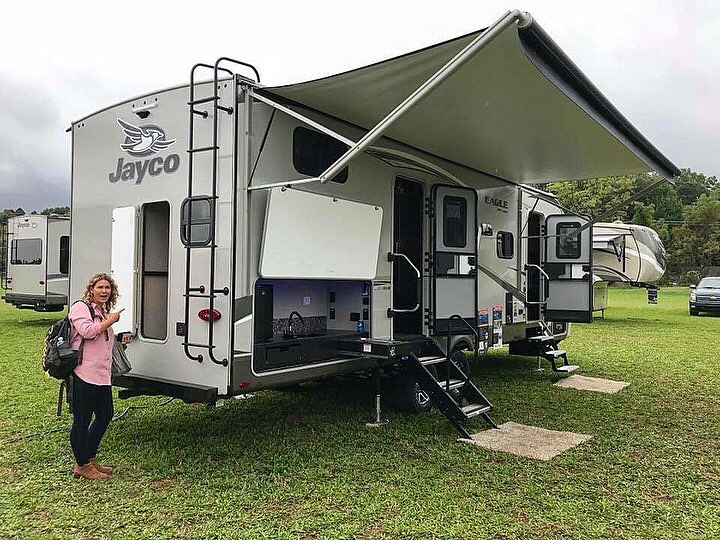 Carrying gear is a big deal for us. This toy hauler for will allow us to bring along our kayaks and SUPs without buying additional racks. We will add on a rack for our bikes on the rear of the rig.
Master Bedroom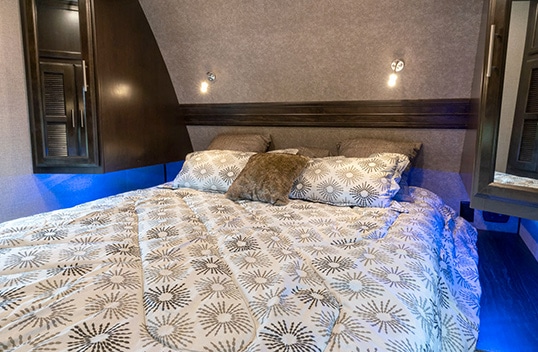 This is a huge upgrade for us with an additional wardrobe, USB ports on both sides of the bed, and reading lights. We are going to order a king-sized bed which will fit in the bed frame. This is going to be positively dreamy.
Kitchen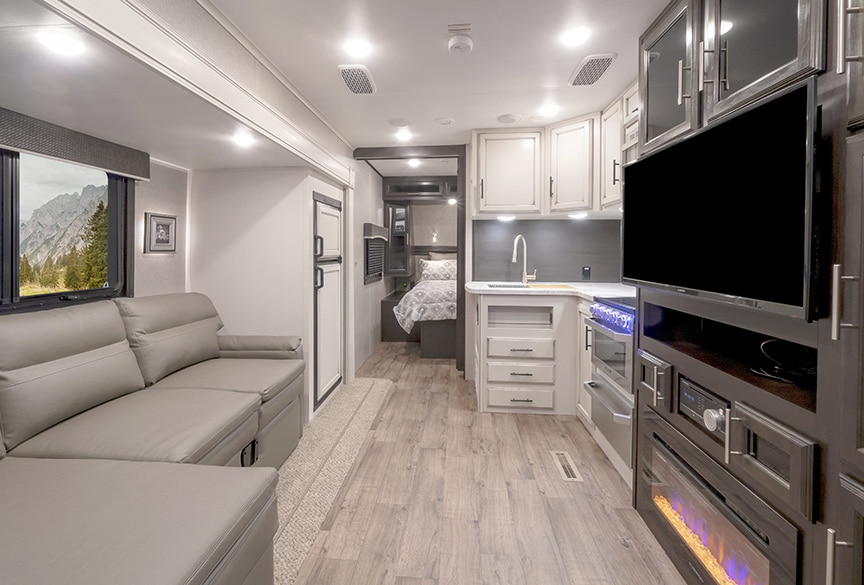 The kitchen has a ridiculous amount of counter space and storage with more drawers and cabinets than we know what to do with. After roughing it in the toy hauler with a small kitchen, we feel like this will be a luxurious experience.
Living Space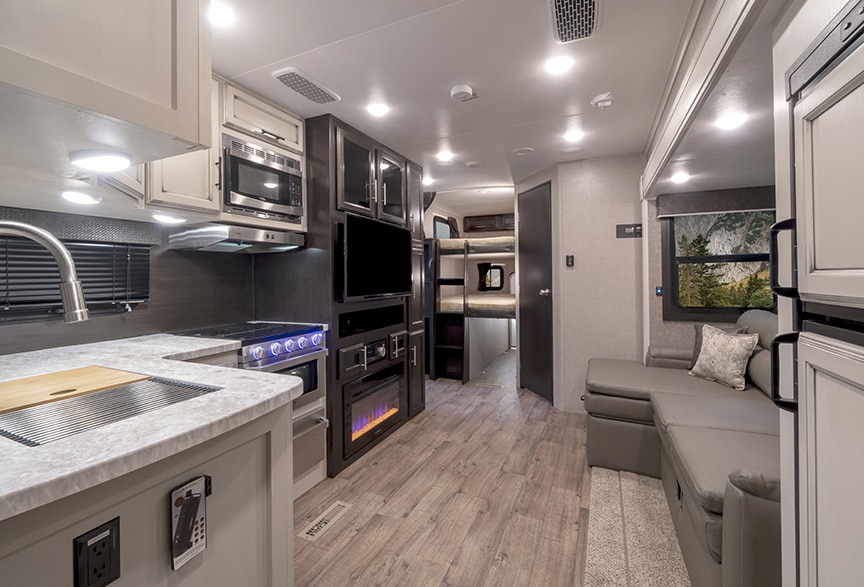 We ditched the dinette in the toy hauler and never looked back, so we loved the option to have a chase lounge in the main living area. We'll add extra chairs and foldable tables to make the space flexible and easily transformed for different purposes. We are, quite frankly, thrilled to have an electric fireplace and large television. No, we're not roughing it. (Sorry/Not sorry)
Outdoor Kitchen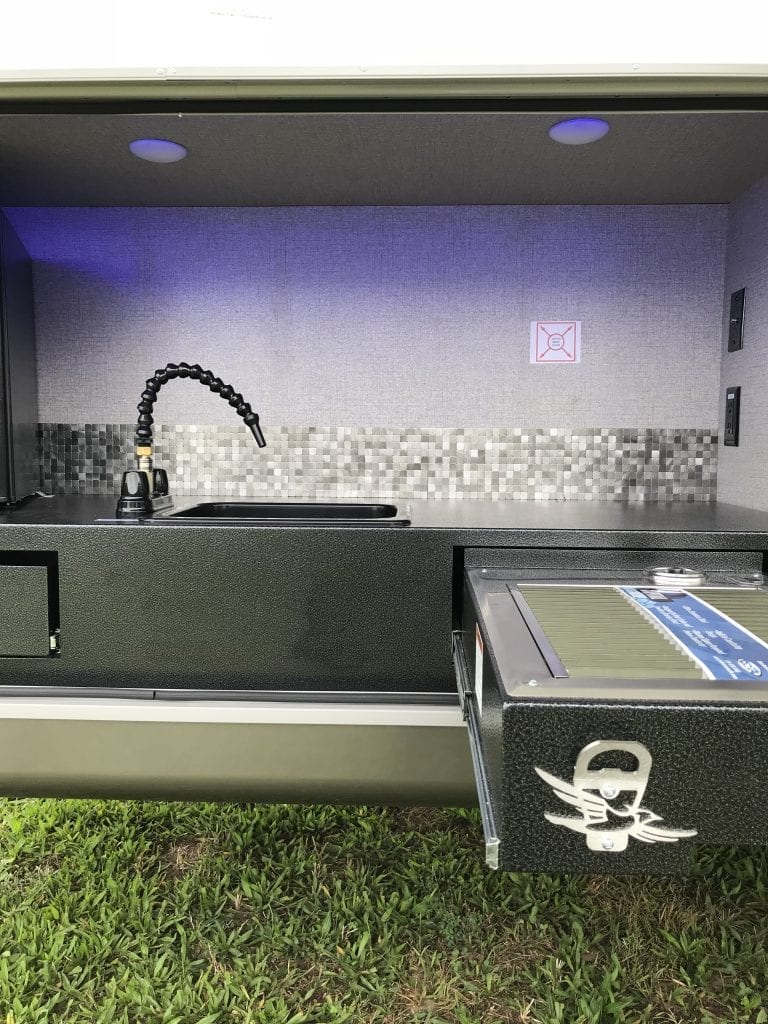 Jeremy really missed having an outdoor kitchen with the Octane and this was a huge selling point for him. There's a 110V fridge, cabinet storage, and sink with separate grey tank. It also came with an RVQ, but you know how we feel about them.
Outdoor Television
Calm down, people. We know this is a controversial topic, but we are super excited to have an outdoor 12-volt Furrion television with bluetooth sound bar. We think the kids will all love outdoor movie night, and the tailgating possibilities are endless…
The Luxury
All in all, the Eagle HT 264BHOK is way fancier than any RV we have ever owned. And you know what? We are excited to enjoy all the upgraded features. We spend a lot of time in our family RV, and look forward to appreciating all the fancy touches that we've never enjoyed before.
We'll be talking about some modifications and upgrades in future podcasts and blog posts, so stay tuned. We'll also be talking about our very first camping experience and how the Eagle performed. You can check that out here.
You can see our walkthrough of this trailer back in March 2019 when we had no idea that we were going to own that very trailer in the near future…
And if you are interested in more info on the model, this walkthrough is very thorough…
See you at the campground,
Stephanie + Jeremy
Podcast: Play in new window | Download