We've been interested in RV solar power since we bought our first travel trailer. The idea of enjoying all the creature comforts of the RV without being plugged into shore power is a pretty sweet concept.
But every time we started to do a little research, we gave up pretty quickly.
Why?
Because it seemed so darn complicated. And, to be honest, most of the experts seemed more interested in sounding smart than in helping us understand what we needed to power our RV using the sun's energy.
And we get it. The topic is complicated. It's hard to say exactly what you need as a solar set up when everyone's power usage differs so dramatically. There are other variables as well. Your geographic location, RV appliances, and weather are all going to play a huge role.
We needed someone who would listen to our basic RVing habits and recommend a suitable solar set up. Luckily we found Mark Spilsbury from Go Power.
Mark was excellent at answering the most basic solar questions without making us feel like big dummies. He walked us through choosing our panels, batteries, and an inverter that would leave a little room for growth if we needed it in the future.
So we invited Mark onto the podcast to do the same for you.
In this podcast episode, we don't think any solar question is too basic. We start at the beginning, and ask Mark to explain things in the simplest terms possible…even though he's super, duper smart. You'll have to listen to the show for all of Mark's detailed answers, but here's a general outline of the topics we covered. You'll also find links to the solar products mentioned in the show.
Segment One: RV Solar Basics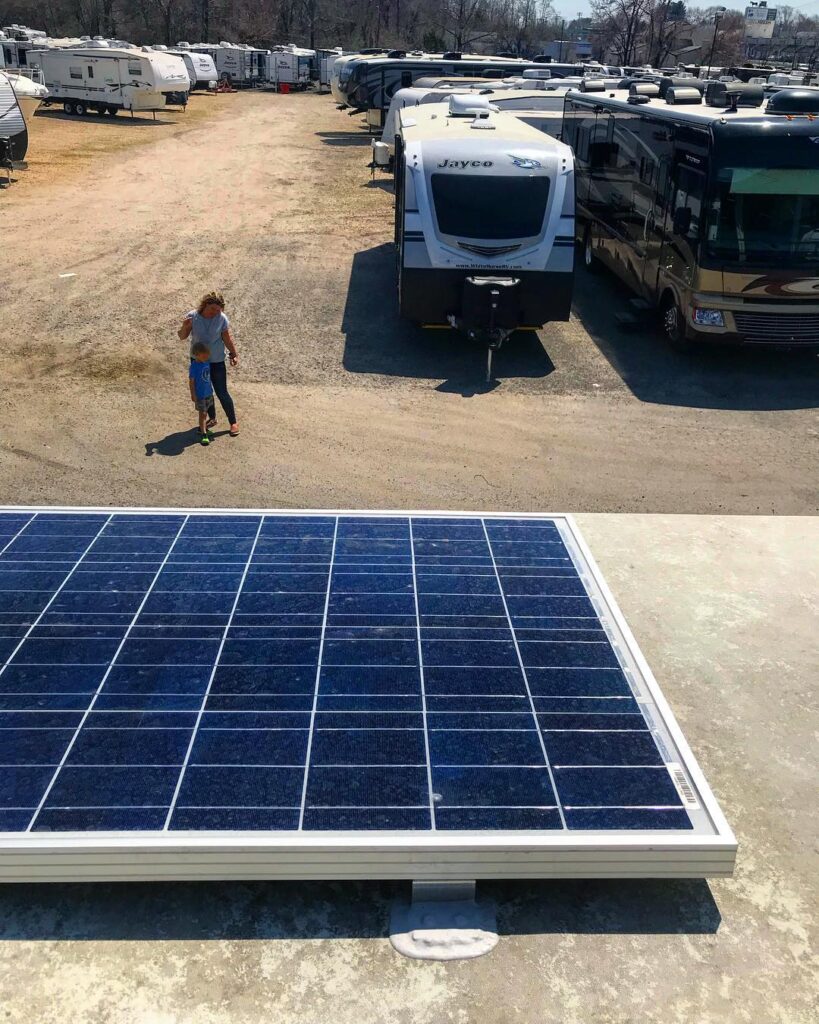 There is a ton of interest in RV solar power right now, but the reality is that most of us don't really know what it entails to install a solar power system on an RV. In the first segment of this episode, we start with the basics.
What are the necessary components of a RV solar power set up?

What's the important terminology that we need to understand (watts, amps, voltage, etc.)?
What's the 'range' of solar power systems out there?
Mark walks us through solar panels, batteries, and inverters. He also explains why the solar panels are in measured in watts and then everyone talks about how many amps you need to power your RV. (This has been a particular pet peeve of ours since trying to figure all this stuff out).
Turns out, the basic solar system is not too complicated. First you figure out what solar panel configuration will get you the energy collection capacity you need. Then you figure out how many batteries you need to hold all that energy from the sun. Lastly, you choose the inverter that's big enough to move that energy from the batteries to the appliances in your RV.
Simple enough, right?
Segment Two: Sizing Your Personal RV Solar Kit
When we first starting looking at solar power systems, the range of options really overwhelmed us. There were single panel systems that just sat on the ground next to your RV. And then there were solar roof panels that tilted and rotated along with the sun's movement.
In this segment of the podcast, Mark gets pretty specific about some of the 'typical' energy usage models and how to size a solar kit for your own RV adventures. He basically walks us through three models.
First there's the couple that just wants to use their 12-volt power to keep the lights on. The Overlander Kit is a good example of this, including a 170-watt solar panel and a 30-amp PWM Solar Controller.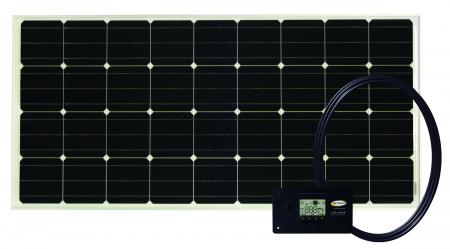 Next, we took a step up and considered a system that would work for folks who wanted to run the microwave or convection oven even while boondocking. Adding an inverter allows you to run your 120-volt electronics off your 12-volt battery. Mark has some really important tips for picking the right inverter, so make sure you listen to the episode to hear all the advice.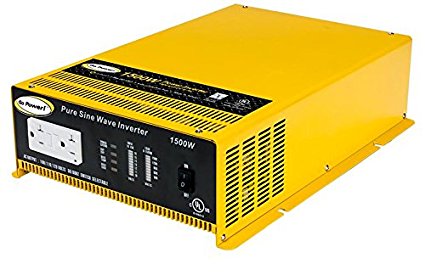 The third level is adding an inverter charger. This type of inverter allows your batteries to be charged off of shore power, and transfers between solar and shore power without any involvement on your part! One of the best parts about having an inverter charger is that you can use a pretty small generator to quickly fill up your house batteries if many days of cloudy weather or a lot of usage has them drained.
Segment Three: RV Solar FAQs
We know folks have a lot of questions when it comes to researching an RV solar kit. In the last segment of the podcast, Mark answers our most burning ones.
We start off with the installation. If you look around on the internet and YouTube, it seems like everyone is installing their own solar systems, right? We wondered if it's reasonable for the average RVer with no electrical experience to do the install themselves. Mark explains in detail the trickiest issues. He also suggests situations where people may want to get a dealer to do the installation for them.
Our next question was about maintenance. This might have been the best news that we heard about RV solar. We were truly shocked at how little maintenance we will have to do to keep our solar system in top operating condition. We love that we don't have to remove the gel batteries in the winter or worry about water levels. And as far as the panels go, making sure they are clear of leaves seems simple enough.
RV Solar Wrap Up
Our first conversation with Mark months ago helped us feel confident and excited about outfitting our rig with a solar kit. We truly hope it does the same for you. If you have any questions after listening to the episode, please ask in the comments below and we will happily try to answer…with a little help from our friend.
Our solar journey is just getting started, and we are excited to share the experience with all of you. We just got our solar outfitted RV back from the dealer, so we'll be sharing our learning curve as we go. Stay tuned!
Other Resources Mentioned in this Episode…
We just launched an RVFTA merchandise shop that will be open for the next two weeks! Head on over and check out our selection of t-shirts, hoodies, keychains, personalized camp flags, and mugs. You guys have been asking for this, so here's your chance!!!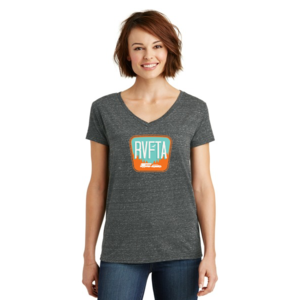 And we inducted another great item into the RVFTA Gear Guide Hall of Fame. We love our Cabela's Deluxe Campers Kitchen, which was originally recommended to us by the fabulous Kate Dunbar. You can check out all of her camp kitchen gear here. If you don't have an outdoor kitchen on your RV, this is for you!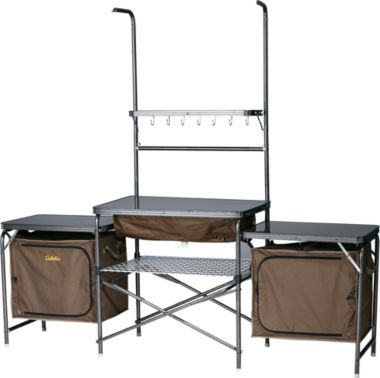 See you at the campground!
Stephanie + Jeremy
Podcast: Play in new window | Download