The camping grills that come with most RV's (aka RVQ'S) are an abomination. They are cheaply made, heat unevenly, and often have grates that bend and warp with the weight of that first steak. I will never forget hearing Stephanie complain about how uneven the heat was on our first RVQ. So five or six years ago, when she threw out that RVQ and upgraded to a Weber Q1200 it seemed like a major event in our camping lives.
I wasn't paying much attention to food preparation back then, but now I'm a grilling and griddling addict. That Weber Q1200 still works just fine–and sometimes I think it will last forever. But I have bought "a few" other grills and griddles since then and Stephanie and I have both tested them extensively over the past few years. We own 7 of the 8 grills and griddles that are reviewed in this post–and we love each of them for different reasons. The 8th grill that we recommend is an iconic legend in its own right and we feel comfortable recommending it even though we have never owned one. 
The internet is filled with long lists of the best camping grills that are written by folks that have never actually used them. But here at the RV Atlas we torture test each piece of gear before we would even consider recommending it. If you are looking to THROW OUT THAT RVQ then look no further.  We've got the goods. Whether you like to grill or griddle, or prefer gas or charcoal, here are 8 great options that will make you a zen master at your next campground cookout.
Bonus: At the end of this post we also recommend three grill stands for camping grills and griddles–at least one of them will work for every grill and griddle in this roundup.
To listen to Jeremy and Stephanie discuss each of these grills and griddles on The RV Atlas podcast please click on the media player above. Or you can subscribe in your favorite podcast app like Apple Podcasts, Google Podcasts, Spotify, and Stitcher.
Portable Gas Camping Grills 
Cabela's Stainless Steel Tabletop Propane Grill ($99.99)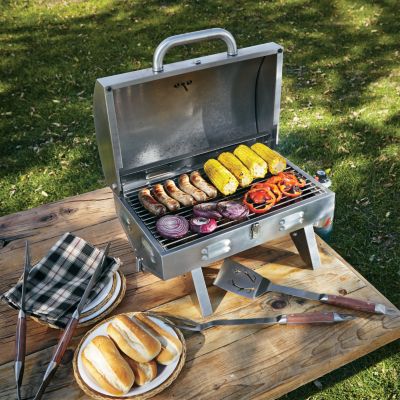 If your budget for a new camping grill is at or around 100 dollars, then look no further than the Cabela's Stainless Steel Tabletop Propane Grill. This sturdy grill has a 222 inch cooking area and a U-shaped 12,000 BTU stainless steel burner that will heat your food evenly. The large and sturdy grab handle also makes this budget friendly grill easy to carry. Stephanie never cusses when she uses this one!
Weber Q 1200 ($209.00)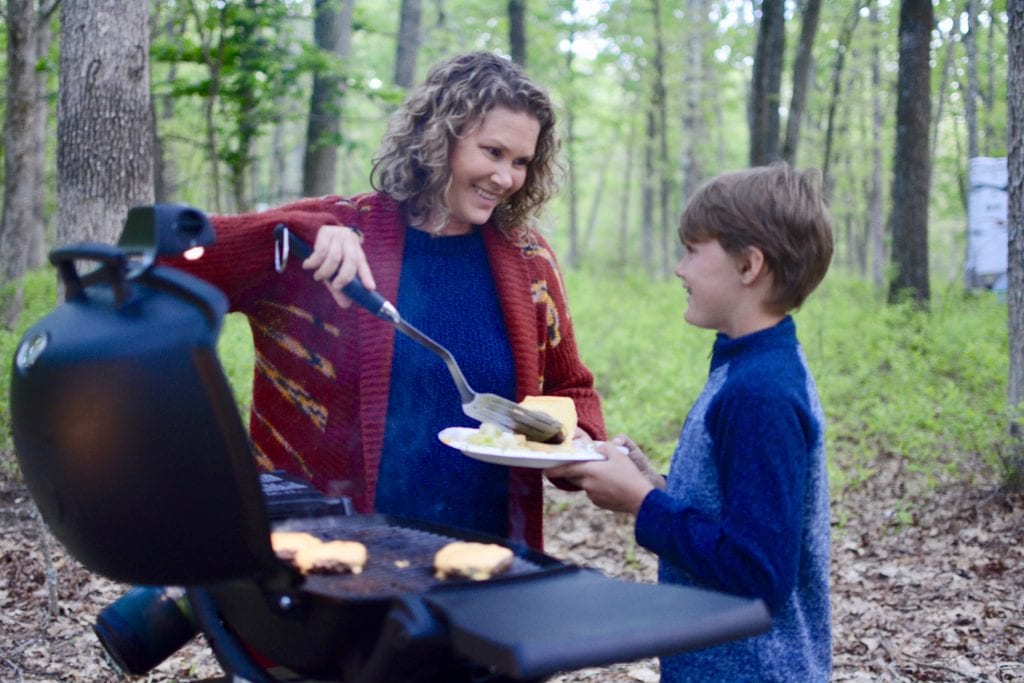 The Weber Q series is legendary among campground cooks. Why? Because the build quality and design approach perfection. The porcelain-enameled, cast iron cooking grates are the star of the show. You will get perfect grill marks every time, and unlike other camping grills these grates will last for many years. Our first Weber Q is about 5 years old and the grates still look brand new. These grates are also incredibly easy to remove and clean. The 189 inches of cook space on the Weber Q 1200 make this perfect for a family of up to four. We also love the wide variety of color options that will pop on your picnic table.
Weber Q2200 ($269.00)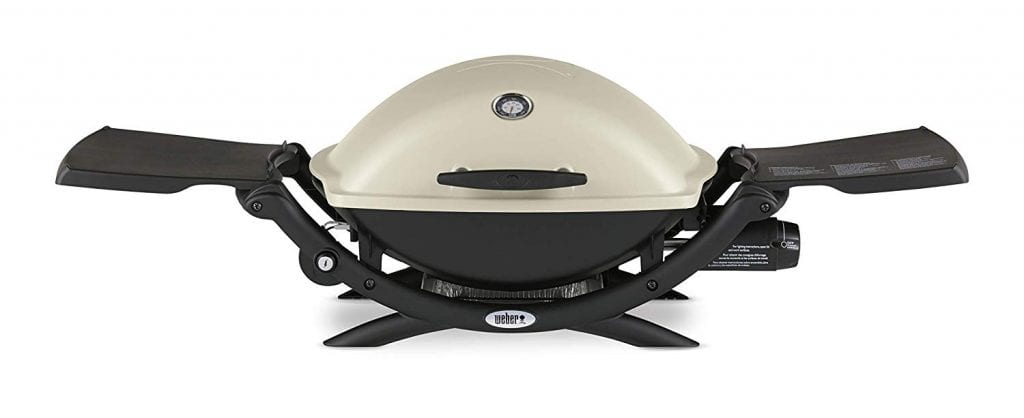 The Weber Q2200 is the 1200's big brother. It only comes in one color, but its 280 square inches of cooking space make this bad boy the perfect choice for larger families or those who love to cook for friends. Everything that we love about the Q 1200 is present here, including the electric ignition and easy to use removable catch pan.
Portable Gas Camping Griddles
Blackstone 17 inch ($74 to $99)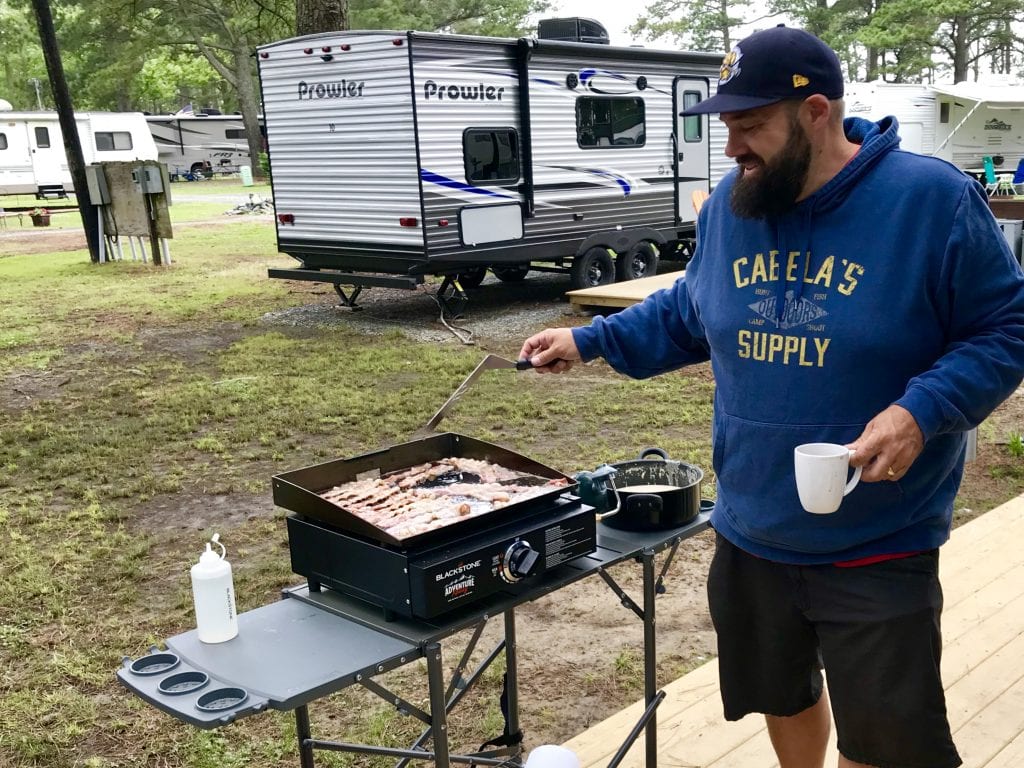 The Blackstone 17 inch portable griddle has been one of the hottest RV and camping accessories for the past 2 summers. The combination of the 12,000 BTU H-Style Burner and the Cold Rolled Steel Griddle Top delivers even heat on every inch of cooking space. The 17 inch is a breakfast bad boy, but can also be used for lunch and dinner. We recommend the 17 inch for three people or less. If you have four or more in your camping party we recommend that you step up to the Blackstone 22 inch. Both are now available with Blackstone's legendary integrated grease management system.
Use coupon code RVFTA at checkout to receive 10 percent off of any purchase on Blackstone's website!
Blackstone 22 inch ($129.99)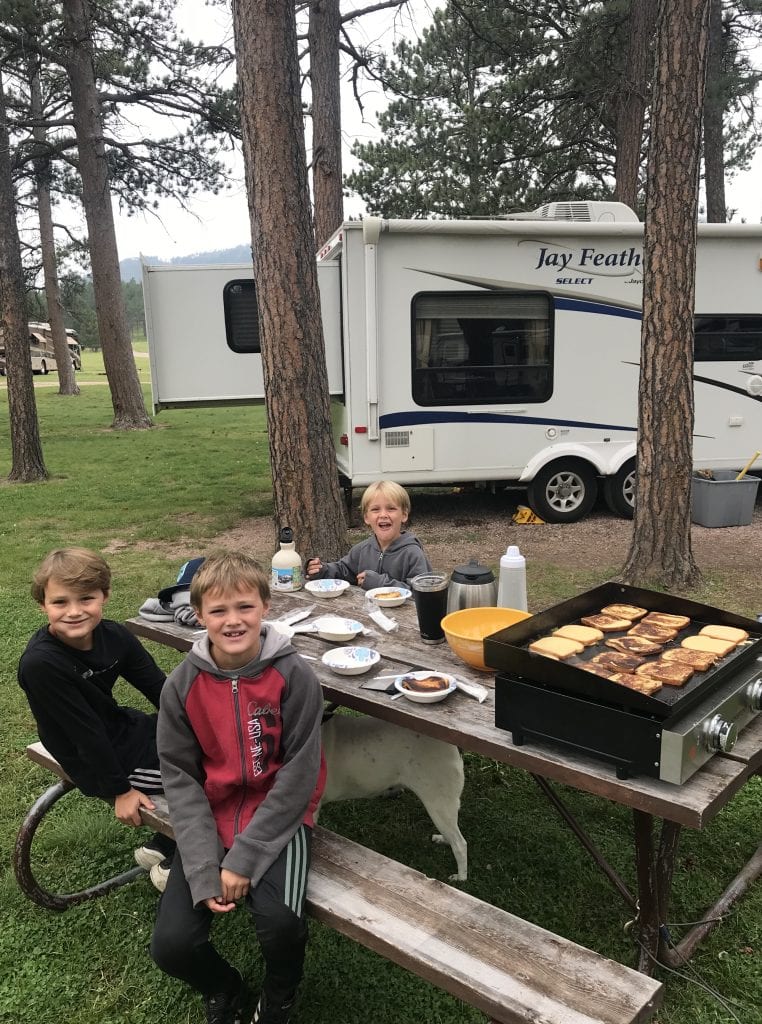 The Blackstone 22 inch portable griddle is the 17 inch griddle's big brother. With two burners and 339 square inches of cooking surface (as compared to the 17's single burner and 268 square inches) we think the 17 has good reason to be jealous. The two burner setup allows for direct and indirect cooking, or simply a space to keep food warm while you finish up.
To listen or read about making the Perfect Smash Burger on your Blackstone Griddle click here! 
Use coupon code RVFTA at checkout to receive 10 percent off of any purchase on Blackstone's website!
Watch Jeremy walk through Blackstone's Griddle lineup and help you pick the right one for your family!
Portable Charcoal Camping Grills
Weber Smoky Joe ($34.99)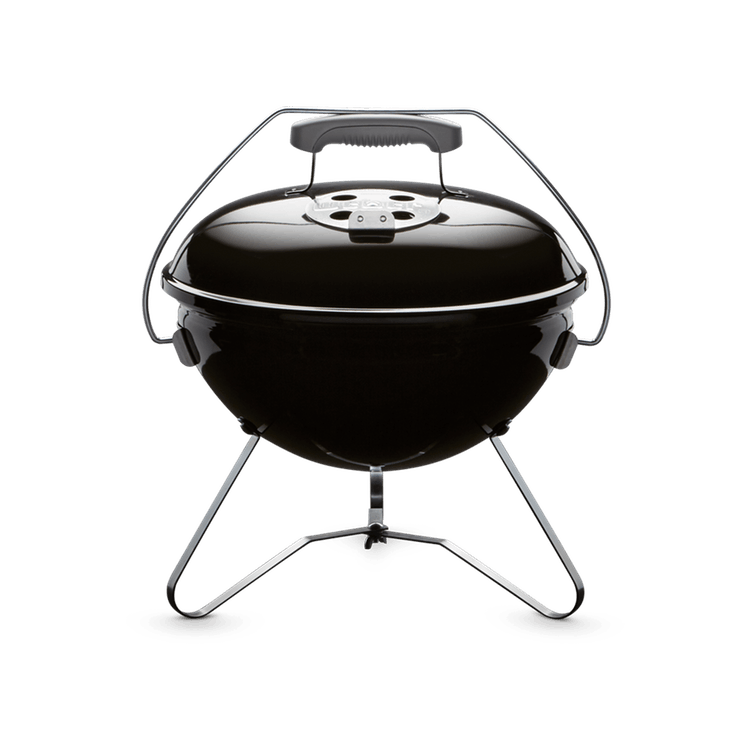 This is the only grill on our list that we have not personally used and tested. But the Smoky Joe is a campground legend for those who love charcoal and we would be doing our readers and podcast listeners a disservice if we didn't mention it. The only reason we don't own this grill personally is because its 14 inch grill grates and 147 square inches of cook space are just not big enough for our family of five. We also do own the Smoky Joe's big brother–but wait a second for that one. The build quality on the Smoky Joe is off the hook considering its low, low price point. A porcelain-enameled bowl and lid and Weber's legendary design for less than 35 bucks? If you are camping solo or with a partner you should definitely consider bringing this Joe along for the ride.
Weber Jumbo Joe  ($69.99)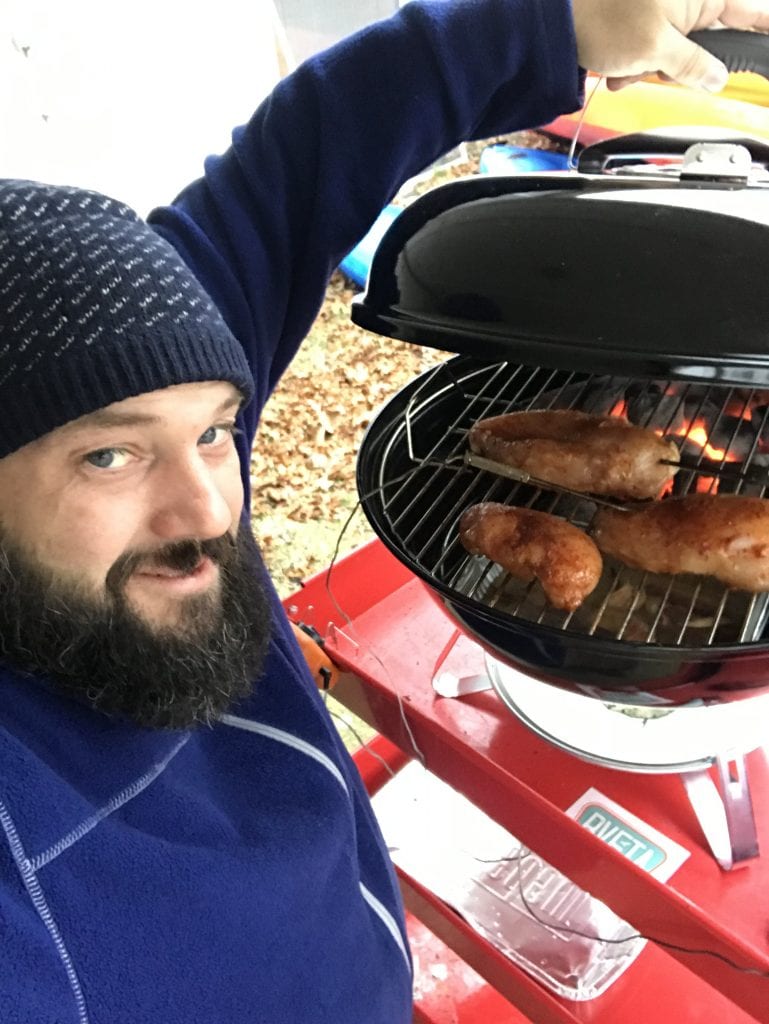 If your camping crew consists of three or more food lovers who dig the taste of grilled food over charcoal, then look no further then Weber's Jumbo Joe. This bad boy has 18 inch grill grates and 240 square inches of cooking space. No one will go hungry if you bring this Joe along for the ride. And by the way, there is no better way to grill chicken than over charcoal on a Weber Grill. If you don't believe me you'll just have to try it for yourself some day. Please invite me over if you do. I'll even bring the charcoal! And the chicken!
Char-Griller Akorn Jr. ($158.00)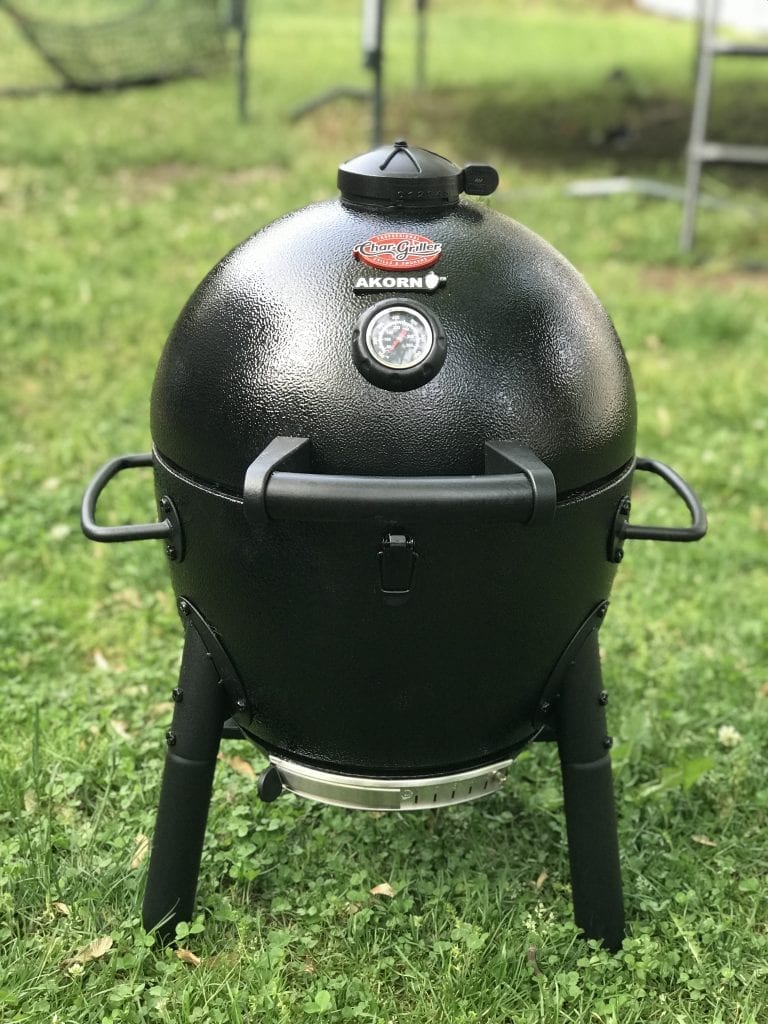 If you are a real camp cooking aficionado then buying a grill might not be enough. What if you want to go LOW AND SLOW on some tasty ribs or a delicious brisket? If you want a legitimate and portable grill that also doubles as a smoker than look no further than the Chargrilled Akorn Jr.  With 153 square inches of cooking space this handsome little devil will probably work best for those traveling solo or with a single hungry partner. Just save me single rib, will ya? And don't forget to buy the smoking stone–or this portable powerhouse is just a grill.
Portable Grill Carts and Tables
Cuisinart Take Along Grill Stand ($81.99)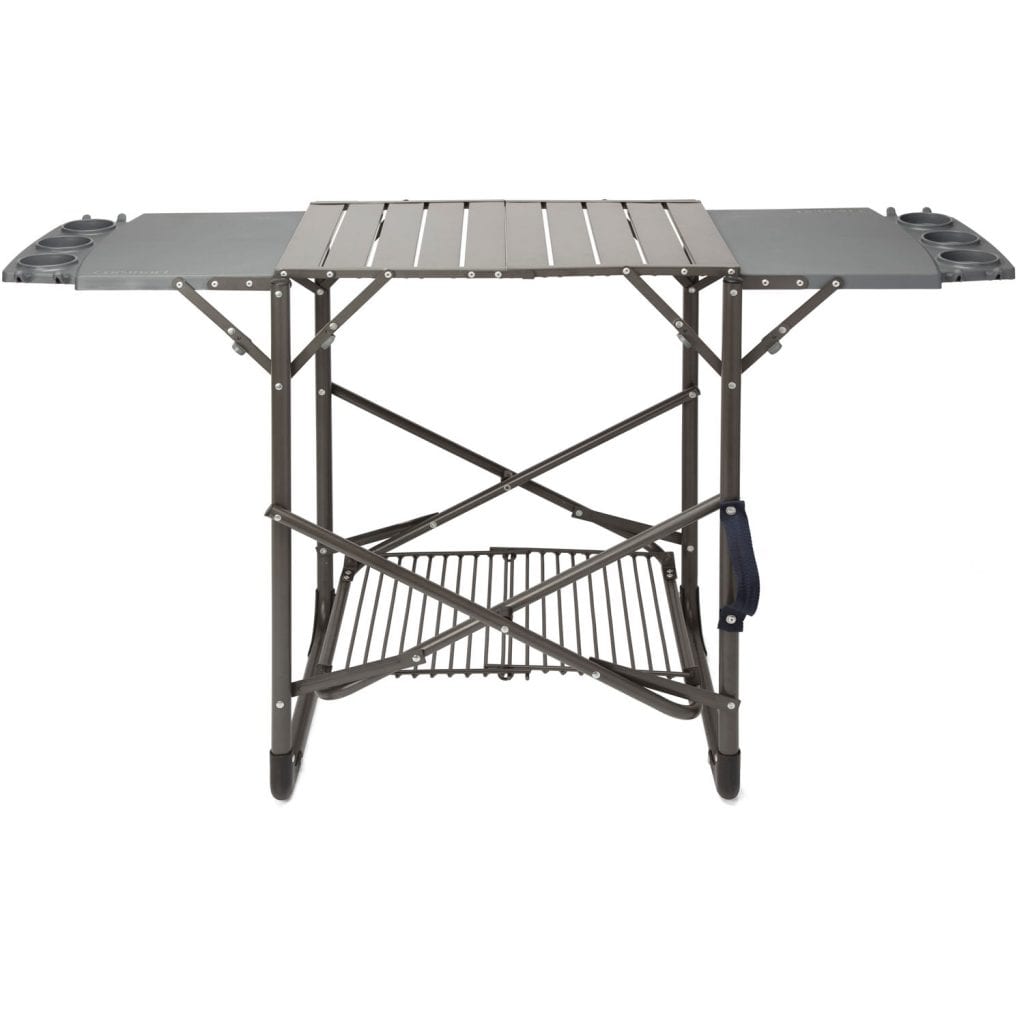 If, or rather when, you THROW OUT THAT RVQ, you are gonna need a stand for your shiny new grill or griddle. This "Take Along Grill Stand" by Cuisinart will work for any of the grills or griddles in this post. We love the portability of this stand and it is easy to open and close. The side tables are spacious and the bottom rack can fit a small cooler or a bag of charcoal. We also LOVE LOVE LOVE the 8 nifty grill hooks and 6 cup holders on the side tables. When it comes to grill tables this one is the star of the show. To see a picture of Jeremy using this stand check out the picture below the Blackstone 17 inch above.
Weber Portable Cart for Q1200 and Q2200 ($79.99)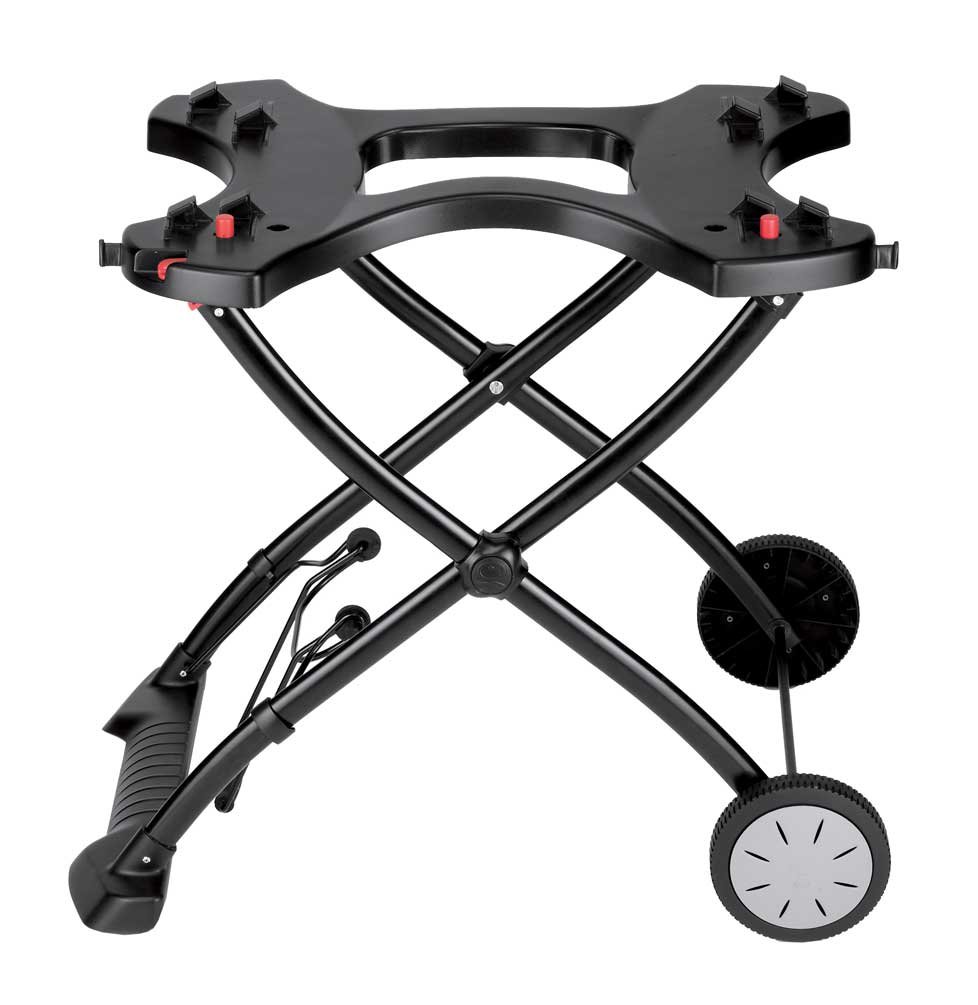 If you want a dedicated spot for your Weber Q 1200 or 2200 than look no further than this portable cart. It works for both grills and it locks them into place using the black tabs pictured above. The cart itself does not have side tables, but the Q 1200 and Q 2200 come with their own.  This cart also has tool hooks and is easily packed up and stored.
Blackstone Portable Table for 17" and 22" Griddles ($99.95)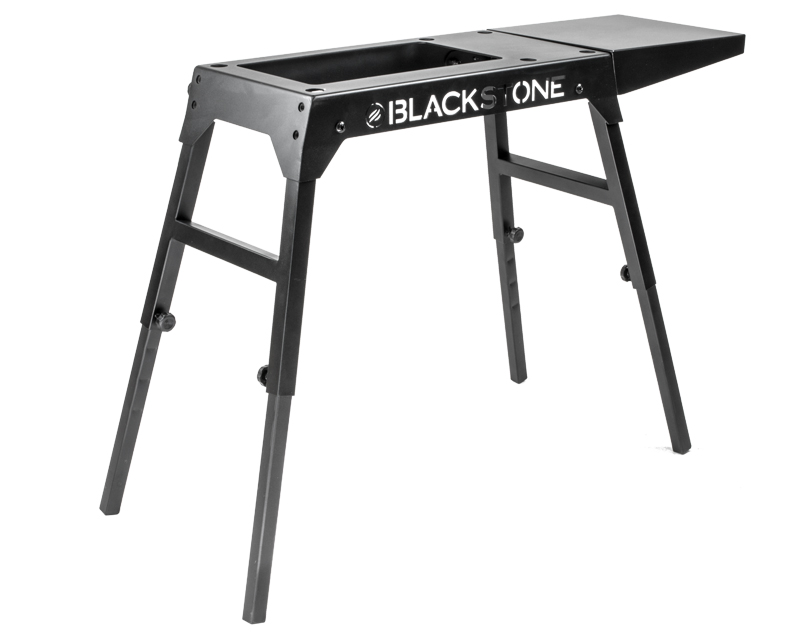 The Blackstone Portable Table for the 17 and 22 inch griddles packs up easily and locks both griddles neatly and securely into place. The extendable legs are height adjustable and the side table provides a moderate amount of prep space. This table is also stylish and includes a cutout Blackstone logo that will perfectly compliment your griddle. Built quality is also incredibly sturdy.
Remember to use coupon code RVFTA for 10 percent off anything on Blackstone's site.
Let us know which grill or griddle you decide to buy to replace your dreaded RVQ! Drop a comment below and feel free to ask us any questions about these 8 great camping grills and griddles!
See you at the campground!!!
-Jeremy
Podcast: Play in new window | Download