We enjoyed a sneak peak of the Jayco 2020 lineup of towable and motorized RVs last week at Homecoming, the annual dealer-only event where Jayco unveils all the new model changes for the upcoming year.
And, boy, was there A LOT to notice this year.
From exteriors to interiors to new floor plans and options, it's a very big year for Jayco RVs. We saw the attention to consumer feedback in both design and technology, and here are the big changes that really stood out…
You can listen to us talk more about all of these changes by clicking on the play arrow at the top of this article. Or just search for The RV Atlas in your favorite podcast app like Apple Podcasts, Stitcher, Google Podcasts. You can also ask Alexa to play The RV Atlas if you happen to have your hands full at the moment ? 
Exterior Graphics and Color Palettes on the Jayco 2020 RVs
People have been asking for cleaner, simpler exterior designs for a few years now. You've probably heard folks complain about all the swooshes and swirls that seem to populate most RVs. This year we noticed fewer decals, and most had straighter (if not completely straight) lines. The Jay Feather and Jay Flight lines are the most noticeable, and we loved the move to a white, gray, and black color palette. The North Point luxury fifth wheels received a facelift as well, showing off a white exterior color instead of the previous year's tan.
Interior Decor in the Jayco 2020 RVs
While we were happy to see fresh exteriors, the changes in interior design stole the show at the Jayco Homecoming event. Last year, a new design palette named "Modern Farmhouse" was introduced across the Eagle line of travel trailers and fifth wheels. The light, modern interior was wildly popular with consumers and is now being offered across most of the towable and motorized lines. We loved the way it looked in everything from the tiny Hummingbirds to the large and luxurious North Points.
We spent a lot of time touring the newly designed interiors on this Facebook Live, so if you want a sneak peak, take a look…
New Smart Features in the Jayco 2020 RVs
We got our first peak at the new JayCommand technology, which allows folks to controls certain features of their RV from a smartphone or tablet. The system will be particularly welcome for RVers that travel with pets, as the app lets you monitor the RV temperature from afar. JayCommand also controls lights, awning, slide outs, and leveling jacks. Plus you can monitor the tanks and tire pressure. Want to turn on the water heater on the way back from a strenuous hike so a hot shower is waiting? Yeah, you can do that.
The JayCommand is available on the following models: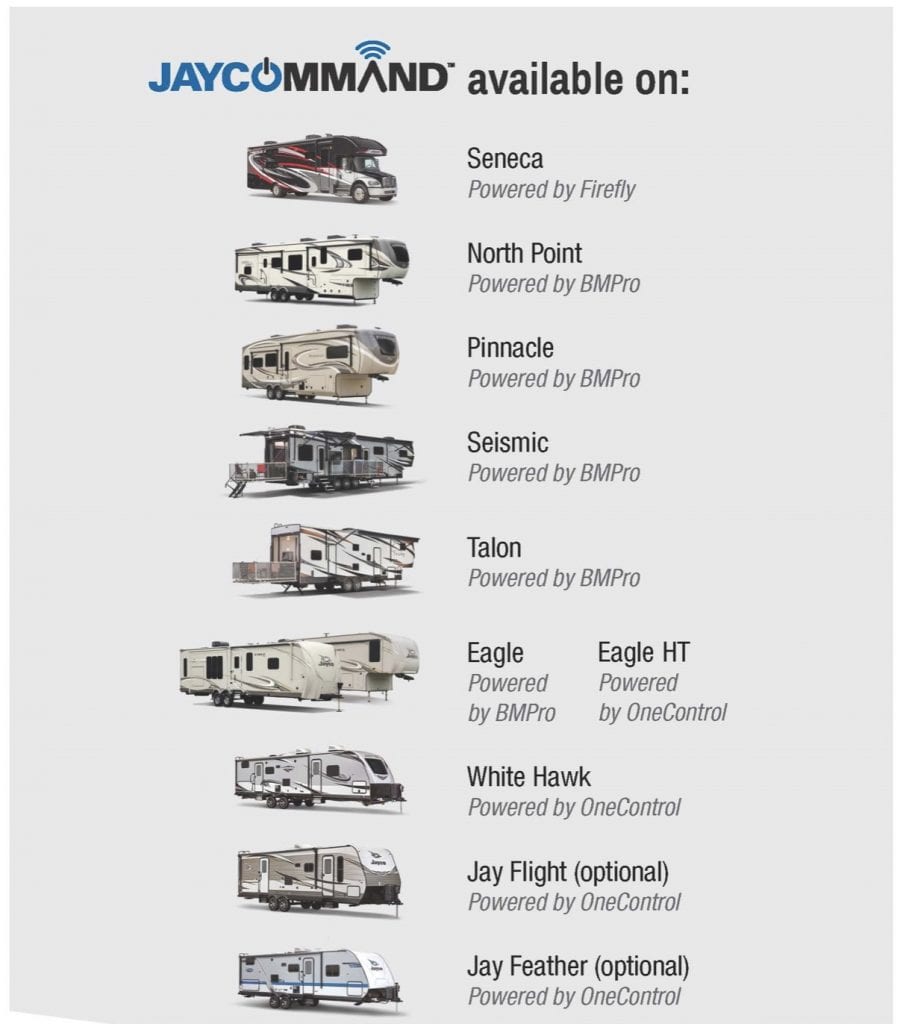 Solar Prep and Solar Options in the Jayco 2020 RVs
At this point, most RVs on the market are prepped for after-market solar add ons. This is a great step forward, but we were thrilled to find out that Jayco will be offering a solar option that can be added at the manufacturer level. This provides a more convenient and more affordable option for consumers. To learn more about solar power options for RVs, download the free Go Power Solar Reference Guide here.
Model Highlights from the Jayco 2020 RV Lineup
We couldn't help but give special attention to a handful of the RVs that really caught our attention at the Jayco Dealer Homecoming. Watch the Facebook Live above to see exterior and interior details of all these models. But here are a few extra images that are paired with our podcast discussion:
Jayco Jay Feather 27BHB
A completely updated interior and exterior, with a classic family-friendly floorpan.
Jayco White Hawk 32RL
A gorgeous option for couples, with a spacious kitchen and main living area that feels more like a fifth wheel.
Jayco Hummingbird 17RB
Tiny but completely functional, this small trailer looks so much bigger with the new Modern Farmhouse interior.
Jayco Seneca 37L
Stephanie's personal pick of the show, this luxurious Super C is both beautiful and practical for a family of five (or more).
Jayco Greyhawk 30Z
The queen bed is on a rear slide, adding extra space in the master bedroom on this model. Modern Farmhouse is on point in this model.
Jayco Alante 31V
The Alante has always been a great entry-level Class A option, but now that it has been refreshed both inside and out, we are completely smitten. Available in Modern Farmhouse, the drop down bed over the cockpit will comfortably sleep one or two little campers.
Jayco North Point 377RLBH
North Point has been on fire for several years now, but we loved the cool, white exterior refresh on the graphics package for 2020. The 377RLBH continues to be one of our favorite floorplans for anyone who works from the road or needs a dedicated office space away from the bedroom and main living area.
We had so much fun touring all the new Jayco 2020 RVs, and hope you enjoy our sneak peak at all the awesome changes. Make sure to tune in to our other two podcast episodes recorded at the Dealer Homecoming in Las Vegas! We talked to second generation Jayco dealer, Dale Tea, from Town & Country RV Center in Ohio. Plus, we chatted with Ryan Eash about the 2020 Class C lineup.
See you at the campground,
Stephanie + Jeremy
Podcast: Play in new window | Download