The 2019 Jayco lineup, both towable and motorized, is the most varied and creative that we have seen in the last few years. The 2019 model year units also demonstrate that Jayco's product managers have been increasingly responsive to consumer feedback.  They are introducing new models on the small end, such as the Hummingbird 10RK, and innovating on the large end with features such as walk-in showers on the Pinnacle and Seismic lines. The farmhouse decor that is available in the Eagle lineup has also been making waves within the industry and with consumers.
When Jayco, our longtime podcast sponsor and industry partner, invited us to view the 2019 lineup at Open House in Elkhart, Indiana, we jumped at the opportunity.   We had so much fun talking to their product managers and taking two full days to tour the new rigs. It was incredibly difficult to narrow down our favorites to a list of six for this week's podcast. So we let our desire to highlight newer floorplans guide us to these six picks. We love all of them and hope you will too!
Our primary goal is to give you a quick peek and highlight a few of the features that make these rigs stand out. For complete specs and more information about these units visit Jayco.com.
Happy window shopping everyone!
Jayco Eagle 319MLOK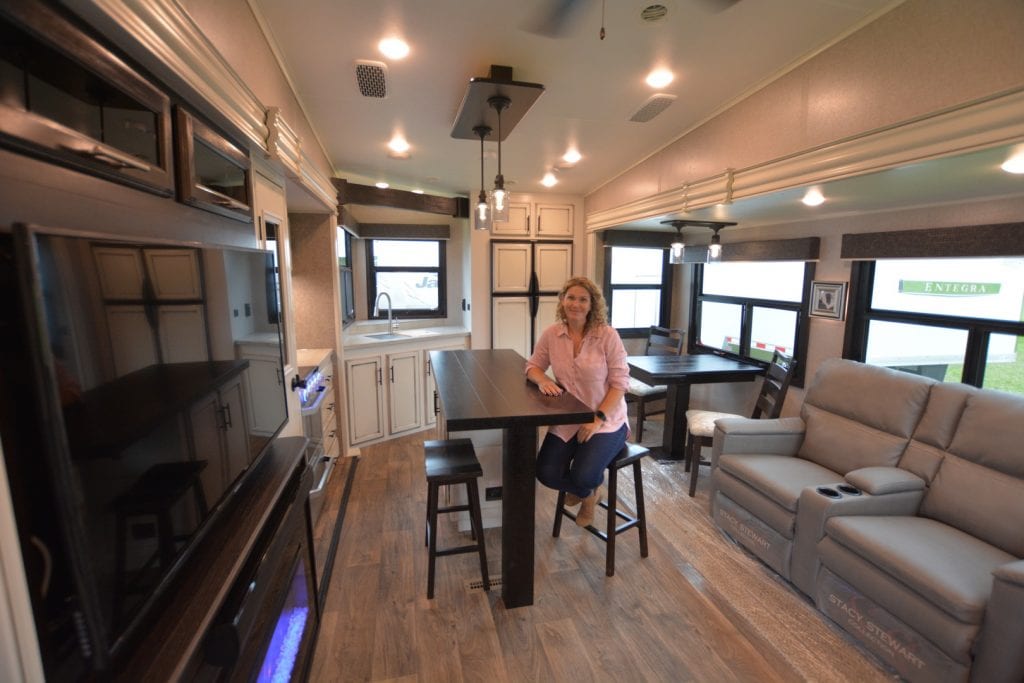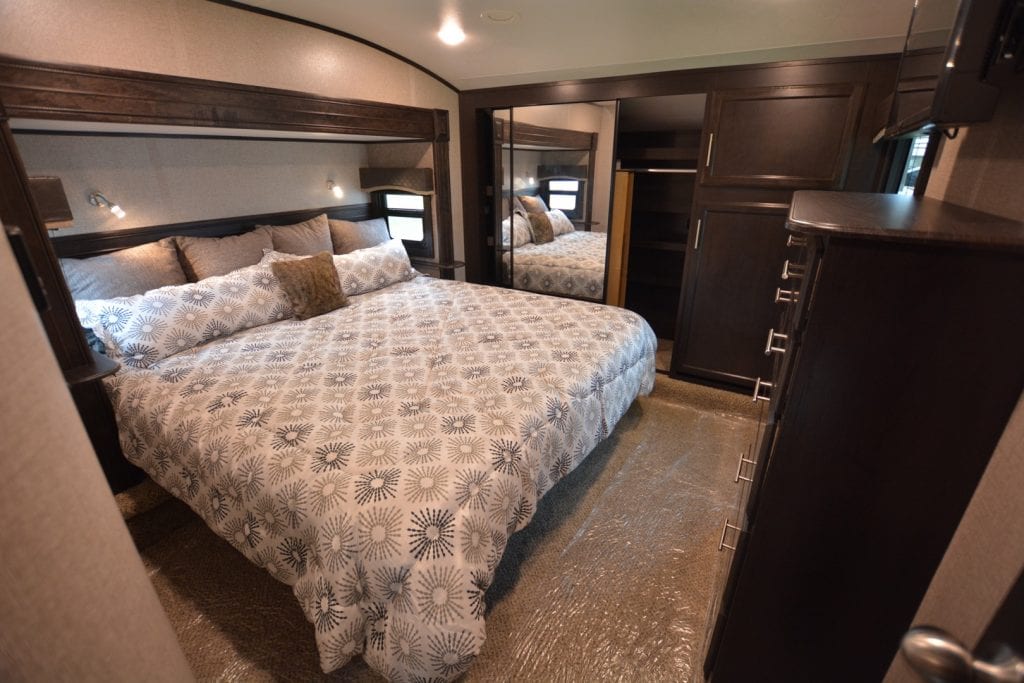 This was our first real encounter with the new "Modern Farmhouse" decor that Jayco just released within the entire Eagle Travel Trailer and Fifth Wheel lineup. To be clear, this is now one of two decor options available for all the floor plans. The other decor option is "American Traditional."
We honestly thought this was going to be a case of changing the color of the cabinets and calling it a day. But it turns out that we were completely impressed by the execution of this design. The distressed wood island and table top added a great touch along with the decorative wooden beam over the corner sink. Color tones in the floor and upholstery lean towards grey as opposed to the traditional brown. The bedroom keeps a more traditional tone, which provoked both yeas and nays across our social media platforms. If you want to see more of this Farmhouse decor, check out our Facebook Live…
Jayco Greyhawk 31F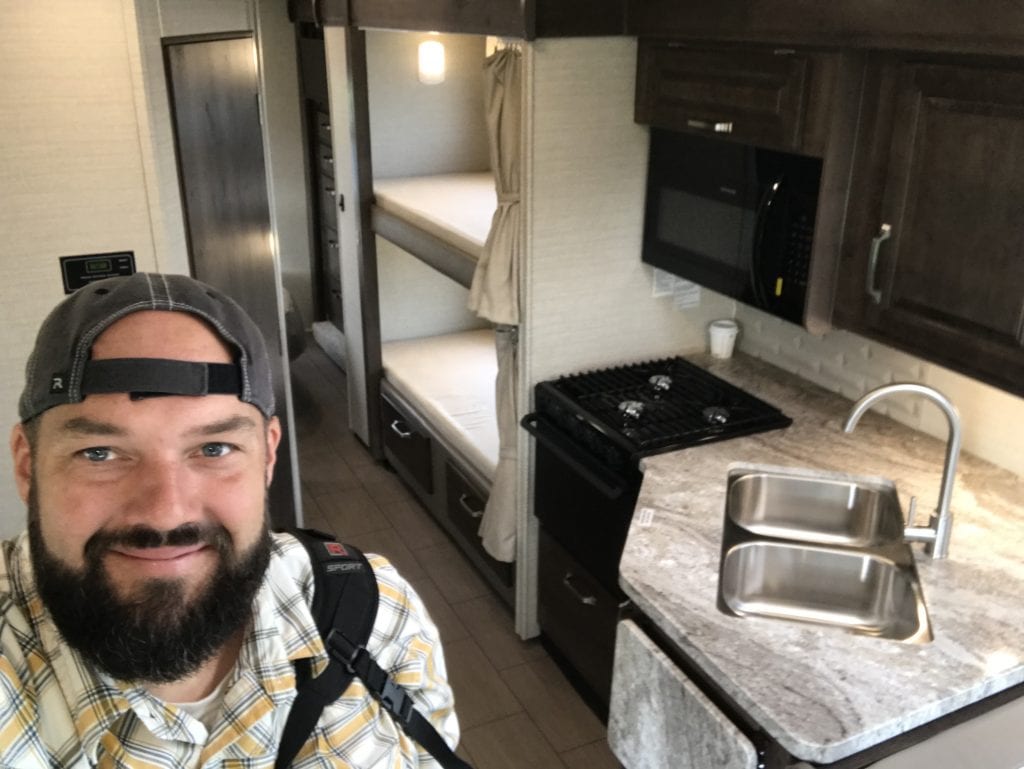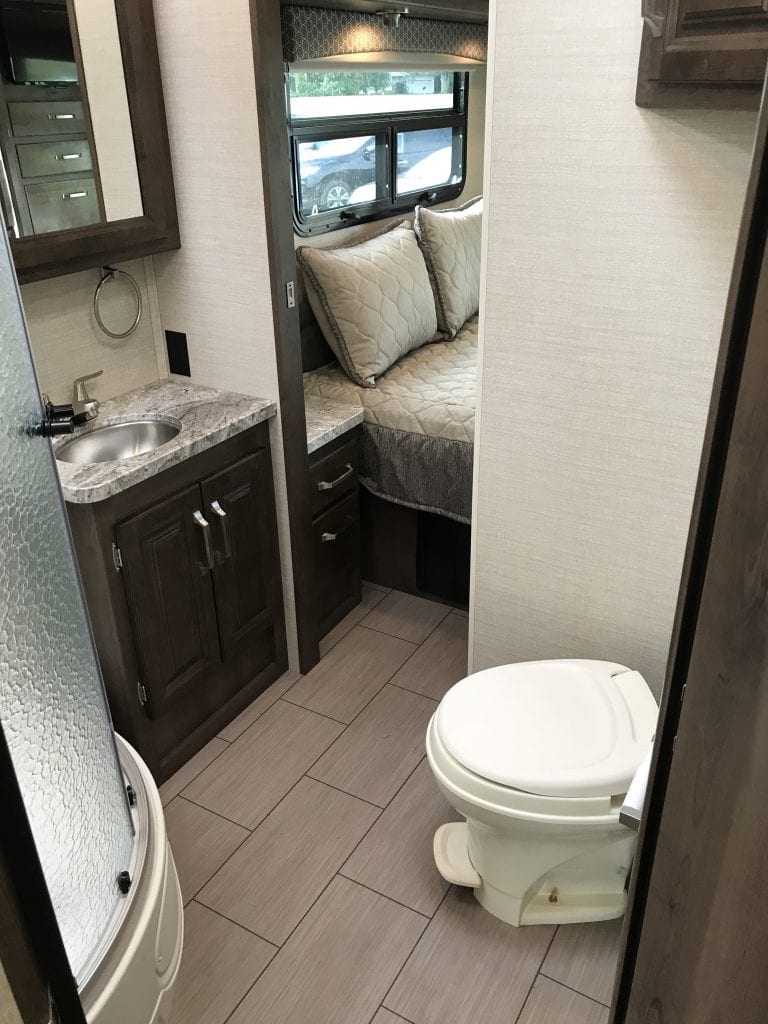 This was a complete surprise for us upon arriving at the Jayco Open House display. We have been hoping for this floor plan to show up in the Jayco motorized lineup for several years now. What's so great about it? Well, the most common Class C bunkhouse floor plan has the bunks on the passenger side. We've rented that floor plan twice now, and it works just fine. However, flipping the bunks over to the driver's side adds some functionality that we just love.
First of all, it removes the dinette from behind the passenger seat, making for more room to recline while in transit. It also opens up the kitchen area and creates extra counter space. We've always hated the stove range right next to the couch on that traditional floor plan, and this removes that awkward positioning. By placing the bunks on the driver's side of the rig and eliminating the slide on the passenger's side, this bunkhouse C is able to offer a significantly larger awning–one big enough for the entire family. The downside is a slightly more narrow hallway entering into the master bedroom, but we'll take that any day.
Jayco Jay Flight SLX 298BH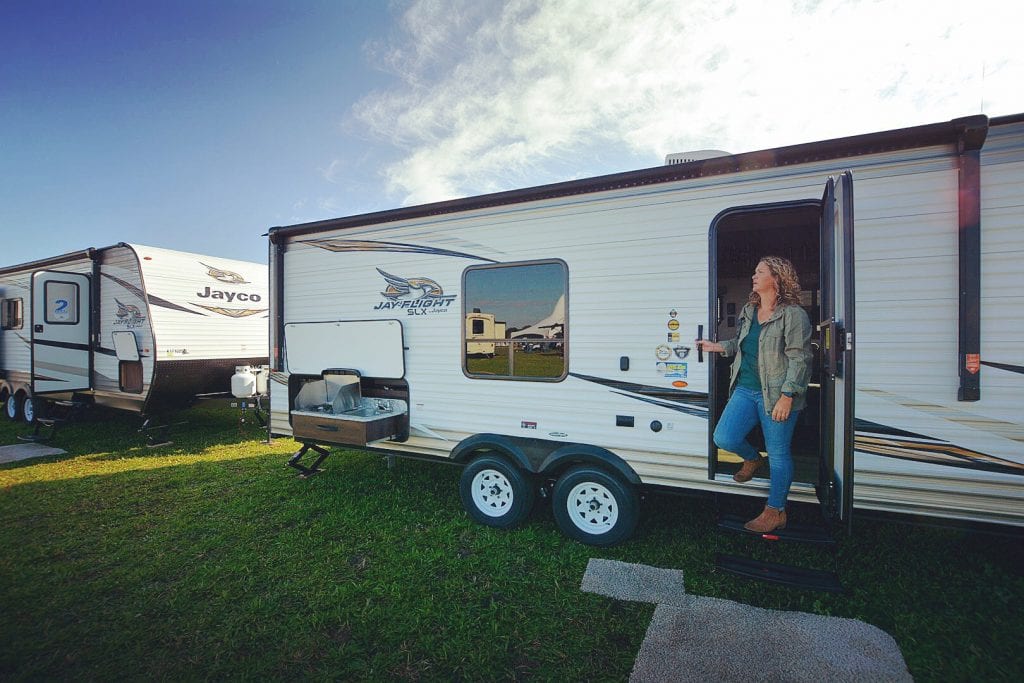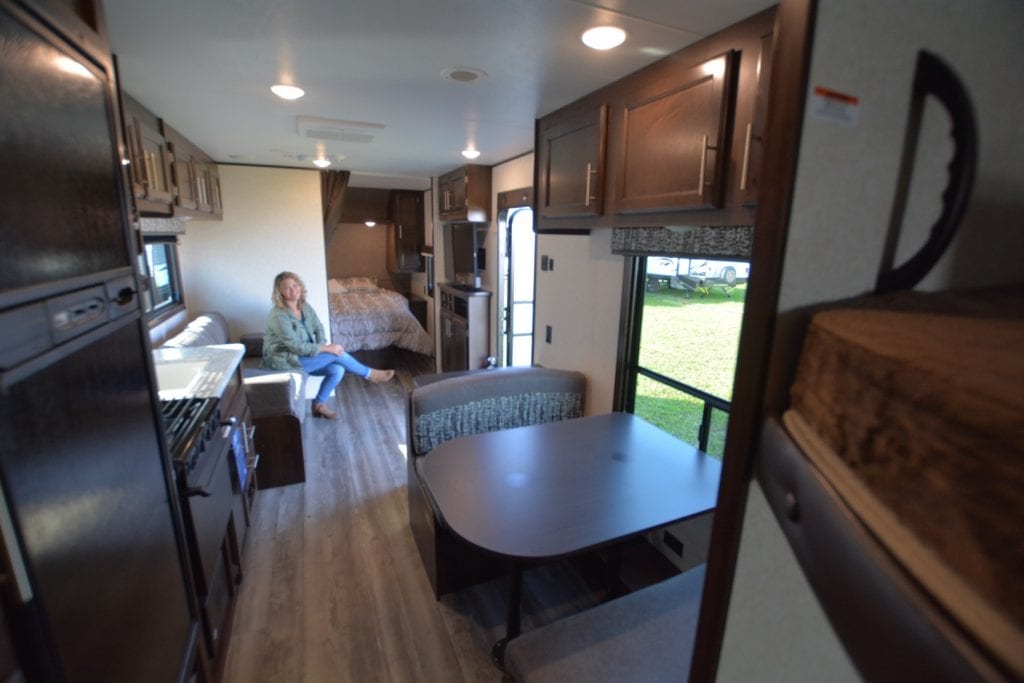 The SLX line within the Jay Flight brand offers simplified, lightweight travel trailer options. The 298BH is just under 32 feet with a dry weight of 5,105 pounds and about 1,000 pounds of cargo carrying capacity. What's different about this double over double bunk option? It has no slides, which keeps the trailer weight down. And the floor plan layout creates a ton of open space along with distinct kitchen, dining, and seating areas. Most notably for some will be that the couch is directly across from the entertainment center. This eliminates the neck craning that is a pet peeve of many RVers. The outdoor kitchen is an additional bonus in the lightweight travel trailer that we were happy to see.
Jayco Seismic 4013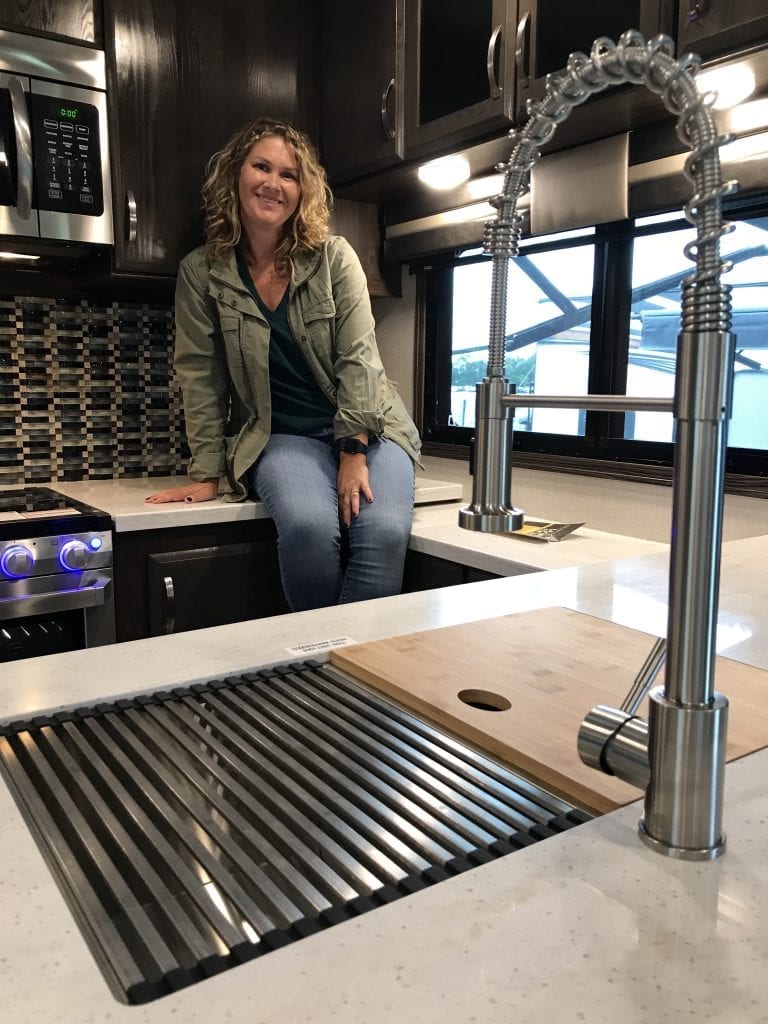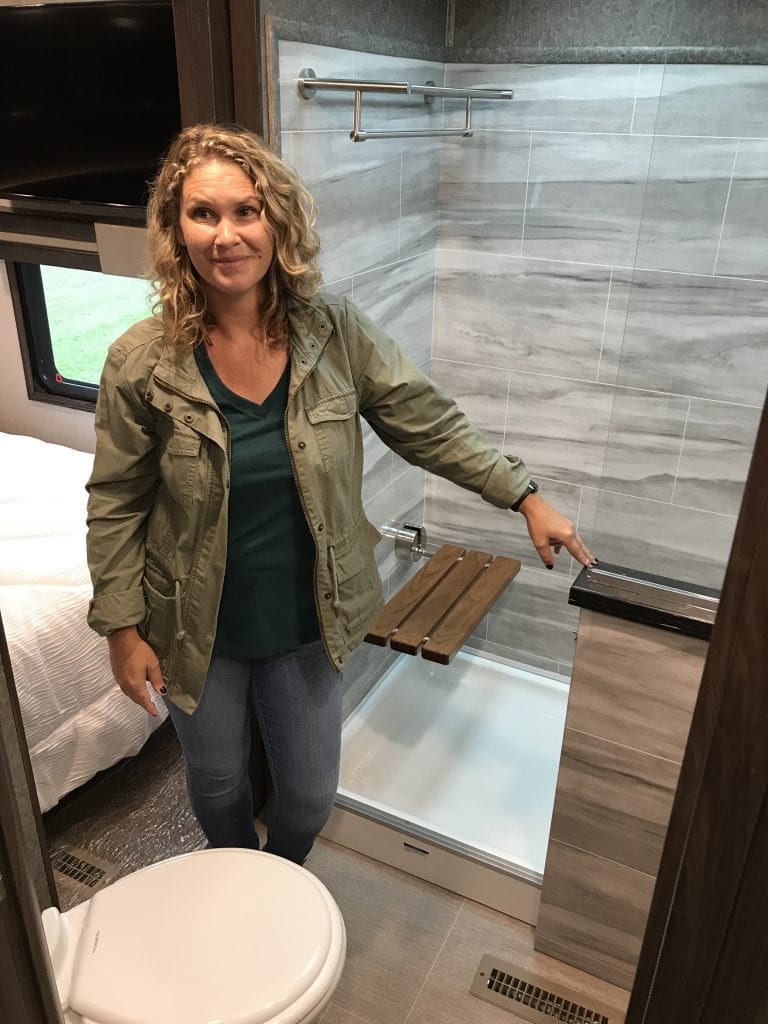 This Seismic fifth wheel toy hauler with a raised kitchen had us at hello a few years ago when we first stepped inside at the Florida RV SuperShow. There's a couple of updates that have brought the floor plan back into the spotlight. First of all, they removed the half bath in the garage to gain more space in the living area and add a freestanding table and chairs. We really appreciated how this change up created a more residential and cozy feel in the living area.
Then there is, of course, the walk in shower. Appearing across the Seismic and Pinnacle lines, this is a serious wow factor that shoppers are going to fall in love with. If you want to check out a video of the shower, take a look at our Jayco Instagram Highlights @rvfamilytravelatlas.
Jayco White Hawk 32KBS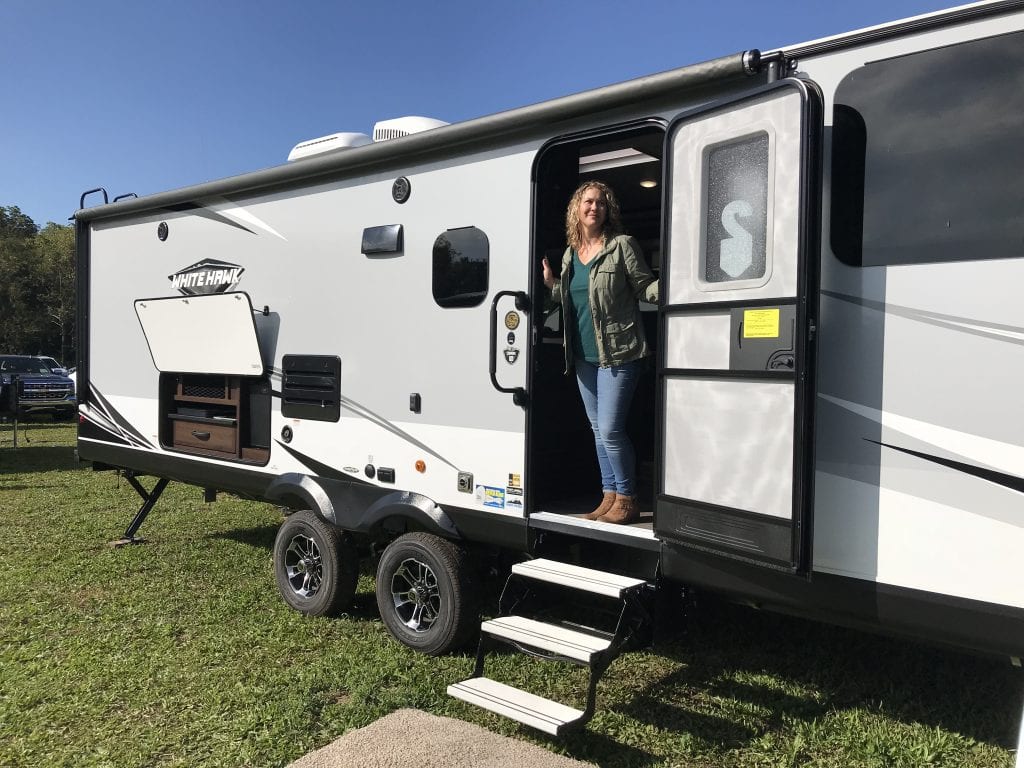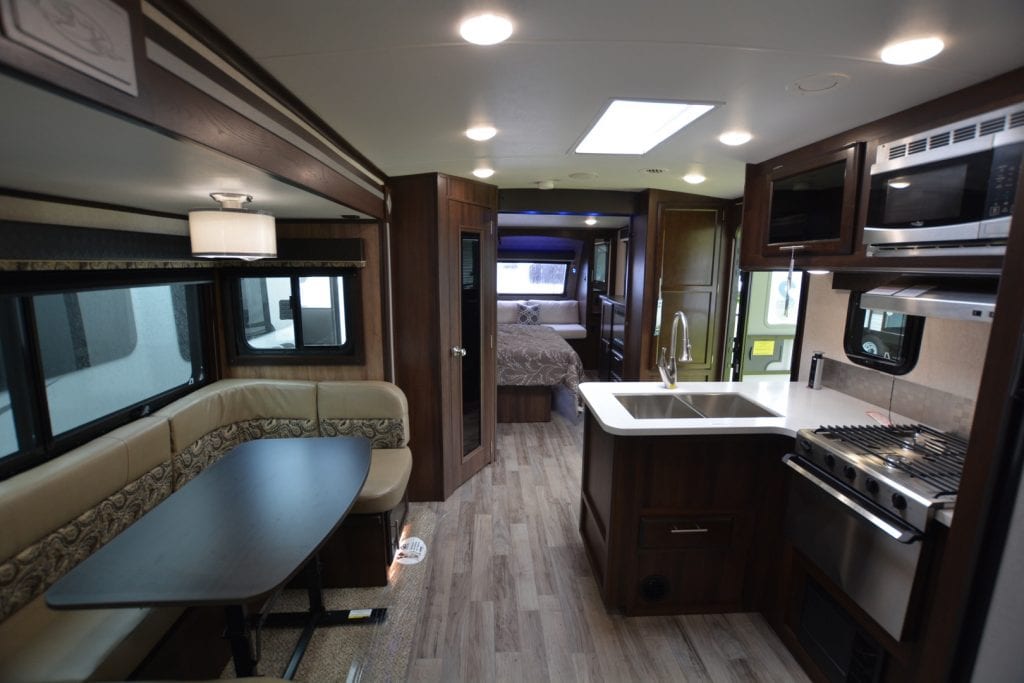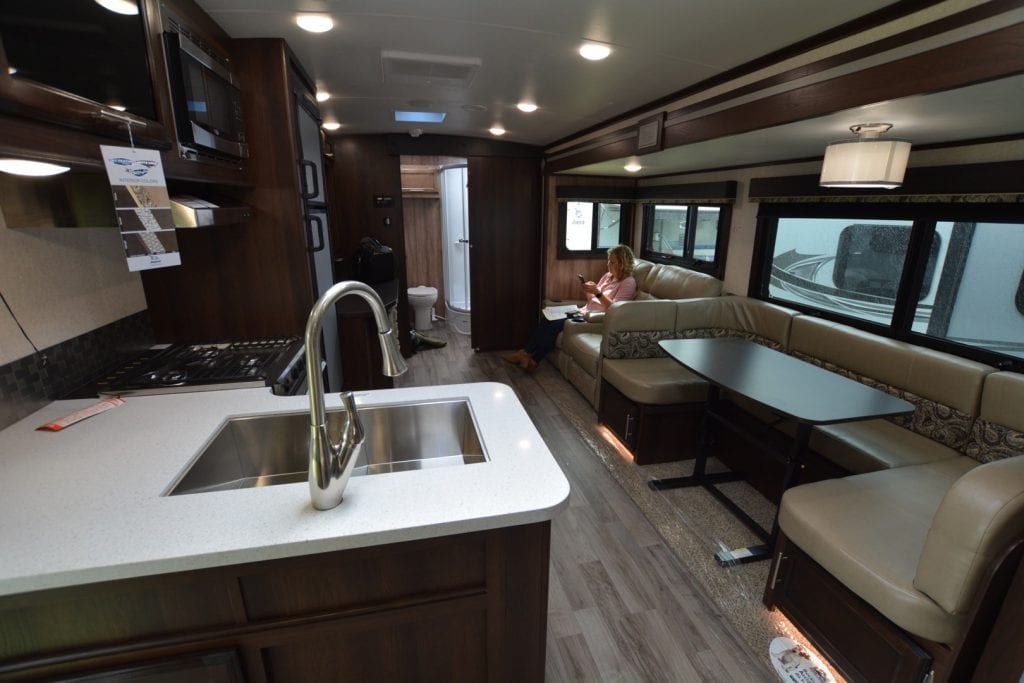 The White Hawk 32KBS impressed us on several fronts. The main living area is spacious and comfortable, with ample counter space for food prep and appliances. But the real show show stoppers appear at the front and back of the rig. The rear bathroom in the White Hawk has an absolutely gigantic walk in wardrobe that makes this Hawk perfect for long term travel or seasonal camping. The sofa and large front window in the bedroom also makes this rig more comfortable and well lit than most residential bedrooms. If you want a spacious RV that feels like a home, but don't want to move up to a fifth wheel, the 32KBS might be just right for you.
The White Hawk line has moved away from the linear exterior graphics package offered in 2018. This year's graphics package is subtle and refined and would look gorgeous hitched up to a black or silver truck. A truck just like my 2017 F-250.
Jayco Octane SL 210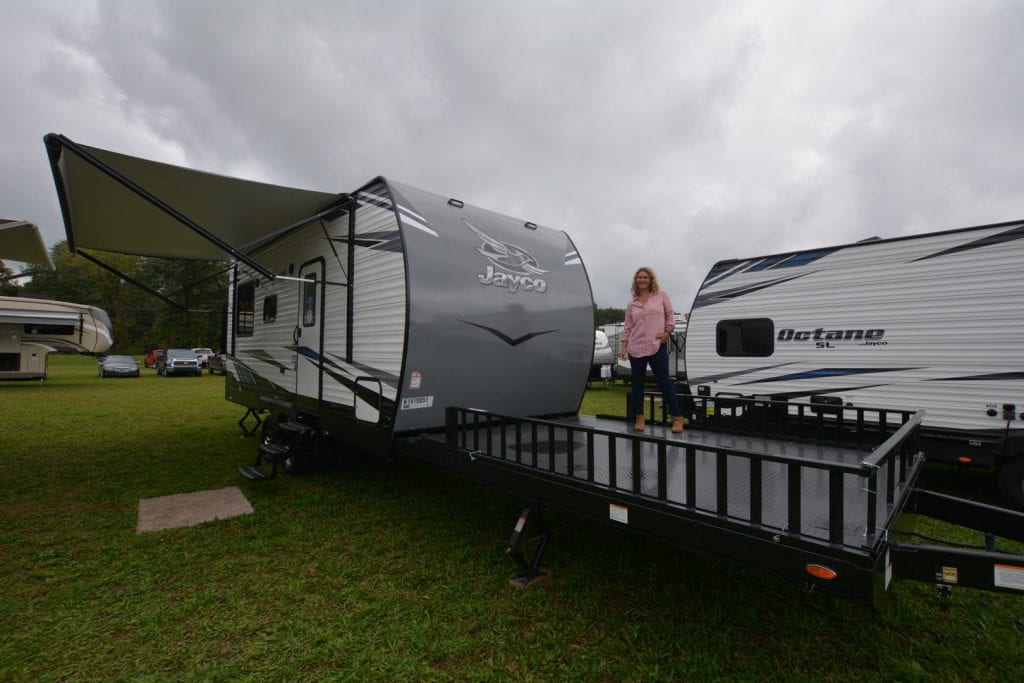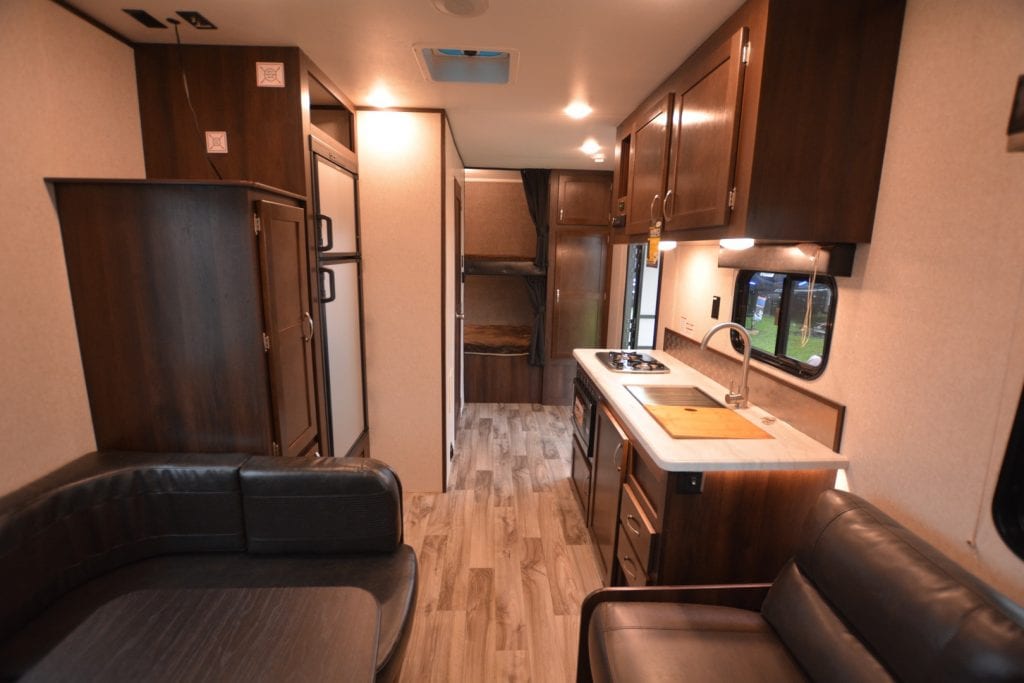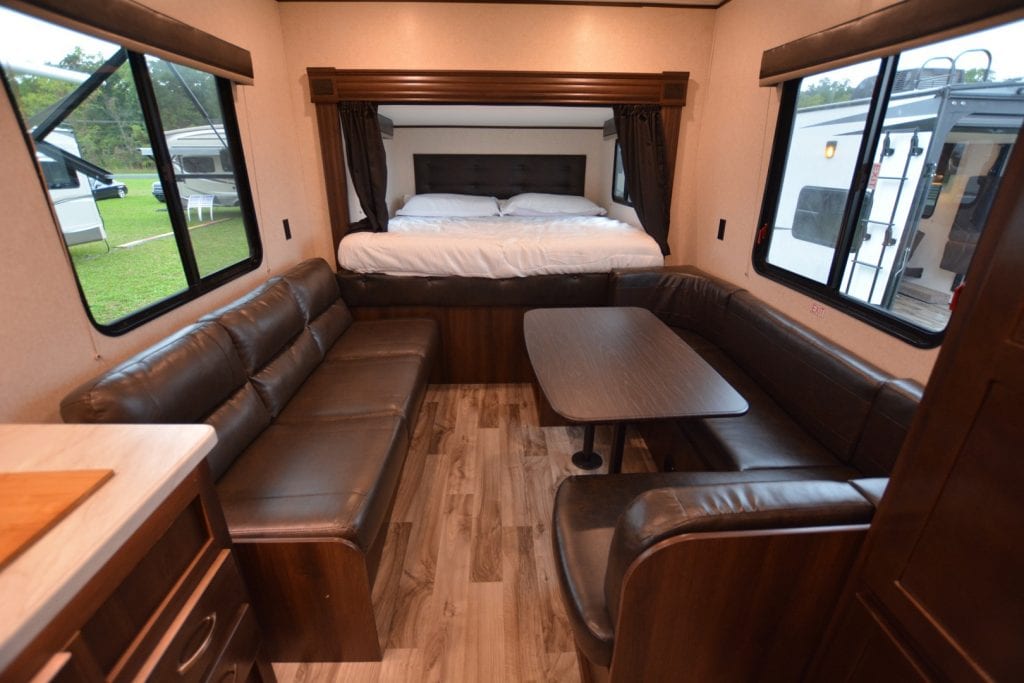 The Octane SL 210 is a niche product for sure. But if you are looking for a family toy hauler with lots of EXTERIOR storage for gear of all kinds–this rig might be perfect for you. With rear bunks, plenty of comfortable seating, and a large bathroom, the 210 should please any adventurous family with kids.  If your toys aren't heavy duty and motorized, the front storage deck might serve you well. Imagine being able to pack bikes, kayaks, SUP's, and sports gear without having to haul all of it inside! After unpacking at the campground that front deck could be incredibly useful as well. Pitch a tent for the cousins, set up your grill and cook station, or go crazy and through a dance party. The options are unlimited and how you use it is totally up to you!
These six models should give you a taste of the diversity and creativity in the 2019 Jayco lineup. Drop us a comment and let us know which one is your favorite. And to check out some other RVs that have caught our eye recently, take a look at our content from the Hershey RV Show just a few weeks ago.
See you at the campground!
Stephanie + Jeremy
Podcast: Play in new window | Download