The first annual RVX is in the books, and we are sharing our thoughts on the overwhelming positive experience. The first RVX was held in Salt Lake City from March 12-14th, 2019 and aimed to showcase the newest and most exciting innovations in the RV industry.
So What Happened to the RVIA Louisville Trade Show?
For the last few decades, the RVIA (RV Industry Association) held its annual trade show in Louisville, Kentucky. That event offered the opportunity for dealers from across the country to gather in one location and place orders with manufacturers for the upcoming sales year. Changes in the industry, including the rise of the annual Open House event in Elkhart, Indiana, challenged the relevance of Louisville over the last few years.
So the RVIA put that baby to bed.
And then replaced it with RVX: The RV Experience.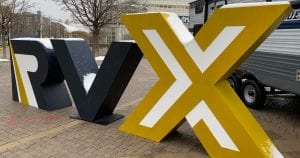 The new event places the emphasis on new innovations within the industry, rather than on selling RVs to dealers. We happen to think they hit a home run. The concept felt relevant to a new generation of RVer, and we particularly appreciated the emphasis on RVs as a vehicle for enjoying outdoor recreation. In addition, the event encouraged manufacturers to curate their displays and really focus on the most exciting trends in the industry.
The media showed up in force, with representatives from Motortrend, Travel Channel, and the Ellen Show fanning out across the showroom floor, discovering interesting and relevant RV content for their respective audiences. A full schedule of events and displays included…
The RV Dealership of the Future
Campground of the Future
RV Technical Institute's Top Tech Challenge
RV Women's Alliance Kickoff Event
And, of course, the Reveal. The Reveal kicked off the first day of RVX and aimed to place the emphasis of the newest, most exciting RVs in the industry. The highly produced show displayed nine spotlight categories and then highlighted a winner and runners' up for each categories.
Here are the "Spotlight RVs" and "Judges Choices" for each of the nine categories…
Family Friendly Spotlight RV: Jayco Eagle HT 264 BHOK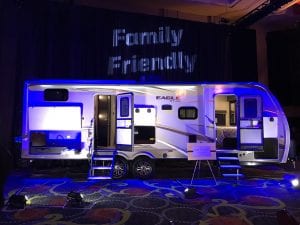 The Jayco Eagle HT 264BHOK works hard to combine "family-friendly" with "adventure ready" and we appreciate the effort. With the option for manufacturer-installed solar and dedicated generator storage, plus a 'cargo door' that fits kayaks up to 13′ long, this unit perfectly balances comfort and camping.
Judges' Choices:
Van Life Spotlight RV: ModVans CV1 Camper Van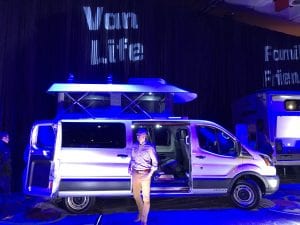 The ModVans CV1 Camper Van is a new kid on the block with a lot of promise for people that dream about a Class B van but need something more practical for everyday life. This van easily converts between 'driving mode' and 'camping mode' giving folks an SUV during the week and an adventure-mobile for the weekend. It's built on a Ford Transit chassis, and the pop top roof offers additional sleeping and head room.
Judges' Choices:
City Escape Spotlight RV: Leisure Travel's Unity Rear Lounge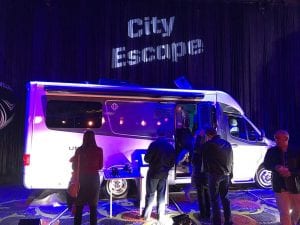 Leisure Travel vans always set hearts aflutter, but the Unity Rear Lounge really got people talking at RVX. It's built on the all-new Sprinter Cab Chassis and includes the Dometic loT Touchscreen Solution system. The front of the van contains a L-shaped kitchen and seating area. The rear has a residential-styled sectional. Add in a Murphy bed and modern styling and you get a Class B dreams are made of.
Judges' Choices:
Team Tailgate Spotlight RV: Heartland Cyclone Ultimate Tailgate RV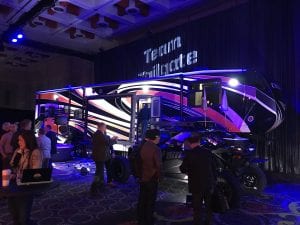 TVs and sound systems are at the heart of this spotlight pick for the tailgate category…of course. There are multiple 55-inch TVs and eight subwoofers with 18 speakers. What else could you want? How about a side patio that sets up with the press of a button and a hot tub that can be moved indoors or outdoors? The built-in kegerator is just the cherry on top of your tailgating sundae.
Judges' Choices:
Outdoor Adventure Spotlight RV: SylvanSport VAST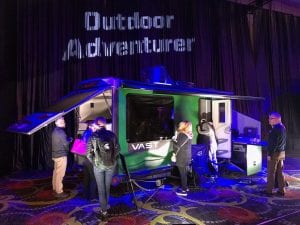 The SylvanSport Vast may have had more crowds around it than any other spotlight model at RVX. We think that's because it accomplishes what we all want–a small RV that packs in a ridiculous amount of features. You can haul ALL the gear, with side racks for kayaks and garage space for bikes. The indoor/outdoor kitchen is first of its kind in the industry. Plus, you get two full-sized queen beds so there's actually space for everyone in the family to sleep comfortably.
Judges' Choices:
Destination Camping Spotlight RV: Forest River Riverstone Luxury 39RBFL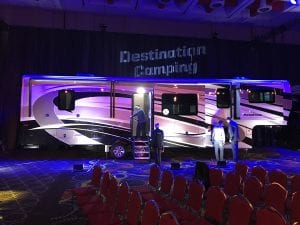 We're happy to see destination camping get a nod in the nine categories, since seasonal camping is increasingly popular with RVers. The front living area has amazing light with a large window in the front cap. Comforts of home include one and a half baths, washing machine and dryer, and a king-sized bed.
Judges' Choices:
Luxury Living Spotlight RV: Newmar Super Star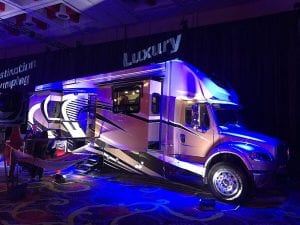 Newmar is a name well known in the world of RV luxury, but they outdid even themselves with this spotlight winner. This is Newmar's first entry into the Super-C market on a Freightliner chassis with a Cummins 350 HP diesel engine. This was a prototype displayed at RVX, so stay tuned for the release of this model in 2020.
Judges' Choices:
Sustainability Spotlight RV: Winnebago All-Electric/Zero-Emission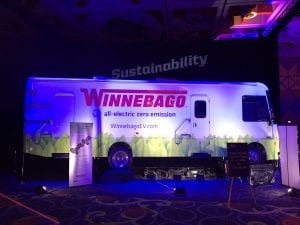 Count on Winnebago to take RVX to a whole new place with their All Electric/Zero-Emission concept vehicle. Right now this concept is geared toward uses such as mobile medical clinics and educational uses, but we are excited about the prospects for the general public as well. The current range with six or eight batteries is 85 to 125 miles.
Judges' Choices
On the Horizon Spotlight RV: Airstream Classic Smart RV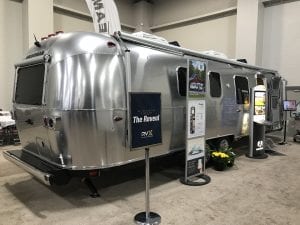 Our homes are getting smarter everyday and it's just a matter of time before our RVs follow suit. Airstream keeps its classic and timeless style and packs the unit full of smart technology. There's 4G LTE connectivity along with a system that monitors temperature, lights, batteries, tank capacity, and more.
Judges' Choices
So now the only thing left to decide is which one you want to snap up in 2019…
Maybe we'll see some of these new and innovative models at the campground soon.
Until then,
Stephanie + Jeremy
Podcast: Play in new window | Download