We decided to make life really interesting by taking our brand new Eagle HT 264BHOK dry camping for its first trip out. Which means we were basically ignoring every piece of advice we have ever given about taking a shakedown trip in a new rig. It's smart to camp close to home for the first trip in a new rig. It's also smart to camp on a full hook up site for your new rig's shakedown trip. We did neither. Instead we drove 4 hours and dry camped at Assateague State Park in Maryland. 
For us, this was the perfect way to test our new rigs off the grid capabilities. Now I know that Assateague is not really "off the grid," but the site we booked had no hookups and it would give us the chance to see if luxurious dry camping was possible in our new Eagle. We wanted to test out all of our new systems, options, and modifications, and gosh darn it, we wanted to do it with wild ponies grazing next to our campsite.
To listen to Jeremy and Stephanie talk about their first trip in the new rig–click on the media player above!
Here is a rundown of some of the "testing" that we did during our first trip. We didn't get the entire rig wired. But we came pretty close.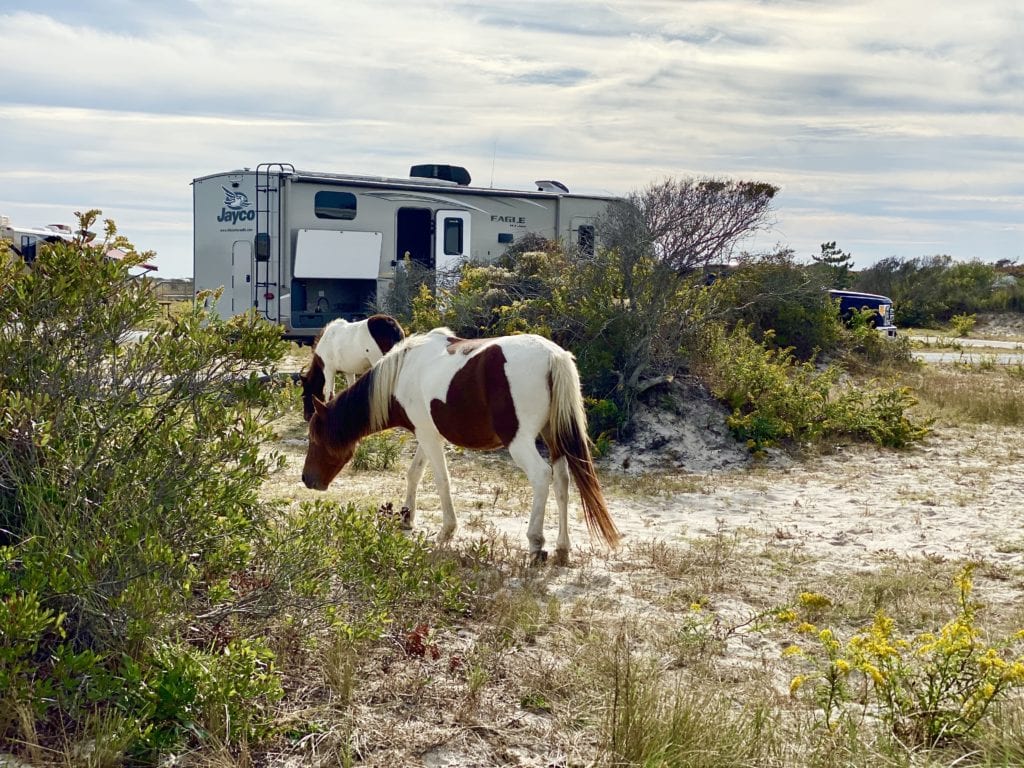 To Auto Level or Not To Auto Level?
But the testing of our Eagle HT 264BHOK's "bling" began at home. Our last RV was equipped with an auto leveling system that often ran out of stroke before it could get level. The system on our Octane was also not capable of self leveling in our driveway. So we were super curious to see how the Lippert Ground Control TT system would work. And to be honest, we are a bit cynical about auto leveling systems in general. They are not cheap, and leveling an RV the old fashioned way is not exactly one of life's great pleasures, but its far from being one of life's great challenges. So when we pulled up into our driveway at home we were absolutely shocked to see that the Ground Control TT leveled our RV in our sloped driveway PERFECTLY.
I must admit, we were also completely shocked to see the system raise up our front tongue jack during the leveling process!! We completely freaked out and had to check the YouTube video to make sure that nothing was awry. Our last auto leveling system kept the tongue jack down the entire time–but it was a three point leveling system–with dual jacks in the rear and the tongue jack. The Lippert System is a four point system with two leveling jacks in the front and two in the rear. You can, of course, bring the tongue jack down for extra stability after the auto leveling process is complete.
Towing the Eagle HT 264BHOK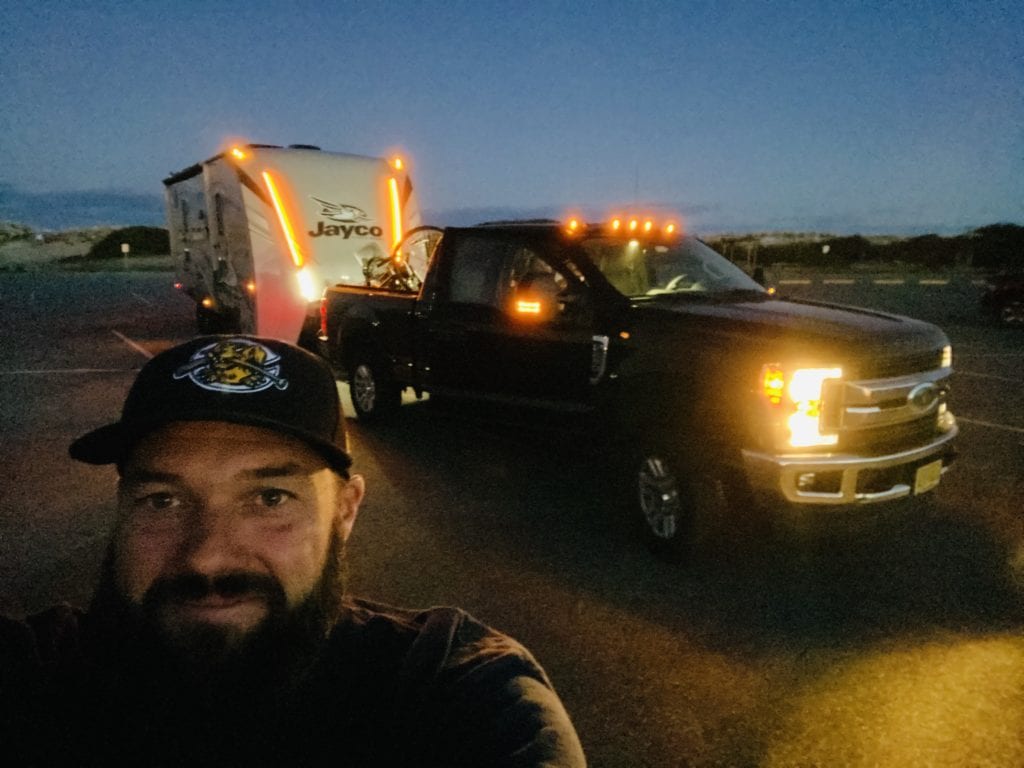 We were also super curious to see what the towing experience would be like in the Eagle HT 264BHOK. Our Octane Toy Hauler was longer, wider, and taller–but about the same exact weight. Our hope was that the Eagle would be more maneuverable and more pleasurable to tow than the Toy Hauler. We were also hoping to achieve slightly better MPG. All of those hopes materialized.
The 32'10" Eagle HT 264BHOK towed like a dream and was more maneuverable on the highway, at gas stations, and at the campground. It's 96″ width was also MUCH easier to get through the tight toll booths here on the East Coast. The Toy Hauler was six inches wider and you could really feel that difference squeezing into toll booths. We also upped our MPG by 1 MPG at least. I hope that holds true after doing some more towing this fall.
What's Up When the Slides Are In?
We have been telling people for years to always check out what happens when you close the slides on a new RV before you buy it–instead of getting an unpleasant surprise after you purchase it.  Some folks end up disappointed when they discover that they can't access their bedrooms or bathrooms when the slides are in during travel mode. We have always preferred to know before we go.
Our bathroom door on the 264BHOK can be opened when the slide is in. Our bedroom can also be accessed by its own entry door. It can't be accessed from the living room when the slide is in. We were totally okay with this. The real questions for us was whether we could get food out of the fridge when the slide was in. Initially it seemed like the fridge would not be fully accessible when the slide is in, but you can actually open it enough to get almost anything out. I think that will be a non-issue even though it was an initial concern.
Our Eagle HT 264BHOK's Dry Camping Capability
This was what we were most excited to test out! Our new Eagle has two 190 watt solar panels on the roof, an inverter, and a Cummins Onan QG 5500 LP generator. The overarching system worked perfectly for our dry camping needs. The solar gives us the ability to keep our 4 AGM (Absorbed Glass Mat) batteries well charged for all things 12 volt. It also lets us use several of the 110 outlets for appliances like our coffee machine and our TV.
The Cummins Onan generator gives us the ability to run everything (during generator hours of course) and it is conveniently powered by our two 30 pound propane tanks. Overall the system performed flawlessly. Our Eagle has less solar than the Octane (and a smaller inverter) but the generator more than makes up for that. Also we now have a propane stove/oven again so we didn't need the bigger inverter to run the convection oven. 
Beds for a Family of Five?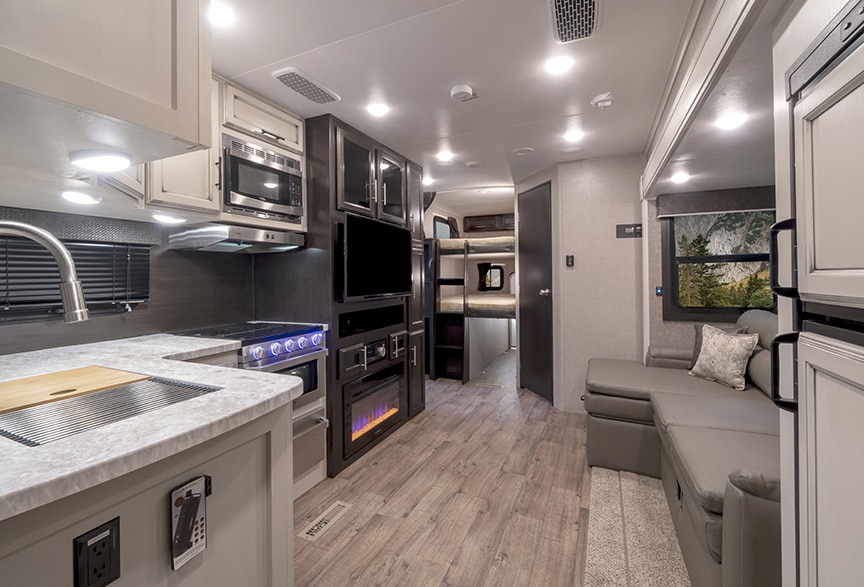 Most of the questions that we are getting about the Eagle HT 264BHOK have to do with beds and seating. Everyone wants to know if this floorplan will work for our family of five. At first this rig looks perfect for a family of up to four. But might seem too small for a family of five. This is simply not the case. At least not for us. Initially we thought we would put our youngest son on the hide-a-bed–which is super easy to convert out of the chaise lounge. But then we noticed that the space on the floor beneath the two double over double bunks was plenty big enough for a single mattress.
So we found a single mattress that fit the space and decided to give it a go. A little bribery was involved. We offered whichever child would take the bottom bed a $50 dollar budget for "upgraded" blankets and pillows of their choice. Soon they were fighting over the bottom bunk! Theo won and was perfectly happy sleeping down there–he ended up loving it even more when he realized that Maggie wanted to crawl in there and sleep with him every night!
Seats for a Family of Five?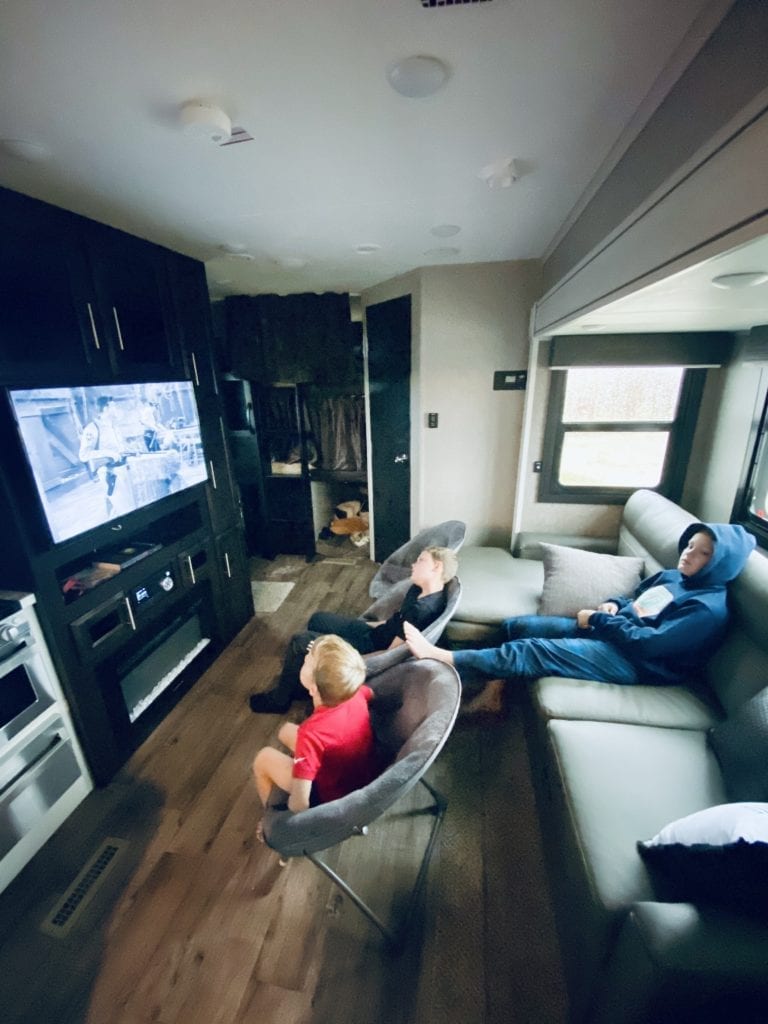 The single Chaise lounge without a dinette or an additional sofa also has our podcast listeners asking some questions. Namely, where will everyone sit!! It took one trip to Target to sort that one out. Stephanie picked up three cute and cozy folding chairs that can easily be stored under the master bed when not in use. So much winning on our first trip! Somehow or another we have ended up with more comfortable seating than we have ever had in an RV.
The Indoor Kitchen is Spacious and Functional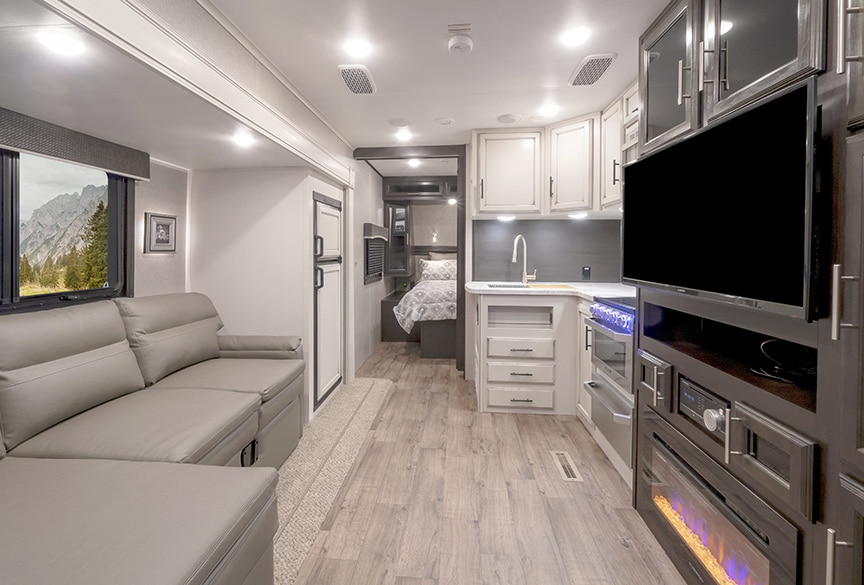 It's hard to explain how much we love our new indoor kitchen. There is ample counter space, plenty of storage, and the "Modern Farmhouse" interior is an absolute delight. We have always done most of our cooking outside–but that could change soon. The 110 outlet does not run off the solar/inverter combo so to make our morning coffee we had the option of running an extension cord from the bedroom or waiting till generator hours started at 7AM. A small price to pay for off the grid luxury!!
The Outdoor Kitchen is also Spacious and Functional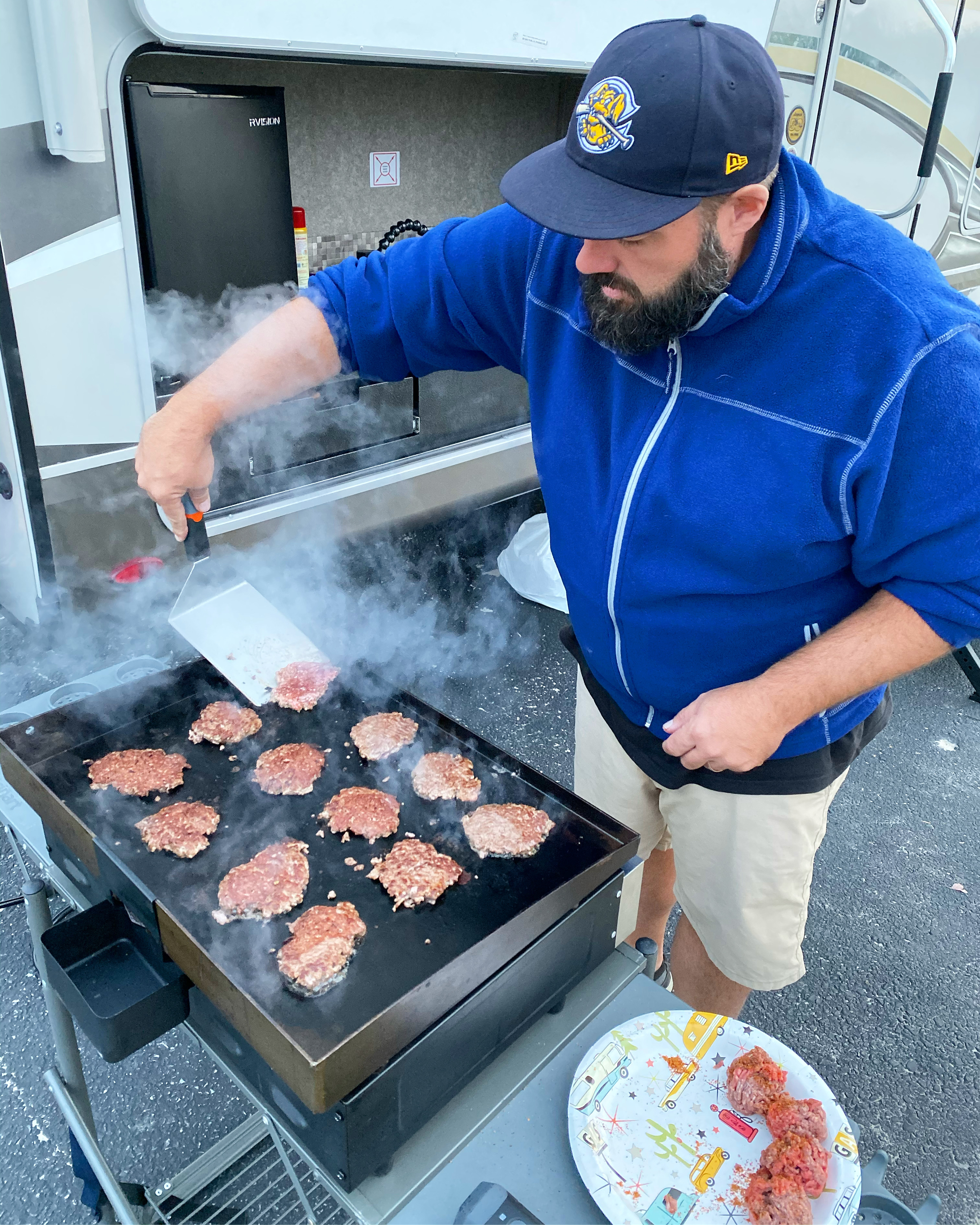 The outdoor kitchen on the Eagle 264BHOK is stinkin' awesome. Its huge, well-built, well-lit, and has plenty of storage space for grill tools, spices etc… We added the Furrion Lit USB speaker and docking station for listening to tunes while we cook and it was just delightful. The propane quick connect is also perfectly positioned under the outdoor kitchen. No need to drag a propane tank around to power up your Blackstone Griddle or Weber Q!
So what's the bottom line? At least for right now after one trip in the our new Eagle? This rig just felt luxurious in every single way. Every inch of the trailer feels a little more upscale and a  little fancier that anything we have owned before. We feel pampered and spoiled after the more rugged #rvlife experience that we had with the toy hauler.
We will probably miss the back door of Octane forever, just like we will probably miss the pop up camper's canvas bed end forever. 
But you can't have everything, can you? No–but we feel like our new Eagle HT 264BHOK gets us pretty darn close.
Podcast: Play in new window | Download