With a nickname like the "The Natural State," it is surprising that Arkansas isn't tops on everyone's camping list. This state is truly an underrated gem. However, there are many Arkansas camping destinations that are sure to wow you!
Arkansas is state #4 in our series of underrated camping destinations. We are scouring the nation for the the best states that are often overlooked. Be sure to check out our previous posts on Virginia, New York, and Michigan!
Kerri Cox, of Travels with Birdy, is here to tell us all about her favorite Arkansas camping destinations. She lives in Missouri and is able to get down to the Natural State for quick getaways. No matter how often she has visited, she always wants to return to old favorites and new spots!
To hear more about Arkansas camping destinations, click play on the media player above or search for The RV Atlas wherever you find your favorite podcasts.
Great State Parks in Arkansas
Though Kerri is just sharing two great state park recommendations with us, she said Arkansas State Parks has a robust system with many beautiful, well-maintained parks to enjoy. If you don't have an RV, their Rent-a-Yurt options are really fun.
Petit Jean State Park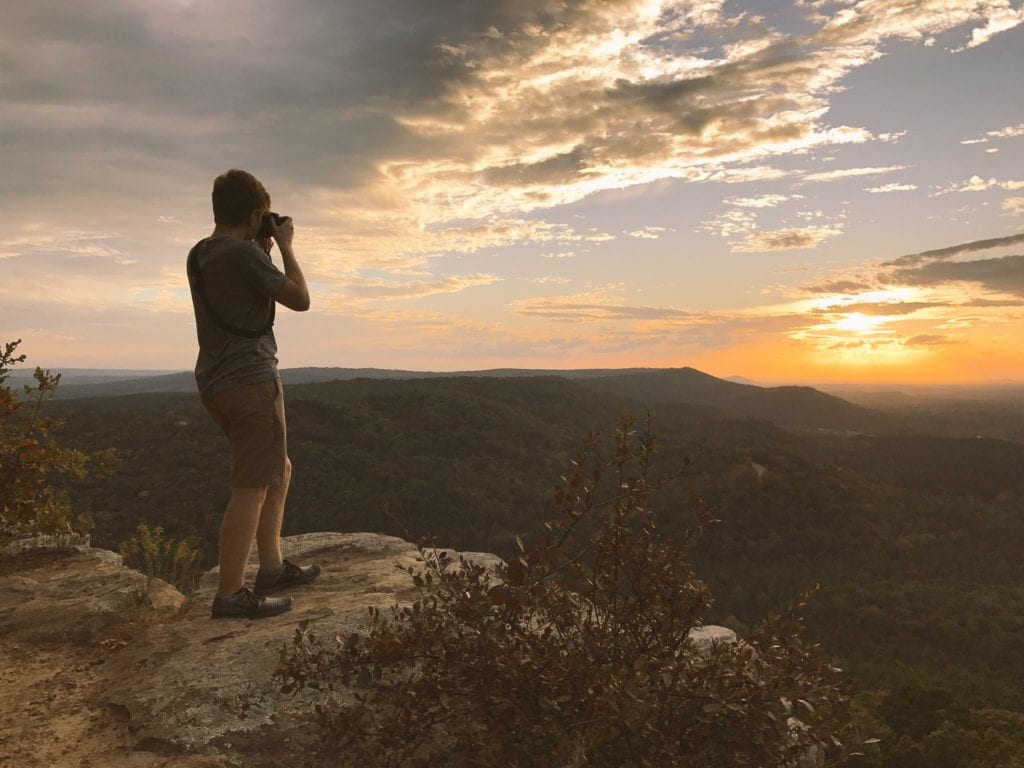 Petit Jean State Park is the crown jewel of the Arkansas State Parks system. Located in the Ouachita Mountains, Petit Jean is full of natural beauty and recreational opportunities. Hike to Cedar Falls, take in the views from the scenic overlooks, or bike the trails.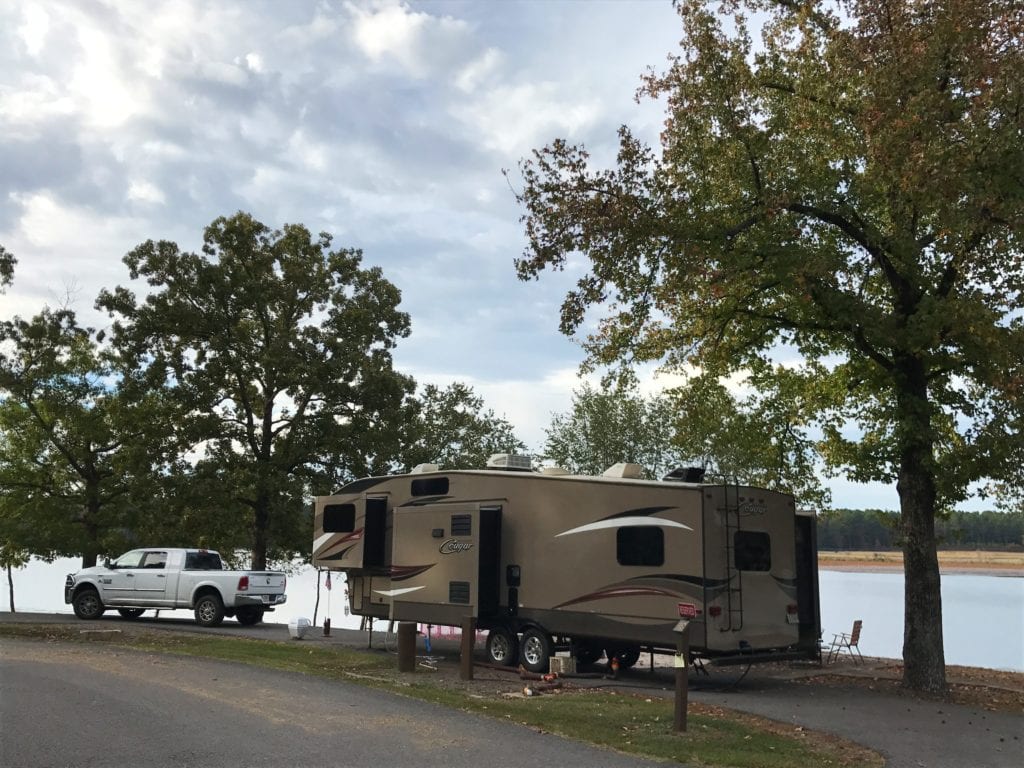 Petit Jean offers a mixture of full hookup and water/electric only sites, with some waterfront sites on Lake Bailey. Kerri told us all about this wonderful park here.
Crater of Diamonds State Park
Did you know there's only one place in the world where you can actually dig for your own diamonds, and it's in Arkansas? It's true! Crater of Diamonds State Park has a 37-acre field that is an eroded surface of volcano. Over 33,000 diamonds have been dug out of the dirt here, including the largest ever unearthed in America (a 40-carat whopper).
You can bring your own equipment or rent it there. While kids might enjoy the onsite waterpark, just know that digging for diamonds isn't necessarily an exciting venture. It can be a little hot and boring. But, you never know if you'll be the next one to dig up a gem! An onsite campground offers 47 full hookup sites.
Cool Cities in Arkansas
Arkansas has several great cities to put on your list, if urban camping is your thing.
Bentonville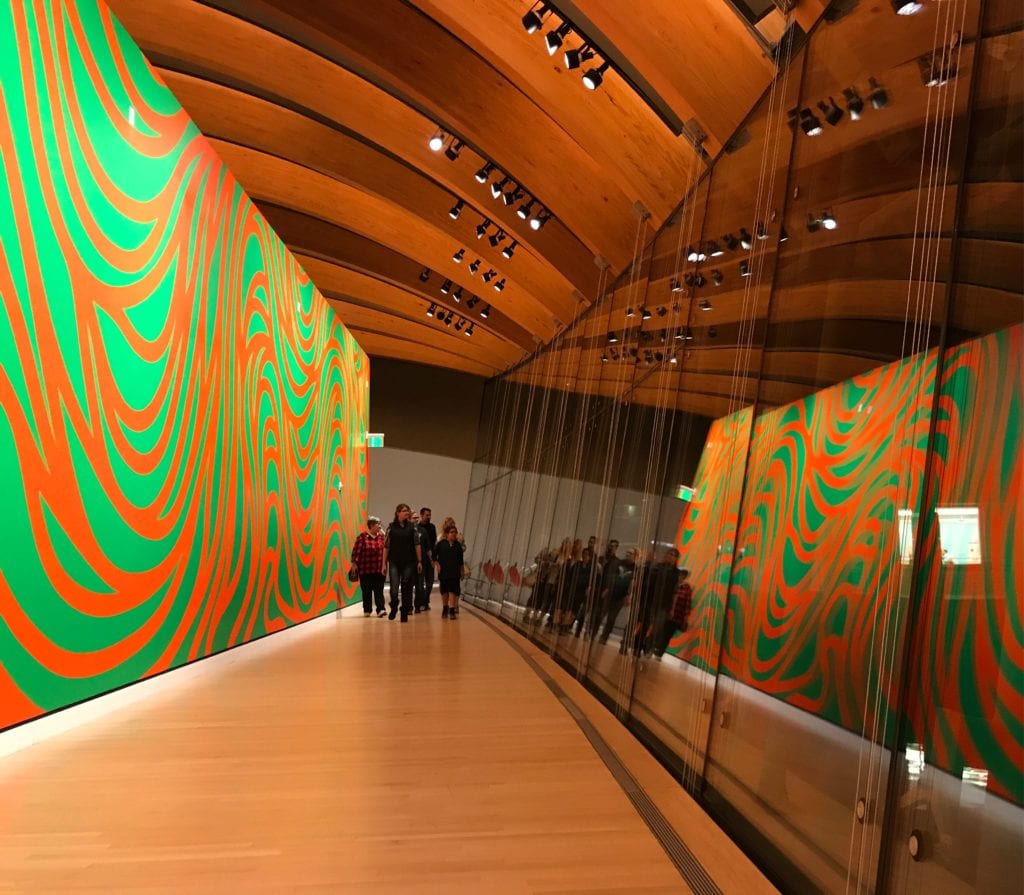 Bentonville offers a slice of the cosmopolitan life in northwest Arkansas. Known as the headquarters of the Walmart corporation, the town has a lot to offer tourists, including some great museums and a cool downtown area. The Crystal Bridges Museum of American Art (see Kerri's profile of it here) is a free attraction, with amazing outdoor trails and major artworks inside.
Nearby, the Amazeum is a top pick for families with kids. Downtown, you'll find a retro Walmart shop and some hip shops and restaurants.
Kerri recommends staying at the Blowing Springs RV Park in Bella Vista. While the campsites themselves aren't particularly scenic, it is located in the middle of a town park and surrounded by trails and picnic areas. The sites are all full hookup. She previously review it on our show (check out her review here).
Little Rock
Arkansas's state capital is working hard to revitalize the tourist areas, particularly along the riverfront. You'll find the Riverfront Park, which has great views of the Arkansas River, playgrounds, trails, a splash park, a farmer's market, and more.
Other highlights include the Big Dam Bridge (the longest pedestrian bridge build specifically for that purpose), the William J. Clinton Presidential Library, and the Central High School National Historic Site (where the Little Rock Nine integrated an all-white school during the Civil Rights Movement).
Kerri recommends a couple of highly review campgrounds. The Downtown Riverside RV Park is a great choice if you want to be close to the downtown attractions. Maumelle Campground is further outside of the city, but it offers great scenery.
Arkansas's "Springs" Cities
Two cities in Arkansas rose to prominence as tourism destinations during the Victorian Era when visitors flocked to the towns to seek healing in their mineral springs waters. Both towns offer great shops and art galleries, but the biggest attractions are the springs and the spas, which use the natural waters to this day.
Hot Springs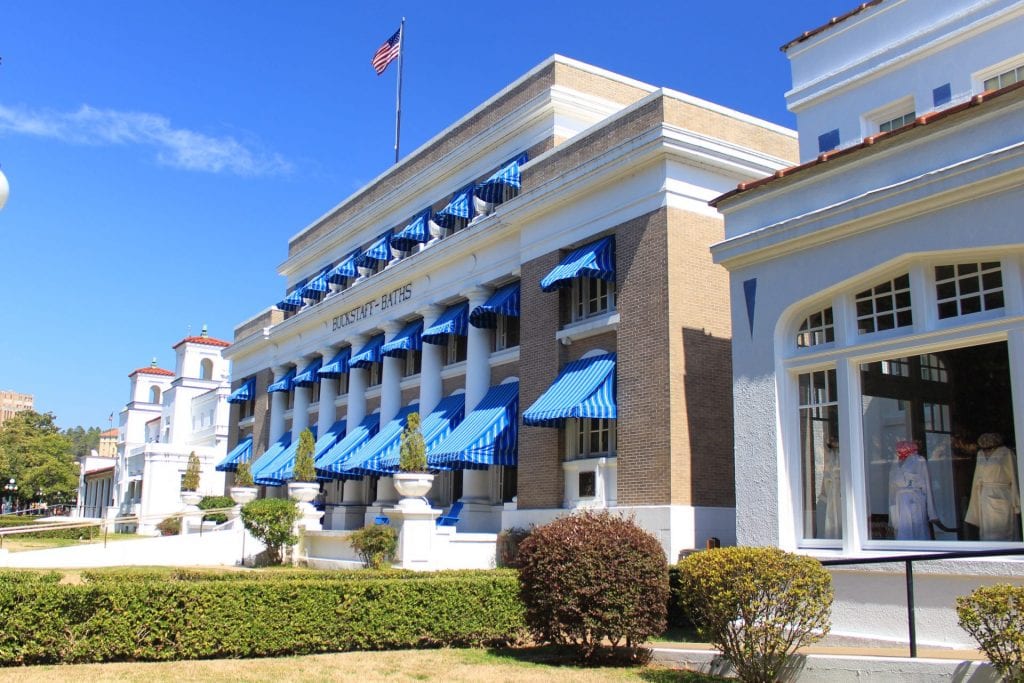 Hot Springs is a large, centrally-located city, with a national park inside its boundaries. It is especially known for Bathhouse Row, a collection of buildings used for spas between the 1890s-1920s (Kerri told us all about Hot Springs in this post).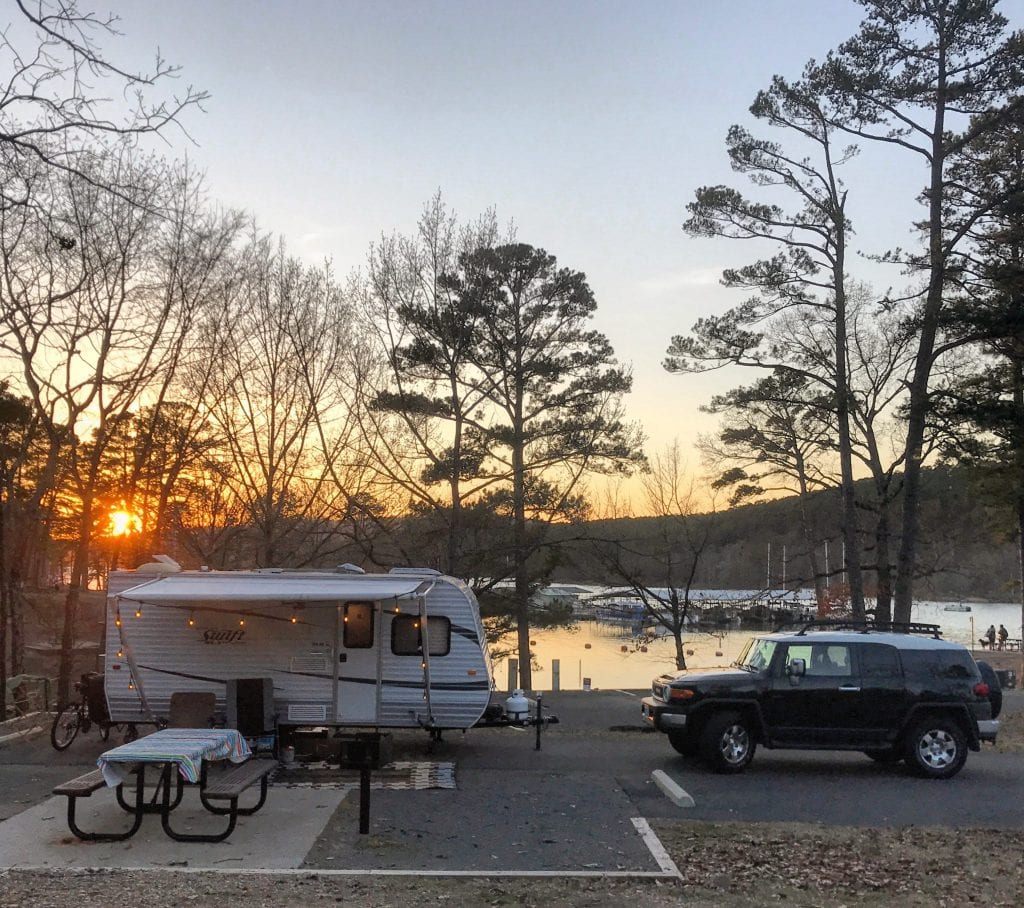 Kerri's family enjoyed staying at one of Arkansas's great state parks during her recent visit. Lake Ouachita State Park sits a ways outside of the city, but it is really beautiful, with lakefront campsites. Highly-rated Catherine's Landing Campground is another terrific pick. It's closer to town and offers a resort-style experience. Finally, the National Park Service offers a beautiful campground with full hookup sites at Gulpha Gorge. The only downfall is that it doesn't take reservations.
Eureka Springs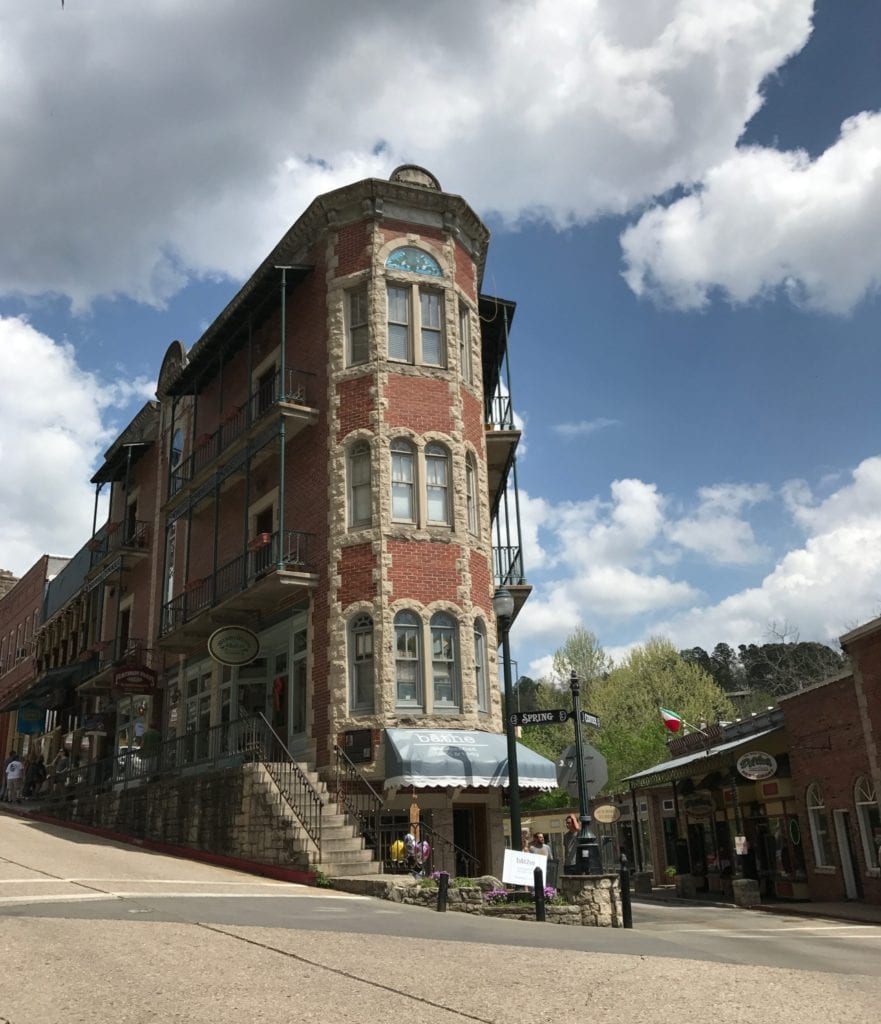 Eureka Springs is tucked away in northern Arkansas, and it is known as a charming small town with an artsy vibe. There are amazing hiking trails not too far away, and the downtown is a great place to stroll.
Kerri recommends staying at Wanderlust RV Park. She told us more about this park in a previous post (found here). This park has scenic campsites and easy access to the Eureka Springs trolley. The Eureka Springs KOA is also highly recommended.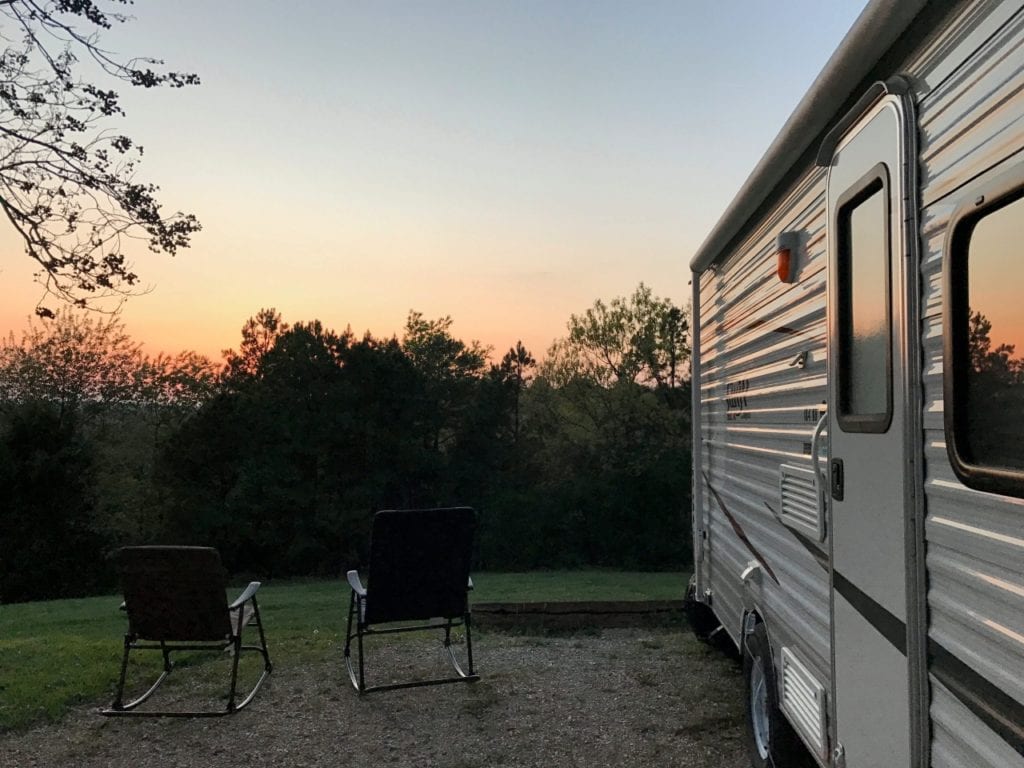 If you're like us, you're ready to hit the road to these great Arkansas camping destinations. Thank you, Kerri, for telling us all about them. You can follow Kerri's RV adventures over on her Instagram feed or her website Travels with Birdy.
See You at the Campground,
Stephanie + Jeremy
Podcast: Play in new window | Download