Lake Ouachita State Park is located on the shores of one of the cleanest lakes in the nation. Surprisingly, its pristine waters might not be the top draw. Instead, many campers use Lake Ouachita State Park as a basecamp for exploring nearby Hot Springs in central Arkansas. Whether you stay in the park or venture out, this campground is another gem in the Arkansas State Parks system.
Home to a national park and tons of natural beauty, Hot Springs is a destination that should be on your list. Kerri Cox, of Travels with Birdy, has been visiting Hot Springs for decades and has noticed many of her fellow RVers are also discovering this fun town. Some come to enjoy the hot thermal springs the town is known for; others come to check another national park off their list.
With many wonderful campground choices in Hot Springs, it can be hard to pick just one. Luckily, Kerri didn't have to pick for herself since she was meeting a friend there. Shay, a fellow RVFTA fan, selected Lake Ouachita State Park, and both families fell in love with this lovely park.
Campground Details: Lake Ouachita State Park
Lake Ouachita State Park has four camping loops strung along the lakeshore. It's rare to find beautiful state and national park campgrounds that offer full hookups, but Lake Ouachita State Park does. It also has huge sites with concrete pads, and many have lake views. Plus, it has the perfect trees for stringing up hammocks. It offers all of this for $35 a night.
Camping Loop A is the largest. Though it is located on the lake, not all of the sites have views. For the best views, check out Loops B and C. The tent sites are not to be overlooked. Kerri, who usually wouldn't dream of camping in a tent, said the tent sites in Loop A are particularly dreamy. These sites are right on the water on a peninsula extending into Lake Ouachita. A perfect spot to listen to waves lapping on the shore and for checking out the night skies.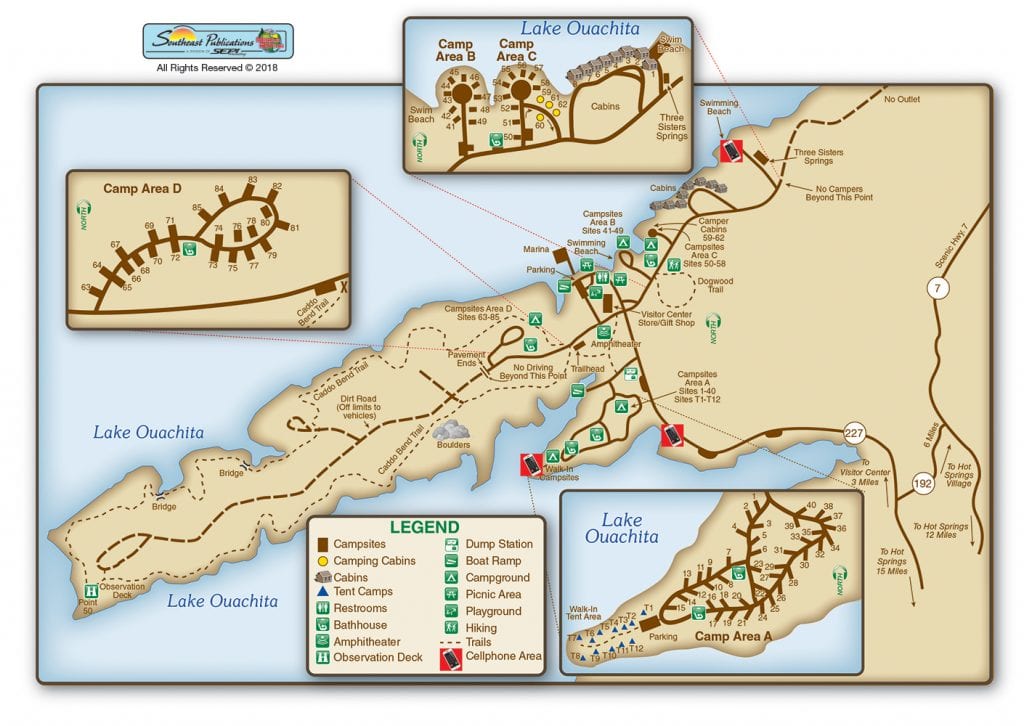 Campground Amenities & Activities: Lake Ouachita State Park
Lake Ouachita State Park offers so many amenities and activities, you could enjoy a full vacation here without leaving the park. The full-service marina makes it easy to get out on the crystal clear waters, thanks to boat and personal watercraft rentals. If you've brought your own, you'll find boat launches and lake shores providing easy access.
Families will enjoy taking advantage of the swim beach and playground. The visitor center shares information about the park's natural elements and history. A full slate of activities is offered much of the year, including lake tours, interpretive programs, and children's crafts. Those who want to soak in the beauty of Ouachita National Forest won't want to miss the hiking trails.
One amenity that is sorely lacking is a cell signal. Kerri said it is very rare for her phone not to work, but she was totally disconnected at Lake Ouachita State Park. Of course, this CAN be an advantage. However, if you are traveling and need to be in contact with work or family, you'll definitely want to plan ahead. Loop A offers your best chance of picking up a signal, though not necessarily at all the campsites. The visitor center also has wifi, which is accessible even after hours. Hit them up if you're desperate for connectivity!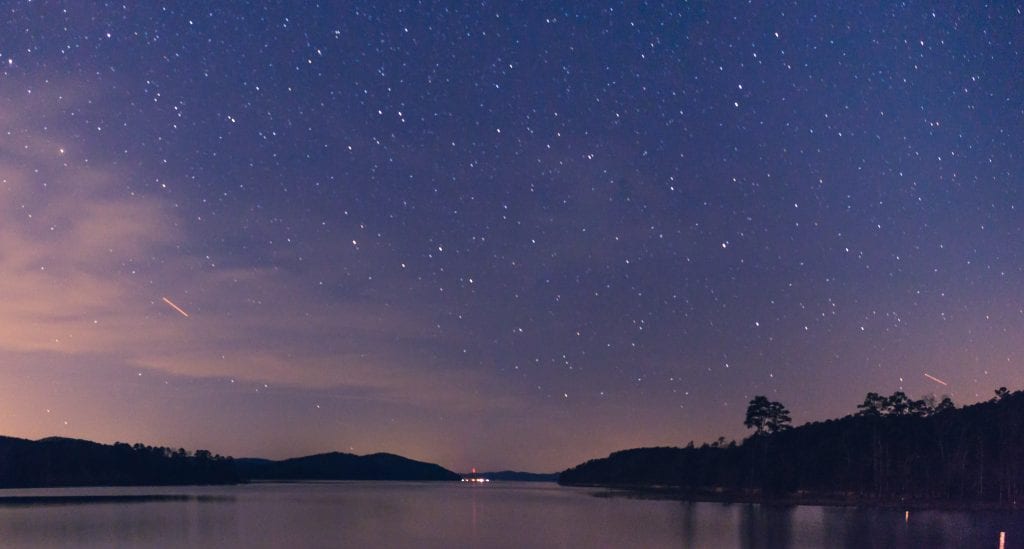 Regional Attractions near Lake Ouachita State Park
Just 20 minutes from Lake Ouachita State Park, you'll find Hot Springs, AR. Hot Springs National Park is a top attraction. Kerri points out this land was preserved for public use long before anyplace else–and before Arkansas was even a state.
Visitors can stroll the historic architecture along Bathhouse Row. As in the past, these bathhouses offer full spa services, with a soak in the hot thermal waters being a top pick.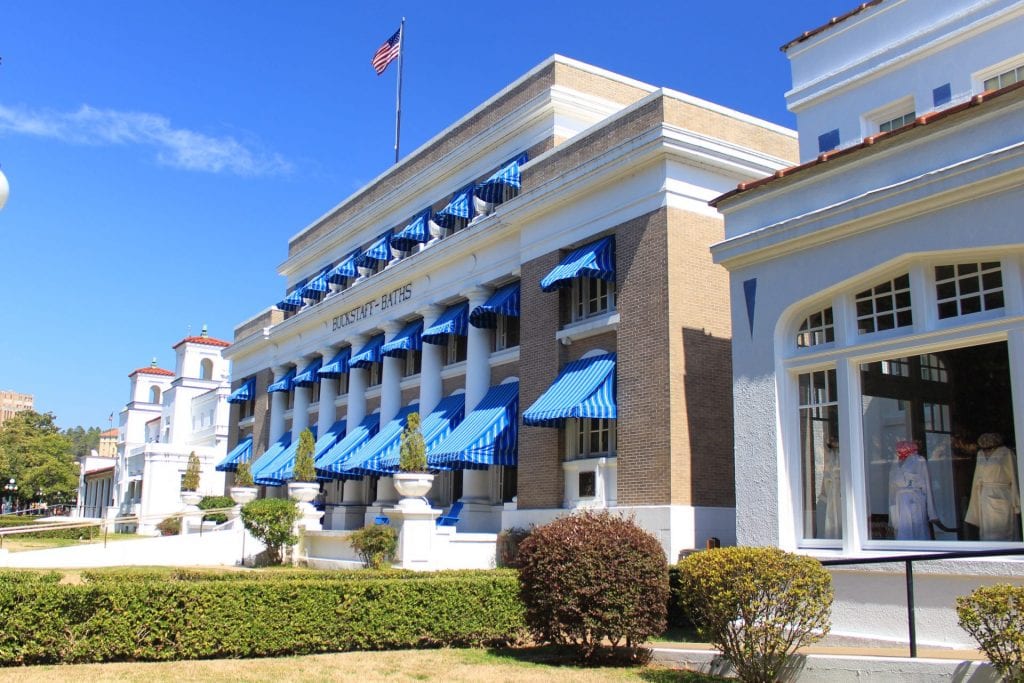 For views of Bathhouse Row from above, take a walk along the Grand Promenade or a drive up one of the mountain drives. Longer hiking trails can take you into the woodlands for a more natural experience.
Hot Springs was once a haven for illegal gambling and other illicit activities during Prohibition, attracting gangsters like Al Capone. This colorful history can be explored at the Gangster Museum of America and the Arlington Hotel.
For gambling of the legal kind, Kerri recommends a stop at Oaklawn Park. Even if you don't bet on the ponies, it's fun to watch the powerful thoroughbreds race by.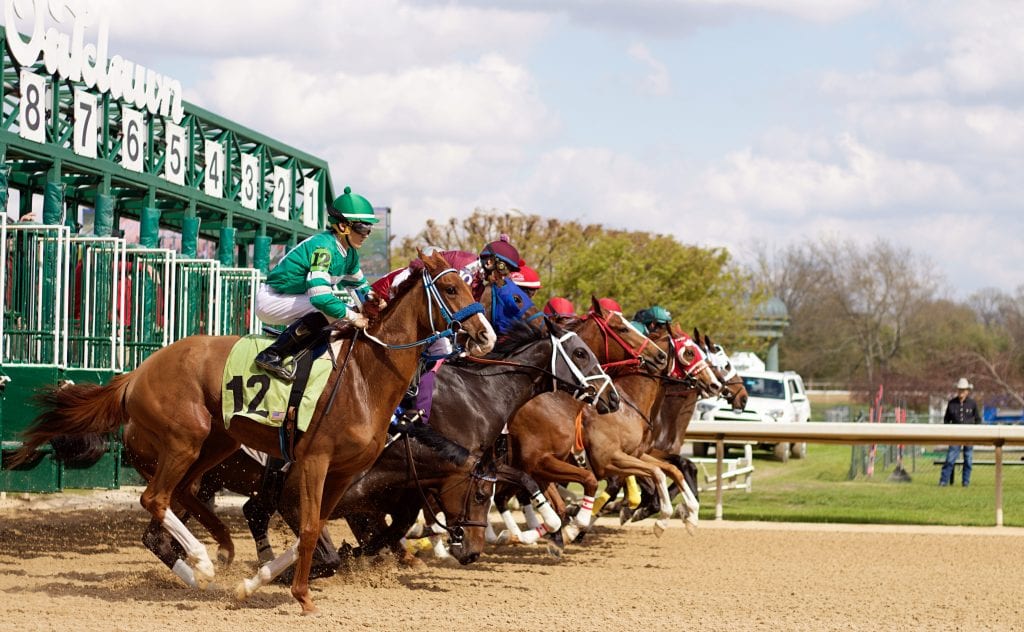 You might expect Hot Springs to be the kind of place that has an amazing breakfast diner, and it doesn't disappoint. The Pancake Shop offers plate-size pancakes, so big you have to cut a hole in the middle so your syrup doesn't flow onto the table.
One unexpected find is a top-notch microbrewery in the national park…in fact, Hot Springs offers the only one in the nation. The Superior Bathhouse Brewery is even more unique in that it uses the town's hot spring waters in the brews. Plus, the food is amazing.
A huge thanks to Kerri Cox from Travels with Birdy for coming on the show and reviewing this hot pick in Hot Springs. Check out her blog posts on Lake Ouachita State Park and Hot Springs. Kerri keeps telling us how awesome Arkansas is, and with state parks like this, it's easy to see why!
See you at the Campground!
Stephanie + Jeremy
Podcast: Play in new window | Download