Michigan might not be the first state that comes to mind as a great RVing destination, but we think it's utterly underrated. There's so much to explore in the the Great Lakes State. Check out this list of great Michigan camping destinations to see why Michigan deserves to move a few spots up on your bucket list.
To hear all about these Michigan camping destinations, click play on the media player above or look for The RV Atlas wherever you find your favorite podcasts.
Our Michigan Story
Michigan might hold a special plates in our hearts thanks to our own personal history. Stephanie went to college there, and Jeremy spent a lot of time visiting her. Neither of us love cold weather, so once Stephanie was done with school, we really had no burning desire to return.
But then, we started to read about Sleeping Bear Dunes…and then we heard from some listeners and friends about all of the great destinations they've visited in Michigan. So, we put it on our list, and it didn't disappoint!
Before we start, we have to put a plug in for a visit to Elkhart, Indiana. When you head into or out of Michigan, Elkhart likely won't be too far out of the way. We recommend a stop at the  RV/MH Hall of Fame, which should be on the bucket list of every RV owner. Plus, many manufacturers are located there and offer tours. Check out our adventures in Elkhart here!
Sleeping Bear Dunes National Lakeshore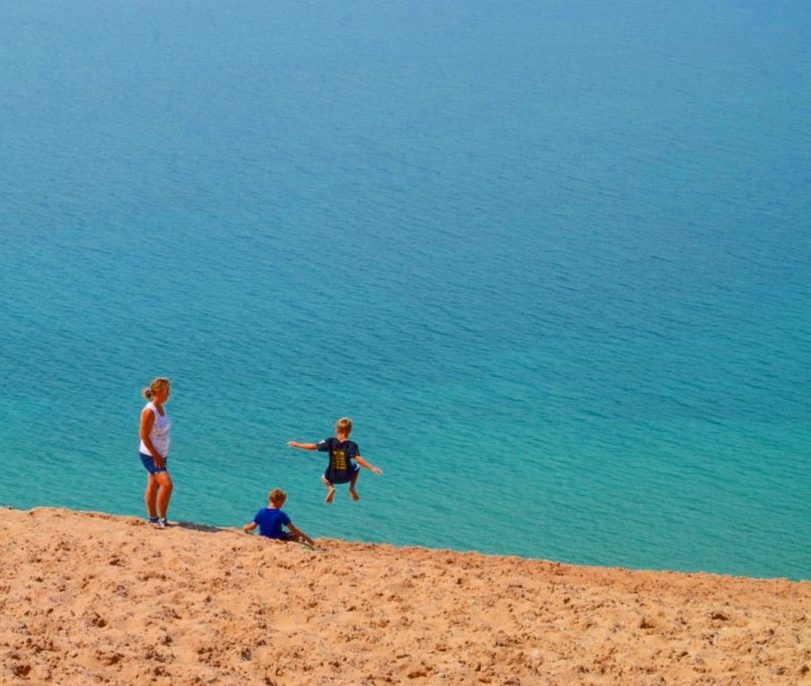 In 2016, Sleeping Bear Dunes National Lakeshore lured us to Michigan for a big road trip along the coast of Lake Michigan. Sleeping Bear Dunes was voted "America's Most Beautiful Place" by Good Morning America listeners in 2011–and this designation is well earned. 
Things to Do
What we loved about Sleeping Bear Dunes was the variety of kid-friendly activities. If you are traveling with teens and tweens, they'll find plenty of adventures, too. We loved that there's not a huge sense of danger. These are the kinds of things they can enjoy pretty independently. 
There are several amazing family hikes in Sleeping Bear Dune. Empire Bluff Trail was a real favorite for us. The Dune Climb is truly unforgettable. Plus, tubing on the Platte River is a great way to enjoy a warm summer day. The Pierce Stocking Drive offers stunning views of Lake Michigan. 
The nearby town of Glen Arbor is really charming. Don't miss Cherry Republic to get all kinds of wares made with Michigan's famous cherries!
Recommended Campgrounds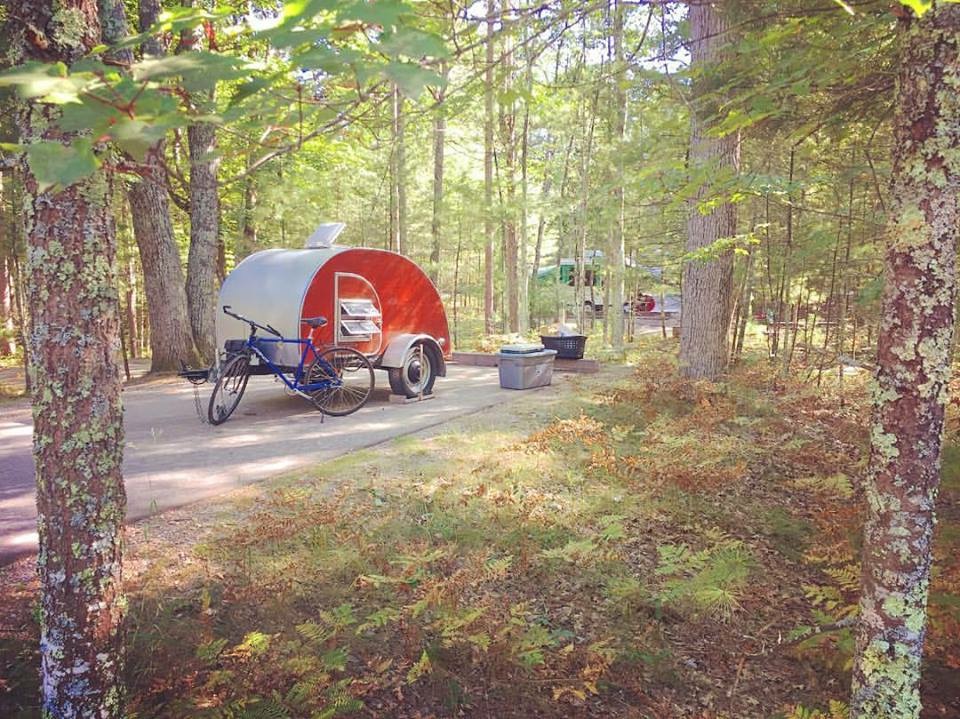 The Platte River Campground, located in Sleeping Bear Dunes, is a classic American NPS campground. This park is really meticulously maintained and managed by actual park rangers.
Traverse City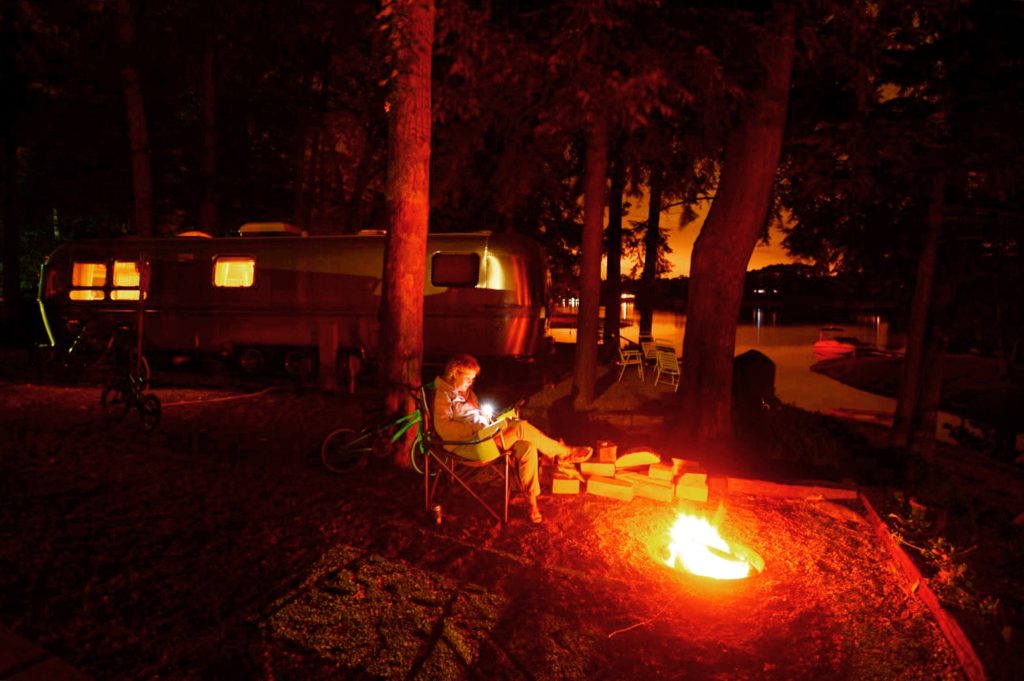 Traverse City is a fabulous American destination, and visitors should be prepared to enjoy lots of local food, wine, beer, and coffee. The city also boasts a bold outdoors culture, so take advantage of the amazing kayaking, stand up paddle boarding, biking, canoeing, and fishing.
Things to Do
We had so much fun exploring Traverse City! It's just 30-40 minutes from Sleeping Bear Dunes, so don't do one without squeezing it the other, if you can. Check out this list of our Traverse City favorites:
Recommended Campgrounds
Holiday Park Campground is a great option near Traverse City. Hear all about it in this review. You'll see a ton of Airstreams since it used to be an Airstreams-only park.
The Traverse City State Park also looked like a good, convenient spot since it is close to downtown. The Traverse City KOA also gets good review.
Michigan Camping Destinations We'd Like to Explore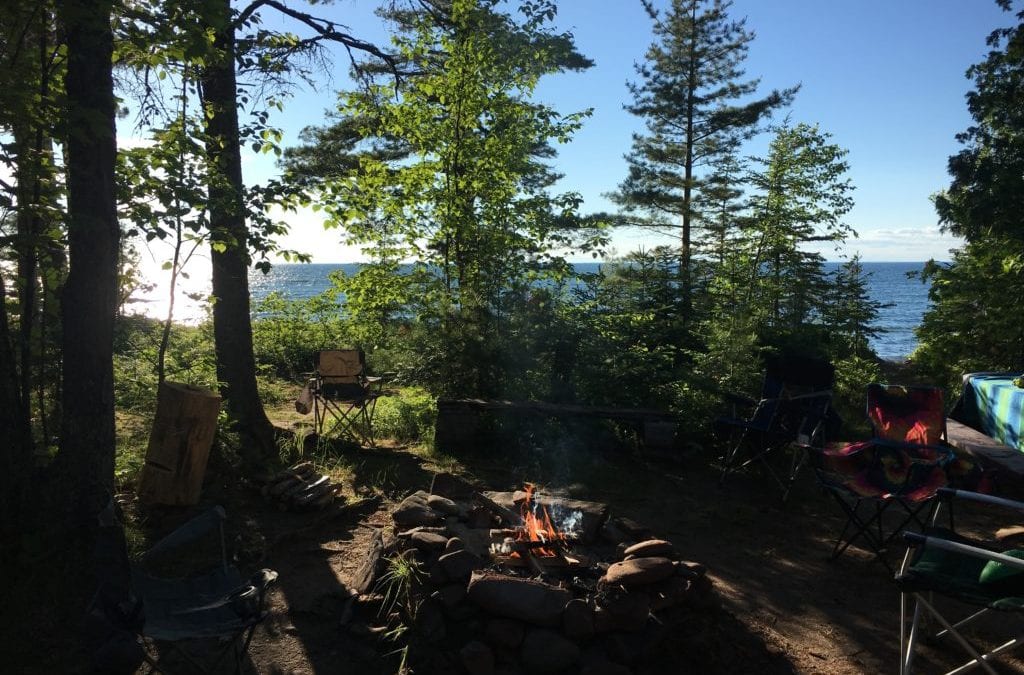 Now that we've caught the Michigan bug, we'd love to make it back to explore more. Here are a few more Michigan camping destinations that are on our list:
Mackinac Island
The Upper Peninsula 
Sunset Bay RV Resort and Campground in UP (don't miss this review by Matthew and Melissa Kellas)
The Stormy Kromer Factory — Jeremy clearly needs to buy a hat!
Pictured Rocks National Lakeshore — this place looks gorgeous
Lake Michigan, Lake Superior, Lake Huron 
We love that people in Michigan really love camping and the Great Outdoors! Maybe you'll consider joining them in this underrated camping destination!
See you at the campground,
Stephanie + Jeremy
Podcast: Play in new window | Download