Alabama's Gulf Coast is a hidden gem, with sugary sand beaches and turquoise waters stretching as far as the eye can see. Jellystone Park of the Alabama Gulf Coast, located in Elberta, is a gorgeous retreat that puts you just 25 minutes from the beaches. The park itself is so packed with activities and amenities you could fully enjoy a stay there, even if the beaches weren't just down the road.
We've heard the rally cries for more campground reviews, and we are thrilled that DJ Odom is joining us as a guest correspondent to share his review of the Elberta Jellystone. DJ hails from southern Alabama, near the town of Mobile, just a couple of hours from the coast. You can often find him with his wife and young son hanging out at the campground in a 2018 Grand Design Imagine 2400BH.
DJ is also an awesome photographer and provided the photos for this review! Thanks DJ.
To hear more about Jellystone Park of the Alabama Gulf Coast, click 'play' on the media player above or search for The RV Atlas wherever you find your favorite podcasts.
Location and Park Details: Jellystone Park of the Alabama Gulf Coast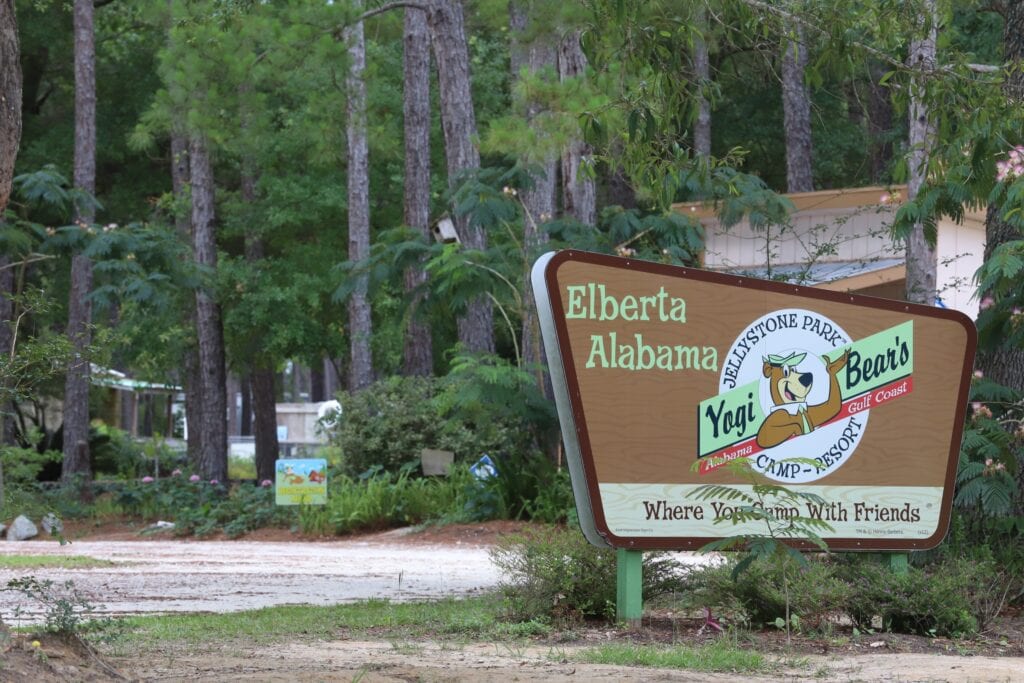 Jellystone Park of the Alabama Gulf Coast is located just 25 minutes away from the shore in the small farming community of Elberta. It has easy access to the popular beach towns of Orange Beach and Gulf Shores, as well as Gulf State Park.
This Jellystone is fewer than 15 minutes east of Foley, an energetic destination with an outlet mall, family attractions, Lambert's Cafe (home of the throwed rolls), and more. While it is easily accessible to these tourist spots, Jellystone Park of the Alabama Gulf Coast is nicely tucked away in the quiet town of Elberta.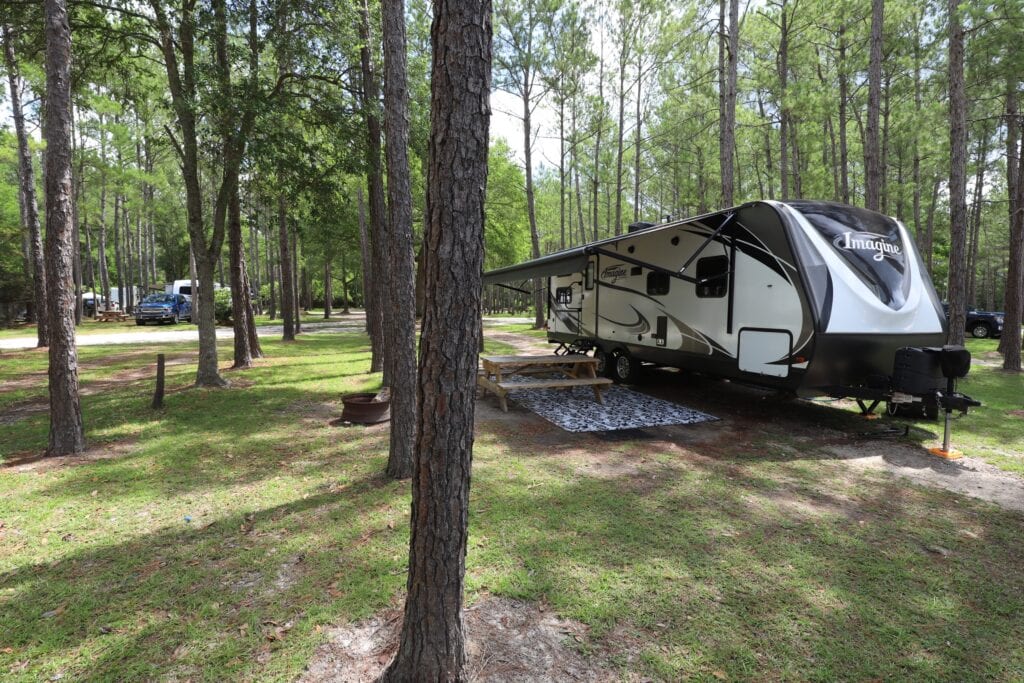 The Elberta Jellystone offers 85 sites, three cabins, and a group camp area. Expect to pay between $46 for a basic site to $52 for a premium site. Reservations are fairly easy to get, with the exception of holiday weekends or the popular Halloween weekends. Book early if you're traveling during a peak time.
Alabama's Gulf Coast is a year-round destination, and the Elberta Jellystone welcomes campers throughout the year. Though winter isn't usually an ideal time to swim in the Gulf, the weather is usually perfect for strolling on the shore, with highs sometimes hitting the 70s.
Campground Ambiance: Jellystone Park of the Alabama Gulf Coast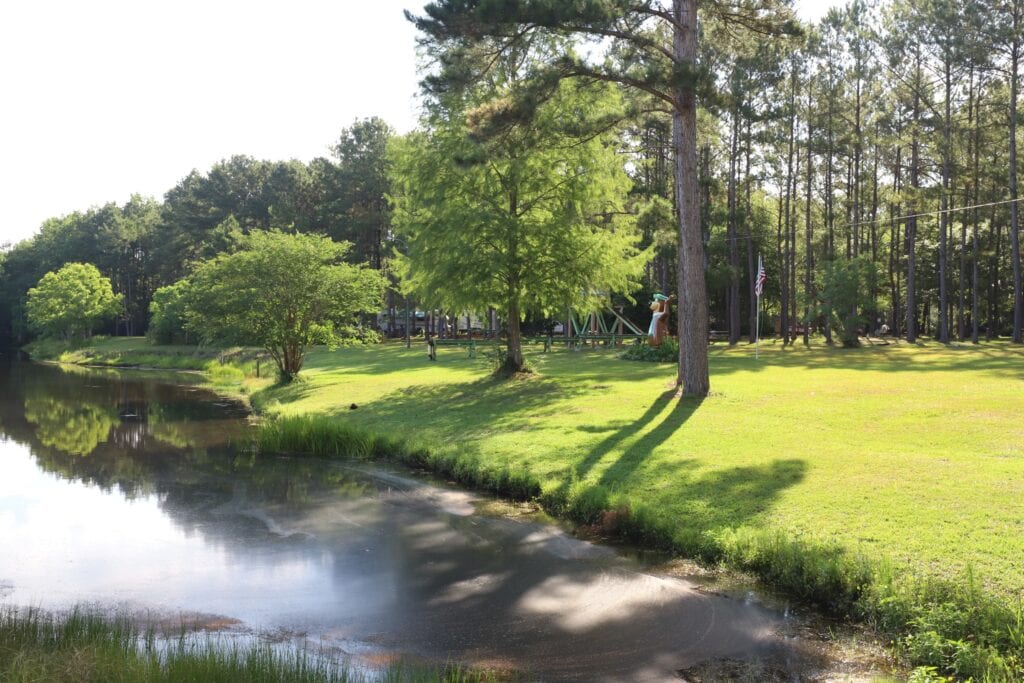 Colorful azaleas, towering pines, and lush palmetto trees welcome visitors to the Elberta Jellystone. Near the entrance, a gentle grassy slope surrounds a fishing pond. The dirt and gravel roads help the park maintain a rustic, natural ambiance.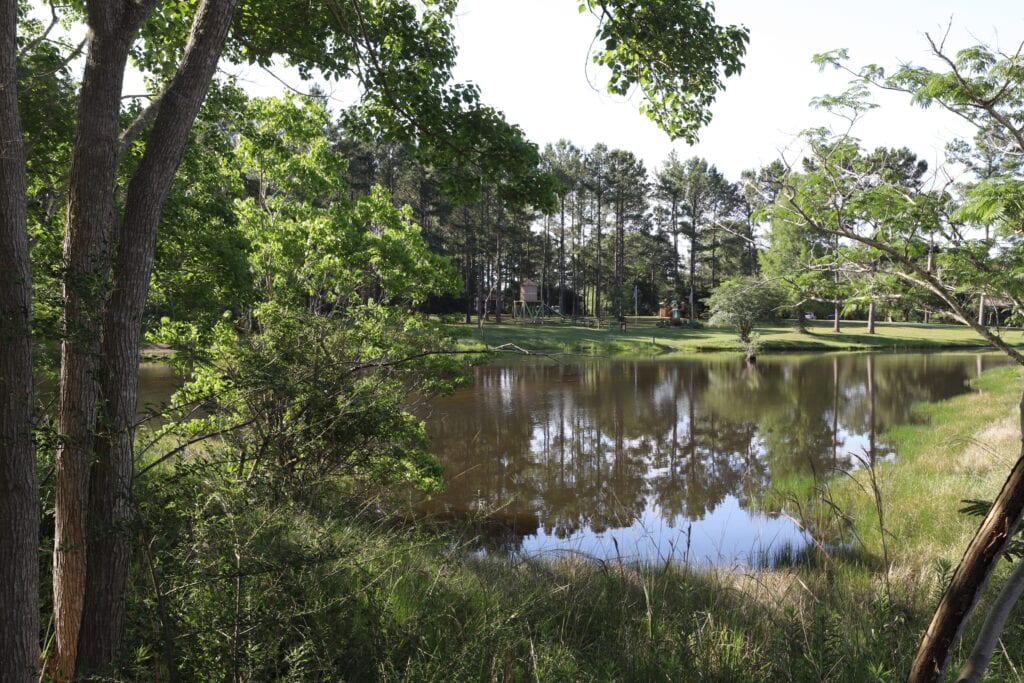 The campground is set up as one main loop, which is broken into three rows (check out the park map here). The outside row (sites 1-21) primarily offers back-in campsites, while the two interior rows are pull-through sites. The pull-throughs are close together, but thanks to their length, you don't feel too crowded. The ends of each loop have premium pull-through sites, which are a bit larger than the rest of the spots.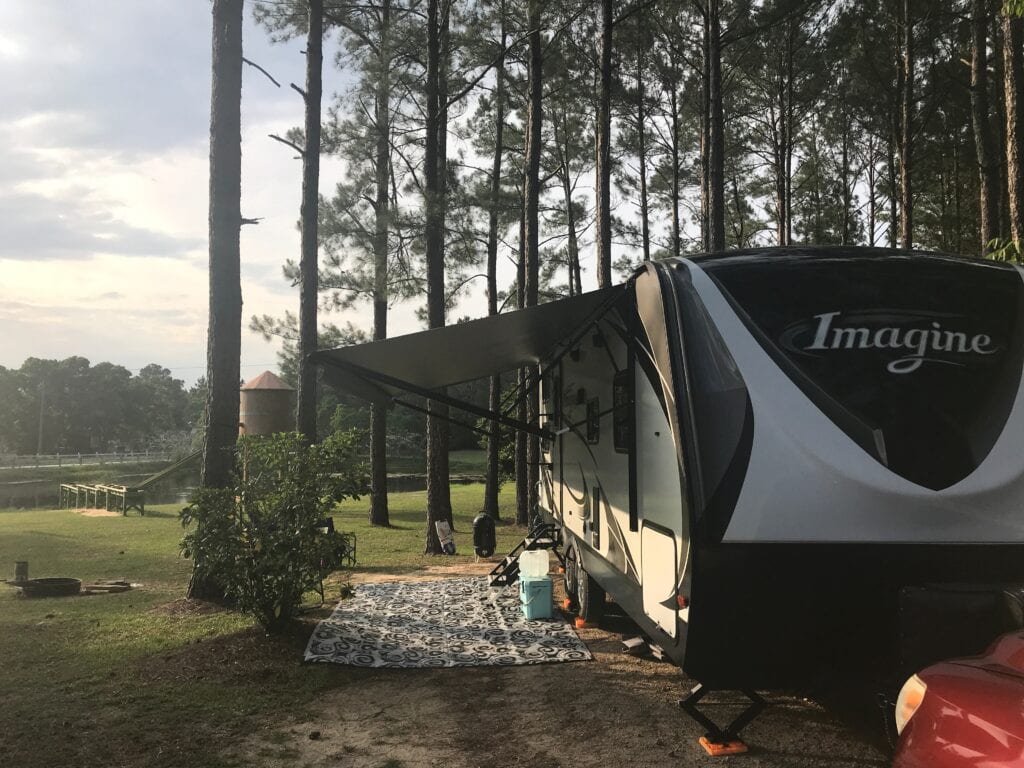 DJ particularly recommends site 35. This premium site is located at the end of the first row. It is particularly spacious and surrounded by bountiful landscaping, giving you a bit more privacy. He also notes that back-in sites #1-6 offer a great view of the pond. Each evening, this is a prime spot to catch the sunset.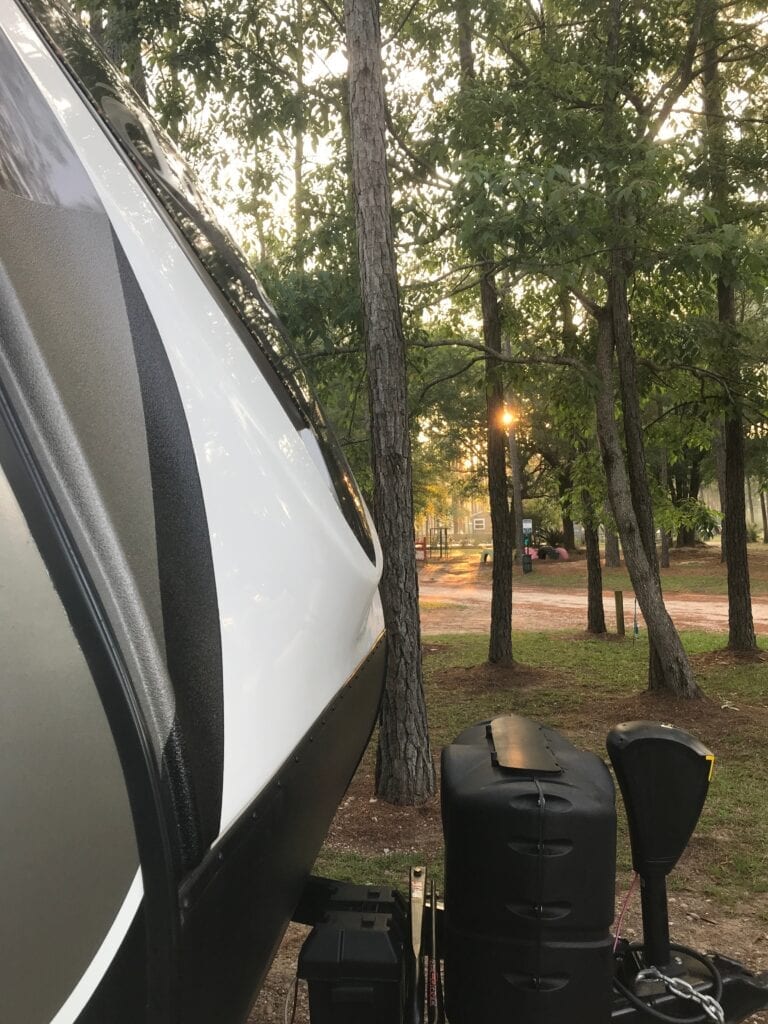 While the tall pines do not create much of a visual barrier between sites, they do offer dappled shade, which helps keeps your RV cool on warm summer days. Like the photographer he is, DJ pointed out that the trees are in perfect rows, which is visually pleasing when looking across the park.
Amenities and Activities: Jellystone Park of the Alabama Gulf Coast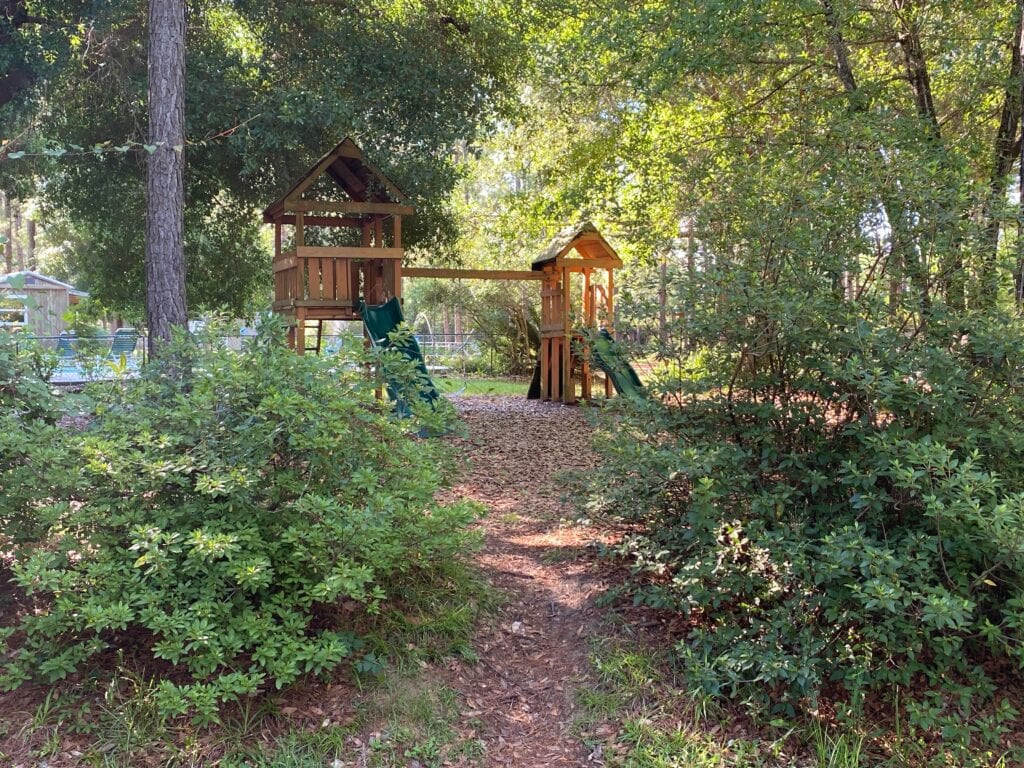 This Jellystone lives up to the Jellystone reputation for family fun! Start with the amenities. You'll find a pool, a splash pad, playground, and picturesque fishing pond. The kids can burn some energy on the basketball court or sports field (which offers volleyball, tetherball, horseshoes, corn hole, and more). Families may also enjoy gathering at the community fire pit or the clubhouse/theater.
A full menu of activities is offered at the Elberta Jellystone. Take part in hay rides, arts and crafts, movie nights, sporting events and more. As mentioned earlier, the themed weekends are particularly popular, especially the Halloween weekends held each fall. Jellystone prides itself on offering activities for kids of all ages, and this park succeeds in that mission, as well.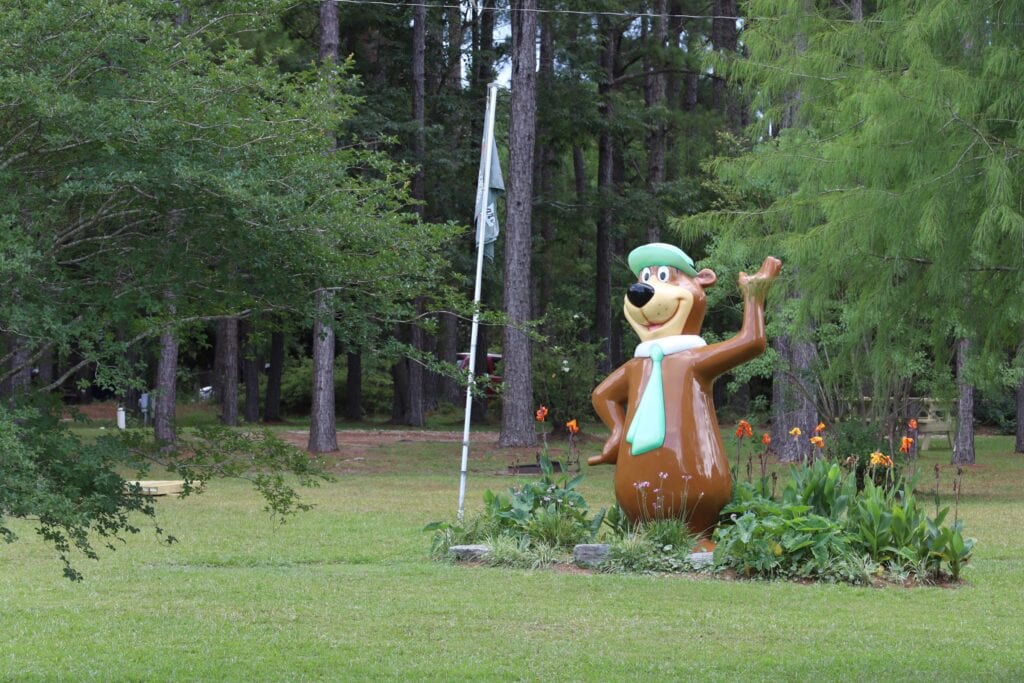 Of course, it wouldn't be a Jellystone without the fun of Yogi Bear and friends. This park has many opportunities for character interactions. Even Yogi is following social-distancing guidelines, so you don't have to miss any of the fun! You never know when he or Boo Boo will photobomb a family picture!
DJ points out that the trees are perfectly spaced for hanging hammocks, making this a top-notch park for hammocking. While many parks don't list this as an amenity, our hammock-loving friends will appreciate what a special find this truly is!
Other special activities include gem mining at the pond-side sluice and the water wars hayride (prepare to get soaked!). Just call ahead to see what the park will be hosting during your stay. During DJ's visit in April, everything was open, but we know things can change.
Campground Services: Jellystone Park of the Alabama Gulf Coast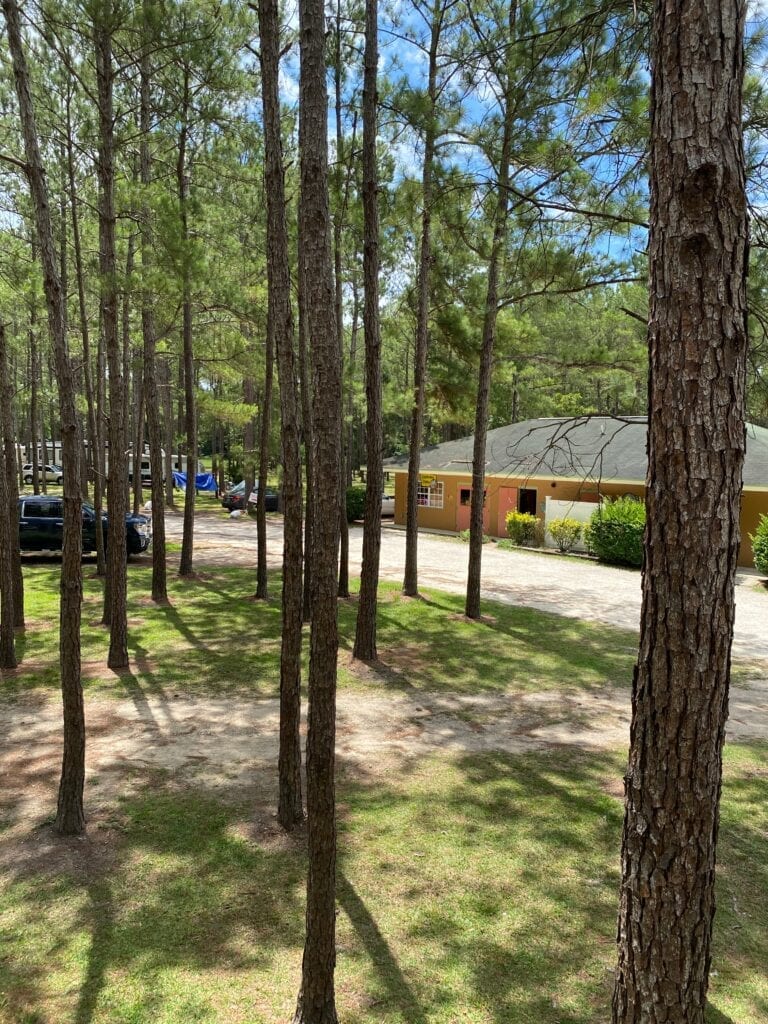 The Elberta Jellystone offers everything you need for a comfortable stay. Most of the campsites offer full hookups. Some have water and electric only, while a handful are water only. Several primitive tent sites are available.
If digital access is important to you, you'll find good connectivity in the park. DJ said the park's WiFi is great (a rare find!). Verizon service is good, as well. DJ warns that the AT&T signal isn't as strong.
One thing that is never lacking is customer service. DJ praised the park staff for being super flexible and accommodating. Everyone he encountered was very kind, friendly, and helpful. We love hearing that!
Though the Elberta Jellystone doesn't offer a dog park, there are pet stations all around the campground. Pets are not welcome in the cabins, however.
Insider Details: Jellystone Park of the Alabama Gulf Coast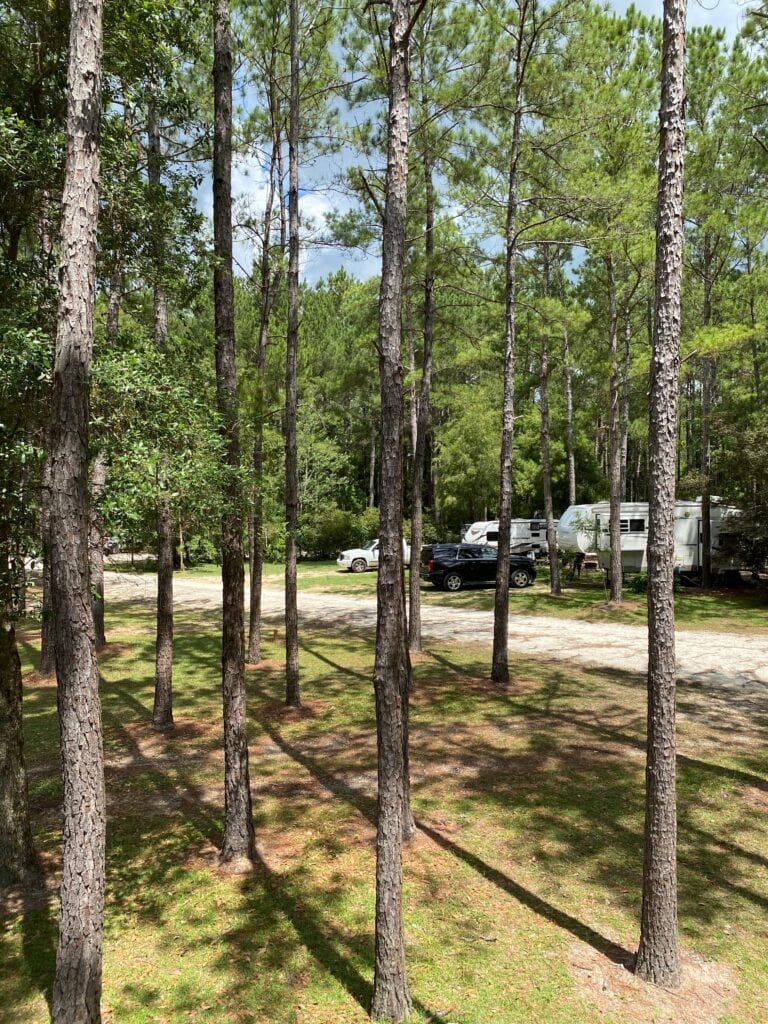 The Jellystone Park of the Alabama Gulf Coast is under new ownership, and the new owner is working on adding some upgrades. Watch for a brand new GaGa ball pit and other additions and renovations soon. Also, the previous manager has stayed on and is offering the same friendly service. We will keep an eye on this park!
The only thing DJ found lacking in the Elberta Jellystone is that the park does not offer a dump station, at least as far as he could tell. If you plan to stay in a non-sewer site, you'll definitely want to ask about this.
Regional Highlights: Jellystone Park of the Alabama Gulf Coast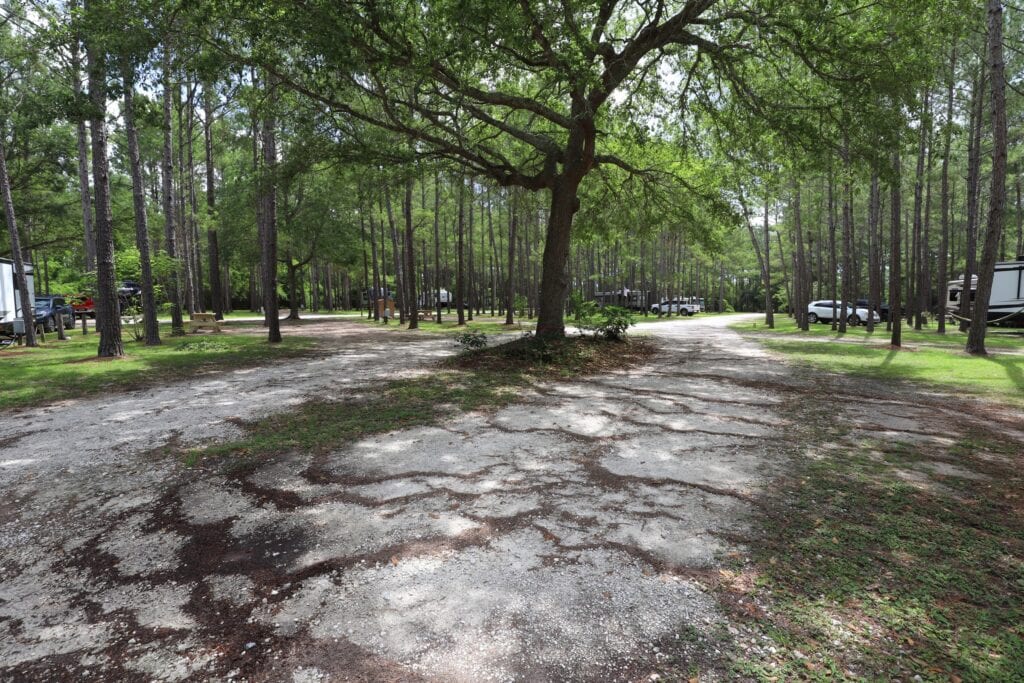 Florida's Emerald Coast is a well-known hotspot, but people don't always realize Alabama has all of the beauty and fewer crowds. DJ recommends a visit to Gulf State Park, which offers beaches, a swimming pool, trails, a fishing pier (currently under renovation), and more.
Gulf Shores has all of the classic shops and restaurants you'd expect to find in a beach town. Don't miss the phenomenal seafood. DJ also recommends the Sunliner Diner, a 50s-themed restaurant. As mentioned earlier, Lambert's Cafe in Foley is a unique experience, famous for its "throwed" rolls (which the servers will toss to you from across the cafe).
We want to thank DJ for sharing this awesome campground review of the Jellystone Park of the Alabama Gulf Coast with us! You can check out DJ's awesome photography on Instagram.
We may have to consider Alabama for our list of underrated camping destinations (check out our posts about New York, Virginia, Michigan, and Arkansas). Sounds like Alabama has it going on! Jellystone Park of the Alabama Gulf Coast is a perfect pick.
See You at the Campground,
Jeremy + Stephanie
Podcast: Play in new window | Download