It's gift-giving season! You're buying gifts for friends, family, coworkers, pets, and more…so why not put your RV on the gift-buying list? Many of us consider our RV part of the family, so don't leave it out. On this installment of our holiday gift guide, we are sharing some splurge-worthy RV gifts.
If you missed them, be sure to check out this year's previous gift guides: The RV Atlas Holiday Gift Guide: RV Appliances and 2019 Holiday Gift Guide: Apparel and Accessories.
To hear all about our favorite RV gifts for this holiday season, click play on the media player above or search for The RV Atlas wherever you find your favorite podcasts.
Yakima LongHaul Premium Hitch Bike Rack for RV and Travel Trailer $263.20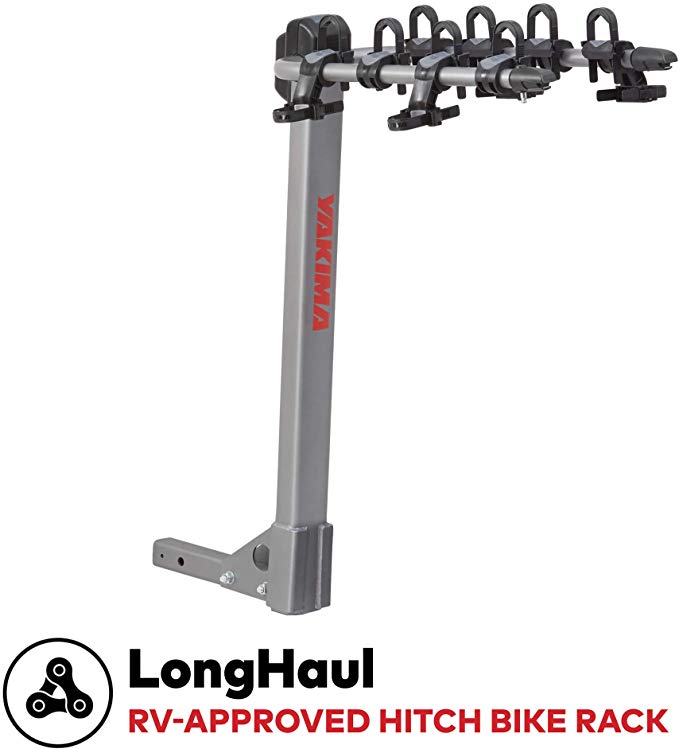 When selecting a bike rack for your RV, you have to be cautious. Regular bike racks aren't rated for RV use and can actually cause damage to your rig. Luckily, the Yakima LongHaul Premium Hitch Bike Rack is built for the long miles and extra friction it will endure on the back of an RV.
We bought one for our new Jayco Eagle 264BHOK. We haven't been able to use it yet, but we are confident it is a solid choice since it comes highly recommended by RV/MH Hall of Fame inductee and bike enthusiast Bob Livingston. Check out his full review in Trailer Life Magazine here. Bob is known for his rigorous reviews and he is an absolute bike aficionado–so we trust him completely when it comes to finding the best biking gear.
One thing to note is that, while the rack is advertised as capable of holding up to four bikes, Bob said it is more suitable for two to three.
Solo Stove Bonfire $254.99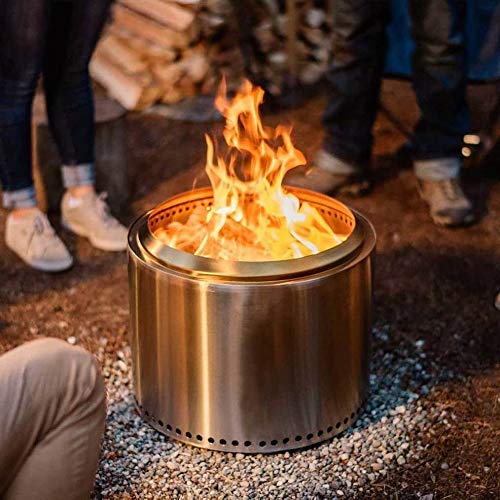 This Solo Stove Bonfire is already rocking our world!
Solo Stove offers three sizes. The Ranger is smaller and portable, best for a couple. The Yukon seems like a great size to use at home with the whole family. The Bonfire is right in between, very portable but still large enough for several people to enjoy at once. It's great for tailgating or driveway camping. The wood burns very hot so you only need to use a couple of pieces to have a toasty and short campfire–perfect if you are not planning on spending the entire night outside.
The Solo Stove is super easy to set up and produces a mesmerizing fire. Ours also came with a well made stand and carry bag.
Clearsource Premium RV Water Filter System $275.00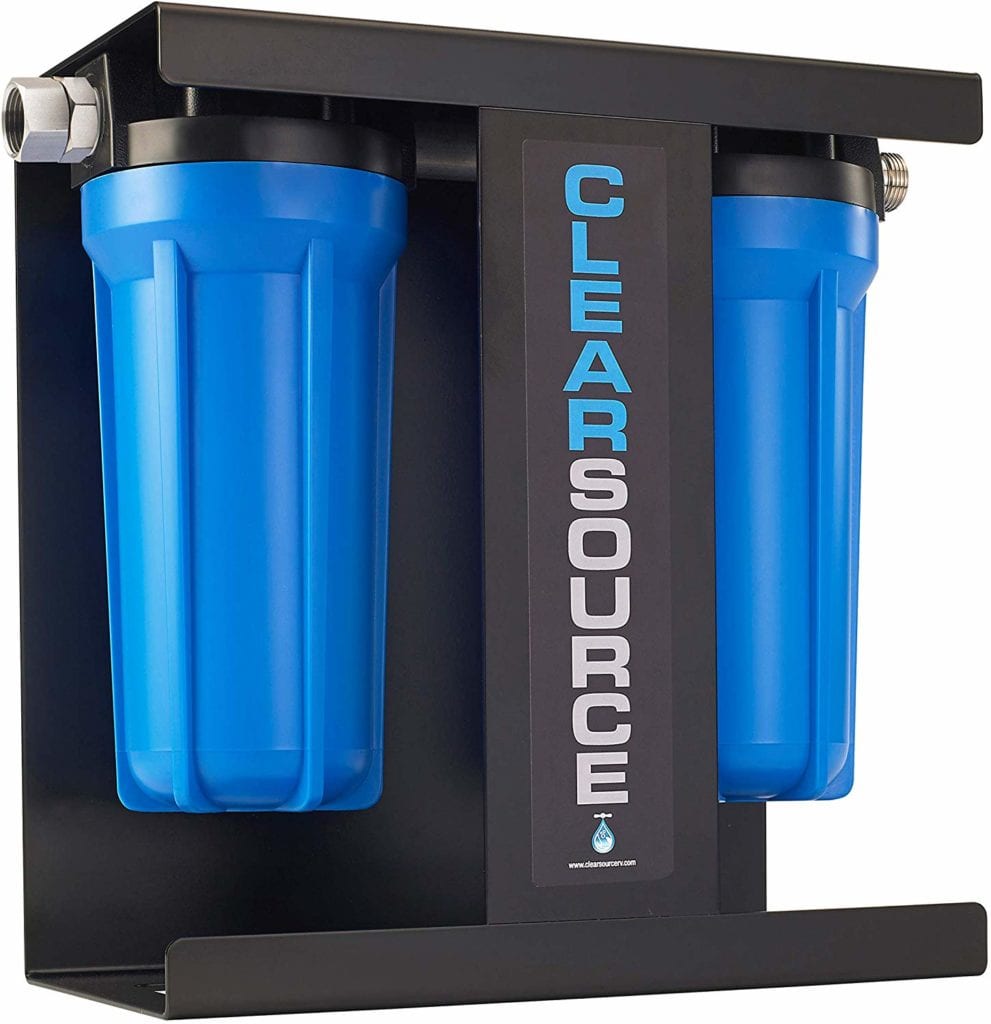 With our previous RV, we were completely spoiled by our Acuva Tech water filtration system. So, when we switched RVers, we really thought about installing another one. Instead, we decided to give something else a try, especially something at a lower price point. This led us to the Clearsource Premium RV Water Filter System.
We discovered the Clearsource while testing rigs at the Trailer Life "Testapolooza." If it's good enough for Trailer Life, it's surely good enough for us.
We just recently bought the super duper Clearsource Ultra three-filter system, which filters down to .2 microns. You basically cannot filter down any further than this. It stops E. coli and other small, evil contaminants. This comes at a price of $350, while the two-filter system is $275.
While this setup is a little bulky, we appreciate that it filters all of the water in our RV, not just the kitchen tap. Plus, this kind of system truly improves the taste your water, which means you'll waste less money on plastic bottles.
Furrion LIT $99.95 and Furrion LIT Charging Dock $19.99

The Furrion LIT is a good quality Bluetooth speaker with good sound and good design. Plus, it comes with a flashlight! (You knew Jeremy would find a way to include a flashlight recommendation in the gift guide, didn't you? We just didn't think he'd hide it in a speaker rec!).
The Furrion LIT is rugged and waterproof, which makes it perfect for campground adventures. Plus, you can pair the LIT with another LIT speaker if you want double the sound.
You absolutely should get the charging dock with the LIT. The dock can be mounted in the RV and stored away and charged after each use. We have one with a dock in the kitchen and one with a dock in the outdoor kitchen. Take it off the dock, and head for the campfire or wherever your family is gathering.
Tireminder Smart TPMS with five transmitters ( https://amzn.to/2qt3kv3 )
I asked in the group what gift ideas everyone had for their own RVs The most common item was a tire pressure monitoring system. Last spring, we shared a recommendation from Trailer Life's Chris Daugherty, and here it is again!
Chris highly recommends TireMinder products, and he told us all about the newest model, TireMinder Smart TPMS. This system integrates with your personal smartphone. Users will place sensors on the tire valve stems, a repeater device on the front of the RV, and another device in the tow vehicle. An alarm will sound on your smartphone if any tire issues are detected.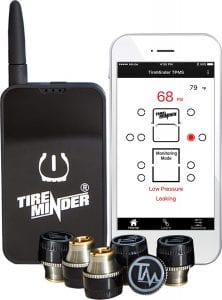 The transmitters can be used on motorhomes, travel trailers, or 5th wheels. They are compatible with iOS and Android devices.
There you have it! Five great recommendations for gifts for your RV or your favorite RVer!
See you at the campground,
Stephanie + Jeremy
Podcast: Play in new window | Download