Should I get a ________ for my RV? There is no right answer for this question asked over and over again on Facebook and other social media spaces. The trick is to have a collection of RV appliances that you personally will use regularly when RVing. It doesn't matter what anyone else thinks about a grinder, slow cooker, instant pot, or air fryer. If you'll use one and have room in the RV, put it on the holiday wish list!
On this edition of our annual holiday gift guide, we are sharing our favorite RV appliances. While this is a GIFT guide, but who says you can't gift yourself? After checking out this list, you might need to buy one for yourself and one for friends/family. Check out these coffee, cooking, and cleaning gadgets–and more!
Tips for Choosing RV Appliances
Think about how often you have shore power while camping. If you aren't hooked up, you won't be using these appliances, no matter how great they.
Consider whether you'll be saving propane when plugged in. Some electric appliances can help you save propane. For example, using an electric air fryer is saves you from turning on your propane burners.
Think about where you will store when parked and when in travel mode. Unfortunately, many great appliances require ample storage space. You can't just leave them on the counter while you're traveling down the road, like you do on your kitchen counters at home.
Listen to us share more about our favorite RV appliances for this holiday gift guide by pressing play on the media player above. Or, search for The RV Atlas wherever you find your favorite podcasts.
Best Coffee Makers for RVs
We love coffee, and chances are many people on your holiday gift list do, too. Here are two great coffee makers we recommend for RVs.
Coffee Maker–Budget Option: Hamilton Beach 46205 Programmable Coffee Maker ($36.99)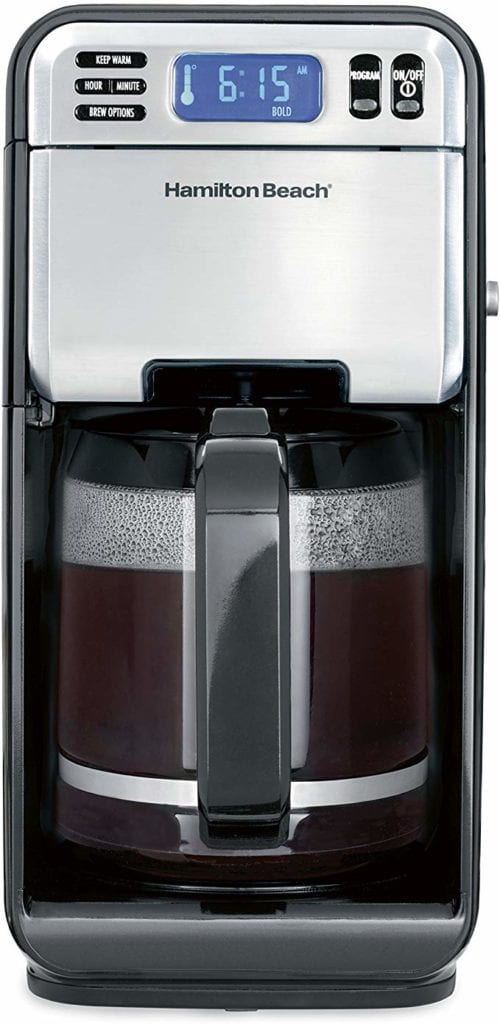 Jeremy bought one of the inexpensive Hamilton Beach 46205 coffee machines to take to work, and he was pleasantly surprised–even after a year of use. He liked it so much that he brought it home to put in his outdoor kitchen on our new Jayco Eagle 264BHOK. This coffee maker offers a 12-cup capacity. The swing-out brew basket and removable water reservoir (great for easy cleaning) are nice features. It's programmable, so your morning coffee can be ready and waiting for you. Plus, it makes a darn good cup of coffee.
Coffee Maker–Mid-Range Option: Cuisinart Perfect-Temp 14-Cup Programmable Coffee Maker ($70.00)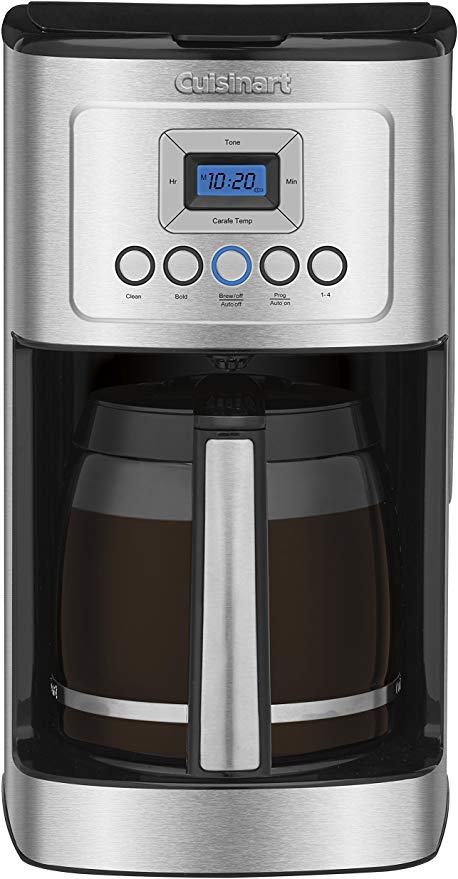 We have to admit, we travel with two coffee makers. While Jeremy is happy to use the Hamilton Beach in the outdoor kitchen, we wanted something a little nicer inside. The Cuisinart Perfect-Temp 14-Cup Programmable Coffee Maker we found at Costco ended up being a great option. It is an attractive, stainless steel unit. Also, it lets you choose how strong you want your cup of joe. Plus, we've had good luck with Cuisinart appliances over the years.
Best Coffee Gadgets for the RV
You can't make the perfect cup of coffee without having the perfect coffee gadgets, right? Here are a few of our favorites.
Freshly grinding your beans is truly the single best way to improve your morning cup of coffee. Your RV will smell amazing, and your coffee will taste better. A good coffee grinder is an essential, in our opinion. Just know that the sound can be annoying.
There are two types of grinders. Blade grinders are not as good as burr grinders since they don't evenly grind the coffee. However, even with an inexpensive grinder, you'll notice an improvement in your coffee.
Coffee Grinder–Budget Option: KRUPS F203 Electric Spice and Coffee Grinder with Stainless Steel Blades ($18.94)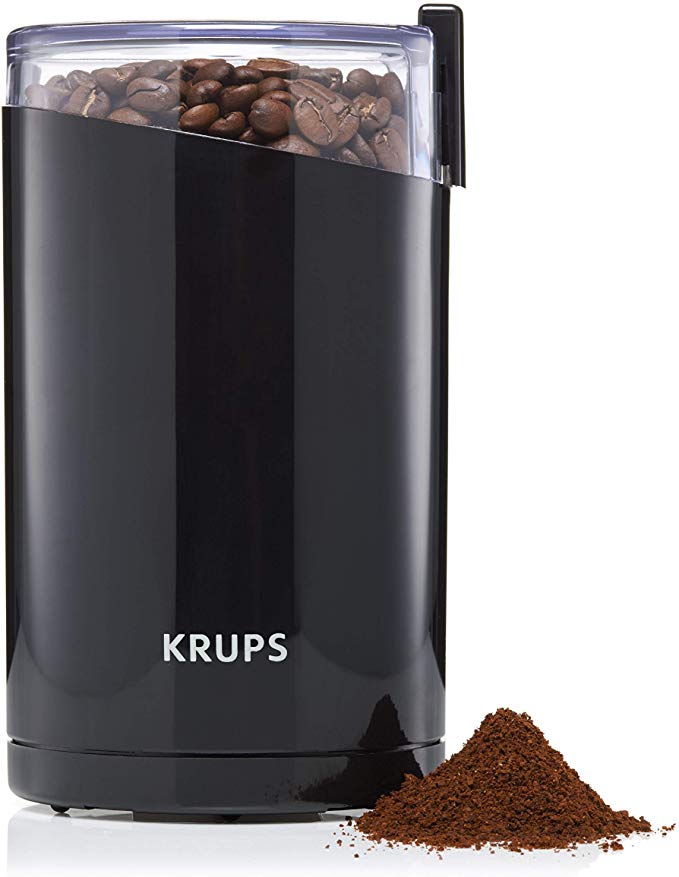 The KRUPS F203 Electric Spice and Coffee Grinder is a great, inexpensive option. We bought one for a family member who has happily used it for years. This uses blade grinders, but it is certainly functional, especially if you'll only be using it in the RV.
Coffee Grinder–Pricey Option: Baratza Encore Conical Burr Coffee Grinder ($139.99)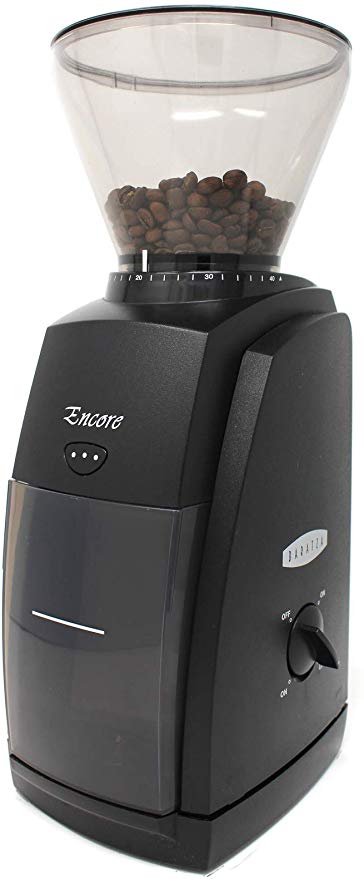 If you are a coffee snob and coffee is one of your great pleasures, you'll want a burr coffee grinder. The Baratza Encore Conical Buff Coffee Grinder is a superb choice. We bought one for home and one for the RV. No matter where we go, we have coffee-shop quality coffee.
Electric Tea Kettle: Cuisinart CPK-17 PerfecTemp 1.7-Liter Stainless Steel Cordless Electric Kettle ($60.83)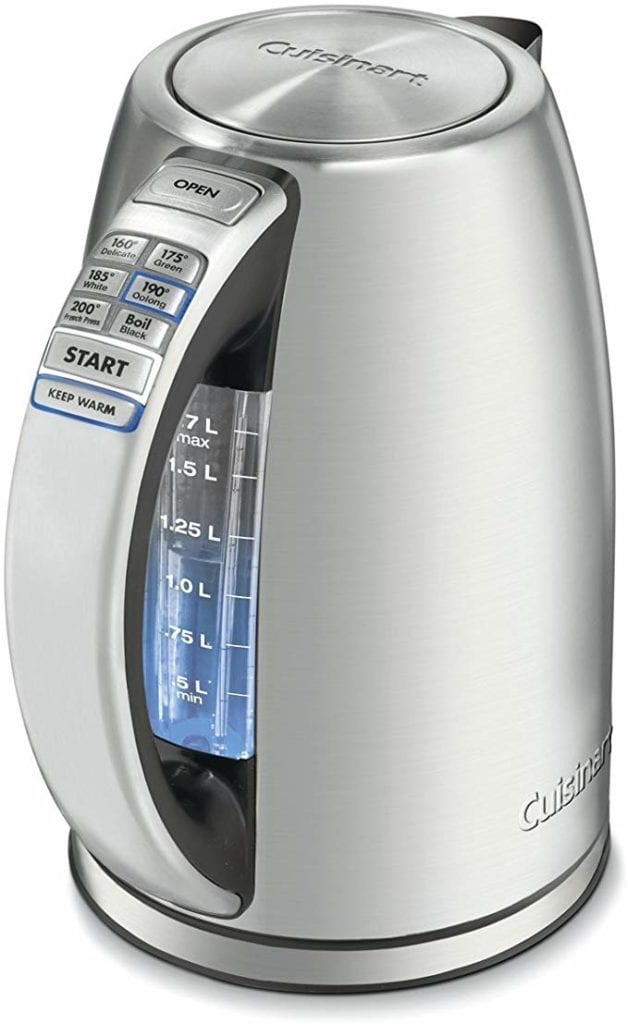 We have three (three!) of these nifty little electric tea kettles. One in house kitchen, one in RV kitchen, and one in outdoor kitchen. They last forever–seriously, one of ours is 14 years old. What we love is that they can warm your water to different temperatures for different purposes (depending on the types of coffee, tea, and etc. you are making). In addition, the "Keep Warm" function is super handy. We love making cups of hot cocoa for our boys at a "kid temperature." No more scalding their tongues when they can't wait for their cocoa to cool. 
Best Cooking Gadgets for the RV
Blender: Ninja Nutri Personal Blender with Auto-iQ Base (around $80)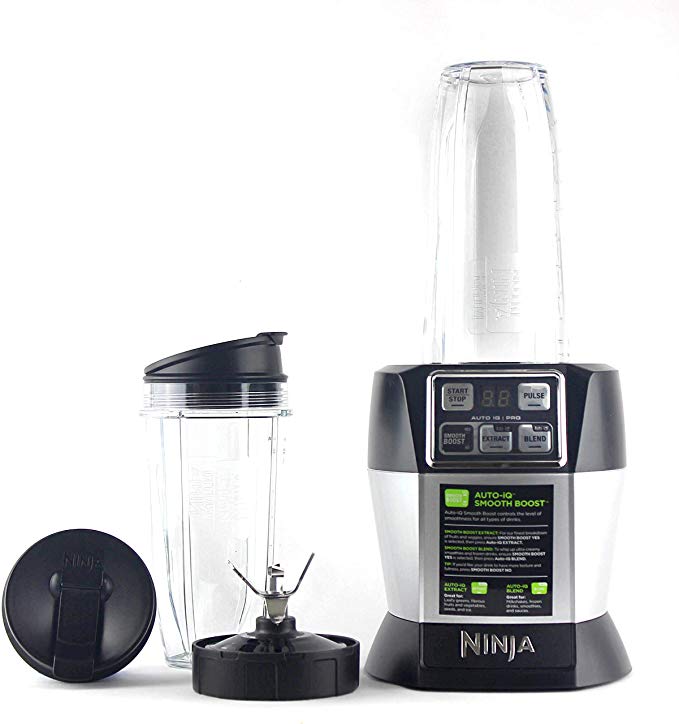 I value a balance between good pricing and good performance, and the Ninja Nutri Personal Blender is the perfect balance of both. I have one that is still going strong after 5 or 6 years. These are great for making smoothies, dressings, marinades, milkshakes, and more. Most importantly, it has a small base and it easy to store.
Instant Pot: Duo Evo Plus Electric Pressure Cooker, 6-QT (around $100)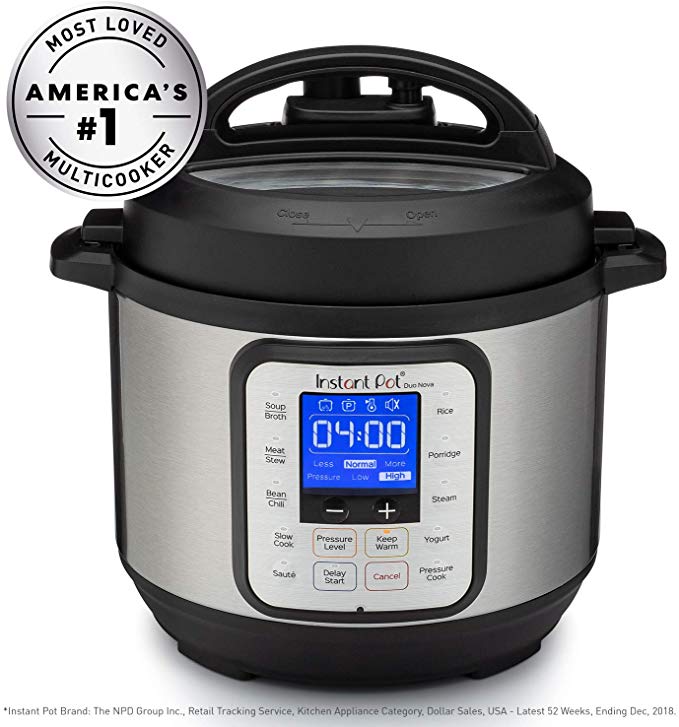 You've probably heard of the instant pot craze, even if you haven't used one. There are fanatics–and there are haters out there. If you haven't heard of this handy appliance, an instant pot is an electric pressure cooker, basically, but it's really so much more. Use it as a rice cooker, a slow cooker, a soup pot, or just an insanely fast meal cooker. You can even sauté with it.
Admittedly, there is a bit of a learning curve when you first use one. However, there are tons of cookbooks and websites that can help. If you or someone you know is thinking about jumping on the instant pot bandwagon, the Duo Evo Plus Electric Pressure Cooker is a great option. The 6-quart size is perfect for a family. If you are only cooking for one or two, look for the smaller 3-quart size. I love the versatility of this gadget!
Slow Cooker: Hamilton Beach Portable 6-Quart Set & Forget Digital Programmable Slow Cooker With Temperature Probe, Lid Lock, Stainless Steel (around $30)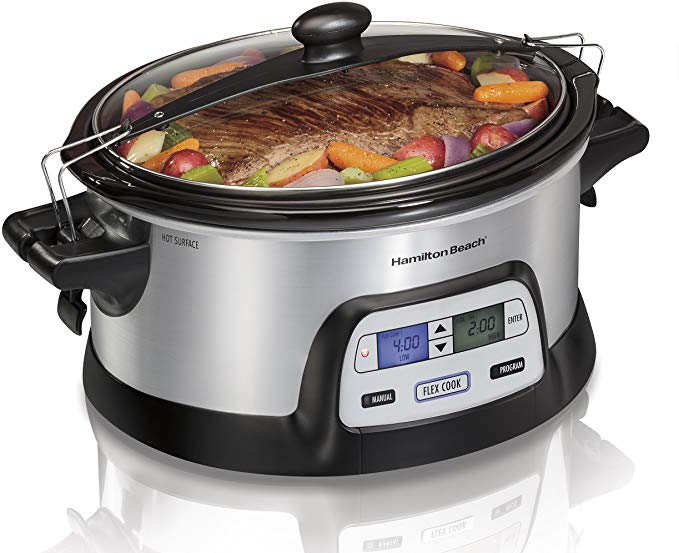 Slow cookers are a traditional favorite cooking gadget that will make your life easier. People don't always think of taking them into the RV, but you should. They are great for busy travel days, holidays, or camping with family and friends. Plus, they are budget-friendly workhorses.
Check out the Hamilton Beach Portable 6-Quart Set & Forget Digital Programmable Slow Cooker. I love tossing in the inserts that make for easy cleanup, especially if you are camping without water hookups. Toss in macaroni and cheese, pulled pork, taco meat, chili, soups, and more. I especially love my slow cooker when camping on those hot summer days when it's too hot to cook outside over a grill or camp stove or to warm up the interior by turning on the stove/oven.
Air Fryer: Yedi Houseware Total Package Air Fryer, 5.8 Quart, Black (around $100)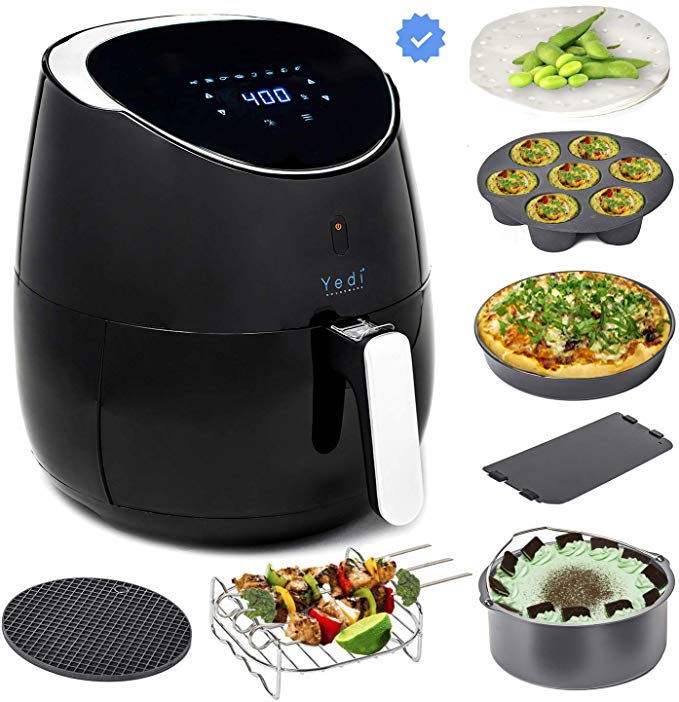 Our family's new favorite obsession in the house and for the last few trips is our air fryer. We have really loved this gadget! I have been missing it while traveling in the RV. You can cook anything from frozen food to meat to baked goods. I think the hype is really worth it–things really do taste great when cooked in the air fryer. We recommend the Yedi Houseware Total Package Air Fryer.
Ice Maker: Cabela's Countertop Ice Maker (around $160)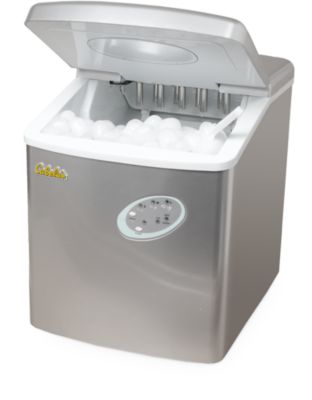 We've come to love our countertop ice maker for cold drinks on those hot summer days. When we first heard of these gadgets, we thought they were ridiculous. Then, we started using one, and we were sold.
The Cabela's Countertop Ice Maker makes ice fast and continuously. You get three sizes of cubes. It's easy to store and easy to clean! We think the value is great considering we have used our for four years now, and we no longer buy overpriced bags of ice. The Cabela's unit is pricier than some we've seen, but we can attest to the quality.
Best Vacuums for the RV
Almost everyone needs a vacuum. Here are two we've had good success with:
Vacuum–Pricey Option: Dyson Animal Cordless Stick Vacuum ($299)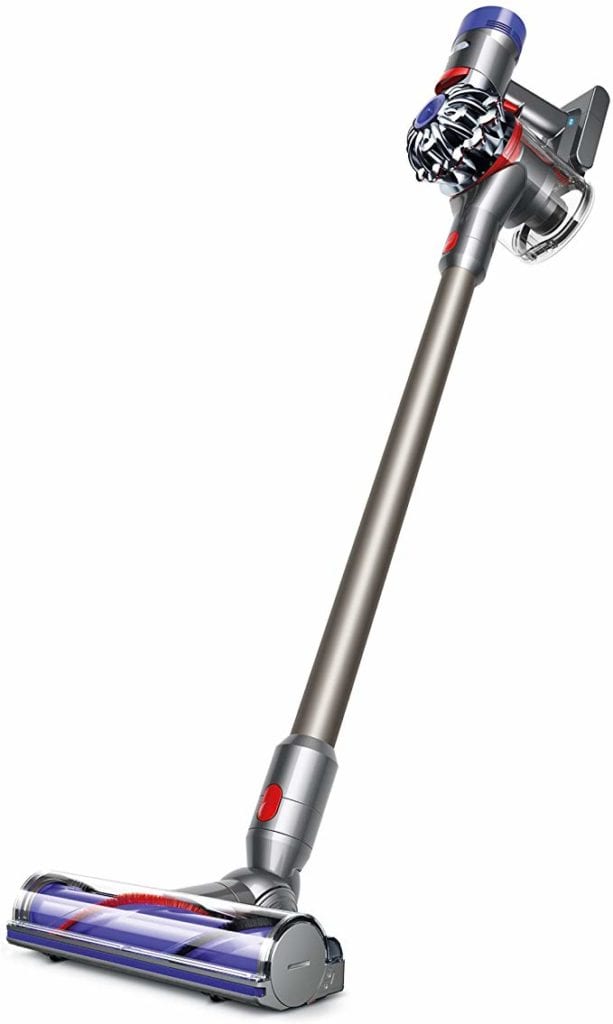 The Dyson Animal Control Cordless Stick Vacuum saves my sanity! That price point may be a bit of a shock, but to us, it is worth it. We have repeatedly tried to go the Swiffer route, and it disappoints every time with three kids and a dog. Admittedly, ours doesn't live in our RV, but we do take it for longer trips.
Vacuum–Budget Option: Rigid Shop Vac (around $60)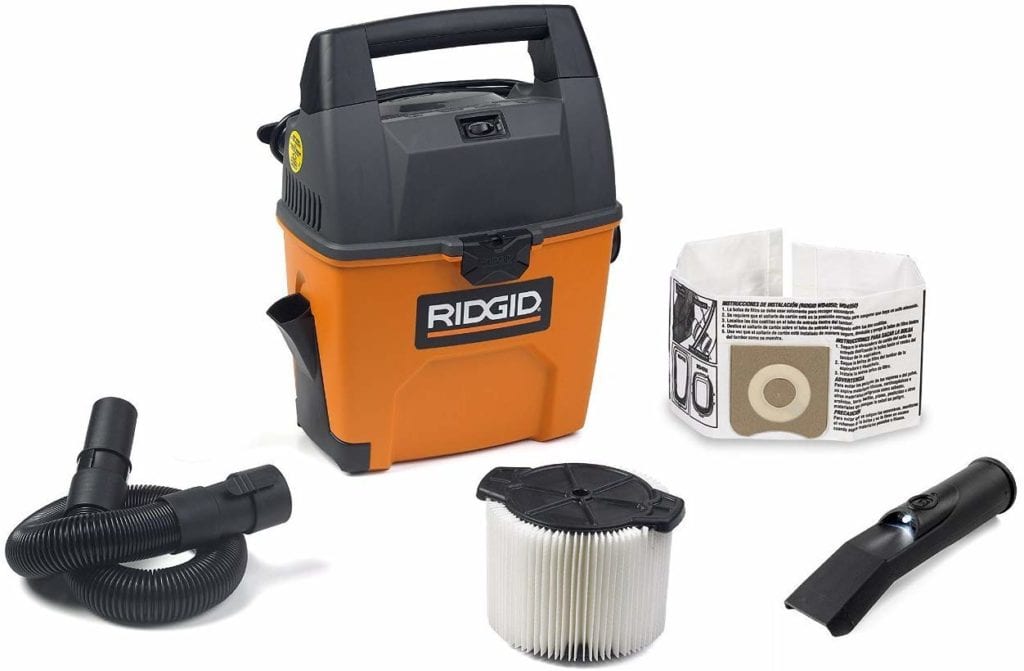 This is not the same as those awkward squatty cylinder shop vacs you traditionally think of. Instead, it's shaped more like a tool chest, which makes it easy to store under the RV bed. This Rigid Shop Vac is a versatile vacuum at a decent price point.
Listen to us share more about our favorite RV appliances for this holiday gift guide by pressing play on the media player above. Or, search for The RV Atlas wherever you find your favorite podcasts.
We hope we've given you some inspiration for great RV appliances for everyone on your holiday gift list! Don't forget to check out our 2019 Holiday Gift Guide: Apparel and Accessories for more great recommendations.
See you at the campground,
Stephanie + Jeremy
Podcast: Play in new window | Download