We have recommended dozens of great gifts for national park lovers over the years. Here are a few of our all-time favorites plus a few brand new ones that are just hitting stores and online shops. Hopefully you will find something for every type of national park lover on your list including games for kids and apparel for adults. Happy holidays to everyone and try to remember to get outside and breath some fresh air! Go find your park!
1. America the Beautiful Annual 
Pass $80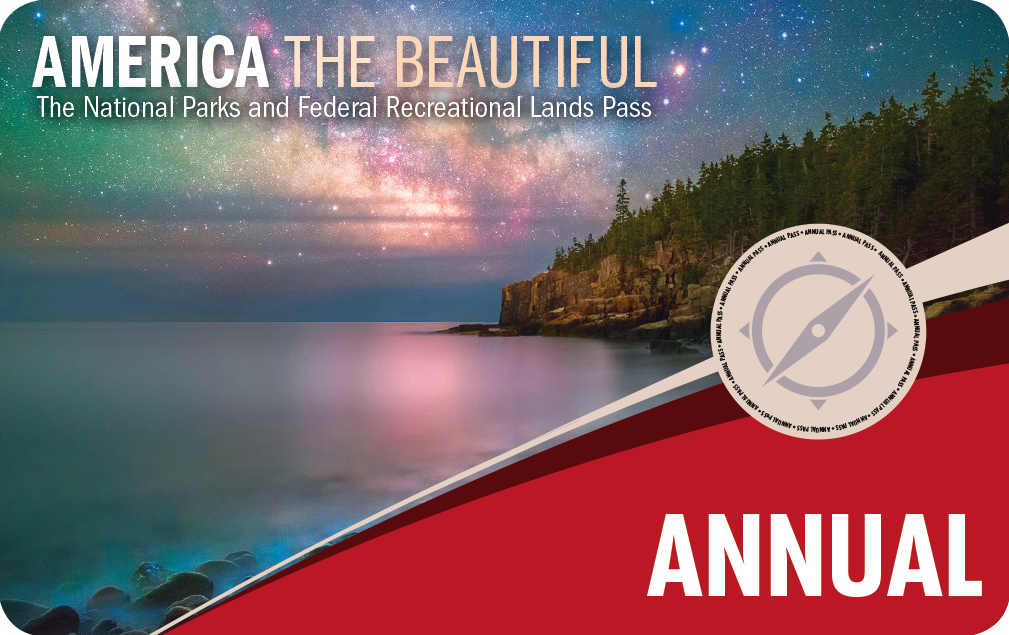 Why not give the gift of the National Parks themselves? I would love to find one of these annual passes under the tree and so would any National Park lover in your life. For just 80 bucks you can visit over 2,000 federal recreation sites including national parks, national wildlife refuges, national forests, grasslands, and lands managed by the BLM and Army Corps of Engineers for free with this pass. This is your ticket to adventure and a ticket to adventure for anyone who can fit in your car or truck!
2. See America Book: A Celebration of Our National Parks & Treasured Sites ($19.99)

The Creative Action Network has boldly revived the glorious See America project which was born during New Deal era America. The original project implored Americans to "See America First" and spend their tourism dollars right here in the United States.  The original campaign captured, and inspired, the wanderlust of a generation that won a ferocious world war and defined the American century.  The legacy of this revitalized campaign is captured in the pages of this compact but completely inspired collection of crowd sourced prints by contemporary artists. This rebirth of See America easily rises to the occasion for a new generation. This is one of those must have gifts for national park lovers on your list.
Check out episode #52 of RV Family Travel Atlas (Get Ready to See America) for an in-depth interview with Creative Action Network co-counder Max Slavkin about the rebirth of the See America project.
3. See America 2020 Wall Calendar ($19.99)

We buy a See America Wall Calendar by the Creative Action Network every single year, and 2020 will be no exception. Each image is inspired by the "iconic See America posters of the 1930's" and the 2020 Calendar may be my favorite one yet. Here is a list of the national parks that are included this year–did your favorite park make the list?
Featuring
Cover – Joshua Tree National Park by Victor Moreno
January – Vermilion Cliffs National Monument by Justin Beaulieu
February – Birmingham Civil Rights National Monument by Nikkolas Smith
March – Cesar Chavez National Monument by Yocelyn Riojas
April – Olympic National Park by Kristin Lowry
May – Ocmulgee Mounds National Historical Park by Jon Cain
June – Whitman Mission National Historic Site by Jillian Vaughan
July – Hawaii Volcanoes National Park by Alyssa Winans
August – Congaree National Park by Vikram Nongmaithem
September – Death Valley National Park by Lauren van Reken
October – Grand Canyon National Park by Matt Brass
November – Wright Brothers National Memorial by Luis Prado
December – Denali National Park and Preserve by Jenn Brigham
4. America's National Parks Sticker Sheet by Annie Riker ($9.99)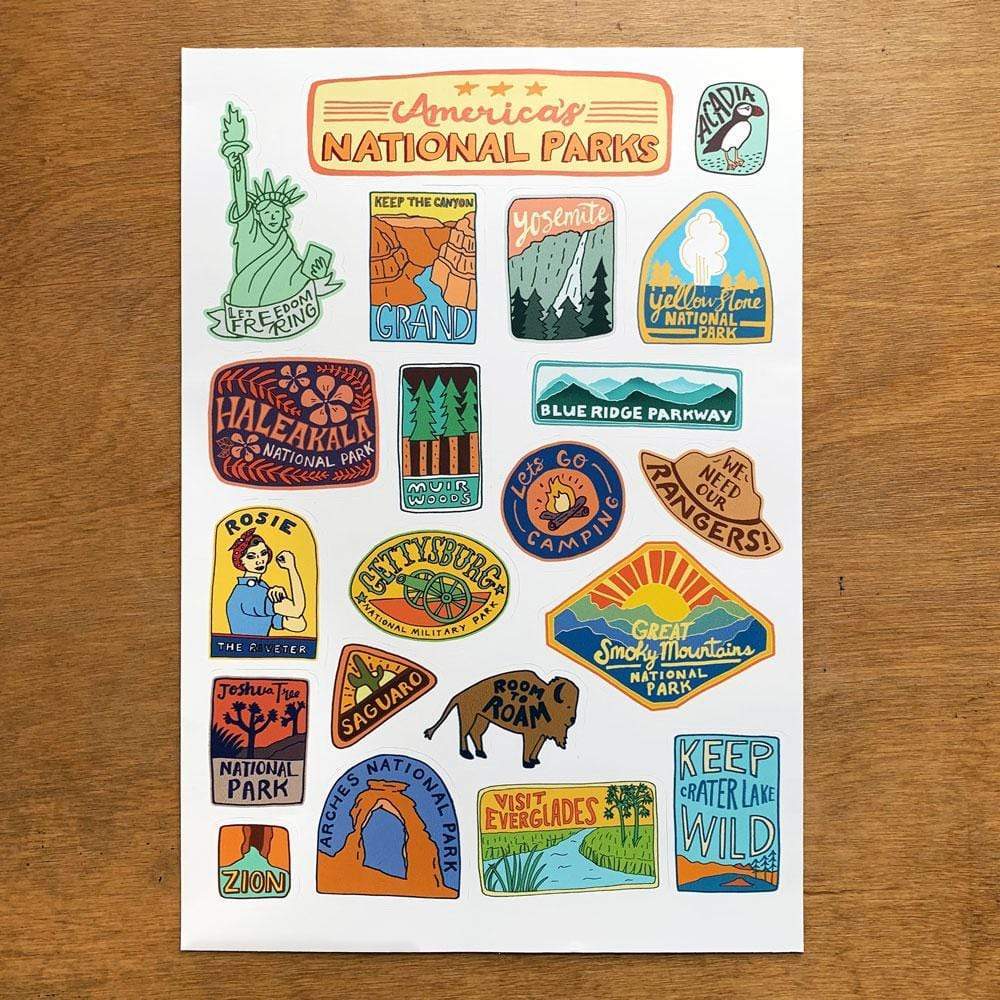 These national park stickers by Annie Riker are as cute as cute can be. My kids have already plastered them all over the walls and desks in their rooms. They maintain the classic vibes of traditional national park artwork will adding a whimsical twist that is all their own. Plus, the price is great for a stocking stuffer or gift bag item. I may order another set and stick a few on the bumper of our RV.
5. Trekking The National Parks: The Board Game ($50.00)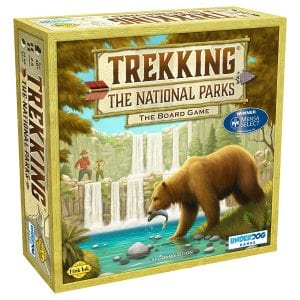 We love to get a fun, new board game every year for the family, and this is a MAJOR hit right now in our house. Trekking The National Parks is a board game inspired by a couple's travels to the National Parks back in 2009. John and Terry Binkele had a great idea and partnered with their son who had game developing experience. The result is a challenging but accessible game best for the 8 years and up crowd. Wesley, age 6, actually learned to play with some support…but it was definitely a bit over his head.
6. Songs For Junior Rangers Volume 2 ($9.95)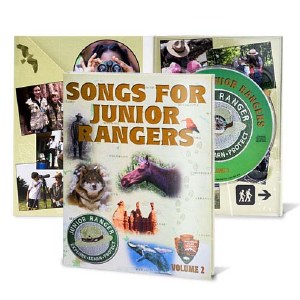 How much is enough for kids to learn about the national parks? When does the discovery end? The first volume of Songs for Junior Rangers gave you lots of music and lyrics to help you learn more about the parks, and now the fun continues with Volume 2. Containing 12 songs, a booklet with color photos and complete lyrics, and a coloring poster showing many features of various parks, it combines music with an activity to motivate junior rangers to continue their learning journey through the parks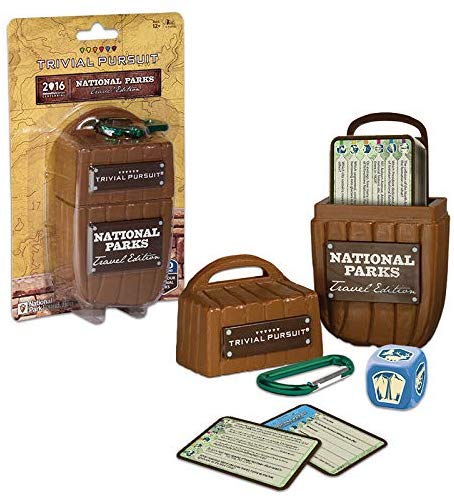 This trivia game is great for long car rides with energetic kids. 600 questions come on cards that are stored in a hard sided case with a secure carabiner latch. This latch will keep the cards from exploding into a spontaneous game of 52 card pick up. Trivial Pursuit is a great way to pass the time in the car and build your knowledge of national parks. It's entertaining and challenging for kids and adults alike.
8. Vintage National Park "Motel Styled" Keychains ($8.00)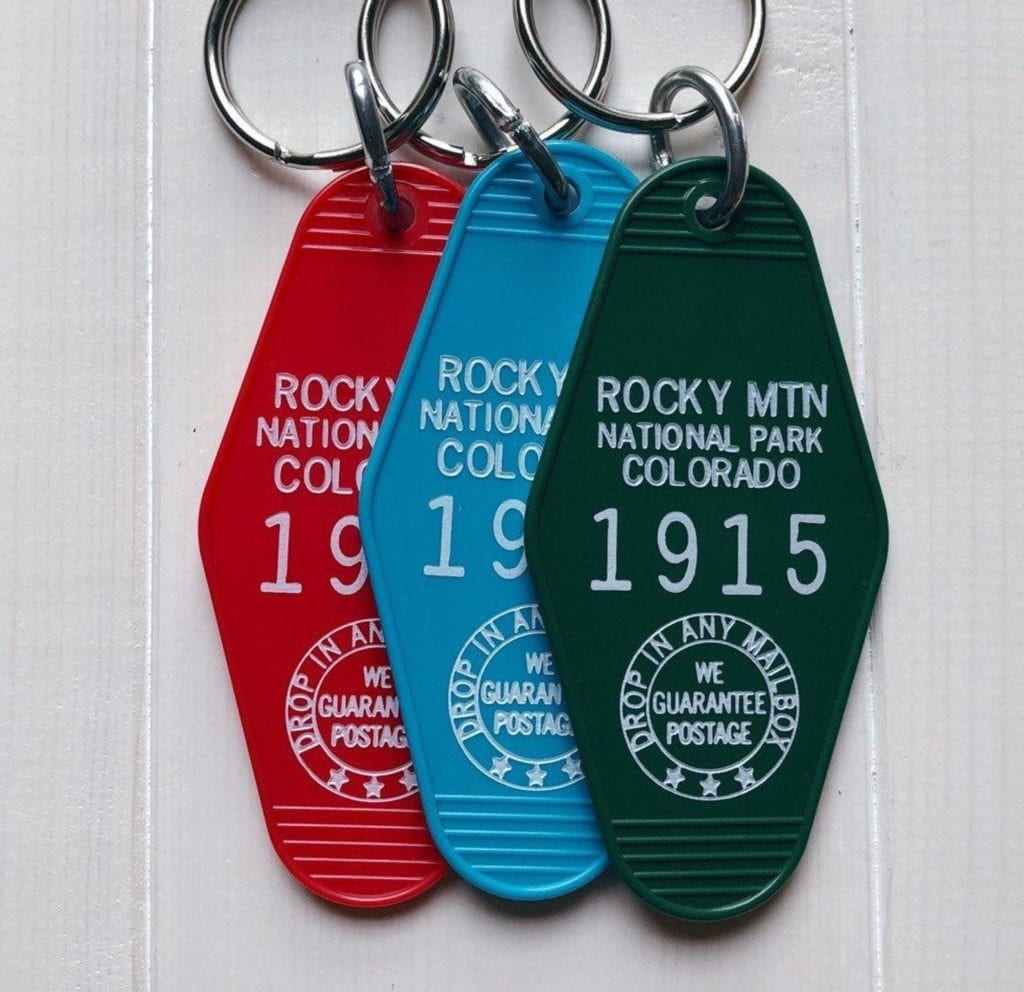 These vintage inspired "motel styled" keychains are totes adorbs and would make really cool stocking stuffers for the National Park's fan in your life. They are available for Yellowstone, Yosemite, Rocky Mountains, and Acadia. You can choose from several colors and you can also pick a regionally appropriate graphic for the book–like a crab or a Pine Tree for Acadia etc..  We hope the expand their selection of parks for 2020.
There it is! Our 8 Great Gifts for National Park Lovers! Did you find something that you would like to find under the tree? Or have another recommendation that we missed? Leave your recommendations in a comment below!
See You At The Campground!  –Jeremy and Stephanie
Podcast: Play in new window | Download