What should you do on your first visit to New York City? It can be overwhelming to pick from all of the options. We don't want you to wind up sobbing on a bench in Central Park. Instead, check out our recommendations for a few highlights to put on your list for a short stay in the Big Apple!
New York City is unbelievable, especially for someone who has never visited the city before. From navigation to spectacular sights to accommodations, there's a lot to sort out. Luckily, if you're an RVer, we have shared a full campground review for Liberty Harbor RV Park, which is located a stone's throw away from Manhattan in nearby Jersey City, NJ.
Quick Tips for Your First Visit to NYC
Take a paper map. The Frommer's Easyguide to New York City has a nice tear-out map that folds. Don't roll your eyes and "okay, Boomer" us. Of course, map apps on your phone are great for navigating, but they don't provide a good overview of the city highlights. A paper map makes it easy to locate sites you want to see along a path.
Don't be afraid to use public transportation. Whatever you do, do not drive into NYC. You will regret it. The subways are cheap and easy to use. You will get the hang of navigating them, we promise.
Don't walk everywhere. Walking seems cheap and easy, but NYC is larger than you think. Plus, it can be extra tiring to walk in such a crowded, concrete environment.
Use cabs and ride-share apps. Even if you mostly navigate by foot, keep in mind that cabs, Lyfts, and Ubers are great options in the city, especially if you want to walk one direction and catch a ride back.
Pace Yourself. We get it, we really do. A trip to NYC may be a once-in-a-lifetime trip for you. However, no matter how many wonderful things you want to see, don't try to see them all, or else you'll find yourself exhausted. Don't over plan. Allow plenty of time to get from point-to-point and time to RELAX.
Look for free nights/times at the museums. Museums in NYC are very pricey (costing as much as $25 per adult or $100 for a family). If you want to save a buck or two or $100, be sure to look for free nights, as many museums have limited free hours one night/day a week.
Hear more tips for planning your first trip to New York City by clicking play on the media player above or by looking for The RV Atlas wherever you find your favorite podcasts.
Kerri's Top Picks for New York City Highlights
Kerri's family traveled all the way from Missouri to NYC. While they had seen several other great cities around the world, nothing prepared them for the Big Apple! Here are a few of her favorites from their short stay in the city:
Central Park
This 843-acre park is a green oasis at the heart of the city. Rolling hills, curved pathways, and lush landscaping give the park an intimacy, while views of the surrounding skyscrapers are never far away. Kerri's family loved the energy of the park, especially the street artists and musicians. If you spot a bright yellow Wafels & Dinges truck, don't pass by without trying one of their amazing Belgian waffles.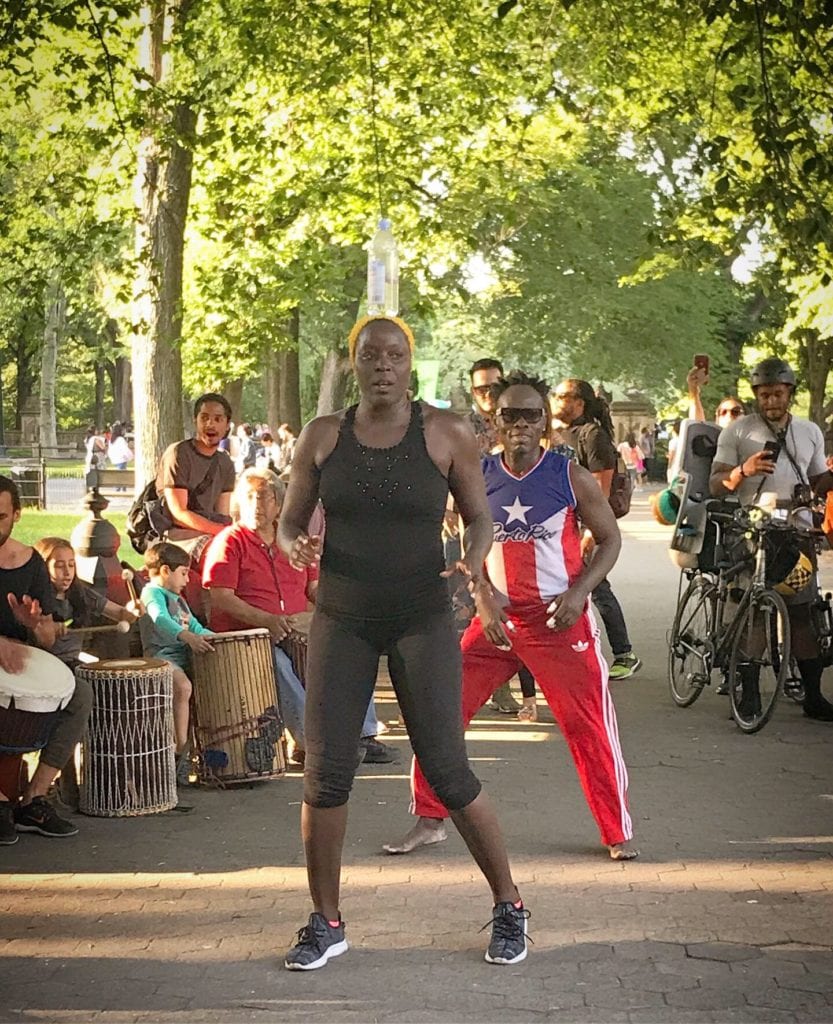 Times Square
Times Square is just crazy as you'd expect it to be. From the "Naked Cowboy" and Elmo street performers to the cluster of visitors from around the world to the bright, massive screens that cover the buildings, the energy is endless! If you go to the Big Apple without seeing Times Square, you miss part of what makes New York City New York City.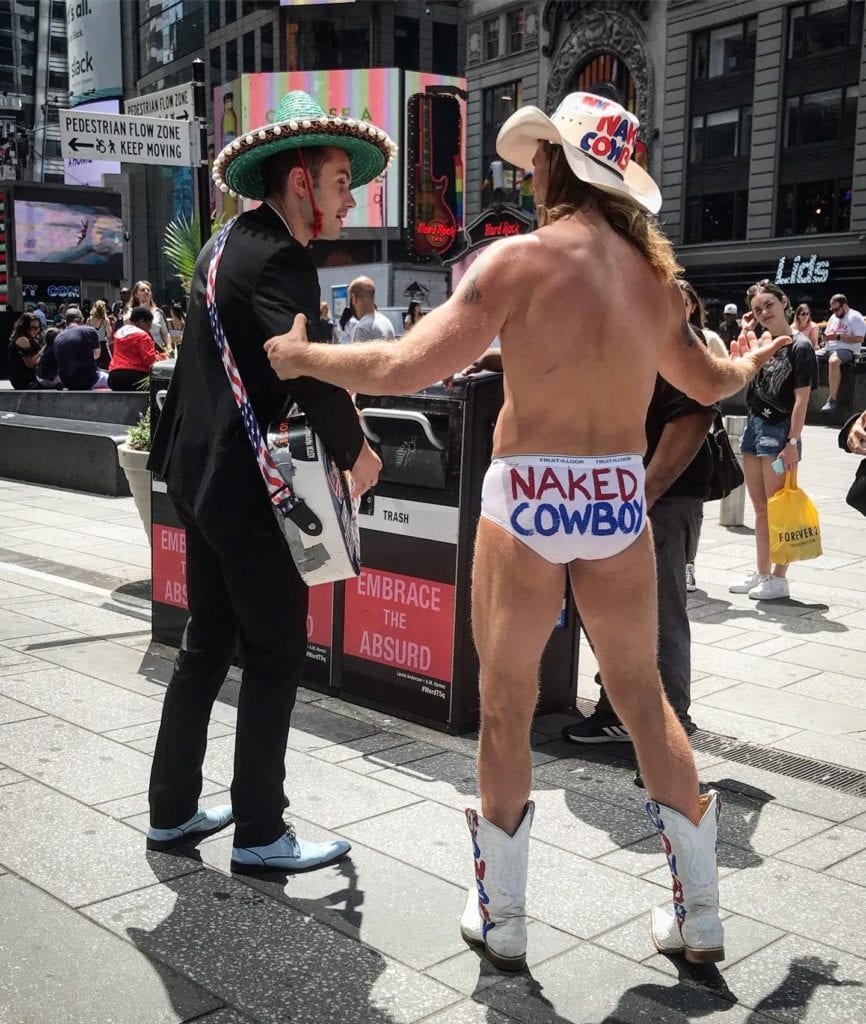 Statue of Liberty and Ellis Island
Of course, the Statue of Liberty and Ellis Island are national treasures, and seeing them in person is even more impressive than you might imagine. If you want to go up to the crown, you need to book months in advance. Allow plenty of time to explore the exhibits at Ellis Island. The immigration inspection station has been restored into a museum full of touching exhibits. To see the Statute of Liberty and Ellis Island, you will take a ferry from either Battery Park in NY or Liberty Park in NJ and then take a ferry to each of the islands and back. It takes several hours to travel and see everything. Consider packing a lunch (though, concessions are available).
Top of the Rock at Rockefeller Center
You definitely need to see New York City from above to take it all in! Top of the Rock at Rockefeller Center has good views of the Empire State Building and Central Park. Plus, the online reservations are timed, which means you won't have to stand in line. Tickets are pricey, but this is a splurge-worthy attraction!
Kerri's boys are sporting their NYC souvenirs here: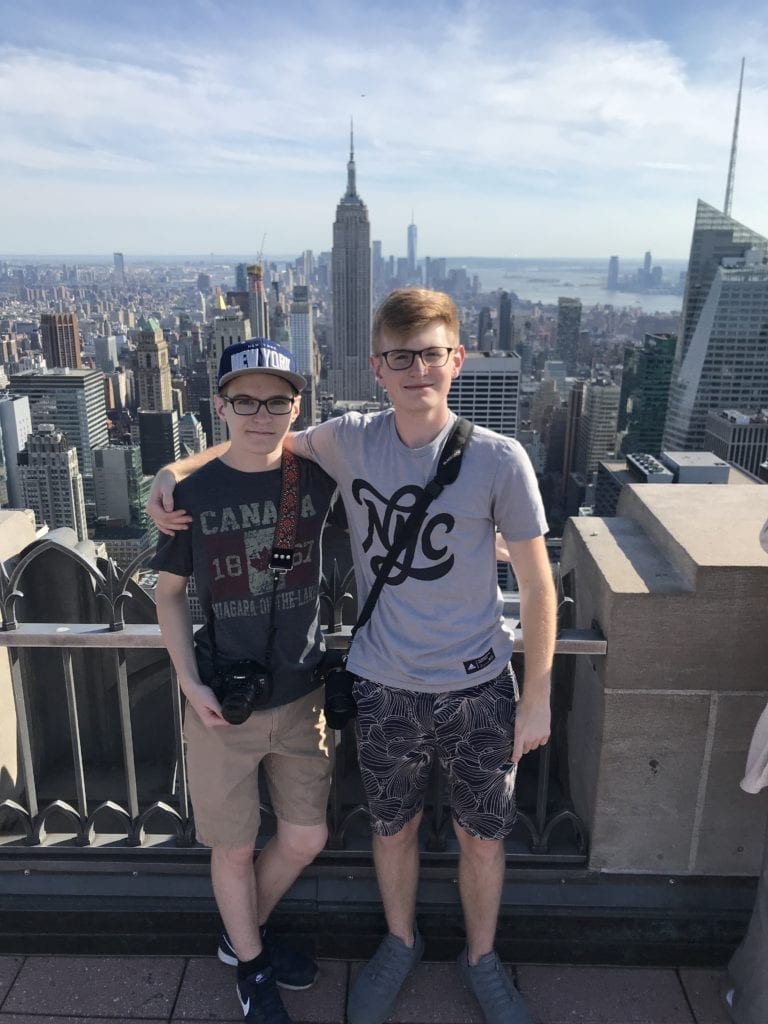 A Couple of Other Highlights
Kerri's family didn't have time to truly see and do everything, but they enjoyed just walking around the city and seeing sites like the Empire State Building, Brooklyn Bridge, Wall Street, Grand Central Station, Rockefeller Center, and more. They didn't get get a chance to visit the 9/11 Museum, but just walking through the memorial was moving. The nearby Oculus Train Station is worth a peek, if you're walking nearby.
Jeremy & Stephanie's Top Picks for NYC Highlights
We are lucky enough to live close enough to make day trips into NYC. That being said, we still haven't seen and done it all! Here are just a few of our highlights:
The High Line
The High Line is a public park built on a historic freight rail line elevated above the streets on Manhattan's West Side. Saved from demolition by neighborhood residents and the City of New York, the High Line opened in 2009 as a hybrid public space where visitors experience nature, art, and design.
Go in the fall on a weekday for a somewhat less crowded walk. We recommend grabbing a coffee at Blue Bottle on the High Line or down at street level on 15th street.
Chelsea Market
When we go to NYC, we like to eat, especially in the Chelsea Market area. This is a very romantic, wonderful NYC institution. Stroll through dozens of food stands for some of the best street food in the city. Plus, you'll find little shops to explore. Some of our favorites are:
A Kid-Friendly Walk through Central Park
Central Park is so nice, we have to mention it twice. Stephanie has a great kid-friendly walk through Central Park that you might enjoy with your family. Start at the Upper West Side at the American Museum of Natural History (we HIGHLY recommend taking your kids inside. They will be fascinated!). Then, head past the lake. You'll find rocks to climb and a fishing pond nearby, making this a nice spot to relax and play.
Next, stop by Strawberry Fields for a little Beatles homage. Go by the iconic Central Park Carousel before finishing at the Heckscher Playground. This is our favorite playground of many choices in the park. Grab a cup of coffee and sit back while the kids play. They can play for hours here.
We could go on FOREVER with tips for exploring New York City. Please, don't tell us all of the places we left off the list–we know, we know! In the meantime, we hope you enjoyed this cursory list of some personal recommendations for planning your first trip to the Big Apple!
See you at the campground,
Jeremy + Stephanie
Podcast: Play in new window | Download