Our annual holiday gift guide might not be quite as famous as Oprah's "Favorite Things." However, we have come to love this tradition and know you do, too. Whether you are looking for gifts for loved ones or for yourself (yeah–we know how it goes), we are bringing you some of our favorite gift ideas.
Instead of doing one hefty gear guide this year, we are spreading the holiday joy across several posts, each focused on a specific category. Today, we are bringing you our favorite apparel and accessory recommendations.
And before we dive into our other apparel picks, let's just say that our very favorite gems are at The RV Atlas Merch shop which is open for a short time only!!!! We've got tons of comfy and stylish tanks, hoodies, and t-shirts. Plus gear for the kids and even the pets. Snag your magnet, cling, or sticker before the shop closes at the end of November!!!!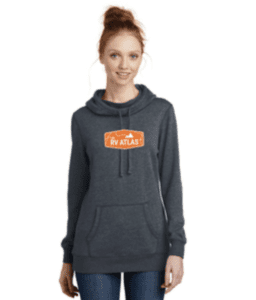 You can hear all about our favorite holiday gift recommendations by clicking on the media player above or by looking for The RV Atlas wherever you listen to your favorite podcasts.
Gift Guide for the Guys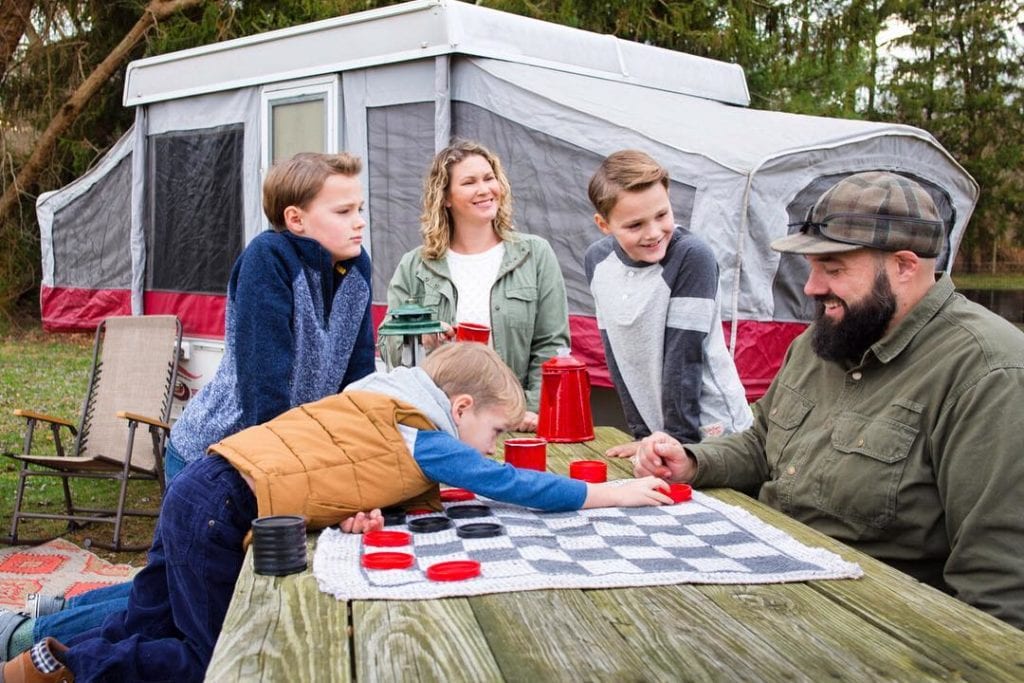 Darn Tough Socks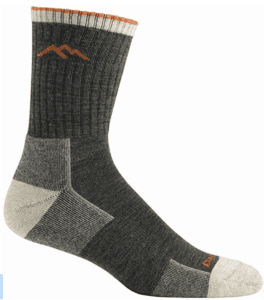 Jeremy's love affair with Darn Tough Socks began years ago. You know they have to be awesome to maintain the level of dedication he has shown! Darn Tough Socks are made in Vermont from premium merino wool, and they come in a wide array of colors. Jeremy especially likes the Hiker Micro Crew Cushion socks, which can get you through any hike without blisters. Most importantly, these socks are breathable, which means they won't get smelly.
Darn Tough Socks come with a lifetime warranty–and they mean it! When Jeremy discovered some holes in his 8-year-old socks, he returned them and received store credit. While the $23 price tag might seem high for a pair of socks, these are totally worth it for the comfort, durability, and warranty.
Redhead Fleece-Lined Flannel Plaid Long Sleeve Shirt for Men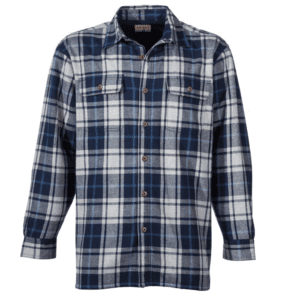 Our family treated Bass Pro Cabela's Flannel Fest like a holiday, and rightfully so! They had some great deals on some great flannels. One pick that Jeremy especially loved was the Redhead fleece-lined flannel. These shirts are super soft and comfortable and they fit well. Plus, they are warm enough that you can wear them as a coat on mild fall and winter days. Check out the array of plaids, and get them for the men in your life for around $30.
Stormy Kromer Caps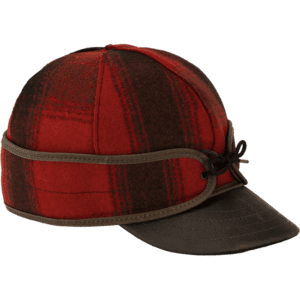 Have you ever seen those caps with fuzzy flaps that flip down to cover the ears? If so, you might have seen a Stormy Kromer. Jeremy could be the only guy in New Jersey who wears one. Does that stop him? No way! He loves his Stormy Kromer cap, and he even got a ton of compliments on his new Partridge Plaid hat.
Stormy Kromer hats are perfect holiday gifts since they keep you warm all winter long, and they look stylish while doing so. These wool caps come in a variety of colors and prints (for men, women, kids–and even the pets!). Jeremy recommends the Original With Leather, which retails for around $59.99. 
Camp Casual Serene Sequoia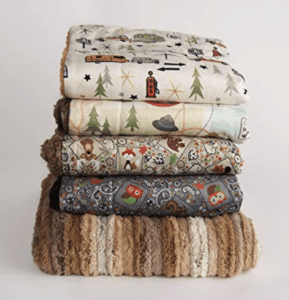 Don't go another winter without a Camp Casual Serene Sequoia blanket! Hands down, this is our family's favorite throw. No matter how many we've purchased over the years, we won't be happy until each of us has our very own.
Camp Casual makes a number of throw blankets with retro camping designs, but there's something extra special about the Serene Sequoia. First, it's larger than the others (60″x72″), which makes it perfect for the men in your life. Plus, the faux chinchilla fur is especially soft (no chinchillas were harmed in the making of this throw). And, the neutral colors match any decor. Get your hygge on for $89.99. 
Saxx Vibe Boxer Briefs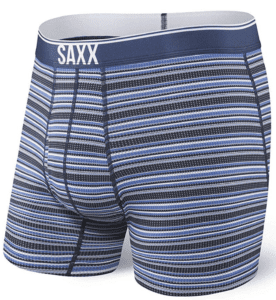 We've talked about all things bathroom related on the podcast, but we have yet to talk about underwear. While Stephanie would have liked to keep it that way, Jeremy just had to share his recommendation for athletic undergarments for the outdoorsman in your life: the Saxx Vibe Boxer Briefs.
What makes these underwear earn a coveted spot on our holiday gift guide? They come in a variety of colors, they are breathable, and most importantly, they are comfortable. You can get through intense hikes with no chafing. Now that we've shared that bit of TMI, you can head over to grab a pack of your own for $32.00.
You can hear all about our favorite holiday gift recommendations by clicking on the media player above or by looking for The RV Atlas wherever you listen to your favorite podcasts.
Gift Guide for the Gals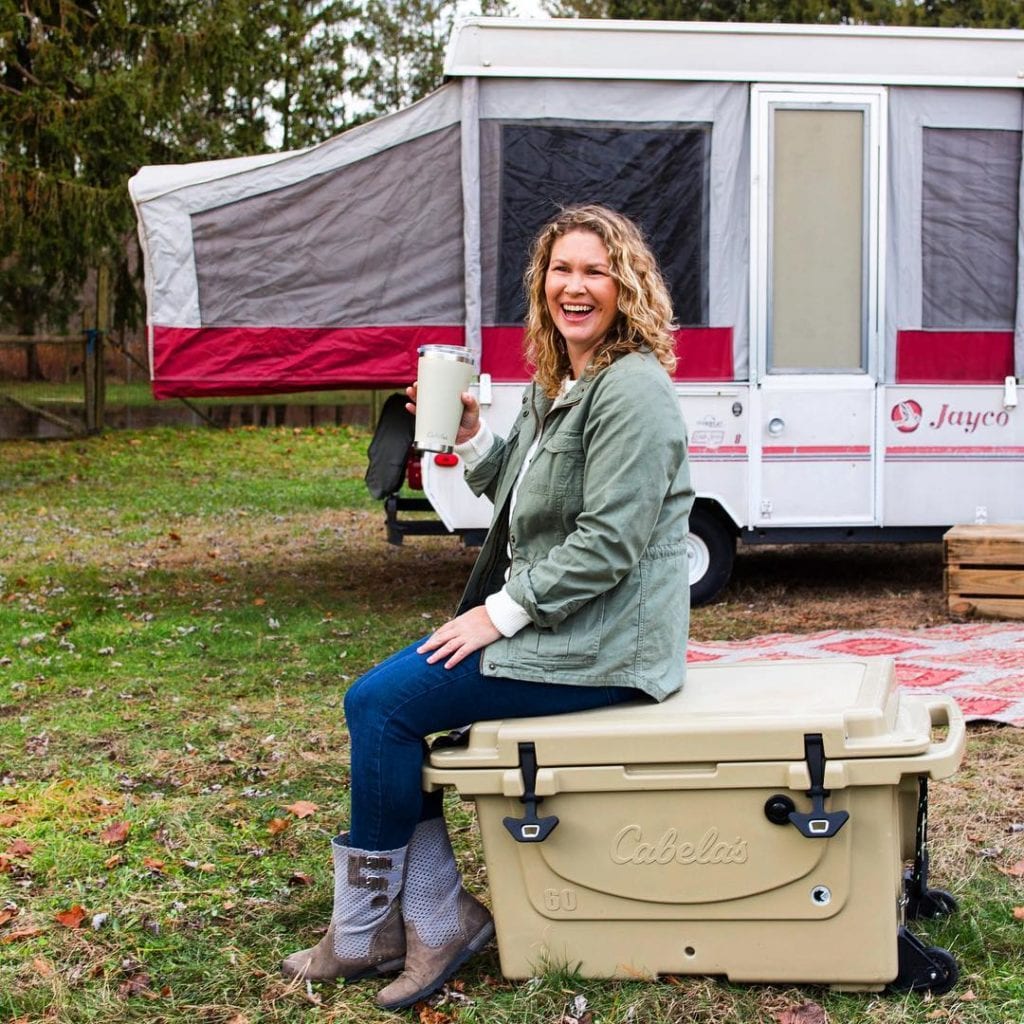 Pendleton National Park Blankets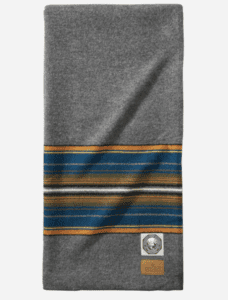 Pendleton products are the ultimate splurge for iconic homewares. Made in the USA from pure virgin wool in beautiful, timeless patterns, the Pendleton blanket is the penultimate gift. They are truly meant to last a lifetime.
What's even more special? Pendleton's National Park series has blankets and accessories that evoke the grandeur of these spectacular spots. Glacier, Grand Canyon, Acadia, Yellowstone, and more are represented, each stamped with park logo. In a way, it's one of the most practical souvenirs you can give. Plus, each purchase supports the National Park Foundation. These cost $259 for a full and $299 for a queen.
Pendleton National Park Socks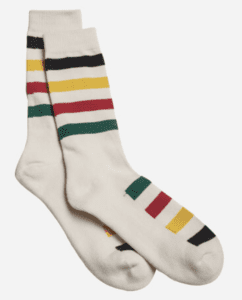 If your big Pendleton splurge isn't going to happen this year, that doesn't mean you can't find a great gift from Pendleton. Consider the National Parks socks as a more budget-friendly, but still swoon-worthy, option. These mid-weight cotton blend socks have the iconic style at a cost of only $12.50. Plus, they are machine washable. Check out Pendleton's other National Parks accessories to make a cute gift set for your favorite traveler.
Natural Reflections Women's Flannel Shirt Jacket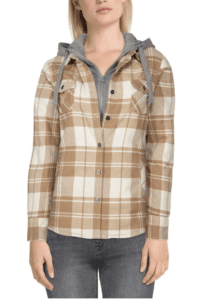 Jeremy wasn't the only one who left Bass Pro Cabela's Flannel Fest with some spanking new plaid. Stephanie picked a great flannel shirt from Natural Reflections. It has that hoodie look, under a thick flannel button up. It's the perfect weight: heavier than a sweater but lighter than a coat. This piece is great for warmer winter days outside or for getting really cozy inside. Get someone you love (or someone you merely like) this flannel shirt for $39.99.
KAVU Zippit Crossbody Bag Cotton Purse With Adjustable Rope Strap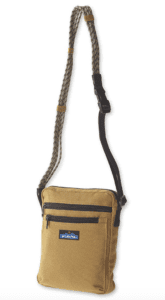 We don't know how any woman travels without a crossbody (and we know many men who are just a little jealous of women who have one). Stephanie has long been a fan of the Keen Montclair Mini Bag for years, but it's not available anymore, so she was happy to find a great replacement.
The KAVU Zippit is a magic size–big enough for all the basics, but not too big to weigh you down. The crossbody style is really clutch in staying hands free. Stephanie knows a lot of moms like backpacks for that reason, but she's just not a backpack girl. If you know someone who just isn't a backpack girl, get them a Zippit for $45. Plus, there's a fun array of colors and patterns, which helps you personalize your gift.
Sorel Boots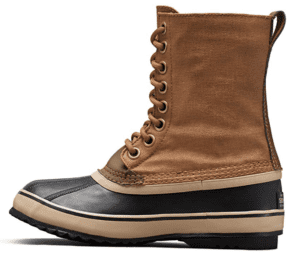 A pair of Sorel boots is a staple in many wardrobes, including Stephanie's. There are so many to choose from, which makes it hard to pick just one to recommend. Stephanie likes to have a good duck boot and a good snow boot. The Sorel ones combine style, function, and quality in a way that no other brand does. The 1964 LTR Boot is a gorgeous classic duck boot. The Winter Carnival Boot is the perfect snow boot. Yes, like the Pendleton wares, these do cost a bit more; however, you'll have these for years to come. If you can't gift a pair of Sorels for someone, they make a great gift for yourself if you get some holiday cash to spend.
Gift Guide Wrap Up
If Stephanie had to pick just one gift from the holiday gift guide to give–or to receive–she would go with the Pendleton blanket. Blame Glacier! If Jeremy had to pick just one, he would go with his Stormy Kromer cap. He gets so many compliments on his new hat, and certainly, you'll want to share that joy with someone you love.
We hope our holiday gift guide helps you to start your seasonal shopping!
See you at the campground,
Stephanie + Jeremy
Podcast: Play in new window | Download