People planning epic RVing road trips often focus on states with epic national parks. But, we're here to tell you, there are many states that are epic destinations, even if they don't have many well-known attractions. Oregon is one of those places that's often overlooked. We LOVED our trip to the Oregon coast, and today Shellie Bailey-Shah is here to tell us why we should all be dreaming about–and planning–a Central Oregon RV road trip.
Shellie Bailey-Shah is a repeat contributor/guest on the podcast. She's the founder of KidTripster, an online family travel magazine that informs and inspires families traveling anywhere in the world. Recently, she's been developing a series of epic RV road trips for Travel Oregon, the state's travel bureau… one of which she's going to share with us today. 
Why Central Oregon?

Oregon is chock full of natural beauty, from the stunning Pacific Coast to iconic Columbia River Gorge to the lush Willamette Valley. Plus, you'll find the hip town of Portland, tons of amazing state parks, and fantastic recreational opportunities. So, why should you take a Central Oregon RV trip? This is where the locals go to play. There's ample sunshine and fantastic resort destinations.
Hear more of our interview with Shellie Bailey-Shah about planning a Central Oregon RV trip by clicking play on the media player above or by searching for The RV Atlas wherever you find your favorite podcasts.
The Charming Town of Sisters, OR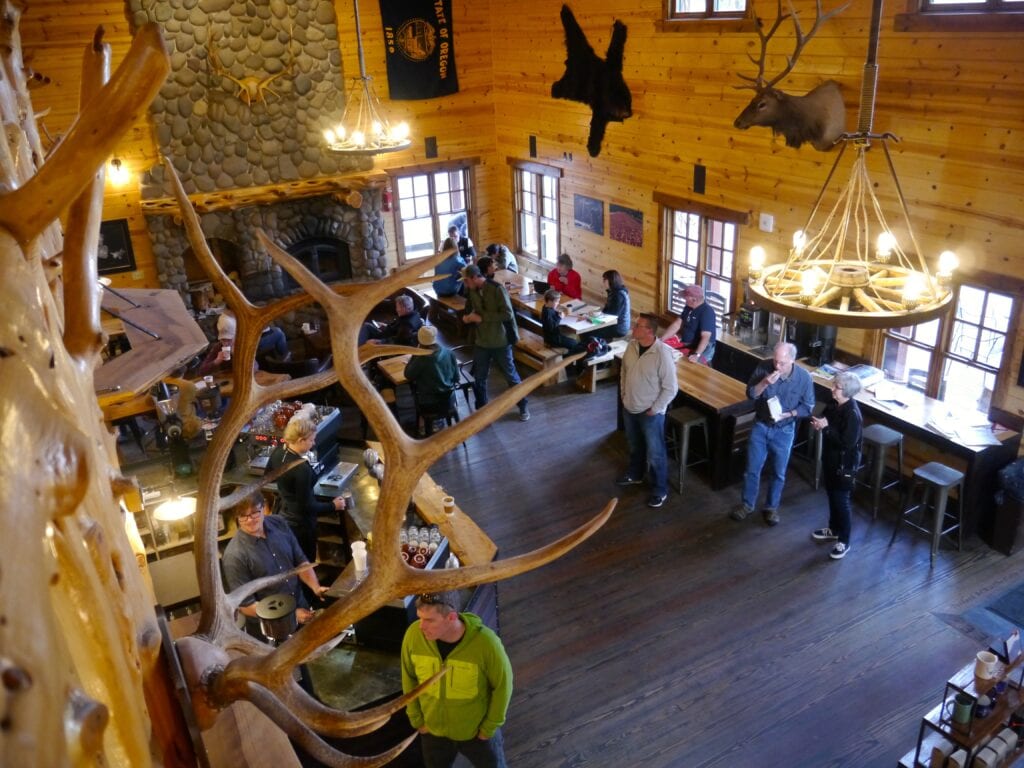 Start your Central Oregon RV trip with a stay in Sisters. Sisters is named for the trio of mountain peaks, known as the Three Sisters. They provide a scenic backdrop for the town, which Shellie describes as having "irresistible small town charm."
You'll immediately find Sisters's charm with a stroll through the downtown area, where the stores feature Old West facades and the streets are lined with lanterns hanging from wooden posts. Stroll through the art galleries and boutique shops. Grab a pair of cowboy boots and some Western wear to feel right at home. Craft beer is big here, and one fun place to sample some is at Hop in the Spa, where you can actually bathe in it! You read that right…take a relaxing soak in a tub full of suds while sipping some.
When you're hungry, you'll find tons of fantastic choices. Shellie especially enjoyed The Cottonwood Cafe, which is housed in a cute cottage. Coffee fans won't want to miss Sisters Coffee Company, which has a cozy Western lodge interior and freshly baked scones to go with your java. Three Creeks Brewing Company, a family friendly brew pub (you can even bring your pet!), is another great choice.
Outdoor Recreation Near Sisters, OR
In addition to its great downtown area, Sisters also offers great hiking opportunities that are family friendly and spectacularly gorgeous. Some spots offer limited parking, so they may not be as accessible if you are driving a motorhome without a tow vehicle (as Shellie often does) or if you have your trailer hitched up. Shellie recommends arriving early for the best parking, but you will also find many locations with larger lots with room for RVs.
Lace up your boots, and hit the trails to Sahalie and Koosah Falls to experience some of the stunning waterfalls Oregon is known for. Shellie recommends making a stop at the Wizard Falls Hatchery, which raises salmon and trout for nearby riverways. The Metolius River is especially scenic and known as one of the best fishing rivers in the Pacific Northwest.
Biking is also big in central Oregon. You can rent bikes, and you'll find tons of world-class mountain biking trails. You can even hit the trails on horseback at the Black Butte Ranch.
RV Camping in Sisters, OR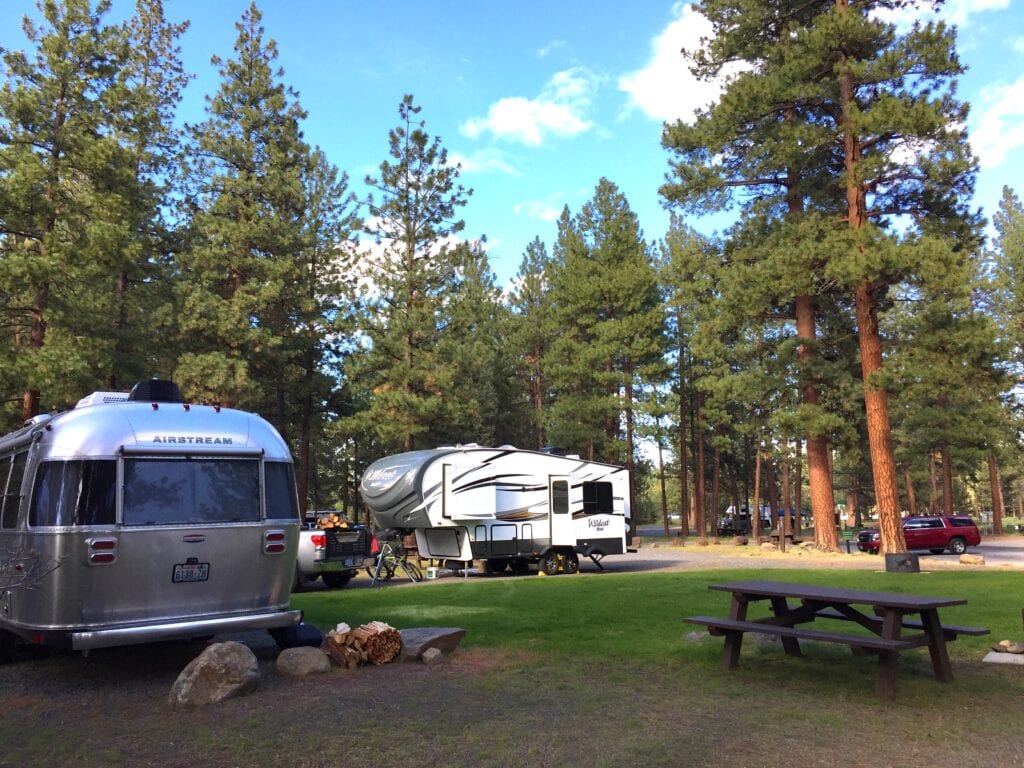 Creekside Campground is a mere five-minute walk from downtown Sisters, which was a great selling point for Shellie's family. This city-run park offers 60 sites, 27 of which have full hookups. The park is also really beautiful, with its location along Whychus Creek and its large trees.
Go Play in Bend, OR
With the Deschutes River cascading through downtown and surrounding lakes and mountain peaks, Bend is where Oregonians go to play–and, judging by the cover of Outdoor magazine–so does everyone else.
Floating the Deschutes River in tubes in a popular summer activity. You can even go surfing at the Bend Whitewater Park or have fun navigating the built-in rapids for an extra splash.
Bend is known for its thriving food cart and brewery scenes. Shellie recommends The Lot as a place to find both. Don't miss the fish tacos at Fricken Faco!
To cool off on a hot afternoon, Shellie recommends the High Desert Museum. It has fun, hands-on activities for the kids. Another place to beat the heat is at the Lava River Cave Interpretive Site. Take your flashlight, and dress warm to explore the mile-long of underground lava tube.
The Newberry National Volcanic Monument is a great spot to explore the unique landscapes of central Oregon. While not as famous as Oregon's other famous crater, Crater Lake National Park, the Newberry National Volcanic Monument offers beauty all its own.
RV Camping in Bend, OR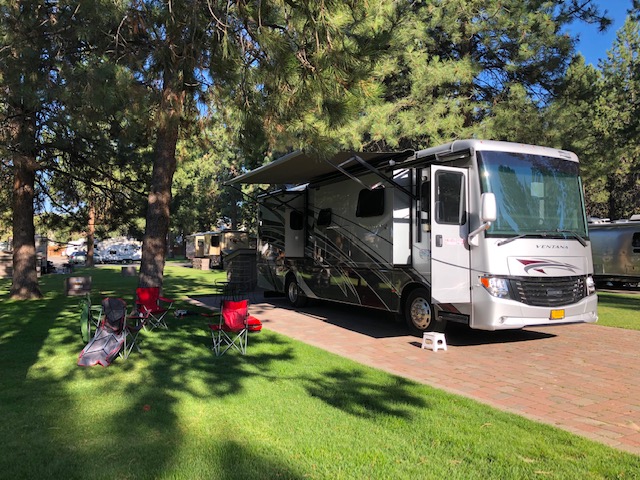 If you're heading to Bend, Shellie has two campground recommendations. The more rustic option is Tumalo State Park. Surprisingly, you will find full hookups in this scenic park, located along the Deschutes River. You can easily hop on the hiking trail or tube the river.
For a more upscale experience, check out the Crown Villa RV Resort. Think manicured lawns, paved campsites, and tons of amenities. Shellie especially loved the gigantic sites. She could back their motorhome in without even having a spotter, thanks to the spare room.
Camping and Playing at LaPine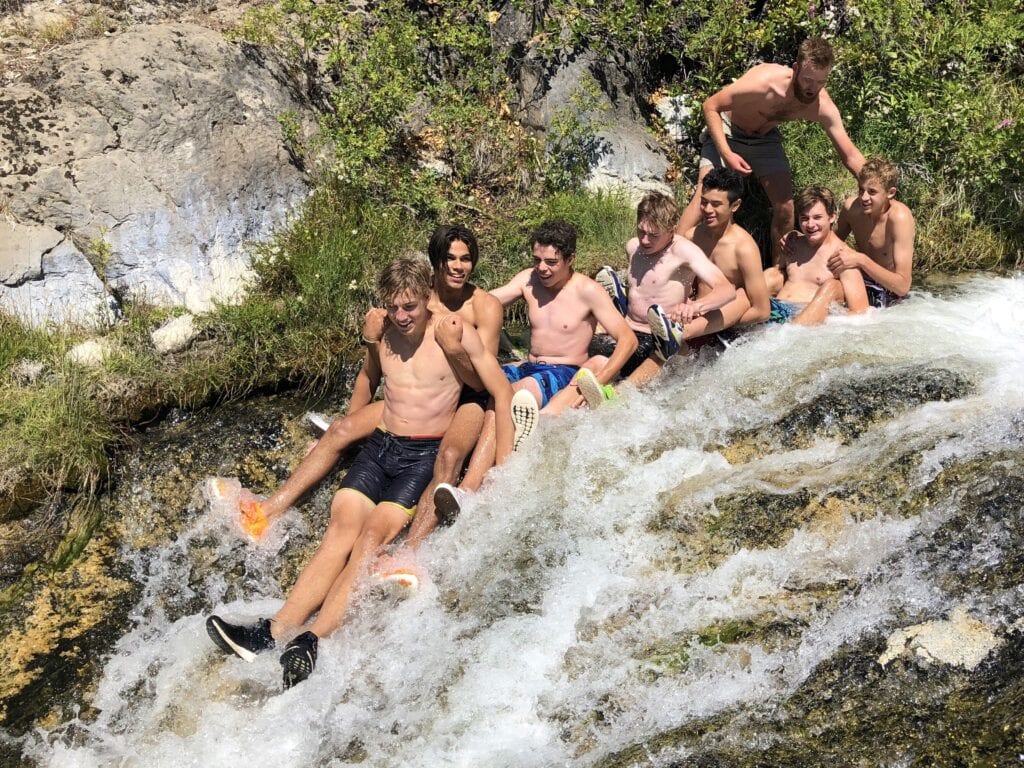 Your central Oregon RV road trip needs to include a stop at LaPine State Park. LaPine is located on the Upper Deschutes River, just 30 minutes south of Bend. The campground is surrounded by towering Ponderosa Pines. You'll find 82 full hook-up sites and 47 water/electric sites. Oregon parks seriously rock!
There is a ton to do in the park: hiking, biking, fly fishing, and mark. But, for Shellie, the highlight of the park was the Paulina Plunge, which includes mountain biking down a 2000 vertical-foot descent on a fat tire bike. Along the way, you'll stop at six waterfalls, including two that have natural water slides.
The tour operator shuttles you to the top of the mountain, and then a guide leads the way. You'll get more of a workout hiking down and back up from the waterfalls than from the mountain biking, Shellie says. She took her 17-year-old son and eight friends to LaPine State Park just for this experience, and it did not disappoint!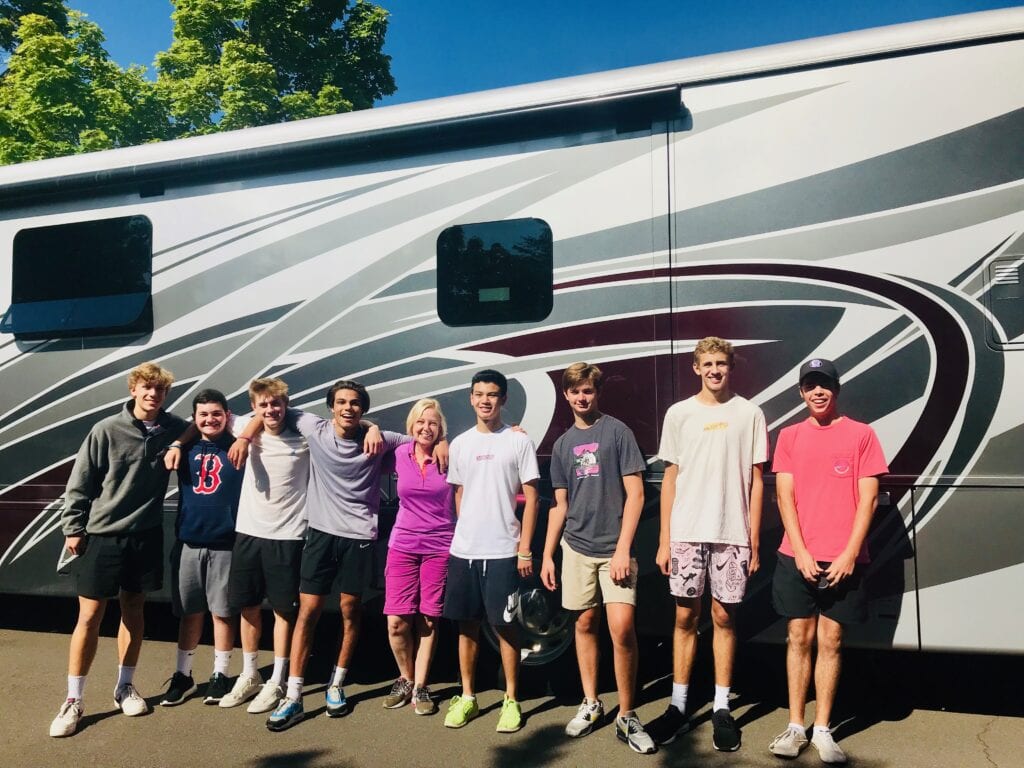 Find Out More about RV in Oregon
Check out Shellie's full post about her trip to Sisters here. You can also find her on Instagram, Facebook, Twitter, or Pinterest.
Check out our campground reviews for these great spots in Oregon:
We cannot WAIT to get back to Oregon! Too bad it is so far away from NJ. When we do go, we hope to get a meet up with the amazing Shellie Bailey-Shah! We want to thank her for this delightful bit of road trip dreaming!
See You at the Campground,
Jeremy + Stephanie
Podcast: Play in new window | Download