Mazama Village Campground in Crater Lake National Park puts you close to the natural beauty of Crater Lake National Park. Oregon's only national park is home to the nation's deepest lake. This phenomenon was created when the volcano Mount Mazama collapsed over 7000 years ago. A massive caldera was left behind, creating Crater Lake. The waters of this generous basin are known for their incredible purity and color. The surrounding natural setting is equally as stunning.
Shellie Bailey-Shah came on the podcast to tell us all about this campground and national park from her home state of Oregon. Shellie is the editor for KidTripster.com, an online travel resource aimed at families traveling with kids. Having crisscrossed the nation several times with her own family, Shellie knows what she's talking about.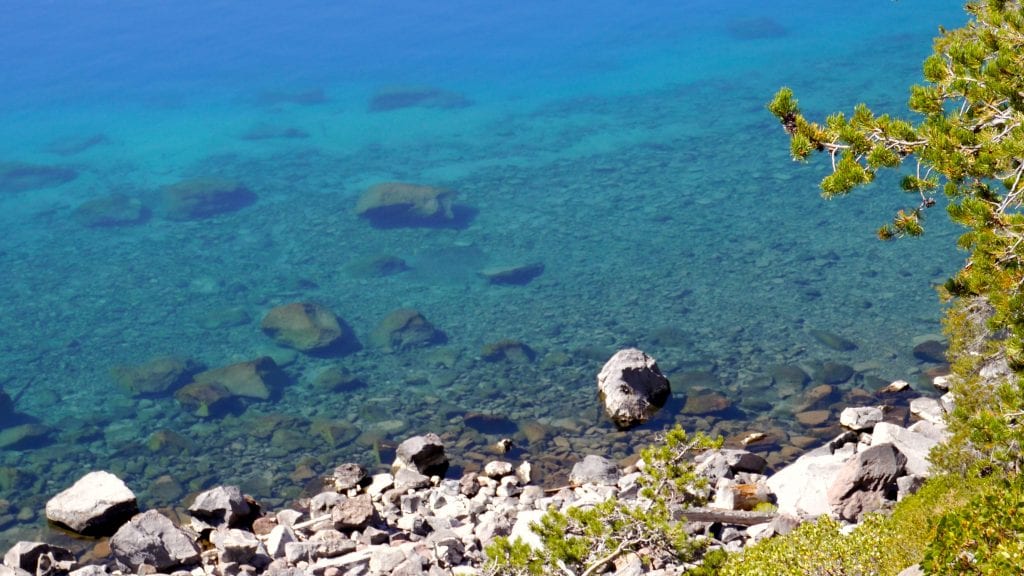 Campground Details: Mazama Village Campground
Located just 7 miles from the southern rim of Crater Lake, Mazama Village Campground is a convenient place to stay for a visit to Crater Lake National Park. Offering 214 sites, this is the only campground in the park that hosts RVs. It can accommodate motorhomes up to 50 feet and travel trailers up to 35 feet in length.
The campground elevation comes in at 6000 feet, which allows for cooler weather in the summer. By the end of the camping season in September, cold, wintery weather is not out of the question.
In June, all sites are offered on a first-come-first-serve basis. In July, August, and September, the park concessionaire accepts reservations for 75% of the sites. This popular park fills fast. Therefore, you'll want to book a campsite as early as possible. Reservations can be made 13 months in advance.
Shellie recommends trying for an end site or a pull-thru, if possible, since the sites can be tight. She also recommends calling the park to make your reservations, instead of attempting to navigate the website.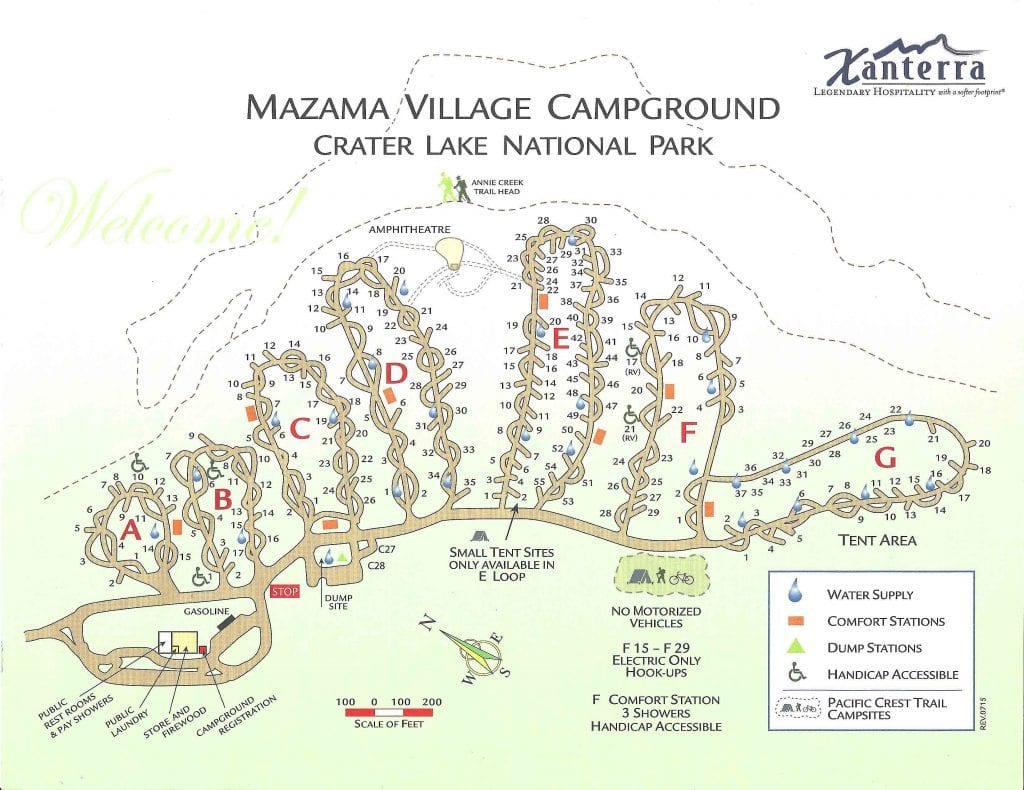 Campground Amenities: Mazama Village Campground
Plan to rough it a little if you stay at Mazama Village Campground since most of the sites offer dry camping, with no water, electric, or sewer hookups. If you are hoping to score some electricity, at least, try for a spot in Loop F, which has 10 sites with electricity. Expect to pay $22 for tent sites, $32 for the RV sites with no hookups, and $37 for the electric-only sites.
Mazama Village Campground offers several convenient amenities, including a restaurant, gift shop, camp store, and dump station. Since you won't have water and sewer onsite, you'll be happy to know the comfort stations are clean. However, you will have to tote your quarters if you're hoping for a shower, since there is a fee (approximately 75-cents for a 4-minute shower).
Plan to disconnect during your stay since there is no cell service or WiFi at Mazama Village Campground. If you must connect to the outside world, you can find WiFi at the Crater Lake Lodge. Entertainment can be found at the amphitheater, thanks to naturalist programs.
Local Area Near Mazama Village Campground
Chances are, if you're staying at Mazama Village, you plan to visit Crater Lake. Luckily, there are many ways to experience this natural wonderland.
Start with a drive along the Rim Road, which circles the lake, offering views galore. The turquoise, sapphire, and midnight blue waters of Crater Lake reflect the surrounding granite peaks. Take a journey along West Rim Drive to historic Crater Lake Lodge and the nearby visitors center. Shellie recommends a meal at Rim Village Cafe, which offers fine dining, while remaining kid friendly.
One of Crater Lake's most magical features is Wizard Island. This volcanic cinder cone creates a miniature mountain out in the lake. Getting there is an adventure in and of itself. First, you have to hike a mile-long trail that includes 700-feet of elevation drop (allow at least 45 minutes). Then, catch the island shuttle to Wizard Island. Shellie recommends making reservations online in advance since the shuttle fills up during the busy season.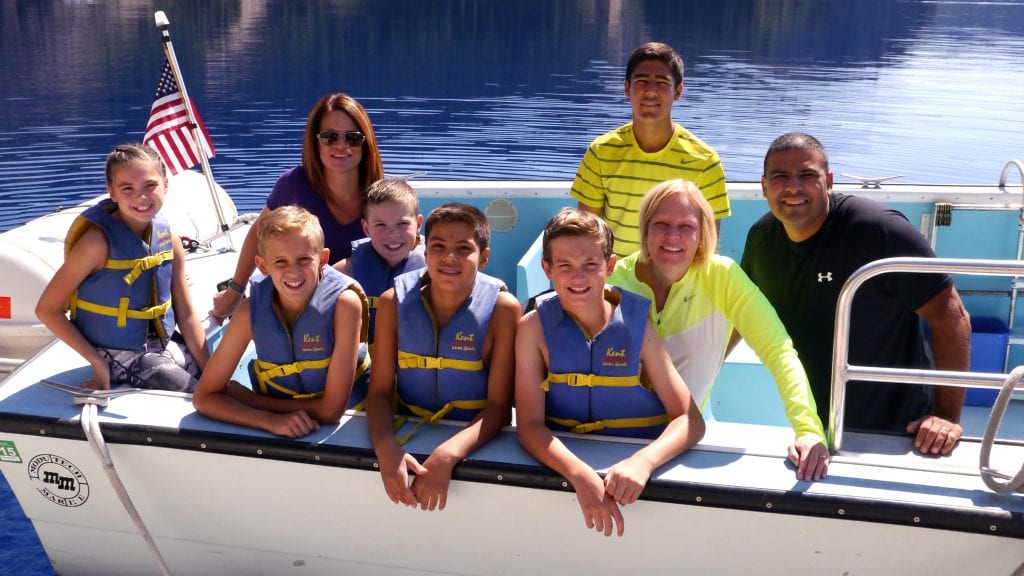 As the shuttle sails, a park ranger shares information about Crater Lake. Once you arrive on the island, you will have approximately three hours to explore. Hike to the top for the best views. Plus, you'll be standing inside a crater of a volcano that's inside a crater of a volcano.
After this workout, you might be ready to hop in the pristine waters of Crater Lake. Brace yourself, this melted snowpack is COLD. Don't bother to pack any swim toys, as none are allowed in Crater Lake, in order to protect the fragile ecosystem. It's worth it to jump in just to say you did!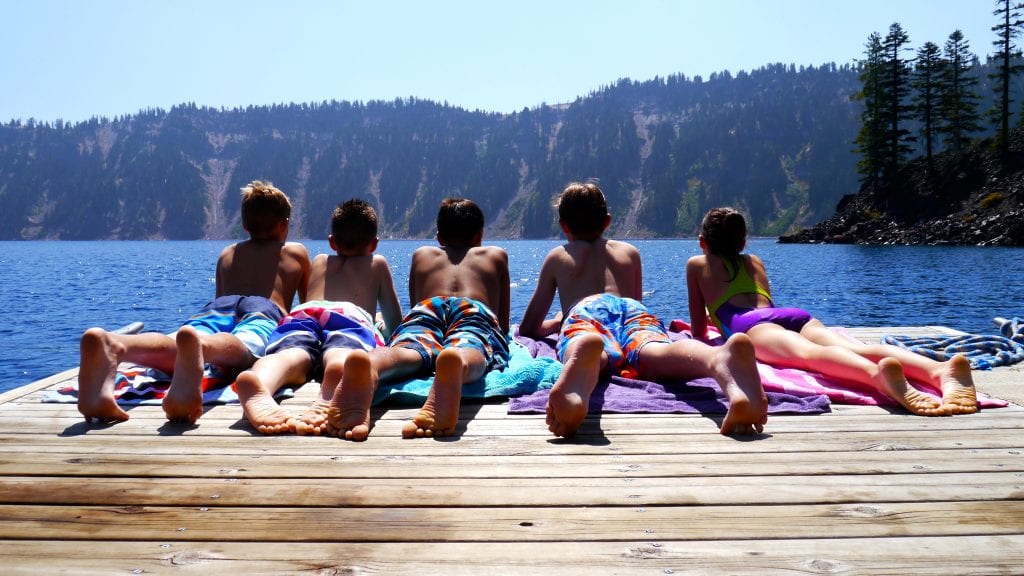 After exploring Wizard Island, take the shuttle back to Cleetwood Cove Boat Dock. There, you'll face a strenuous hike that is the equivalent of climbing 70 flights of stairs.
Wrap Up: Mazama Village Campground
On our Pacific Northwest road trip, our own visit to Crater Lake National Park wowed our whole family. If you'd like to be wowed by Crater Lake, plan a visit to Mazama Village Campground. Thank you to Shellie from KidTripster.com for sharing this awesome campground with us. Check out her recently updated Pinterest page for tons for family travel resources and inspiration, or find her on Facebook, Instagram, Twitter, or YouTube.
See you at the campground,
Jeremy + Stephanie
Podcast: Play in new window | Download