Many of us get into RVing because we want to make special memories with our children. If you're traveling with little ones (or big ones), chances are, a bunkhouse trailer is on your wishlist or in your driveway. Whether you are buying your first bunkhouse or upgrading to a new one, we want to give you some options to consider in our bunkhouse roundup series, starting with small bunkhouse trailers.
Kerri Cox, of Travels with Birdy, is joining us for a mini series all about bunkhouses. She writes a monthly feature on family friendly RVs for the Trailer Life website. Since she's been researching and writing about these rigs for over a year now, we thought it would be fun to bring a roundup of some great picks.
We are kicking off this three-part series with a look at small trailers (which Kerri has classified as roughly under 24′). Then, she'll come back with some medium-sized trailers (around 25-31ish feet) and then larger trailers (over 32 feet).
Why Consider a Small Trailer?
Kerri thinks small trailers rule, and she should know since she had one herself for five years. Her family started their RVing adventures with a used 2012 Jayco 184BH. While their teenage sons ultimately outgrew this model, Kerri's family loved many things about their small trailer.
Small trailers may not have all of the space and bells and whistles of larger models, but they offer some features the big trailers do not, such as:
Nimble towing — you can easily maneuver a small trailer through parking lots and campgrounds
Lightweight size — you may not have to upgrade your tow vehicle much, if at all, in order to tow one
Possibly budget friendly — many small trailers are aimed at the entry-level market
Cozy — the smallness can create a cozy atmosphere for family fun
Which picks made Kerri's list? Let's check them out.
To hear more about this lineup of small bunkhouse trailers, click play on the media player above or search for The RV Atlas wherever you find your favorite podcasts.
Jayco 184BS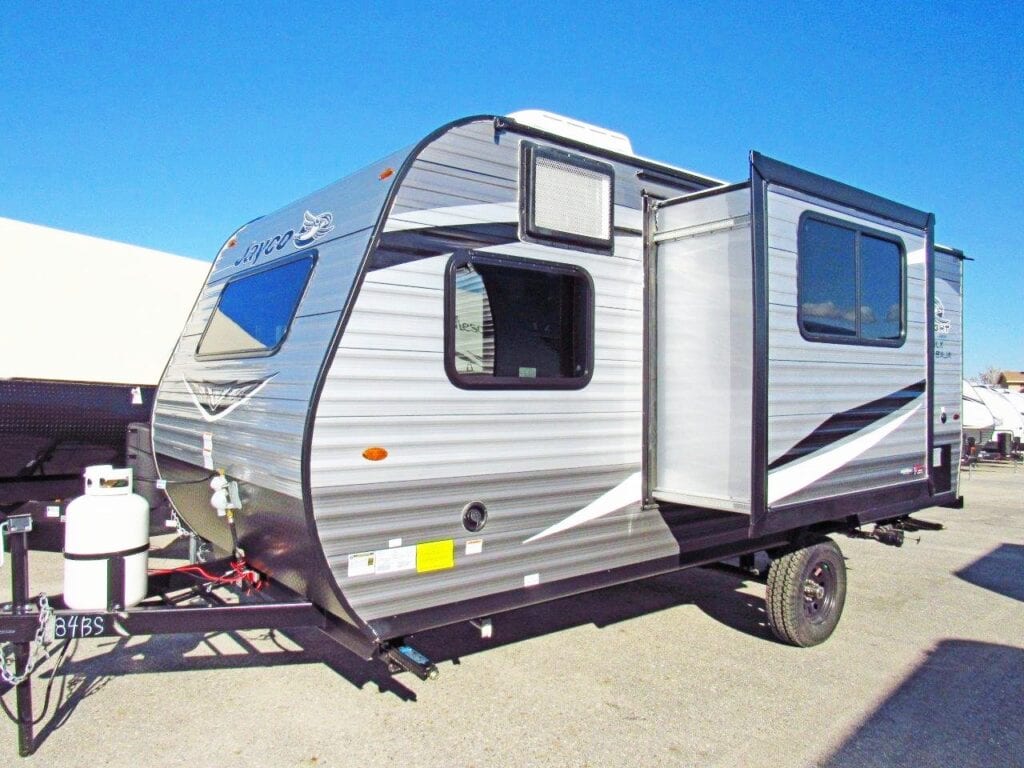 First up, let's talk about one of the classic family starter trailers, the 2020 Jayco 184BS. Jayco has had several very similar variations of this floor plan over the years. It has everything you need to enjoy life at the campground, and nothing you don't need. You'll find a full kitchen, a bathroom, bunks for the kids, a small dinette, and a dedicated bed for the parents.
Kerri noted that this model has a slide out. That can make a huge difference in a small space. Kerri's 2012 184BH did not have a slide, so there was virtually no floor space. Also, while the dinette may not fit the whole family, it does provide a nice spot to eat, work, or play.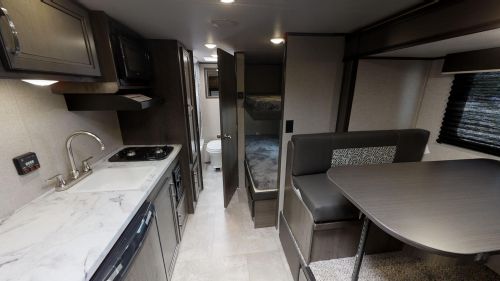 The dedicated queen bed at the front of the trailer is also a stand-out feature. Many small trailers opt for a fold-down dinette instead of a dedicated bed, but the 184BS includes a queen bed. Parents will appreciate not having to make up and take down the bed each day.
The 2020 Jayco 184BS comes in at 21'6″ long and 4200 pounds (GVWR or "fully loaded"). The MSRP is right around $21,000, but you'll find it for much less on many dealership lots.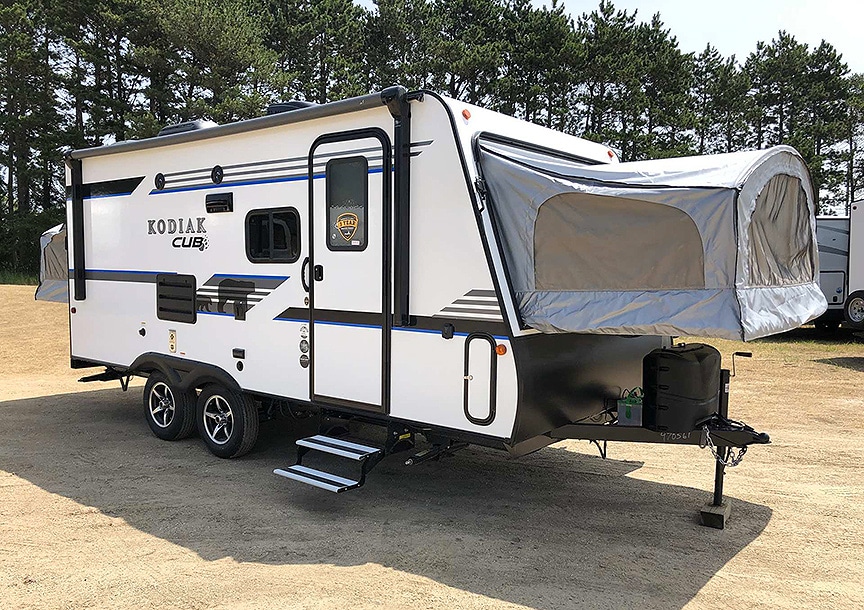 Families with more than two children or those who wish to take along guests often struggle to find a small trailer that has sleeping space for everyone. Hybrids are a great option in these situations. They are an upgrade from a pop-up camper since you do not have to set up the entire trailer, and you have a traditional trailer interior for everything except the beds.
Beds are the star of the show in the 2020 Dutchmen Kodiak Cub 179E. This model has three 60" x 80" flip-out beds, which can sleep up to six. Fold down the interior dinette for space for two more to sleep. You really cannot find sleeping space for up to eight people for this length and weight without a hybrid!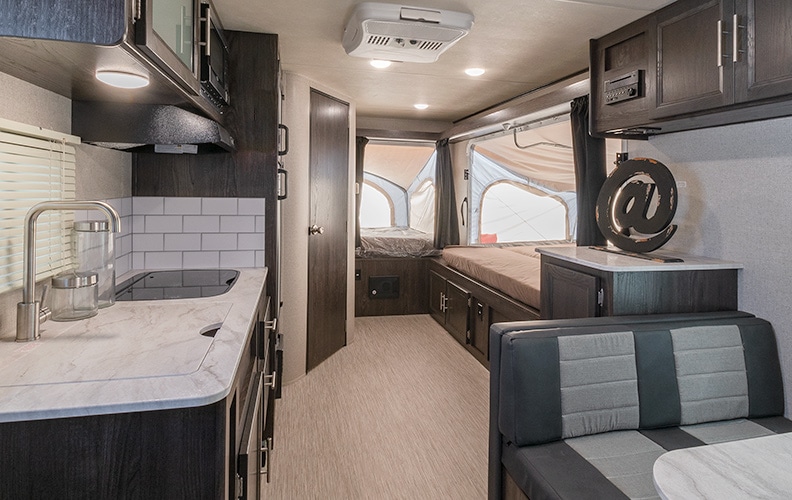 Another standout feature of the Kodiak 179E is the styling. Kerri really liked the light-color flooring, the kitchen subway tiles, and the marble-look countertops. Even though the interior space is small, it feels light and bright. The sporty fiberglass exterior with simple styling is also a plus for modern families.
The Kodiak 179E is 21'8" long and weighs in at 5400 pounds fully loaded. The MSRP is $27,000. It looks like Dutchmen may not continue this model in 2021, but you can still find new ones on the lot. Read Kerri's full review here.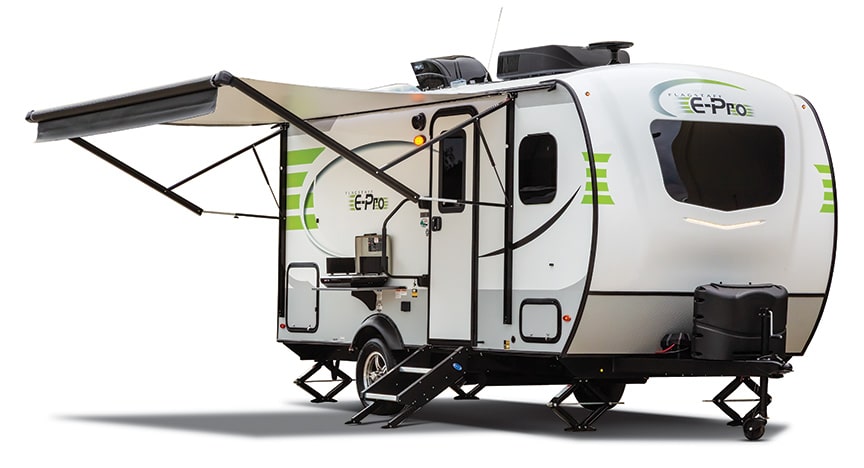 The first word that comes to mind with the Flagstaff E-Pro E16BH might be "cute," thanks to its petite size and lime green accents. But, the word "functional" will come to mind as soon as you start exploring the amenities. This small model is just about as small of a bunkhouse as you will find, but it is loaded with so many features you won't miss the lack of space.
Like many small trailers, the E16BH doesn't have a dedicated bed for adults. Instead, it has a fold-down dinette at the front. This means you won't be able to have seating and a made-up bed at the same time, which can be less than ideal. At the rear, a pair of single east-west bunks is perfect for the kids. Kerri likes that the east-west setup opens up the beds to the rest of the space.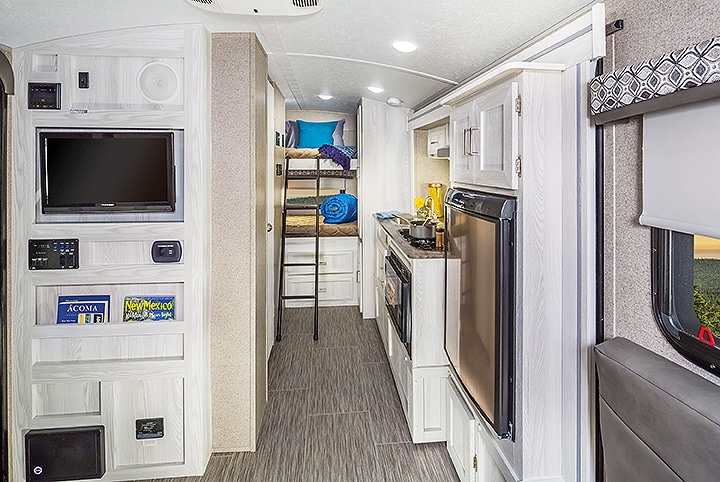 While the Flagstaff E16BH is small, it does have a slide out, which opens up the floor space. The white woodwork also brightens the interior. The kitchen is located on the slide, while an exterior kitchen has a grill and refrigerator–a rare find in a small trailer!
The Flagstaff E16BH also has a lot of features aimed at the outdoorsy family that is willing to go off the beaten track. Solar prep and a WiFi booster come standard, and options include a tongue-mounted bike rack.
The Flagstaff E16BH comes in at 18'4″ long and weighs up to 3920 pounds (fully loaded). The MSRP is $23,900. Check out Kerri's full review on Trailer Life here.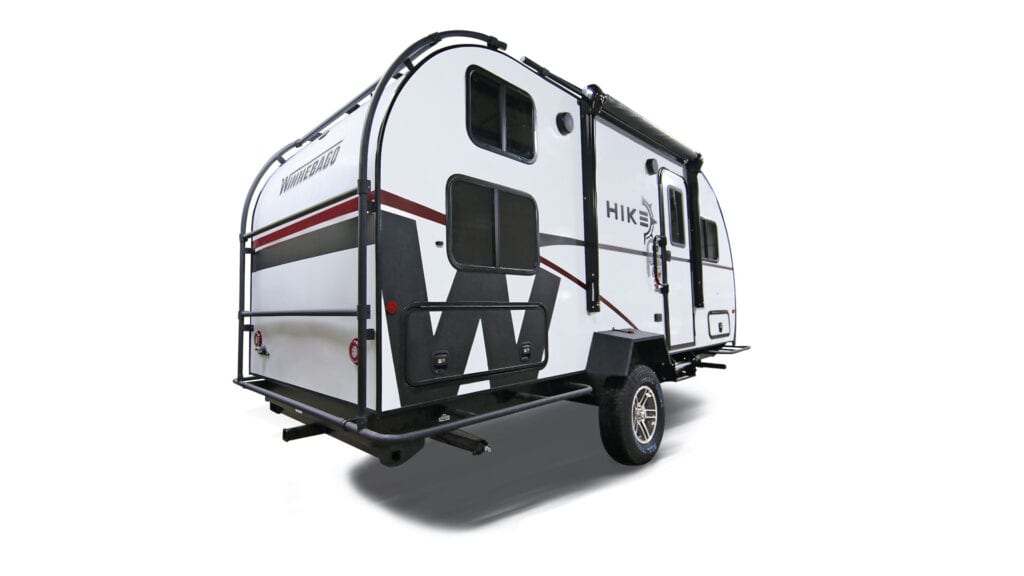 While browsing an RV show, the new Winnebago Hike immediately caught Kerri's eye. From the huge iconic Winnebago "W" splashed across the tail to the intriguing exoskeleton system, it was clear that the Hike was something different.
Winnebago's new Hike line is built for off-the-beaten track adventures, with a lifted frame and sturdier tires and wheel wells. That noticeable exoskeleton is used to attach toys (you may use Thule racks or bungee cords to keep kayaks, bikes, and more snugly in place). Hop on the built-in steps to access normally out-of-reach locations.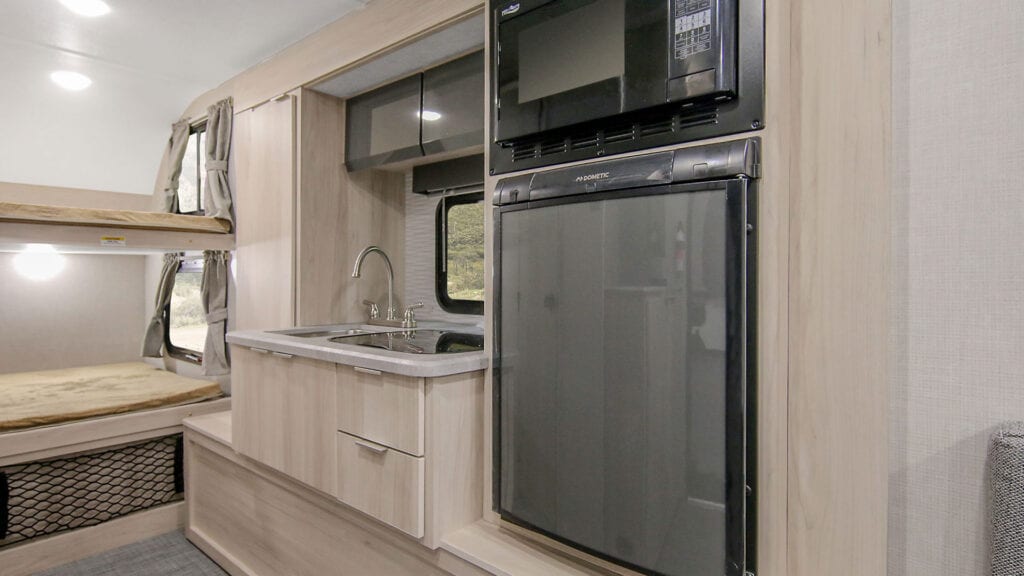 Of the lineup, the Hike H172BH is the only bunkhouse, so far. At the rear, you'll find larger, wider bunks (often called "bunk-and-a-half" size due to the extra width). Each has a window, which is a nice touch. Adults will have to sleep on a fold-down U-shaped dinette.
The kitchen is located on a slide, which extends the floor space. The European-styled interior features birch-colored woods and simple accents. An exterior kitchen is another nice bonus.
The H172BH is 21'7" long and weights 4000 pounds when fully loaded. If you can handle a little more length and weight, Kerri recommends checking out the Hike H215HS. Instead of bunks, there is a dedicated adult bed, and the kids sleep on the fold-down dinette. It is 25 feet long. Her Trailer Life piece on it is coming soon.
Winnebagos do come with a higher price tag, with the H172BH coming in with an MSRP of $35,000. However, for the price, you truly do get high quality and a durable build from top to bottom.
If you're looking for a bunkhouse, keep following this series! We will be bringing you several more terrific options. In the meantime, check out Kerri's series on Trailer Life. You can also follow Kerri's RV adventures over on her Instagram feed or her website Travels with Birdy.
See You at the Campground,
Stephanie + Jeremy
Podcast: Play in new window | Download