Great Smoky Mountains National Park is the most visited national park in the entire country and one of the most popular places to camp. The park is spread out over 500,000 acres with dozens and dozens of campground options, it can be overwhelming to choose from all of the amazing campgrounds in the area. In fact, one of the most frequently questions asked in the RV Atlas private Facebook group is, "What's the best campground in the Smokies?"
There's no single answer to that question. Where decision of where to stay should be based on the geographical area you wish to be in, the type of environment you wish to experience, and the amenities you are looking for in a campground. There are resort campgrounds smack dab in the middle of Pigeon Forge and dry campgrounds tucked away in the national park. And yes, it's hard to pick just one out of all the amazing options. Perhaps that's why we often end up staying at a few different campgrounds during our visits. Just call us campground hoppers.
Whether you choose one campground or three, here's a roundup of 12 of the most amazing campgrounds in the Great Smoky Mountains National Park region. All of these campgrounds come highly recommended from experienced campers in the the RV Atlas community. Good luck finding your perfect place. Here's a Google Maps list of the 12 campgrounds we are featuring in this roundup, and we've personally visited each one.
The campgrounds are organized into loose geographical areas. However, close is a relative term in the Smokies, and you should map your campground choice to calculate the distance between your basecamp and chosen attractions, hikes, and drives. For example, we stayed at Imagination Mountain to be near Gatlinburg, but it's still a 25 minute drive. That's mountain life for you.
Campgrounds near Great Smoky Mountain National Park in Gatlinburg
Gatlinburg is arguably the most popular tourist hub in the Smokies. It's known as the gateway to Great Smoky Mountains National Park and the main visitor's center, Sugarlands Visitor Center, is just 10 minutes from downtown. Some of the most famous park hikes and drives are near the main drag as well, such as the Roaring Fork Motor Nature Trail and Chimney's Picnic Area. Some campers love to be right in the middle of the action, and others will cringe at the streets full of tacky t-shirt and fudge shops. If you want a quiet getaway, Gatlinburg is not your best option in the Smokies. However, if you love to mix your hikes with amusement park rides and aquarium visits, check out these fabulous campgrounds near Smoky Mountains National Park.
Greenbrier Campground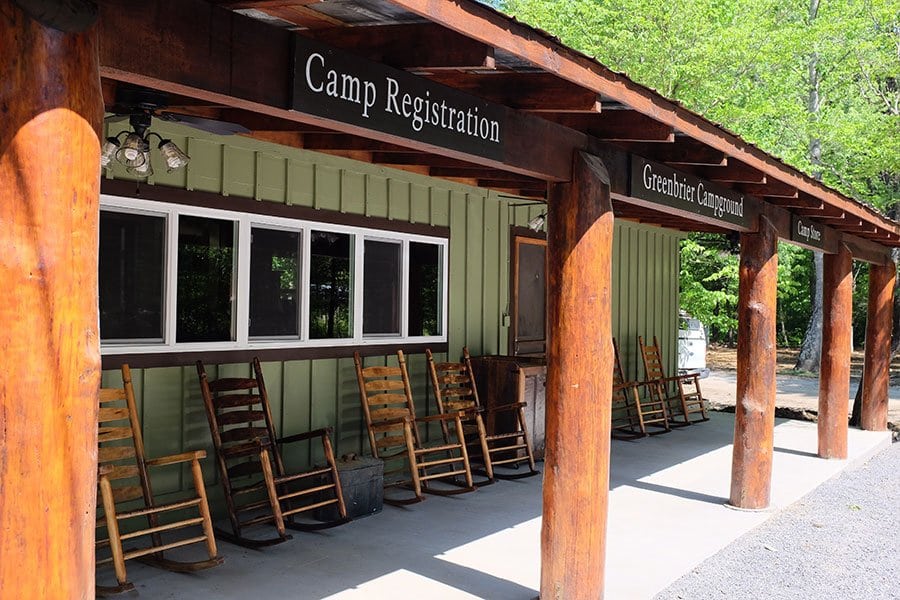 The Little Pigeon River runs around the Greenbrier Campground, offering guests a swimming hole, private beach, and onsite trout fishing. There are full hook up sites–some with direct river access–and some wooded options, plus tent sites and cabins. Campers rave about the pet-friendly policies and cleanliness. Greenbrier offers plenty of recreation for families including volleyball, gaga ball, badminton, bocce ball, and corn hole. The campground is less than a half mile from the Greenbrier entrance to GSMNP.
Imagination Mountain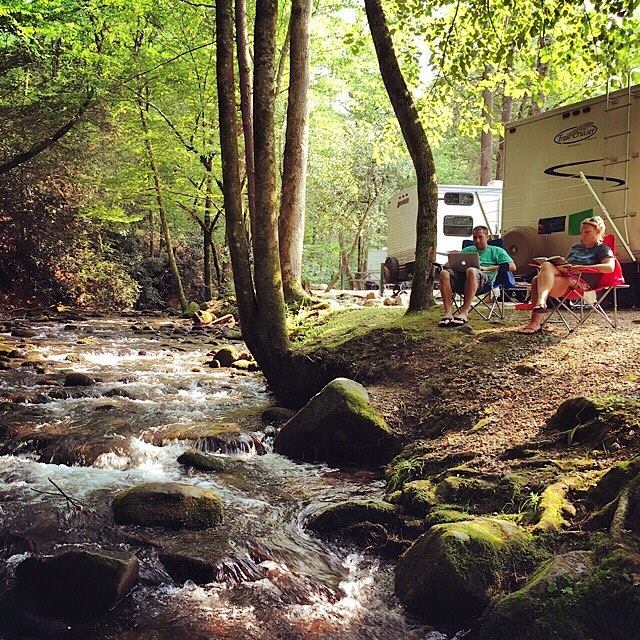 Imagination Mountain (previously known as Great Smoky Mountain Jellystone Camp Resort), is a short 20-minute drive to Gatlinburg but feels like a million miles away. Almost all of the sites are creekside, and the friendly camp hosts will get your RV situated perfectly in a snap. There is a pool, arcade, ice cream parlor, and well-stocked camp store. Organized activities are available on a daily basis for the kids during the summer season. The combination of natural beauty and family-friendly amenities has made this campground a favorite for a lot of campers.
Campgrounds near Great Smoky Mountain National Park in Pigeon Forge
People seem to either love or hate staying in the Pigeon Forge area of the Great Smoky Mountains. If you want to be surrounded by nonstop action, this is the place for you. Parents of preteens and teenagers often give this area a two thumbs up. They particularly enjoy the trolley that allows everyone to get around independently. Plus, Dollywood is right there.
Pigeon Forge/Gatlinburg KOA Holiday
This family-owned KOA opened in 1966 and is legendary among area campgrounds. Located right off the main drag in Pigeon Forge, a trolley is available to take you into town and a few minutes up the road to Dollywood. They have all the amenities you would expect in a KOA: pool, hot tub, snack bar, and dog park. Plus they have. some extras like a waterslide,  outdoor cinema, and fun train. Some visitors are not big fans of the tight sites and general hustle and bustle, but this is not a campground for anyone looking for peace and quiet. Reserve a spot here if you want to be in the heart of all the glorious touristy action the Smokies has to offer.
Riveredge RV Park and Log Cabin Rentals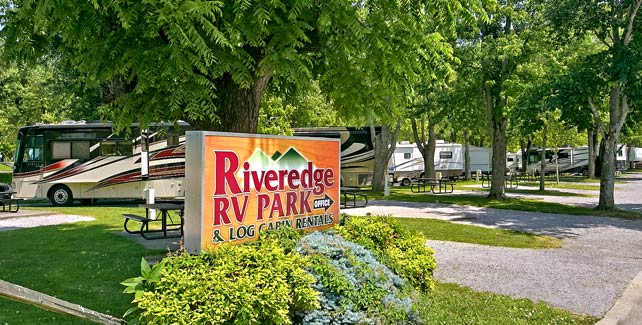 Riveredge RV Park & Log Cabin Rentals has beautifully manicured sites and landscaping just 1.5 miles from Dollywood. The RV sites are all full hook up with fire rings, cooking grates, and picnic tables. There's a pool, kiddie pool, hot tub, and splash pad to enjoy after a day of site seeing. Even the people who love this campground note the smaller site size. But staying here is about location, location, location, combined with an impeccable clean campground.
Camp Margaritaville RV Resort and Lodge
Camp Margaritaville is a new player on the RV resort scene and they are already winning positive reviews from RV owners that like to fancy camp. Their pool and recreation area are extensive and will please parents who want to chill out in the sun while their kids race down the water slide. Options for on-site dining are diverse and delicious, so if you don't feel like busting out the two-burner camp stove you don't have to. There are plenty of indoor activities like billiards, shuffleboard, and arcade for evenings or rainy days. We also love the Lodge building here for anyone who doesn't want to bring their own camper but still enjoy a campground vibe.
Campgrounds near Great Smoky Mountain National Park in Townsend
Townsend is located in "the quiet side of the Smokies". People who loathe the touristy commercialism of Gatlinburg and Pigeon Forge often choose this area when camping near Great Smoky Mountain National Park. But don't let the nickname fool you. Even though Townsend is quiet, there are so many outdoor activities–and tons of seasonal festivals–in the area. Townsend is close to the Cades Cove entrance to the park, a favorite area for many visitors.
Townsend/Great Smokies KOA Holiday
This classic Great Smoky Mountains campground is one of the most beloved and recommended campground in the Smokies, likely because it combines the best features of many different types of campgrounds. The Townsend KOA is right on the river and offers on-site tubing and fishing. Plus, it has all the amenities KOAs are known for, such as a pool, playground, wagon rides, and scheduled activities. The managers create a warm and cozy family-friendly atmosphere, and people return year after year. This is a great campground choice if you are looking for proximity to Cades Cove but can't get a reservation in the Cades Cove national park campground.
Little Arrow Outdoor Resort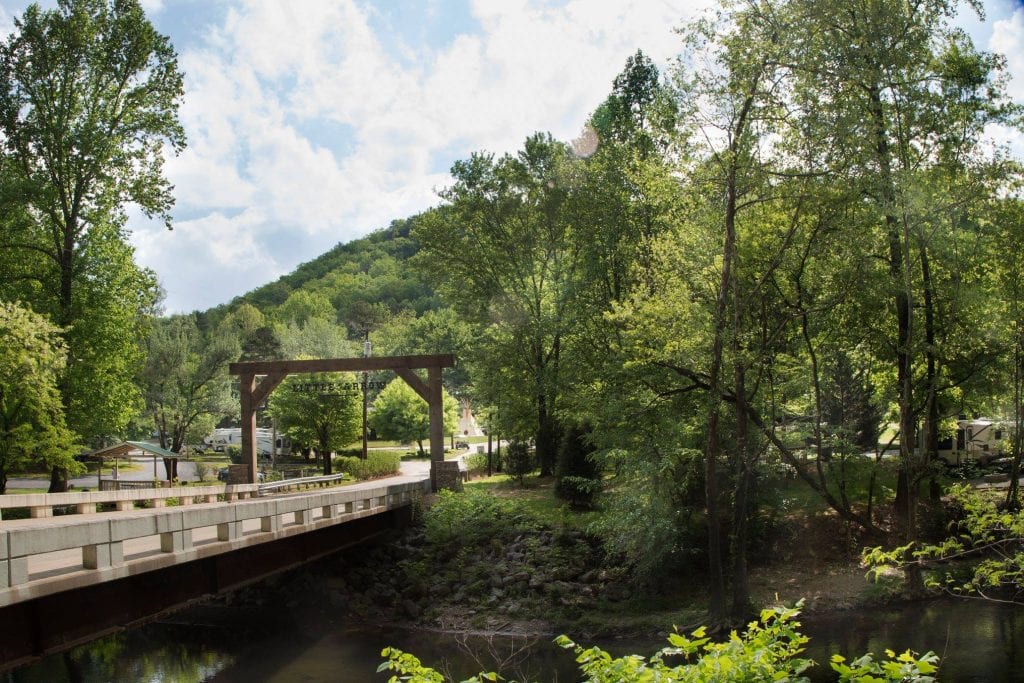 The Little Arrow Outdoor Resort changed owners some years ago and set about developing that hipster glamping vibe that is so popular right now. Well, they nailed it. Framed as a 'wilderness retreat', they offer RV sites, tiny homes, cabins, tents, and even an Airstream. There is a swimming pool, river access, and organized activities. Clean bathhouses get rave reviews from visitors.
Campgrounds in Smoky Mountains National Park
You can definitely camp within the boundaries of Great Smoky Mountain National Park, but you have to realize two things. One: these campsites are as highly competitive as tickets to a Taylor Swift concert. Two: you'll have to be up for dry camping since there are no hookups offered in the park. So if you're up for it, be prepared for a magical camping experience.
Elkmont Campground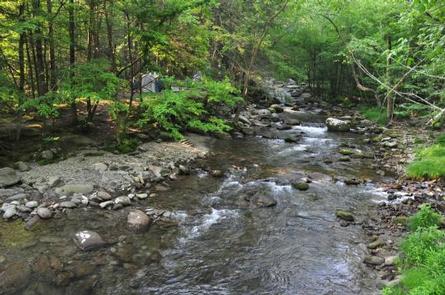 This beautiful campground is located about twenty minutes from the gateway town of Gatlinburg and is a family favorite on account of the size and riverfront location. The Little River and Jakes Creek run right through the campground, and visitors love fishing and swimming in the crisp mountain water. Most of the 200 sites will accommodate RVs, but read descriptions carefully to note any size limitations. Some campsites have a steep grade which grade, which makes it challenging to level a larger RV. the sites are spacious with a picnic table and fire ring. Firewood is available for purchase on site. The bathhouses have flush toilets, but no showers.
Cades Cove Campground
While Elkmont is the perfect place to have the Smokies mountain river experience, Cades Cove Campground puts you in the middle of the most iconic wildlife and scenic loop and just about 15 miles from the charming gateway town of Townsend. Bears, deer, turkeys, and coyote are regularly spotted in the valley, especially during the early morning and evening hours. The campground has a well-stocked store with supplies, souvenirs, and ice cream. You can also rent bikes right on site, which will help visitors more easily navigate the traffic along the popular 11-mile Cades Cove Loop Road. The campground is open year-round and has flush toilets, potable water, and a dump station for guests.
Cosby Campground

A smaller, more secluded and peaceful campground, visitors may have a better chance at nabbing a site at Cosby Campground than the more popular national park campgrounds listed above. There are a handful of RV sites with an additional tent pad and a handful of sites for van campers with a tent pad. You'll have to drive a bit to get to the most popular park attractions, so if you are looking for a quiet Smokies retreat, this may be the perfect campground.
Campgrounds near Smoky Mountains National Park in Dandridge
Anchor Down RV Resort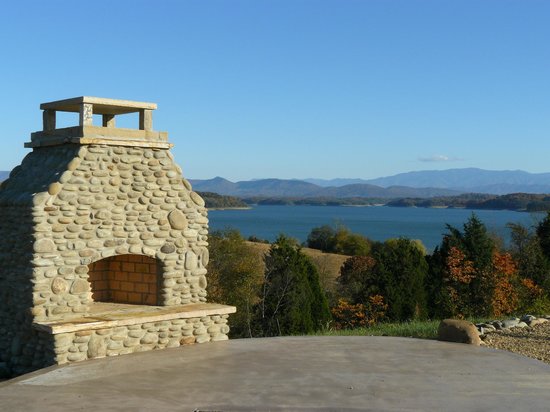 Located about 45 minutes north of Gatlinburg, this RV resort opened about a decade ago and the word spread quickly. The campground is on the shores of Douglas Lake, and the most popular campsites are legendarily Instagrammable, with large, stone fireplaces and water and mountain views. Anchor Down RV resort also has all the resort amenities you could want including a pool and lake beach with swimming, inflatables, and watercraft rentals. There are pickle ball courts and a basketball court. The sparkling clean bathrooms get rave reviews.
Campgrounds near Smoky Mountains National Park in North Carolina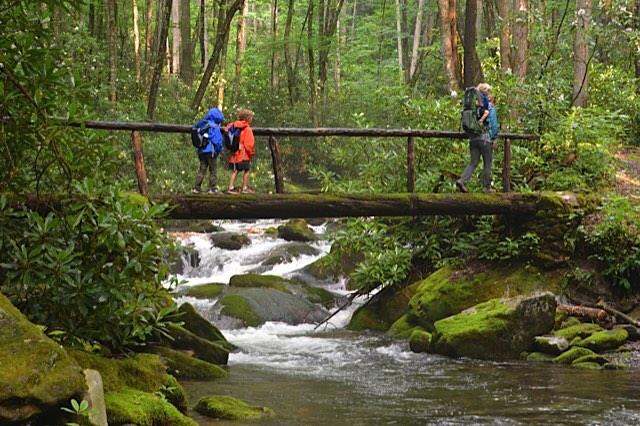 Although the North Carolina side of Great Smoky Mountain National Park gets a lot less press, there's a ton to see and do over there as well. The Oconaluftee Visitor Center is packed with educational opportunities, and family-friendly hiking is around every corner. Explore Native American history in Cherokee. And you'll also want to go tubing at the Deep Creek Picnic Area near Bryson City. The cell phone service in this area is notoriously bad, so be prepared. Here are our favorite campgrounds near Great Smoky Mountains National Park in North Carolina.
Cherokee/Great Smokies KOA Holiday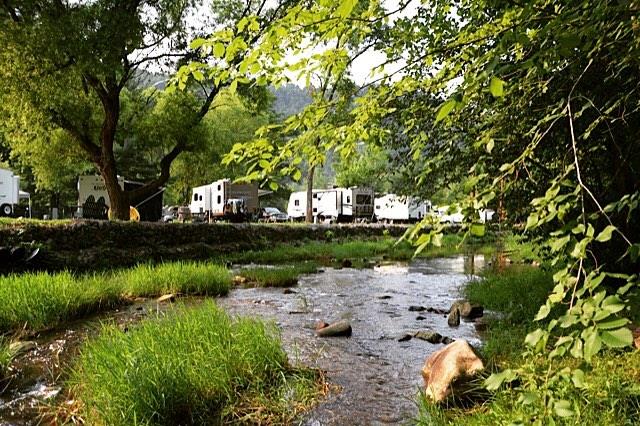 The Cherokee/Great Smokies KOA Holiday is open year round and offers a true camping resort experience. There's an indoor and outdoor pool, jump pillow, go cart rentals, snack bar, community fire pit, and tons more. You'll also find a packed recreation schedule during the peak travel season. Some of the best RV sites back up right to the river, and guests can enjoy tubing and fishing right onsite.
Yogi Bear in the Smokies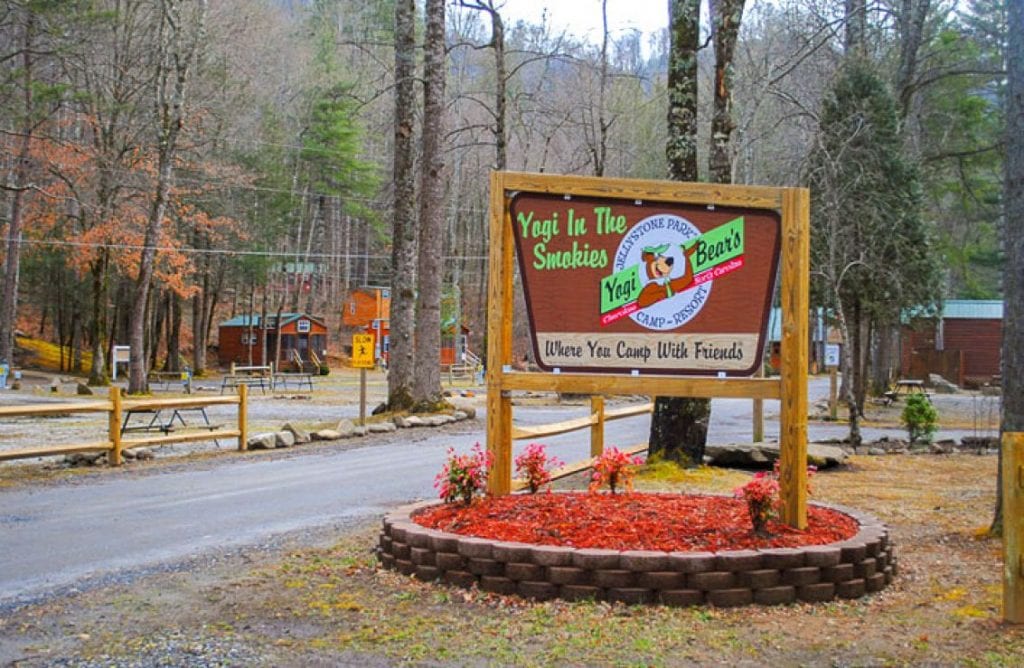 Right up the road from the KOA, this Jellystone Park focuses on the family camping experience. Many of the RV sites and cabins are located right on the river. There's a pool, playground, activity center, and well-stocked camp store.
When planning a trip to Great Smoky Mountain National Park, you'll have so many amazing campground options to pick from. In fact, it can almost be overwhelming.
If you are still overwhelmed with all your campground options and not sure where to stay, here are some additional planning tips.
First choose what region of the Smokies you want to explore, and try to find a campground in that area. No matter what, a trip to GSMNP will involve driving, but you can limit time in the car by picking the right campground.
Decide what kind of camping experience you want. Do you like resorts with tons of amenities and activities? Do you want a peaceful camping escape? The Smokies has something for everyone, but it's up to you to choose the right fit for your personal taste.
Think about staying at more than one campground. If you are visiting the park for more than a few days, we highly recommend breaking camp and staying in at least two areas of the park. We have moved between Townsend, Pigeon Forge, and the North Carolina side on multiple visits and love this strategy.
There's a reason Great Smoky Mountain National Park is the most visited national park in the country. If you haven't experienced the magic of the Smokies, what are you waiting for?
We'll see you at the campground, Stephanie + Jeremy
Podcast: Play in new window | Download