Does Little Arrow RV Resort live up to the hype that it has been receiving these past few years? Sorry to spoil the ending, but we think that it does. This is a beautiful campground in Townsend, Tennessee that is just minutes away from Cades Cove. It is located right next to the Townsend KOA right off of TN-73 in the heart of "the peaceful side of the Smokies." The entire property is beautiful, and all of the accommodations (from tent sites to tiny homes) are excellent in almost every way. And we think they are fairly priced across the board. We loved almost everything about our stay at Little Arrow Outdoor Resort.
To learn more about Little Arrow keep reading, or listen to our complete review on The RV Atlas podcast by clicking on the media player above, or subscribing wherever you get your favorite shows.
RV and Tent Sites 
The RV and tent sites at Little Arrow Outdoor Resort range in price from about $50 dollars to $200 dollars and there is truly a site for everyone, depending on your budget and the requirements of your rig. We loved the luxury RV sites with covered bar/seating area, a sink with running water, and plenty of counter space for eating and entertaining. This sites are around $180-200 dollars per night, but we think they are a delightful splurge. You can also share these sites with a second RV buddy for a small, additional fee, and then split the cost in half. Doing so would make these sites a bargain. There are also a variety of back in sites along the Little River that are excellent and fairly priced at just under $100 per night. Overall, it is hard to find a bad RV site at Little Arrow. Tent campers may struggle to find a site with adequate privacy. But for RV owners–this is a little slice of heaven in the smokies.
Cabins, Tiny Homes, and Glamping Tents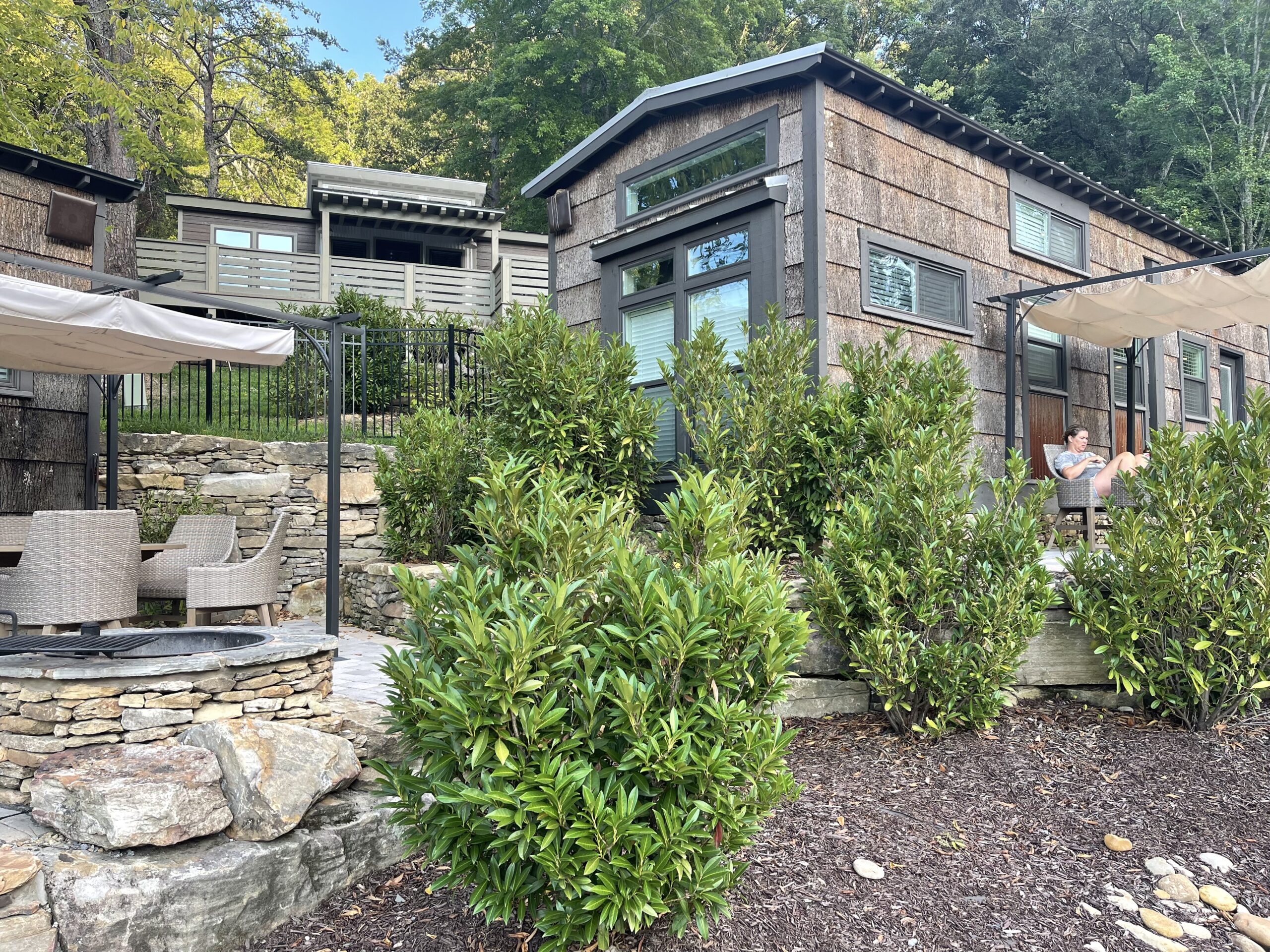 Little Arrow does not call itself a campground. They call themselves an "outdoor resort." When you see the charming selection of cabins, tiny homes, and glamping tents, you can clearly see why. Much like the RV sites, all of these unique accommodations are lovely, and very reasonably priced for what you get. We stayed in the Magnolia Tiny Home (pictured above the glamping tent) for approximately $250 per night. It was clean, charming, and comfortable. The highlight for our kids was the double loft areas with plenty of space for them to spread out. The highlights for mom and dad were the comfortable master bedroom, spacious kitchen, and washer and dryer! It was wonderful being able to do laundry while on vacation. We create huge piles of dirty clothes when we are exploring a national park–and we used the washer/dryer every single day.
Pool and Hot Tub Area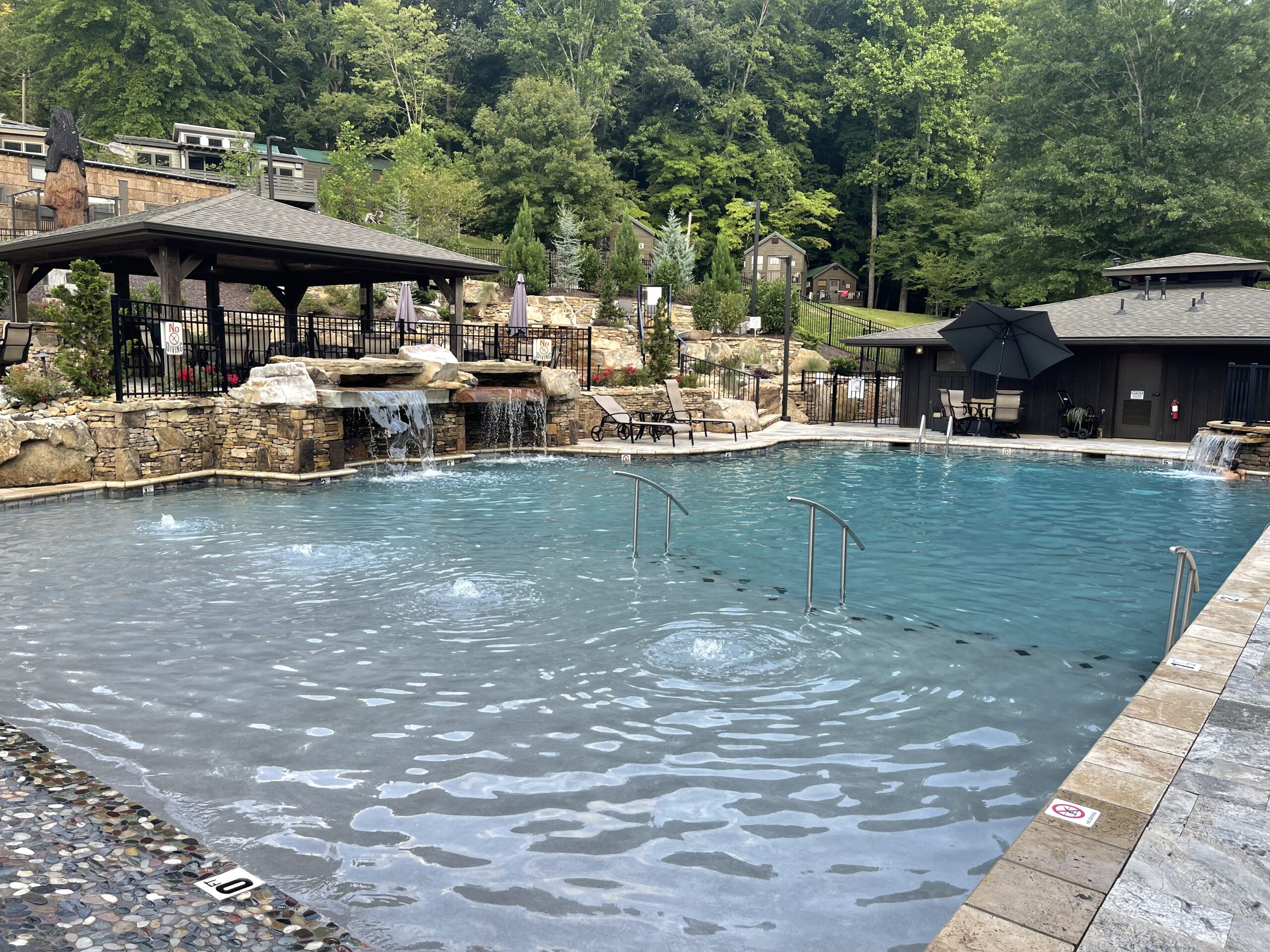 The highlight for most guests at Little Arrow Outdoor Resort is the luxurious outdoor pool and hot tub area. Every inch of this area is comfortable and thoughtfully designed. The zero entry pool (with grottos!) was nicely heated, and the hot tub was an absolute delight. You take a short flight of steps up to the private hot tub area, so it feels like it is in a little hidden world away from the pool area. The sign on the hot tub gate says that kids are not allowed. But there was no one there to enforce this rule during our stay, and there were many, many kids in and out of the hot tub during our stay–including our own.
The Camp Store and Coffee Lounge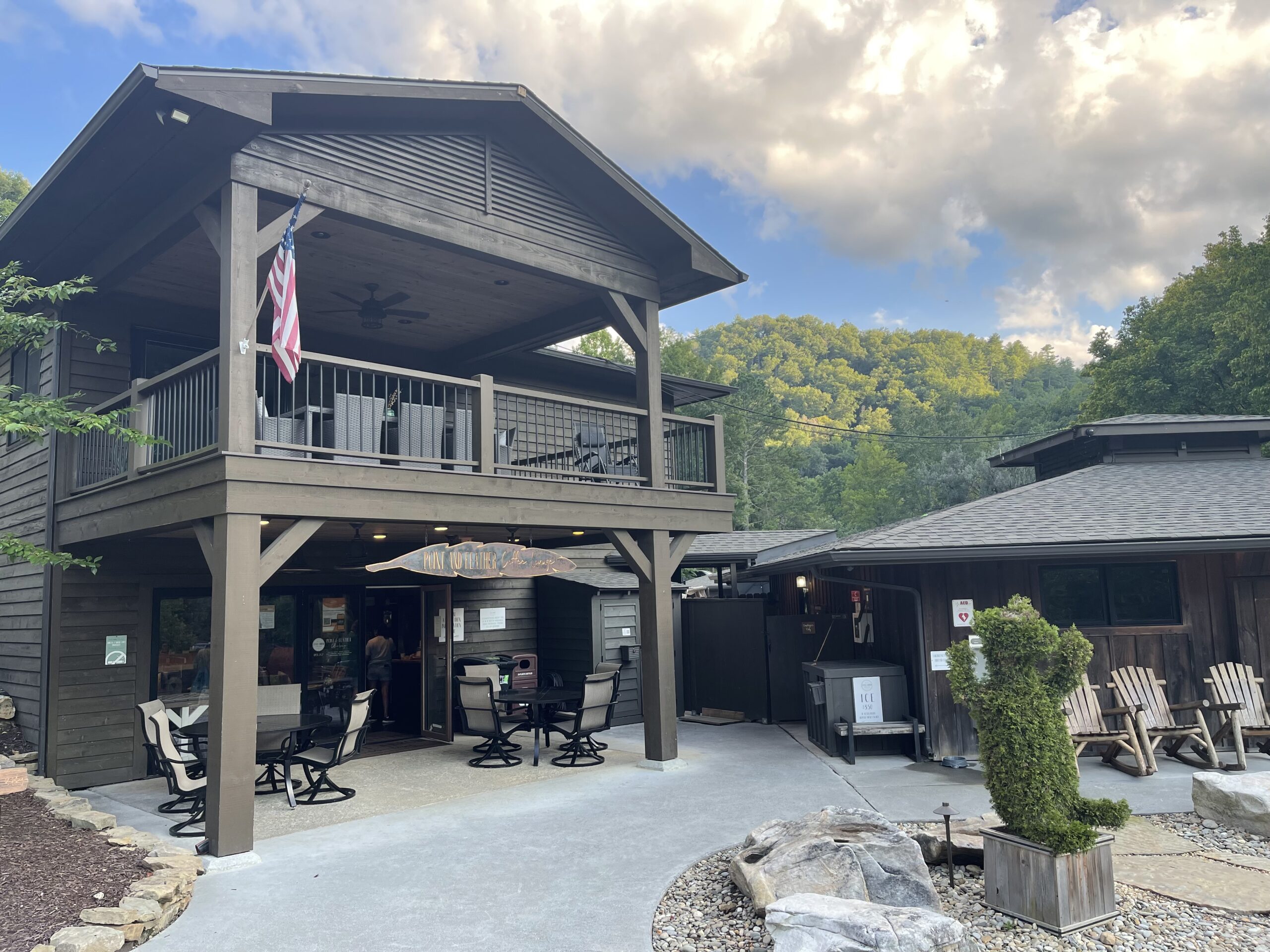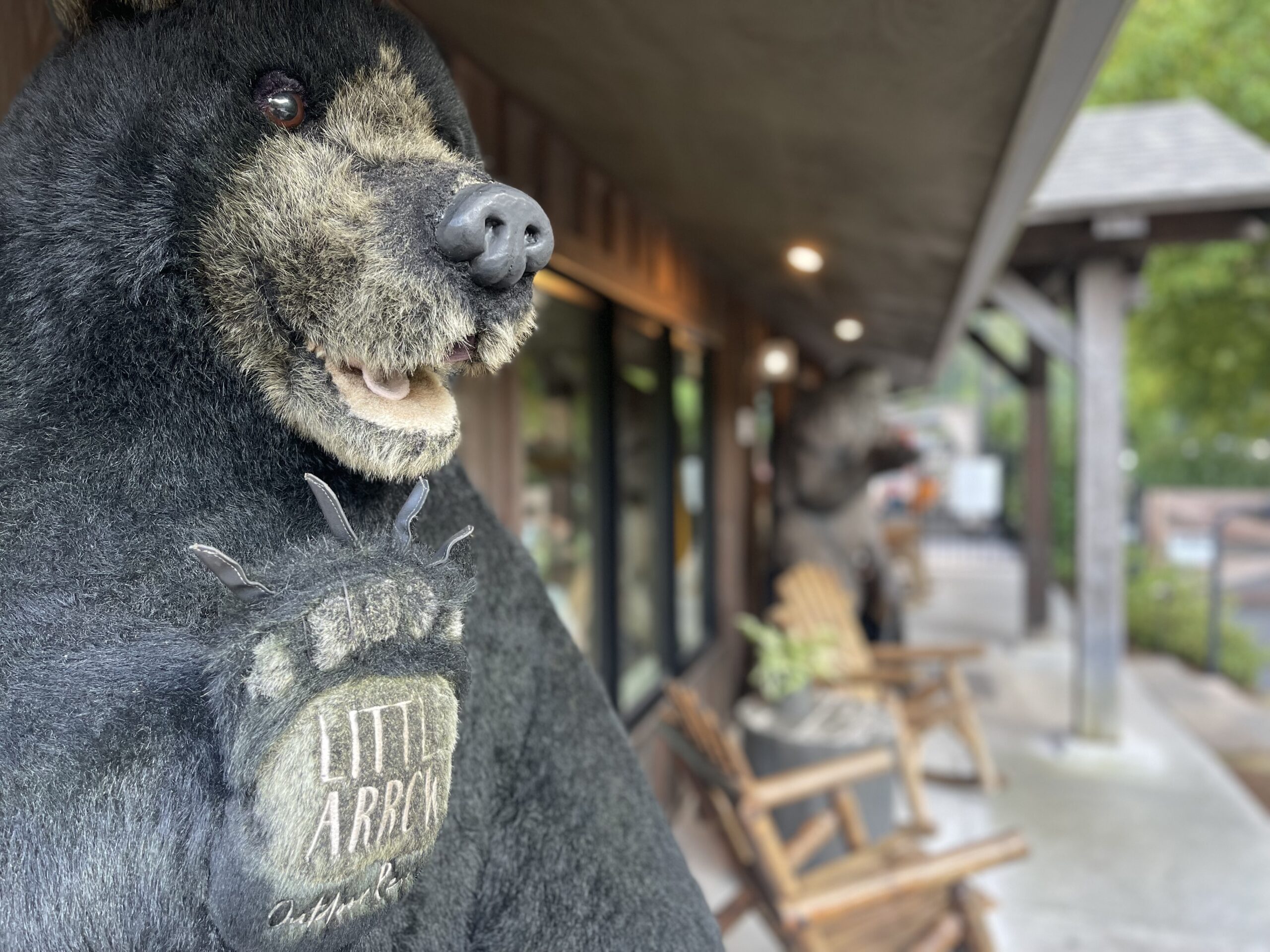 During our stay the camp store at Little Arrow Outdoor Resort was only open from 9am to 5pm. We were in the park from early morning to after 5pm during our first few days there, so we could not get into the camp store for a few things we needed. We actually had to go to the camp store at the Townsend KOA during our stay to get stuff for S'mores.  The coffee lounge at Little Arrow is open for guests to use 24/7. There is a machine there for coffee and tea. This room is very cozy and has board games, comfortable seating, and book exchange. There is also a kid's play area. Overall, this is a terrific spot for relaxing in the evening, or keeping the kids occupied on a rainy day.
When we did finally get into the camp store we were quite charmed. They had lots of cute branded Little Arrow merch, and the staff were friendly and helpful. We do wish they would extend their hours into the evening when so many of us campers are returning from the park and may need odds and ends or camp store ice cream! We were also hoping to get pickle ball gear one evening after dinner, but couldn't because the camp store was closed.
The Playground and Other Amenities at Little Arrow Outdoor Resort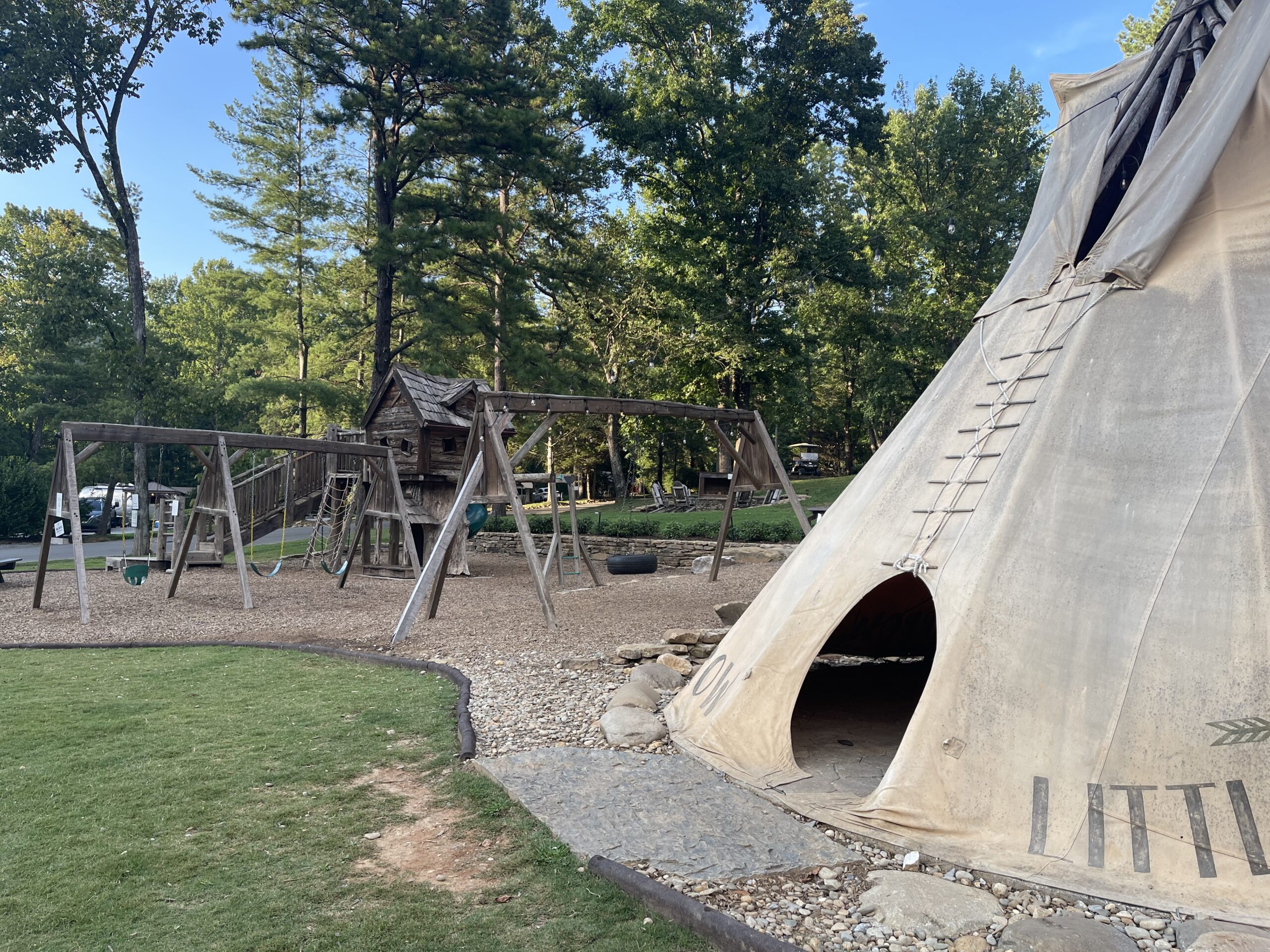 There are many other great amenities at Little River, including a cute playground with Tipi. They also have basketball, pickleball, and Gaga  ball courts, that all look brand new. Little Arrow would also be a great place to hold a rally. They have a rentable club house and pavilion that are both very well-equipped to entertain or educate a crowd. We also really enjoyed the food truck that was there during our stay. The quesadillas were excellent and we ordered many of them!!
The Little River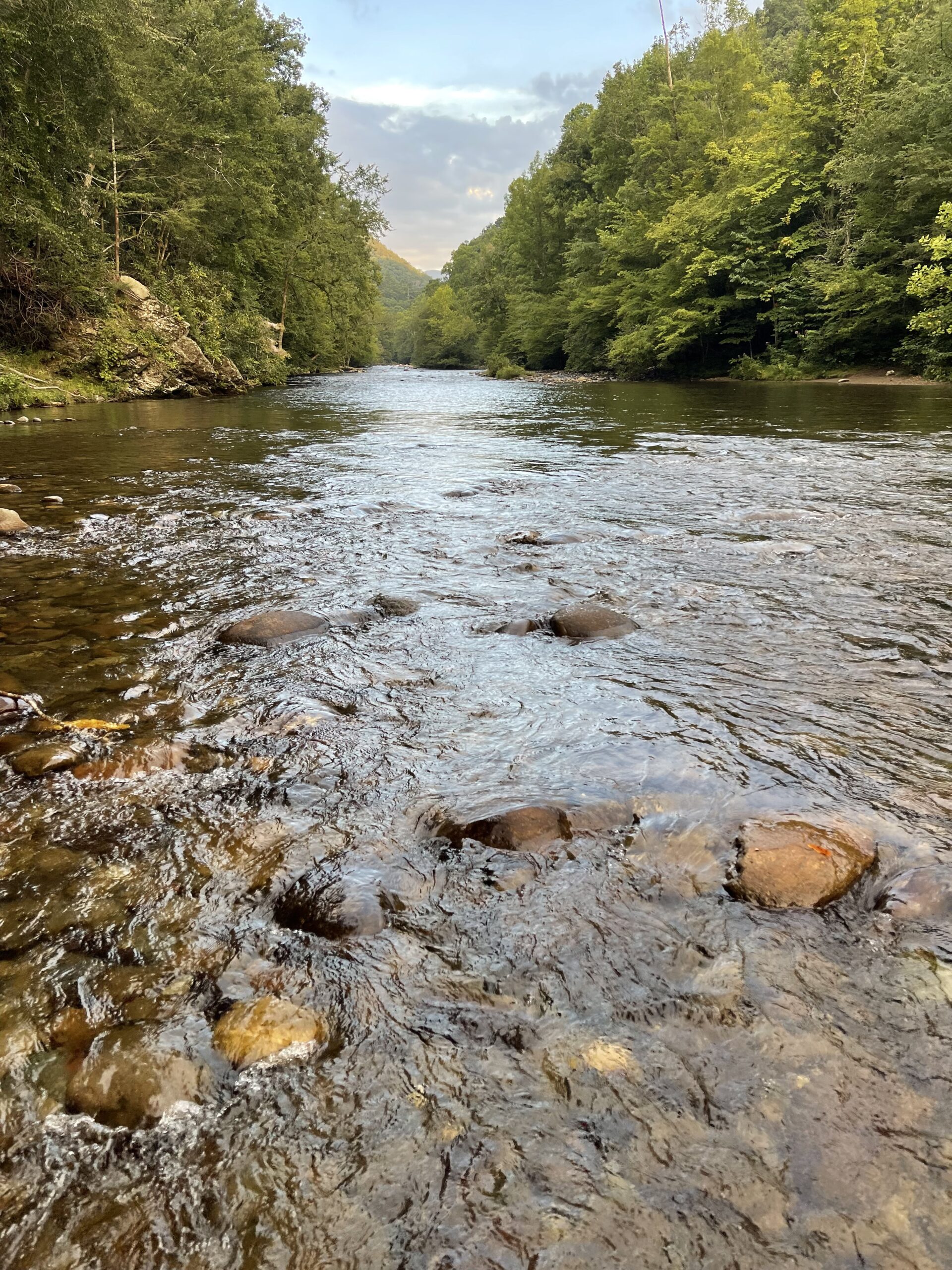 The Little River runs along the left side (when facing the campground) and along the front of Little Arrow. There are several access points that take you right down to the river, and you can go tubing right from the campground. Or you can just grab an early morning cup of coffee and relax down there. It is absolutely beautiful–and so is every inch of this lovely campground. Go ahead and believe the hype about this one. We found it to be spot on!
Podcast: Play in new window | Download