Reportedly, the word glamping was coined in the United Kingdom circa 2005. Eleven years later, in 2016, it made its debut in the Oxford English Dictionary. The term (and the type of outdoor experience that it describes) has many haters. These purists despise the high thread counts, organic soaps, and expensive bespoke cookware preferred by glampers. They much prefer a simple camping setup and nights spend on the cold, hard ground. But let there be no doubt, glamping is experiencing explosive growth. Glamping is no longer a trend, it is an industry. So there should be no surprise that there is also high interest in glamping gear.
Glamping is Here to Stay
We believe that glamping, and glamping gear is here to stay. Many outdoor enthusiasts are more than willing to spend their hard earned cash on fancy RV resorts, or at places like Under Canvas and Autocamp. They are also willing to lay down serious bucks for hand polished cast iron, deluxe shower heads, stainless steel firepits, and Pendleton blankets.
Here is a list of luxurious glamping gear that we have tested and used extensively. These items range in price from about $55.00 to $1,000. So you can break the bank if you want, or give someone a lux gift at an affordable price. That part is up to you.
To listen to our discussion of luxury glamping gear on The RV Atlas podcast, click on the media player above. Or subscribe to The RV Atlas podcast wherever you get your shows. If you prefer to read about our glamping gear selections simply scroll down and enjoy our top picks. They are all right here in this post.
Barebones Forest Lantern ($79.99)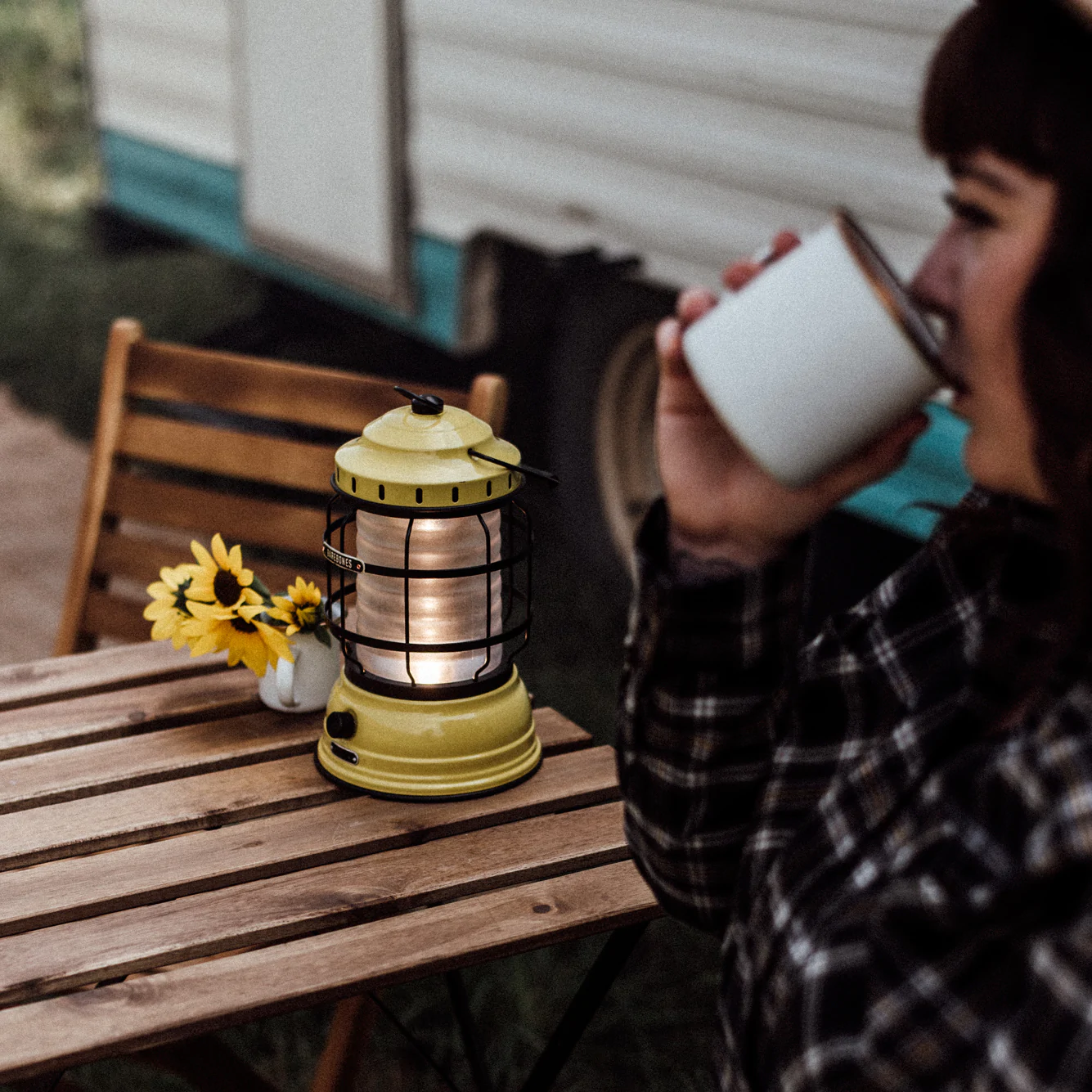 Barebones Living makes great lighting products for your glampsite. Their products are rugged and durable, and their retro-inspired look feels very authentic. Their products are not cheap knock offs from a bygone era. We have recommended their Railroad Lantern in the past, and now we also want to recommend their Forest Lantern. Where the Railroad Lantern has a more industrial feel, the Forest Lantern is a bit more subtle and chic.
Our glamping tent at Under Canvas Yellowstone was equipped with a Forest Lantern and we will forever associate this charming light with that amazing location. Every time we use the Forest Lantern we feel like we are back in Yellowstone lighting up the wood fired stove to keep warm after the sun slipped below the horizon. So this lantern gives off some serious glamping vibes for us. The lighting is warm and evocative. The aesthetic is on point. And the quality is good. Perfect gear for glamping if you ask us.
Oxygenics Voyage RV ($54.95 to $76.95)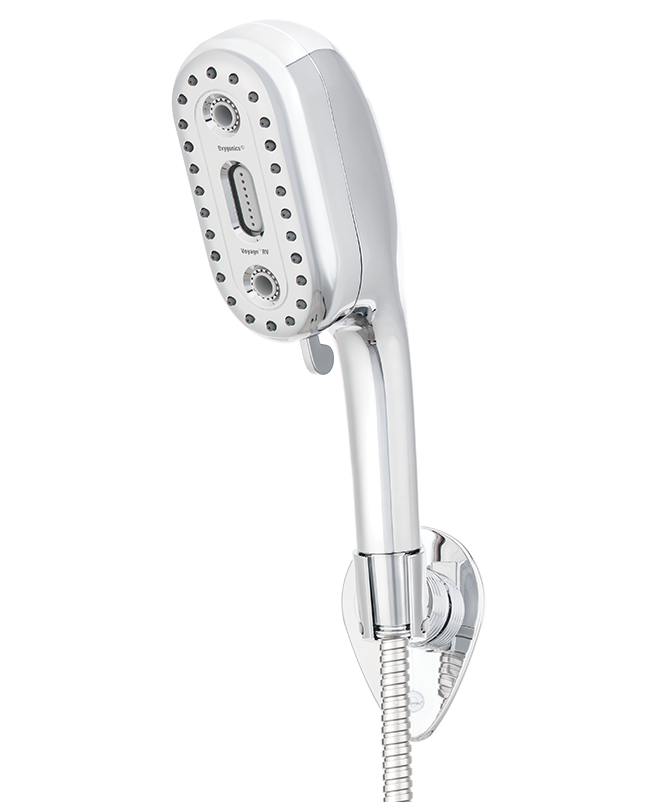 Most shower heads that come standard with modern RV's are bland and boring and deliver mediocre water pressure at best. Smart RV owners have been replacing their cheap shower heads with Oxygenics products for years–and the brand is rapidly growing their product lineup. One of there newest "pure bathing genius" shower head models is the Voyage RV.
This attractive model comes in chrome, brushed nickel, matte black, and white–and is equipped with a wall mount and articulated handle for custom angles. The Voyage RV's pendulum setting impressed us with every use. It oscillates up to 500 times per minute and provides 14″ of coverage. In other words, you shower will be completely awesome. This is also a relatively budget-priced piece of glamping gear that will deliver luxurious showers for years to come.
Truma AquaGo Comfort and Comfort Plus (Pricing Available from Certified Dealers)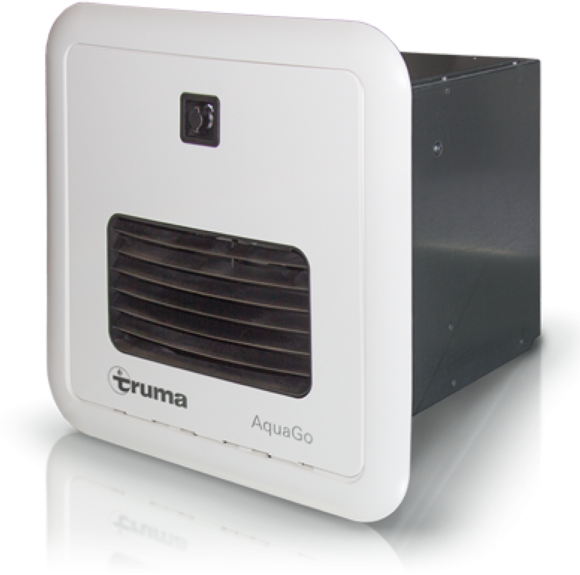 If you travel with your family, and use your RV a lot, then you have probably had the unpleasant experience of running out of hot water while taking a shower. NOT FUN! Most 6 or 10 gallon RV water heaters just can't keep up with the demand for hot water in most camping families.
The Truma AquaGo is the premiere product for endless hot water. You have probably seen it at  RV shows, and many high end RV's are starting to offer them as standard or optional equipment. Most of the tankless hot water heaters that have entered the market have gotten mixed reviews from consumers. But the AquaGo is a "hybrid" water heater that has a mixing vessel allowing it to achieve a stable water temperature. This product is bulletproof and incredibly reliable and easy to use. Many owners that have an AquaGo installed swear that they will never go back to using an old-fashioned RV water heater. We can't recommend the AquaGo enough. After all, what's more luxurious than taking a hot shower while camping?
Travel Berkey Gravity Fed Water Filter With 2 Black Berkey Purification Elements ($344.00)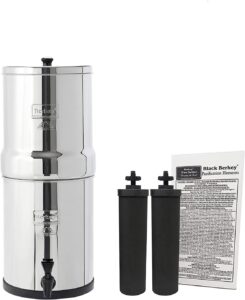 Whether its taking a hot shower, having good water pressure while doing so, or having clean drinking water while camping–water seems to be a sub theme of our glamping gear podcast and gear guide. After all, it is essential to camping life. The Travel Berkey is this company's smallest and most portable model and it is built with campers, glampers, and travelers of all kinds in mind. This model has a 1.5 gallon capacity and is perfect for solo travelers and couples on the go. We love the sleek aesthetic of this model and it fits the interior decor of our Airstream Basecamp perfectly. Skip the cheap plastic water filter and get something that is worthy of your glamping setup. This is that product.
RovR RollR 60 With LandR Bin ($494.99)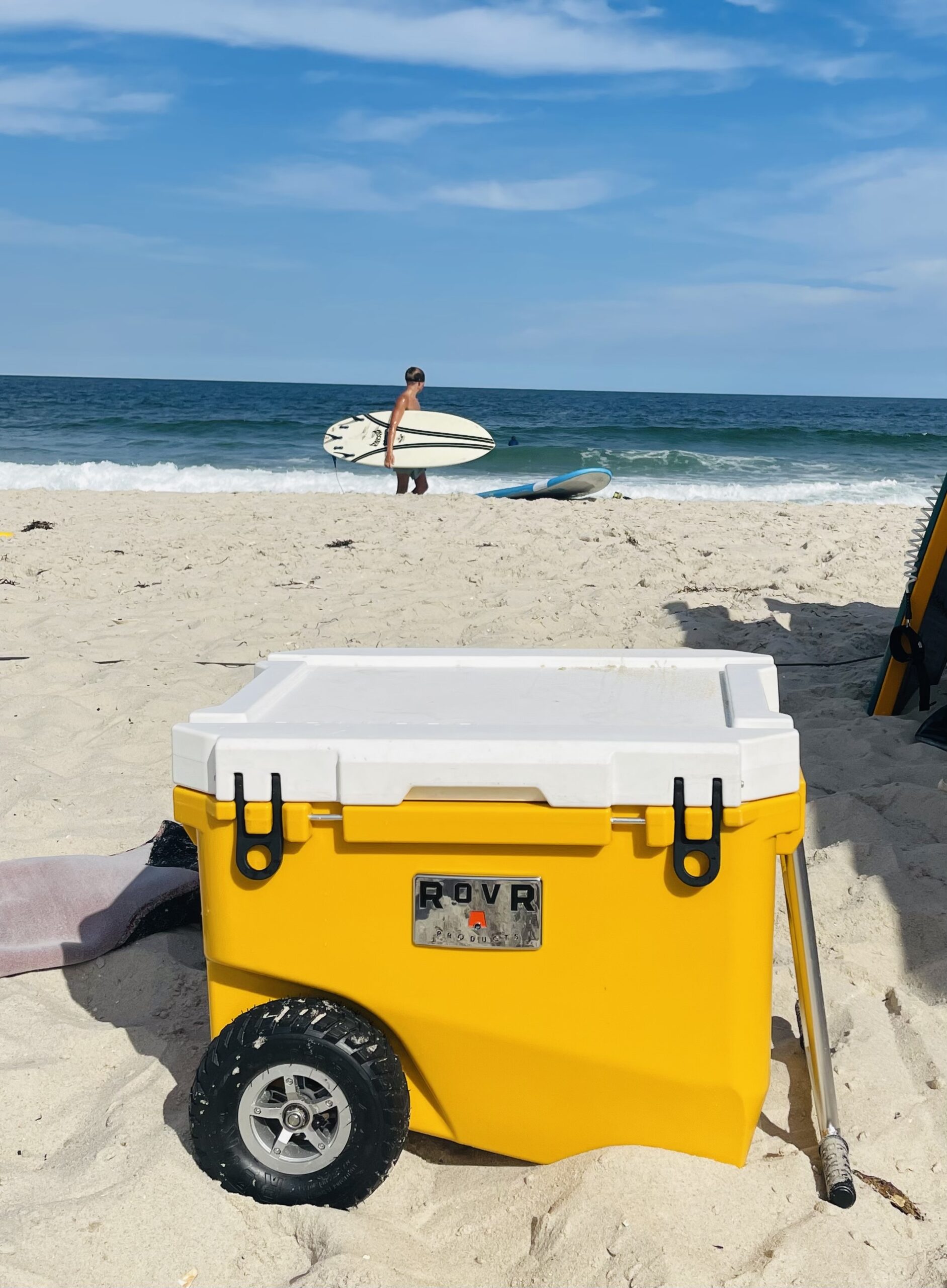 We have tested just about every luxury cooler under the sun, and the RovR RollR 60 is our current favorite. Why do we love it so much? Because once you use a cooler with wheels, it is hard to turn back. Especially when those wheels are rugged and beefy like the wheels on the RollR. The color choices for the RovR product line are stylish and fun and the ice retention is excellent. We also think that the RollR is handsome on the outside and functional on the inside.
We really love the separate (and removable) interior dry bin for sammies and snacks. Because who can live on cold drinks alone when glamping it up for the weekend? Well, maybe you can! But we can't! The RovR series is also perfect for RV owners who need extra space for food and drinks and want to be able to roll them from their campsite to the beach without breaking a sweat. $500 is a lot to spend on a cooler–but the RovR RollR is built to last for decades, and maybe even generations. We will pass this one on to our kids one day–if they behave and keep the lid closed!
Breeo X Series 19 Smokeless Fire Pit with Outpost Grill ($399 and $150)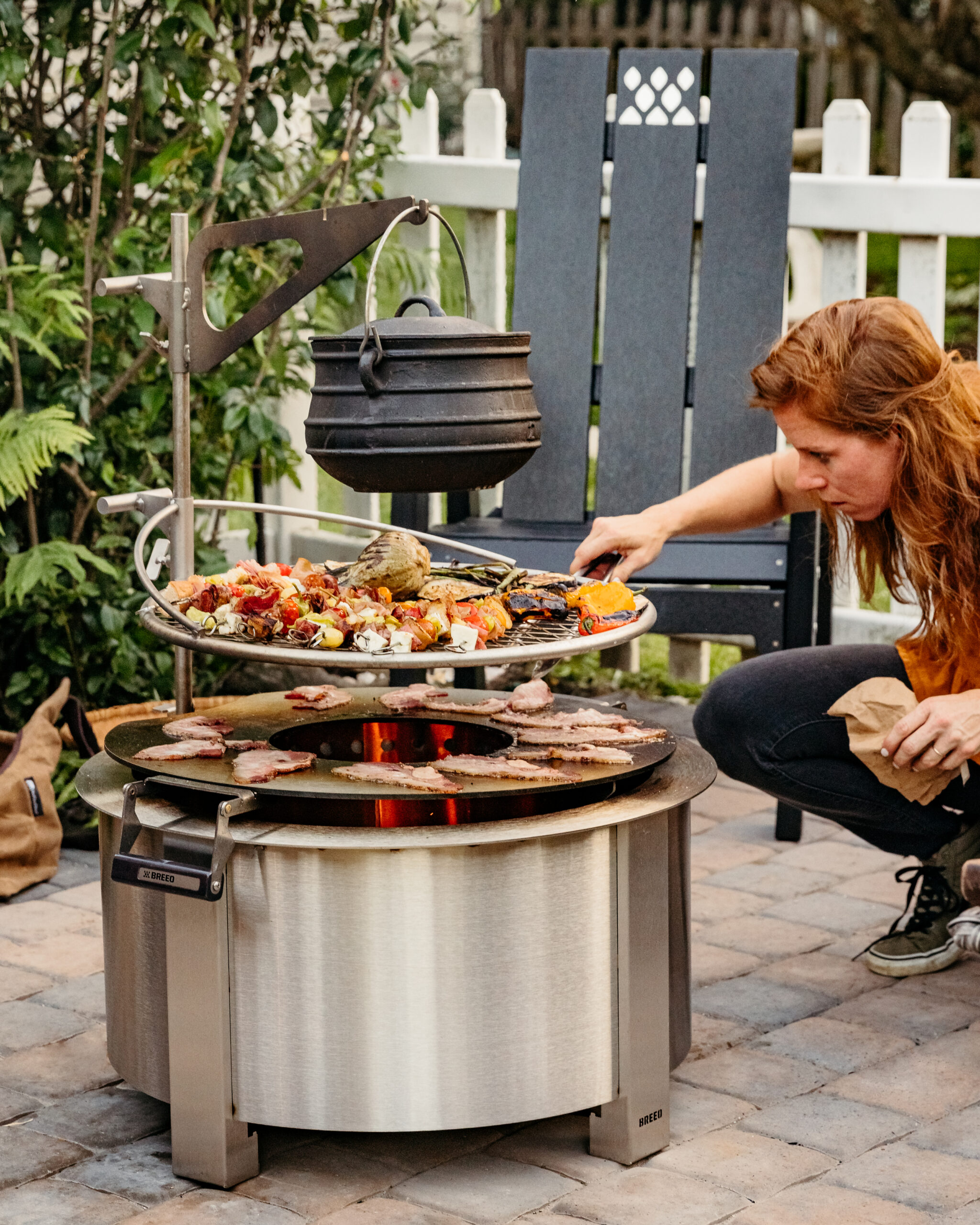 The Breeo X Series 19 is the best built portable fire pit on the market. Period. It comes in stainless steel for a sleek, modern look, or in Corten Steel for a more rustic vibe. The Corten Steel develops a natural patina over time–and we can personally attest that this is the case. After three months our Corten steel model looks absolutely gorgeous and just like the photos in Breeo's marketing materials. The performance has also been terrific. Once you heat it up properly the X19 delivers an incredibly warm fire with virtually no smoke.
The X19 is big enough for home use, but could also be hauled back and forth to the campsite or the beach with relative ease. The steel on the X19 is thicker and heftier than its competitors, so it may take a minute or two longer to warm up and achieve smokeless status, but we think it will last years or decades longer than competing products for that same reason. The Breeo X Series 19 is also made in the great state of Pennsylvania by skilled workers with good jobs. We have fallen hard for Breeo in the last year and we think you will too. You will spend a little more, but you will get something a whole lot better.
Field #8 and #10 Cast Iron Skillets ($145 and $195)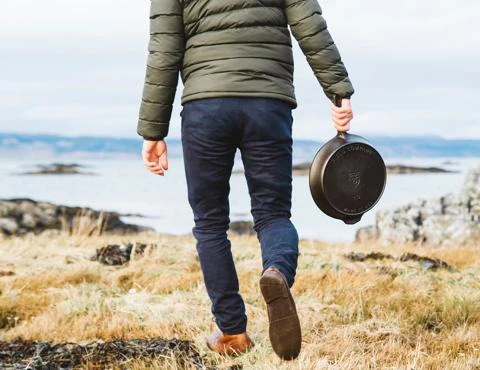 We are huge fans of Lodge Cast Iron's affordable and iconic skillets, and for most campers they will do just fine thank you very much! But if you want to give an heirloom gift to the glamper in your life than consider getting them a vintage style skillet that looks and feels more like a work of art. We have come to love and adore the skillets made by the Field Company. They are lightweight, come pre-seasoned (and accept additional seasoning very nicely), and they are completely non stick right out of the box.
Out of all of the heritage cast iron companies making vintage inspired cast iron, we think Field makes the best products for camping. Why? because their skillets are the lightest and most compact by far. Their simplicity is the design feature we love the most. One day we will give our children our Field Skillets for their own homes and their own campers. And then we will buy new ones for ourselves. Because we just can't cook without them. Especially at the campground.
Opinel Nomad Cooking Kit ($85.00)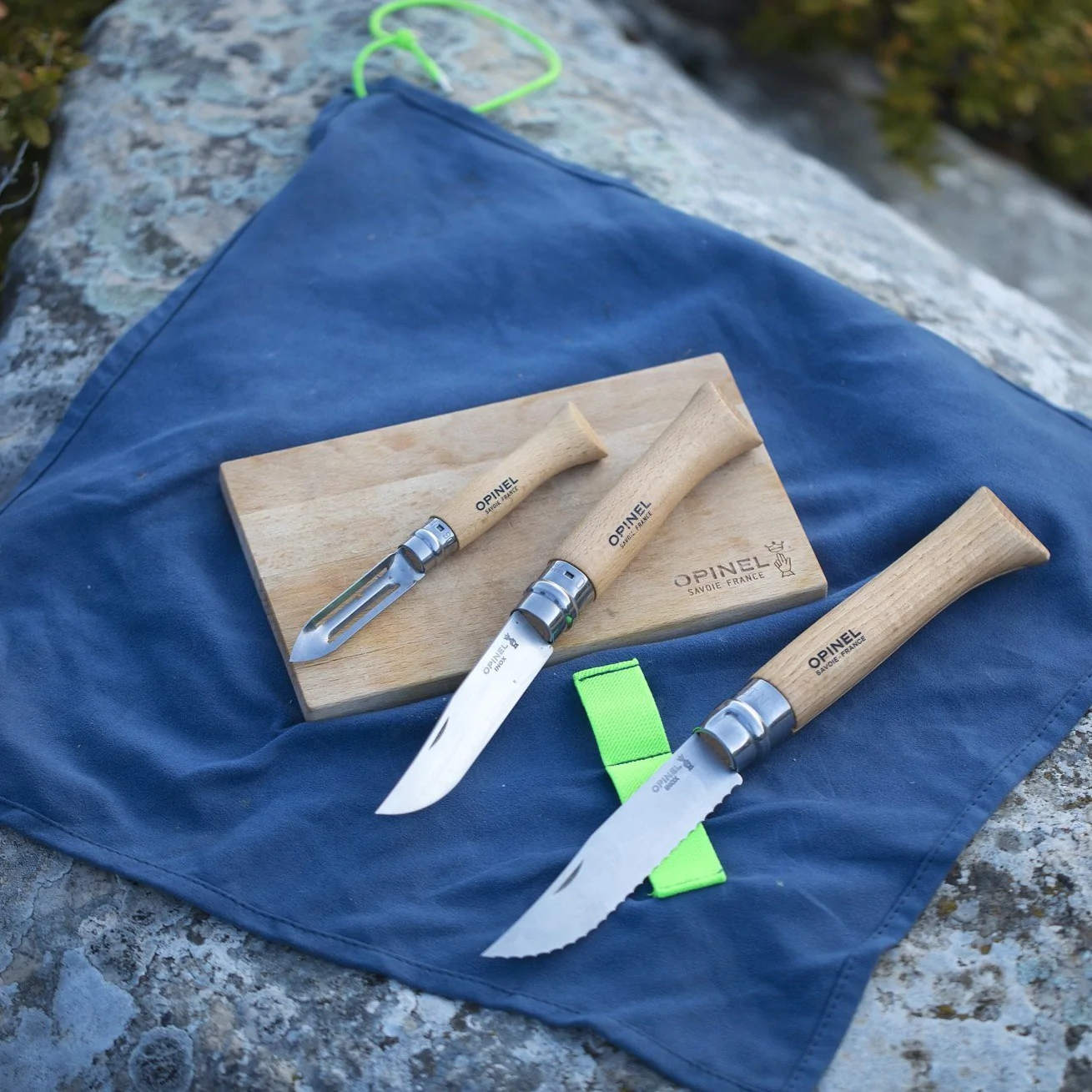 Opinel's folding knives are famous among serious outdoorsmen and outdoorswomen across the world. The quality and affordability of these French made knives and their incredibly practical and intuitive design make them a terrific product for the masses. Their aesthetic appeal and good looks also make them perfect pieces of glamping gear.
The Nomad Cooking Kit is great for tiny trailer owners that want to assemble a sleek and highly portable camp kitchen. It comes with a folding knife with corkscrew, a folding knife bread, a folding peeler, and a small dish towel and cutting board. The varnished beechwood handles feel good in hand, and the stainless steel blades are incredibly sharp and durable considering the reasonable price point.
Zinus 8 Inch Ultima Memory Foam Mattress: Short Queen Size for RV's ($228.98)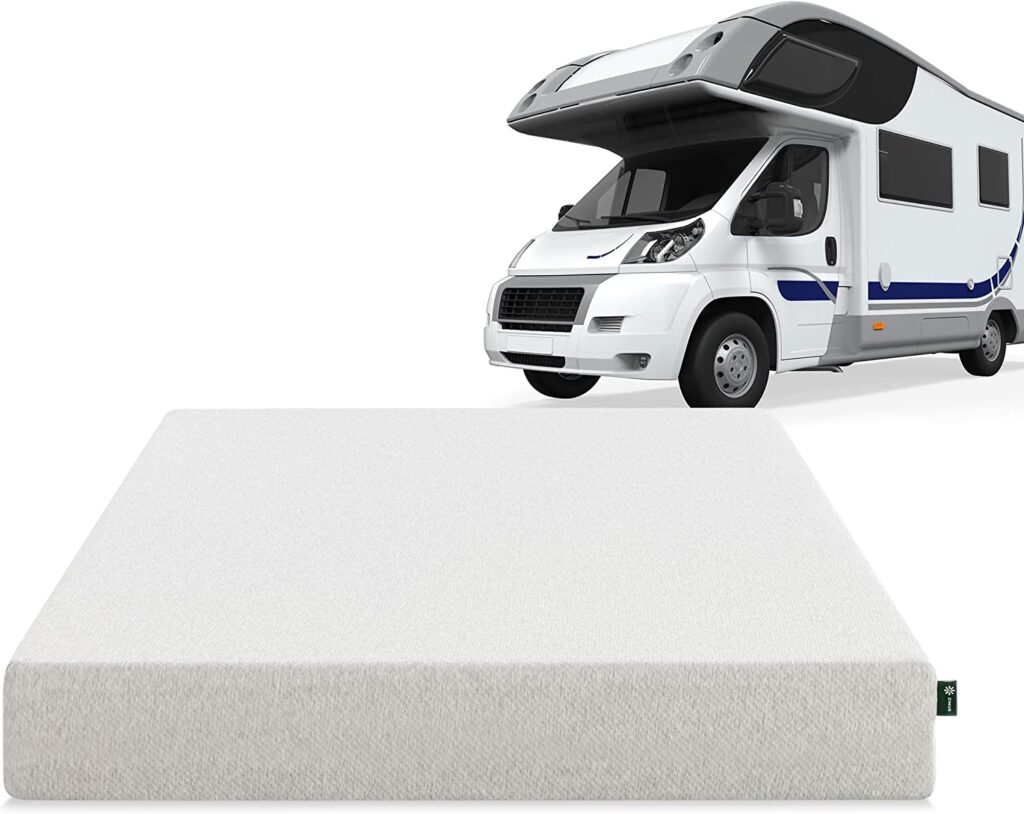 Still sleeping on the standard RV mattress that came with your rig? Do you despise that mattress? Know that you are not alone. We see you. When we bought our first travel trailer, we made two big rookie mistakes: We bought discount store sheets and blankets for all our beds. And we slept on the original RV mattress for three years.
We had invested in a brand new, bunkhouse travel trailer in order to have the comforts of home while on the road. But then we skimped on the beds and bedding. This made zero sense, folks. We just accepted that we would come home from our extended trips with achy backs and necks. And then the light bulb went off. We could sleep as well in the camper as we could in our beds at home with a minimal investment.
In fact, we were shocked when we realized how affordable some of the internet mattresses were. RVers are now catching on to this way more quickly than we did. There are frequent posts in our Facebook Group, and on social media from people looking to upgrade their sleeping arrangements. All we can say now is: Do it. It's worth it. You will NEVER regret investing in a good night's sleep. Our top recommendation is this category is anything made by Zinus. We love the quality and the reasonable price point.
Lucid 4 Inch Gel Memory Foam Mattress Topper with Ventilated Design ($119.00)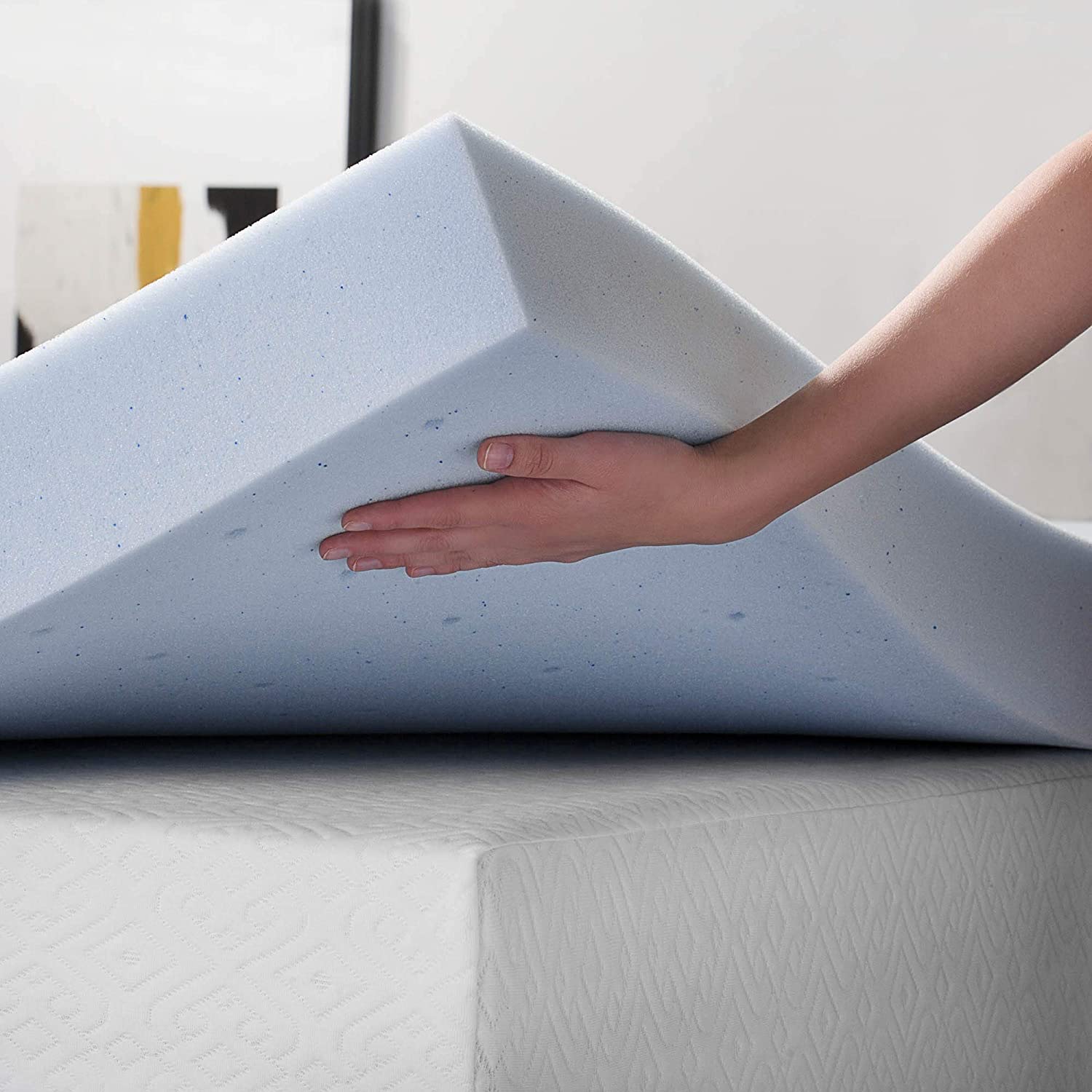 Not everyone wants or needs a full on replacement mattress for their RV. Plenty of campers are happy to buy a mattress topper and call it a day. Stephanie purchased this Lucid 4 Inch Gel Memory Foam Mattress Topper for her Airstream Basecamp and cut it down to the perfect size and she couldn't be happier. Cutting it down was a relatively easy project that she wouldn't hesitate to do again.
This topper works perfectly for her Basecamp because the bed underneath is made of cushions and not a dedicated mattress anyway. The ventilated design keeps this mattress cool at night and it is perfectly comfortable for a good night's rest while she is Airstreaming. If you don't want a full on mattress replacement–then check out this topper. We think it is worth every penny.
Pendleton National Parks Blanket ($239 to $329)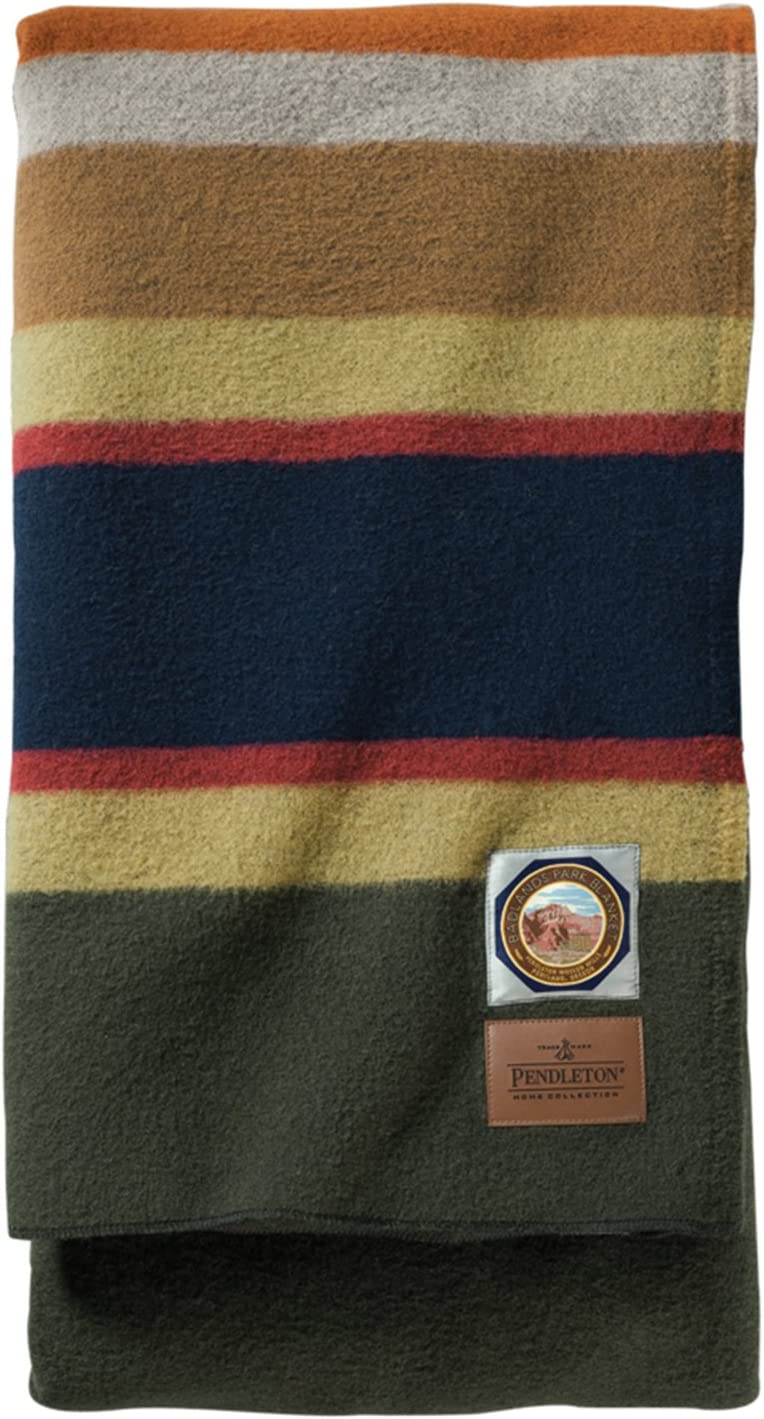 Pendleton products are the ultimate splurge for iconic and outdoorsy clothing, blankets, housewares, and more. The Oregon company's blankets are  "Made in the USA" from pure virgin wool in beautiful, timeless patterns and they would certainly be a memorable gift for the glamper in your life. They are built by Pendleton to last a lifetime. Pendleton's National Park series has blankets and accessories that evoke the grandeur of these spectacular spots. You can choose from iconic parks like Glacier, Grand Canyon, Acadia, Yellowstone, and many more. Pendleton stamps each of them with a park logo.
These blankets may just be the ultimate National Parks souvenir as well. Why waste your money on trinkets that will probably just up in the dust bin? Splurge on a souvenir that you can use every single night for the rest of your life. We treasure our family's Badlands blanket. It is our favorite memento from our time spent in that park–and it is super cozy on chilly winter nights.
Generac GB1000 Portable Power Station ($999.00)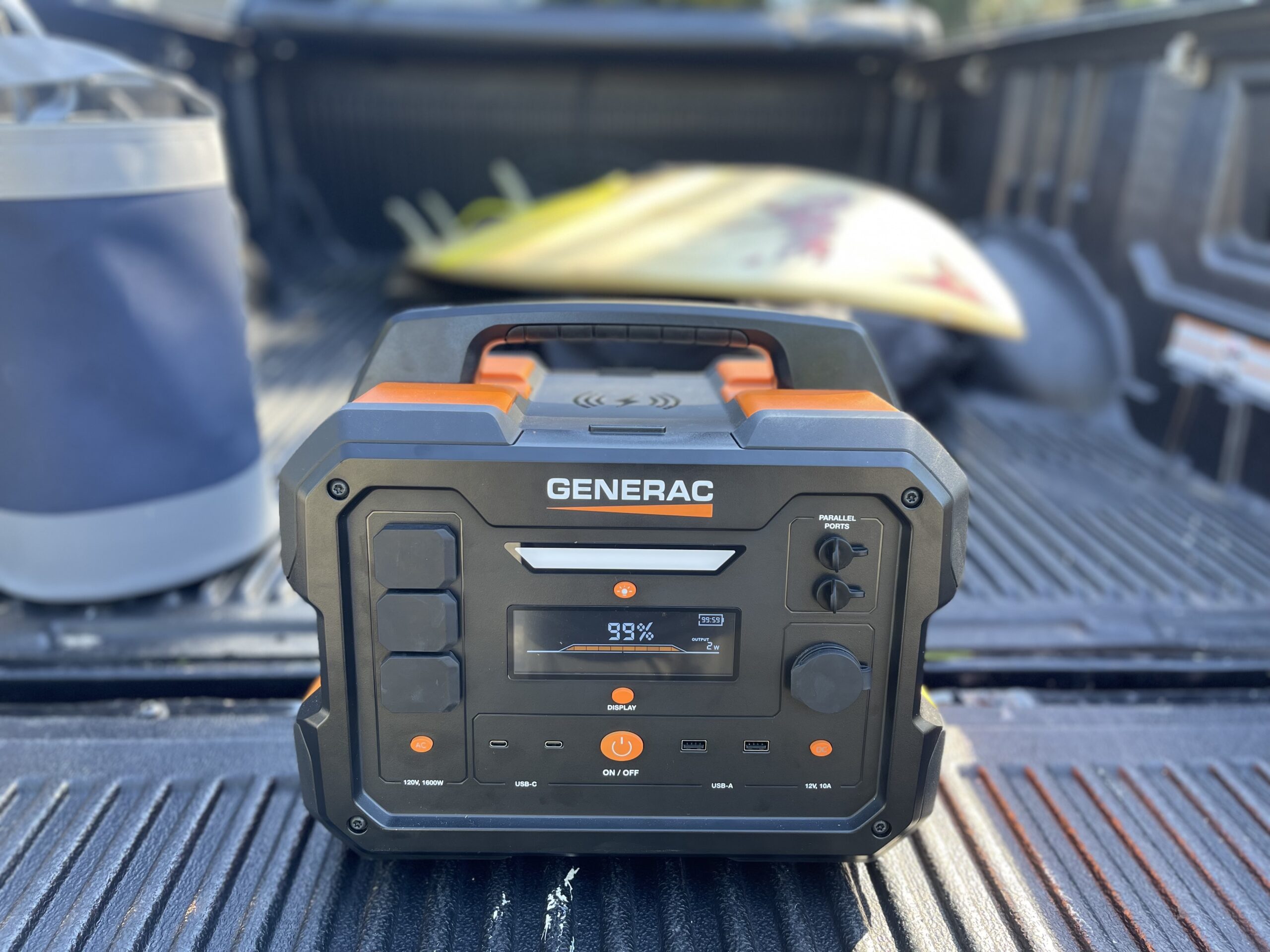 After spending ten days testing one of them, we think it is fair to say that the new Generac GB1000 is a perfect portable power station for glamping. Do you want to brew a perfect cup of coffee in the middle of BLM land and keep all of your devices charged for days on end? Then the GB1000 is for you.The Generac GB1000 features three 120V outlets, one 12V outlet, two USB-A outlets, and two USB-C outlets. It also has a wireless charging pad. The digital display is also bright and easy to see, and there is an adjustable light for nighttime use.
The Generac GB1000 provides clean, emission free power–so you can use it safely inside or outside. It may look like a piece of industrial equipment, and not a pretty decoration for your campsite, but it could make your next glamping trip more comfortable, connected, and safe in a variety of ways.
Podcast: Play in new window | Download