Great Smoky Mountains National Park is surrounded by a wide variety of camping options for RV owners. But none of them are quite like Camp Margaritaville RV Resort and Lodge in Pigeon Forge. This exciting new property seamlessly combines the best aspects of a luxury RV Resort with the best aspects of a cozy and comfortable lodge. The RV resort and lodge truly operate as one cohesive unit. Guests staying in the RV Resort have access to everything that the lodge offers, and vice versa.
This is resort-style camping at its absolute best. Too many places call themselves RV Resorts without delivering the goods, but Camp Margaritaville delivers the goods in spades.  Camp Margaritaville Pigeon Forge is our new favorite camping option outside of Great Smoky Mountains National Park. If you like parking your rig in the lap of luxury–then we think this will be your new favorite option too. RV owners that want to share a vacation with friends and family that don't own RVs should also rejoice–because a shared vacation with non campers doesn't get any better than this.
It's 5 o' Clock somewhere! Grab a cold drink and let's take a look around.
Camp Margaritaville Pigeon Forge offered us a complimentary stay at this property. The opinions expressed here are completely our own.
The Pool, Hot Tub, Kid's Zone, and Lazy River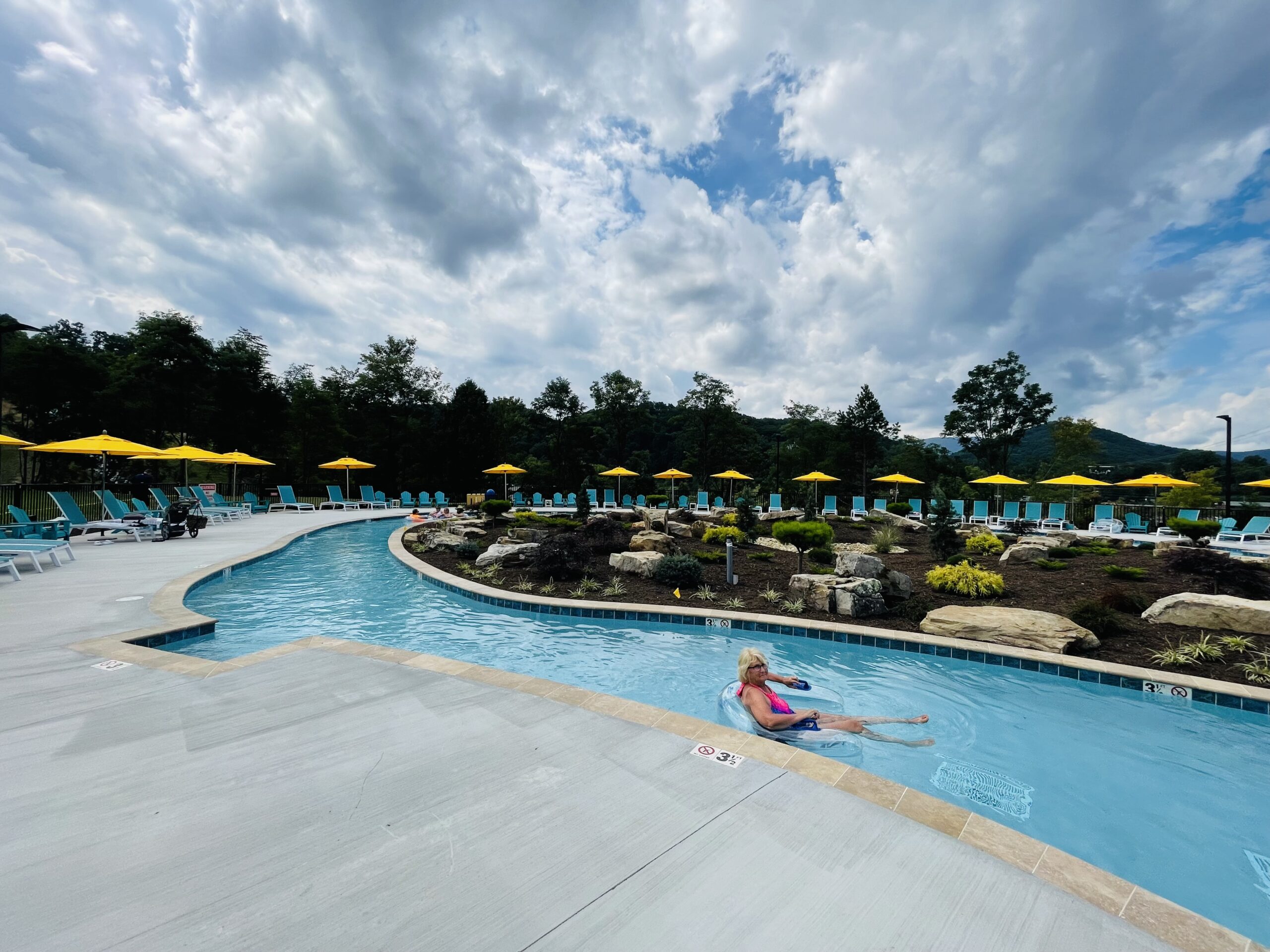 If you love swimming, hot tubbing, or being lazy on a lazy river, then this is your place.  The pool, kid's zone, waterslide, and hot tub are located directly next to the lodge. There is plenty of seating and lots of room to kick back and relax here while your kids play. There is also a bar with food options located directly next to the pool. But more on food and drink later. This whole pool complex (especially the hot tub!) is a terrific spot to return to after a morning of hiking in the park. The thoughtful layout manages to be fun for both kids and adults.
The lazy river is in a separate section of the property, located just behind the lodge. At first you might think that it is odd to have them separated. But we think that the design is very intentional. The lazy river was calm and peaceful. There were no kids splashing around and ruining the relaxed vibe. Kids are allowed here, but this area really seems to be catering to adults who want to earn their license to chill. Both of these areas are really terrific, with views of mountains ringing the property. You would be hard pressed to find better swimming options at a campground in the Pigeon Forge area. Please let us know if you do.
RV Sites at Camp Margaritaville Pigeon Forge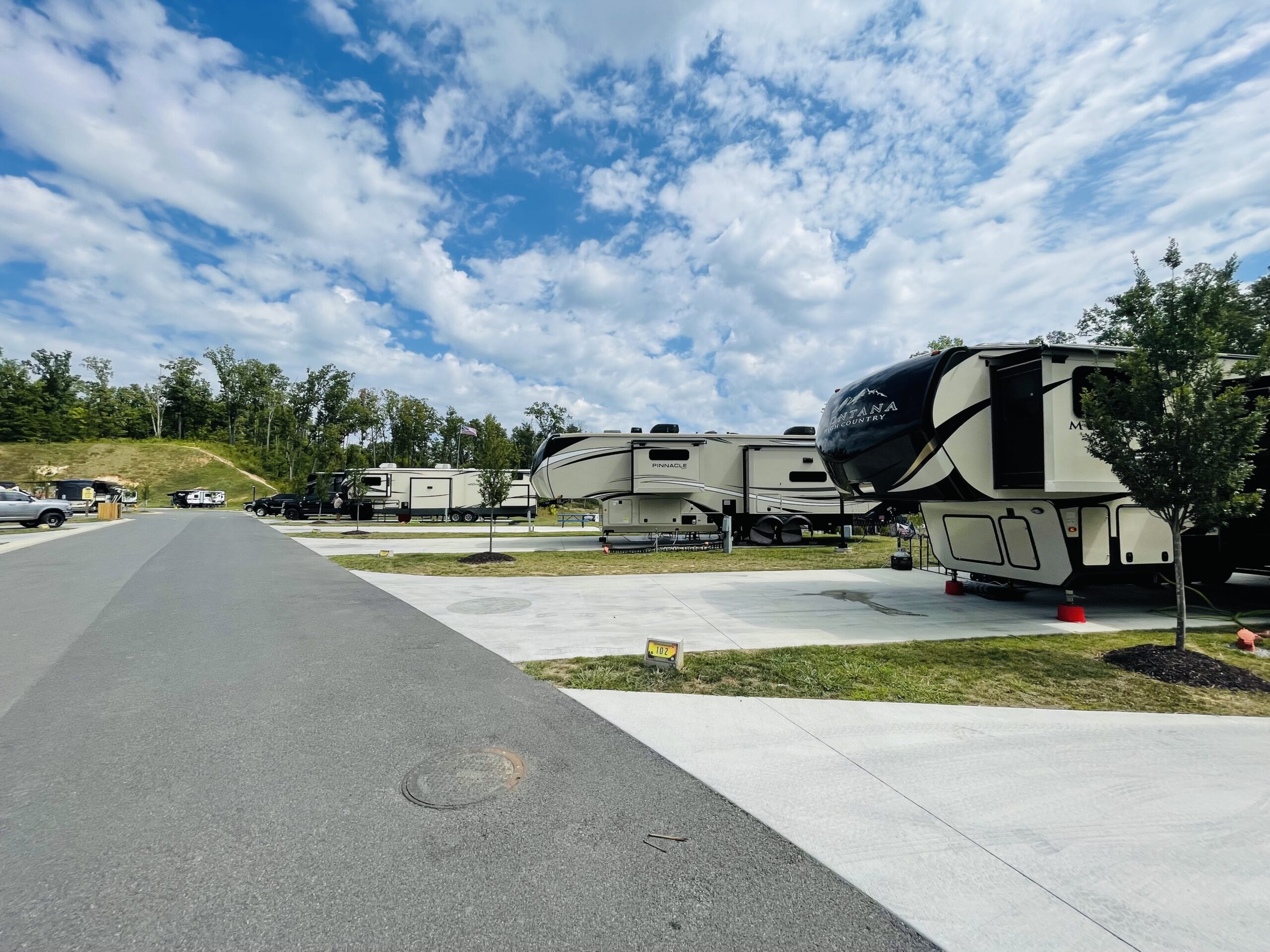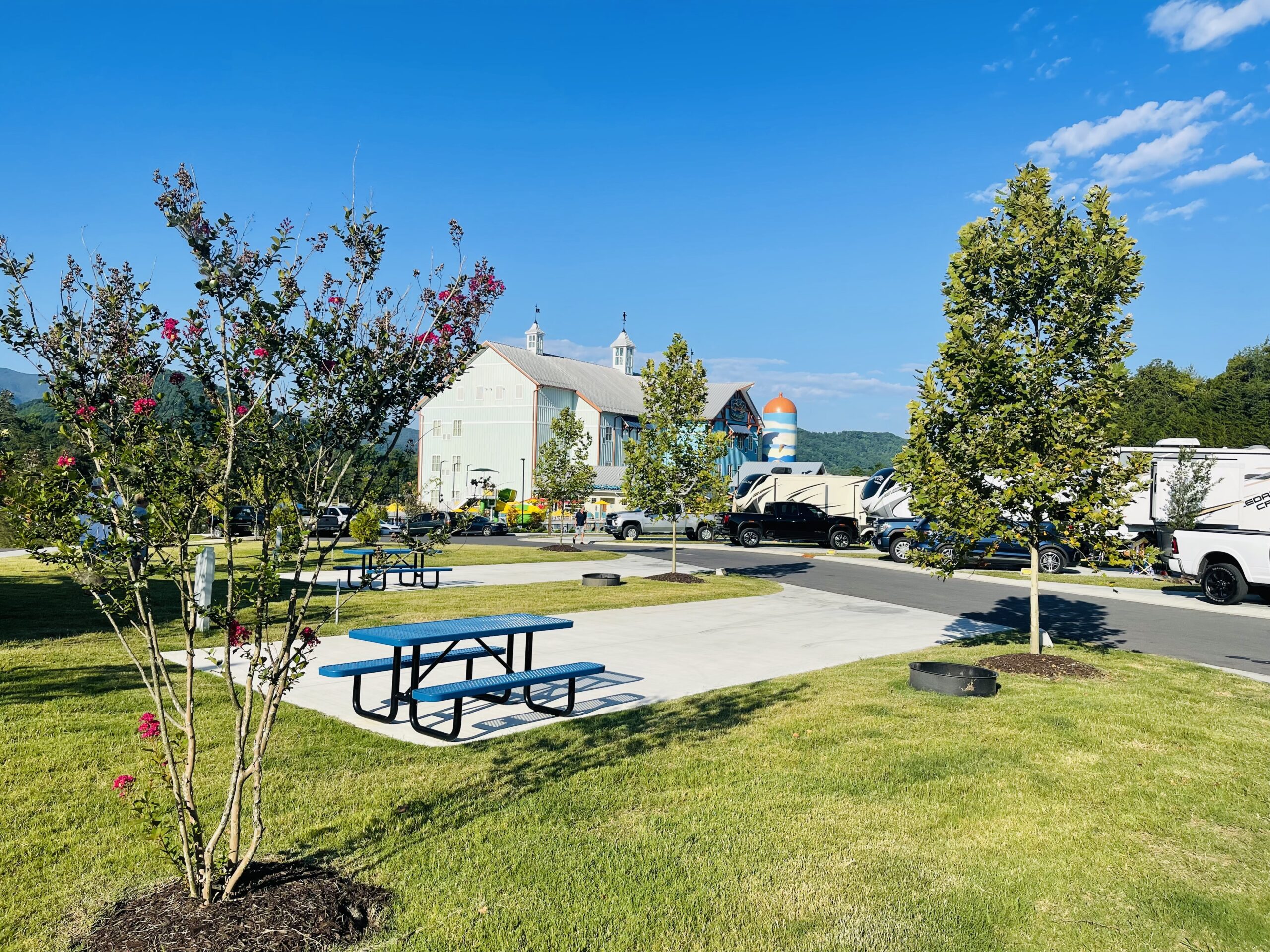 The RV resort at Camp Margaritaville Pigeon Forge is shiny new and super clean. We also found the sites to be very good. The concrete pads were level and the grass and landscaping were lovely. There is not much shade now, but that will improve as the newly planted trees take shape. We also found the sites to be generously sized, though none of them were gigantic. There are sites that are a short walk away from the lodge, for those that want peace and quiet.  There are also sites just steps away from the lodge if you want to be close to the pool and other amenities. Some of the sites have steep drop offs behind them. These sites are pleasantly situated, but those camping with small kids should avoid them. The roads throughout the resort are easy to navigate and backing into your site should be easy–even for a big rig.
Outdoor Activities and Recreation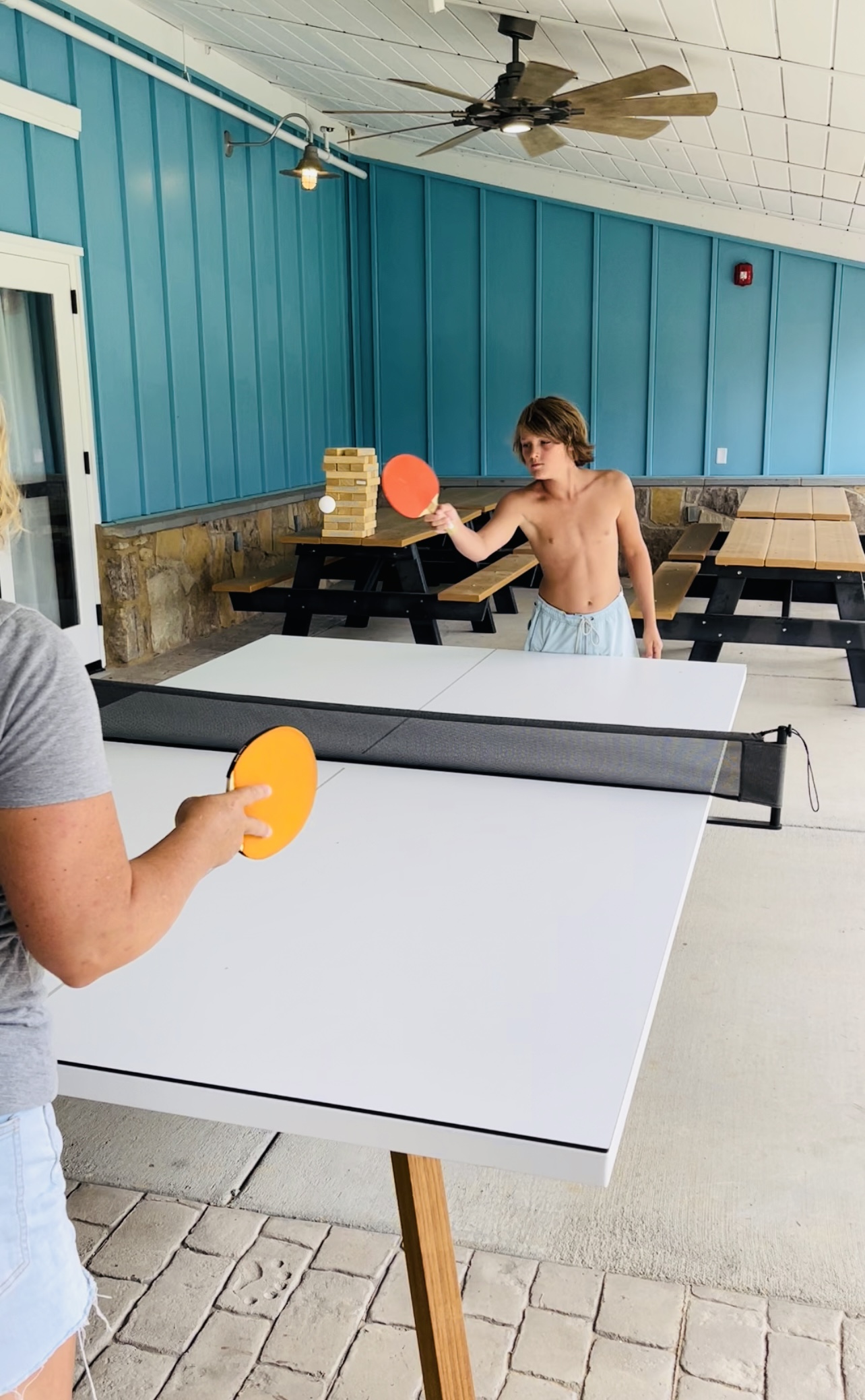 Overall, the recreational options at this property are excellent. We loved the brand new pickleball courts and appreciated being able to play under the lights. These courts are located at the front of the lodge, just a few steps away from where the RV sites begin. There is also a corn hole game set up right outside of Fins Bar & Chill in the front of the building near the pickleball courts. Your kids can burn some time here while waiting for dinner to be served . You can keep an eye on them while they play because Fins has huge garage doors that get opened up during operating hours.
Behind the lodge near the lazy river there is an activities lawn that is also filled with fun options for recreation. We loved playing ping pong here before and after dinner. This area also has a communal outdoor fire pit and games like volleyball and Ga Ga Ball. Live music is also offered in this area on the weekends. Check at the front desk of the lodge for more information and show times.
Fins Breakfast Buffet and Fins Bar & Chill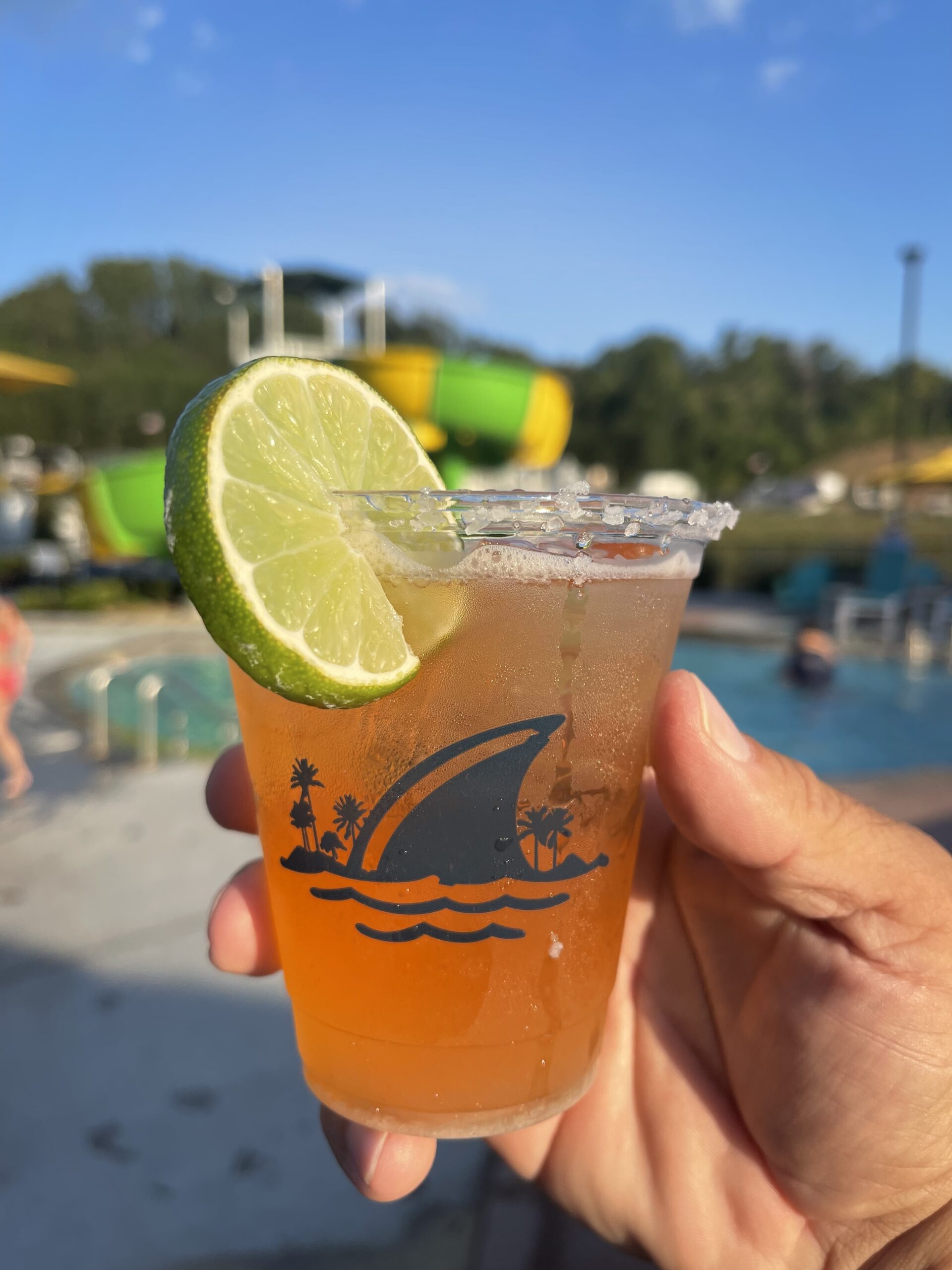 The food and drink at Camp Margaritaville Pigeon Forge were also excellent. We loved having breakfast at Fins Breakfast Buffet every morning before heading into the nearby national park. The pancake bar and French toast were very good, and there were lots of other hot and cold options and plenty of fresh fruit. So you can indulge, or eat a healthy breakfast. It's up to you. We are picky about coffee, and we are please to announce that the coffee was very good.
Lunch and dinner were even better than breakfast. The nachos were world class, and we had the best fish and chips we've ever had anywhere. Seriously, they were that good. The service at Fins Bar & Chill was also warm and friendly–as was the service throughout the property. The hiring manager should be applauded. Everyone working here was kind and the bartenders were quick witted and entertaining. The margaritas and loaded Landsharks were superb–but this is to be expected at Camp Margaritaville, no?
In a general sense, we felt that the Camp Margaritaville ethos caters to adults, but is still a blast for kids. Quite frankly, we found this very refreshing as so many campgrounds cater to kids and don't think much about the adult experience at all. As parents, we felt that the experience here was a well earned respite from the cares and concerns of every day life. We felt comfortable, relaxed, and catered to in every way imaginable.
A Look Inside the Lodge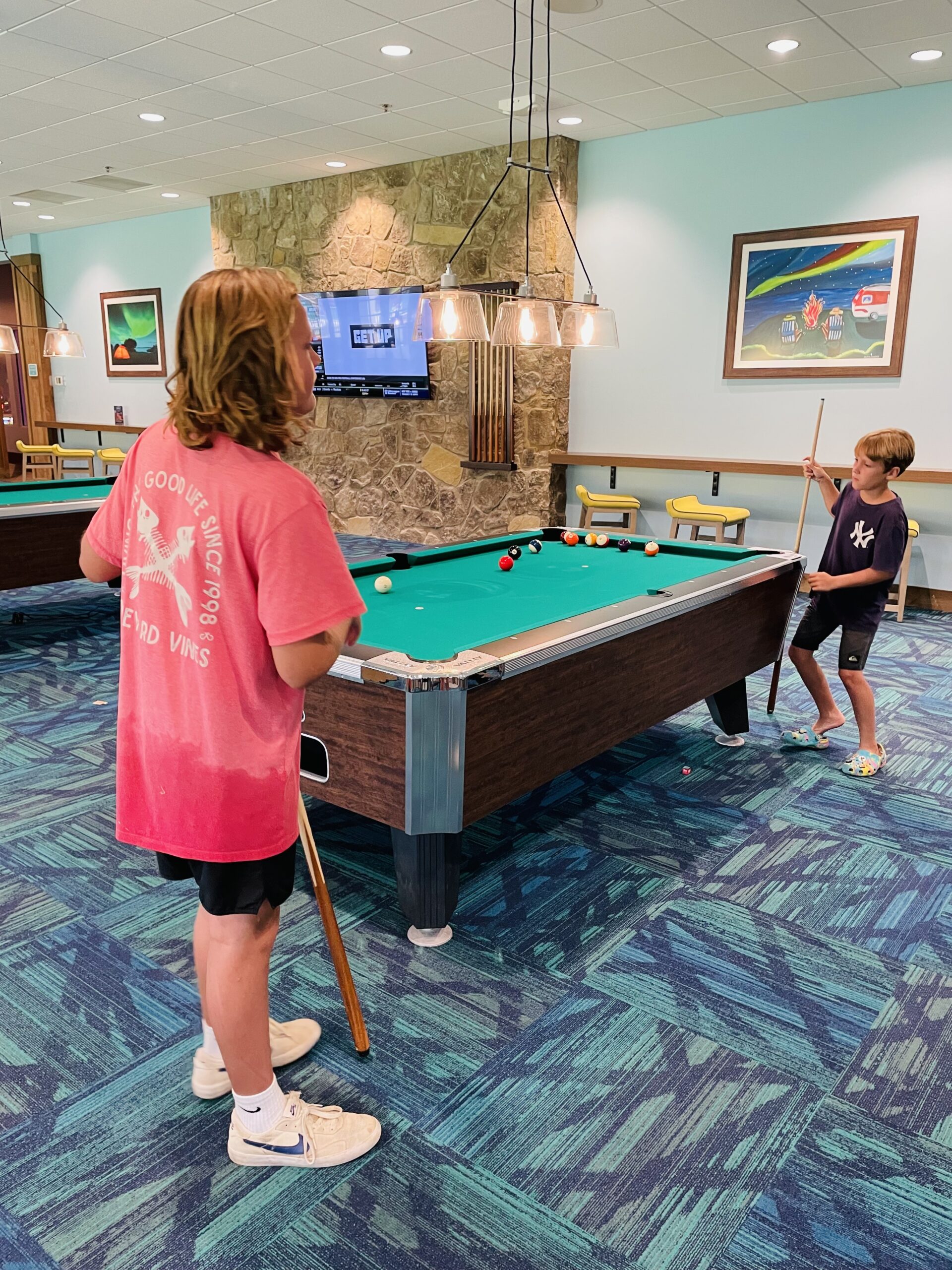 In some ways the lodge itself is the highlight of the property. And please remember–those staying in the RV resort can walk in and enjoy the great food and all of the amenities. You can even just bring a book and relax in a comfortable chair for a while.
The coolest part about the lodge may be the Fin City Entertainment Center located just downstairs from the main lobby. There is another bar down here, and more options for food–collectively know as the Feeding Frenzy Snack Shack and Bar. They also have Duckpin Bowling, tabletop shuffle board, and an entire separate room filled with pool tables. There is so much to do in the lodge and so many areas for fun indoor recreation. This makes Camp Margaritaville a great place to be on a rainy day. We don't like rainy days on vacation–but spending one here would be just fine.
Rooms in the lodge are also comfortable, spacious, and reasonably priced. They even have rooms with double queen beds and a separate mini room with two twin beds. Those suites are perfect for families with kids. There is no need to book two hotel rooms here. One of these rooms will do just fine for a family of five or six. Whether you are camping in an RV, or staying in the lodge, we found the accommodations at Camp Margaritaville Pigeon Forge to be outstanding.
Will We Return to Margaritaville?
We did not want to leave Camp Margaritaville. Admittedly, we were a little bit sad driving home. It was one of those special vacations that sets the bar high for future trips. Having a resort vacation like this just a few minutes away from a magnificent national park is truly a unique experience. We spent our mornings in the park, and our afternoons back on property–and we loved every second of our time in both places. We have been talking a lot about a return trip since we got back home. We've got our eyes on the upcoming Camp Margaritaville in the Poconos for a family vacation in 2024. But we may end up visiting the properties in Florida or Georgia first.
It gets awfully cold where we live in the winter—and heading south to another Camp Margaritaville in the winter months may be just what the good doctor ordered. Especially if they serve up those strong Margaritas (and put extra cherries in the Shirley Temples) like they do in Pigeon Forge.
There's really only one way to find out, isn't there?
Podcast: Play in new window | Download