We wrapped up our summer camping adventures in the best possible way this year…with a visit to Sandy Pines Campground along the southern Maine coast. Our stay checked off all the important boxes: warm days, cool nights, and lobster every evening.
Campground Details: Sandy Pines Campground
Sandy Pines Campground is brand new, having opened in the Spring of 2017. It's a large campground with over 300 sites, but somehow manages to have a small campground feel. The campground has many different 'sections' according to the map, but we felt like there were two distinct areas: the front part with the camp store, pool, playground, glamping tents and RV sites, and then the back area which is more tent friendly. The front feels like a charming private campground…the back feels like a remote state park. Rumors are that the back part will be developed in another stage of upgrades. Listen to the episode to here more on that scoop.
Sandy Pines Campground has gorgeous grounds. We were blown away by how well they landscaped and developed the sites so that it feels groomed but also beachy and woodsy…just like the perfect Maine campground should. The Lodge and General Store up front sets the tone: blueberry bushes are worked into the landscaping and our boys were encouraged to pick the berries. Believe us, they did!
Campground Amenities: Sandy Pines Campground
Heated saltwater pool

Lawn game area with corn hole, frisbee golf, ladder golf, giant connect four

Kid's camp craft tent with board games, crafts, etc.

Playground

Kayak , paddleboard, and bike rentals 

Great onsite breakfast/lunch/dinner options 

Onsite Lobster Dinner for 2, 4, or 6 
Listen to the episode to hear more details on campground wifi, activities, and insider details.
Area Attractions: Sandy Pines Campground
One of the best parts about staying at this campground is that Goose Rocks Beach is less than a mile away, and you can easily ride your bikes there. If driving, get there early and buy a parking permit at the general store right by the beach. 
Other things to do in the area…
See you at the campground!
Stephanie + Jeremy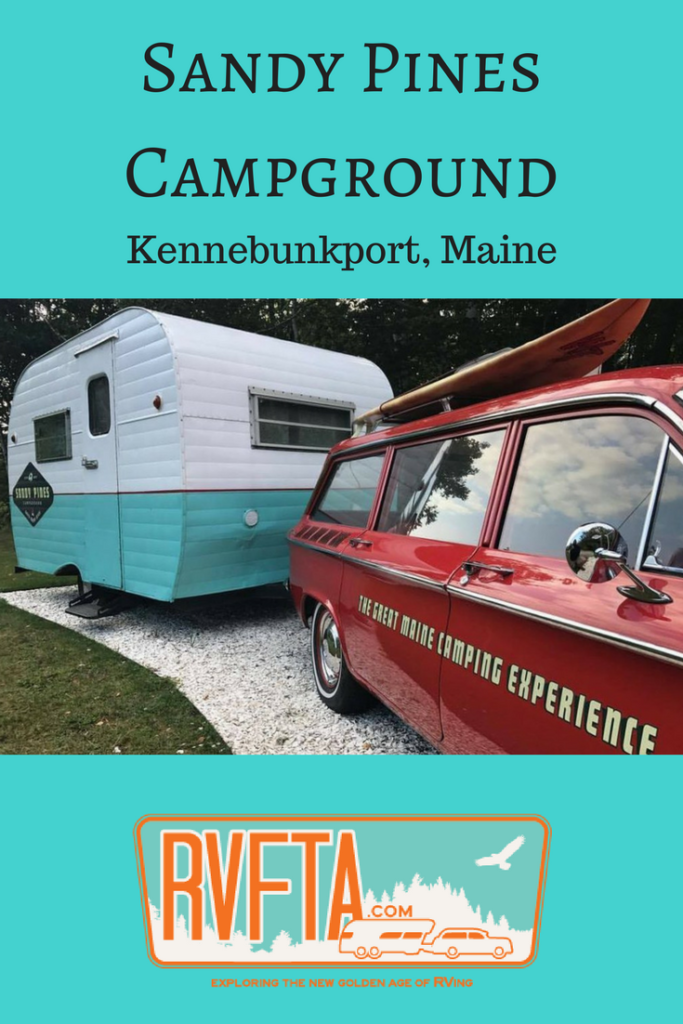 Podcast: Play in new window | Download