Have you ever seen a beautifully restored vintage trailer and wondered what it took to transform a dilapidated old trailer into a piece of eye candy? Silver Moose Restorations knows. What started as a hobby for Jim Roy, as he renovated a trailer for his personal use, eventually turned into a full-fledged business, renovating trailers for others.
Today, Jim is here to tell us the story of Silver Moose Restorations and to show us some of his vintage trailer restoration projects.
The Story Behind Silver Moose Restorations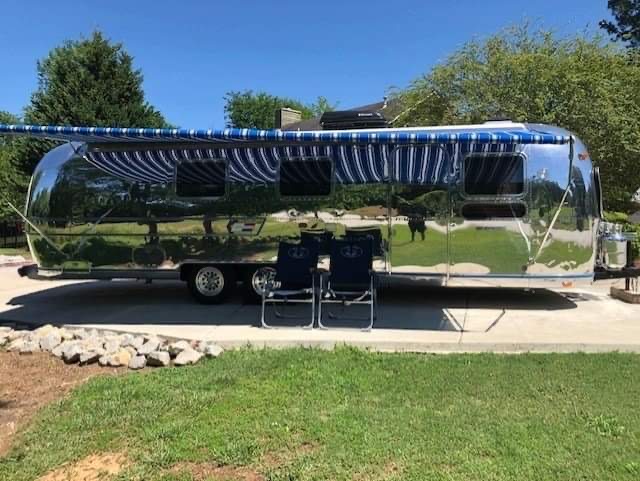 Jim Roy is the owner, craftsman, and artist behind Silver Moose Restorations, which is located in Maine. Jim started Silver Moose around three years ago. Previously, he was a home contractor, putting his craftsman skills to use in houses. He bought a vintage Airstream (which he named the Silver Moose) to fix up for personal use and began renovating it. As he shared the journey of transforming the trailer, more and more people approached him for help remodeling their own trailers.
As Jim was answering questions and sharing advice, the wheels were turning. He decided to open Silver Moose Restorations and slowly closed out his home contracting work and now does trailer renovations full time. His services are in such demand that there is a waiting list to get work done at Silver Moose Restorations.
Silver Moose Renovations is growing so fast that Jim is in the process of building a dedicated shop to replace the rental two-bay garage he is currently renovating. This will give him more room to have more transformations in progress. While COVID-19 has slowed things down a bit, they hope to open the new space soon.
The Original Silver Moose Restoration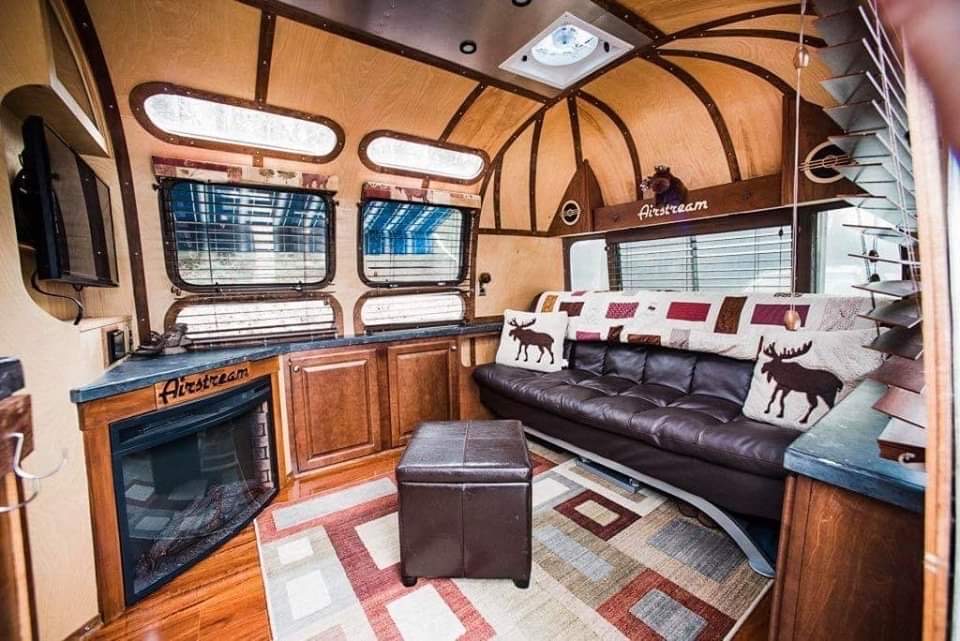 Jim's first restoration was the vintage Airstream he bought for himself. We have seen the Silver Moose in person, and it is gorgeous. The Silver Moose is a 1975 31-foot Airstream Land Yacht. It originally had nine different colors of carpet in it, including some retro shag.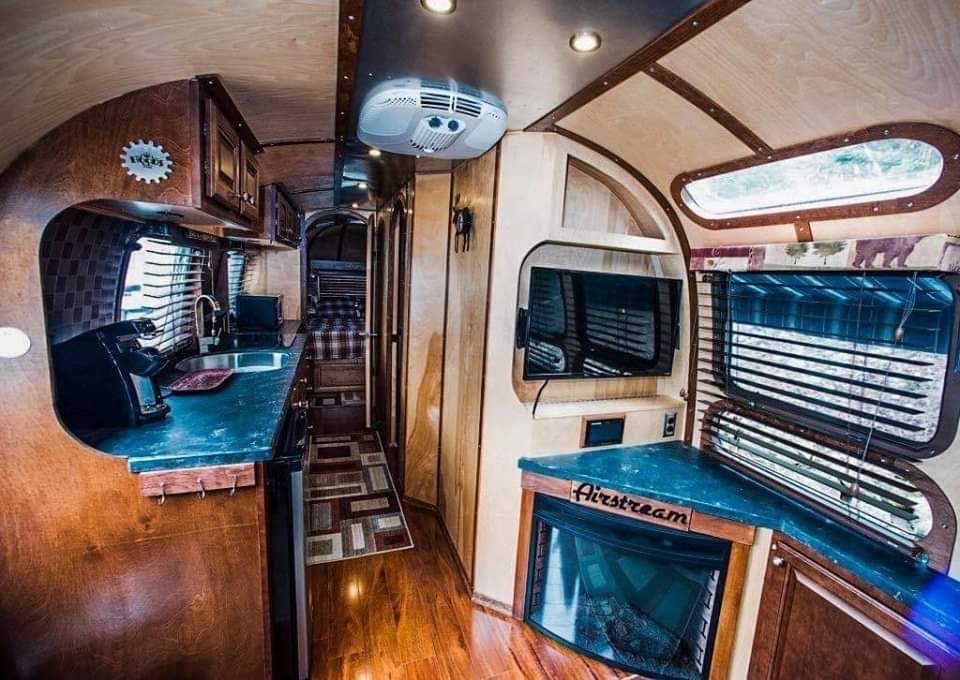 The Silver Moose was renovated from the frame up. Every bit of this trailer was touched in the process. Inside, Jim created something entirely new and unique. Drawing inspiration from a northern Maine woodlands cabin, the interior is warm and cozy. They put a birchwood skin on the walls and used rich wood tones. An electric fireplace adds to the ambiance.
Check out the interior "before" photo shown below to get a full sense of how amazing this restoration project really is!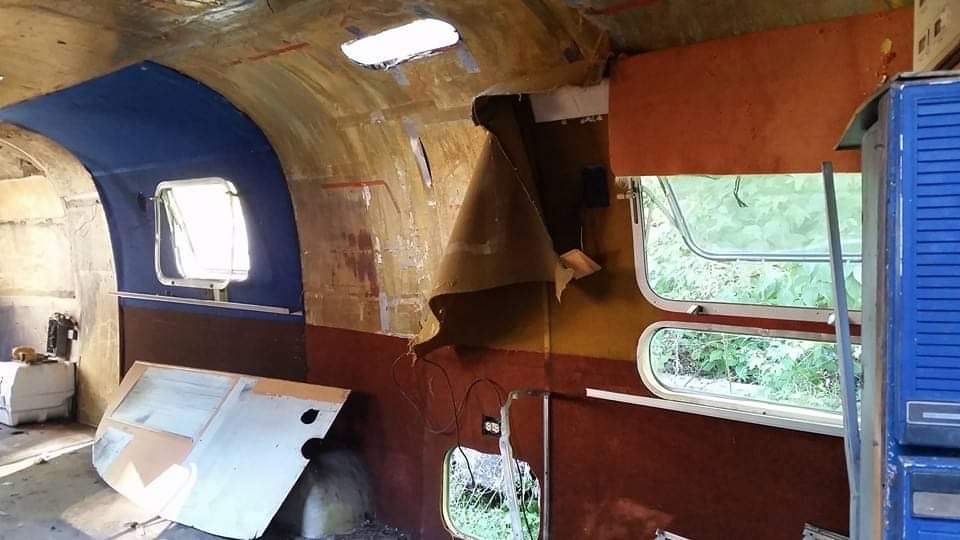 Jim's own renovation was just the beginning of a great adventure for him. His recent work has always been completely unique and completely breathtaking! Check out his latest project right here!
Creating A Custom Slide-In Camper for a Vintage Volkswagen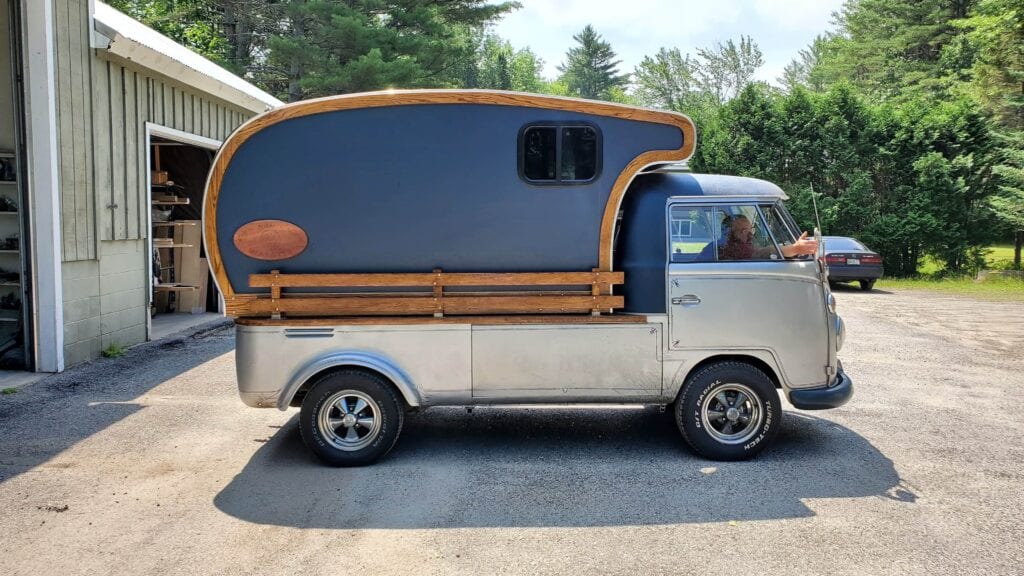 First, imagine a vintage Volkswagen van. Then, imagine that van chopped into a pickup truck. Finally, imagine creating a camper to go on top. You can really see Jim's remarkable artistry here. He designed and built a slide-in camper from thin air, creating a truly one-of-a-kind masterpiece.
A lot of custom shops won't even work on trailers older than 10-15 years old, much less ones that are decades old. And, certainly, it is hard to find a shop that can design and engineer something truly custom, going far beyond the restoration process.
The Renovation Process for a Silver Moose Restoration
How does Silver Moose Restorations price these custom projects? Jim first works with the owners to decide where they are heading. Do they want a Ford or a Cadillac when they are done? After talking through the ideas and options, Jim can give a general idea of a cost, but he can't give a firm quote. The process of taking apart and rebuilding a trailer involves so many variables that it is hard to estimate upfront. Instead, he charges for labor and materials.
Most of the customers understand how the process works and are willing to do that to get their custom renovations. Some may do the job in phasing if they don't have enough to invest all at once. Some have a set budget that Jim works within.
Jim keeps in contact throughout the renovation, keeping the owners apprised of their options as new elements are discovered. He sends photos along the way.
What is it like for Jim to see these things drive away after his hard work? He says it is thrilling to see their expressions when he is done. He enjoys the smiles on their faces as they drive off with the finished project!
A Few More Before and After Photos of Silver Moose Restorations
Click on these thumbnails to see more of Jim's unique restorations on some awesome vintage trailers. Jim also has a great blog with tons of photos of his completed projects. Check it out here!
The Future of Silver Moose Restorations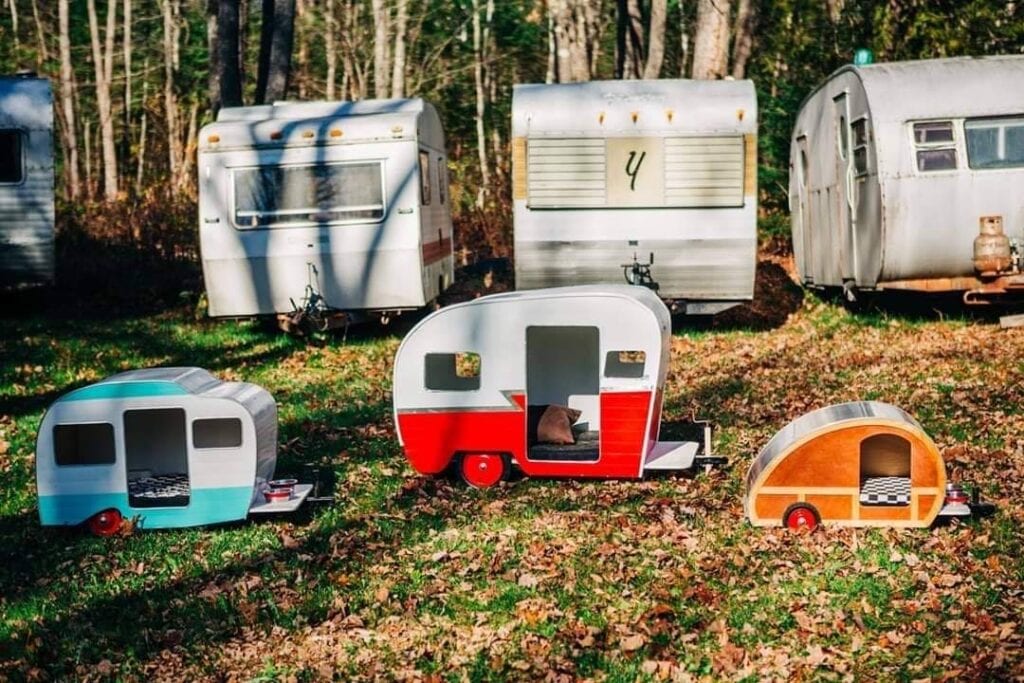 Jim plans to keep on working on custom trailer renovations. He would love to eventually do a car and camper combo. After the shop is completed, he is hoping to expand his team. Right now, his waitlist is a year to 18-months long, so he hopes to shorten that by having more space and more helping hands.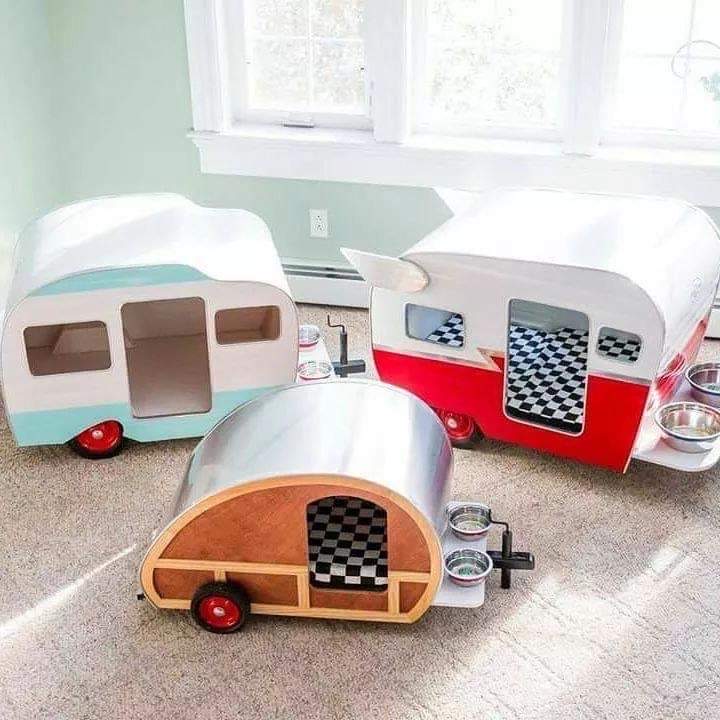 In the long run, he has ideas for a custom teardrop line. On the side, he also builds some custom doghouse campers. He has three models that are not only cute, they are well built, complete with birchwood interiors and aluminum exteriors.
Perhaps you'll spy Jim and the Silver Moose at the campground someday. He and his family still like to camp and to attend vintage trailer rallies, as time allows.
To see more of Jim's work, follow Silver Moose Restorations on Facebook and on Instagram. Seriously, check it out. His photos are so amazing. It's always a surprise to see what Jim is creating! They keep us yearning for a restoration of our own.
We really appreciate Jim coming on the show to share these amazing vintage trailer renovations with us and can't wait to continue following along!
See You at the Campground,
Jeremy + Stephanie
Podcast: Play in new window | Download