Rafter J Bar Ranch is just minutes away from Mount Rushmore, and the perfect basecamp for your trip to the Black Hills region.
In fact, it's now one of our favorite campgrounds ever.
And we've stayed at our fair share.
What makes Rafter J so very, very special? It has a unique way of offering a state park atmosphere alongside of resort-style amenities. This is a pretty hard feat to pull off, and we've only ever found this magical mix in one other campground–Sandy Pines Campground in Maine.
Rafter J is located in Hill City, South Dakota. It's about a 15 minute drive to the entrance of Mount Rushmore, and about 20 minutes from both Custer and Keystone. These are the main downtown areas that are located near Mount Rushmore. We talk more about them in our RVFTA podcast, 12 Tips for Visiting Mount Rushmore.
Campground Details: Rafter J Bar Ranch
The most notable thing about Rafter J (besides the natural beauty) is the size. It's a HUGE campground. However, the owners have not crowded in as many sites as possible. In fact, they have created different 'camps' with large wooded areas or fields in between each distinct area. The campground is peppered with towering Ponderosa Pines and campers have views of the scenic granite hills in the distance.
The campground is large enough that booking a site should not be too difficult, especially if you reserve far enough in advance and avoid some of the peak times in this region. We made our reservations about 8 months in advance and had a nice variety of spots to pick from. It's important to note that we were traveling at the end of August, which is a relatively quiet time for summer vacationing. If you are visiting during the Fourth of July week or during Sturgis Bike Week, reserve far in advance.
Campsite Details: Rafter J Bar Ranch
Since Rafter J is set up with these distinct 'camp' areas, it's pretty important to consider which area will work best for your family. There is quite a range of amenities and scenery for each camp, and the best campsite will range dramatically for different visitors.
We chose to stay in Line Camp (on site 263) based on advice from our intrepid campground reporter, Kerri Cox. Since we were not traveling with our bikes, we wanted to be close to the pool, playground, and camp store area. Other 'camps' that are within close walking distance of these amenities include Main Camp, Base Camp, and Cabin Camp. The downside to these four camps is that they are the closest to the highway. We were a bit concerned about this when we arrived, but road noise did not bother us at all.
If you have a big rig and love pull thrus and full hook ups, Main Camp might be your jam. I'm glad we didn't stay in that area, though, since it has the least wooded and scenic feel of all the camps. Note that satellite TV is available in this section only. So again, you're going to have to think about your personal camping preferences when booking at Rafter J.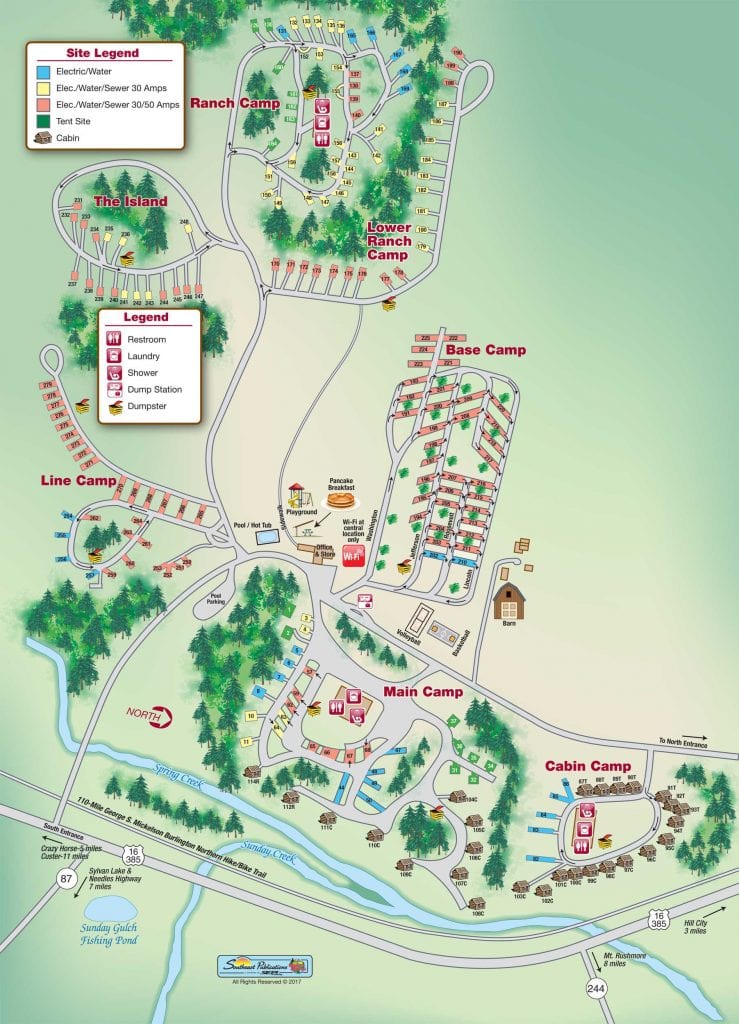 If you have bikes, or you don't care about the pool and hot tub, The Island and Ranch Camp are so beautiful and peaceful. Lower Ranch Camp was quite a bit away from the highway and had nice access to amenities, but the sites seemed less spacious and a bit unlevel in certain spots.
Campground Amenities: Rafter J Bar Ranch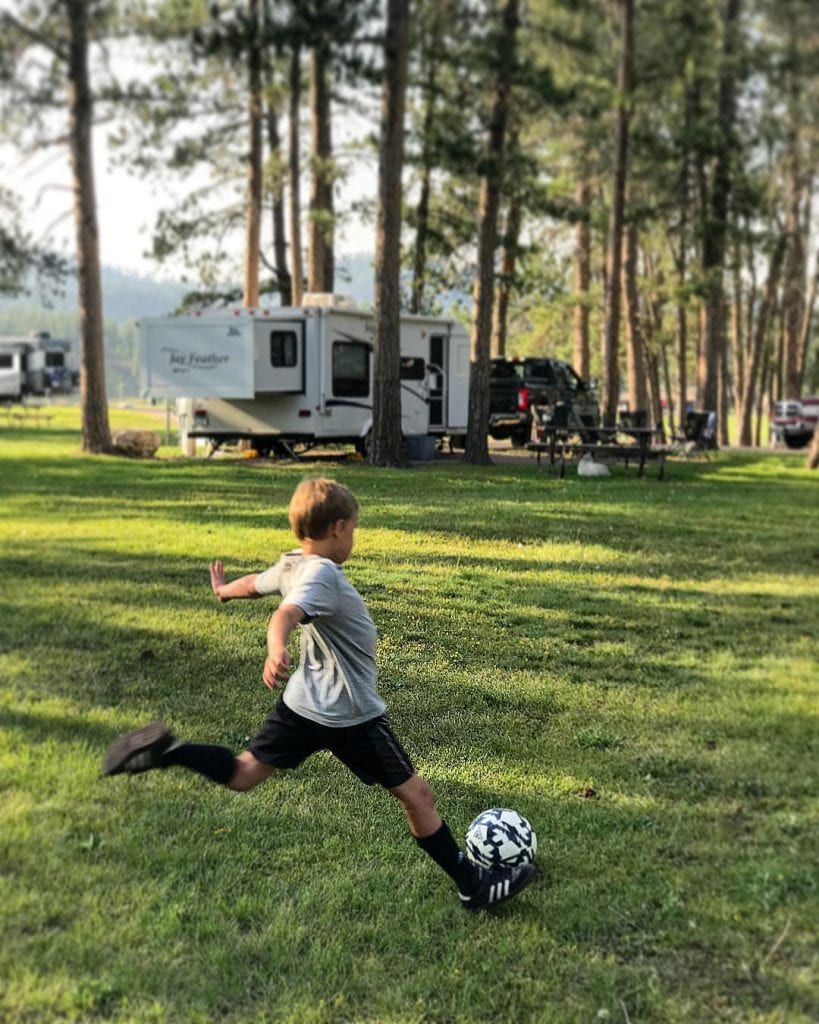 Our family had just come from roughing it in Custer State Park, so we particularly enjoyed the heated pool and hot tub. And our very favorite amenity might have been the beautiful community fire pit. It was a gas fire pit, so we could simply turn it on whenever we pleased and warm up in the chilly late afternoons and evenings. We spent a lot of time decompressing there after days of site seeing, and it was a just a lovely spot.
Other campground amenities include…
playground
volleyball court
basketball court
camp store
pancake breakfast
laundry and bath houses
dump station
Additional Details: Rafter J Bar Ranch
We made our reservations over the phone, and the customer service was helpful and friendly. Cell service was fine throughout the campground, but WiFi is only available in the camp store area. And speaking of the camp store, Jeremy felt that it could have been better stocked with some basic necessities. But we were there towards the end of the season, and often inventory can be low at that time across the industry. Just be prepared with your basics.
Rafter J Bar Ranch is a very special campground, and we won't forget our amazing stay there. When visiting such iconic and heavily touristed sites like Mount Rushmore, travelers often have to make concessions about their accommodations. Rafter J provided us with every single thing we could hope for in a basecamp and we don't think you could find a better place to stay.
See you at the campground!
Stephanie + Jeremy
Podcast: Play in new window | Download